A social media report is an internal social media reporting document that displays the results of a brand's activities on a single or multiple social media channels.
By measuring their social media initiatives, social media marketers can:
assess whether they're meeting their objectives,
monitor how their social media efforts impact the business overall track their contribution to growth.
Marketers can use insights to come up with new targets, assess problem areas and help a business make more informed decisions about their future social media marketing strategies.
To provide you with more of an understanding of social media reports and their importance, this article will cover:
Let's get started.
What should be included in a social media report?
A TL;DR version of your social media strategy
A social media marketing report should always start with a brief overview of a brand's social strategy.
This overview gives readers an understanding of what a report will contain, the social media goals and KPIs used to measure success, and how these goals relate to the businesses' strategies and targets.
First things first — the goals section
The goals section of a report allows the social media marketer to be more specific about what goals and business objectives their social media activities aim to achieve.
The more precise a marketer can get with these goals, the easier their social media data will be to measure and interpret.
Alternatively, adopting a framework will take you a long way toward setting realistic and achievable goals. Even though it's more popular within IT fields, The PACT (People, Activities, Context, Technologies) framework can also be applied in marketing projects: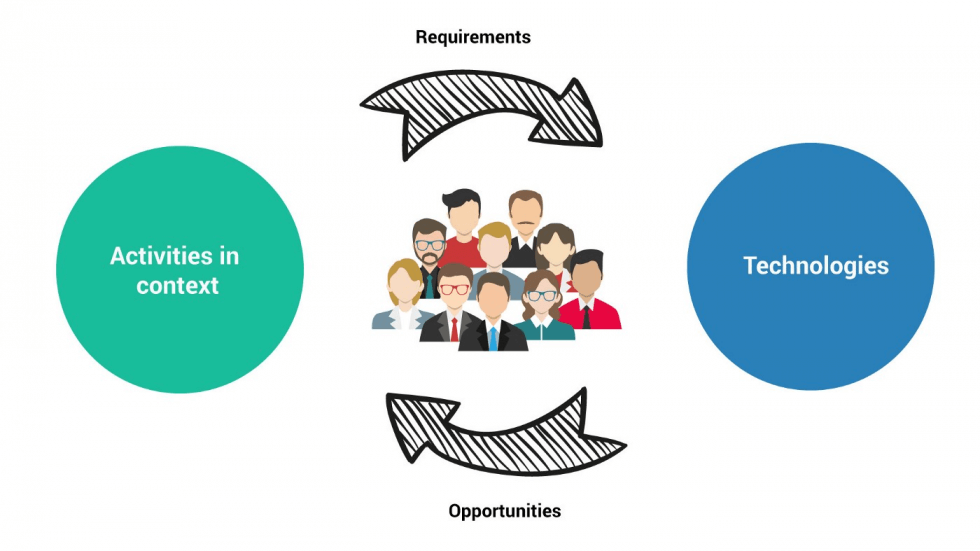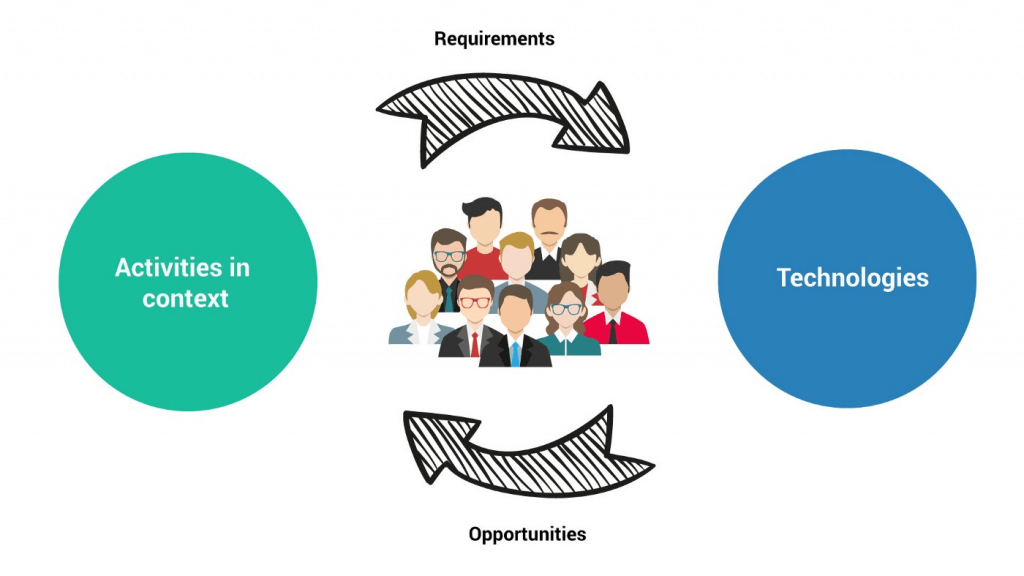 Include metrics that are actually relevant; avoid vanity metrics
If a social media team has set clear goals, they'll be in an excellent position to understand the metrics they need to monitor to measure success.
For example, a marketer wants to grow their client's Instagram following. The success metric they'll want to keep track of is the number of new followers their account gains.
Account for each platform when outlining the results section
This section of the report is where a marketer can condense your social media analytics from each platform into specific results and actionable insights.
Some of the key metrics often included in social media reports for each platform are:
Number of posts posted, categorized by type
Number of followers gained or lost
Engagement rate
Click through rate
Top performing posts.
Low hanging fruit — future opportunities and angles to cover
This is the section where a marketer should present any opportunities and valuable insights that they can spot on any social platform they're monitoring.
For example, if a marketer notices that their follower count grows significantly on LinkedIn every time they post an informative video, they can prioritize posting more video content on LinkedIn in the future.
End with a call to action
A report should end with a presentation of a few final action points to summarize the results achieved, how the results have helped the business and how they will help shape a brand's future social media marketing strategy.
How to create a social media report in 4 steps
1. Figure out your target audience
Knowing who you will present your social media report to is important.
Typically, your audience will be a client you're working for, your boss, or other internal stakeholders involved in the business's social marketing strategy.
If you're presenting your report to multiple audiences, try to focus on what's important for each audience and tweak your report accordingly. For example, if a particular social media campaign has brought in a significant number of leads and you're presenting your report to a sales manager, focus on showcasing this achievement and any other relevant data.
You can also use your report to back up any requests you want to make to your business or client for anything you feel could improve social media performance. For example, if you want to create more video content for LinkedIn but need more budget and have already posted a video that performed well, highlight this as a key result.
Remember, if you can show the business in question how you're making them money or growing their business, they are more likely to approve any requests you have!
2. Define your goals
Keep your report focused on the social media goals and KPIs that impact your business the most.
If you include several social media platforms in your report, then include the specific goals you or your social media team have set for each social media channel.
If you're new to creating social media reports, stick to a few key goals, you can always add more over time.
If you've produced reports for previous social media marketing campaigns, you can compare your current results to your previous results to measure progress.
3. Establish a time-frame
The period of time your reports cover will depend on the purpose of the report, e.g., if you're reporting on a social media campaign that's lasted one month, your report will cover the duration of that campaign.
The most common time intervals for social media reports are:
Daily reports
Weekly reports
Monthly reports
Quarterly report (90 days)
Annual reports.
4. Focus on a few key metrics
Keep the metrics you include in your report directly focused on your KPIs and objectives.
Some of the metrics you'll likely want to consider are:
Audience growth
Amount of posts in a particular time frame
Post engagement
Mentions
Click through rate
Conversions and new contacts
Any relevant competitor metrics.
Best Practices For Successful Social Media Reports
How do you write a social media report?
The way you write a social media report will depend on the report format you decide to use.
If you're new to writing reports or creating your first one, it's a good idea to follow a template (make things easy)! Look up annual reports templates or weekly social media reports templates.
You can usually get all the data and analytics you need from a specific platform on the platform itself.
For example, LinkedIn, Facebook, Twitter, and YouTube all have reporting features that will inform you of your performance on each platform.
There are also social media analytics tools on the market that can produce social media marketing reports for you. These tools can save you time and automate your reporting process.
Regardless of the format and template you use, you should make sure you cover the following:
Define your goals – clearly introduce to your intended audience what goals you're reporting on.
Specify your time frame – specify to your audience the length of time your report covers for each platform.
Provide a strategy recap – provide your audience with a detailed overview of the goals, strategy, and evaluation metrics included in the report and an overview of your social media marketing strategy.For example, do you use social media to boost brand awareness and brand mentions? Do you use social media to generate leads?Providing an overview can be a great way to give more detail about the social media goals you've put in place and why you've done so.
Present key metrics and growth – lay out the data and key metrics for each platform in a way that your audience can understand.
Include any other relevant metrics –  include any other supporting metrics that tie into your social media goals.
Showcase your analysis – this is the key part of your report that will show your audience what the data you're presenting means and how it relates to their wider business strategy.Try to be as clear as possible about the results for each platform, how they've been achieved, and the impact they've had on the business.Analyzing large amounts of data can be overwhelming, but if you can focus on your goals, success metrics, and key takeaways, your analysis should be clear.
Highlight your wins – this is the time to highlight your wins, identify areas of growth and explain how your efforts have contributed to these wins.
Provide a conclusion and summarise your learnings – now that you've presented a clear picture of your social media performance across all monitored social media channels, it's time to summarize your findings and present clear takeaways from your report.Try and keep your conclusion relatively short.Focus on giving your audience two to three of the most memorable results from your report and emphasize how these results positively impact their business.
What are the five types of social media reports?
1 – Social media tracking report
The most common type of social media report is a social media tracking report. This type of report involves analyzing a business's actions and social media strategies and auditing its main competitors.
The report will contain an analysis of a company's organic social marketing efforts; relevant KPIs for this will usually be:
Amount of followers gained
Number of interactions
Engagement rate and reach of each post.
2 – Campaign Specific Report
A campaign-specific report focuses on the results of a particular campaign run through a single or multiple social channels.
A campaign-specific report will typically focus on quantitative metrics.
3 – ROI report
An ROI report is used to directly report on the successes and failures of a business's social media marketing activities over a period of time.
These successes and failures will usually be presented in terms of monetary value.
4 – Brand and Market audit report 
A brand and market audit is an internal report used to measure a brand's position in the market before launching a new social media campaign.
These reports help determine the potential success of a social media campaign, particularly if a brand is targeting a new market.
5 – Post-crisis assessment report
A post-crisis assessment is a type of report that informs any internal stakeholders of potential threats involved in running a particular social media campaign.
Any threats will be communicated to the teams or individuals carrying out the campaign before launch.
These threats can include:
Negative mentions of the brand
The potential reach of negative mentions
Social networks that the brand wants to avoid.
How do you explain social media reports?
The best way to explain a social media report to a business or client is to emphasize the importance of tracking social media activities and why having a clear social media strategy in place can positively affect a business.
What should you include in a social media report for a client?
What you include in a social media report will depend on the goals you have set out to achieve, the type of report you are generating and your audience.
For this example, we will assume you're developing a social media tracking report – the most common social media report.
Here's what you would include:
1. Introduction – start your report by summarizing the report's purpose, the social media objectives that your report will cover, the time frame of the report, your audience, and an introduction to your analysis.
2. Provide a strategy recap – your strategy recap should quickly cover the primary social media goals and evaluation metrics you'll present in your social media marketing report.
3. Highlight the most important results – provide insights into the most important findings that you want your client to focus on. These results should directly tie into your social media goals and social media KPIs.
4. Showcase your analysis – as we mentioned in the 'best practices' section above, presenting your analysis allows you to present the key results of your social media activities for each platform and show how they've helped the business.
Conclude your results and celebrate your wins – it's time to highlight growth areas and re-emphasize to your audience the effect your social media efforts have had on their business.
Social media reports templates examples
Sprout Social's Free Template (PDF Format)
Sprout Social offers a great free template that you can use to produce an in-depth social media report. The template has the following elements:
Introduction
Social media profiles included in your report
A cross-channel performance section
Individual analysis sections for each platform
A summary section to identify your key learnings.
You can check out the template here.If you need to rotate and edit your PDFs online after you've used the template, you can use a tool like PDFSimpli.
Hootsuite's Social Media Report Template (Google Slides Format)
Hootsuite offers another useful template you can use. Hootsuite's template includes the following sections:
Introduction
A success snapshot section to provide an overview of your results
Sections for each platform
An analysis section
A conclusion.
The template is customizable, and each slide provides helpful hints at what to include in each section. You can download the template here.
Conclusion
Social media reports are vital for showcasing a brand's social media activities. Use them to track and compare how your business's (or your client's) social media marketing strategies are working on each platform. Use this data to demonstrate how social media is helping their business grow.
When you're creating a social media report, remember to:
clearly define your goals
know what metrics you're tracking
showcase your analysis and back up your findings
provide clear takeaways for your audience.
You'll have everything you need to create social media reports that will demonstrate the effectiveness of your social media efforts and provide invaluable insights into how you're helping your business or clients' business grow!