Franchises have to be creative and efficient nowadays when it comes to how they market their company and the tools they use to manage day-to-day operations.
But, with so many tools out there, it can be difficult to determine exactly what fits the operational realities of the businesses.
In this article, we will explore 10 franchise management software that you should consider adopting. Expect anything from social media management tools, project management solutions to more typical franchise management tools that focus on administrative tasks.
1. Social media collaboration: Planable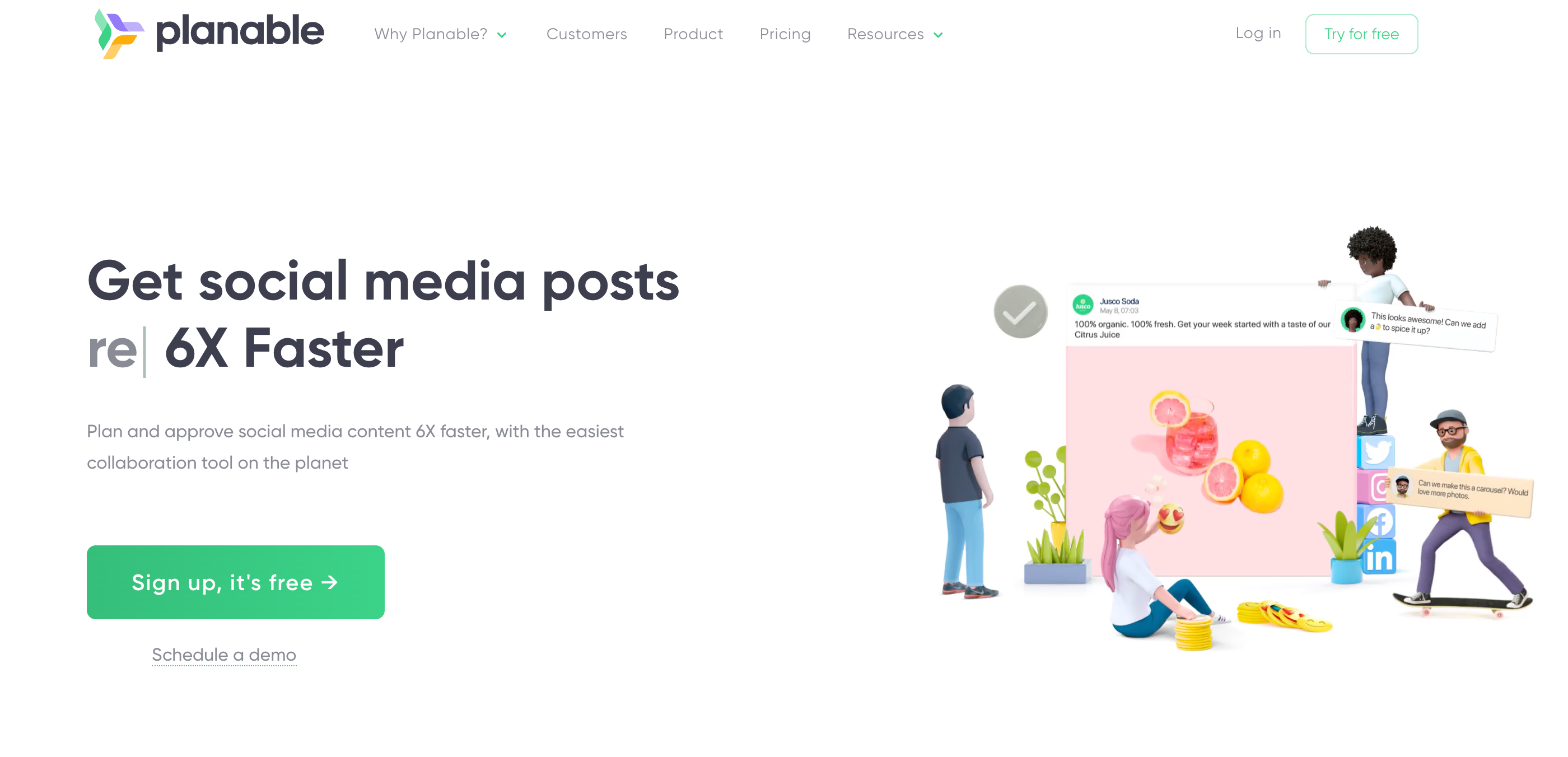 Social media is a great way to connect with customers and keep them updated on your latest products or services, but it can also be a lot of work, especially for franchises.
Thankfully, there are a lot of great tools that can help you manage your social media accounts more effectively and make the process a little less daunting. But if you're looking for one that can help with collaboration and workflow on top of scheduling posts, Planable is a perfect choice.
More specifically, Planable is built from the ground up to accommodate collaboration and approval-heavy social teams. Its 4 approval workflows give teams a lot of wiggle room for setting up a workflow that works best for them.
Users can also invite teams and clients to leave comments in-app, right next to the post that needs feedback. You can also create mockups of your posts, which makes it easy to see how your post will look before you publish it.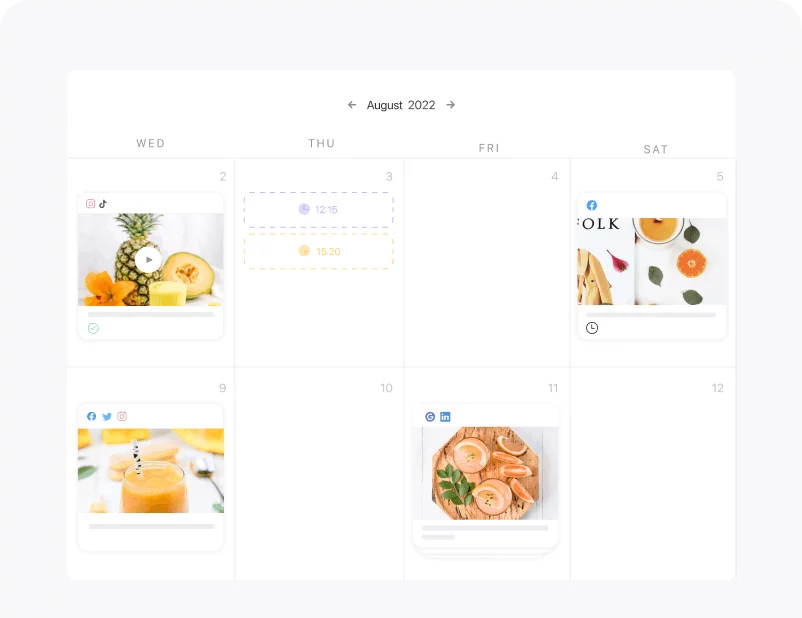 Content calendars are another useful feature of this solution. They allow you to see all of your upcoming posts in one place, so you can easily plan and coordinate your content strategy. It's an all-in-one platform in the sense that Planable has everything teams need to collaborate and approve content efficiently in one place. All of this for free.
Key features:
Integrations with Instagram, Facebook, YouTube, Twitter, LinkedIn, Google My Business, Pinterest, and TikTok.
4 approval workflows: None, Optional, Required, Multi-Level.
Mockups to preview pages/content exactly as it would appear live.
The ability to schedule recurring posts.
Drag & drop content calendar that offers an overview of all your pages across platforms.
4 ways to view content: Feed, Grid, List, and Calendar View.
The ability to schedule/approve posts in bulk with List View.
Cons:
No analytics
No integration with Pinterest (yet)
Pricing:
$11/user for paid version.
2. Social media reporting: Social Insider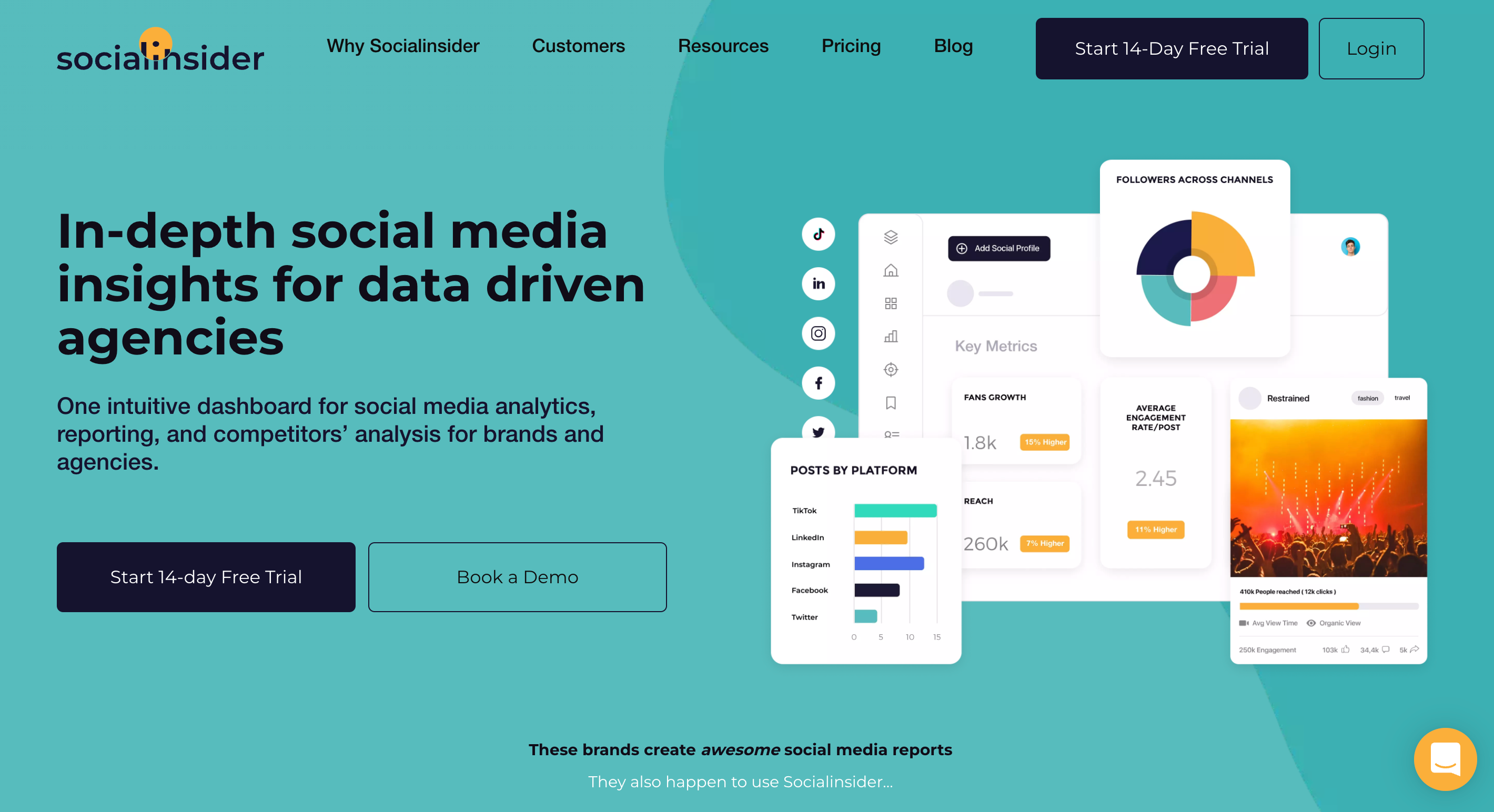 Franchises have to keep track of many things, especially on social media, with reporting being one of the most important of them. This is where Social Insider comes into play.
Social Insider is a reporting tool that can help you track your business's social media performance. It provides insights into which networks are driving the most traffic, which posts are performing best, and the growth rate of your following.
In addition to analytics and social media reports, Social Insider also helps you to track your competition and measure your performance on social media.
With Social Insider, you can get insights into how your brand performs compared to your competitors, what content resonates with your audience, and where your audience is located.
This can help social media managers determine what content works best for your audience and optimize your social media strategy accordingly. If you're looking for a tool that provides data-driven insights into your social media activity, SocialInsider is definitely worth considering.
Key features:
See which of your posts are being shared the most
Find out what influencers are saying about your brand
Gain insights into what content is resonating with your audience
Get real-time updates on social media activity
Cons:
Inflexible pricing
Purely analytics-focused; might not be a great fit for franchises who are also looking for something content management related.
Pricing:
Social Insider offers a 14-day trial. Pricing starts at $99/month.
3. Digital asset management: Envato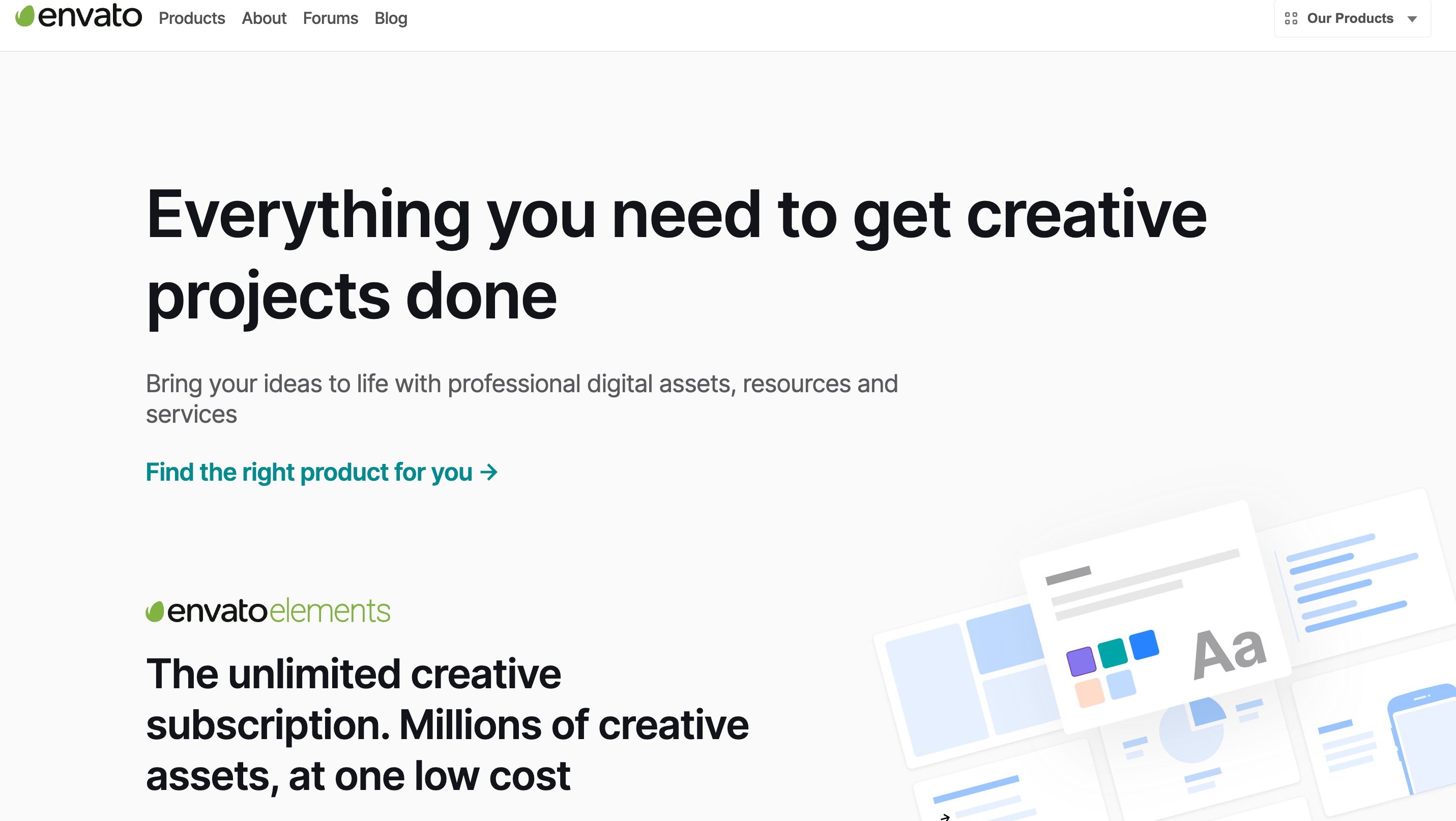 Digital asset management is becoming increasingly important in today's business landscape. As a franchise business, you need a way to manage and protect your digital assets, including logos, trademarks, and other copyrighted materials.
Envato is a platform that helps businesses do just that, with tools to help protect and manage digital assets and much more.
With Envato, businesses can create and manage a digital asset library, which can be used to create customized marketing materials, online stores, and more.
Additionally, Envato offers a wide variety of templates and themes that can be used to quickly create professional-looking marketing materials and websites. That's a quick and easy solution for small businesses that don't have a front-end development team.
This can be hugely beneficial for businesses looking to establish a consistent visual identity across all of their franchises. So, if you're looking for a comprehensive digital asset management tool, then look no further than Envato.
With such a versatile and user-friendly platform, it's no wonder why Envato has become one of the world's leading providers of digital content and services.
Key features:
Access to a library of digital products, including graphics, WordPress themes, templates, and more
Simple licensing process that allows you to use products in multiple projects
A community of creatives who can provide feedback and support
Cons:
Envato's vast offering of products could be overwhelming for newcomers.
Pricing:
No fixed pricing — depends on which Envato product you subscribe to.
4. Workflow management: Clickup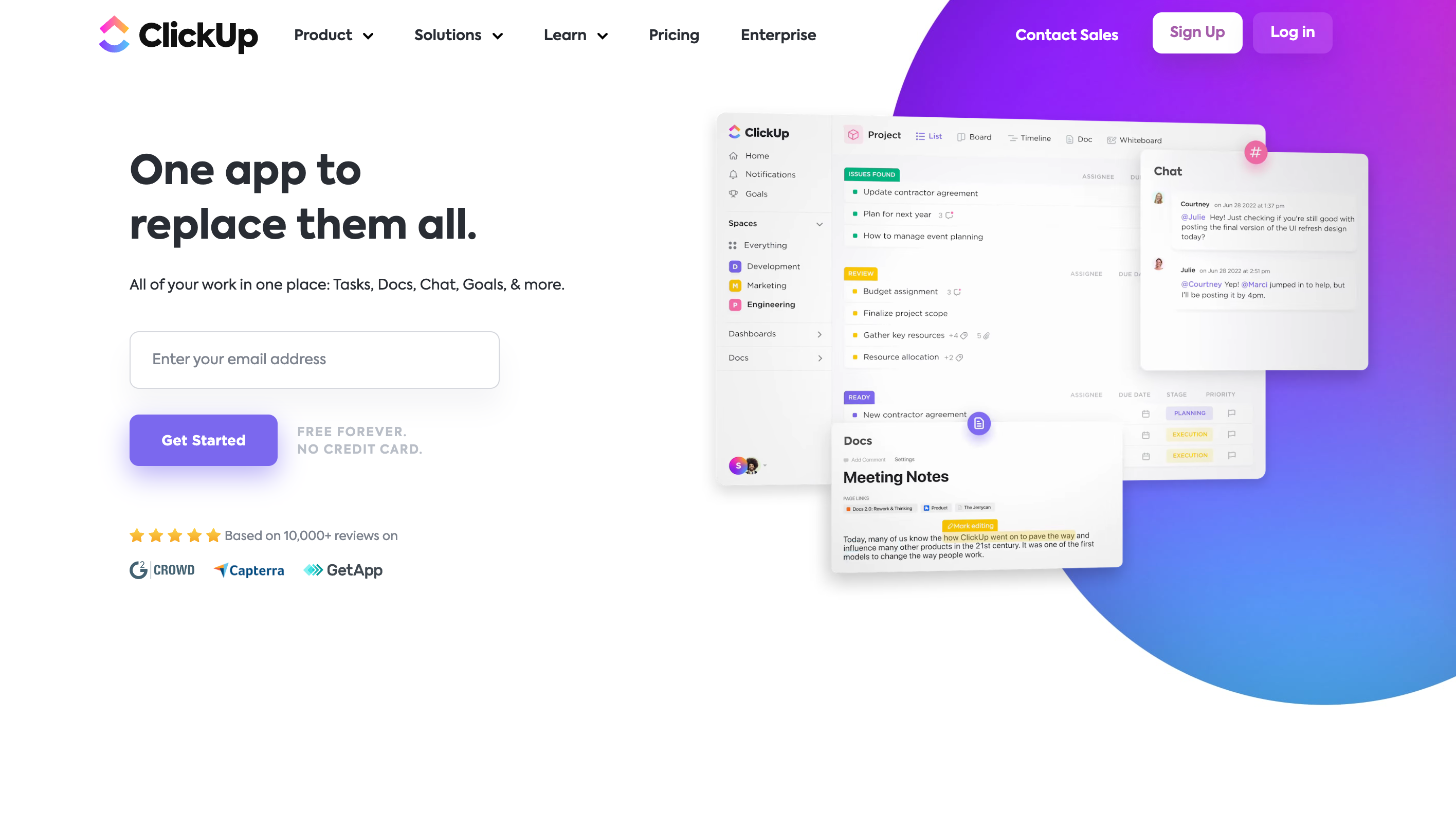 Workflow management tools help franchise brands improve their operational efficiency by automating and streamlining business processes. These tools can help to improve communication and collaboration between employees and can also help to ensure that tasks are completed on time.
This enables franchise owners to focus on their core strengths, grow their businesses, and eventually reach new markets. ClickUp is by far the best tool for franchise businesses. It has a variety of features that allow you to create and manage work easily, as well as collaborate with team members in real-time.
One of the best things about ClickUp is its ability to create custom workflows using templates or by starting from scratch.
You can also use whiteboards to brainstorm ideas and track progress. Plus, there's a built-in chat feature so team members can communicate easily.
Another great thing about ClickUp is its integrations with other tools such as Trello, Asana, and Jira. This allows you to keep all your work in one place. And if you need to report on your team's progress, ClickUp offers several different reporting options.
Key features:
Unlimited projects, tasks, and users
Customizable workspace for every team
Firm focus on powerful productivity features
Flexible integrations with popular tools
Exceptional customer support
Cons:
High learning curve, according to some users
Too many customization options can overwhelm users
Pricing:
Free trial forever. Paid version starts at 9$/month.
5. Employee collaboration/communication: Slack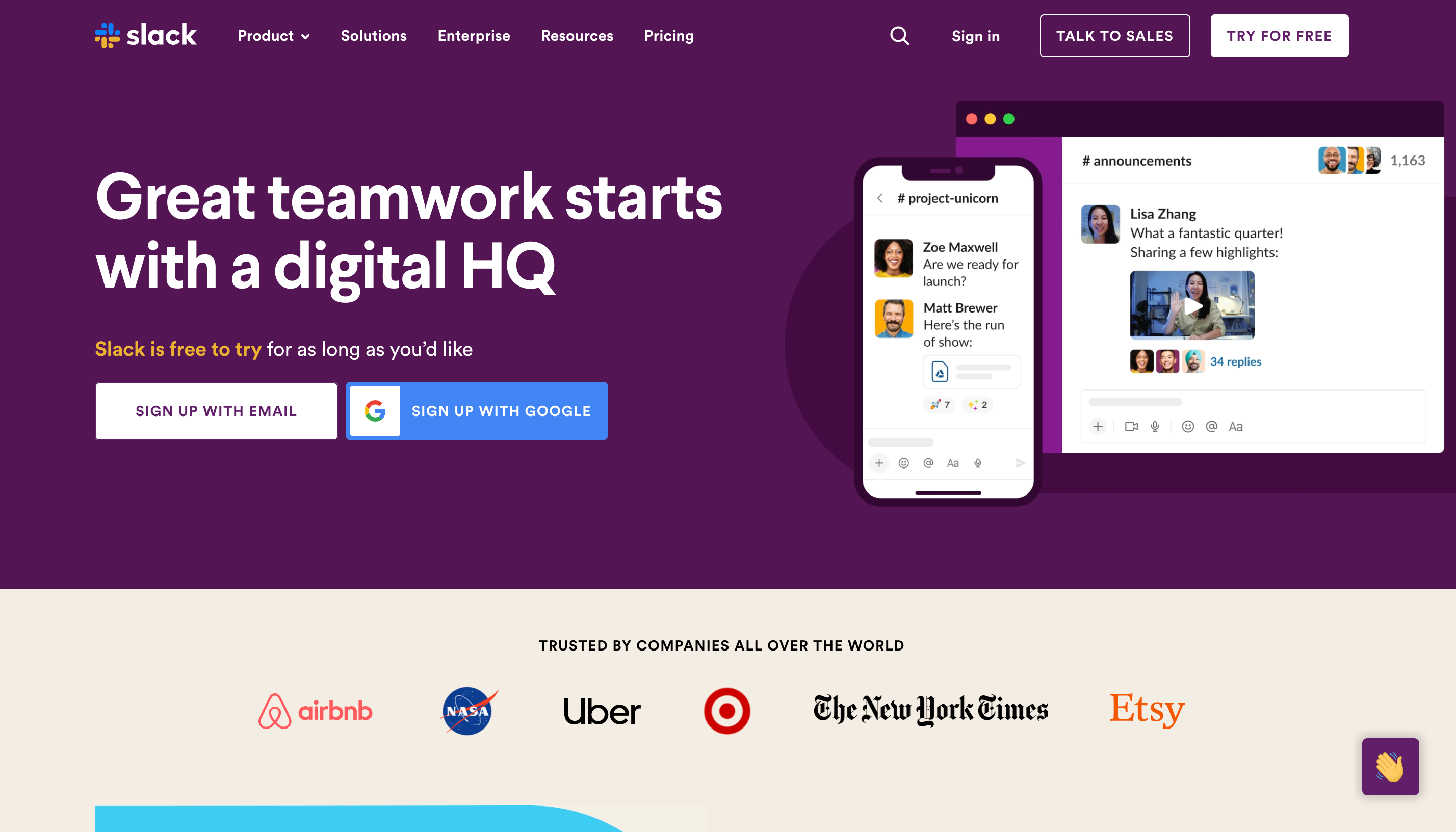 Sharing ideas, asking questions, and giving feedback are all a part of communicating effectively and helping create a more cohesive work environment.
Slack enables employees to share files, have group chats, create polls in Slack, and join or create channels for specific projects.
Additionally, Slack integrates with many other apps so franchise businesses can use it to manage communications, operations and it's even suitable for customer relationship management. For example, Slack time tracking integration with TimeCamp is used to track productivity and communications at the same time. Slack also has a search function that makes it easy to find old messages.
Since Slack is cloud-based, you can access it from any device, and it integrates with other online services such as Google Drive and DropBox.
Slack is free for up to 10,000 messages per month, and there are paid plans if you need more. This is why Slack is one of the best tools franchises can opt for.
Key features:
Message threads: keep conversations organized
Searchable history: never lose track of a conversation
Integrations: connect to the tools you use every day
Mobile apps: stay connected even when you're on the go
Cons:
Pricing:
Free forever. Paid version starts at $6.67/month.
6. Project Management: Basecamp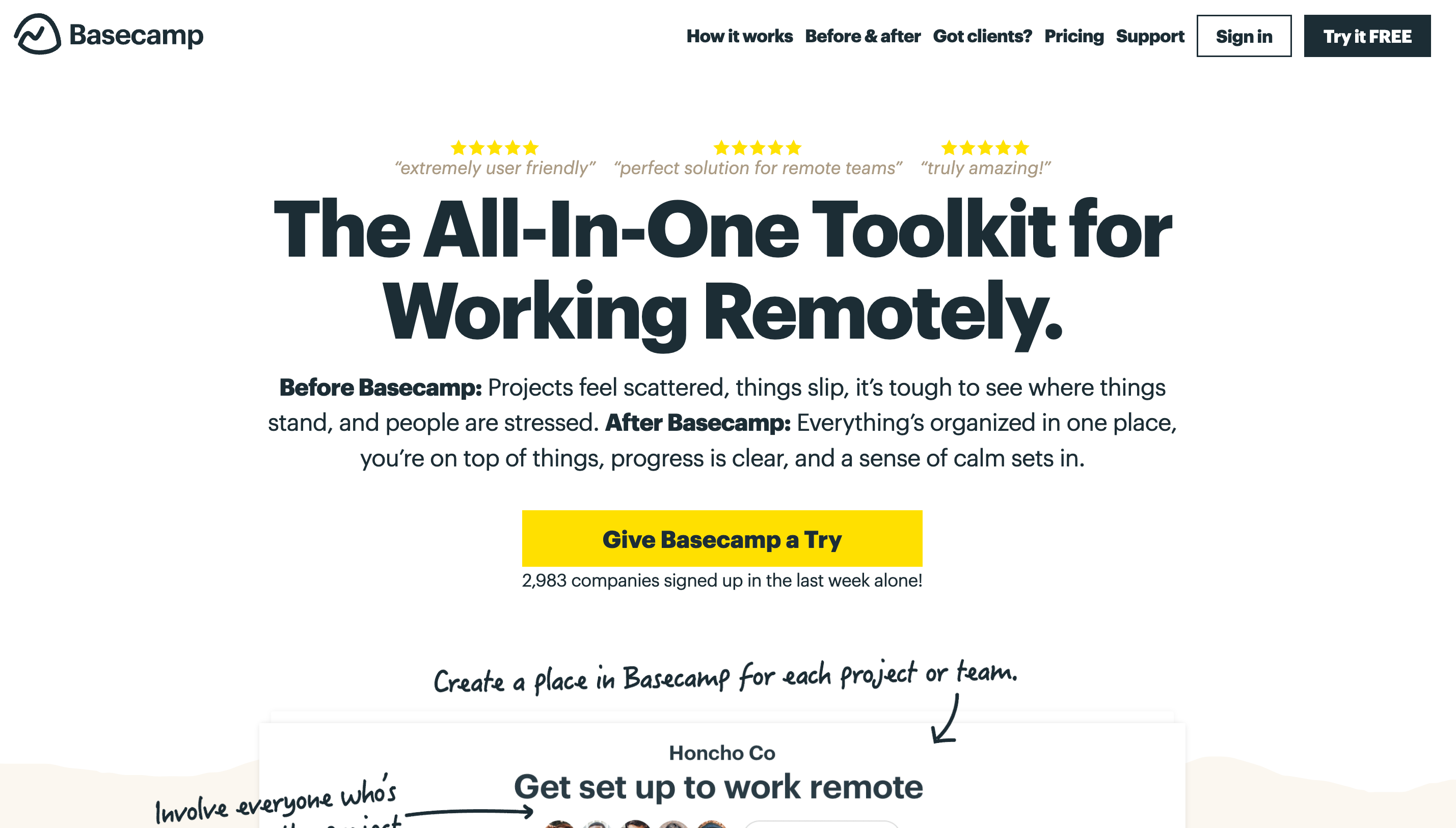 Project management tools are essential for franchise businesses because they help organize and prioritize tasks, track progress, and manage resources.
Perhaps the most important reason your franchise business might need these tools is that they can help ensure that projects are completed on time and on budget, which is critical for the growth of your business.
And if you are looking for a project management tool to help streamline operations and eliminate repetitive tasks in your franchise, Basecamp may be the right software. It's one of the most popular project management tools available, and it's perfect even for small businesses because it's affordable and easy to use. Its utility goes beyond franchise management.
Basecamp allows users to create message boards for each project, to-do lists, schedules, and documents. You can also chat in real-time with other team members about the project.
Features:
To-do lists and task management
Message boards
Scheduling and calendars
File storage and sharing
Automatic check-ins
Cons:
Doesn't display timelines visually
Limited chat management
Pricing:
Free 30-day trial. Paid version for businesses $99/month flat.
7. Employee scheduling software tool: ZoomShift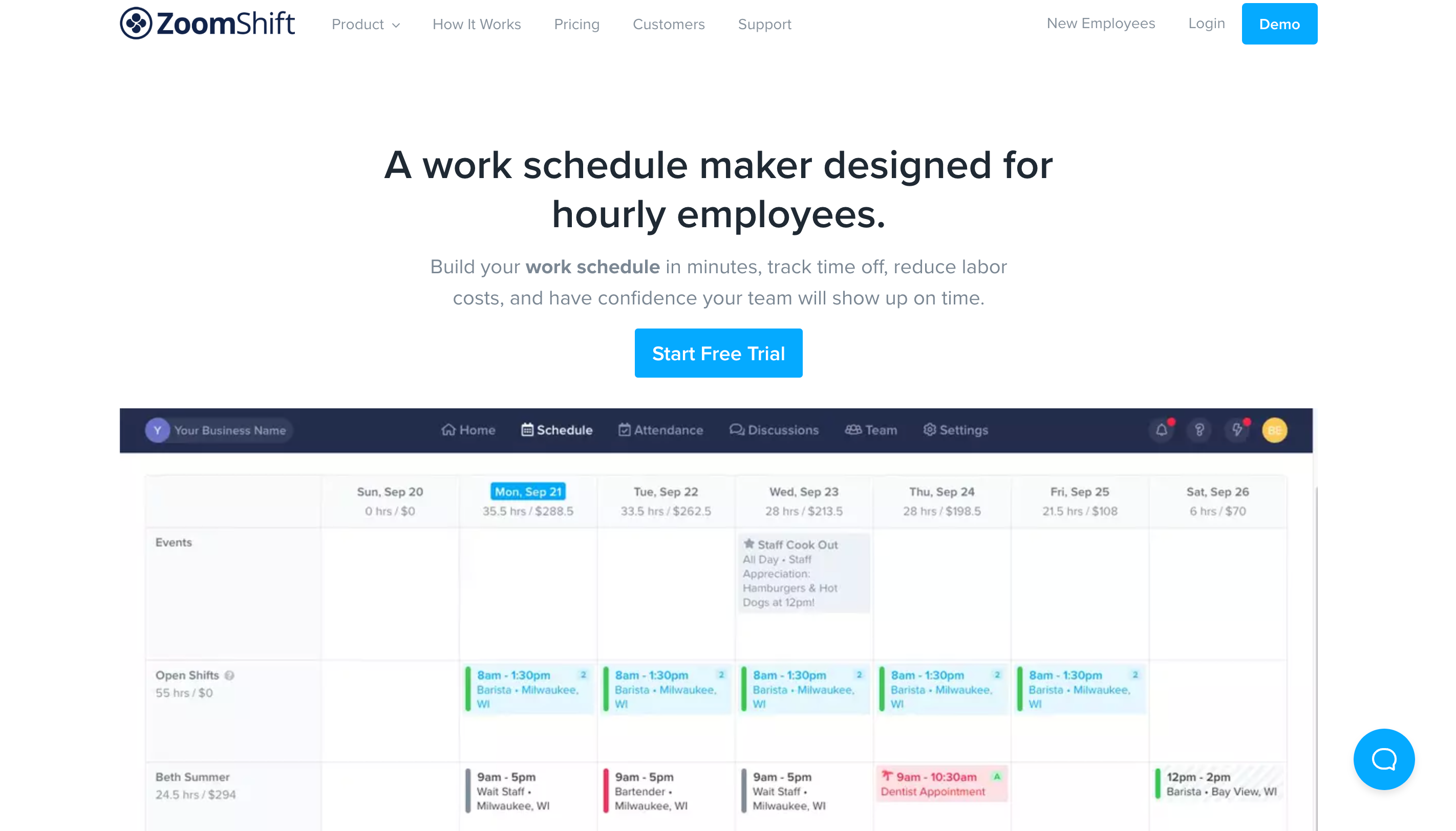 With ZoomShift, you can easily create and manage employee timesheets, track time worked, and clock in and out employees. This makes it easy to ensure that everyone is where they need to be when they need to be there.
Plus, ZoomShift's easy-to-use interface makes it simple for employees to check employee schedules and submit time sheets. And since everything is online, you can access your data from anywhere, at any time.
So if you're looking for an easy way to manage your employees' schedules, ZoomShift is the perfect tool for you.
Features:
Schedule and manage your entire team's work in one place
Automatically send reminders and notifications to keep everyone on track
Generate reports to help you improve your team's productivity
Integrates with lots of existing tools and systems
Cons:
UI needs some work
Has a bit of a learning curve a the beginning
Pricing:
Starter package costs $2.50/month.
8. Franchise management solution: Franconnect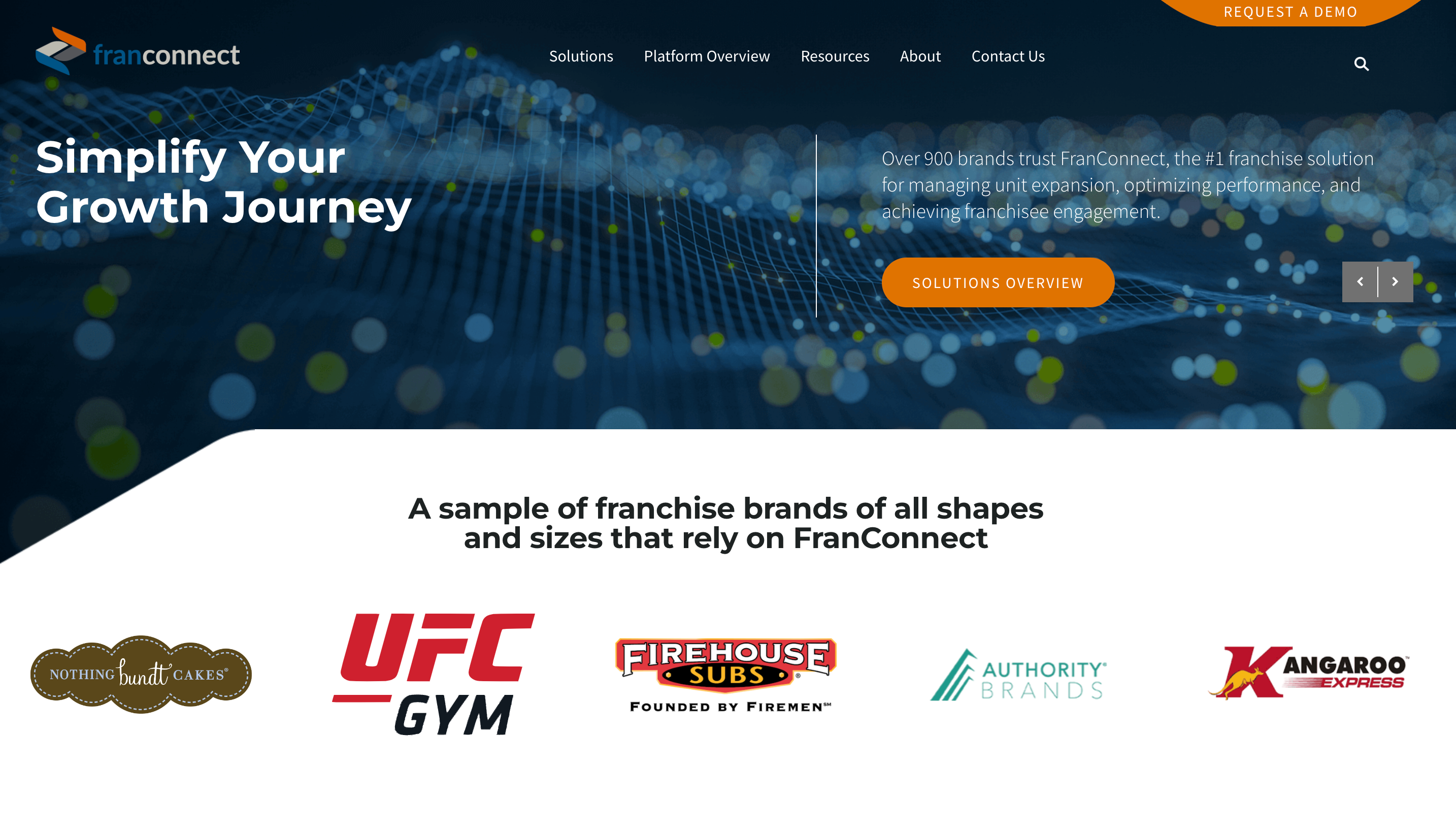 If you're in the market for franchise management software, Franconnect is definitely a name you must have heard before. They offer a comprehensive solution that covers everything from marketing and lead generation to customer relationship management (CRM) and franchise performance reporting. In other words, it's basically an all-in-one solution for franchises large and small.
Features
A central hub for all your franchise data and information
Automated marketing and lead generation tools
Customer relationship management (CRM) tools
Franchise performance reporting
Integrated email and social media marketing tools
Pricing
Not publicly available.
9. Management translation solution: Lingotek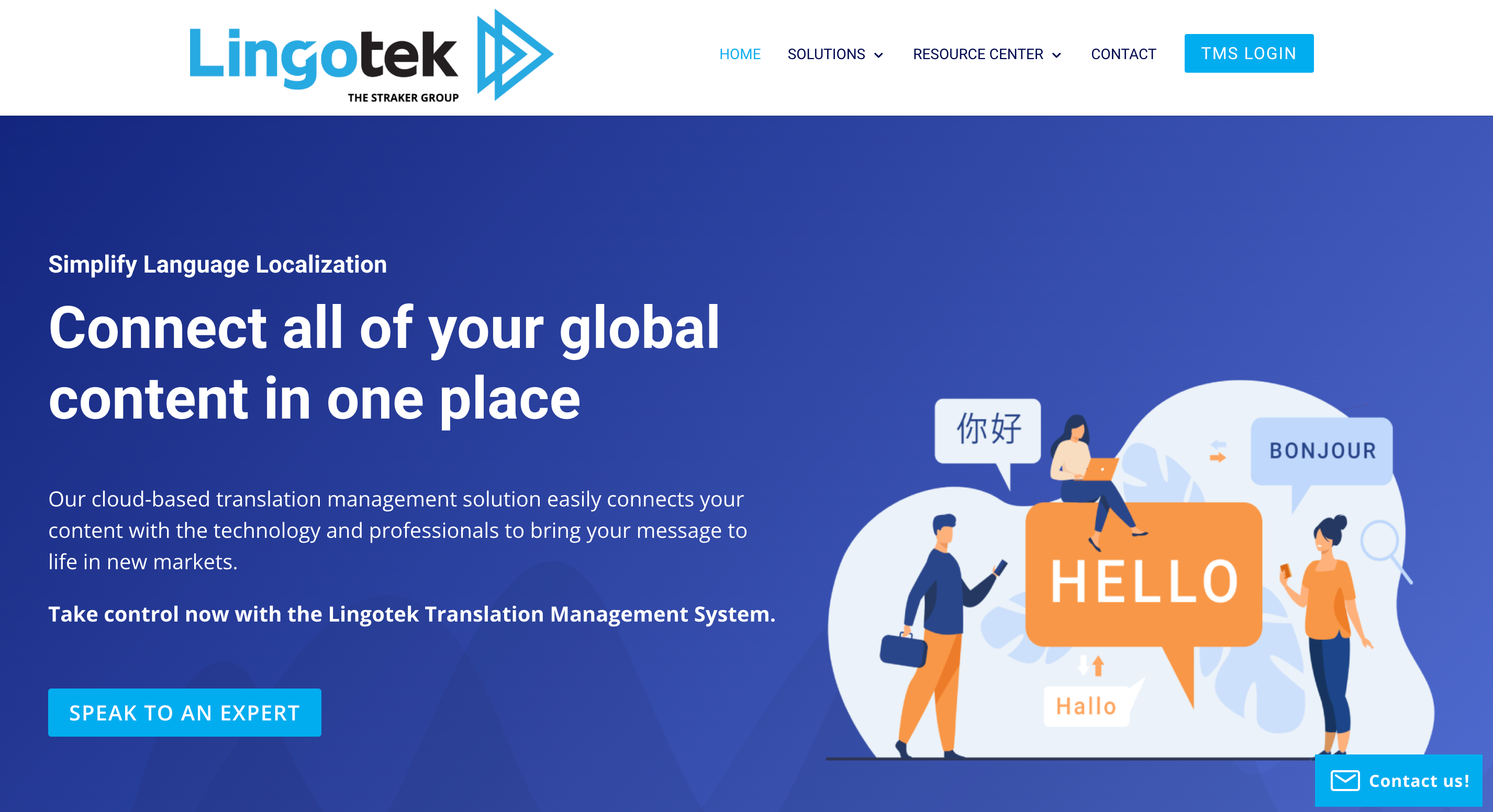 Lingotek provides an easy-to-use platform that helps you manage your translations in one place. With Lingotek, you can create and manage translation Memories, which are collections of translated content that you can reuse for future projects. This saves you time and money by allowing you to recycle previously translated content.
Lingotek also offers a Professional Services team that can help you with anything from website localization to marketing collateral translation. And if you're not sure where to start, Lingotek's Language Services Consultants can help you assess your needs and develop a customized solution.
Features
Machine Translation: MT is built into the Lingotek platform and can be used for free with any content.
Translation Memory: Save money and time by reusing previously translated content.
Professional Services: Get help with anything from website localization to marketing collateral translation.
Language Services Consultants: Get personalized assistance developing a translation solution.
Pricing
Lingotek's pricing is not public.
10. Self-ordering & digital kiosk solution: GRUBBRR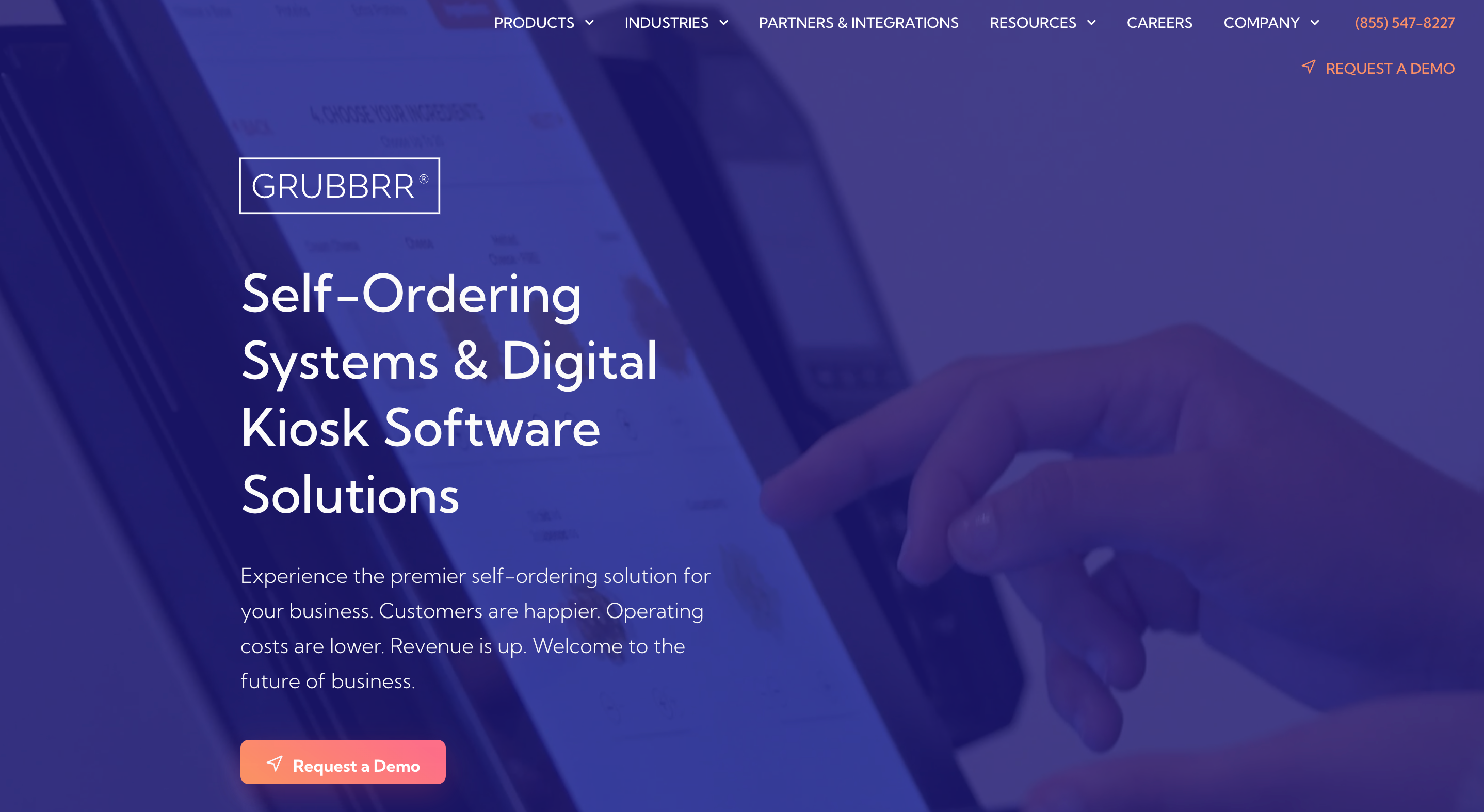 GRUBBRR is an all-in-one solution that provides a self-ordering experience for customers and a streamlined approach to managing inventory and orders for businesses. The GRUBBRR platform includes an ordering interface, digital kiosks, online and mobile ordering, and a back-end management system. GRUBBRR is a great solution for franchises because it offers a consistent ordering experience for customers across all locations while also giving franchisees the flexibility to customize their menus and inventory management to fit their specific needs.
Features
Kiosks can be customized to fit the specific needs of each franchise location and can be integrated with existing POS systems.
Franchisees can offer customers the convenience of online and mobile ordering, with the ability to track orders and manage inventory in real time.
GRUBBRR's back-end management system provides franchisees with a central platform to manage all aspects of their business, from menu customization and inventory management to order tracking and customer analytics
Pricing
Starting from $299/feature.
11. Point of sale tool for bakery franchises: Lightspeed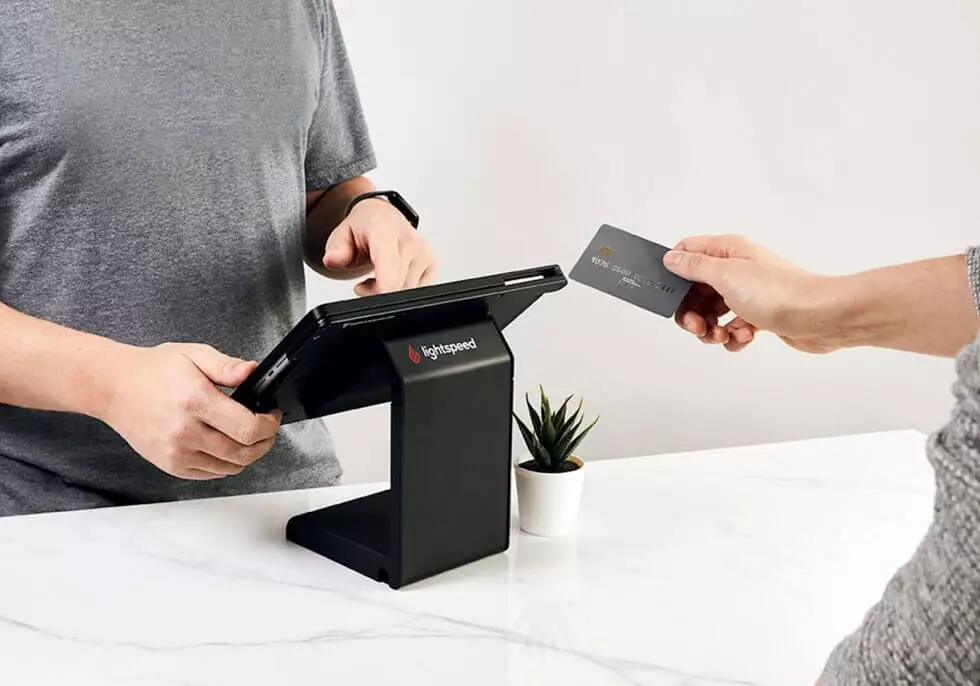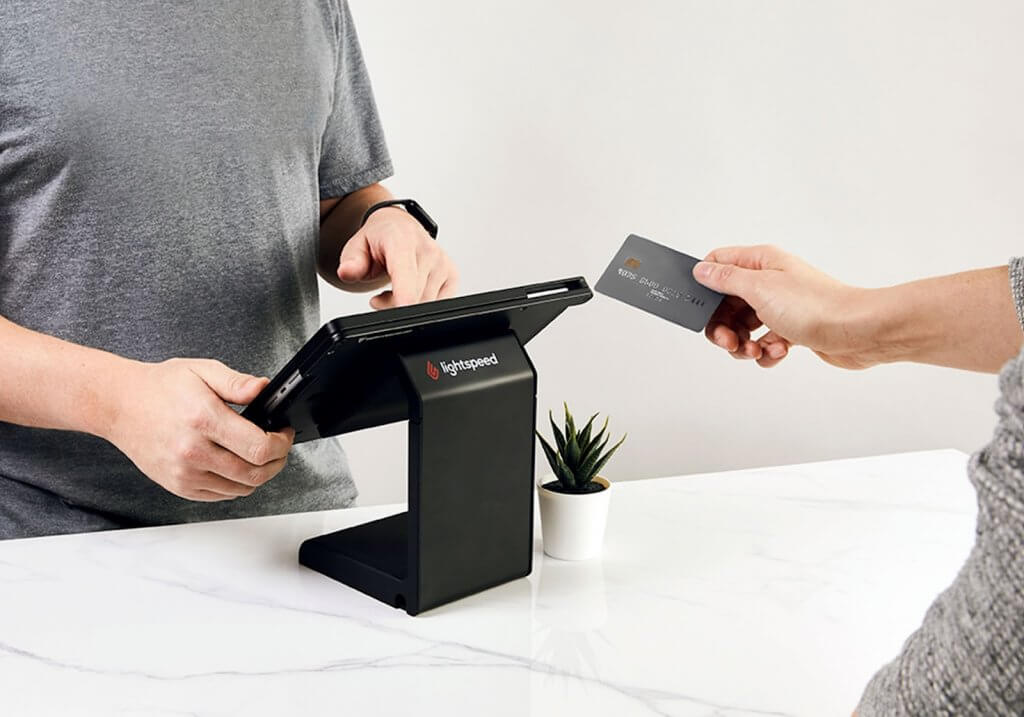 If you're looking for flexibility and control to better run your franchise, Lightspeed's bakery POS solution is a good solution for those looking to franchise a bakery. The POS enables you to put your customers first. You'll be able to offer your guests a sit-down service by ordering via Ipads at their table. You can also enable online orders for those customers on the go, and the built-in reports will help you identify product trends and areas to optimize your stock and spending.  
Features:
A range of contactless payment options for your franchise

Receive orders from UberEats, Skip The Dishes or DoorDash

Floor plan customization 

Get real-time stock and sales reports 
Pricing:
Their Lean plan starts at $119/month, and their advance plan starts at $249/month. 
Plus, there's a free trial for new users. 
12.
Backup & recovery tool:
NAKIVO Backup & Replication


Most outstanding job results can be lost if your infrastructure falls victim to a cyberattack or hardware failure. Tools like Nakivo provide comprehensive backup, replication, and recovery functionality for virtual, physical, cloud, and SaaS environments.
By incorporating the VMware backup solution from NAKIVO into your IT environment, you can improve your infrastructure's resilience and retain control over your data even during major failures on your website. Once you establish backup workflows, you can automatically refresh data backups in numerous locations (onsite, offsite, cloud, tape) on a predetermined schedule or on demand. 
With NAKIVO's solution, recovering complete VMs, hosts, clusters, and individual data components from backups is easy and quick.
Features:
Incremental and image-based backups for VMware infrastructure

Sending backup copies to multiple locations to eliminate a single point of failure

Instant recovery of individual files, folders, and app objects with all permissions

Backup scheduling with Calendar dashboard, Job Chaining, and policy-based data protection
Cons:
Some features are available on the highest plans

Doesn't support macOS
Pricing:
For perpetual licenses, the pricing starts at $229 per socket.

For a subscription-based model, the pricing starts at $2.50 per workload/month.
13. QR code marketing tool: Beaconstac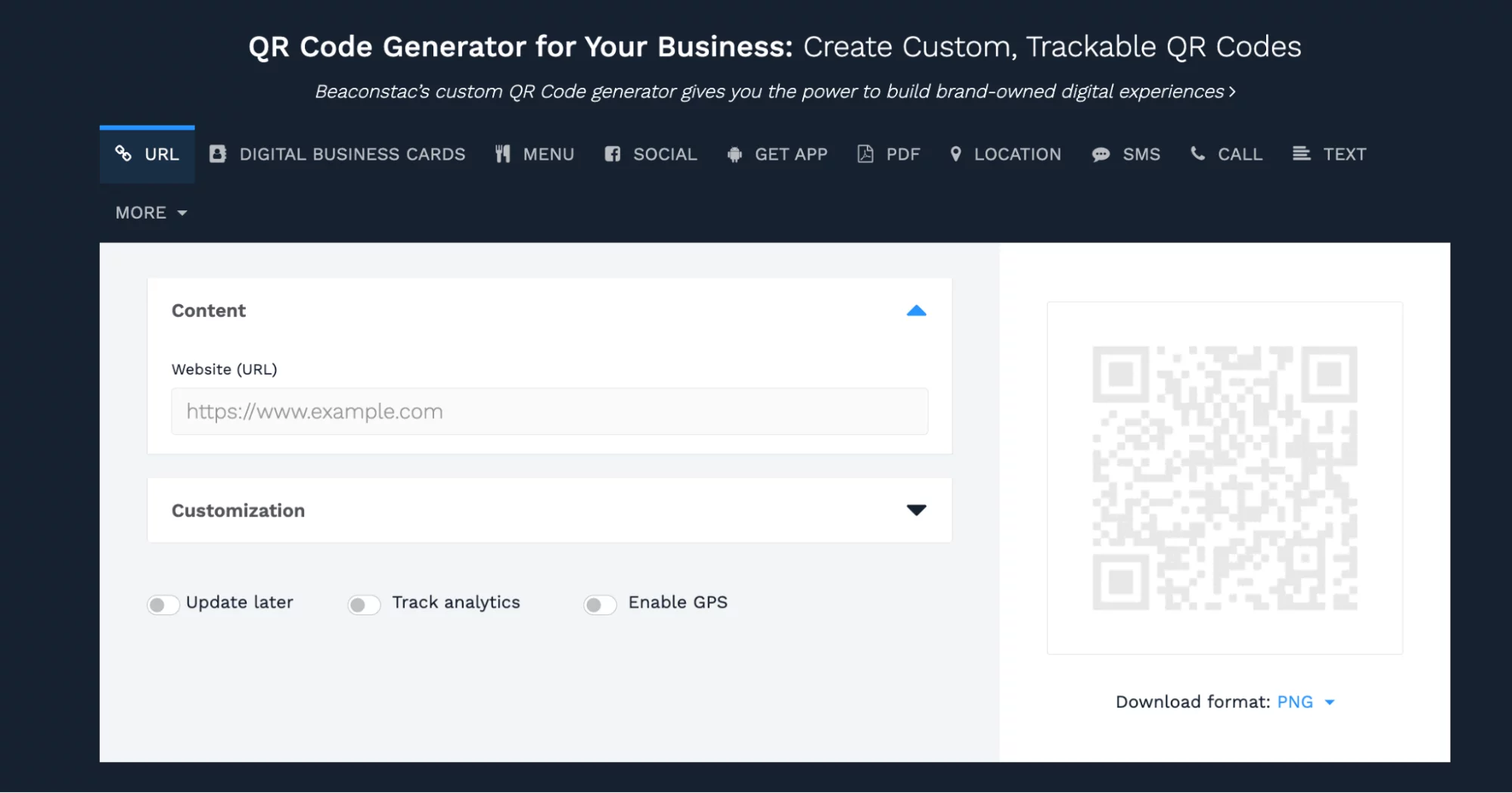 Beaconstac's QR Code generator redefines the connection between offline and online worlds, unlocking unprecedented engagement and empowering brands with seamless connectivity. With its powerful features and seamless functionality, Beaconstac pushes businesses to achieve marketing success by enhancing customer experiences, boosting brand visibility, and driving sales. Marketers and businesses can create QR Codes for a wide variety of use cases, such as restaurant QR Codes, QR Codes for app downloads, and much more. The solution's intuitive UI and user-friendly dashboard make it easy for even beginners to create and customize their QR Codes, that too in a few minutes. 
Key Features:
The pre-designed templates and customizable forms, and landing pages make it easy to customize the QR Codes to match your brand's aesthetics.

It integrates with Google Analytics and shows you valuable insights into user engagement, click-through rates, and conversions.

It also seamlessly integrates with applications like Zapier, Slack, and many more, enhancing the functionality of the QR Code generator.

The solution is SOC-2 Type II and GDPR compliant.

You can generate even 2000 QR Codes in bulk in just a few minutes.
Cons:
Pricing might not be suitable for all budgets

Limited features available in the lower-priced plans
Pricing:
A 14-day free trial period is available

Paid plan starts at $5/month
14.
Virtual mailbox tool: Incfile Virtual Mailbox & Mail Scanning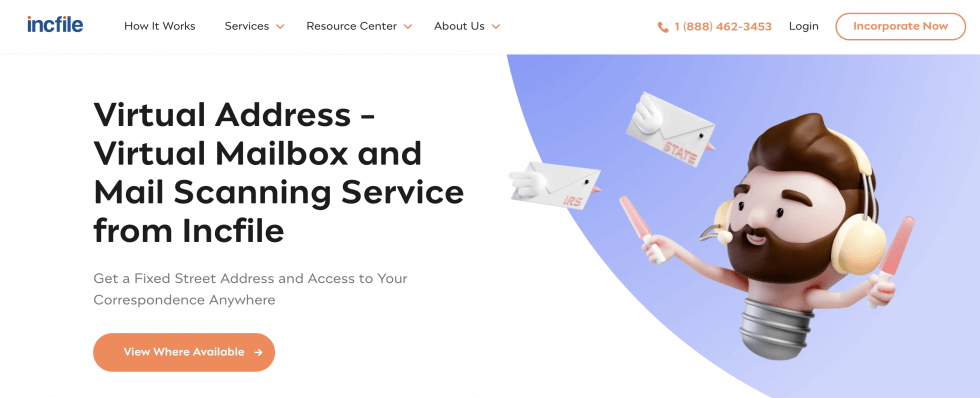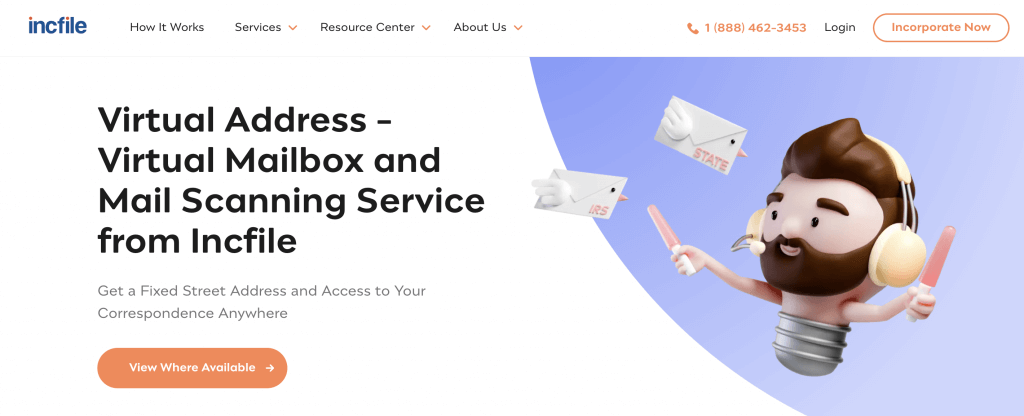 The Incfile Virtual Mailbox & Mail Scanning tool could be particularly advantageous for franchise businesses. Franchises often have multiple locations and diverse teams, which can create complex logistical issues. However, a unified mailbox enables effective communication through a single point of contact.
With a virtual address in up to 48 states, you can maintain consistent addresses across your locations. This is especially beneficial in the context of updating business collateral like signage or forms each time an address changes, as keeping it constant reduces these complexities.
Franchise businesses that require flexible workspace solutions will find the mobile compatibility feature extremely useful. Whether your team needs access during travel or remote work situations, they can quickly retrieve mail anywhere.
Key Features:
Scanned mail is uploaded to a secure online portal to which only you and your team have access.

Mail can be sent to a single street address that's consistent over time, giving customers confidence in your brand.

As well as letters, the service is also able to accept and scan checks for upload.

Alerts and notifications are sent out as soon as mail is received and scanned.

Mobile compatibility is assured, alongside the option to view virtual mail on desktop workstations and laptops.
Cons:
Packages cannot be accepted at the street address.

You do not have the option to collect the messages in-person.
Pricing:
The flat pricing structure means you pay a single, simple fee, no matter how much mail your virtual address receives.
Tools for franchises wrap up
And that's it for our list of the best franchise management software. Franchises have a lot to juggle, from finances and marketing to operations and HR. But with the right tools in place, franchise businesses can streamline their processes, improve communication, and boost productivity.