Your brand story is what connects customers with your business on an emotional level. "The most successful companies in the world have profound stories behind them that instill a sense of bigger purpose and meaning into what they do," says Celinne Da Costa, brand storytelling coach. Bringing that story to life is critical for fostering and encouraging the relationships that lead to loyal customers.
Even without the budget of Apple or Nike, some of the most notable brands worldwide, you can still make an impact with your efforts. When used effectively, a small budget can be enough to bring your brand story to life. You can forge connections with customers who love not just your products or service, but who you are and what you stand for.
Here are a few budget-friendly ideas to bring your brand story to life. Choose the ones best suited for what you want to say and build them into your marketing roadmap. 
Your brand's story told through blog content
Your blog is the easiest way to tell your brand story because you can consistently update it with new content. What's more, it lives on your website, so you have full control over how it looks and interacts with customers.
However, don't just start creating content for the sake of creating content. Build this into a strategy using a quarterly content calendar to organize your ideas. Having a strategic approach ensures that you're touching on every element of your brand story and choosing the best content formats for each piece. For example, your next blog content calendar can include an interview with your CEO, a video made by employees, or a content-based post about why you do what you do. 
Asa Sherril, VP Experience Design @Macquarium answered on Quora and explained why a good brand story is important:

"Because reality is complicated. People have a way of dealing with complexity by boiling it all down into a simpler-to-understand point of view which is maintained more as a feeling rather than a logical list. A story. This will happen to your company as well; based on interactions with you (i.e. touchpoints), whether you control those touchpoints or not (i.e. your website vs. a review on yelp), a person will crunch all of that down into a feeling about you. This will happen whether you have a brand story or not. The difference between having a good brand story and not is that your brand story can be applied to the craft of each of your touchpoints so that when a customer interacts with you, they come back with a consistent feeling. Then, when they go to write a review on Yelp, they are carrying your brand story on as a meme. A brand story is about how you want people to perceive the entity that is your company. Its something that they need to be able to understand – and potentially more important – something your employees who interact with customers need to believe in. All of this is exceptionally challenging to reign in; so its not as though a brand story will fix all of your perception problems – but the alternative of leaving your brand impression to the chaos of human society is extremely risky."
Don't be afraid to think outside the box when brainstorming content ideas. Setting yourself apart, and matching the style of content with the story you're telling, is what brings it to life. For example, consider how you could implement an interactive element, like SoulCycle's timeline, into a brand story post about where you started and where you are now. 
IGTV to enforce your brand story
IGTV is the latest feature from Instagram and is both a visual and cost-effective way to bring your brand story to life. IGTV allows you to create long-format video content, up to 10 minutes for basic users. Brands that have a larger following or are verified can have up to an hour.
If you're already active and highly engaged on Instagram, this format is a no-brainer. Not only does it make your brand story visible to Instagram's 1 Billion active users, but it's interactive and engaging.
Not to mention, 85 percent of Internet users watched video content in 2018, and that number is climbing as video gains in popularity. All you have to do is create a cohesive brand story that you can share with your audience. Use these tips to do precisely that: 
– Define your story and break it up into bite-sized pieces that you can turn into video segments.
– Be creative in how you present your brand story. Perhaps one video comes from your founder, while another comes from an employee and another from a customer.
– Treat each video like a chapter in your story. You want this to be a well-curated video feed that anyone can navigate.
– Promote your new IGTV video in regular posts, so followers are encouraged to tune in.
IGTV brings your brand story to life while making it directly available to a large pool of potential customers. Use IGTV to make it easy for potential customers to interact with your brand and build connections that drive sales. Here's what Ebun Oluwole, founder @JunElevenCo thinks:

 "Working in Social means the never-ending process of contending with the ever-changing algorithms. If you're currently building a DTC or B2C brand on Instagram, here are three things you need to focus on: Create/Repurpose content for IGTV. Instagram is currently pushing and prioritizing IGTV so you need to be there NOW. Improve your Stories. More than ever before and as a result of the decline of organic reach, you need to double down on stories. Choose and produce more of the best performing content for your feed. While you can't completely abandon the feed regardless of the algorithm, you can still get results by checking your analytics and producing the most engaging content. In most cases, it might be memes or videos. Double down on those as well. "
Your brand story on Pinterest boards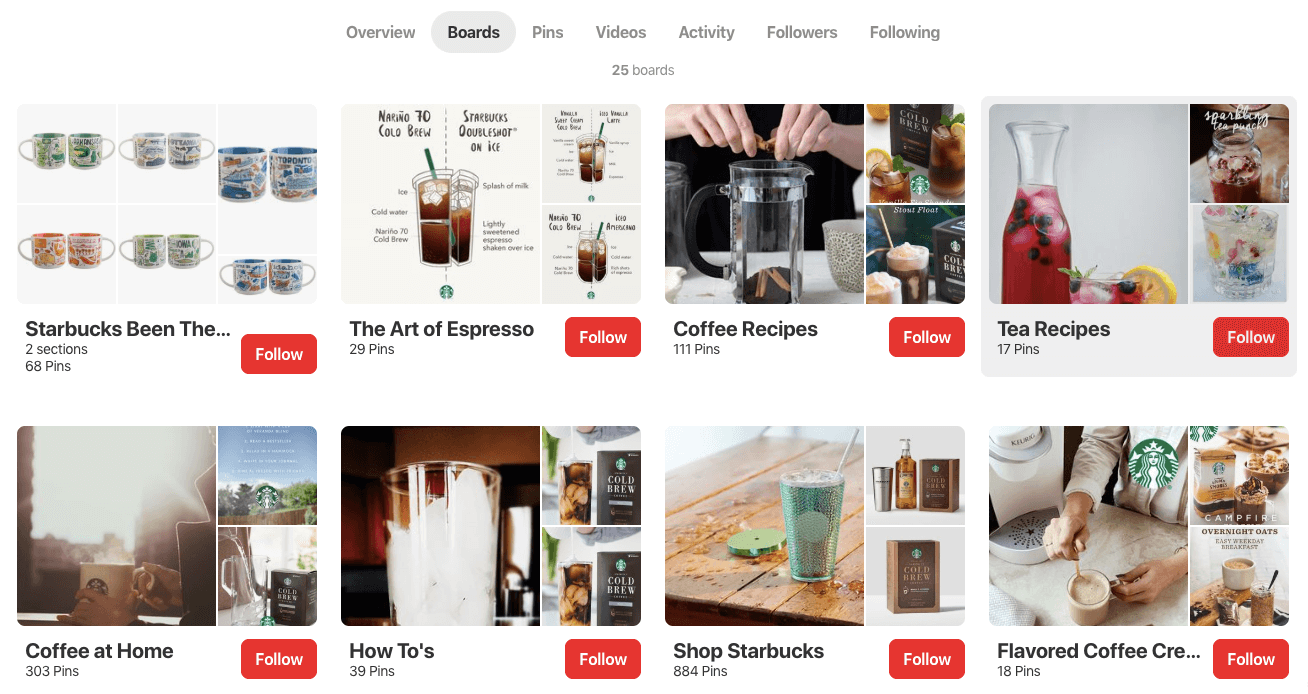 Pinterest is one of the most visual marketing platforms, which makes it perfect for bringing your brand story to life. Pinterest reports 250 million monthly visitors looking to find new ideas and products. 77% of Pinners discover a new brand, and 84% visit the site when they can't decide what to buy.
This means Pinterest can drive both sales and brand awareness, making it a win-win opportunity. The focus here is telling your story through imagery—rather than words. This way, you'll bring your brand story to life through:
– The design of your pins: How does the coloring, format, look, and feel of your pins reflect your brand's point of view and story? Dial this in, but don't over-do it, suggests Lola Catero, marketing director: "Many companies such as Target use subtle branding. Pinterest promotes an aesthetic experience. Obnoxious takeovers and huge logos don't tend to work." But if you're still planning on keeping your logo, keep the logo design simple and aesthetically appealing.
– The title of your boards: The titles of your boards should reflect the voice and tone of your brand, further promoting the uniqueness of your brand's story. Is your voice fun and flirty or educational and straight-forward? Make sure your titles reflect that.
– The overall feeling: There's a specific feeling that you want customers to experience when shopping or working with you. Your profile should reflect this, which means being meticulous not just with your own pins, but the ones you choose to re-pin from other accounts.
– Use personal boards: Give potential customers a feel for what your CEO likes by creating a CEO board. It's is a chance to bring your brand story to life through the eyes of your CEO. It is a fun point of view for potential customers to experience while making your brand relatable and human.
Your brand story translates into a specific set of graphic elements that allow you to remain consistent and best bring your story to life. To make the most of Pinterest, you need to create your visual brand guidelines, ensuring your brand story is clear with every post. According to My Creative Shop, those guidelines should include:
– Define a color palette
– Determine the fonts
– Formatting and layout
Put these into a formal document, so you maintain the look and feel of your brand story at all times, no matter who's curating it.
Bring your brand story to life
Make your brand story a living breathing part of your business without the big budget. Do it for free using these platforms, with the only cost being time to product video, create blog content, or imagery. If you're as strapped for time as you are for money, remember: a strong brand story helps build relationships that will keep you in business for a long time. When done right, the investment will pay out in the long-run.
Want to get more inspiration?
This article was submitted by Jessica Thiefels, founder and CEO of Jessica Thiefels Consulting, an organic content marketing agency.