Are you thinking of starting a blog content calendar? Then, let's get down to it because a blog calendar is one of the most efficient and visual ways to track all your content efforts in one place.
Learn what a content calendar is, where to find topics for your blog, and how to set up the editorial calendar your team would love to use.
What is a blog content calendar?
A blog content calendar is a visual representation of your content planning efforts in the form of a timetable. It shows what and when your brand will publish, making blog content management easier and more transparent.
An editorial calendar aims to make content writing visual and straightforward and align your ideas with the strategy. A blog content calendar can include:
Topics for the articles
Due dates for each piece
Publication dates
Any other info that would help you navigate the content tide
You can easily create a content calendar using Google Sheets, Google Calendar, or ready-made editorial calendar planning software, like Planable.
5 reasons to start a blog editorial content calendar
Whether you're a small business or a large corporation, tracking your content activity is necessary to tweak the strategy and stay on track. A content calendar is one of the most efficient ways to do so.
Here are five reasons your team should invest in editorial calendar creation:
1. Organize your blog
A content calendar accumulates all your blog pieces in one place, giving you a holistic overview of what your team has to do and when. It helps you stay well aware of your content efforts and pace.
Besides, a blog calendar is an excellent place to jot down all your blog post ideas after a brainstorming session and save some of the brilliant topics for later. If you're an organizational geek as I am, you might want to look into some tools to streamline content organization even more.
2. Ease the collaboration
Having a unique, centralized content calendar simplifies the collaboration in a large marketing team. Every team member can access the calendar and see if there are any vacant blog slots for a partner integration article or a new feature release note.
With a content calendar, all departments create content more cohesively and can make the most out of a corporate blog to best serve the target audience. No more content team gatekeeping!
3. Maintain a consistent schedule
Posting consistency is the key to content success. An editorial calendar helps your team to establish a publishing schedule for blog posts and stick to it.
Remember: although a content plan is more or less constant, it's not set in stone. So it's OK if you move a blog post around the content calendar and rearrange it a bit — that's where a drag-and-drop feature in content calendar tools like Planable comes in handy.
4. Create relevant content
Some content pieces are spontaneous, and some are predictable. Seasonal holidays, corporate milestones, events that you're sure will matter for your brand. Make all those newsbreaks a part of your content marketing strategy and schedule content to the editorial calendar beforehand.
Put blog post placeholders in your content calendar and write down several relevant content ideas in advance to fast-track the content creation when it's time.
5. Assist cross-platform planning
Every blog post is a potential social media post, too. Businesses rarely use only one content channel, and a content calendar stimulates the cohesive cross-platform approach to content.
Repurpose some of your own blog post content into social posts, or dig out evergreen curated content your team can distribute across all channels. A content calendar will document it all.
Who can make use of an editorial content calendar?
The short answer is everybody. A content calendar is a universal solution for anyone who aims to leverage content marketing and keep up with their target audience.
Content creators
Professional bloggers, freelance copywriters, domain experts, opinion leaders — frankly, anyone who is focused on creating stellar content and treating blogs as their broadcasting platform and source of income.
Say, a freelance writer simultaneously uses their blog as a portfolio, educational platform, and promotion resource. A content calendar helps writers track all ideas to develop, topics to cover, and posts to publish.
Marketing teams
Brands produce content constantly and immensely, trying to stay relevant and visible. Marketing teams need an editorial calendar to document, track, and analyze their content creation process and stick to the strategy to reach their corporate goals.
Besides blog posts, marketing is usually responsible for emails, social media, press releases, ads, and other content.
A content calendar makes collaboration more manageable and ensures that PR, social media, and email marketing departments stay on the same page. Planable, for instance, allows users to tackle any written content — all on the same dashboard.
Content agencies
Publishing content for multiple clients requires remarkable multitasking skills. However, content agencies can easily manage several clients using separate content calendars for each or color-coding content planned for different brands.
A content calendar speeds up the approval process and helps keep clients in the loop. Whenever they need a glance over the marketing plan for blogs and other platforms, show them a visual representation of your timely content marketing efforts.
How to create your blog content calendar?
So, you're among those people who need a content calendar. How do you create an engaging content calendar that your team would want to use?
Choose your topics
Blog topics are the backbone of your content strategy. When brainstorming on topics, always put your audience first: what would they want to read about? Don't be scared to explore and experiment.
Here are some sources to inspire you:
Keyword research
Quality content provides value to the reader, and more value equals more traffic. Keyword research helps you identify your target audience's core questions and tailor your content to their requests. Are the bookworms in your area googling "books like Sherlock Holmes?" Put a list of classic detective stories in your content plan.
People also ask on Google
This handy snippet can give you a handful of blog post ideas related to your search request. Look for your audience's concerns there. Say, you're selling skincare products, and your recent addition is BHAs and AHAs peelings. Check out the most popular questions people ask related to your search request and adjust them to your content strategy.
Buyer's journey
Blog content supports weak links in the customer journey. If your buyer gets stuck halfway through, investigate the issue — maybe an explanatory article will help them proceed. For instance, if a freelance writer finds that clients are intimidated by the prices, they can add a post breaking down the rates to help potential customers decide.
Product updates, educational content, industry news, latest benchmarks — the topic pool is vast. All you need to do is document them.
Create an idea bank
This point naturally comes from the first one: when you have many ideas, you must keep track of them. Write down any blog post idea you get during a brainstorming session, while browsing Linkedin, or in a shower. That way, you'll have a pool of post ideas for the future to tap into when you're short on time.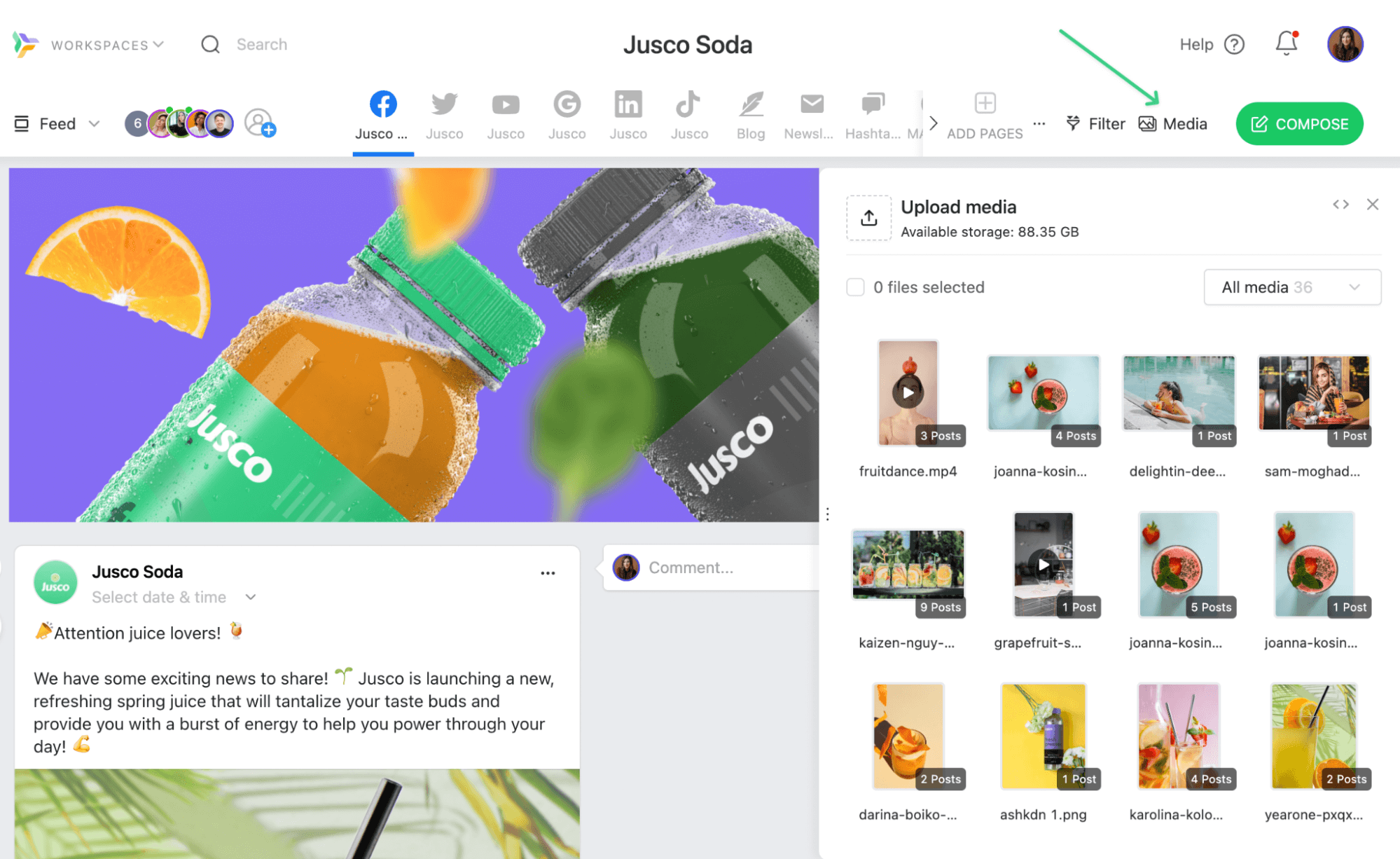 Your idea bank should be a safe space where all topics have a place for consideration. What felt stupid two months ago could go viral with a bit of twisting and tweaking. So don't discharge ideas on the spot — let them brew a little in the idea bank.
Establish your publishing frequency
When creating a content calendar template, decide how often you want and — most importantly — can publish articles. Consider your team's capacity and set realistic expectations.
Consistency is often more important than volume, especially when kickstarting the blog. Initially, your weekly schedule can include one blog post if you're sure the team will provide it in time. Then, feel free to add more slots for blog posts as the brand's needs and your capacity grow.
Tackle the first 3 months
Creating a content calendar for your blog can be overwhelming at first. But, no worries — you don't need to plan a year in utmost detail. Instead, set a more realistic timeframe, like three months.
Map out the ideas, moving from most descriptive to least descriptive. Start with more accessible topics: plan evergreen posts, take advantage of seasonal holidays, broadcast product updates, etc. For the first month, fill in the calendar with detailed briefs, including:
The idea summary
Due date and publish date
Assigned author
Target keyword or an overarching topic
Additional assets like images, headlines, videos, etc.
If you can make your third-month topics just as detailed on the spot, great. If not — start with more vague ideas and fill in the blog post details as you pick up the pace during the first months.
Plan ahead, but stay flexible
The blogging process is fluid: sometimes, you get a sudden newsbreak you can't miss, or the new release is late. An effective blog content calendar leaves space for maneuvering if something needs a last-minute tweak. Remember to stay flexible when laying out your marketing plan.
Plan a backup topic for articles that are not certain. For instance, if you have an integration planned, and the second party is late with the text or approval, you can fill in the gap using your ready blog post idea.
Include more than just blog posts
An editorial calendar is not only about planned or published posts. It's a wholesome tool to track all your activities. Once you get a hold of things, fill in your calendar with social media posts, blog articles, newsletters, ads, integrations, and podcast releases. Anything that falls under the tag "content" and is related to your brand.
Besides, feel free to use your content calendar to add notes on how each piece performed, reminders to update older blog posts, or schedule a content audit.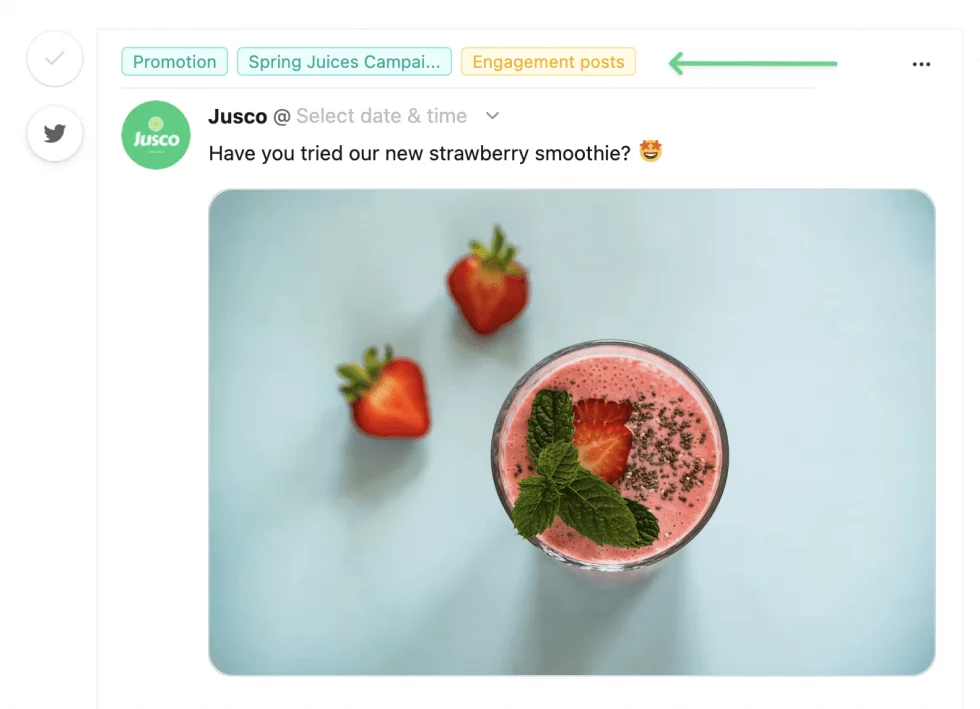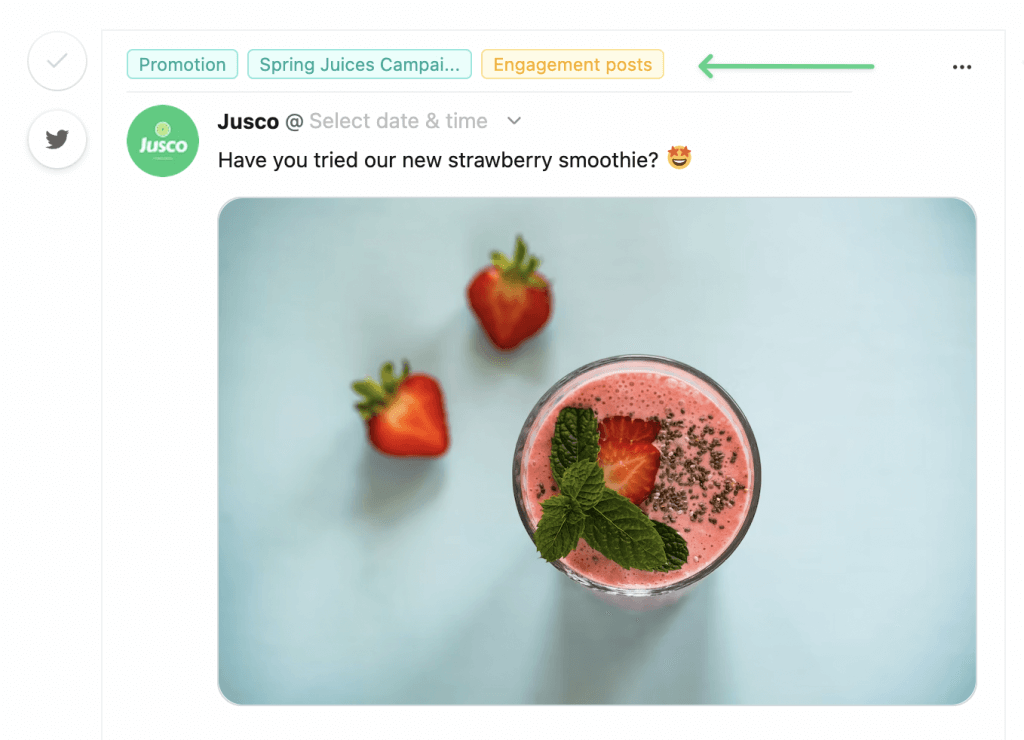 Some tools offer nifty features to organize notes and content types. For instance, Planable has color-coded labels and filters to ensure you have a clear view of the marketing activities even when a lot is happening.
Blog content calendar tools for marketing teams
You set your mind on creating an editorial calendar — now, you need a content calendar tool. Here are three nifty tools to plan, visualize, and track all your blog content in one place.
1. Planable
Planable is a highly visual content planning tool supporting multiple formats of written content. Content teams can schedule, approve, and collaborate on blog articles, social media posts, newsletters, and other forms of content while keeping it clear, transparent, and visually pleasant.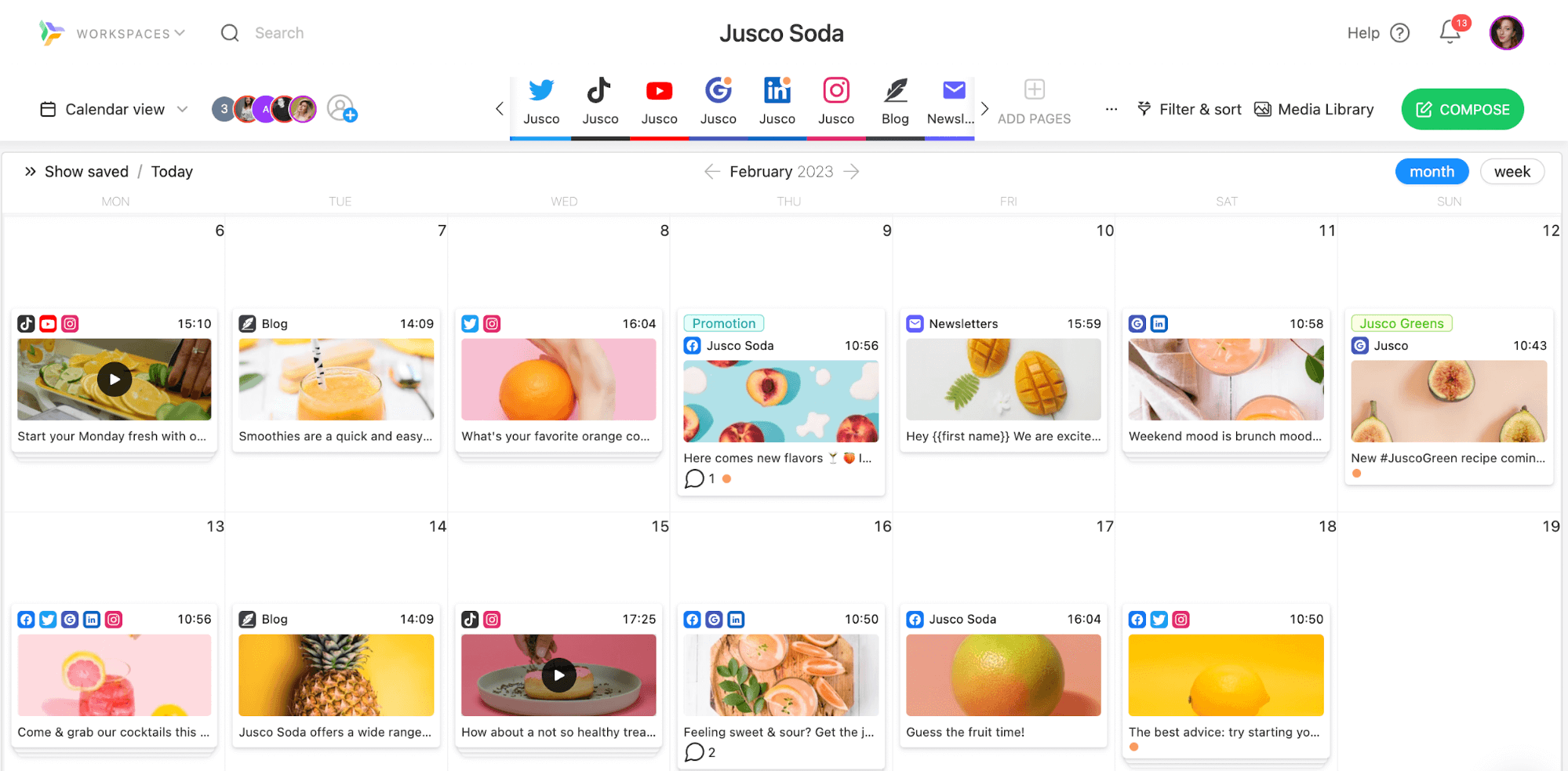 Planable's most significant advantage regarding the editorial calendar is the clear timetable view and filters. So even if your team has lots of content to track, navigating and organizing it is easy.
The platform focuses on collaborative content creation. Besides planning, Planable's Universal Content helps create stellar blog content in real-time:
Users create a blog post right inside the platform using markup tools.
Colleagues collaborate on the post, leaving comments and internal notes beside the text.
Creators schedule blog posts by entering a publish date; the team and clients can later see all scheduled posts in a calendar.
All content pieces have several levels of approval to build your review and approval process.
You can also use color-coded labels, for example, to differentiate between different target audiences.
Planable has a free account with 50 scheduled posts. Afterward, you can upgrade for only $11/month. Sign up and create your own blog content calendar.
Drawback
Planable doesn't allow auto-publishing for blog posts — it's only available for social media. Plus, the platform doesn't provide built-in analytics.
2. Spreadsheets
A basic spreadsheet can be your first try at content calendar creation. It works well if you have little content to manage: for instance, only blog posts or a blog plus a couple of social media platforms. So draft a spreadsheet with dates, topics, and summaries, or find an editorial calendar template that would suit your needs.
Suppose you want to validate the idea of content calendars. In that case, a Google sheet or Microsoft Excel might be the tool: they're free, familiar, and available on any computer.
Drawback
Spreadsheets tend to get messy when there's a lot of content. Without a blog content calendar template, creating a comfortable visual way to present and navigate it is challenging.
3. Google Calendar
An actual calendar for your blog, Google Calendar is a visual way to have a bird's-eye calendar view of the content planned and published.
Your team can create color tags for each type of content and schedule it just like they would schedule another video call. This option suits teams with basic content needs: Google Calendar is easy to use, share, and navigate.
Drawback
Google Calendar is not a project management tool; a content creator would need more than just publishing dates to create content. Adding notes, summaries, and briefs to the tasks and tracking statuses is less convenient.
Get your blog calendar in order!
It's planning time: try Planable's trial version to create your own content calendar.