Having a hard time figuring out what to post on Google My Business to boost your online presence and attract more potential customers? Or maybe you're pondering over content ideas suitable for different business profiles.
Look no further! In this blog post, you'll discover 8 tried and tested Google My Business post ideas. Browse some compelling examples from brands, to get those creative wheels turning and be prepared to schedule your next GMB post.
Post ideas for your Business Profile:
8 practical Google My Business post ideas to try with your brands
With more than 8.5 billion queries per day, Google search has enormous potential to showcase and bring more customers to any business page, regardless of its size or industry.
Approximately 64% of individuals use Google My Business as their go-to platform to find contact information for nearby businesses. On weekdays, an impressive 94% of calls made to local businesses originate from the company's Google business profile.
Google My Business (GMB), renamed Google Business Profile, should be an essential part of any company's marketing plan — especially those looking to rank in the local search results.
1. Spotlight your products with photos
You can look at Google My Business as your digital shop window, and what better way to entice passersby than by showcasing your products through eye-catching photos? Use this post type to exhibit your offerings and their unique features. It doesn't matter if you own a bakery, a bike shop or a multi-location business, you want people to have that window-shopping experience, even if it's on Google Maps.
Simply go to your GMB profile, click Add Photos, and choose the best-suited one. Write an inviting description and click post. Just remember to use the recommended business post image size of 480×270 and an aspect ratio of 4:3.
GMB food photography post
Sushi By Bou, for instance, perfectly captures the essence of their delectable dishes through mouthwatering snapshots. They're using the competitive brand leveraging strategy to immediately capture attention and drive engagement.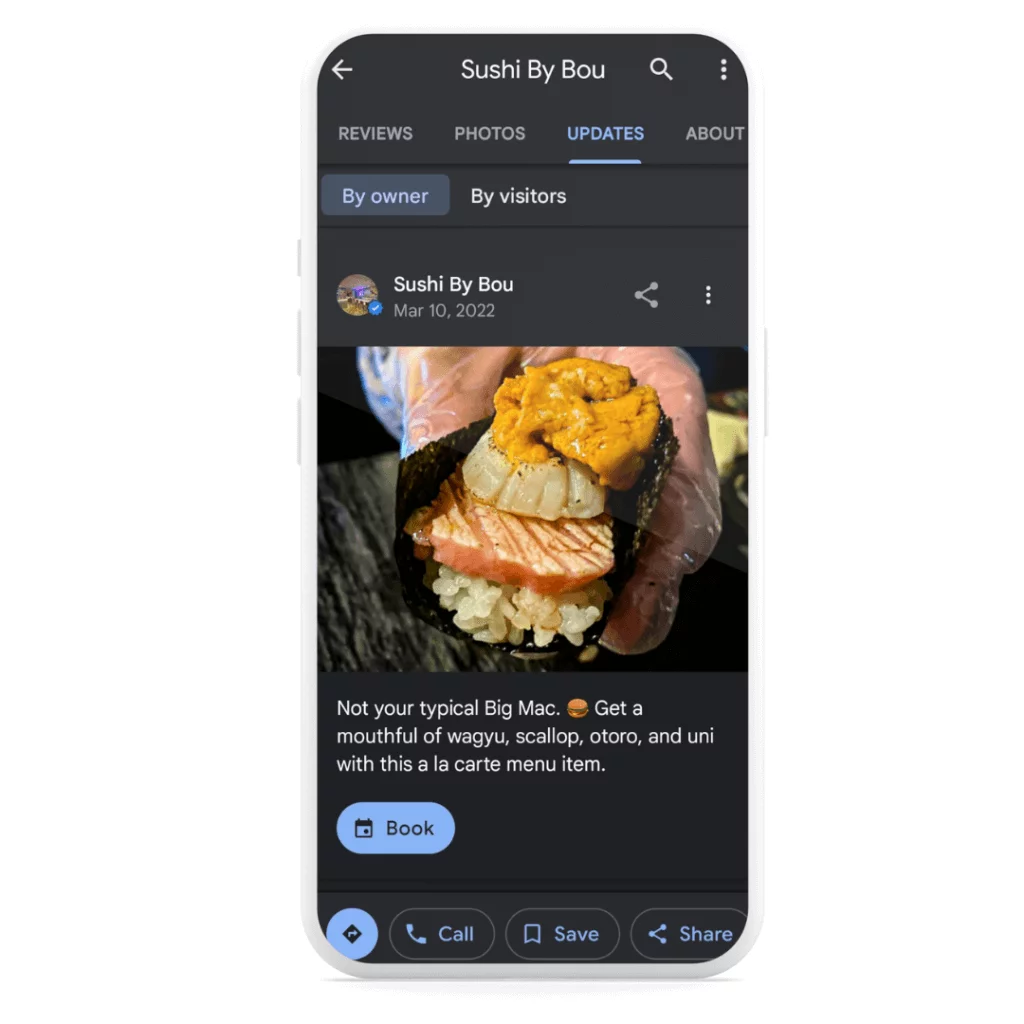 GMB product photo post
Tiger is serving the search results with a simple yet compelling home feeling. Because a home is more than just a place, but a set of emotions. Posts like this offer a great example of how a simple photo can create a homey ambiance, leaving visitors with a yearning feeling. Tiger understands this and transposes their physical store on the virtual map, decreasing the distance between them and their customers.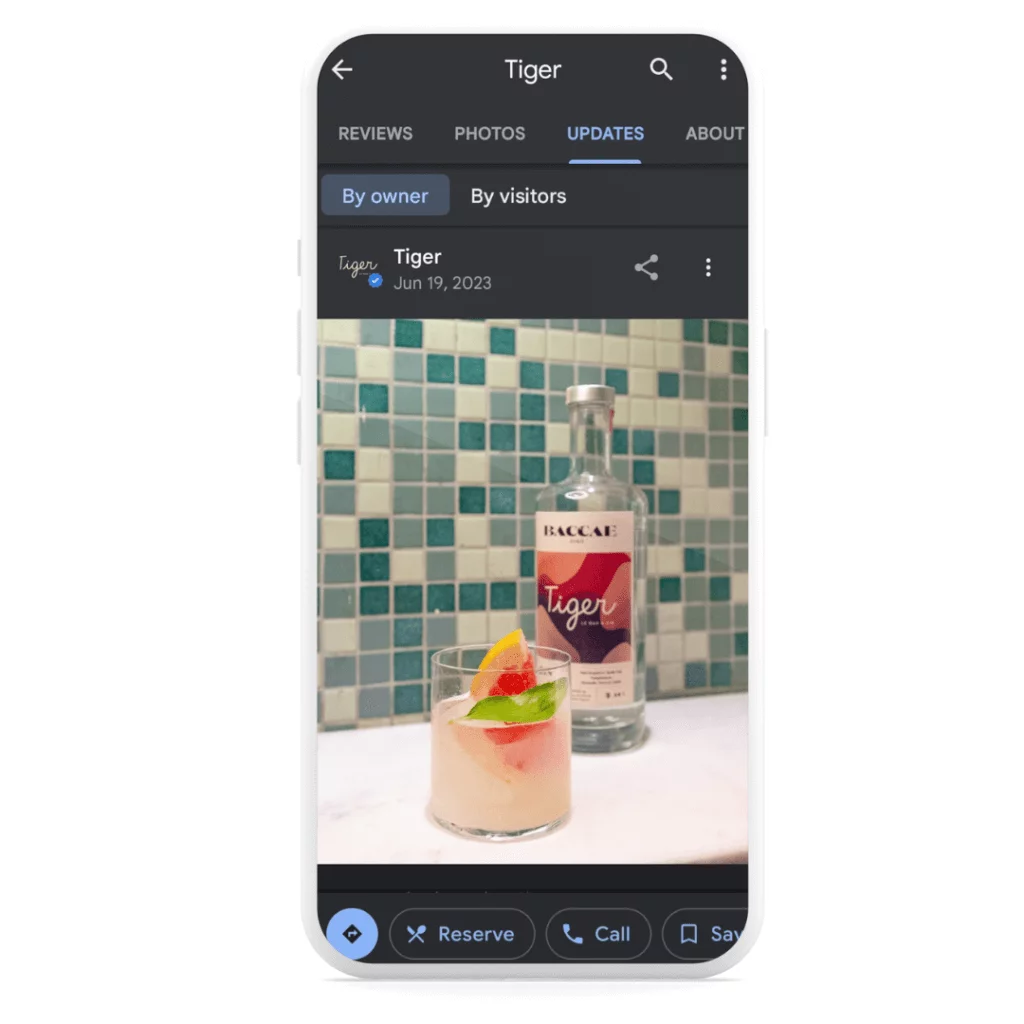 2. Promote your offers
With Google My Business, you have the perfect stage to highlight your latest deals and promotions. Create Google posts with clear offers to drive customers toward your business. Remember to make your offers visually appealing, use persuasive language, and provide instructions on how customers can take advantage of the promotion (e.g. coupon code). You can also incorporate urgency, limited availability, and any unique benefits to create a sense of excitement and drive immediate action.
GMB promotion post
24 Hour Fitness expertly utilizes these post types, luring fitness enthusiasts with limited-time offers, and boosting foot traffic with an inviting CTA button. Their messages are straight to the point so that visitors know what to expect.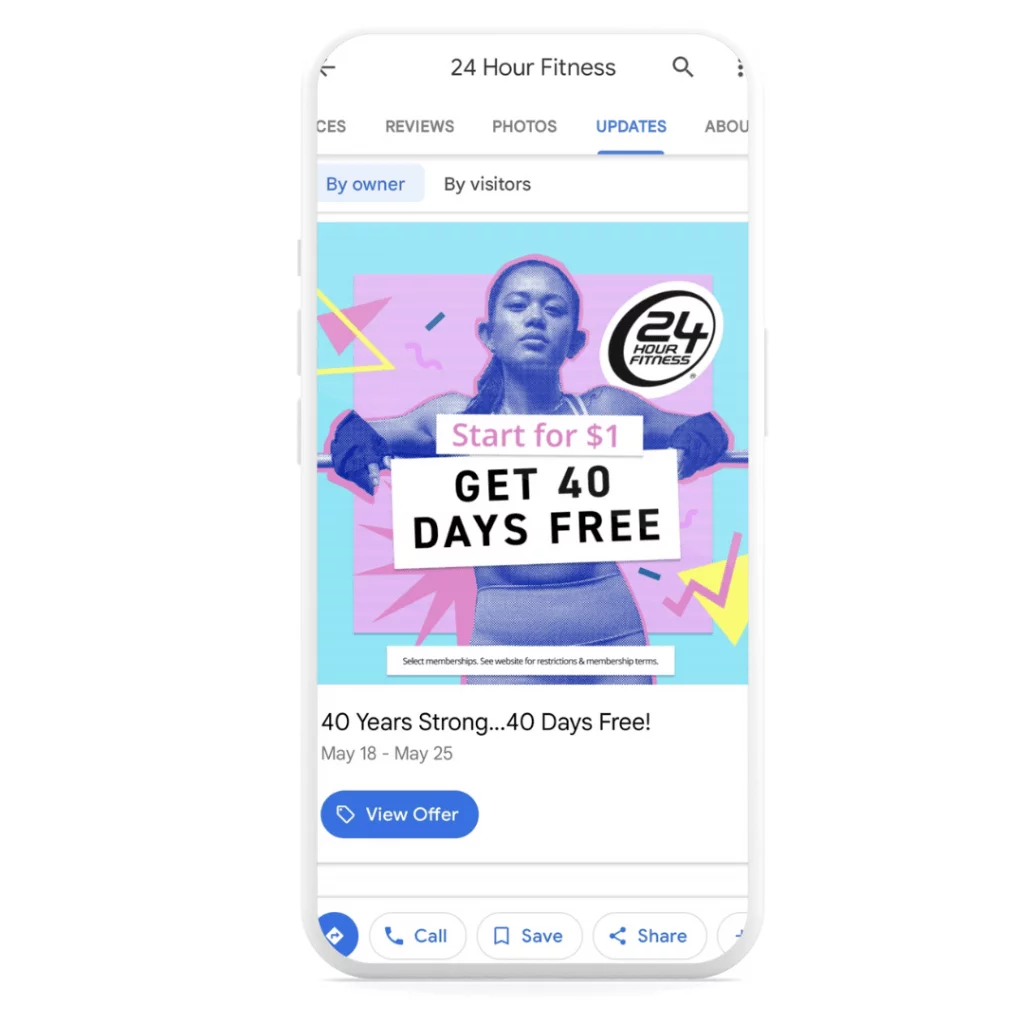 GMB offer post
Local Yoga studio in London is offering an unbeatable offer to its clients. The update is available for everyone to see, in any of their business locations. The message and visuals are simple yet compelling. Visitors know what they get, for how long, and at what cost.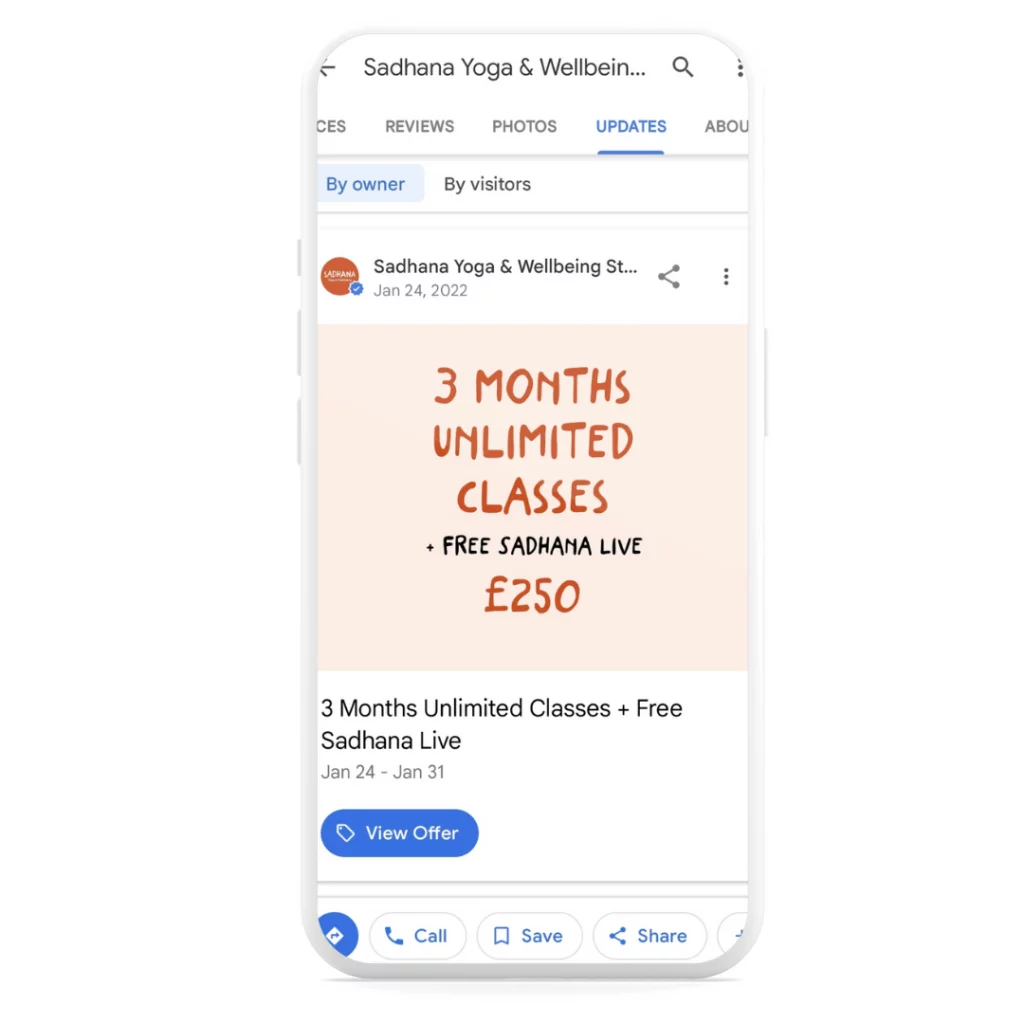 3. Announce upcoming events
Keep your audience excited and informed by announcing upcoming events using a Google post. Although social media platforms are usually the way to go, the upcoming event post type is a great way to take advantage of the search engine and attract new customers. If it's a big event, you can even link a dedicated landing page to the Google post, where you can further convert your visitors.
Upcoming event GMB post
Here is how this pizza store created an event to celebrate the World Cup and used the Google Business app to invite every football and pizza lover to join. The post text is inviting, the image format is on point, and the timing is just right. Yum!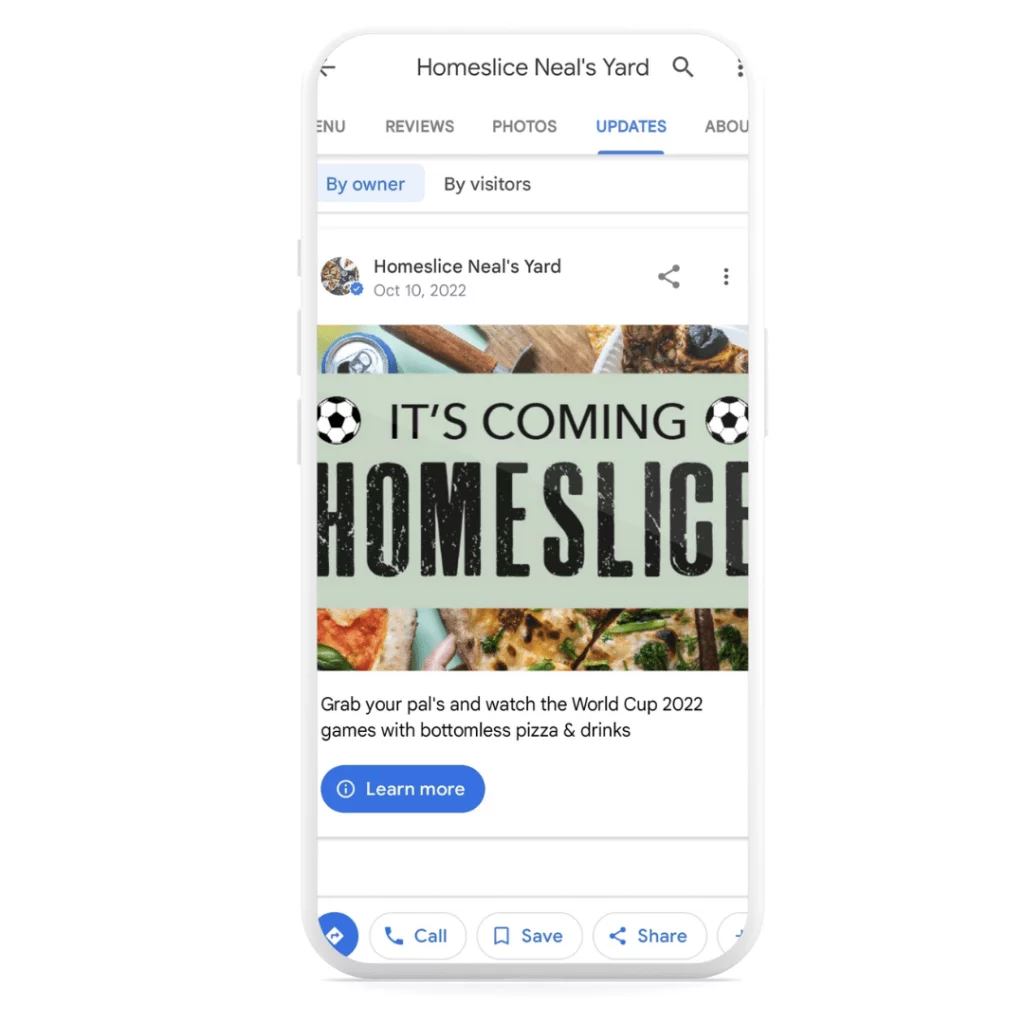 Event update GMB post
This local music venue regularly uses the event updates section on Google My Business to let people know when and who is going to play next at their spot. This way, visitors can check the venue's schedule in real-time, using a simple Google search. They can also quickly book their tickets by clicking the Book CTA button.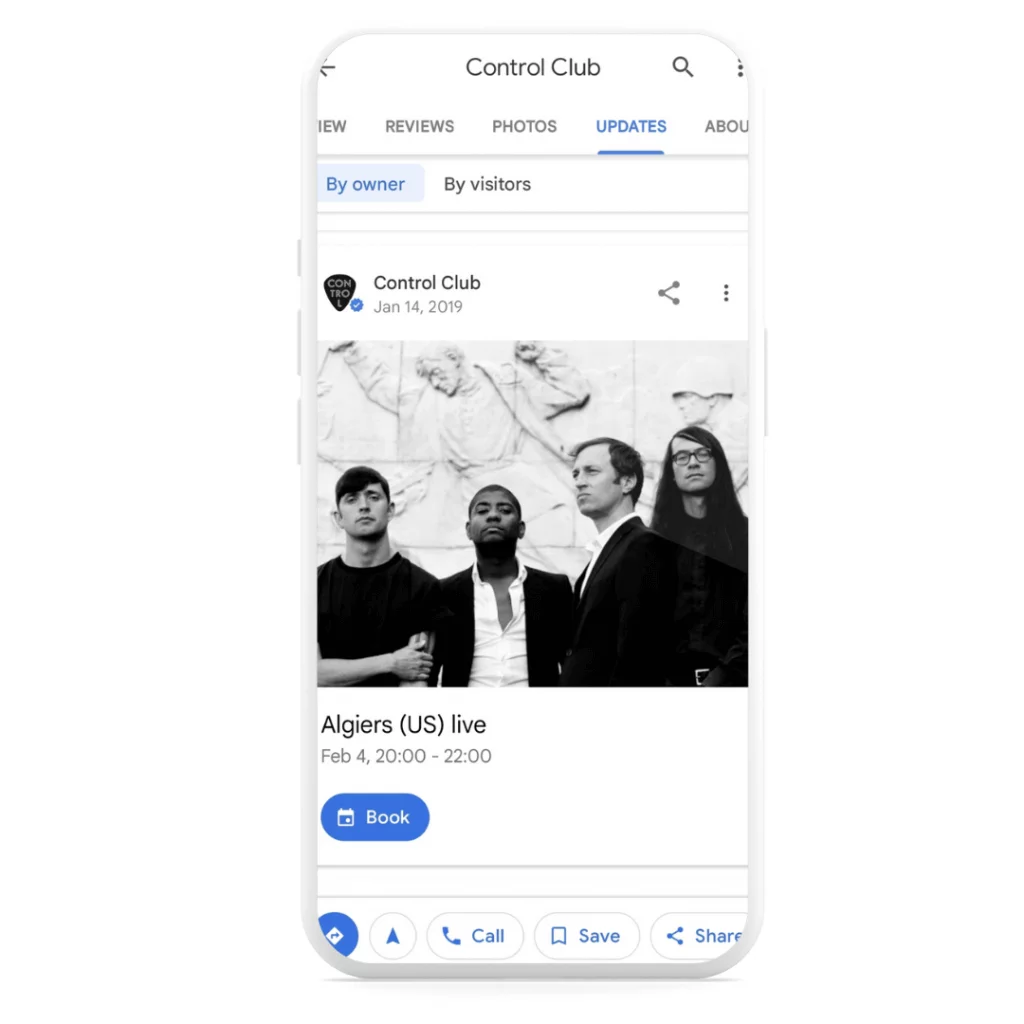 4. Showcase your wins
Proud of your achievements or awards? Flaunt them in GMB posts! Sharing your accolades on your business account builds trust and credibility, especially if you're a local business. When people use Google Search or Google Maps to find businesses, they often look for indications of quality and reputation.
By displaying your wins on your GMB profile, you demonstrate that your business has been recognized and acknowledged for its excellence, setting you apart from competitors and instilling confidence in potential customers.
Social proof GMB post
Here's how Morgan & Morgan proudly shows off their outstanding trial settlement win. They establish credibility through social proof, using a powerful image of their lawyers alongside their happy client. They use numbers to be specific about their achievement, showing their ability to deliver exceptional results. And they celebrate their partners' professional wins, fostering success and purpose. Now that's a good business post!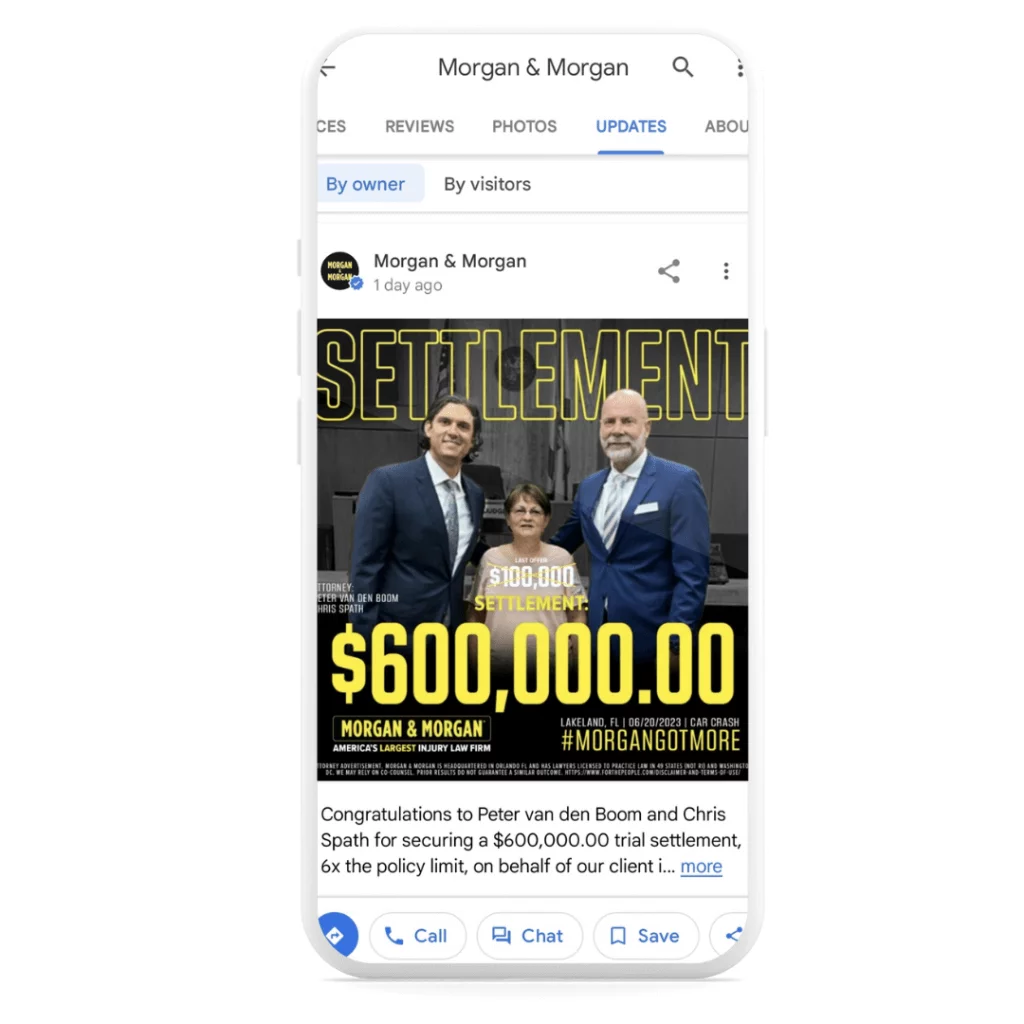 Recognition award GMB post
All wins are meant to be celebrated with a big smile. Check out how this corporate entertainment service in London announced their "Best Team" recognition award with a funny picture of their team. As a team-building service provider, they create posts that reflect the same energy that they would give to their clients. The perfect mix for creating target audience content and staying on brand.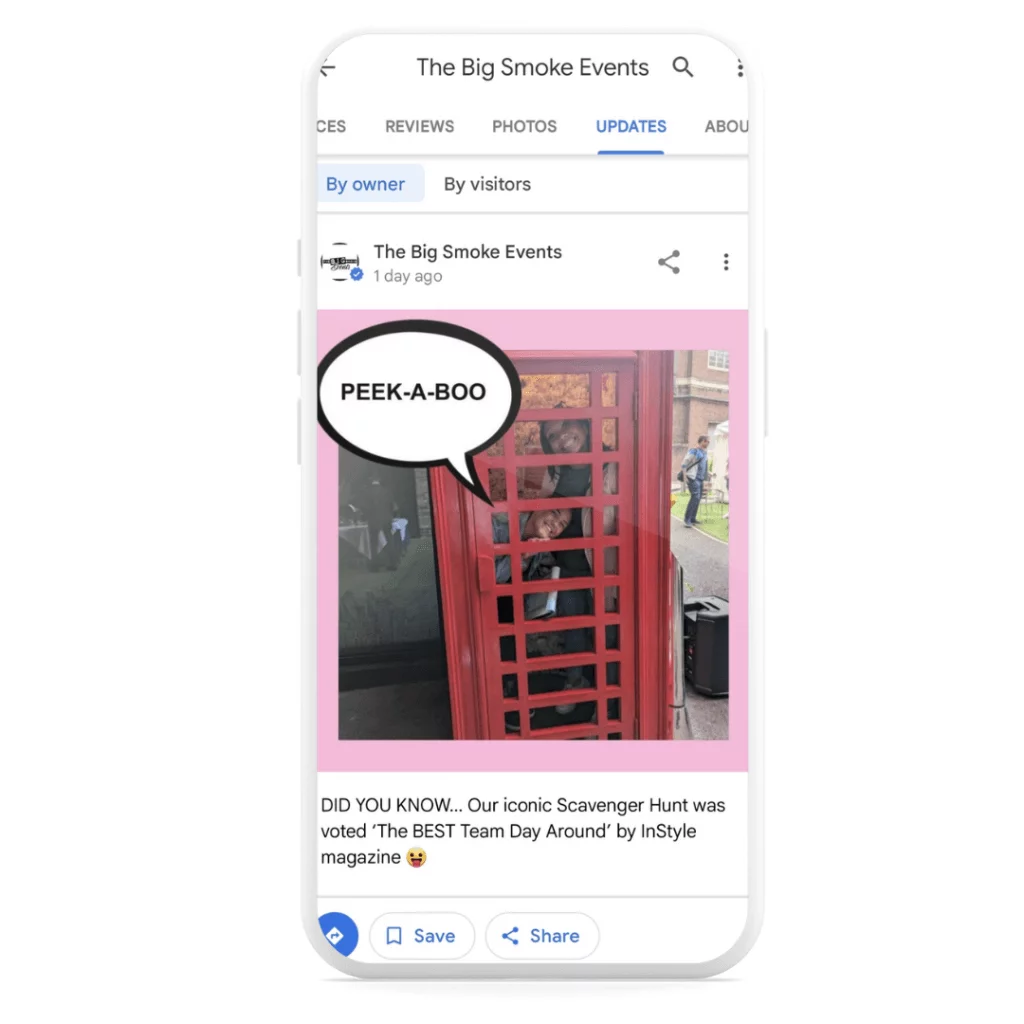 5. Highlight your expertise
Use Google posts to directly communicate your industry knowledge with your audience. Here you can include how-tos, product comparison post types, tips and tricks, DIYs, and so on. This helps establish authority and build a stronger bond with your customers.
Ensure your expertise-focused posts are informative, well-written, and relevant to your target audience. Use a professional and authoritative tone, and encourage readers to reach out for further assistance or consultation.
Expertise display GMB post
Here's a perfect example of how professional photographer Serena Bolton uses her business page to share helpful information on how brand photography differs from standard headshots. Her unique perspective on this subject helps her establish authority and stand out from her competition.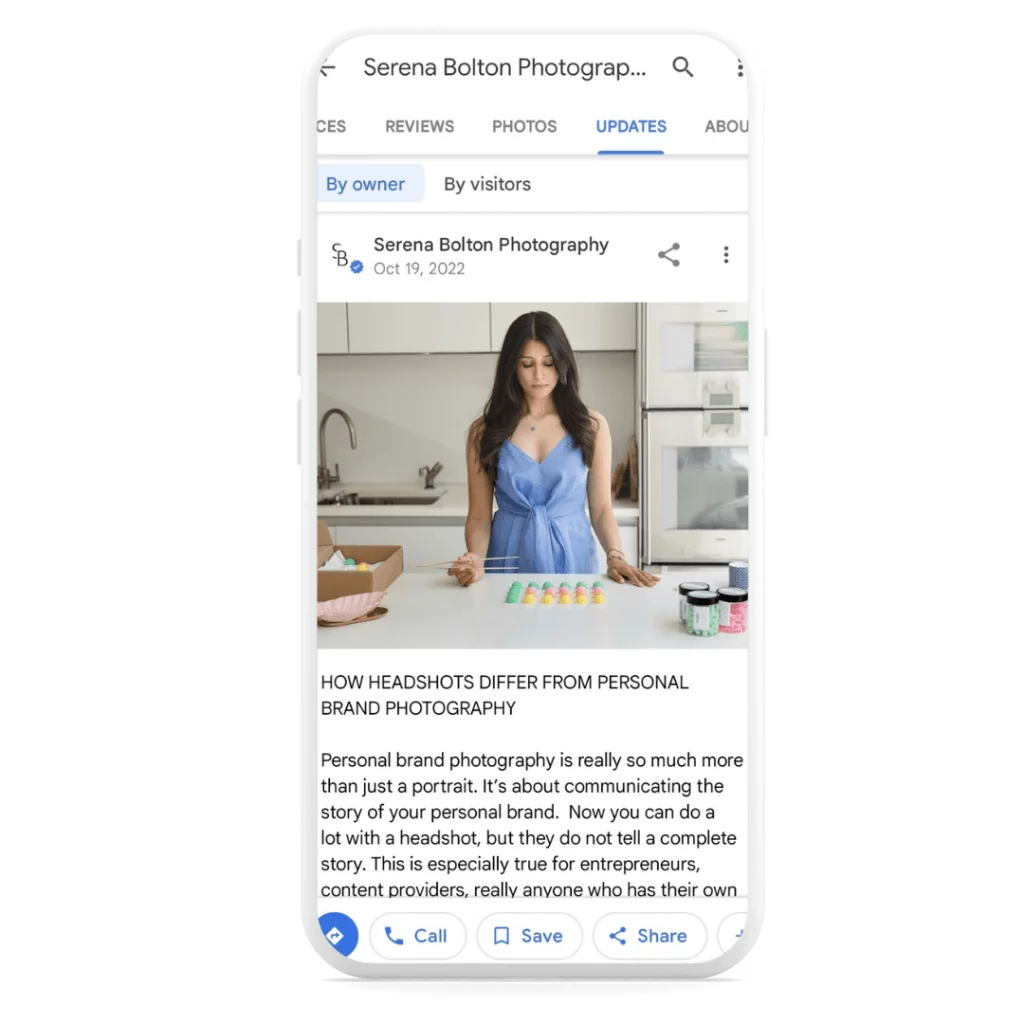 Industry tips GMB post
Long Realty Jasper Associates imparts valuable real estate insights on their Google Business profile. Sharing helpful tips and tricks on their business profile nurtures client trust and positions their brand as a go-to resource.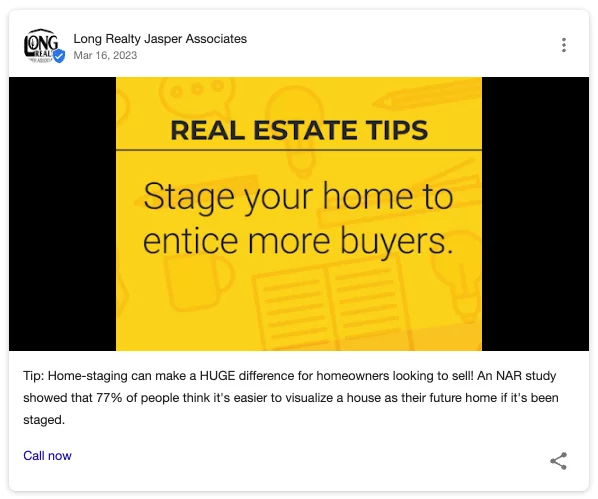 6. Share news and updates
Keep your customers in the loop by posting timely information and updates. Whether the company changed its physical location, and operating hours, added new services, or simply updated its landing page, this post type is sure to keep your customers up to date with everything that might interest them.
Remember to provide clear and concise information in your news and updates posts. Use engaging language, eye-catching visuals, and clear calls-to-action.
Update GMB post
Here's a simple example of how this photographer created a business post to announce his new website design. This way, he can keep his audience in the know, attract more traffic to his website and ultimately convert more customers.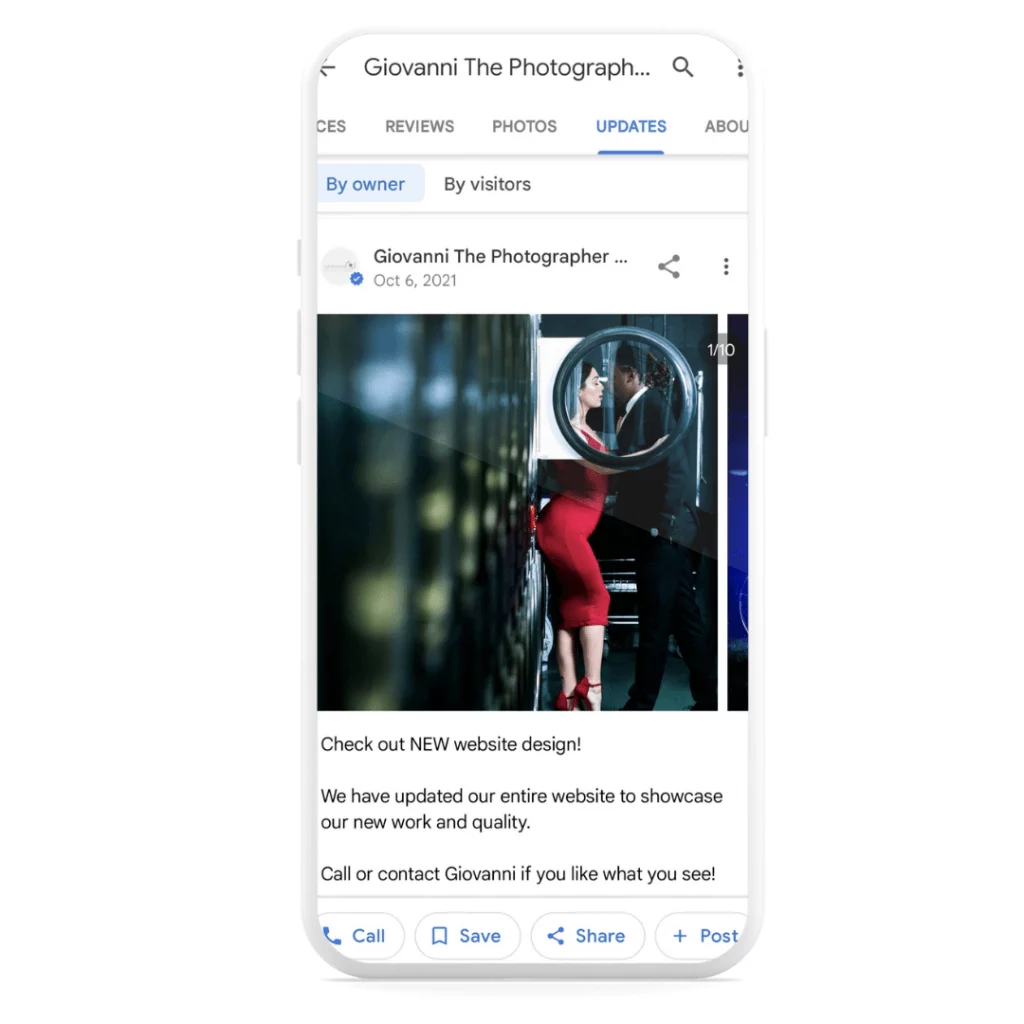 Announcement GMB post
Here's another example of how to use a business information update on your Google Business profile to let your clients know what they can expect from you. Essen Bakery informs its customers that they'll be closed during Winter Holidays and takes the opportunity to wish them a Happy New Year. Informative and thoughtful at the same time!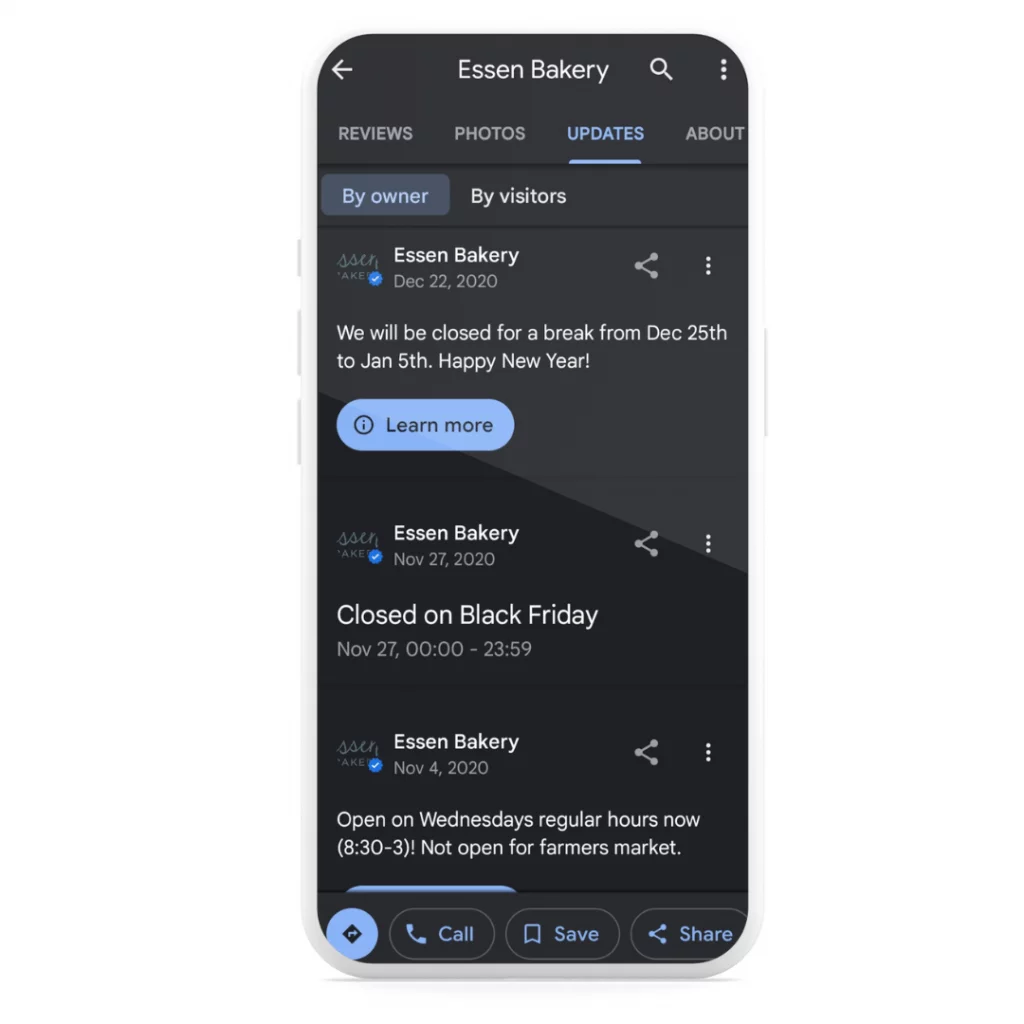 7. Demonstrate your skills with video posts
Video posts provide a dynamic way to showcase your brand's personality and offerings. As with any other social media platform, this post type tends to generate higher levels of engagement and shareability compared to other forms of content. By creating compelling and share-worthy videos, you increase the likelihood of viewers sharing your content with their network, leading to broader exposure for your business.
You can use video posts to showcase products or services, convey brand personality or just improve search ranking, as Google prioritizes rich and engaging content.
Video GMB post
Bon Bon Hair Salon & Spa utilizes the Google Posts feature to share a sample of their work, giving potential customers a glimpse of their services and ambiance. Seeing real people, products, and services in action can instill confidence and create a sense of authenticity.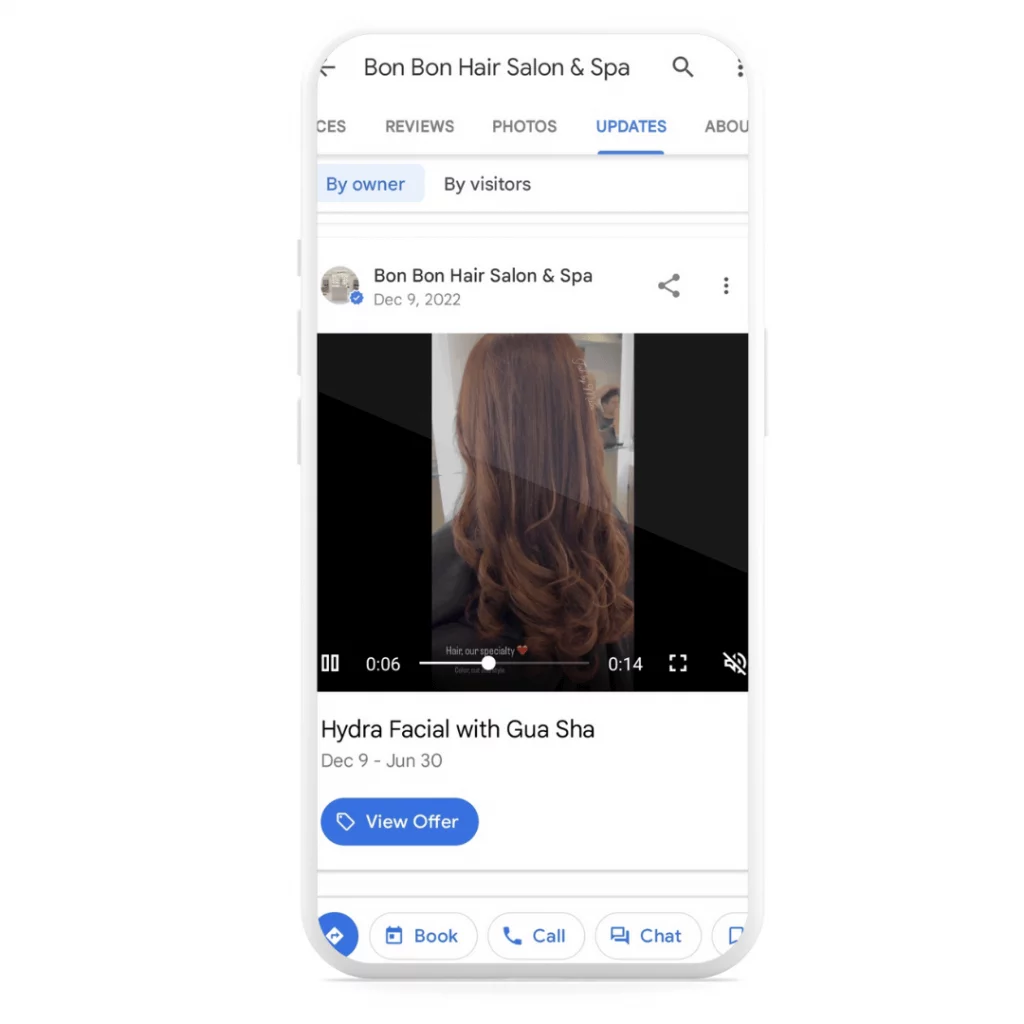 Instructional video GMB post
This ceramic studio showcases their artistic process through captivating videos, increasing curiosity and engagement. They successfully show off their brand's personality with quirky, fun, and colorful Google posts.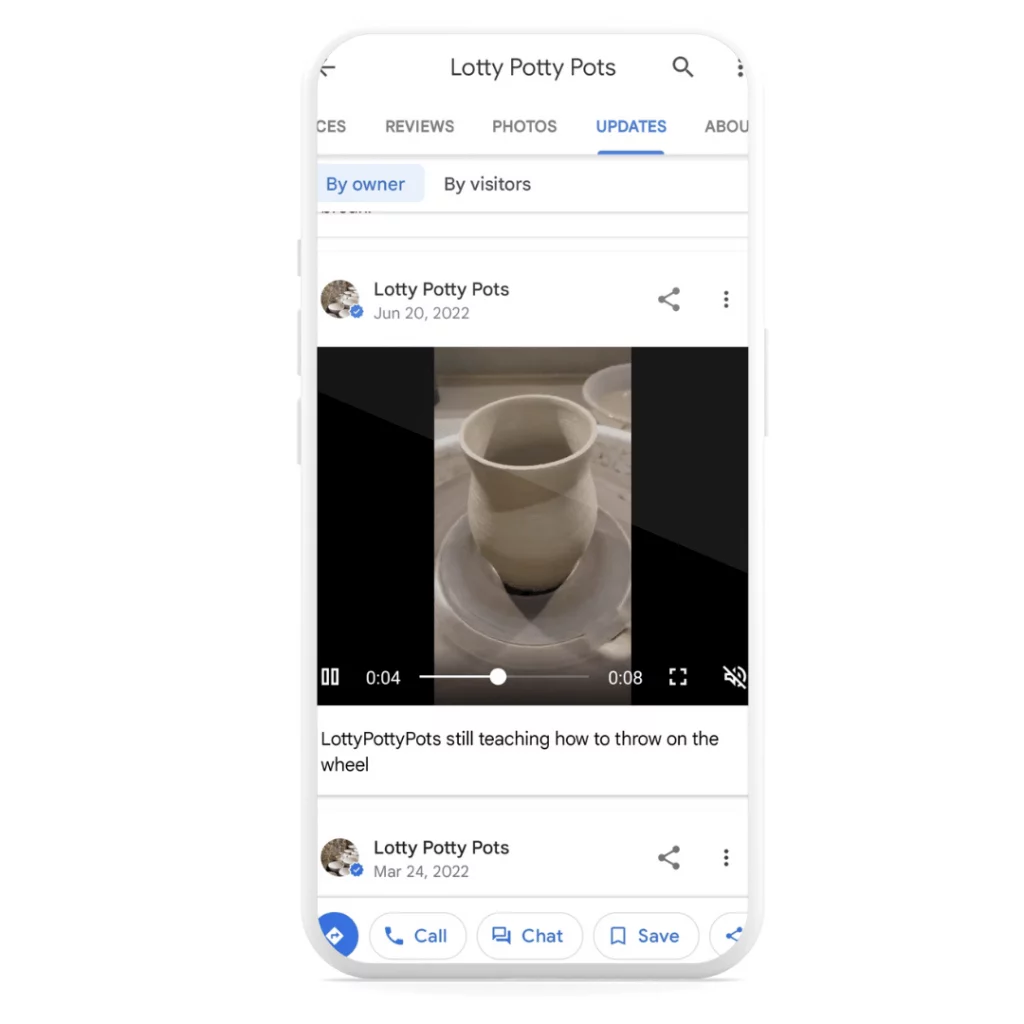 8. Generate a buzz with new partnerships
Collaborations and partnerships are exciting for both businesses and customers. Use Google My Business posts to announce these alliances and create buzz around your brand. Showcase the benefits of the new association and how it enhances the customer experience. This approach fosters curiosity for both brands and entices customers to explore your business further.
Partnership GMB post
Here's how KFC announced their partnership with famous video game Diablo IV, luring consumers with rewards from the real world into the virtual world and the other way around. Ain't that "diabolic"?!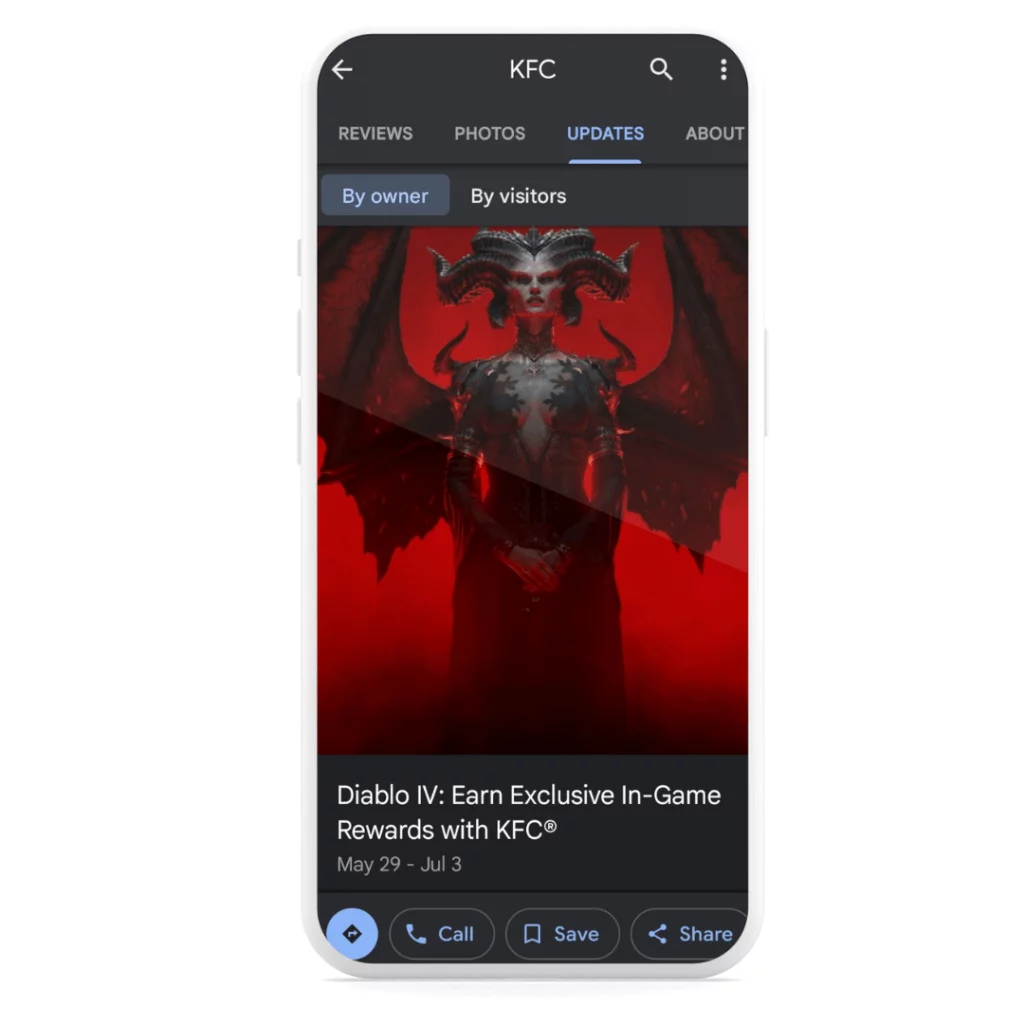 Collaboration GMB post
Yeezy Gap Engineered by Balenciaga was released across the globe as a 2 part collection. On July 23rd, 2022, Gap took this opportunity to share the collaboration update on all social media channels, including their Google Business profile. With all the fuss and buzz around this highly awaited partnership between Kanye and the two brands, Gap decided to share timely content to let consumers know when and where they can purchase the new collection.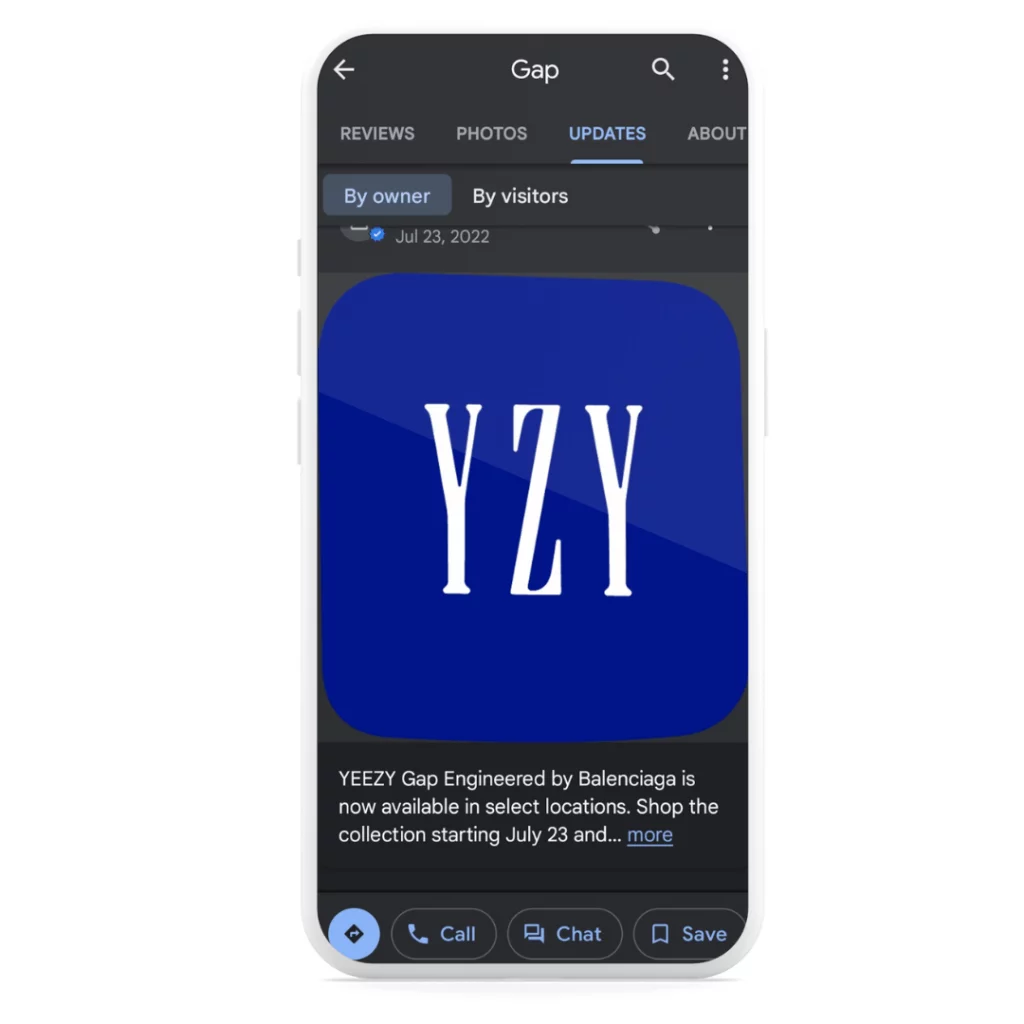 Wrap up
Similar to social media platforms, Google My Business enables brands to share updates, promotions, events, and news through posts. It allows you to keep your audience informed about your latest offerings, special deals, or upcoming events.
Regularly posting updates (or scheduling posts in advance) on your Google Business Profile keeps your brand top of mind and drives engagement and customer action on the spot. Google My Business supports the display of visual content, including photos and videos.
Leverage these features to showcase your products, services, or business premises, giving potential customers a glimpse of what you offer. Visual content is highly engaging and can effectively capture the attention of users, making it a valuable tool for branding and attracting customers.
After this blog post, you're all set and ready to boost your online presence, attract new audiences, and put your company high up on the virtual map. Jump straight on to Google My Business, and click create post —it's that easy! And if you want to schedule your Google Business Posts, you can do it for free with Planable's 50 free posts plan.
Check this full list of what other Google My Business tools every marketer should have in their tool stack to boost visibility and clients.
Pro tip: Google posts get automatically archived after 6 months unless a date range is specified.
Happy to help!