Social media has become a vital part of modern-day marketing. Not only has it changed the marketing landscape, but it has also opened new opportunities for businesses to find, reach, and connect with customers.
With the advent of social media marketing, there have been new employment opportunities popped up over the past few years. 
Most of you might not have hired a social media manager before, but it doesn't mean you won't need a social media manager in the future. Some of you may have not heard about social media content designers or social media planners either. 
According to a Global News Wire report, the global social media management market is projected to surpass the $18 Billion mark between 2021 and 2028.
Therefore, it's imperative to know what patterns digital and social media marketing agencies are following to keep up with the always-changing world of social media marketing. 
If you aren't sure what a social media manager does, then keep reading this piece. I'll dig deeper into the details and share everything you need to know about hiring the perfect social media manager for an agency.
But first, let's cover the basics.
What is a Social Media Manager?
A social media manager is the person who manages or oversees what gets posted on social media. In other words, a social media manager is responsible for developing and executing a social media marketing plan for a company or agency.
In today's digital marketing world, social media managers closely work with content managers, content writers, and graphics designers in the marketing departments to put out social media content. They also manage social media content publishing, scheduling, approval workflows, analytics, and much more.
The position of a social media manager hasn't been this relevant as it is now. Almost every web development and design agency, software company, and e-commerce business have social media managers who create, manage, analyze, and implement social media strategies.
Thus, developing the best social media plan for brands and agencies is directly proportional to hiring the perfect social media manager. The better the social media manager, the higher the ROI of social media marketing. Every professional social media manager often reaches out through a wide range of online tools and digital channels. Providing a secure and stable internet connection is one of the indispensable forms of the whole social media marketing strategy within the perfect manager's workflow.
Why Agencies Should Hire a Social Media Manager
Social media management isn't everyone's cup of tea. It's important to bring on board someone who knows the social media industry inside-out. Here's a quick  rundown on why agencies should hire a social media manager:
Understands social media norms
When you're a social media manager, you need to be on your toes. Therefore, if you don't understand the basics of social media marketing, you might miss out on a lot of opportunities. For instance, if you don't use hashtags or don't mention people using the "@" on social media, you might simply get unnoticed by them, which means lower reach rates.
Builds a social media calendar
Usually, a social media manager is the one who knows how to build a social media content calendar. There are social media tools to use for agencies as well as templates available for social media managers to use for creating a content calendar. ContentStudio has a feature called Planner, which helps users in creating a content calendar.
Actively posts content on social channels
You might be guilty of not publishing new posts on social media. So am I. The problem is that we got so much on our plate that we don't prioritize social media publishing. Hence, a social media manager would be a of a major help here. This person would be the one to ensure that the social media is on track with the trends and in-house strategy.
Engages with followers
A social media strategy is incomplete without interaction with followers. Replying to tweets or commenting on social media goes a long way. Not only does it build a connection with the existing followers, but it also attracts new followers. An agency needs a social media manager to communicate, interact, and talk to followers on social media.
Manages social media content publishing
One of the essential tasks of a social media manager is to put together a strategy for social media content scheduling and publishing. When you have to do social media publishing all by yourself, it can quickly become cumbersome.
How to Hire a Social Media Manager for Agencies
Hiring the right person for any job is crucial for attaining the best results, and hiring a social media marketing manager is no exception.  Thing is, most of us non-HR department members don't technically know how to start a hiring process and how to actually hire a social media manager. You can consider HR software development to lift some weight off your shoulder.
So let's deep dive into the process of hiring the perfect social media manager for your agency:
#1: Specify the job description
The first step is to specify the job description of a social media manager. You may want to hire a social media ninja who takes care of everything related to social media at your company, and you need to be very specific on this.
However, it's important to communicate what you're expecting from a social media manager beforehand. Hence, come up with a brief job description and prepare an overview to pass on to your prospective candidates. 
Take Digital People as an example. It's a creative staffing agency that posted a job opening. Take a look at the job description: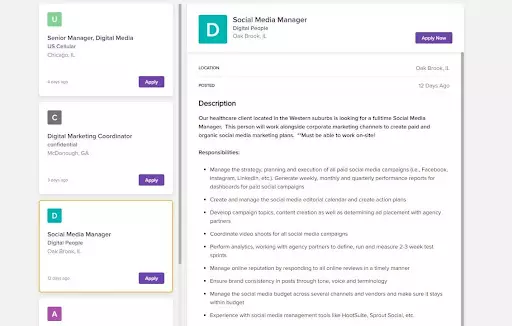 #2: Use a job posting service
Don't shy away from using job portals like Adzuna. You're not going to find the right candidate on a whim. So try every possible way to spread the word about the open position. You'll find out more ways to attract prospects in the next step.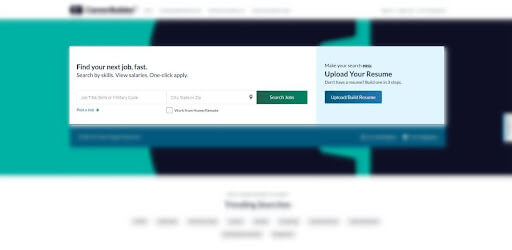 Anyway, there are hundreds of job portals out there; most of them are country-specific, but some are industry-specific as well. When you go deep into this process, you may have to skim through a bunch of job portals that might not be relevant to you before finding the right ones. 
#3: Announce the "Hiring Now" update
It's necessary to make the most of every opportunity at hand. Therefore, announcing the open position on social media or having a press release would be a great way to get more eyeballs around.
If you're curious how and where you can announce that you're hiring, then there are at least three places to get started with:
1. Highlight it on your website
Have you not seen company websites that highlight the "hiring" CTA on the menu bar? They want to make sure that visitors could easily see the call-to-action button on every page. 
Plus, you could also put a banner on the sidebar or at the top that says you're hiring and redirect it to your career page. 
Moreover, you could update the career page on your website.
Here's an example of a digital marketing agency named Spin Brands that has a career page on its website: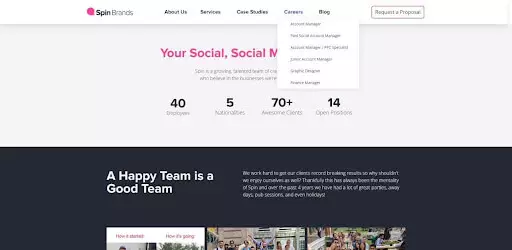 2. Create a newsletter
Affiliate marketing experts say that email subscribers are more likely to trust your recommendation more than a random visitor.
Since we're discussing how to hire a social media expert, an email list could also come in handy here. Therefore, if you have been building an email list, then you're in luck. 
One of the perks of an active email list is that you could send out the details of an opened position at your company and see the response. You'll surely get some replies depending on the size and open rate of your email list.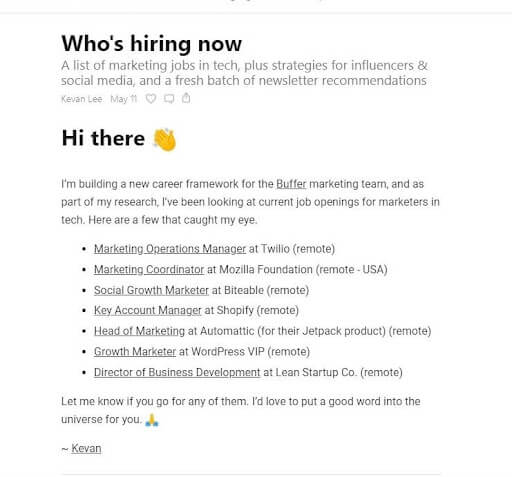 Kevan Lee is a marketing executive and social media influencer. He often sends out the job openings to his email list.
3. Break the news to your social media followers
Once a position is opened at your company, and you're ready to hire a new team member, go to your social media accounts and share the news with the audience.
You could write a detailed page or a blog post about it and share it across all social media platforms. A small fraction of your loyal social media fans might be interested in working for you.
Here's a perfect example: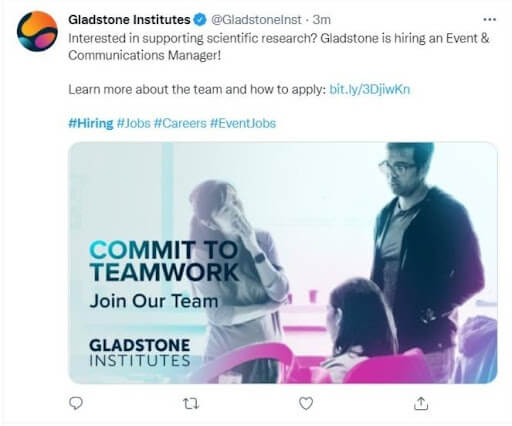 Gladstone Institutes shared the news of a job opening on Twitter.
#4: Make a shortlist with the candidates
Once you post the job opening on the jobs portal or announce it on your social media profiles, you may start to see some activity on the applications. The next big step would be shortlisting the right candidates that you would like to interview. It's a crucial part of the hiring process. 
Analyze the CVs or job applications of the prospects and shortlist suitable candidates for interviews. You might want to look through the details and choose the candidates that stand out and fit your requirements. 
#5: Interview the shortlisted candidates to hire the best social media manager
The last part of the recruitment process before hiring is interviewing the candidates. Give every candidate a fair chance whether you're interviewing them in person or via Zoom. 
You may want to go further with your shortlisting and ask for a second interview with the best two or three candidates before you choose the one.
And that's pretty much it.
What are the best places to find the perfect social media manager?
You might be wondering where to go to find the most qualified and passionate social media manager. You can simply start the hunt by posting a hiring announcement to any jobs portal, which seems a rather simple and quite popular thing to do. 
However, there are no guarantees that you're going to find the best candidate this way. Therefore, you should know a handful of options to try out. Here are the best places for finding the perfect social manager:
LinkedIn Jobs
LinkedIn might be a little different from Facebook and Twitter since it's a social media network used for professional networking and career development, and allows job seekers to post their CVs and employers to post jobs.
However, don't write off LinkedIn when it comes to hiring employees because it works better than any social network when it comes to getting a job or hiring an employee.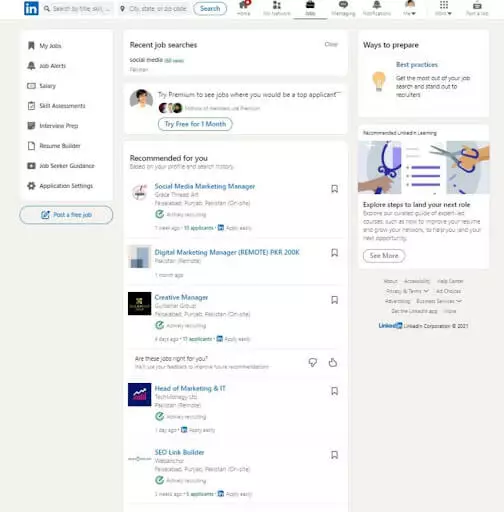 That's because LinkedIn is a social media network that has recruitment features. Most of the users on LinkedIn are either job seekers with an optimized profile or self-employed. 
LinkedIn has a dedicated recruitment program called LinkedIn Talent Hub, which is an applicant tracking system for employers built within the LinkedIn platform. So LinkedIn is surely one of the best places to find a social media manager.
Facebook groups
Whether you're scratching the surface for a social media marketing job or leaving no stone unturned for hiring the social media manager, you must not ignore Facebook groups.
It's a type of community on Facebook that anyone can use to build a public or private group. There are Facebook groups of all types. You got to find the Facebook groups related to social media marketing and social media jobs and get acquainted with the community.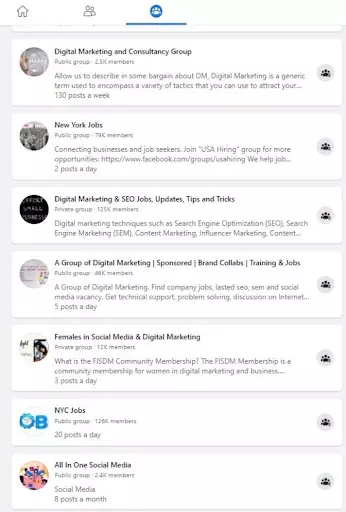 Don't spam the groups with your job posts, but instead, try to help the community and build connections. Post your job offer once in a while and see what type of responses you get.
Twitter chats
Twitter chats are usually tweets around a specific topic using the same hashtags. If you're a Twitter person, you must know how to use hashtags. Don't shy away from following the hashtags related to social media marketing and social media jobs.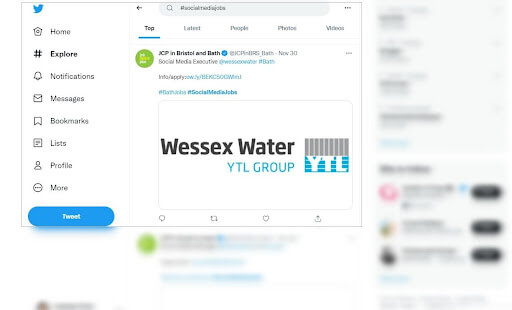 When it comes to Twitter, always pay close attention to the bios of Twitter users. The easiest way to find the right people on Twitter is by following the relevant hashtags and adding them to private or public lists on Twitter after going through their profiles.
You would surely come across the prospective candidates through Twitter.
Job boards
There are giant job portals such as Monster, Indeed, Glassdoor, and CareerBuilder that are available across multiple countries.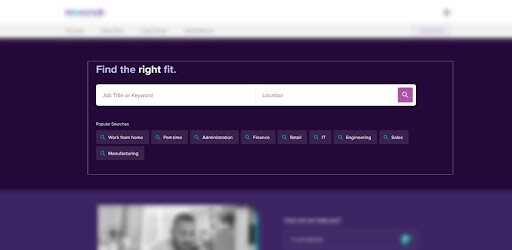 Besides using the country-specific job portals where candidates submit their CVs, you could also try out job boards like Problogger Job Board and SEOClerks for a change.
Top credentials to look out for when hiring a social media manager
Take a look at the key characteristics that would differentiate a rock-star social media manager from an average social media manager:
Familiar with the social media culture
The prospective social media manager must be familiar with the social media culture and trends. Having a good understanding of what a specific social media platform is used for and what is the tone of voice on each of them is one of the first requirements on the list. Getting your social media manager acquainted with the culture would go a long way.
Understand the basics of social media management tools
The potential social media manager must have some experience in using social media management tools. Otherwise, this person might not be a good fit considering the lack of ability to organize his/her work. There would be social media scheduling tools as well as team collaboration tools to deal with along the way.
A good followers base on social media
A massive social media followers base is a huge plus, but it's not always mandatory to have one. However, when a candidate has at least a few thousand followers on social media, they weigh in favor of this person. So don't completely overlook the number of followers on social media.
Furthermore, look out for the connection the candidate has with the audience. The person must be recognizable, social, and active. These factors lead up to building a sizeable audience on social media.
Know how to engage people on social media
Look out for engagement on Facebook, Twitter, and LinkedIn. See how many comments, likes, and shares he usually gets on these posts. Engagement is essential to analyze the impact someone has on social media platforms. 
If you have 100,000 followers on Twitter, but you get 3 likes on the last 100 tweets on average, it's not a really good sign. So the candidate must be active on social media and know-how to engage with the followers.
So these were a few specificities that would make all the difference.
Let's conclude
I'm a big advocate of hiring specialists for a job because I don't like being a jack of all trades myself. And, I surely won't ever hire a content writer to write for me who also designs Pinterest pins and works as a part-time photographer. 
You got to figure out the thing you want to pick to take it to the next level. 
The social media manager is no different; the expert you're trying to bring on board must be a social media geek and know the social media industry inside-out. 
There is a lot to learn and understand about social media, such as social platforms, organic reach, social media advertising, click-through rate, conversion rate optimization, content publishing, and much more. 
I've shared my thoughts on hiring a social media manager for an agency. 
How would you hire a social media manager for your agency?
Let us know in the comments below.