Since it started in 2003, LinkedIn has become the world's largest professional network. If you're not already an active site user, it's worth a look: it works well for millions of professionals who share posts with their followers. And even if you're already one of them, it's helpful to take a step back, and consider how you're using it.
A handful of statistics demonstrate LinkedIn's tremendous reach. There are 58 million businesses listed on the site, and 810 million individual members. While that may not be as many as Facebook's 2.9 billion users, it's worth remembering that LinkedIn is more focused, and used mainly by professionals.
Indeed, LinkedIn's research suggests that four out of every five users drive business decisions in their sector. In particular, it plays a huge role in business recruitment. A staggering 50 million people search for jobs on LinkedIn every week. There are 95 job applications submitted every second, and six people are hired through it every minute. It clearly works for a lot of people.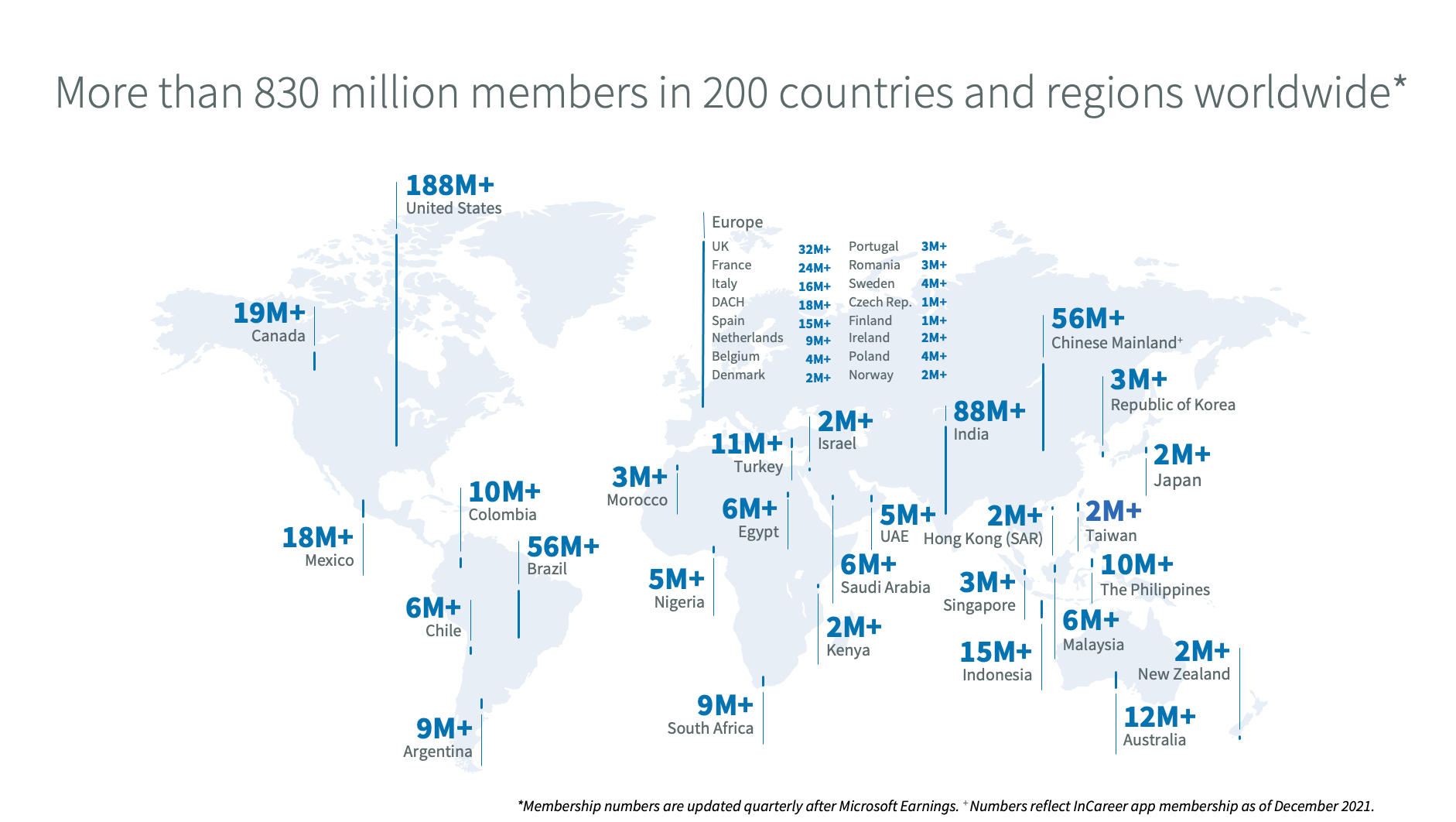 This article focuses mainly on your LinkedIn profile, and how you can optimize it to enhance your personal, and professional branding.
Why does a strong LinkedIn profile matter?
Your LinkedIn profile offers you a shop window to the world – as with any other social media site. Whether you're the boss of an enterprise contact center looking to recruit or a freelance project manager, it can be a profitable tool. 
There are four main benefits to an optimized Linkedin profile:
If you apply for a post via LinkedIn, a compelling profile will give recruiters a positive impression of you. And, bear in mind that recruiters may look at your profile even if you have submitted your resume via another medium and not applied via LinkedIn itself.

With a strong profile, opportunities may also come looking for you. Use your profile to demonstrate your skills and experiences, and you may elicit an approach from

recruiters

looking out for talent.

Your profile can help you connect with other professionals in your field, opening doors to new opportunities. Build a global network that lets you put all those

free online video chat

tools to even more use!

A well-considered profile can bolster your personal, professional brand, signposting your industry expertise, and authority. This can open up future career opportunities while attracting clients, and talent to your present company.
A strong LinkedIn profile can pay dividends. This is also true if you register a company and run it, especially a B2B one, marketing on LinkedIn. Many companies and brands find LinkedIn a very lucrative sales, and marketing channel and create a LinkedIn strategy around this platform.
It's easy to get started on LinkedIn – by creating a simple profile. However, optimizing that profile can take more effort. If you want to be noticed (in a good way), you need to ensure that relevant people can, first, find your profile, and appreciate what you offer. This article gives ten tips on fine-tuning your profile to achieve these two things.
1. Strong visuals
The pictures at the top of the profile are the first thing most people will notice when they land on your page. Your headshot and your background photo, taken together, can create an immediate first impression of you.
Consider what you want to portray with your headshot. In most cases, it's best to keep it professional. Perhaps capture the version of 'you' going about your work: wearing the clothes you would wear for work, and with an appropriate work environment behind you (or a plain wall).
Your face gives the best sense of personality, so stick to a shoulders-up shot. Ensure the lighting is good, and that the resolution and dimensions are appropriate. Consider what balance you want to strike between popularity, expertise, and authority; regardless though, it's a good idea to smile!
Your background photo is the longer banner one at the top. If your headshot can give an instant sense of your personality, your background photo can offer a snap-shot of your broader role, perspective, interests, or values.
Be creative. You could choose a generic option from LinkedIn's image library. But why not go for something that says a bit more about you? Plenty of sites offer high-quality free images – great for inspiration. Or use a picture showing you presenting, training – doing your thing.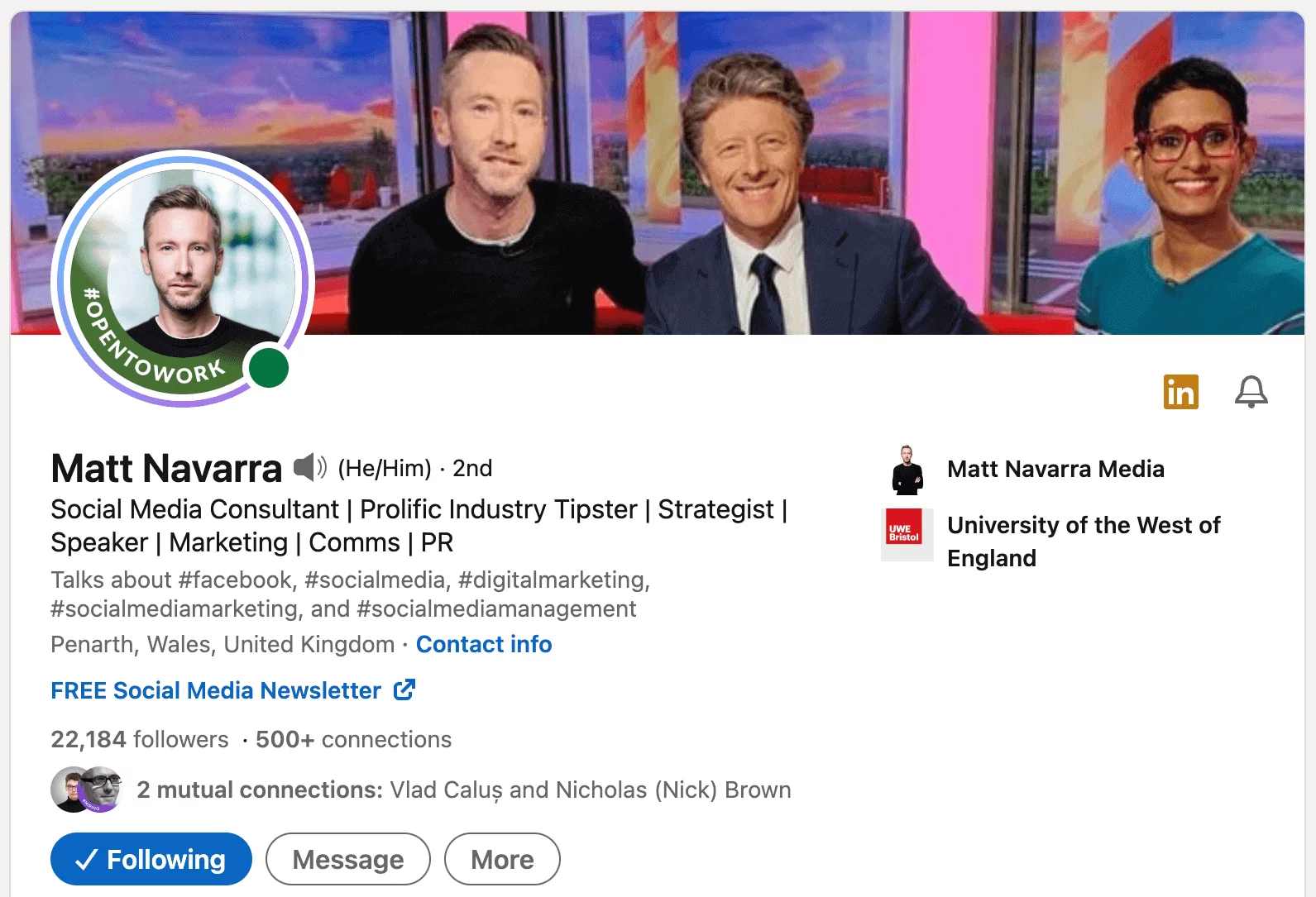 Source
2. Make your "Headline" count
This is the text sitting just under your name. After your name, it's probably the first information people will read. Make it count.
By default, LinkedIn adds your current job title here. That alone is perhaps too generic: a single job title can mean many different things. You should make it more specific, personal, and noticeable.
Include your job title and add some SEO-friendly keywords, pulling out your particular areas of expertise. How are you different from someone else with the same job description as you? What are your key skills or achievements?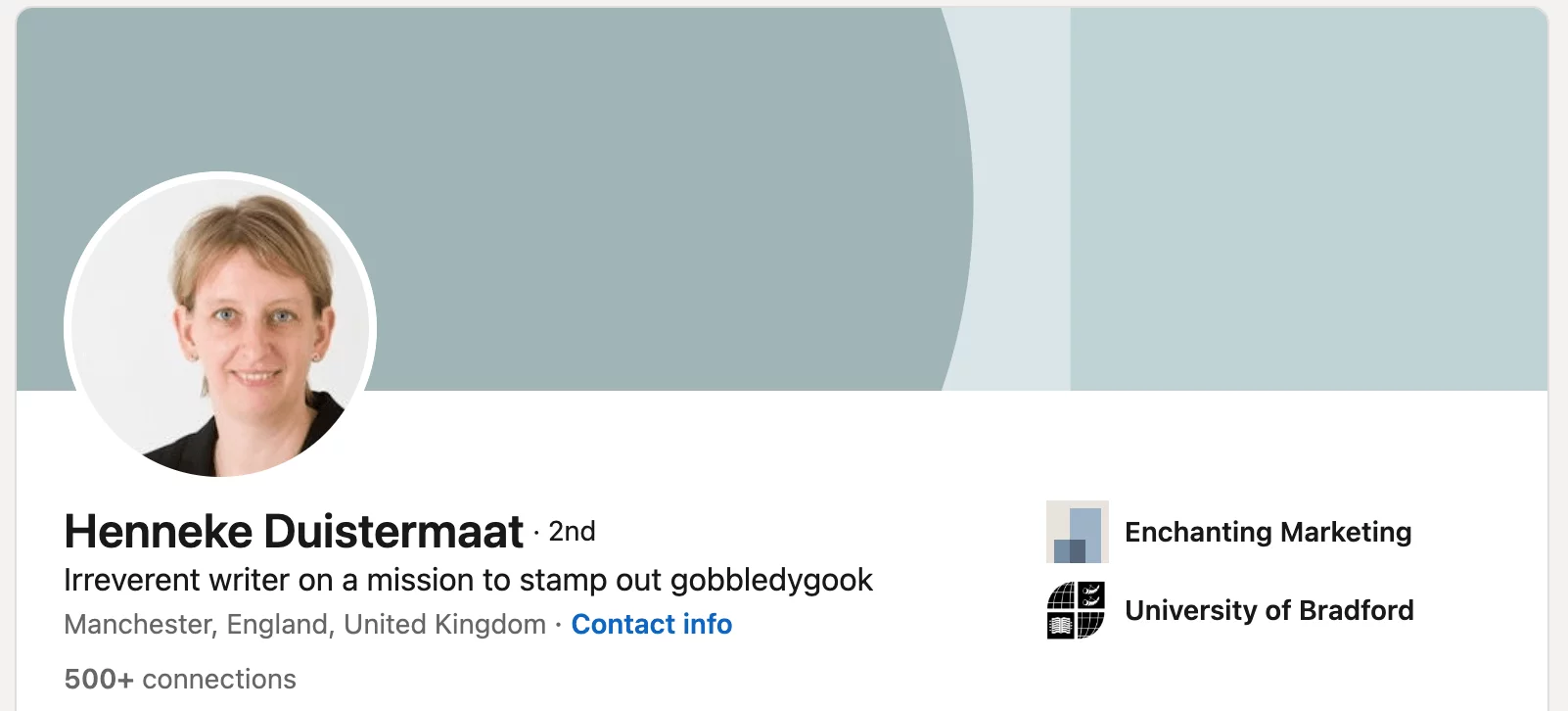 Source
3. Your "About" person summary
This section provides you with 2,000 characters for selling yourself. Build on the "Headline" you crafted above. Communicate your passion, experience, and achievements. 
Keep it natural, and use first-person. Three or four paragraphs would work well, each about three or four lines. Perhaps use bullets to organize your points. Consider this framework:
An opening sentence to grab attention and immediately sign-post your strength, and value.

A more detailed pitch. Outline your career background, and achievements. What are your specific skills, and specialisms, setting you apart from others in your field? Give robust evidence if you can – a key achievement to illustrate your expertise. For example, did you revolutionize your company's

bulk email service

strategy? If so, say that.

Consider finishing with a call to action, perhaps an email address, web link, or another channel with which to make contact.
4. Showcase content in the "Featured" section
While not essential, this can be a great place to flesh out your pitch. You can link to videos, blogs, or documents elsewhere online. Consider selecting three or four relevant things here to evidence, and amplify your "About" section.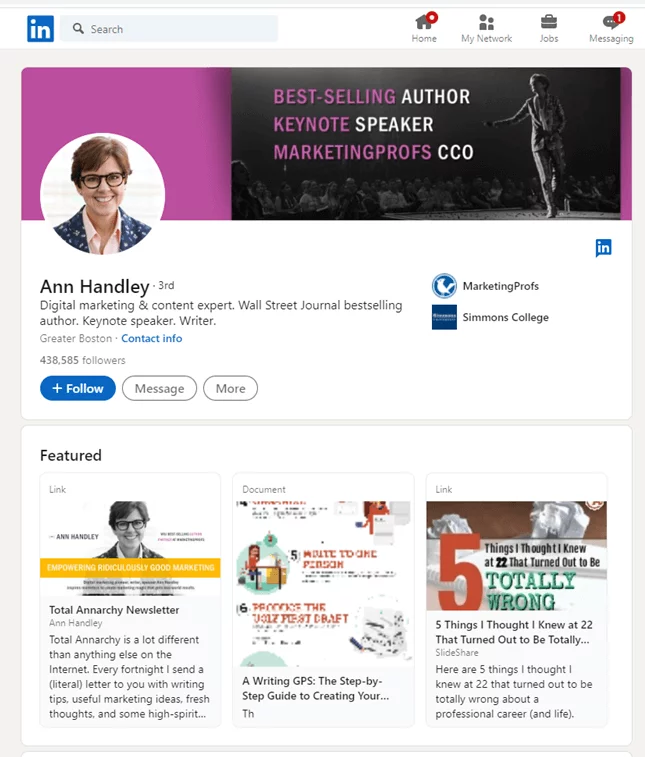 Source
5. Detail your work, education, and voluntary experience
It's well worth making sure you have populated, and polished these sections to showcase your experiences.
First of all, the "Work" section. List your professional experience, and try to specify critical achievements in each role. Recruiters love to see concrete, quantified achievements here. What were your main projects, and what did you accomplish? Offer a statistic to back that up, perhaps relating to sales, productivity, or critical recognition. For example, if your main project was developing support chatbot functionality, detail your role and impact. 
Secondly, populate your educational background, and licenses. Obviously, for some roles, this can be particularly pertinent. Consider pulling out other skills, specialisms, or achievements that add color.
Thirdly, you can also highlight any volunteer experience you have. Demonstrate here any skills and passions that help you to shine, particularly if the activity relates to the area in which you work.
6. Populate your "Skills" to be more discoverable
It might be tempting to skip this part of your profile. After all, haven't you already highlighted your skills elsewhere? What's the point of pigeon-holing them here? 
But it's worth taking the time to tag skills to your profile. Doing so makes it much easier for recruiters looking for those particular skills to discover you. People who have at least five endorsed skills receive up to 17 times more views. Moreover, they are 33x more likely to get messaged by recruiters.
Be specific. For example, rather than listing a skill as "training", try to identify what type of training you offer. And be strategic: for instance, consider where you want your career to move towards, and then emphasize your skills that support that.
You can choose as many skills as you wish, but LinkedIn allows you to order them, and identify your top three. Again, this helps tailor the impression you give visitors.
Getting your skills endorsed by other users makes you more findable. To enable this, keep all your endorsement settings on "Yes".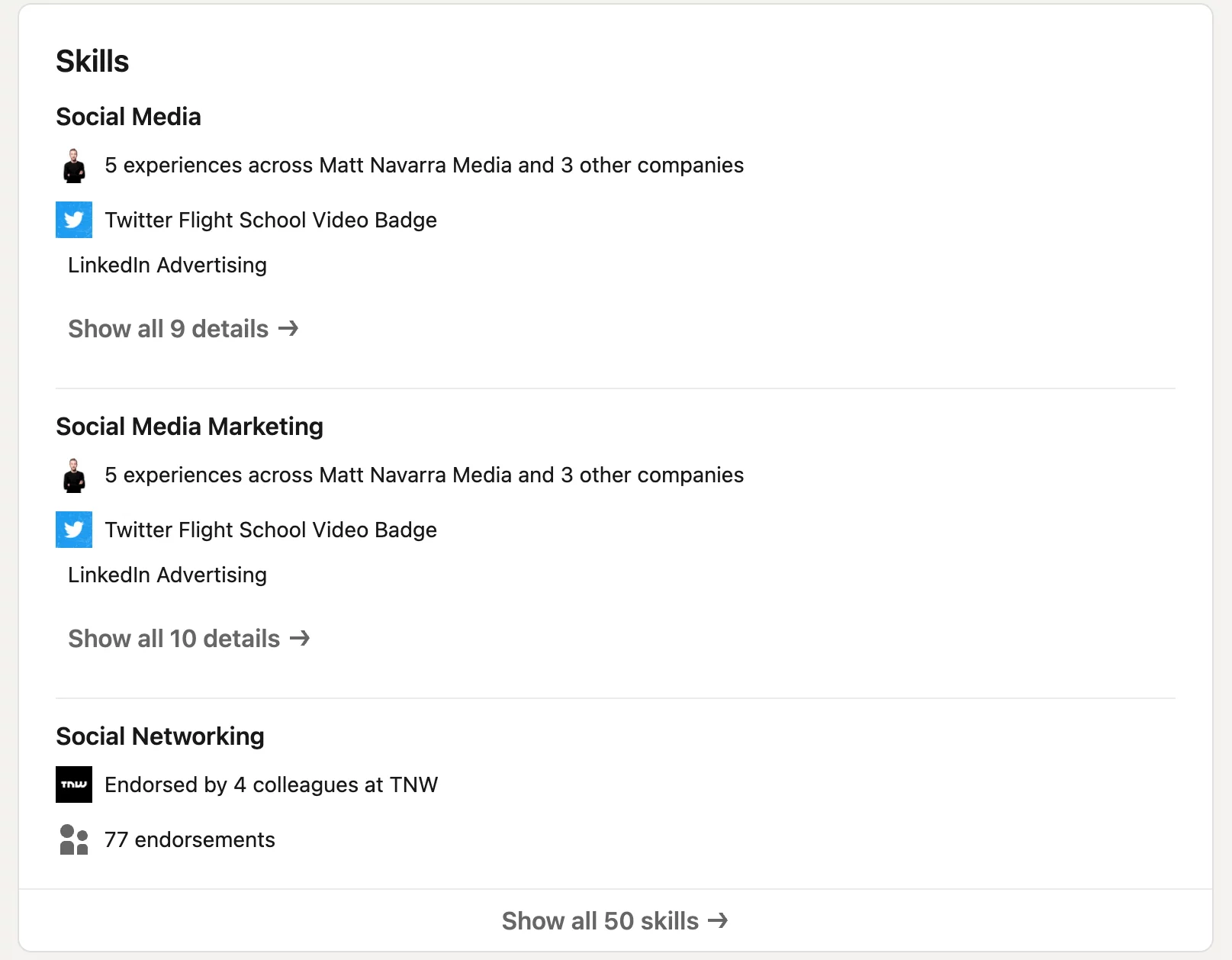 Source
7. Be an active LinkedIn user!
Interact with other people's LinkedIn accounts: it's a networking site, after all. Not sure what to post on LinkedIn? Post content or news. (There are even automation tools available that can help here – great if you're running a business account, say.)  You could endorse the skills of others, write recommendations or comment on posts. Perhaps send a LinkedIn invitation to new associates to foster the relationship. 
There are also groups on LinkedIn. Try to join some which are relevant to you. For example, if you're starting out on a marketing career, look for an affiliate marketing website forum (e.g., the Affiliate Marketing Group). As well as helping you network, such groups can offer support, and advice.
Being active makes you more visible, particularly to recruiters. When recruiters search for potential candidates, LinkedIn allows them to focus on the most active users on the site (the rationale being that these are the people most likely to respond.) Being active can push you up the list of search results for potential candidates.
Moreover, if you comment, like, or endorse other people, they may come back, and do the same for you. And getting your skills endorsed, and recommendations added to your profile does get noticed.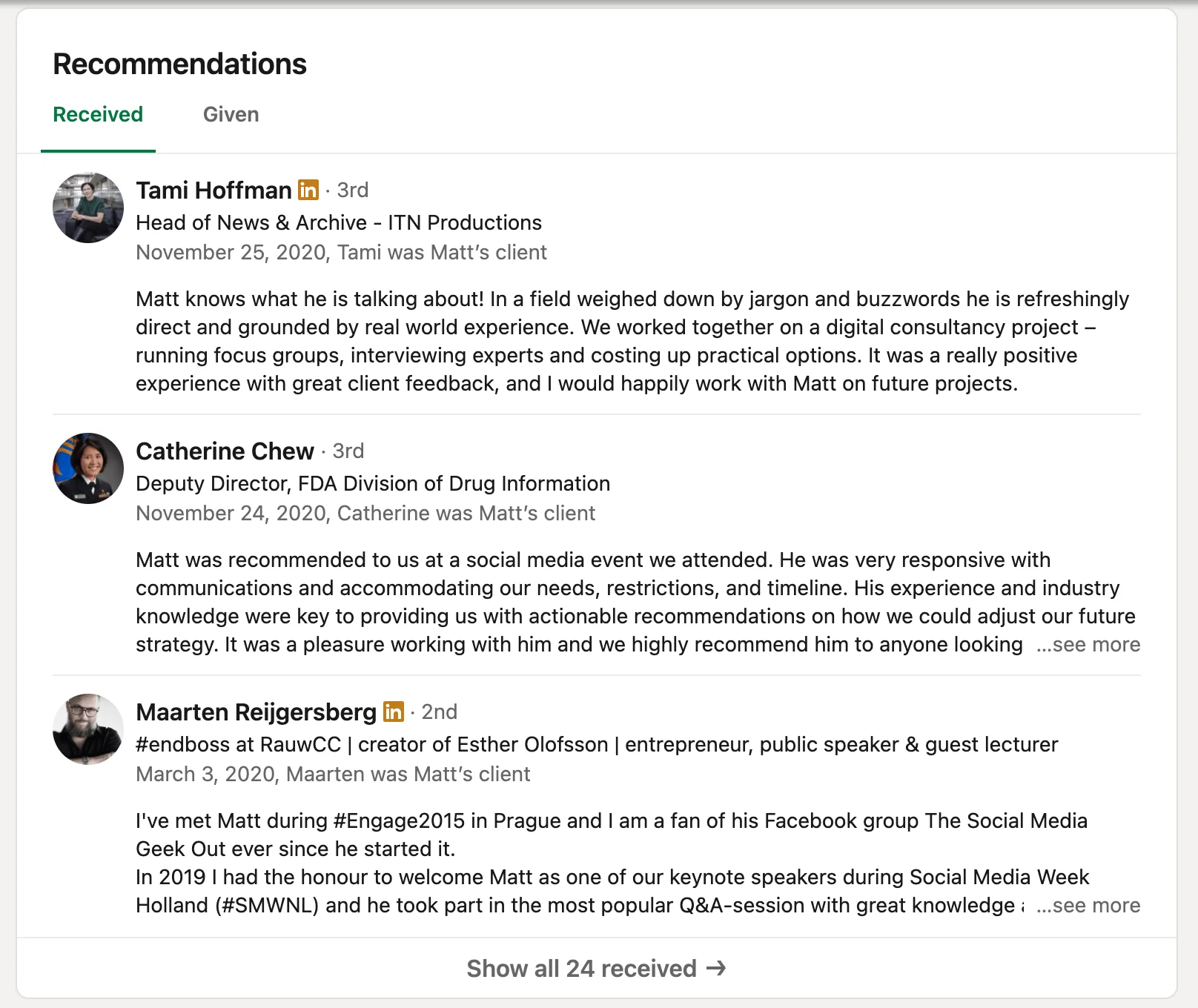 Source
Invite people to contribute to your profile. Ask people to endorse your skills or write you a recommendation. With trusted colleagues or clients, perhaps suggest writing ones for each other. You can even ask someone to tweak their recommendation of you if you want a particular point emphasized.
Frankly, the more active you are, the more added value you are likely to get anyway. For example, need help understanding that model risk management definition that cropped up in one of your courses? The broader and deeper your network, the more options you have to reach out for support.
8. Make sure you're visible
If you want your profile to promote you, it needs to be available to potential colleagues, clients, and acquaintances. Make sure that your profile visibility is set to "On." You can click on 'Edit public profile & url' on the top right. Simple but fundamental.

You can also edit your profile's url here. Perhaps replace the random combination of numbers that tend to get assigned with some variation of your name that somebody else hasn't used yet. This can help if you wish to share your profile link with others.
9. Use your profile strategically
Think about precisely what function you want your LinkedIn profile to perform for you at that moment.
Keep your profile current, and relevant. If your circumstances change, reflect that. If your achievements change, capture these. If your aspirations evolve (as they usually do), try to support these by making strategic edits. Tweak your "Headline", "About", and "Skills" to serve your hopes for the future, and not just to provide a snap-shot of where you are now. 
Be aware of the "Open to work" feature. This can be great but does have dangers. Do you want everyone to see if you have selected this (including current colleagues)? You can tweak so the flag is only visible to recruiters – and that's probably worth doing. But, even then, be aware of the recruiter grapevine in your industry!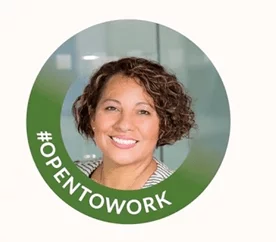 Source
If you want to get really strategic, you could consider exploring some of LinkedIn's "Analytics" functions to explore how others engage with your profile. Just as sales enablement statistics can support sales teams, LinkedIn's analytics can give insights to help refine an individual's approach. How many people have viewed your profile over time, for example? Why might it vary?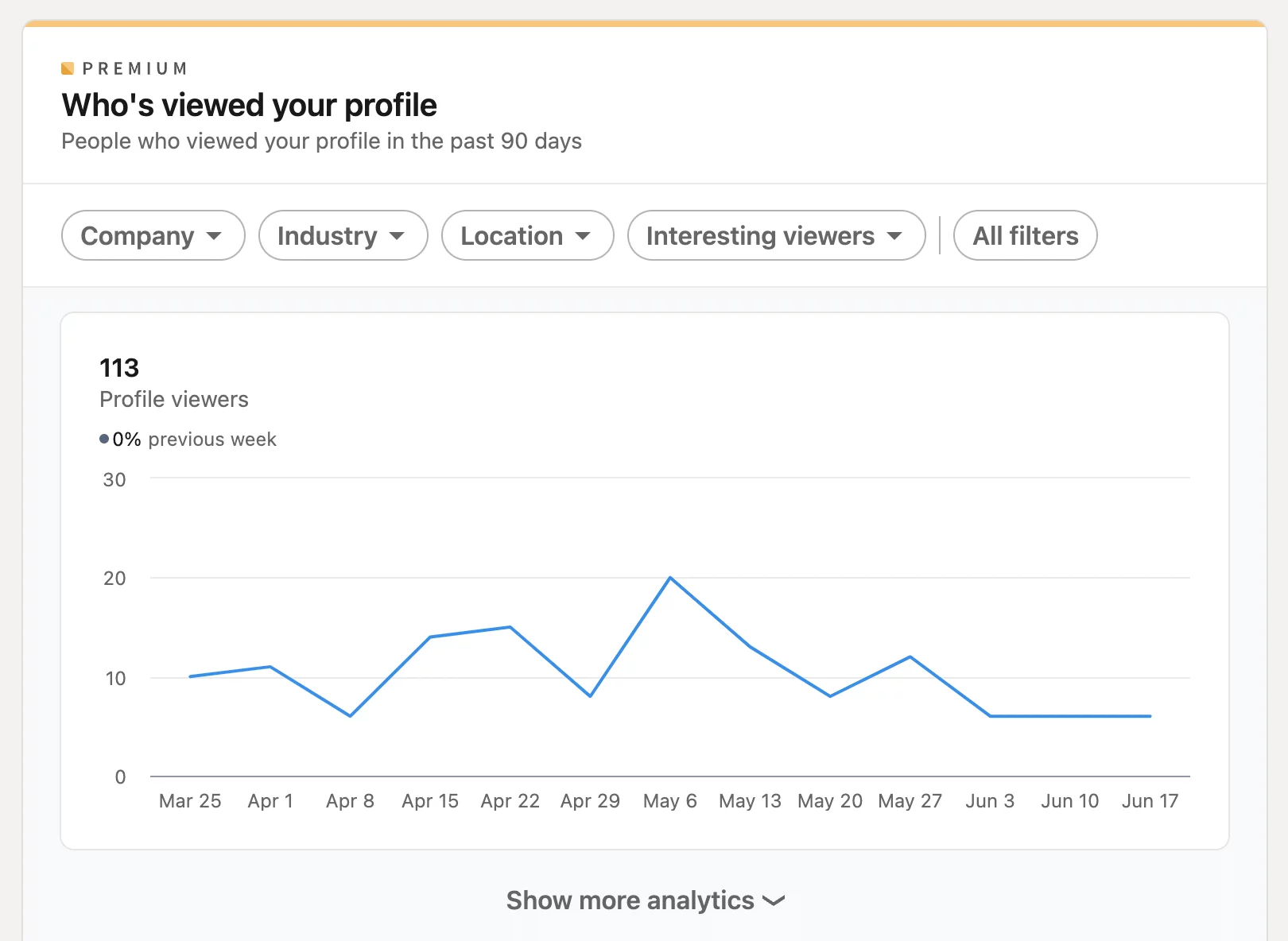 10. Look around for inspiration
And, finally, take a look at what others are doing. There are some great LinkedIn profiles of people out there, so see what works well for them. Get a friend or trusted colleague to take a look; just as you might seek a resume review, a second opinion on your profile can be illuminating.
Firstly, consider how people in your industry are marketing themselves; for example, what keywords, skills, and accomplishments are they showcasing.
Secondly, it's well worth looking at the wider LinkedIn community as well. There is lots of scope for creativity. Just like having a wide range of presentation templates up your sleeve can help you to keep your audience awake in meetings, a quick surf across a variety of successful profiles may inspire tweaks for your own. 
Your LinkedIn profile can promote your skills and aspirations to a worldwide marketplace of potential colleagues, and acquaintances. Profile optimization helps you make the best pitch possible.
Grace Lau
Grace Lau is the Director of Growth Content at Dialpad, an AI-powered cloud communication platform for better, and easier team collaboration. She has over 10 years of experience in content writing and strategy. Currently, she is responsible for leading branded and editorial content strategies, partnering with SEO and Ops teams to build, and nurture content. Grace Lau also published articles for domains such as Tapfiliate, and Easy Affiliate.