Instagram's clearly on its way to being king.  With over 800 million monthly active users, it's THE marketing platform for brands.
But as any marketer discovered in the past few years, the native platform is not enough. Not enough to help you manage and understand Instagram marketing. You've probably already discovered tons of the new features in Instagram, techniques to engage with your audience, and ways to get new followers. However, without robust tools, it may be tough to achieve the results you're really looking for.
We've divided this into a few categories:
Instagram tools – scheduling & publishing

C'mon, don't act surprised! Of course, we'd talk about Planable first. We really really want you on board!
About: Planable is the social media content collaboration platform for agencies, freelancers, and marketing teams. It brings together all the team members and their social content on the same page for better, faster brand storytelling. In Planable you can create social media posts, preview exactly how it looks like, exchange feedback, get approval, and schedule posts directly to social media.
Plan your Instagram grid and your Instagram stories in a dedicated environment. Drag and drop your posts as you like, and get approval on the spot. When ready, schedule them to automatically get published at the most convenient time.

Price: free plan, paid starting at $9/user
Instagram tools – Insta Stories
Stories are spreading around the world and allow content creators to share the best moments of their life. It's simple, engaging, fun, and highly addictive.
1. Fastory

About: Fastory is a simple platform for brands and media companies to design full-screen mobile stories for Instagram and create great content. It's like Canva for Stories. Fastory believes that engaging, sensory and interactive stories represent the hottest brand opportunity now to captivate the audience.
Price: starts from $499 / year with a yearly plan available only
2. Instagram stories templates by Kapwing

About: Simple & beautiful Instagram Stories Templates built by a team of designers. It's a solid product where you can create stories by using one of the templates with text, formats, or borders. It's very easy to use – first, you choose a template, then replace it with your own content and share it on social media.
Price: from $20 / month for videos without watermark

About: Unfold is a toolkit for digital storytellers. It allows you to create beautiful and engaging stories with easy to use templates. It's been already downloaded and used on Instagram by people such as Selena Gomez, Emma Watson, and brands like Forbes, CBS, and many more. Compared to the previous tool – it allows you to customize, save, share, and edit your own templates to re-use them.
Price: 1-2$ for additional template packages
4.  Story Replay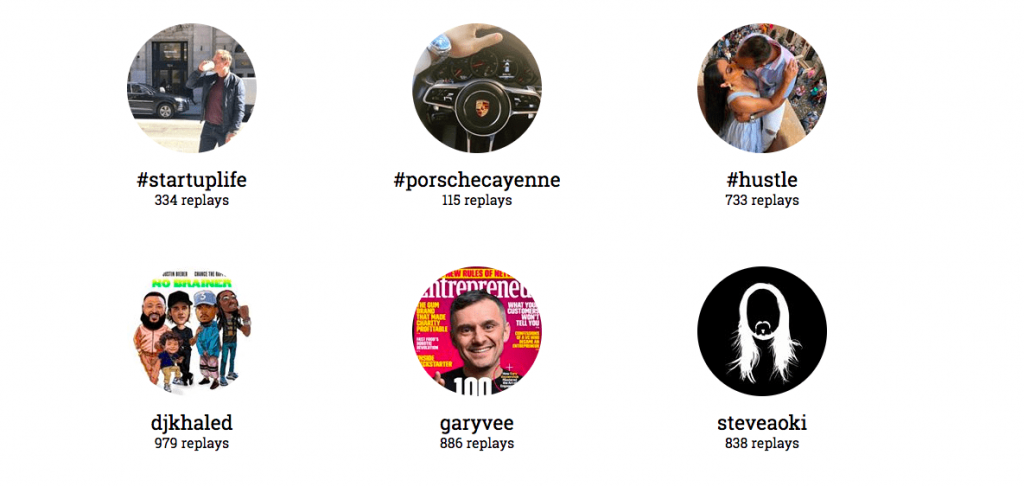 About: Story Replay allows you to easily download Instagram Story archives. It helps you see the archives of already famous Instagram accounts available on the website or connect your account to access your archive.
Price: free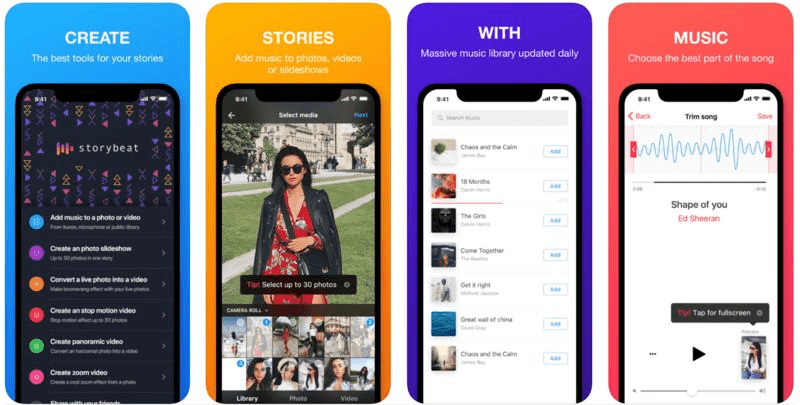 About: The idea is simple, you bring content & media – Storybeat brings music. You can easily add favorite music tracks to your video or photos with millions of tracks in every genre, like pop, rap, reggaeton, trap, electronic, R&B, country and many more. Their library is updated daily so all your favorite songs are there.
Price: free for now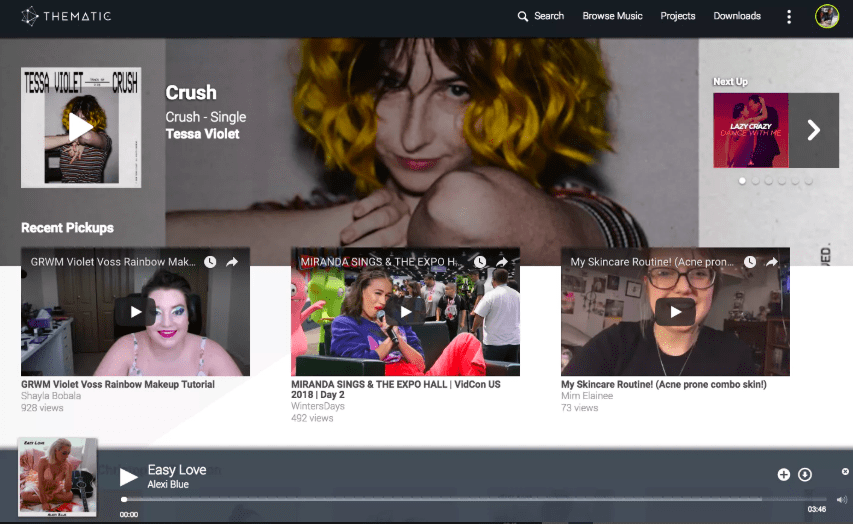 About: It's like Unsplash for music. Thematic enables creators to find & use great music in their videos. It's a free peer-to-peer marketplace to find great songs from real artists and use them in your videos (including Stories). No claims. No takedowns. No worries. All the music is pre-cleared.
Price: currently in VIP Beta
Instagram tools – analytics
It's important that you leverage Instagram for your brand. No matter what industry you're in or what marketing tools you use –   monitoring all of your marketing activity is important. We live in a world of data and as marketers – – it's overwhelming. That's why we need assistance and help in collecting, processing and understanding this data.
7. Social Insider

About: Social Insider is a powerful Instagram analytics and reporting tool. It's highly useful when promoting your brand on Instagram and looking to track all of your results. Also, you can easily take a look at how your competitors are evolving in time by accessing historical data and see their past campaigns. Compare profiles and download reports in any format you want.
Price: from $29 / month
8. Storyheap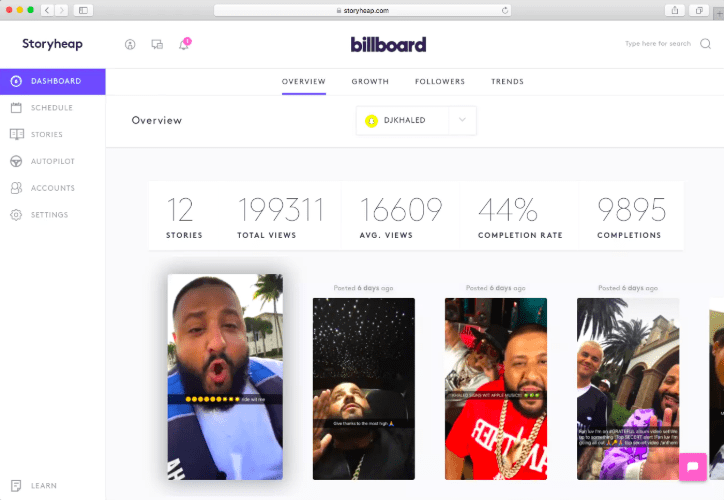 About: Storyheap helps you manage your Instagram Stories by gaining insights on how it's performing, including open rates, views, engagement, and much more. Storyheap is interacting with the Instagram platform through its official interfaces and is not violating Instagram's terms of service.
Price: from $49 / month

About: Command is an Instagram analytics and growth tool designed specifically for influencers and brands. It helps Instagram users grow and optimize their accounts. Also, it allows you to track competitors and get report cards.
Pricing: $9.99 / month
RELATED: Your Guide To Social Media Images – Sizes, Tips And Pics
Instagram Tools – Discovery & Hashtags
Twitter was the first social media network to use hashtags to categorize related posts in one single feed, but they're now even more popular now on Instagram. The platform encourages you to use up to 30 hashtags per post. Many social media experts believe that you should limit to 10 and brands are usually adding up to 3 only. If you're uncertain how to use hashtags, here are a few tools to help you discover the content idea, places, and best to use and store #.
10. Jetpack

About: Jetpack is the fastest way to copy your hashtags for Instagram. It allows Instagrammers to copy a perfectly formatted set of hashtags to their clipboard with one tap instead of the clumsy workflow. It aims to replace your notes that nearly any Instagrammer has with a simple way to manage hashtags as it's one of the most impactful ways to grow your audience on Instagram.
Price: $1.99 one time payment
Instagram tools – content creation & photo editing
No matter if you're using Instagram to promote your business, spread awareness or simply share what's happening in your office with your audience, you already know that not every image is perfect. Some of them are good, while others not so much.  That's why you need to carefully select only the absolute best pictures. Instagram has already inbuilt photo editing tools, but they allow you to do only certain and very limited things – that's why we'll look for help from professional apps focused specifically on helping you create better pictures.
11. Adobe Photoshop Express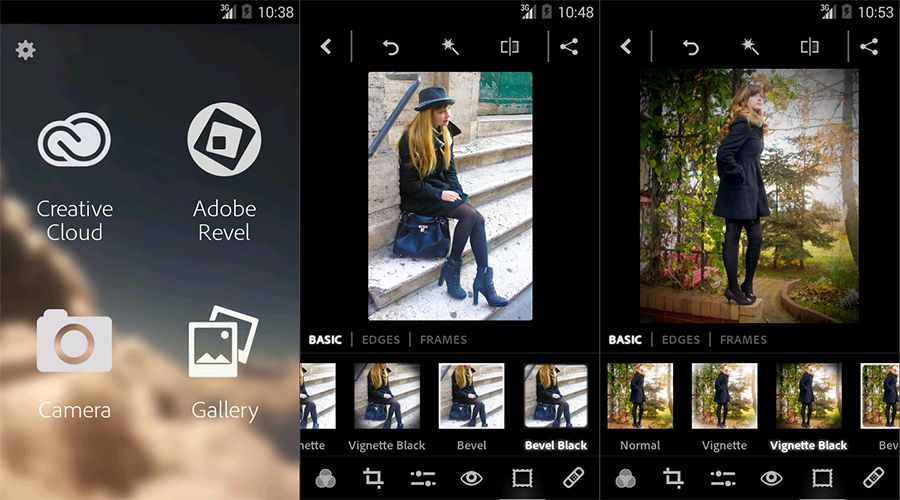 About: Already millions of enthusiasts, brands, and creatives are using Adobe Photoshop Express as fast, a powerful and easy editing tool for all the mobile devices. It gives you flexibility and control for any image to edit the size, color, text, apply effects, text, and many more. I'm personally using this one already for more than a year. Also, PS Express empowers you to add borders, create professional-quality collages with ready-to-use backgrounds and quickly share them to your favorite destination, including Instagram, Twitter, Flickr, Whatsapp, and many more.
Price: free
12. VSCO

About: VSCO started as a community of creators and photographers that loved taking pictures from their device to allow you to connect and create. It's a hugely popular photo editing tool in the Instagram lovers community. It has all the editing parameters you need – saturation, highlights, temperature, and vignette. Also, you can use one of the ready-to-use filters or buy one of the filter packs that you fell in love with. All the filters have their own style & tones that are extremely different from the filters on Instagram and much more personal. It's recommended for the ones looking to upgrade their Instagram account to the next level.
Price: freemium, with the option to buy filters or upgrade to VSCO X for $19.99 / year.
13. Snapseed

About: It's one of the go-to apps for photographers. Snapseed gives you the professional level photo editing that does not compromise the quality of the picture directly from your mobile device. It has all the standard adjustable settings, but also advanced brush tools to precisely adjust only the areas that you want. Also, you'll find in Snapseed a wide choice of filters, lens blur, HDR, and healing settings.
Price: free
14. GoDaddy Studio (formerly Over)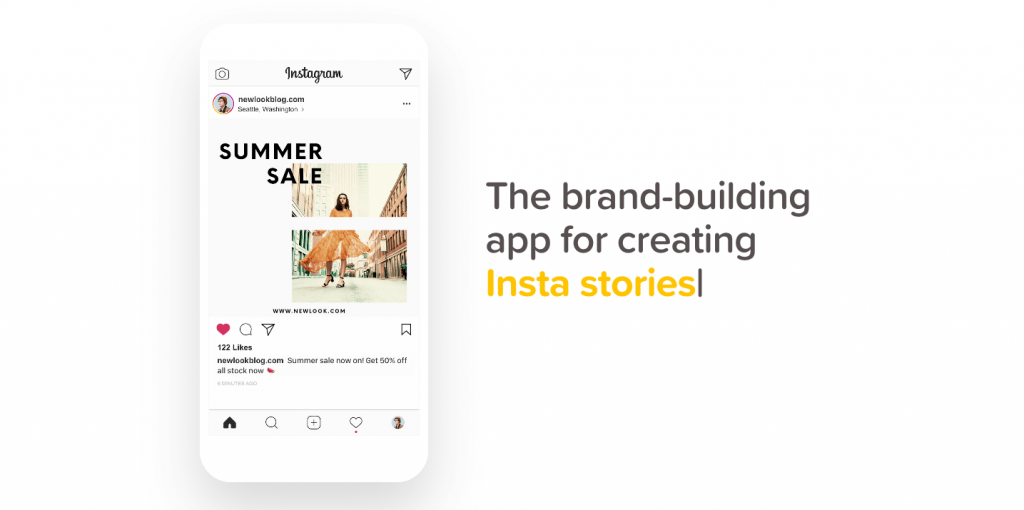 About: GoDaddy Studio (formerly Over) is a simple mobile app that lets you apply text & graphics on your photos for your Instagram posts & stories. All you need is to download the app. You can pick a template or start from scratch, then add text, photos, videos, colors, fonts, shapes, and other graphics. It's built exactly for your brand – fresh, effortlessly, instantly and with handpicked photos, fonts, graphics, templates, tools, filters, and many more (without actually using professional graphic design software). 
Price: $14.99 per month or $99.99 per year.

About: Zoomyy helps you bring video to life by zooming in or out your photos & videos. As you've probably seen there is a huge trend of playing with video files on Instagram – you can time-lapse, stop-motion and superzoom your media content. That's why, Zoomyy brings you a new way to create content, after all of these years when filmmakers have been adding this motion to clips manually for years you can do it with just one tap. It's something anyone could use in your social media calendar.
Price: $1.99
Available on iOS
16. Swipeable Panorama for Instagram

About: Remember when Instagram added the ability to take multiple photos and upload them as a single post? Since then, carousels became popular. Swipeable is available on AppStore and allows you to take a 360° image or panorama and post it on Instagram as multiple images creating quite an impressive result. It helps you recollect your memories in a swipeable post.
Price: free
17. Palette Republic

About: the Palette Republic is an app for color lovers. It analyzes the colors in your photos and adds beautiful palettes on top of it. Choose one of the many variations of the split circle to the diamond canvas. These gorgeous palettes will help you add new colors, graphics, and style to your Instagram profile and create artsy photos.
Price: $4.99 / month or $23.49 / year
Available on iOS for iPhone and iPad
RELATED: 30+ Professionals Share The Best Hacks On Growing Your Social Media Brand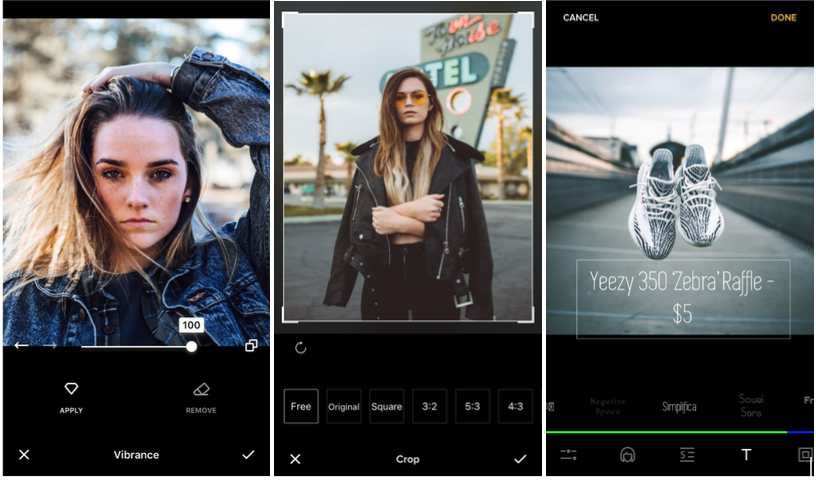 About: With over 200 million downloads worldwide, Instasize is easily one of the top tools for content creators. The app allows you to play around with your photos and videos using a suite of editing tools, filters, borders, collage layouts, and even the option to add stylized text. With its intuitive and user-friendly interface, your photos can go from average to Instagram-worthy in no time at all.
Price: Free to download with the option to avail of a premium subscription for $4.99 a month.
Instagram tools – influencers
It's already well known how important & significant working with an influencer can be for a brand. They raise awareness, spread the word, and help launch new products. Now the problem is – how to find them? There are influencers that you almost never have a chance to reach, but there are tons of accounts with a lower number of followers from 10k to 50k that are usually more open to working in a personalized way with you. Find out how to find them below.
19. HypeAuditor

About: HypeAuditor helps you determine Instagram influencers ranking by the quality and number of engaged followers. It analyses and ranks Instagram accounts based on how authentic their engagement is. It gathers data from different sources and takes only real followers and likes into consideration. You can select a top of 1000 influencers covering all niches, or break the lists into 14 categories. It offers you the current ranking of the influencers (updates frequently), main topics they post about, audience country, followers, and estimation of authentic engagement. However, Instagram is thinking to remove both likes & followers as of this year. 
Price: $1.99 per Instagram report
20. Publicfast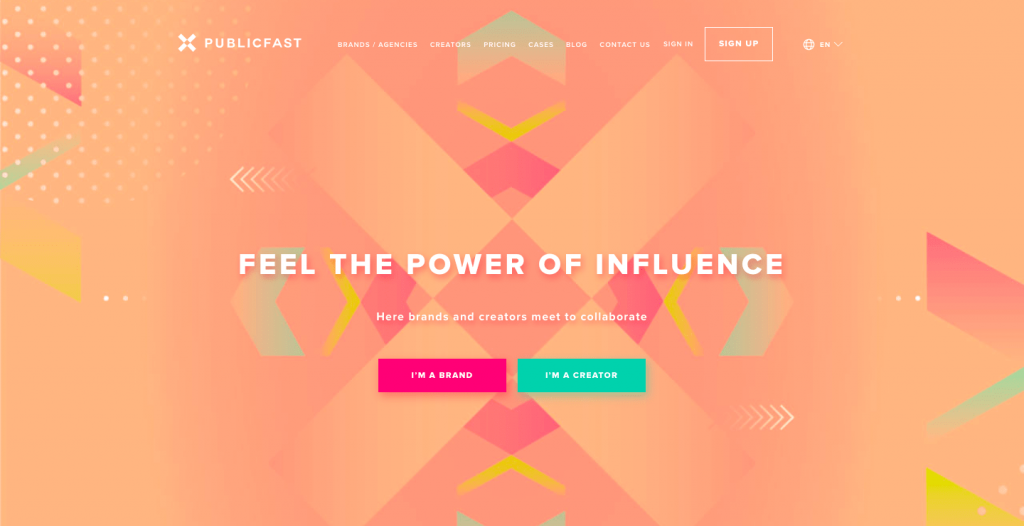 About: Publicfast helps brands and creators connect to collaborate on ideas, campaigns, and new content. It's an easy way to find and work with the right creators and helps you promote branded content via influencers on Facebook, Twitter, Instagram, Youtube, and Vkontakte. Already more than 87k creators joined the platform. How does it work? First, you choose where to post, set up goals & deadline, then add all the media content, links, and hashtags. Afterward, you choose from a list of influencers & start collaborating on the content to see exactly what you need.
Price: free, then starts from $99 / month
RELATED: Top Social Media Influencers To Follow
21. Sponsored post calculator by Buzzweb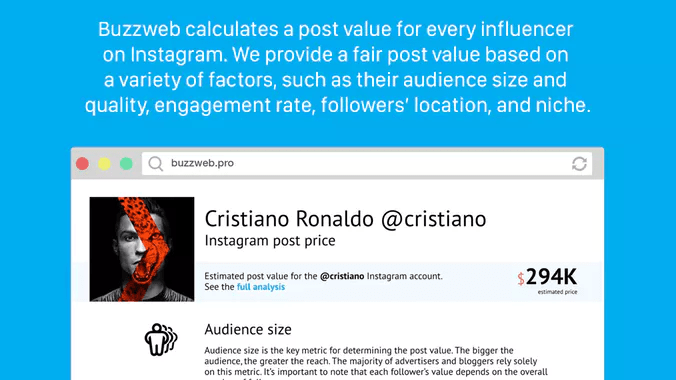 About: Influencer marketing can be costly and very unpredictable if you did not evaluate your efforts correctly before launching it. Buzzweb can easily help you. Recently, they released a social media sponsored post calculator for Instagram that calculates a post value for every influencer on Instagram by using a variety of factors including audience size, quality, engagement rate, followers location, and niche. If you're a brand it will help you plan better budgets and if you're an influencer it will help you understand how much you can charge for your content.
Price: free
RELATED: 10 Ingredients For Successful Influencer Marketing Campaigns
22. OSI Affiliate Software
OSI Affiliate Software helps you not only engage with your current customers but find new members to sign up for your referral system. Our competitive pricing gets you to access a number of features. Unlike other services on the market, there are no surprise fees; there are no transaction fees for using the service.
Turn your best customers into your top promoters! It would be easy for you to recruit and empower customers, affiliates, and influencers to promote your brand. OSI has everything you need to start an affiliate program to allow your customers to promote your brand across social networks. By enabling social sharing, you can add pre-written posts with graphics for your customers to share on all the major social networks. This makes it super easy for them to promote with very little effort.
Price: Start from $67/month (15-day free trial)
Instagram tools – giveaways & contests
People love free stuff, right? If you're spending as much time on Instagram as I do, you've probably seen giveaways many many times. Almost everyone loves the chance to win some free swag whether it's a coffee, lunch, devices, travel tickets, or just something small and cute.
What are Instagram giveaways?
Instagram giveaways are limited-time promotions where brands & influencers give away a product or service for free by organizing a competition. It usually requires participants to enter by completing some specific tasks (like a comment, share, tag, etc.). You've probably seen many giveaways in the past, but it's actually very complicated to organize. It takes a lot of time to gather the data, work in a spreadsheet, and reach out to fans to give their prize.
23. Tagwin

About: It's a very interesting way to manage contests. Instead of spreadsheets and random number generators – Tagwin comes as an alternative to support many brands on Instagram. It works by authenticating with the Instagram API and providing a simple way to configure and launch a contest. You can run a giveaway that collects all the entries with a specific hashtag or imports all of your followers as entrants (e.g. follow to win) and you can also add other additional actions to your participants, such as like a post, share this etc.
Price: the first contest for free, then starts from $19 / month
24. Shortstack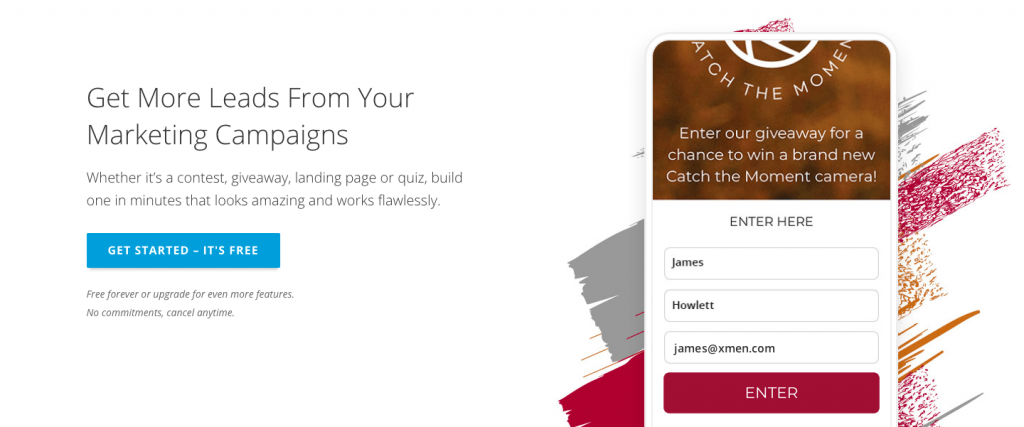 About: Shortstack is a marketing platform created for contests & giveaways. It helps you generate more leads by scaling these activities in minutes. It looks amazing and works flawlessly. Build and customize beautiful interactive contests in a few steps and then use email marketing tools from ShortStack to easily keep in touch with the participants. It allows you to collect customer information with social media campaigns, then sends them custom & automatic emails. When the campaign is ready to go you can embed it on your account, website, or landing page. When all's done – track results and understand what went well.
Price: free forever or upgrade from $29 / month for more features
RELATED: Never Run Out Of Content Marketing Ideas With These 13 Methods
If you're interested in reading more, check out these awesome resources

Vlad Calus
Dropped out of college, moved to another country with 2 of my friends and built Planable (Techstars London '17), social media collaboration platform, at 19 y. o. Forbes 30 under 30