Still working on your Cyber Monday social media posts? Ready or not, here it comes! And we all know what that means: deals, deals and more deals! If you want to change the pace for your social media followers and create something more unique than salesy, we've collected the nest social media posts for Cyber Monday to draw inspiration from.
We also created some awesome Instagram story background designs you can use for free.
Successful Cyber Monday social media campaigns
We curated a collection of great Cyber Monday advertising campaigns from various brands to draw last-minute inspiration from. Cyber Monday advertisements can be a great way to make consumers think of your brand the next time they're out shopping, whether you're a small business or a large enterprise.

1. Insert Name Here: Checking Bank Account
If your Black Friday marketing strategy was great, your social media followers should relate to this meme. Bring a touch of humor to the holiday season and resonate with your target audience like Insert Name Here did on Twitter.
2. REI: #Opt Outside
If your social media strategy allows it, you can totally boycott Cyber Monday like REI did. Under their "#OptOutside" slogan, they pushed their social media followers to the latest Black Friday sale and go enjoy the outdoors instead.
View this post on Instagram
3. Urban Outfitters: Docs
If you want to play it safe and crush Black Friday, place your bets on a super popular product that's easily recognizable by anyone. This is exactly what Urban Outfitters did a few years ago with this social media post. Chances are, customers will add more to cart than just a pair of discounted Doc Martens.
View this post on Instagram
Urban Outfitters UGC Cyber Monday social media post
We have to admire Urban Outfitters' social media content. They use a good mix of original content and user-generated content to advertise their sales and discounts. That's exactly what they did here, by resharing an Instagram post to remind their followers about their limited time Cyber Monday offer.
View this post on Instagram
4. Madewell: Every day Madewell
Madewell never strays off brand on their social media profiles. They use beautiful product imagery to let followers know about their seasonal promotions.
View this post on Instagram
5. Nordstrom: additional 20% off
If you want to make sure you'll appeal to the masses with a safe Black Friday or Cyber Monday post, you can always animate a static photo to announce seasonal promotions. In this example, Nordstrom played it safe by creating an impactful short video enticing users to take advantage of the discounts right from bed.
6. Sephora: Cyber Monday > any ol' Monday
Would you rather let your products do all the talk? Then check out Sephora's Cyber Monday post to see how it's done. They've curated customer favorites, jazzed it up to get in the holiday spirit and put their main message front and center: 50% off.
7. Biossance: Mega Bag
Biossance are known to make a splash with their offers around Thanksgiving. Like Sephora, they too let the products do all the talking and convincing. Their signature green bottles are sure to be scroll stopping, but they don't skimp out on the caption either.
8. Shopify. All paws on deck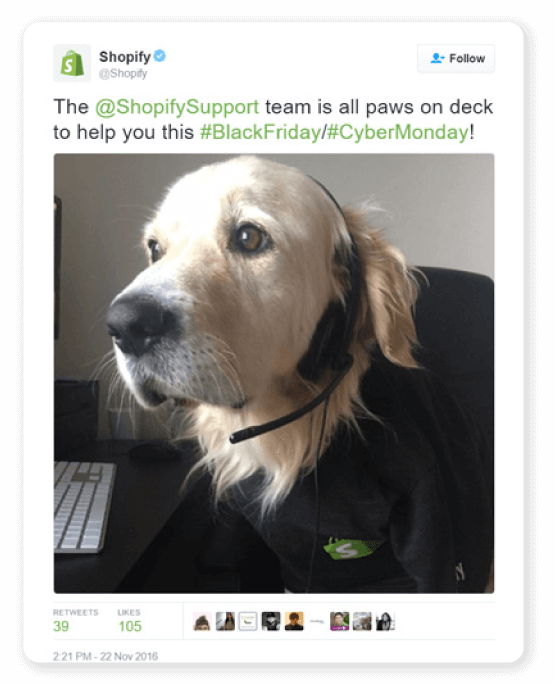 Who doesn't love dogs? Also, who doesn't know that Cyber Monday can be a very busy day for those working in customer support? Combine these two, and you get a cute way of showing your customers that everything's going to be ok.
Shopify reassured clients that their support team is all "paws on deck" to help them shop on both Black Friday and Cyber Monday. We know dogos can be trusted.
9. Nokia. Raising awareness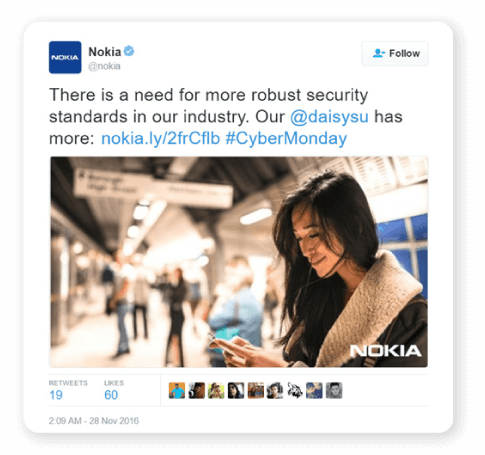 Humorous campaigns are great. Cute dogs are awesome. But sometimes it's also perfectly fine to go with simply raising awareness about a problem that your product solves.
Nokia offered a good example of how to create a Cyber Monday campaign without promoting jaw-dropping deals. You can simply post information that customers will find useful — e.g. security, especially in the context of heavy online shopping.
10. Ryanair. Cyber week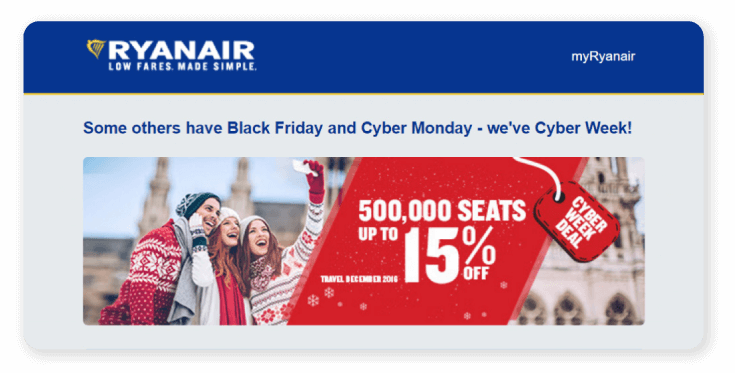 For some brands, simply offering discounts is the best approach. For example, people can't get enough of great travel deals, so Ryanair offered their customers an entire week of deals, not just two or three days. They called it Cyber Week. Although thinking about flying only triggers nostalgia right now, it's still an example of a successful marketing campaign for Cyber Monday.
11. Forever 21. So much internet to do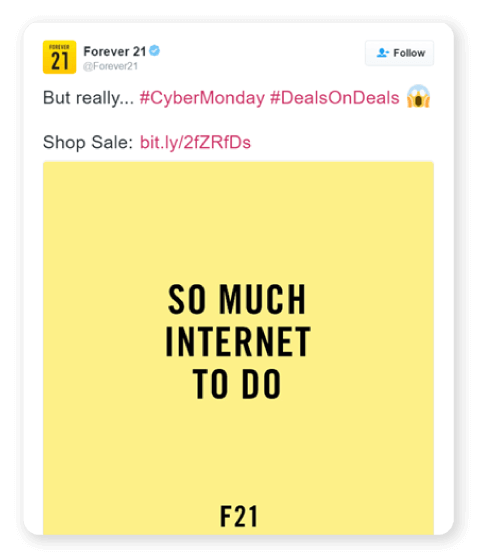 But really… cheers to poking a little fun at those facing the struggles of every Cyber Monday shopper! We don't have to take ourselves too seriously. Sometimes it's ok to share what everyone else is thinking about. Even if it's just "So much internet to do".
Forever21 shared a link to their deals and added a little twist to it. Easy and on brand. Did you take notes? Good. Let's head to the last one.
12. Dollar Shave Club. Burn one calorie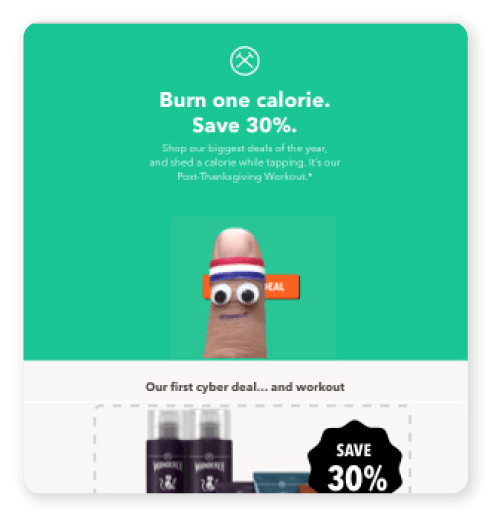 Email campaigns can be impactful as well. Dollar Shave Club showed everyone that their brand is playful and funny by introducing this amazing combo on Cyber Monday: save 30% AND also burn 1 calorie by tapping to buy the products. You better start doing some clicking if you want it to count as a full-body workout.
Social media activation ideas
Now let's take a look at some fresh social media ideas to drive engagement and make new users fall in love with your brand.
Friday or Monday – what's better?
Sales, sales everywhere. But which day offers better sales? Let's ask your audience. Using Instagram's POLL feature, ask them this simple question.
It may sound redundant, but think about it: what better way to find out what your audience's expectations are in terms of sales than asking directly? With all the data you collect, you can plan your next year's campaigns accordingly.
Big discount on the mobile app
Do you know how to differentiate Cyber Monday from Black Friday? Here's an activation idea.
Make it all about tech. If the discounts for Black Friday are for everything and everywhere, the ones for Cyber Monday should double in your mobile app.
If you don't have a mobile app, don't worry. You can offer the same big discount for people who make a purchase from their mobile device.
Who did you forget about?
OK, community managers, hear me out. This one's for you. What if this year you base your Cyber Monday campaign on authenticity? It happens to everybody. You plan for Christmas presents on Black Friday, but you forget about your cousin. Or the aunt you've already unfollowed on Facebook. We're only human.
So this year, ask your audience who they forget about and suggest some discounted presents when they answer.
That means you have to prepare in advance and make some lists to help you answer quickly.
First item ever bought on Cyber Monday?
Going down memory lane is always a good idea. If you don't plan to push your sales directly, it doesn't mean you don't have to trigger your customers on Cyber Monday.
Ask them to tell you more about the first item they ever bought on Cyber Monday. Do they still have it? Does it still work? (Do they plan to replace it with a new one soon?)
Subscribe to be the first one to know about the deals
Even though you start your campaign on social media, who says you can't take it further on email? Sweet discounts always make people more prone to sign up for newsletters. Cyber Monday can be a great moment to collect some new leads. Create a social media campaign where you tell people you'll announce your CM deals to subscribers first and then watch your numbers increase.
Extra points: people who follow this type of deal are the ones who appreciate technology. Often, they're the early adopters your business needs. Nurture these leads accordingly.
Cyber Monday Hashtags
Have you tried adding #tbt or #picoftheday to your posts but the only engagement you got was the awkward sound of crickets chirping? Don't worry. We've all been there.
Hashtags are still a great way to connect your social media content to a specific conversation topic. Whether you're considering adding them to a simple Tweet or incorporate them in a Cyber Monday advertisement, all you need to do is use them the right way and find the best Cyber Monday hashtags for your brand.
Hashtag basics
# Yes, they start with # but please, please don't use spaces, punctuation or symbols between the words and still hope for the best. Keep the words #together and you'll see results.
# Although it's tempting, make sure not to string too many words together. #otherwiseyoullendupwithsomethinglikethis. Short & simple, folks!
# Are your accounts public? If not, this may be the darn reason no one discovers your awesome content. So make that account public and give a warm welcome to those new followers!
# You may feel like #Christmas or #BlackFriday are too broad but #krampusnight2020 or other obscure hashtags won't do you a favour either. So maybe save the half-goat, half-demon Krampus stories for the description. If your team approves the post.
# Less is more. Using ALL the hashtags you can think of just looks spammy. Choose a few and save the rest for later posts.
Why use hashtags?
#visibility #engagement #support just to name a few.
Most popular & relevant Twitter hashtags related to Cyber Monday

Most popular & relevant Instagram hashtags related to Cyber Monday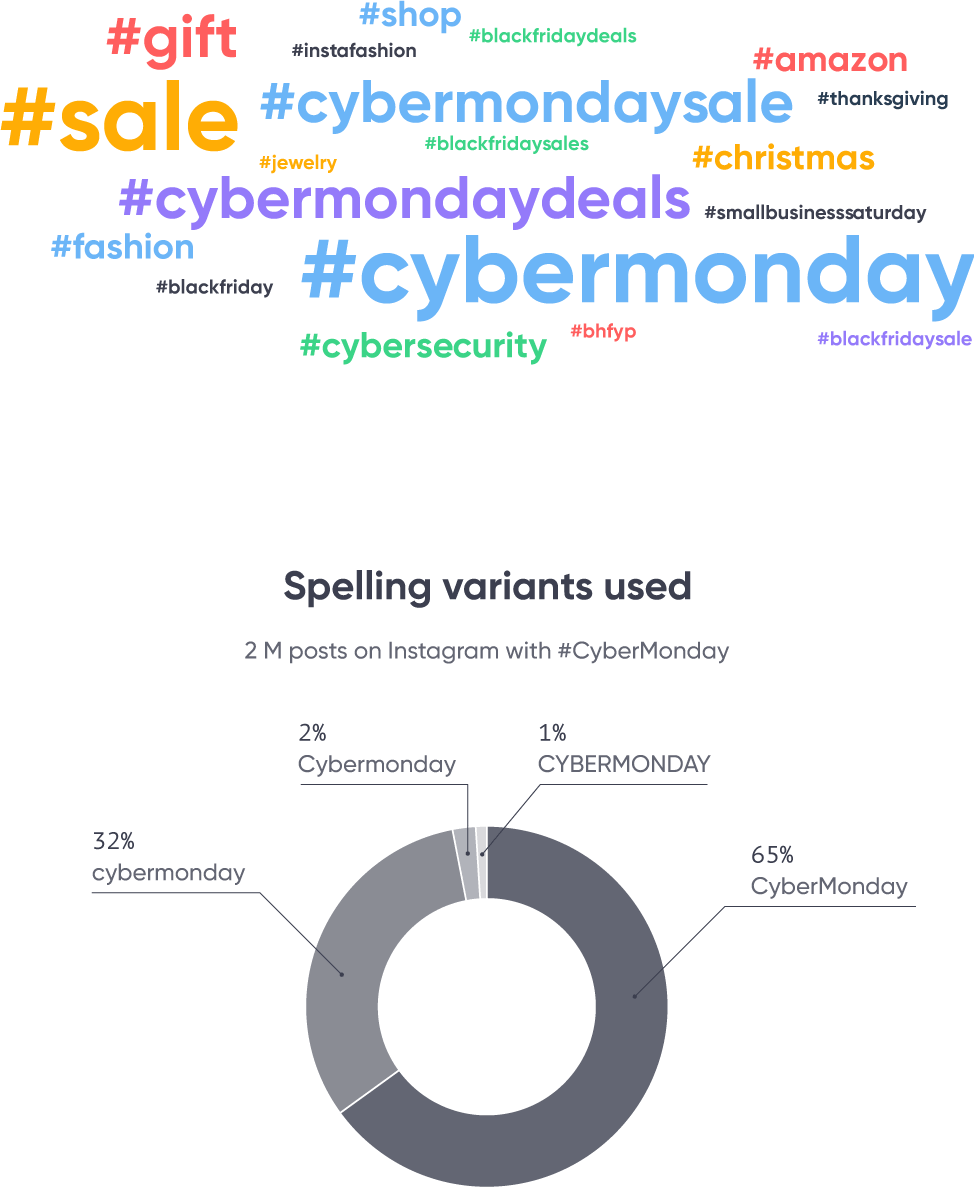 Instagram story Cyber Monday background designs
So you know when to post, you have the tools, you've chosen your favorite Cyber Monday ad and got inspired. Now it's time for some holiday-themed backgrounds for Instagram stories that any marketer can personalize. Enjoy!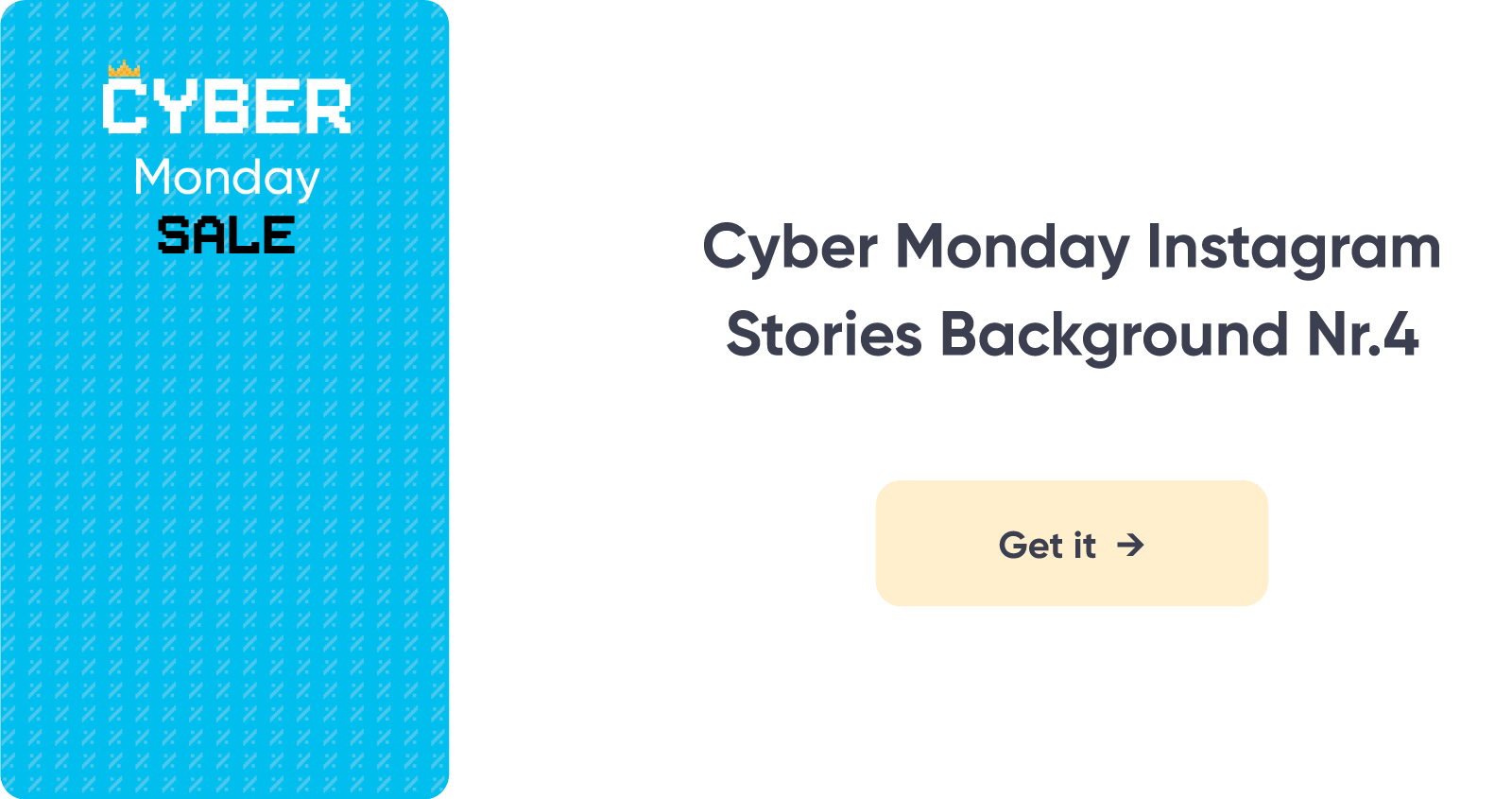 Cyber Monday Visuals to the rescue
You also need high-quality images to impress users. That's why we prepared a curated Unsplash collection containing 30 drop-dead gorgeous images that go well with any Cyber Monday marketing slogans you can imagine.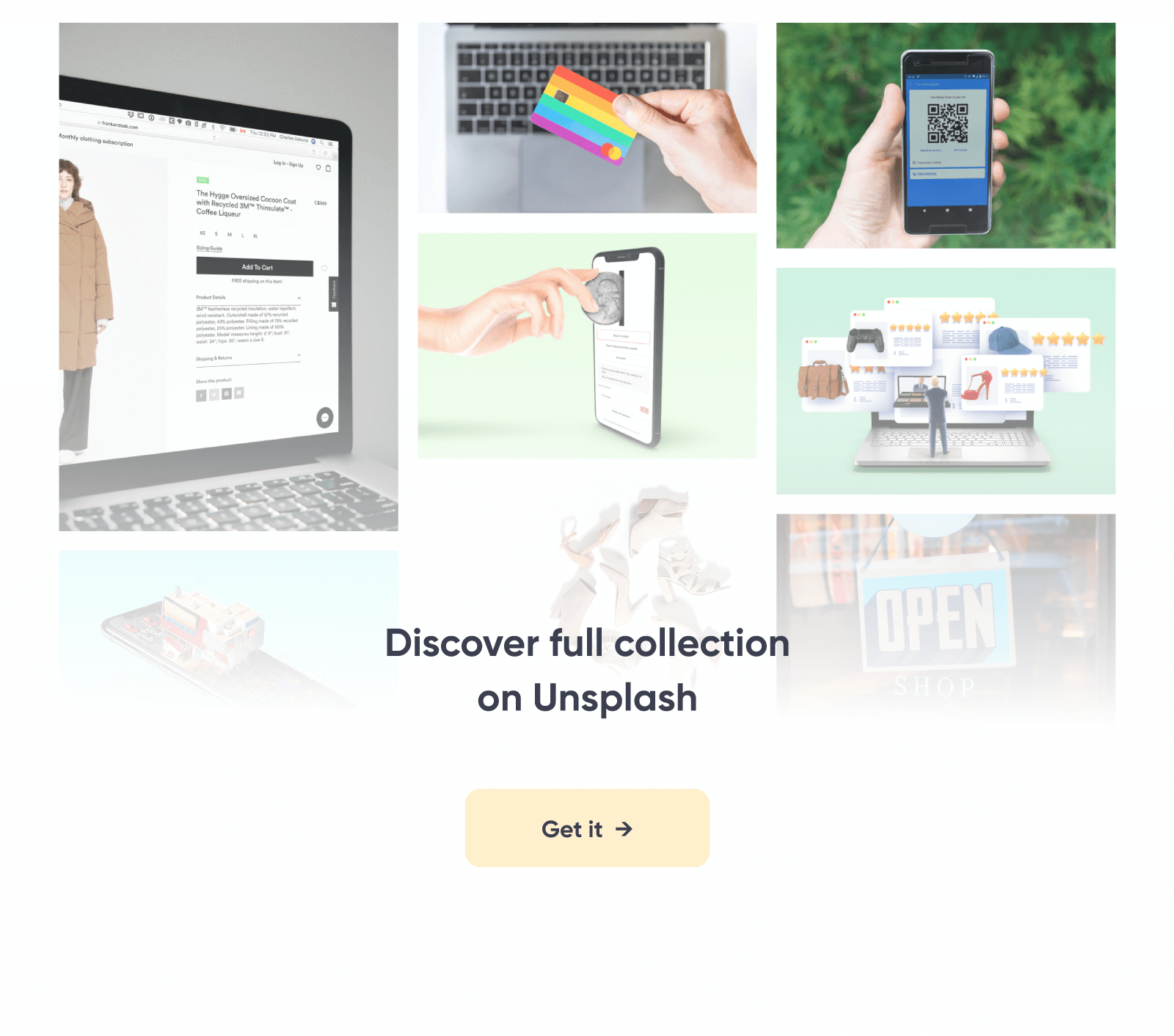 Cyber Monday Social Media Posts templates
Cyber Monday posts should be planned ahead of time. No doubt about that. Get into the holiday spirit by customizing your own posts using Planable.



When to start talking about the upcoming holidays
While planning can start 3-6 months in advance, the moment you begin communicating with your audience is pretty standard.

Frequency of the holiday-related posts
Best social media channels by users
More than half the people on Earth use social media, and that number is still growing daily. This means your audience is probably out there. All you have to do is publish your holiday campaigns, engage, and make that sale.

Best topics for your Cyber Monday social media campaign
If you're in need of some inspiration for your Cyber Monday marketing campaigns, check out this collection of topics to get your creative juices flowing.

Ready to crush Cyber Monday?
Are you feeling inspired and ready to conquer all social media platforms? The world is your oyster and the sky's the limit!