Feeling anxious about the upcoming Black Friday? Fortunately, there's no need to reinvent the wheel — we've included all the resources you need to nail your Black Friday marketing. We know that planning Black Friday sales and social media posts from scratch can be time-consuming. That's why we've created this complete Black Friday marketing strategy guide.
Black Friday Marketing Ideas | Black Friday promotion ideas | Black Friday Marketing Best Practices | Black Friday Marketing Dos and don'ts | Black Friday social media templates | Black Friday Hashtags
Black Friday Marketing Ideas
We've curated a collection of Black Friday marketing ideas from various brands to draw last-minute inspiration from. Black Friday advertisements can be a great way to make consumers think of your brand next time they're out shopping, so let's make sure they're memorable.
1. REI. #OptOutside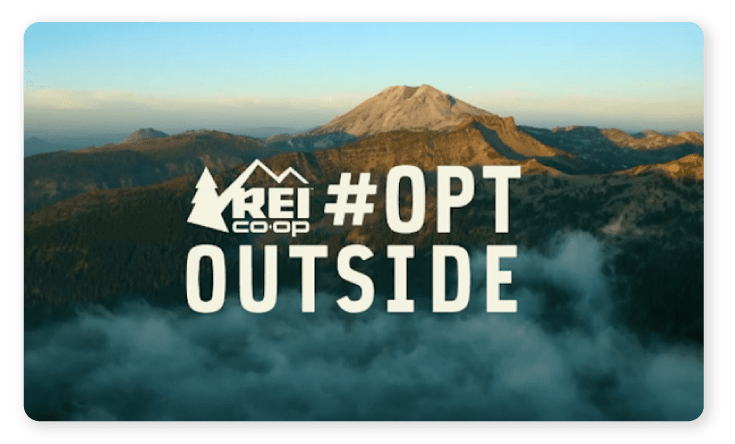 Declaring war on Black Friday is not a new marketing strategy. Many brands have done it. But REI's #OptOutside campaign feels authentic because the brand has always encouraged consumers to do something in the great outdoors. REI decided to stay away from the madness of Black Friday shopping and close its stores when others were fighting to drive more in-store traffic. The hashtag #OptOutside is all about choosing to consume experiences over stuff. And REI's audience can definitely relate to that.
2. Patagonia. Don't buy this jacket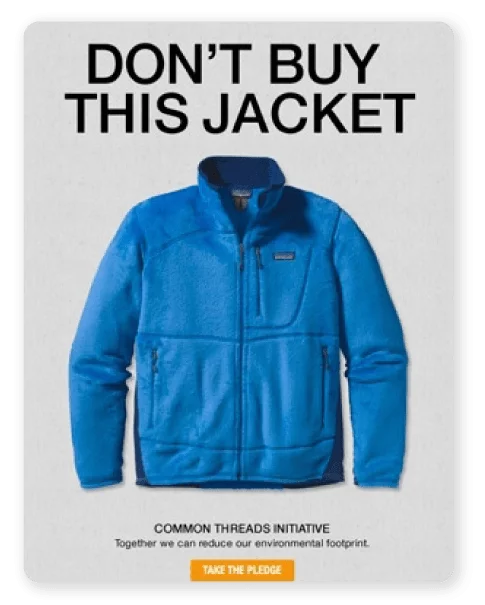 On a similar note, Patagonia's a brand that's known for its strong emphasis on ethical consumption. Naturally, their Black Friday marketing campaigns live up to this reputation. The "Don't buy this jacket" message encourages people to purchase only what they need. Being the opposite of a fast fashion brand, the campaign was in alignment with the brand's values. Thumbs up!

3. Cards Against Humanity. No discounts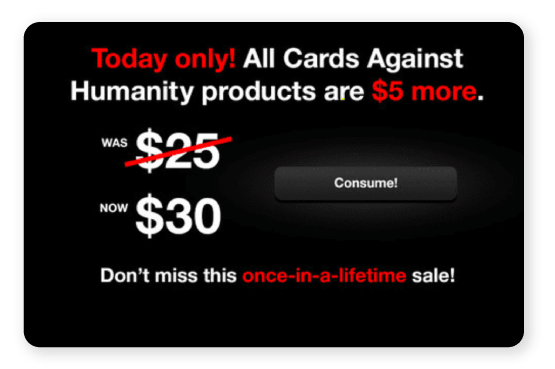 Cards Against Humanity are well-known for pulling amazing marketing stunts. Their best prank is perhaps when they increased their prices by $5 during Black Friday sales. Now you may be asking: what kind of Black Friday promotion is that?
When all the other brands were offering huge discounts, Cards Against Humanity made a bold move. Some would call it commercial suicide, but it actually increased their sales. That doesn't mean you should raise your prices during the holiday shopping season. It's just a great example of aligning your brand's personality with your marketing strategy.
4. Barnes & Nobles. Something different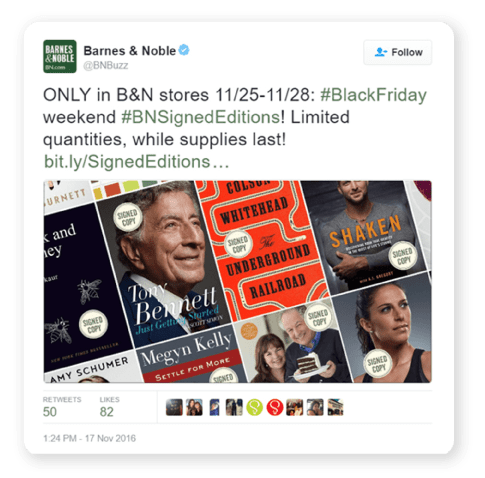 Different is good. For some brands, it's better than offering discounts. Barnes & Nobles proved that standing out from the crowd can be done in a simple & powerful way. They integrated Black Friday into their Signed Edition campaign.
Sure, we're all happy to find great books at read-iculously low prices, but we're ecstatic about getting copies signed by our favorite author. This tactic can generate more interest than huge discounts. Now that's what I call Black Friday marketing at its best!
5. Chubbies. Need comfy shorts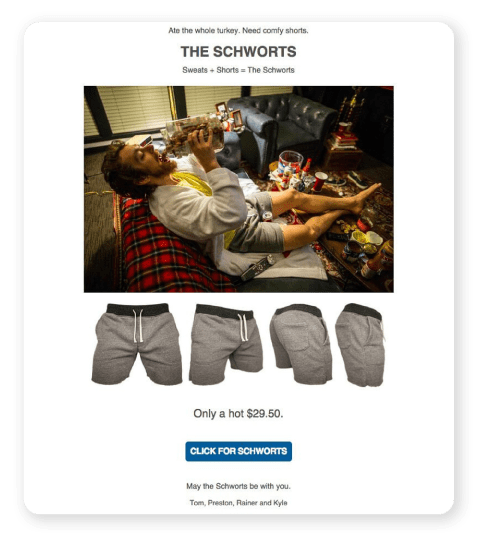 Chubbies is another brand that successfully used humor in their Black Friday marketing. The premise is simple and relatable. You ate the whole turkey, now you need comfy shorts. And their product called "schworts" is the answer to your problem. As a marketer, don't be afraid to have some fun with your Black Friday campaign. It helps you to stand out and make your brand sound more human.
Black Friday promotion ideas
Now let's take a look at some fresh social media ideas to drive engagement and make new users fall in love with your brand.
1. Best tips to survive the Black Friday weekend madness
From fear to hope to rage to faith, people are on an emotional rollercoaster all the time. So what if they stopped for a minute and saw the good side of this year? Get your audience ready for the biggest sales event of the year. You can share your own survival guide, or you can ask your community what are the best tips they have on how to survive this year's Black Friday deals madness.
Whether we talk about how not to buy the entire store, or how to choose the right promotion, any idea will do. People like to be helpful and they'll share the experiences they've had so far.
Another angle on this Black Friday marketing campaign is to ask your employees to share their favorite tips with the entire team. This way, they'll make their own survival kit.
2. Best find on Black Friday
We're all guilty of taking a stumble every now and then. So why not laugh about it? Bragging time. Black Friday promotions are here and people are spending money left and right. What better way to show how open you are than asking them what is the best Black Friday sale they scored this year. Even though they will also talk about other brands, this will be a milestone in your life as a brand when you can position yourself as an inclusive company that is aware of others' existence. Give them a clap. Tell them you appreciate their effort. Be awesome!
3. Craziest find on Black Friday
What's a holiday without some fun? This also applies to Black Friday. Enough with bragging about the best price we got this year – or, as Millennials like to call it, the best steal. Let's see what crazy items your audience found in the Black Friday deals for the devices they waited for a whole year. This type of activation requires some extra attention because you never know what people consider crazy. Or what really crazy items they find for real. Sky's the limit on the internet.
4. Most useless thing you ever bought during Black Friday sales
Similar to the craziest find, the most useless thing you ever bought on Black Friday implies your audience paid for it.
This Black Friday marketing activation tactic is a little bit safer, as the chances to find comments with bizarre items are smaller. Let your community manager have a break this time.
5. One item you need, but hasn't been invented yet
Another successful Black Friday campaign could be the one where you incite your audience to make up some items that haven't been invented yet. These types of games are always fun to play, and the creativity of some people will make marketers jealous. Don't be. You're creating the entire year round.
You can start by naming 3-5 items you wish your business invented but have been rejected by the production team.
Black Friday Marketing Best Practices
Give structure and purpose to your ideas by following these social media marketing best practices:
Best times and days to post on social media
These times are in Eastern Standard Time (EST). You'll need to convert them to the timezone of your audience.

When to start talking about the upcoming holidays
While planning can start 3-6 months in advance, the moment you fire up your Black Friday marketing and begin communicating with your audience is pretty standard.

Frequency of the holiday-related posts

Best social media channels by users
More than half the people on Earth use social media and that number is still growing daily. This means your audience is probably out there. All you have to do is publish your holiday campaigns, engage, and make that sale.

Best topics for your Black Friday campaign
If you're in need of some inspiration for your Black Friday marketing campaigns, check out this collection of topics to get your creative juices flowing.
Black Friday Marketing Dos and don'ts
'Tis the season to be creative and give your audience a reason to talk about your brand. Here are some dos and don'ts to remember when you start working on those amazing Black Friday marketing ideas.
Do: Be mindful of your audience's preferences
The best marketing strategy is to listen to your customers. Don't guesstimate what they'd like to see or what they're likely to engage with. Use data to find out for sure. That way, you don't have to worry about backlash or your Black Friday message being misinterpreted.
Don't: change your branding
Don't hold back on small tweaks or thinking outside the box. Subtle changes are welcome by followers and it always sets the mood for holiday sales. But make sure you rein in your BLack Friday marketing creativity. Avoid huge changes that would render your brand unrecognizable to your biggest supporters. In this case, less is more!
Do: Engage, engage, engage
The holiday season is a great time to engage with your audience and make them feel like part of the process. Black Friday is no exception. Share content on social media, ask questions during live chats or interviews -whatever works best for you! You can even go one step further by creating polls so that people get involved in choosing what will happen next within this event/performance etc., while also encouraging others around Twitter who might not have seen it yet via taglining (shares). Don't forget that users receive tons of engaging emails and offers on Black Friday. So, if you don't them to start searching for how to stop spam emails, make sure your communication is soft-core and to the point.
 Don't: go crazy with holiday promotions
Who doesn't like online shopping and Black Friday deals?
Mixing in some useful content with your special offers will keep potential customers happy and come back for more. Black Friday shoppers love discounts, but they also appreciate good entertainment or engagement. Mix up your Black Friday campaigns by adding new stuff every now then: interactive catalogs, videos, funny animated gifs or relevant memes.
Do: Say "Thank you!"
Gratitude is a wonderful thing. Express your thanks to those who have supported you throughout the year and make them feel special! Your loyal customers deserve nothing less than gratitude for their purchases with this company; express yours by giving discounts on different days of the week.
Don't: forget to schedule social media posts 
Don't sabotage your Black Friday marketing efforts by missing deadlines or forgetting to post on social at the right times. A tool like Planable can help you stay organized and schedule posts for 7 social media networks, all from one place. Plan your Black Friday marketing campaigns well in advance to make sure you don't miss any opportunities.
Do: Use multiple channels in a consistent way
Make sure your Black Friday marketing campaigns aren't limited to one channel. Incorporate social media, email marketing, and even online store promotions to reach the widest audience possible. Think outside the box to come up with creative ideas that will engage holiday shoppers and get them excited about your products or services.
All Black Friday Marketing strategies must include a call to action. This could be an offer for a free gift with purchase, a discount on your products or services, or even just a reminder to book an appointment before the busy holiday sales get underway. Whatever you do, make sure your call to action is clear and easy to understand, so customers know exactly what they need to do to take advantage of your offer.
Don't: overlook collaboration and approval
Make sure you have a bulletproof social media workflow, especially around Black Friday, when things get hectic. This includes tight collaboration and approval processes that you can rely on and not lose sleep over. Planable can facilitate both processes. It makes collaborating on social posts a breeze and approvals quick and painless!
Black Friday Instagram story designs
So you know when to post, you have the tools, you've browsed the best Black Friday marketing ideas and got inspired. Now it's time for some holiday-themed backgrounds for Instagram stories that any marketer can personalize. Enjoy!



Black Friday visuals to the rescue
You also need high quality images to impress users. That's why we prepared a curated Unsplash collection containing 30 drop-dead gorgeous images that go well with any Black Friday marketing slogans you can imagine.
Black Friday post templates
Black Friday posts should be planned ahead of time. No doubt about that. Get into the holiday spirit by customizing your own posts using Planable.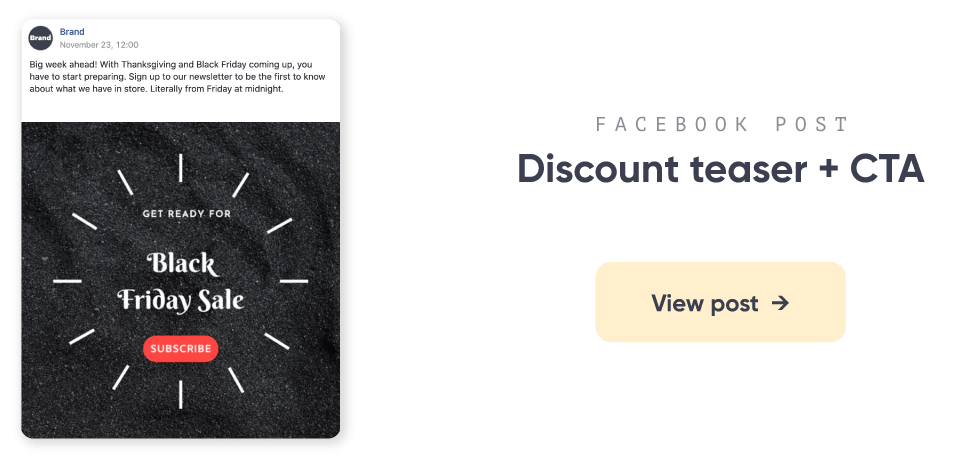 Black Friday Hashtags
Have you tried adding #tbt or #picoftheday to your posts but the only engagement you got was the awkward sound of crickets chirping? Don't worry. We've all been there.
Hashtags are still a great way to connect your social media content to a specific conversation topic. Since Chris Messina first came up with the idea back in 2007, the popularity of hashtags has skyrocketed. Whether you're considering adding them to a simple Tweet or incorporating them in a Black Friday advertisement, all you need to do is use them the right way and find the best Black Friday hashtags for your brand.
Hashtag basics
# Yes, they start with # but please, please don't use spaces, punctuation or symbols between the words and still hope for the best. Keep the words #together and you'll see results.
# Although it's tempting, ensure not to string too many words together. #otherwiseyoullendupwithsomethinglikethis. Short & simple, folks!
# Are your accounts public? If not, this may be why no one discovers your awesome content. So make that account public and give a warm welcome to those new followers!
# You may feel like #Christmas or #BlackFriday are too broad but #krampusnight2020 or other obscure hashtags won't do you a favour either. So maybe save the half-goat, half-demon Krampus stories for the description. If your team approves the post.
# Less is more. Using ALL the hashtags you can think of just looks spammy. Choose a few and save the rest for later posts.
Why use hashtags?
#visibility #engagement #support, just to name a few.
Most popular & relevant Twitter hashtags related to Black Friday

Most popular & relevant Instagram hashtags related to Black Friday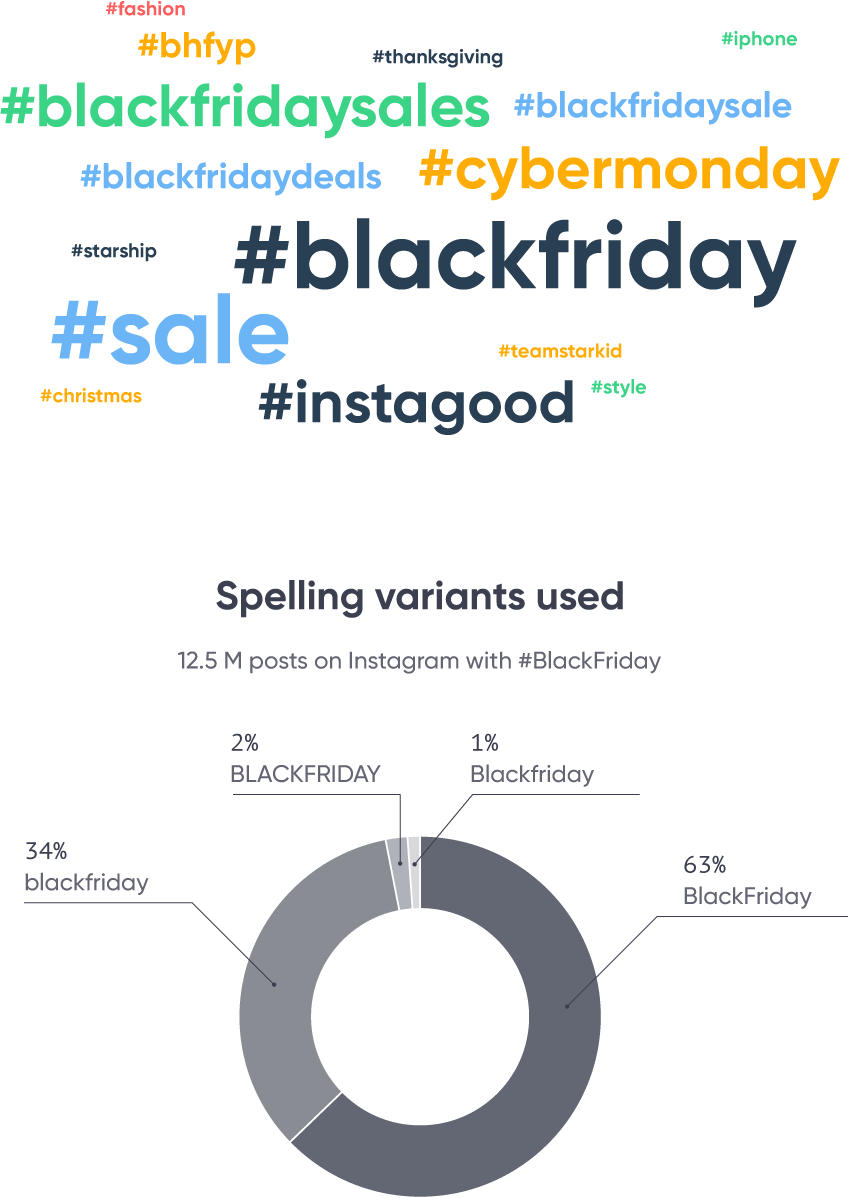 That's all, folks!
Now go make magic happen!