What is organic social media, you ask? Why do you need it, and what can it do for you and your brand?
In this article, I'll explain the difference between organic and paid marketing (Spoiler Alert: it's money and targeting) and you'll learn ways to get started creating a social media marketing strategy based on organic content. 
What is organic social media?
Organic social is social media content published without paid promotion. 
Organic and paid social media posts can look exactly the same – they can have the same copy and graphics – but they won't behave the same on social media platforms once paid targeting is applied. 
Organic posts are subject to each platform's algorithm to reach their audience while paid posts are put in front of a specifically targeted audience in the exact place it will have as much impact as possible.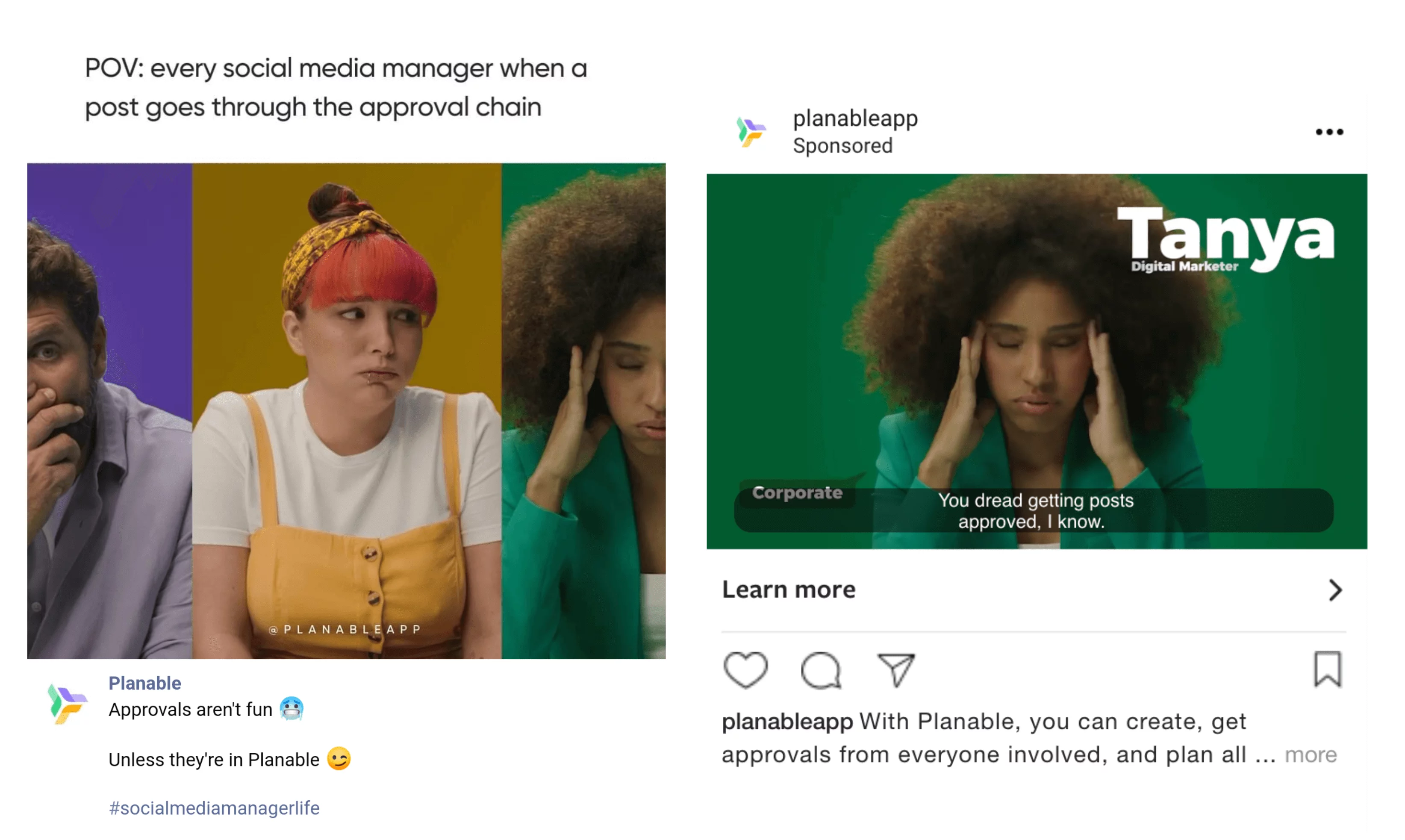 Organic social media is mostly used for brand awareness, education, visibility, engagement, community building, product testing, getting feedback and lead generation. 
Paid media is often used to make a sale or drive traffic to a specific landing page where a conversion is to take place. 
Who should concentrate on organic social media vs. paid media?
Ideally, every brand, corporation, small business, non-profit organization, or public figure should do organic media as well as paid media. 
Not doing paid social media is saying goodbye to reaching your target audience in a fast, efficient way. I highly recommend you combine organic social media with paid media if your marketing budget allows it.
Raluca Cîrjan, Senior Performance Coordinator @ Planable
If you want to increase visibility and brand awareness, grow a community and look to connect one-on-one with your audience, you might be best off using an organic-first strategy.
If you want to sell using social media and are actively pursuing conversions, you might be better off using a paid-first strategy. 
The best way to get traction with your social media is to implement both organic and paid! 
Organic posts are enhanced by running ad campaigns, and ad campaigns generally perform better if an organic strategy is in place. 
Nowadays, you can get your business in front of new prospects in a couple of minutes. Ad targeting options like precise demographic information and online behaviors allow businesses to craft personalized messages that best speak to different audiences. Most advertising platforms make A/B testing really easy, so you can improve conversion rates and only spend your budget on what's been proven to work best.
Raluca Cîrjan, Senior Performance Coordinator @ Planable
Why is organic social media important in 2023 and beyond?
More people than ever before are disillusioned with paid marketing. They feel ignored by brands yet are bombarded by ads in their social media feeds. It only makes sense to look to alternative ways to connect with your audience.
Communities are an incredible way to grow your audience using social media. Growing a community takes effort and money but can be hugely rewarding. You grow a community by providing gated content that resonates with your audience in a closed group where you can communicate at close range with your audience.
In the Social Media Trends 2023 Global Report, we learn that communities are mentioned as a new way to reach customers:
In 2023, brands will move away from personas and target their broader brand communities. They will focus on gaining a deeper knowledge of their consumer ecosystems, with a need to understand exactly who is driving and sharing brand-focused conversations. Influencers of all sizes, employee advocates, and even average consumers will be engaged.
Organic social media is content marketing. The best organic strategies include content that is authentic, real, raw, unique, true, honest, and fun! Adding content like this in your own community is a win-win.
What can an organic-first social media strategy do for your business?
There are many things organic social media can do for your business. Here are some ways organic trumps paid media in my book!
Organic content is: 
Affordable for those who are on a limited budget 

Experimental in nature and a fun 'playground' for testing content

Unpredictable in a good way; content can go viral for free

Authentic and believable

Customer-focused vs. outcome focused

Conversational, if used correctly

Show and Tell, not just tell.
All of these ways make starting your social media efforts by implementing an organic content strategy highly attractive and preferable for startups, new ventures, and small businesses.
Organic social media content that is doing well
TL;DR short-form content on just about any platform.
Organic content that performs best includes:
Instagram Reels

Instagram Stories

Facebook Reels

Facebook Stories

TikTok Videos

YouTube Shorts

User-generated content on just about any platform!
Short, vertical, and easily digestible videos are getting the most reach and the most engagement and result in authentic growth. 
If this content is created by someone who loves your brand, your product, or your services, it's gold! 
View this post on Instagram
How can you get started with an organic first social media strategy?
Start with your goals and your target audience.
Ask yourself and answer these two questions first
What do I want to accomplish with social media?

Who do I want to reach?
Next, it's time to research your target audience. 
What are their pain points? 

What problems can you solve for them? 

Where are they currently active on social media?

What content are they consuming already?
Once you have this information, you can start a content strategy based on those answers. 
Does paid media have a place in an organic social media strategy?
Paid media absolutely has a place in an organic social media strategy. Imagine your best organic content ready to go to your target audience. How simple is that? You've tested, tried and found what works. You know what words, videos, graphics, and images resonate with your audience.
Start your paid effort at this point. You'll save a lot of time and testing (aka budget!) and guess what? Your warm audience is more ready to receive those ads than if they were cold! 
The best of both worlds is two teams, organic and paid specialists, working together. 
What not to do when you implement an organic-first social media strategy?
Do not panic.
Do not listen to nay-sayers.
Do not start 'throwing' money at organic content to boost it.
Do not lose patience. 
Do not get complacent.
Do not forget to check analytics – data is gold!
Do not worry when a post tanks.
Do not expect instant results.
Organic social media isn't dead by a long shot.
Long live organic social media.
Dorien Morin
Dorien Morin-van Dam is an Organic Social Media Specialist, International Speaker and Certified Agile Marketer at More In Media. She hosts Strategy Talks, a livestream show and podcast. You'll recognize her on stage and online by her always present orange glasses, a nod to her Dutch heritage.