Does real estate marketing work?
Absolutely. 99% of home buyers between the ages of 23 and 56 found homes via the internet.
That's practically everyone you're targeting.
And savvy realtors are leveraging digital marketing to boost their sales massively. In 2021 alone, they spent a total of $722 million on digital marketing.
One of the best ways to market your real estate business online?
Social media marketing.
A whopping 77% of real estate businesses use social media to find home buyers, and 47% of them note that social media results in the highest quality leads versus other sources.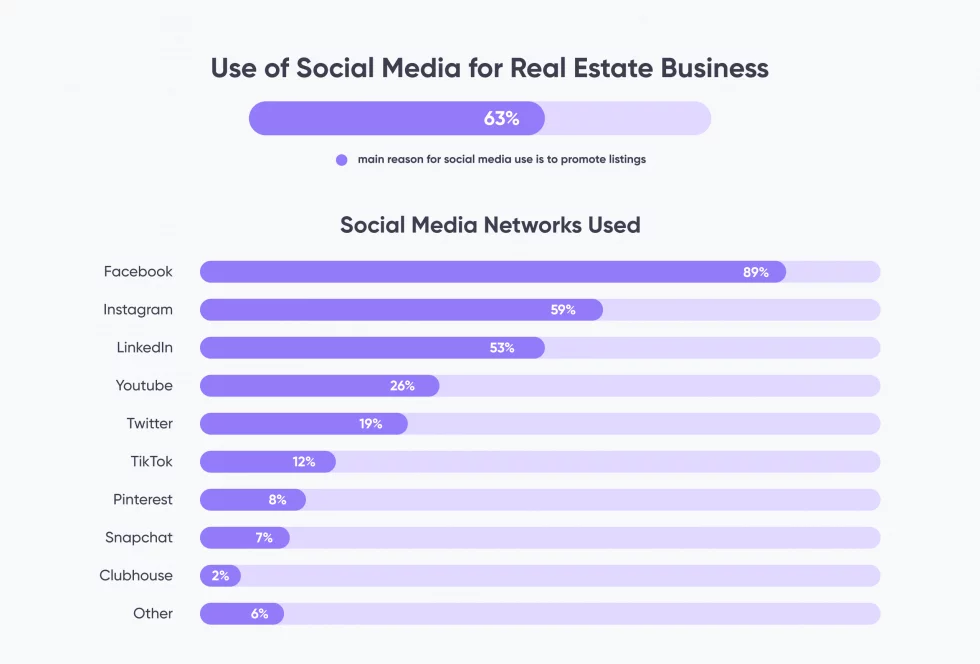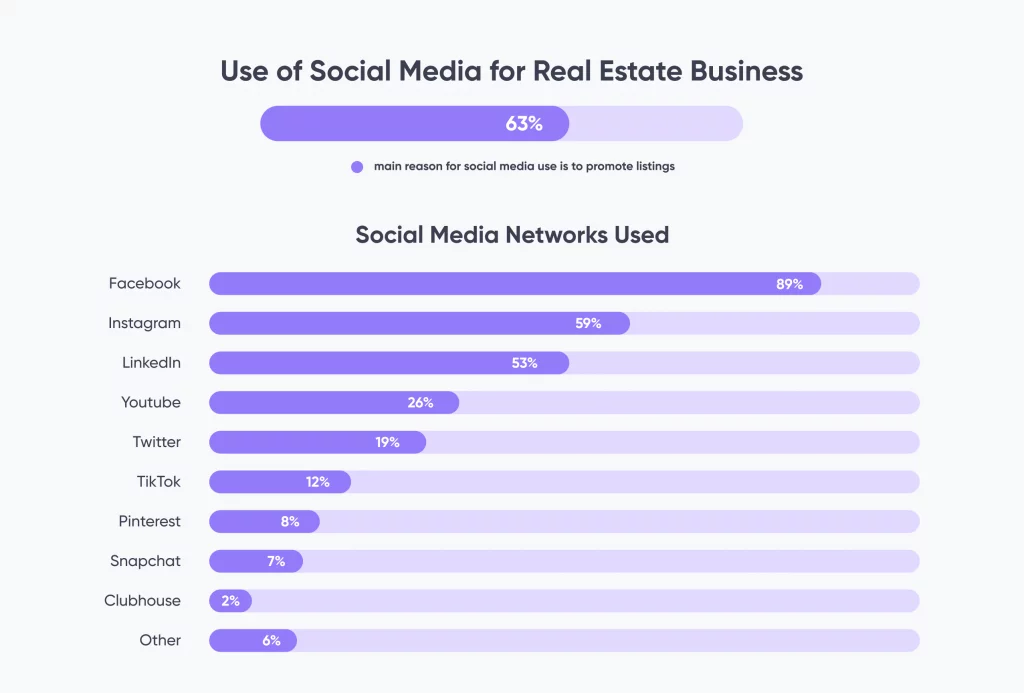 While excellent for generating leads, social media marketing also helps realtors build trust and a credible name in their communities, establish their expertise, and build profitable partnerships in the real estate industry.
In this article, you will learn why marketing is essential for your real estate business in 2023, how to market your brand on social media, and content ideas to get you started.
Why you should market your real estate business on social media
While generating real estate leads is one of the core benefits of real estate social media marketing, there are several other essential reasons why you need to build a strong presence on social media.
Let's discuss some of them.
Word-of-mouth now happens online
What's 5x more effective at increasing sales than paid ads?
Word-of-mouth marketing.
While traditionally word-of-mouth marketing happened over a phone call, times have changed. Recent research showed that for 47% of recent buyers, the first step they took in the home-buying process was to look online.
Some ways online word-of-mouth works:
TikTok review video of a first-time home buyer who got their dream home in their budget through you.
Twitter comment by a loyal customer you've been helping for years.
Trying to buy a home in Denver right now is the most frustrating/discouraging/soul-crushing experience 😩

— Katy Winge (@katywinge) May 19, 2022
An Instagram post tag by a couple you just helped purchase their first house.
Your target audience is on social media
The largest audience on social media?
Millennials.
Coincidentally, millennials also form the largest share of home buyers.
And 33% of millennials spend nearly 14 hours weekly on social media during their housing search.
Generate multiple streams of income
Social media marketing is not limited to helping you sell homes. There are several other ways you can use social media to generate income.
Once you've created a strong, thriving social media profile, you can collaborate with brands in your niche and work as an influencer in the real estate world.
For example, collaborating with local interior design businesses or plant shops and promoting their products in your house-showing videos (during the staging process) in return for either exposure or monetary gain.
Similarly, you can create digital products (like eBooks with tips for first-time house owners) and sell those via social media.
Engage and build your audience without paying
While social media is fast moving towards a pay-to-play environment, there are still several ways you can build your audience through it for free. These include,
Creating content based on viral hashtag trends,
Running giveaways,
Creating informational video content,
Engaging with micro and macro influencers on social platforms.
Directly interact with your target audience
Story polls. Live broadcasts. Q and A sessions. Comment section. Direct Messages.
Social media platforms are all about engagement. They've provided brand owners (and everybody else, too) with many engagement features. As a realtor, you can utilize these features to understand exactly what your potential clients are looking for and how you can help them.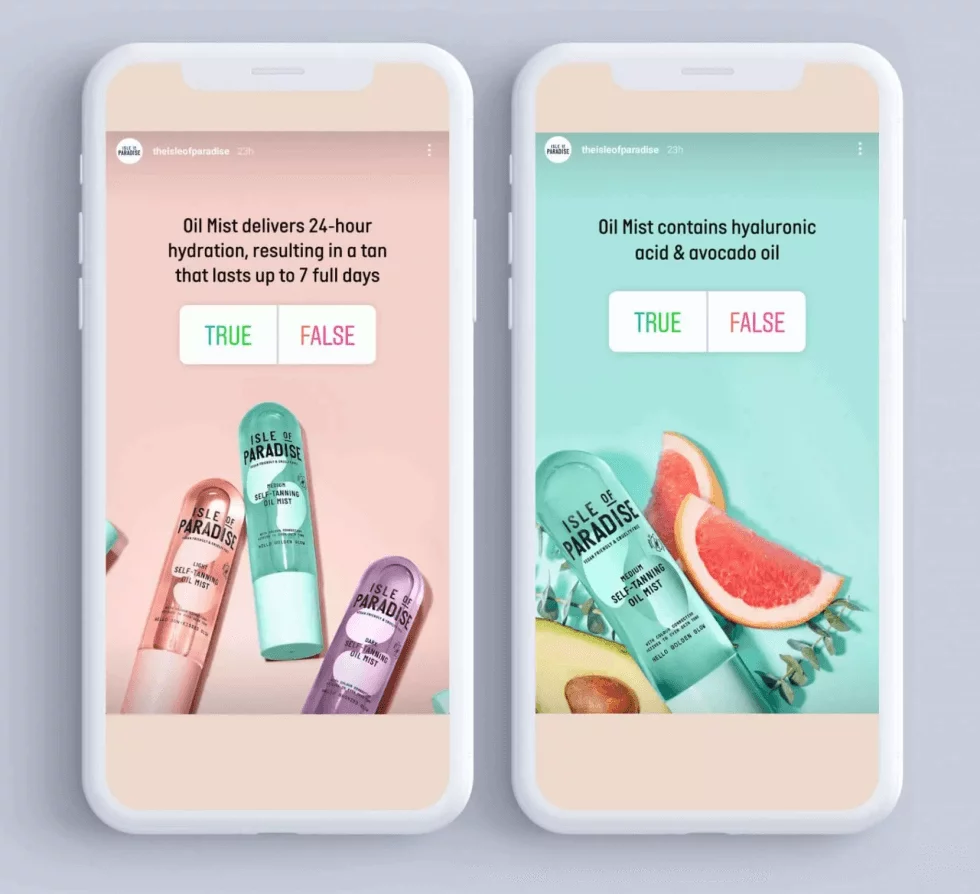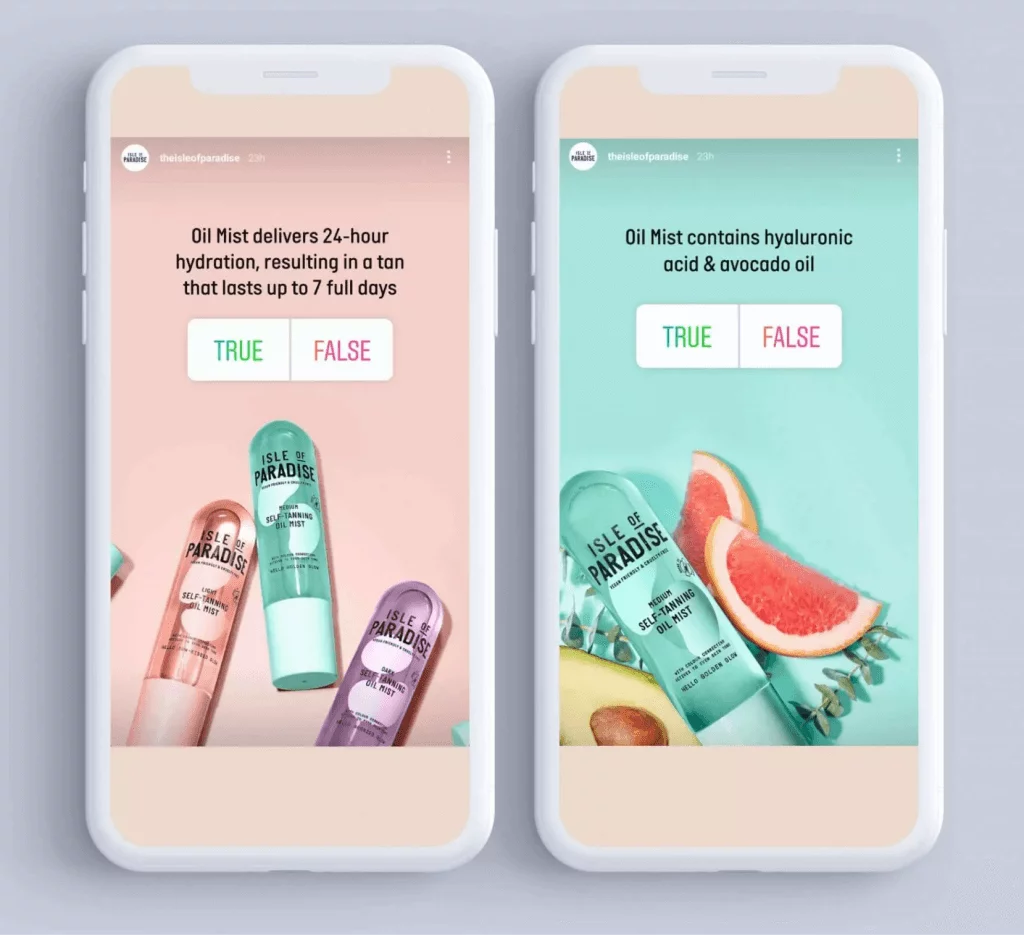 6 best social platforms for real estate professionals
With everyone and their dogs on social media (yes, people have social media profiles for their dogs, too!), real estate marketing on social media is vital for success.
However, with so many social media platforms, it can get overwhelming thinking you have to be active on all. Start with one social channel and create a strong presence on it before jumping on the next social media platform.
How do you choose the right platform to create your social media account on?
By understanding your marketing goals, being clear on your target audience, and understanding what channel you're comfortable using and best fits your brand's personality.
1. Instagram
1 out of 3 social media users use Instagram.
We're quickly moving towards a highly visual world, and that is where visual platforms like Instagram come into play.
Since the success of real estate companies highly depends on attracting home-buyers through drool-worthy visuals, you need to have a strong presence on Instagram.
On Instagram, you can:
Broadcast your house showing live to prospects and engage with them in real-time. Once done with the broadcast, repurpose the Live session in the form of a video post for your feed.
View this post on Instagram
Create educational content in the form of Reels for your audience.
Use Instagram Stories to understand your audience's preferences and keep them engaged. The best part? You can schedule Instagram Stories via Planable well in advance.
2. Facebook
With almost 3 billion Facebook users, Facebook is still one of the most popular social platforms. Around 2 billion Facebook users use this social platform every day. 3 out of 4 US Facebook users visit local business Pages at least once a week.
With a massive user base and a ton of real-estate business friendly marketing features, it's a popular social media platform choice for realtors, too — 97% of realtors use Facebook for marketing their real estate business.
How can you use Facebook marketing for your real estate business?
Create exclusive Facebook groups to promote your real estate business.
Add CTA's like Contact Us, Send Message, Send Email, or Learn More on your Facebook page to engage and convert home-buyers and home-sellers.
Use Catalog ads or Leads ads to target prospects in your local area.
Drive leads from your Facebook page to WhatsApp Messenger to boost conversions.
List your properties on Facebook Marketplace – after all, one in three people on Facebook in the US uses Marketplace every month.
Create posts with property listings and boost them. You can schedule Facebook posts well in advance through Planable.
3. Twitter
With Facebook constantly altering its algorithms and Instagram still not allowing brands to add links to their content, Twitter is quickly becoming a go-to social marketing channel for real estate businesses.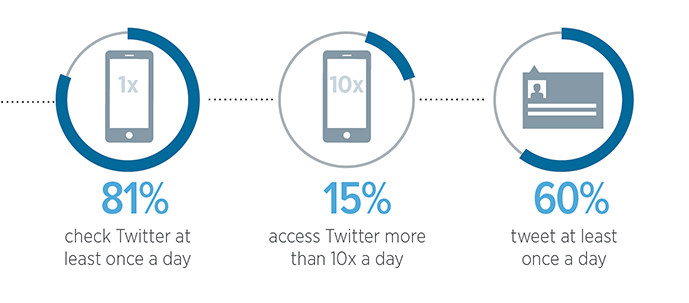 Source: Sprout Social
Twitter is used mostly by millennials in the age range of 24 to 34 (38.5% to be precise), so if that's your target audience, you need to be on Twitter. These users are pretty active, too, as 80% of Twitter users have tweeted about a brand.
Just locked in a fresh 30-year mortgage at 74%. We're going to be homeowners!

— Douglas A. Boneparth (@dougboneparth) September 20, 2022
And while popular social platforms like Facebook have seen a decrease in their advertising reach, Twitter's advertising audience reach grew by 27.4% over the past 12 months.
Twitter is all about community building. You can learn about upcoming popular local events to participate in, build a strong community with home buyers and home sellers in your local area, leverage trending hashtags in your area to reach out to a larger audience base, write and schedule tweets to engage with your followers, and present a human face to your real estate brand.
TGIF… oh wait we're real estate agents so you can contact us anytime.
Email JSA Property at [email protected] or call 0438 402 121 tonight, tomorrow morning or even Sunday for all your off-the-plan property needs in QLD. pic.twitter.com/4Vyowzy1VD

— Stewart Cochrane (@JSA_Property) July 20, 2018
4. Google My Business
A modern Yellow Pages for businesses, Google Business Profile is an essential marketing tool for realtors and local businesses.
The first thing prospects do is Google your name and brand. If a home-buyer is looking for homes in their local area, they're likely to Google 'Realtors + Near Me.'
Studies show that there's been a 500%+ increase in 'near me' Google searches.
If your GMB profile is optimized and pops up in the first 3 search results, there are high chances prospects will click on it.
Create an optimized profile with all your real estate business details. Add professional photos of houses you've currently listed for sale. Create and schedule informative Google My Business posts to keep your profile active. Ask past and present clients to write you reviews – since reviews play a massive role in establishing your authority and convincing prospects, feel free to offer clients some sort of reward in exchange for reviews.
5. TikTok
When Tanya Baker shared a 5 story townhouse in South East London on TikTok, it quickly went viral and received over 1.4 million views and 267,000 likes.
This is the power of TikTok.
Not only is TikTok the preferred search engine for Gen Z, but it's also where a lot of homeowners and home buyers are looking for their dream houses.
Create fun content, schedule TikTok posts in advance, engage with followers and local influencers, leverage trending hashtags, and most importantly, be consistent with your efforts.
6. Pinterest
Pinterest is a visual haven for 88.8 million millennials and 52.6 million Gen Z users globally.
It might not be the best for hard-selling or aggressive marketing since pins on average take 4 months to receive engagement. But Pinterest is an excellent way to gently nurture your leads with inspiring pictures of their dream houses. Once intrigued, they'll click on your link to learn more about your business.
As Nicole Gustas, international marketing consultant, explains, "A Los Angeles real estate agent will be more successful on Pinterest by creating pins for blog posts like '10 Up and Coming Neighborhoods in LA You've Never Heard Of' or 'The 10 Hottest New Loft Buildings in Downtown LA,' rather than something about a specific house in a particular neighborhood that is for sale at a particular time."
Nicole Mickle, Realtor with almost 10 million monthly pin views, adds, "With Pinterest, I'm offering something—not selling. I'm problem-solving."
So create and schedule pins that solve your target audience's problems.
Tip: Become part of Real Estate Group Boards and build a community of like-minded people in the real estate market.
7 tips for real estate agents to succeed on social media in 2023
In the past, realtors would place ads in newspapers and hold yard sales to flip houses.
Today, they use social media.
And for good reason – today, over 4.7 billion people use social media across the globe, and this number is steadily increasing with every passing day.
So chances are most of your prospects hang out on social media and are using these platforms to find (or sell) their dream houses.
Your job?
To find them first and forge a strong relationship. Here's how you can do that.
1. Create a tailored strategy for social media channels
Every social media channel works differently.
While Twitter is more content-driven, Instagram and TikTok are visual platforms.
If you have a franchise real estate agency, creating a multi-location marketing strategy would ensure you stay consistent on every social media channel.
So when working on your social media marketing strategy, determine:
What content format works best on each platform?
For example, images, text-based content, GIFs, bite-sized videos, and live sessions.
View this post on Instagram
What marketing strategies get the best results?
For example, hashtag campaigns, paid advertising to target locals, influencer marketing with local influencers, and so on.
What kind of content gets the best result?
For example, informative videos for home buyers and sellers, entertaining real estate memes, company news (like appointment timings, house listing times, etc), and reviews.
2. Keep a social media content calendar
A social media content calendar keeps you on track to achieve your marketing goals. When you sit down, plan your content calendar and schedule posts well in advance to save time and energy.
It also helps to ensure,
You're leveraging hashtag trends,
Capitalizing important events and holidays (and some fun social media events like #NationalPizzaDay),
View this post on Instagram
Posting consistently,
Using the right content mix (80% educational content and 20% promotional content is the rule), and
Posting content without errors.
A little tip?
Don't fill your content calendar to the brim with content. Keep a little space for impromptu posts, house listings that suddenly sprout up, local events coverage, and so on.
3. Don't solely focus on vanity metrics
Social media is more than likes, comments, and shares. While these vanity metrics are essential, only tracking them would give you a partial picture of how your marketing strategy is working.
Account mentions, post impressions, post reach, share of voice (how many people are talking about your real estate business on social media), referrals, and conversions are all essential metrics you need to be tracking.
4. Focus on creating unique, valuable content
Visit a real estate agent's social media profile and you'll see house listings with boring descriptions. The same old, boring stuff.
Your target audience wants more from you.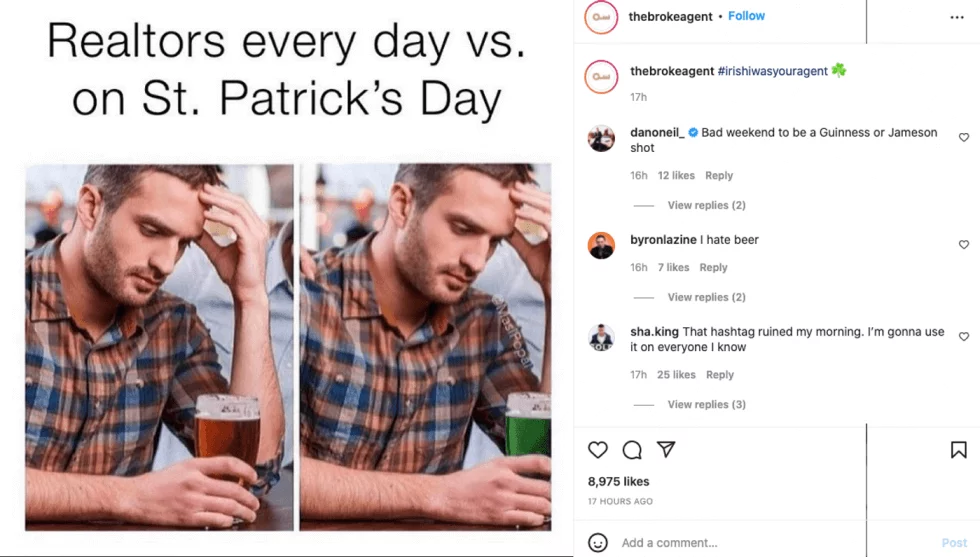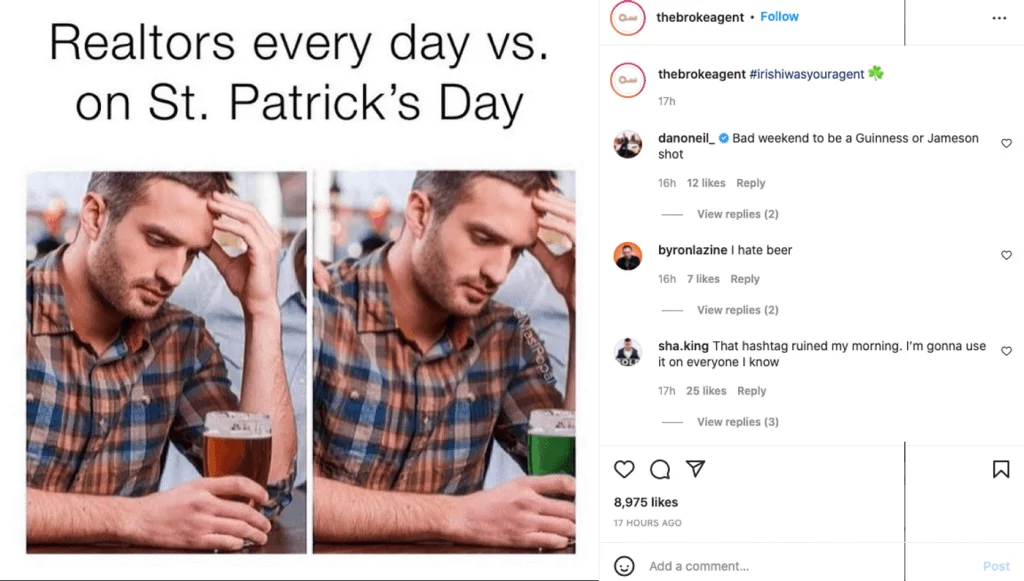 They want solutions-oriented content.
View this post on Instagram
View this post on Instagram
They want your brand's human face.
So while house listings are important, your content needs to be beyond it. Run a poll on Instagram and ask your target audience what kind of content they're interested in. Track your existing content and determine which posts get the best results.
Make a list of FAQs and create bite-sized videos answering them.
Create TikToks for house hacks.
Livestream local hidden shops, cafes, and cute bookstores
Collaborate with local influencers
In short – experiment.
View this post on Instagram
5. Experiment with different real estate hashtags
TikTok hashtags #nycrentals, #brooklynrentals, #nycrealestate have been viewed 47 million, 1.9 million, and 437.3 million times.
And #nycapartment?
It has over 2.5 billion views globally.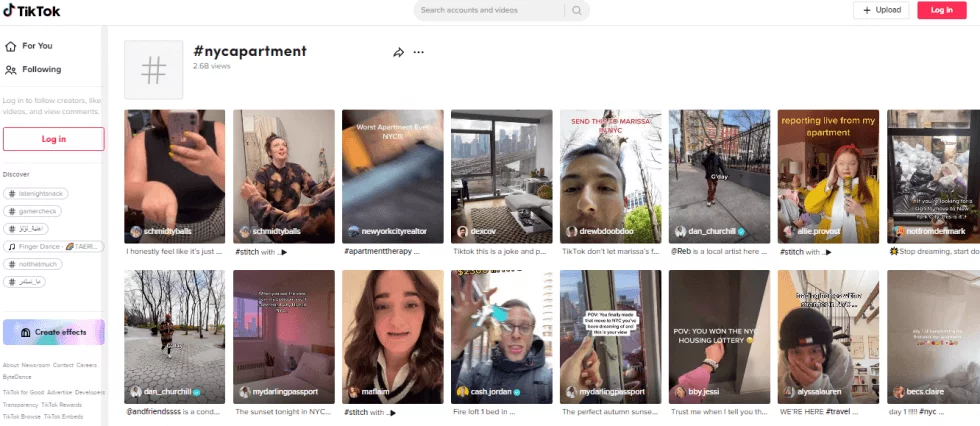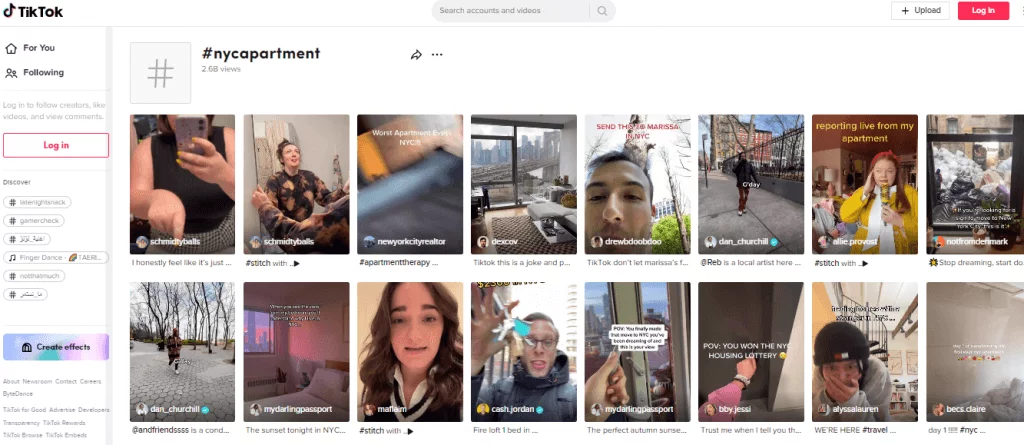 Hashtags are an essential part of a social media marketing strategy. Not only do they help you go viral, but they also help you find the right audience and build a community with them.
Create content around these hashtags. Engage with users that are participating in these hashtag campaigns. Create your own branded real estate hashtag and encourage followers to participate in it.
6. Leverage video content
The percentage of US adults watching videos online has grown from 52% in 2008 to a whopping 82% in 2022.
And real estate businesses are not about to be left behind.
78% of real estate professionals say that video is important to stand out on social media channels. Why?
Because that's what prospects want.
Create bite-sized TikToks, Instagram Reels, broadcast live, add animations in text-based videos, create slow motion and time-lapse videos – basically try to use videos in every way you can.
View this post on Instagram
And don't forget funny videos!
View this post on Instagram
7. Spend money on "proven content"
Did a post blow up and rack extraordinary views, likes, shares, retweets, and shares?
Promote it via paid social media marketing ads.
The best way to dip your toes in the murky waters of paid social advertising is by boosting posts that do really well organically.
6 social media posts ideas for real estate agents you need to try ASAP
You know social media is the key to building your real estate business in 2023. But how do you create content that attracts and converts your target audience?
Let's find out.
1. Neighborhood facts
Every local area has its quirks. As a real estate professional, it's your job to discover all your local quirks – local bookstores, cute cafes and patisseries, natural beauty, hiking tracks – and show them to your audience.
Become your local area expert and authority.
2. Tips for homeowners, home buyers, and home sellers
Preparing to buy tips. Home shopping tips. Home purchasing tips. Tips for first time buyers and sellers. Current housing trends. Tips to save up for your first house. Home value maximization tips. And so on.
As a real estate professional you've probably got a tip or two up your sleeve that will greatly benefit your audience. Make content based on it.
A nice-looking strip mall is great for the investor, the tenants, and the community.

Locals drive by your property every day – why not make it inviting?

Create a space you'd be proud to take your family to visit. It's not that hard:

1) Paint – best ROI in real estate

2)…

— StripMallGuy (@realEstateTrent) March 9, 2023
Create short TikTok and Reels videos, animated posts, GIFs, and host Q and A live sessions to demonstrate your expertise to your followers.
Tip – Reuse content in multiple ways. Create a long video for YouTube? Cut it into multiple shorter videos and post them on TikTok and Instagram. Use the main points from that video and turn it into a Twitter thread.
3. Testimonials from past clients and success stories
Testimonials work.
2 out of 3 people say they'd be more likely to make a purchase after watching a testimonial video. And 64% of people say that a testimonial video has played a part in convincing them to buy a product or service.
Let's face it, who wouldn't want to work with a real estate agent that gets their house sold before it hits the market?
Ask clients to record a short video describing how you helped them in their house buying or selling journey. Offer rewards (discounts, special post buying/selling services, gift cards from local businesses, etc) for sending you reviews.
4. Interesting or notable listings
Found an interesting house listing that will fascinate your audience?
Make content around it – its special features, interesting decor, its area!
5. Open houses video tours
Locked down a listing? Time to promote it in every way possible.
The best way to show it in all its glory and get offers instantly is by conducting virtual home tours. You can pre-record them and post them on your feed or leverage real time marketing and broadcast the house tour live.
View this post on Instagram
Not only do you attract buyers, but also house sellers who're looking to sell similar properties.
6. Agent or team member feature
The best way to show your real estate business's human face? Through people.
After all, around 76% of social media users think it's important for companies to post about their employees.
Run a series of posts where you introduce your team members.
View this post on Instagram
Conduct Q and A sessions where your followers can ask their burning house-related questions from your agents.
Highlight a day in the work lives of your team through a time-lapse video.
Can you succeed in real estate without social media?
Short answer – No.
In the present online world, your real estate social media presence counts a lot. Testimonials by past clients, educational and informational content, your engagement with followers – everything matters in the minds of your target audience.
The stronger your profile, the more they're inclined towards you.
So if you haven't jumped on the social media bandwagon yet, now's the time. Choose one platform, create impactful content, and start posting! To make the process easier, use social media management tools like Planable.