Multi-location marketing is a must, given the trends in consumer behavior and preferences.
For small and large companies alike, multi-location marketing unlocks the power of targeted campaigns, personalization, and community building.
Watch your brand grow as it reaches and captivates customers across different locations with the strategies, management tools, and examples highlighted below.
What is multi-location marketing?
Multi-location marketing is a strategic approach used by brands with multiple locations across a country or the world. It involves tailoring promotional efforts to better align with the specific preferences of customers in each location, aiming to enhance the effectiveness and relevance of marketing campaigns.
What are the benefits of multi-location marketing?
Multi-location businesses can improve their customer engagement by steering clear of the tempting trap of using a generic, one-size-fits-all marketing strategy. Instead, you should focus on tailoring your marketing efforts to the specific needs and preferences of each location, allowing for more meaningful interactions with customers, thereby enhancing the overall CSI and driving higher levels of engagement.
Increased reach and brand awareness
Multi-location marketing helps you be top of mind for potential customers in different regions.
Through local marketing efforts, you attract customers in different communities more efficiently and increase market share.
By having sections of content dedicated to a specific location — not only are you far more likely to be found for searches in (and for) that location, but those visitors, as a result, will get a far more personalized experience. For example, if I search for a plumber in a location and I land on a page all about plumber services in that specific location, I am far more likely to take action.
Claire Taylor, Digital Marketing Consultant @ TU Marketing
Targeted campaign opportunities
A localized approach enables you to create an effective strategy for specific places and target audiences with personalized campaigns.
Local messaging addresses people's needs directly and is more likely to convince prospects to buy while increasing your brand's overall relatability.
Improved local SEO and brand visibility
Google has reported a 150% increase in local searches over two years. With the majority of consumers doing research online before buying, local SEO is essential.
Ranking well in local searches helps you drive traffic to your online or offline shop.
Using a multi-location marketing strategy is like giving local SEO a turbo boost. It's all about zooming in on the particular needs of each market. The magic lies in crafting content customized for each locality – it resonates with local audiences and gets a thumbs-up from search algorithms.
Melissa Popp, Content Strategy Director @ RicketyRoo
Enhanced customer experience
Customers feel more cared for when brands make an effort to get close to them.
Multi-location marketing enables businesses to provide a more convenient and accessible experience to clients. It makes it easier to have meaningful brand interactions, discover products, get support, and have a satisfying customer experience.
6 key steps for a successful multi-location marketing strategy
Running a multi-location business and tailoring strategies can be overwhelming. Follow the steps below to ensure local marketing efforts are both doable and efficient.
1. Establish centralized brand guidelines
Multi-location marketing doesn't mean that each business location starts its strategy from scratch. You need centralized brand guidelines that ensure your overall image is coherent and doesn't get diluted.
Here are a few things that should be consistent across all locations:
Logo, brand guide with colors, fonts, general design guidelines, and anything related to brand identity.
The brand's vision, mission, values, and differentiators.
The unified tone of voice and communication style for all channels and marketing campaigns.
Messaging guidelines, including dos and don'ts.
The general definition of the brand's audience — including demographics, behaviors, pain points, interests, and preferences.
2. Understand your audience in each location
Customer behavior is influenced by many factors, and research is essential to create targeted campaigns that work.
Starting from your general target audience, look for particularities of local customers.
Demographics
Your business might target people aged 30 to 35 with a high education level and an interest in cars, let's say. But this group's buying power, preferences, and needs might vary a lot between a big city and a small town.
Language
Depending on the business location, you might need to work with translators to adapt campaigns to different languages or do research and interviews to discover particularities in the way people express themselves.
Important events
Communities will have special celebrations or different traditions which you must respect. Let's take Christmas, a very popular holiday across the globe. It's celebrated on different dates depending on location and religious affiliation. Customs also vary a lot. A family meal is expected in many places, but people in Japan, for example, head out to the local KFC on the occasion as a result of a successful marketing campaign in the '70s.
Cultural nuances
While in some places it's desirable to have a more direct, friendly approach towards customers, in others people might be taken aback by such an attitude. Pay attention to the sensitivities of the local customers to avoid blunders and show respect.
Communication channels
57% of people in Germany prefer phone communication, and only 6% want to access a live chat, while in the UK, 31% opt for a call, and 26% favor live chat (Statista). This kind of information helps you optimize marketing strategies, resources, and spending in each location. Research each market to uncover communication preferences.
Influencers
Influencer campaigns are now part of most marketing strategies. While big influencers might work on a national level, find out who the local micro-influencers are. They might be more cost-effective and valuable for engaging with targeted audiences.
3. Develop localized playbooks
Based on the research and findings from step two, develop and adapt the brand guidelines for each location. While the logo and fonts won't change, messaging and channel particularities will.
The localized playbook might highlight things such as the following:
Products or services that are more likely to sell based on audience needs and preferences.
Language particularities. For example, while British slang might not make sense in global brand guidelines, it might help to connect with the audience in a particular UK city.
Tone of voice variations. Keeping within the general rules, the tone of voice might need adaptation to fit cultural nuances.
Messaging recommendations. What pain points and benefits are more important for every local business to address? What should campaigns focus on, and what is likely a waste of resources?
Preferred communication channels, popular influencers, and other marketing particularities.
The playbook should be a living document that evolves based on observation and results.
4. Identify unique location-based content opportunities
It's time to start boosting your local reach with a digital marketing strategy that promotes relevant, useful, and fun content.
Each business location should have its own content strategy, developed following audience research and local brand guidelines.
Here are some ideas for location-based content types to get you started.
Local landing pages
Local landing pages are created to promote business locations and get more traffic to them.
Best practices to keep in mind:
Include the location name in the landing page URL – but keep it short.
Optimize location pages for search engines: title tags, meta descriptions, headings, etc.
Write relevant, on-point content that provides the essential information about the business: address, contact information, map, directions, hours of operation, and services/products offered.
Use high-quality, relevant images.
Add a call to action that invites people to visit the store, find out more, contact you,  subscribe, or whatever fits your marketing goals.
Link to social media profiles.
Include location-specific frequently asked questions.
Local social accounts
With local social accounts, you can connect with customers more personally, provide better customer service (taking into account language, time zones, response time, etc.), improve brand perception, run more efficient ads, and so on.
Moreover, you can develop partnerships with local businesses and influencers, take part in local events, run special discounts or promotions, and customize campaigns for area-specific product releases.
Most important of all, these personalized social accounts foster local communities.
The advantages are clear, but is it too complex to run local social accounts? Not with the right tools.
For example, with dedicated Planable workspaces for each local team, you can easily manage local social accounts while maintaining a global overview. A marketing manager, a translator, and a native speaker reviewer can all work together to get localized messaging right, leveraging general assets stored in the global media library.
The platform's content calendar and direct social media integrations enable you to plan, create, organize, and publish content in one place, so you ensure brand consistency as well as local relevancy.
Localized email marketing campaigns
In email marketing, segmentation and personalization are key. Use location to segment your audience and create newsletters that are relevant to each community.
Moreover, you can use the name of the location in the subject line or content to increase engagement rates.
Link localized email marketing campaigns to the location pages, social accounts, and any online reviews from the community to create a comprehensive, trustworthy digital presence.
You can use Planable's universal content feature to collaborate and get approval on the written copy for email campaigns as well, so everything's in one place and ready to go.
5. Create Google Business Profiles for each location
We've already mentioned how important it is to rank well for every individual location, not only for your main location, as people turn to Google to research products, services, or nearby outlets in their area.
For example, a yoga teacher in my neighborhood was able to get plenty of customers simply because her son decided to list her services on Google.
So whether you run a small local shop or a multi-location business, creating Google Business profile pages is an extremely important virtual business card.
Once the local profiles are created, engage with customers and encourage them to leave reviews. And post updates. That's right, Google Business Profile also acts as a free social media platform that helps brands reach local communities. Check out these ideas on what to post on Google My Business for a head start.
Planable's Google Business Profile integration lets you create and schedule posts so that you stay on top of your local SEO game without the extra hassle of using different tools.
6. Manage your local reputation
A strong brand reputation starts at the local level, with each customer interaction.
Big, expensive campaigns can't make up for missed opportunities to listen to and meaningfully engage with your customer base.
Pay attention to your online reputation. Read reviews and comments and reply politely (yes, especially to those negative ones), following the brand's tone of voice guidelines.
Take feedback seriously, implement changes, and communicate with the public openly and honestly.
Monitor social media, blogs, and other channels for mentions of your brand.
Work with local public relations specialists to build brand visibility and trust.
To ensure your web presence is closely monitored, these Google My Business tools will help you keep your listing optimized.
Reviews and customer satisfaction do more than anyone can imagine — they both boost your presence and give recommendations to people who find your business.
Iva Jovanovic, Head of SEO and Content @ Made Online
3 brands that have mastered multi-location marketing
While all brands go through a learning curve when it comes to multi-location marketing, let's look at some that have managed to build a strong framework for local businesses to thrive.
1. Ikea
Speaking of building things, Ikea's multi-location strategy hits the nail on the head. With dedicated pages, social media accounts, tailored content, and contextual collaborations, the global brand is successfully going local.
Here is an example of a campaign leveraging the growing popularity of an emerging Australian artist.
View this post on Instagram
2. Whole Foods
Whole Foods is a multinational supermarket chain that has a global Instagram presence but also knows how to communicate locally.
Such is the case below, in which the Whole Foods UK Instagram page hosted a special collaboration on National BBQ Week. A great way to entice people to visit its London stores.
View this post on Instagram
3. Life Time Fitness
Life Time Fitness has trained well in the Google Business Profile game. With multiple locations across the US, each local business has a complete profile with beautiful photos of the facilities, complete information, reviews, and engagement with customers. Thumbs up!
5 awesome tools to support your multi-location marketing efforts
Multi-location marketing poses unique challenges, but the right tools can reduce some of the complexity and help you be the next favorite local business in the neighborhood. Here are our favorites.
1. Planable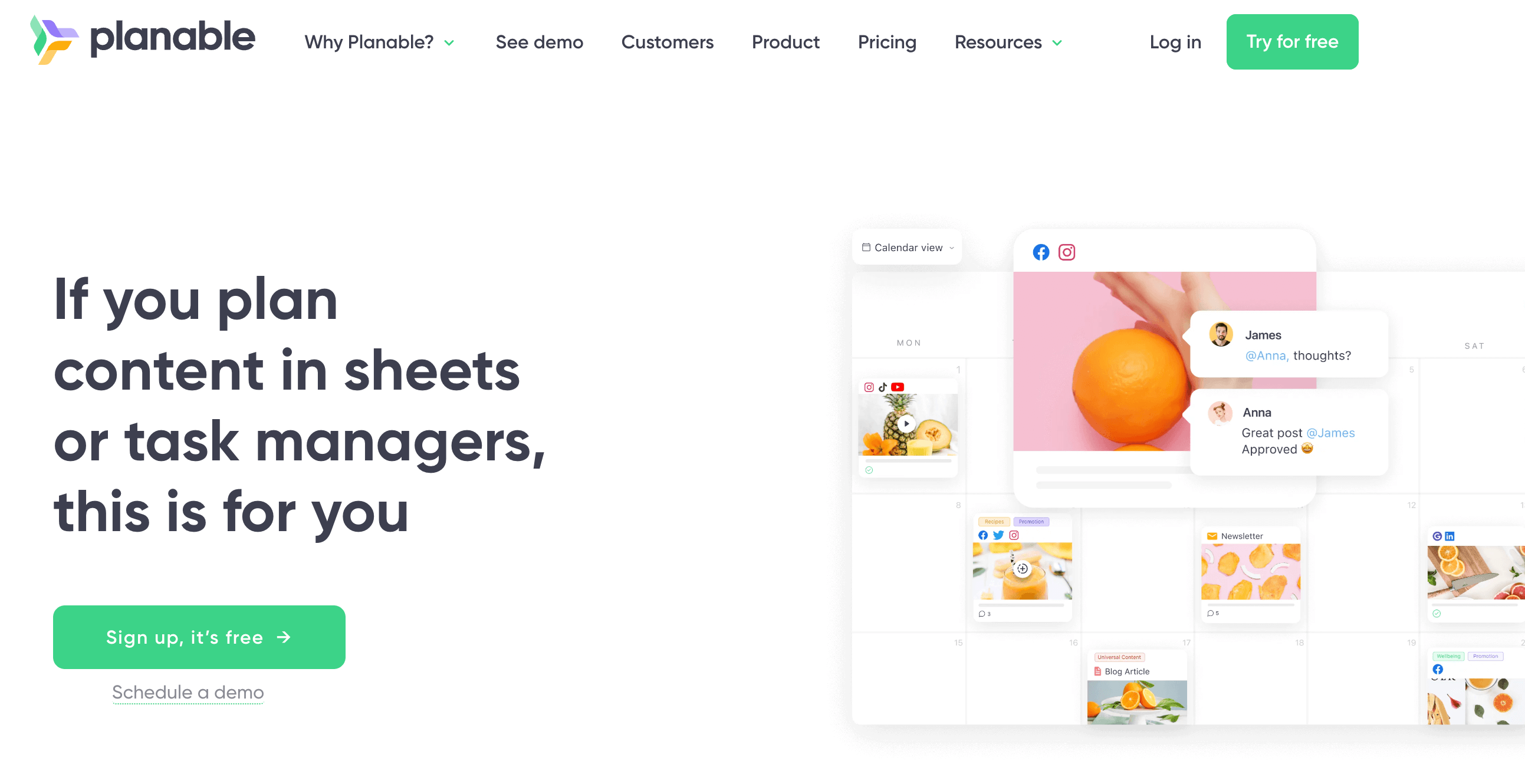 Planable makes social media collaboration and publishing straightforward. It is helpful for multi-location businesses because it allows several team members — anywhere on the globe — to work together on posts in real-time, with approval workflows, comments, scheduling, planning in the content calendar, and publishing on different accounts.
Leaving feedback in context and approving a social media post with Planable
But you'll have to cover more than social. Planable's Universal Content feature extends collaboration to blogs, emails, newsletters, briefs, and other types of written content. Assign roles and permissions to your team and watch them come up with the best story for each audience.
Done writing? With the bird's eye view of the entire marketing campaign that the tool offers, it becomes easier to navigate the complexities of multiple accounts and pages. And you can more readily spot when something is missing or not quite right.
Takeaway:
Planable was built as a social media collaboration tool, so it's a natural fit for managing marketing in multiple business locations. With its free plan, you can try it risk-free and decide if it fits your team.
2. BrightLocal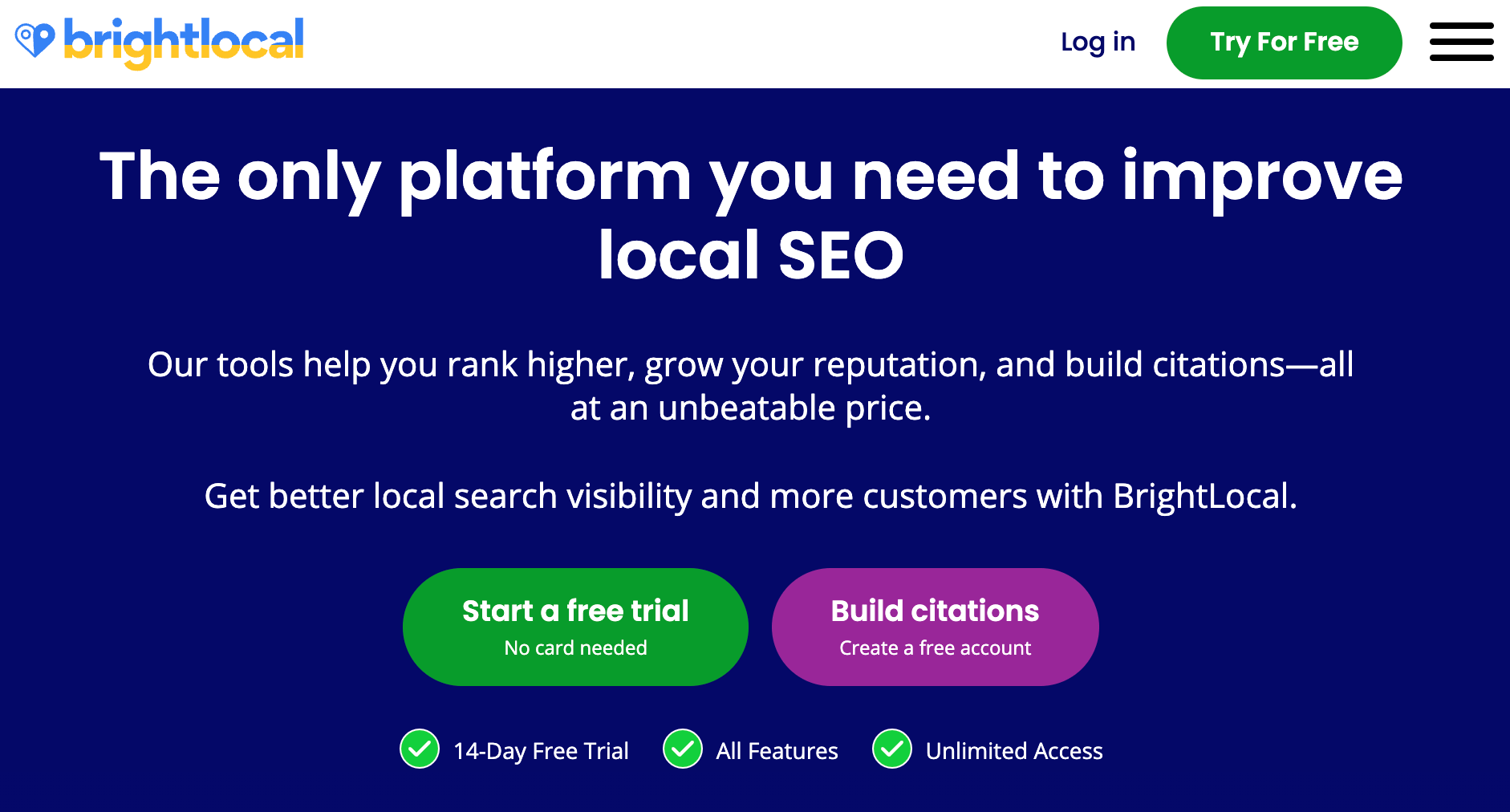 BrightLocal is a platform that helps businesses improve their local online visibility, manage their online reputation, and optimize their SEO efforts.
Businesses can track local search rankings, audit their online presence, monitor and respond to reviews, and measure the effectiveness of their local marketing campaigns.
The pricing starts at $35/month for small businesses and goes up to $90/month for up to 100 locations.
Drawbacks include a learning curve for those not accustomed to similar tools and dependence on third-party data.
Takeaway:
BrightLocal is a fit for multi-location businesses looking to improve their rankings and online reputation but is limited if marketing needs extend beyond local optimization.
3. Yext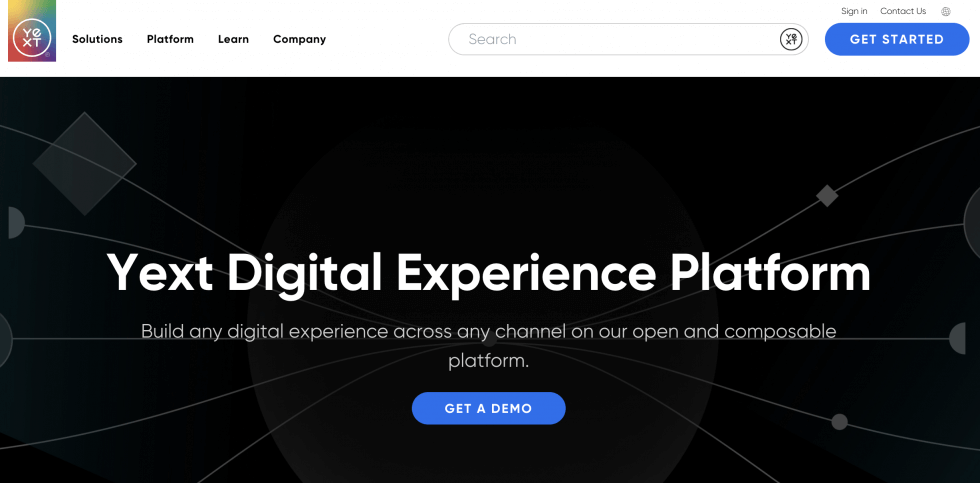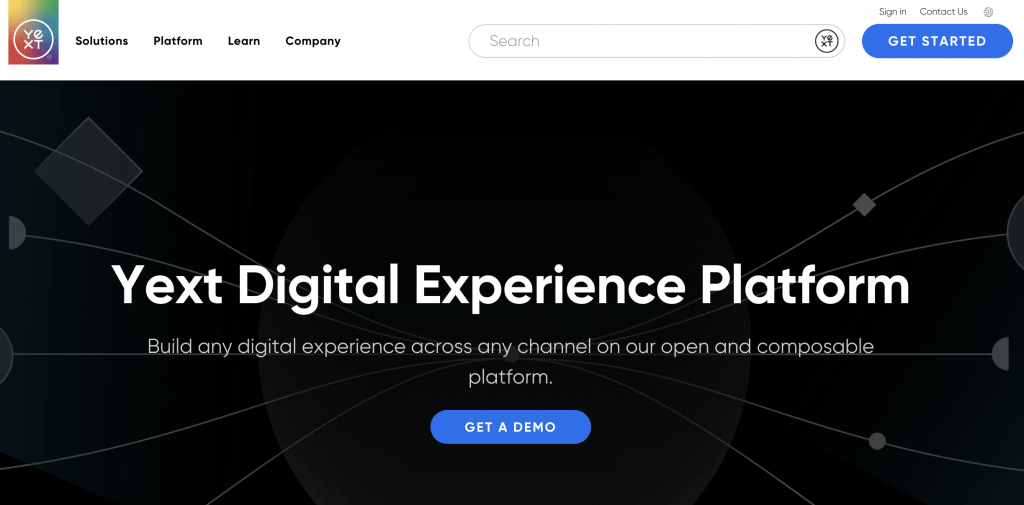 Yext is a digital knowledge management platform that focuses on helping businesses coordinate their online information across various directories, search engines, and other online channels.
Yext's services are beneficial for businesses with complex online presence management needs. However, they do rely on third-party integrations, and there are control limitations with some online platforms.
The pricing model involves annual contracts, and the cost can increase based on the number of locations and services required.
Takeaway:
Yext is best for improving online visibility and driving more traffic to local pages and stores, but it can come with a learning curve and steep cost.
4. Audiense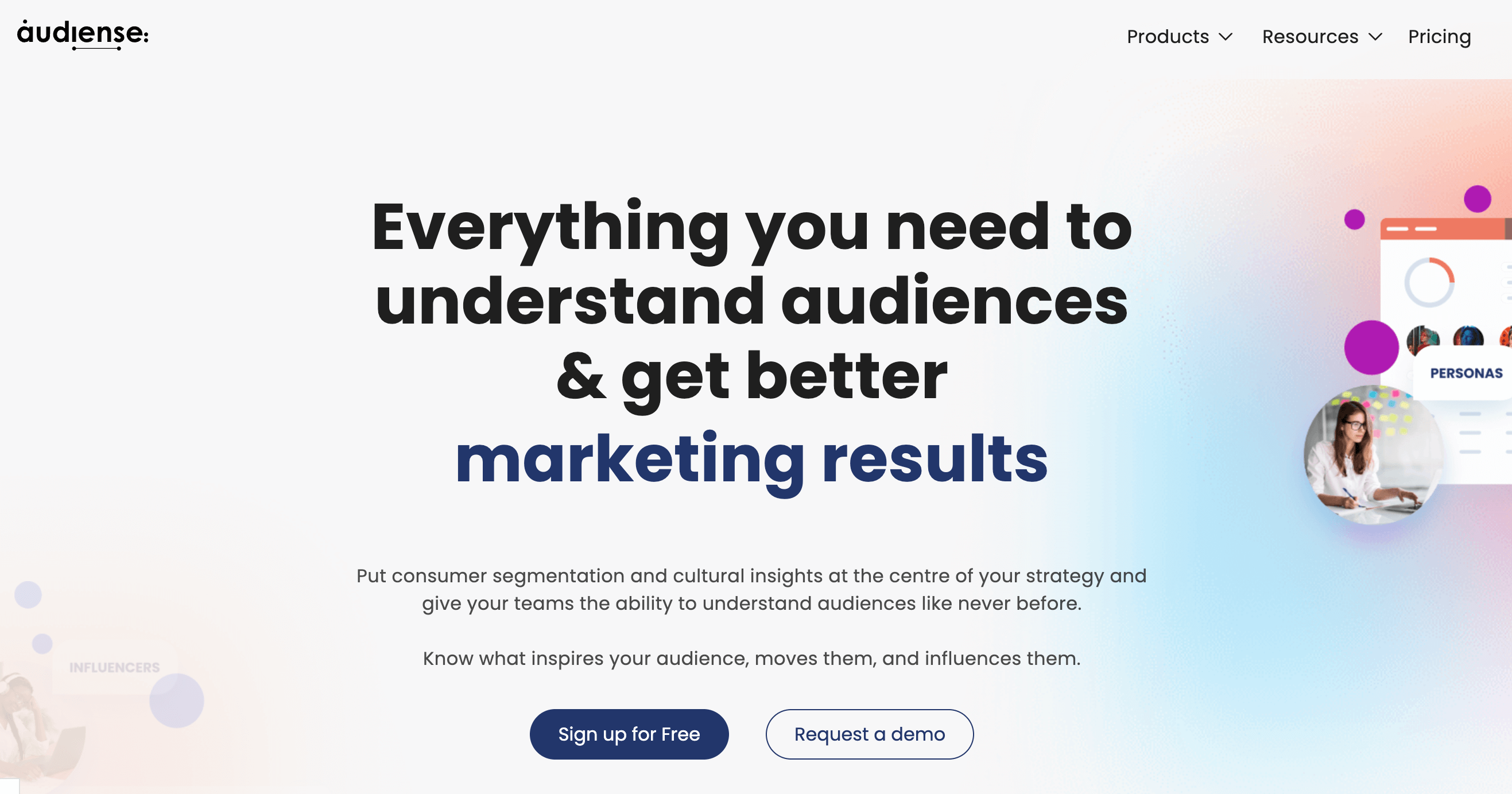 Audiense is a social media management and audience intelligence platform. It offers features such as social listening, audience segmentation, influencer identification, and campaign optimization.
While it provides a significant value, it can be expensive. A few features are available in a free plan, but the pricing can go up to around $700 per month for audience intelligence or even more for enterprise-level services.
Takeaway:
Audiense is a good fit if you want to dig deep into audience data and create highly targeted campaigns. But you need to make use of it wisely to justify the investment.
5. Mention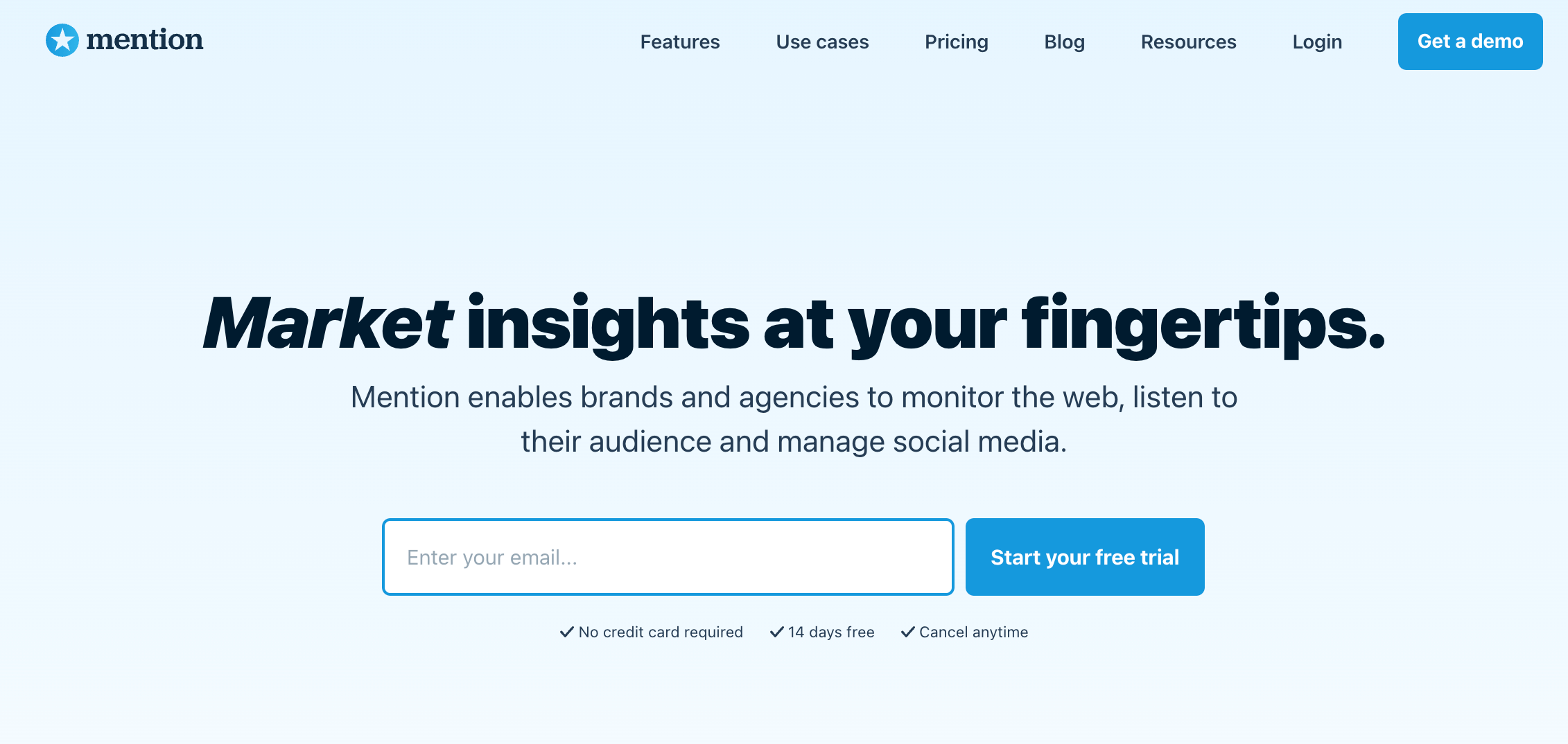 Mention is a social listening tool that helps brands monitor the web, find relevant conversations, and analyze data across channels.
While many users are happy with the intuitive platform and its ease of use, some complain about missing critical alerts and the quality of support.
The pricing starts at $41 for small businesses, but it's limited. For multiple-location businesses, a $149 plan is more fitted, or a custom corporate offer is available upon request.
Takeaway:
Mention is best for social and media monitoring, but make sure you set up all alerts correctly and that they meet your support requirements, especially if managing a more complex project.
Wrap up
Managing a multi-location business is challenging and you can't map it out alone. Follow the steps in this article and you'll be on the right track to a successful marketing strategy, with plenty of tools and examples to empower your team to bond with local communities.