If the upcoming Thanksgiving makes you feel anything but grateful, you've come to the right place, fellow marketer! We know that planning marketing campaigns from scratch can be time-consuming. That's why we've created a complete Holiday Marketing Kit that you can get for free. From awesome Instagram story background designs to all the popular #hashtags you need, we got your back. This article contains all the resources we've gathered in our Thanksgiving Marketing Kit. It's our way of saying "Thank you!" to our readers. 
We'll start with the basics: infographics with the best time to post, best channels & formats, ideal campaign start for each holiday, image sizes, and the most relevant topics. Let's get started.
When to start talking about Thanksgiving on social media
While planning can start 3-6 months in advance, the moment you begin communicating with your audience is pretty standard.

How often to post about Thanksgiving

Best times and days to post on social media
These times are in Eastern Standard Time (EST). You'll need to convert them to the timezone of your audience.

Best social media channels by users
More than half the people on Earth use social media and that number is still growing daily. This means your audience is probably out there. All you have to do is publish your holiday campaigns, engage, and make that sale.

Successful Thanksgiving social media posts
We've also curated a collection of brilliant Thanksgiving advertising campaigns from various brands to draw last-minute inspiration from. Thanksgiving advertisements can be a great way to make consumers think of your brand next time they're out shopping, so let's make sure they're memorable.
Coca-Cola. Share a Coke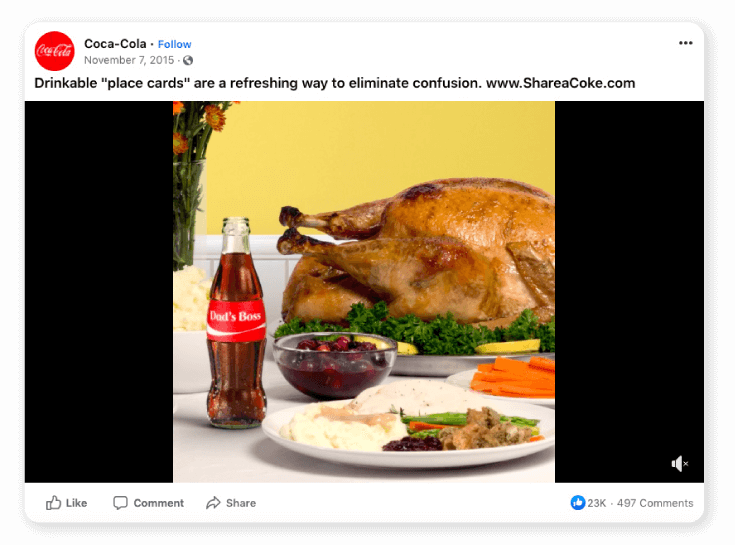 We all know about Coca-Cola's "Share a Coke" campaign. Its success inspired the brand to come up with a Thanksgiving-inspired version. Since everyone's having dinner with friends and family on this holiday, why not use the personalized bottles as drinkable place cards around the dinner table? The Coca-Cola campaign quickly became the topic of conversation on social media.
Stove Top. The Artisanal Hipster Pilgrim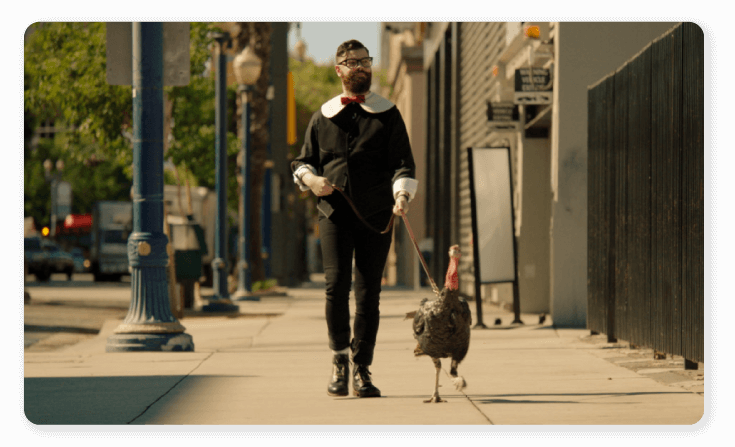 Of course Stove Top wanted stuffing to be enjoyed for an entire season between Thanksgiving and Christmas. What brand doesn't want their product to be sold for a longer period of time? This is the premise behind "stuffing season". The idea that eating stuffing only on Thanksgiving is so mainstream and coming up with a hipster character to rebel against it is brilliant. The campaign featuring the Artisanal Hipster Pilgrim surely made a lot of people laugh… and eat Stove Top all Stuffing Season long.
HotelTonight. Visit, don't stay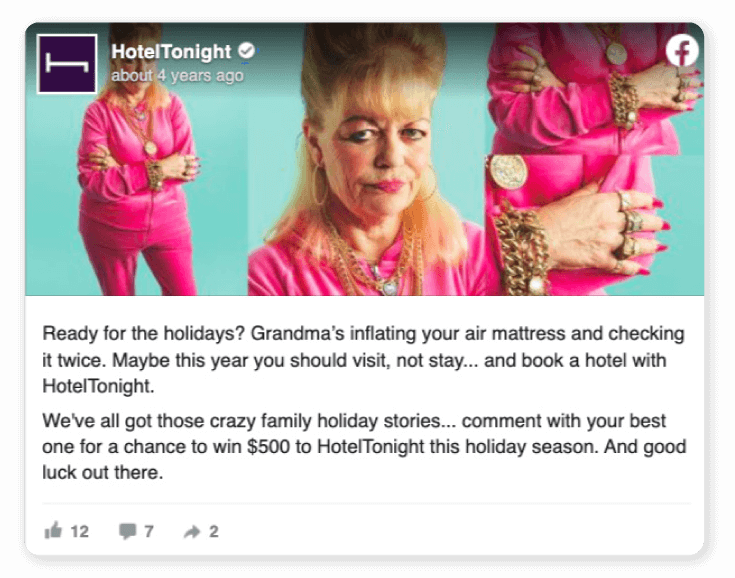 HotelTonight knows that we all have something in common: those crazy family holiday stories. That's how the idea for the "visit, don't stay" campaign was born. The hilarious ads encourage people to book a hotel over the holidays when they go home to visit family. It's best for everyone. The main takeaway? Relatable content is memorable content.
Postmate. Friendsgiving on-demand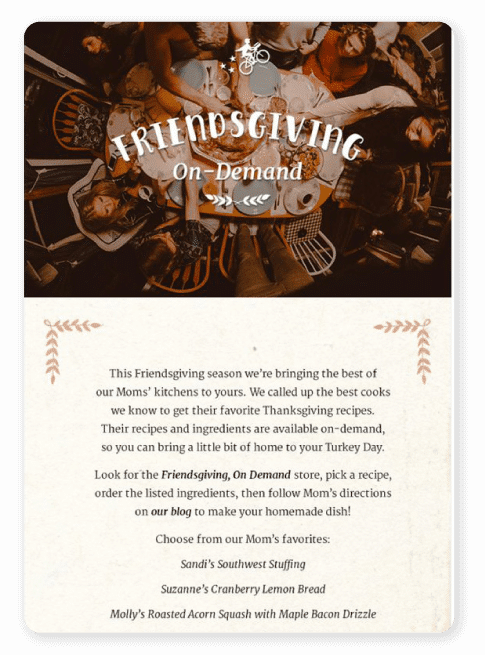 This food, drinks, and grocery delivery/pick-up app planned a successful "Friendsgiving on-demand" campaign. It featured a list of delicious Thanksgiving holiday recipes put together by moms. Yes, moms. Of course, each ingredient found in these various mouthwatering recipes could be purchased through the app. A simple yet effective campaign any brand can implement.
American Express. Small Business Saturday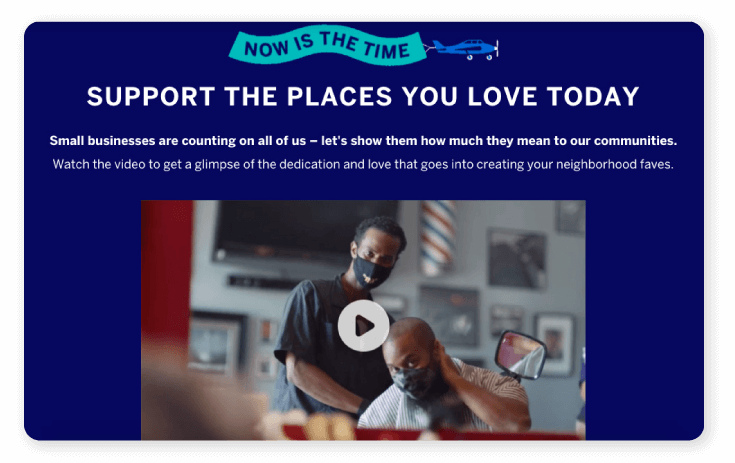 This campaign is not directly tied to gratitude, close family members, or turkeys. It's not exactly a Black Friday campaign either. American Express created Small Business Saturday to encourage consumers to shop locally for the holidays. Taking place on the Saturday after Thanksgiving, it's designed to turn the focus on small, brick-and-mortar stores. Being a way to give back to your community, we decided to include it in the Thanksgiving section. It quickly became more than just a campaign – it became a movement. You can check out their Instagram account for inspiration. Created in 2010, this seasonal campaign continues to thrive.
Best topics for your Thanksgiving campaign
If you need some inspiration for your Thanksgiving marketing campaigns, check out this collection of topics to get your creative juices flowing.

Social media Thanksgiving activation ideas
Now let's take a look at some fresh social media ideas to drive engagement and make new users fall in love with your brand. 
1. What are you thankful for?
From fear to hope to rage to faith, people are on an emotional rollercoaster all the time. So what if they stopped for a minute and saw the good side of this year?
Use the Instagram question to ask your audience what they're thankful for this year. Then share their answers in stories. With some cute Instagram story templates, you can easily put your audience into the spotlight.
P.S.: Don't forget to mention you're thankful for your awesome audience. Because they really are awesome, aren't they?
2. Inappropriate things said at Thanksgiving
We all have that uncle. Or that cousin. And sometimes, we ourselves are the ones to put the foot in the mouth. So why not laugh about it?
Ask your community to share their stories. What inappropriate things have been said over Thanksgiving dinner? We're sure you'll find some patterns here. This campaign works for almost every social media platform your company uses. 
Warning: some stories are inappropriate for social media, so when you try this type of activation, make sure you have a form to censor them.
3. Best recipe secret
Unlike Coca-Cola, mothers and grandmothers are always kind enough to share their recipe secrets, hoping that somebody will take the tradition further. 
So here's an activation idea: ask your users to share their family recipe secrets with you. If you can share a secret of yours, that would be a great incentive to get the conversation going.
As always, any user-generated content can be reshared and used as part of this year's Thanksgiving campaign.
4. Thank you gift
What about boosting your sales with an attractive Thanksgiving campaign?
This year, prepare to offer a holiday-related gift to anyone who is making a purchase on your website.
Thank you cards are a thoughtful and inexpensive way to show your customers that you appreciate their business. It doesn't have to be much. A thank you sign for the Thanksgiving table, or a Christmas decoration for the upcoming holiday. In the end, it costs you so little to say "thank you" to the people who are helping your business grow. And who isn't thankful for customers? So why not show it?
5. Share your Thanksgiving dinner table
Photo sharing again. What's more rewarding than sharing what you've been working on? The dinner table deserves internet appreciation. Create a campaign around this topic and encourage your public to share their dinner table with you.
The extra mile: make a contest out of it. They share their photos, their friends vote for it, and the most voted photo wins the prize. There are many Thanksgiving contest ideas you can think of. Be creative. People will appreciate it.
Instagram story background designs
So you know when to post, you have the tools, and you've chosen your favorite Thanksgiving ad and got inspired. Now it's time for some holiday-themed backgrounds for Instagram stories that any marketer can personalize. Enjoy!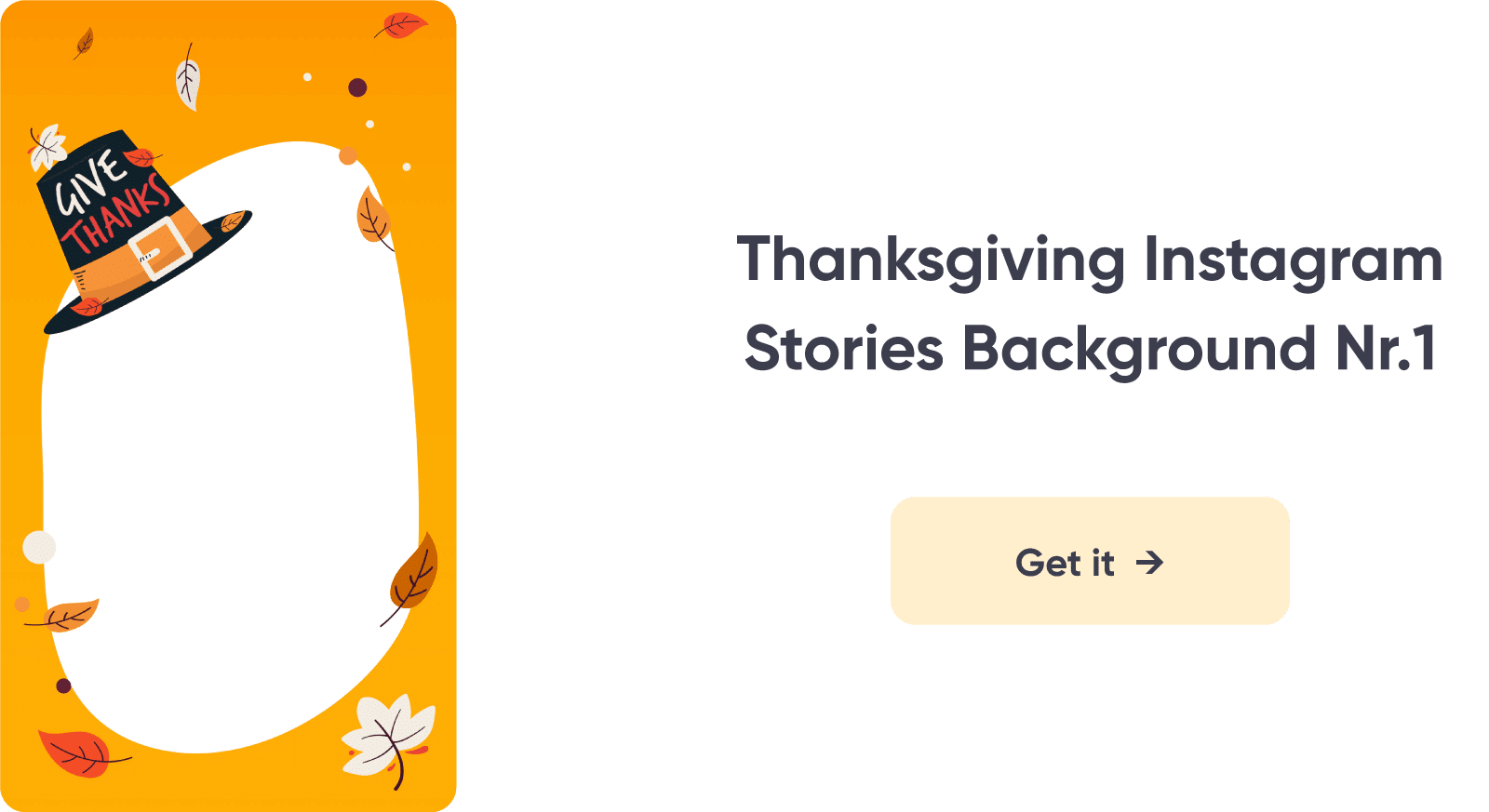 Thanksgiving visuals to the rescue
You also need high-quality images to impress users. That's why we prepared a curated Unsplash collection containing 30 drop-dead gorgeous images that go well with any Thanksgiving marketing slogans you can imagine.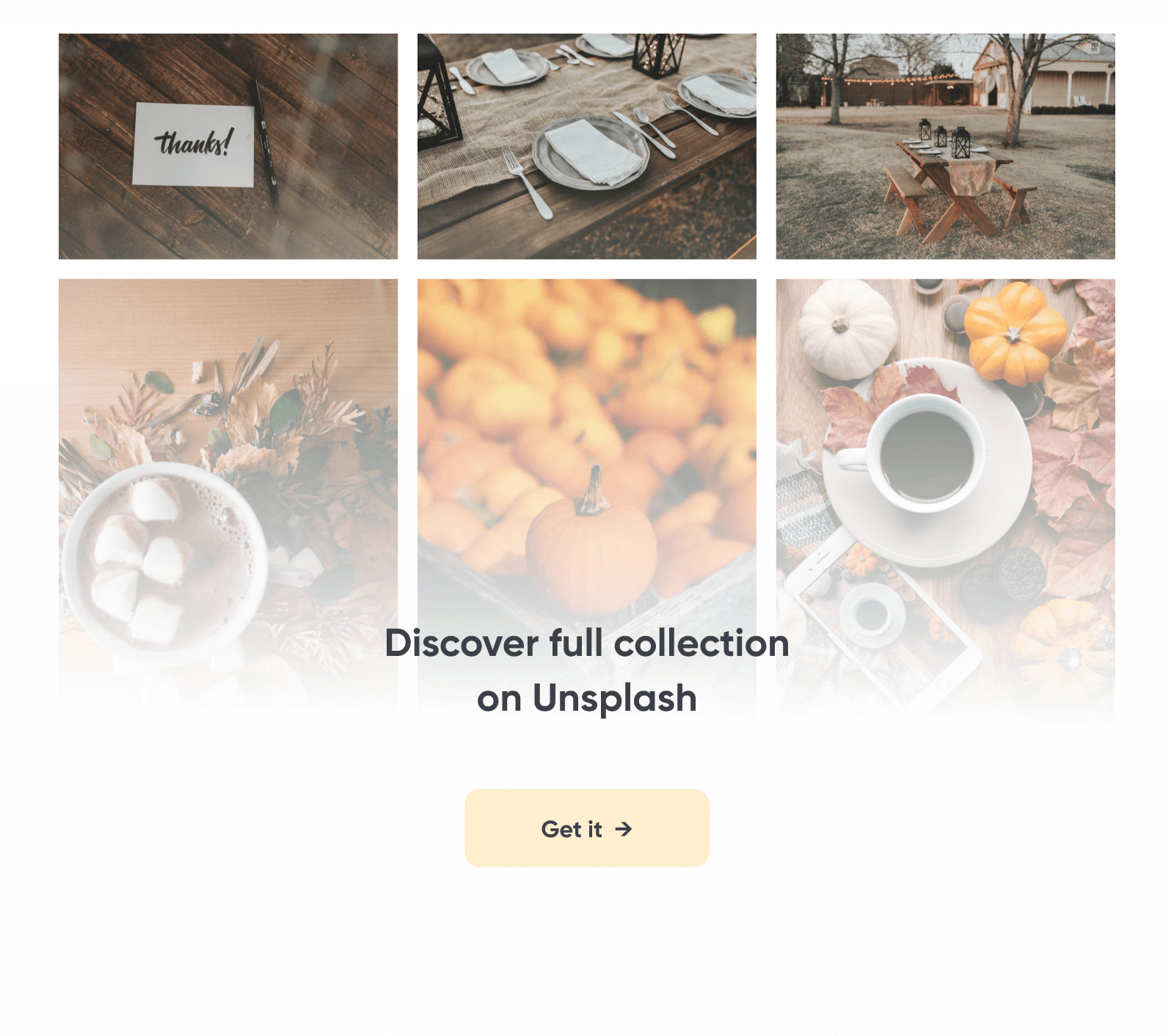 Thanksgiving Social Media Post templates
Thanksgiving posts should be planned ahead of time. No doubt about that. Get into the holiday spirit by customizing your own posts using Planable.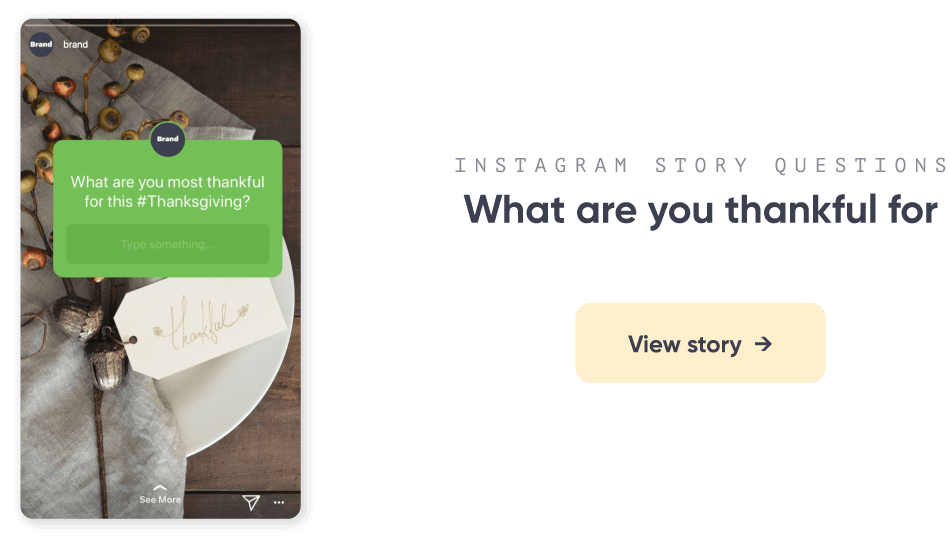 Thanksgiving Social Media Hashtags
Have you tried adding #tbt or #picoftheday to your posts but the only engagement you got was the awkward sound of crickets chirping? Don't worry. We've all been there. 
Hashtags are still a great way to connect your social media content to a specific conversation topic. Since Chris Messina first came up with the idea back in 2007, the popularity of hashtags has skyrocketed. Whether you're considering adding them to a simple Tweet or incorporate them in a Halloween advertisement, all you need to do is use them the right way and find the best hashtags for your brand.
Hashtag basics
# Yes, they start with # but please, please don't use spaces, punctuation or symbols between the words and still hope for the best. Keep the words #together and you'll see results.
# Although it's tempting, make sure not to string too many words together. #otherwiseyoullendupwithsomethinglikethis. Short & simple, folks! 
# Are your accounts public? If not, this may be the darn reason no one discovers your awesome content. So make that account public and give a warm welcome to those new followers!
# You may feel like #Christmas or #BlackFriday are too broad but #krampusnight2020 or other obscure hashtags won't do you a favour either. So maybe save the half-goat, half-demon Krampus stories for the description. If your team approves the post.
# Less is more. Using ALL the hashtags you can think of just looks spammy. Choose a few and save the rest for later posts.
Why use hashtags?
#visibility #engagement #support just to name a few.
Most popular & relevant Twitter hashtags related to Thankgiving

Most popular & relevant Instagram hashtags related to Halloween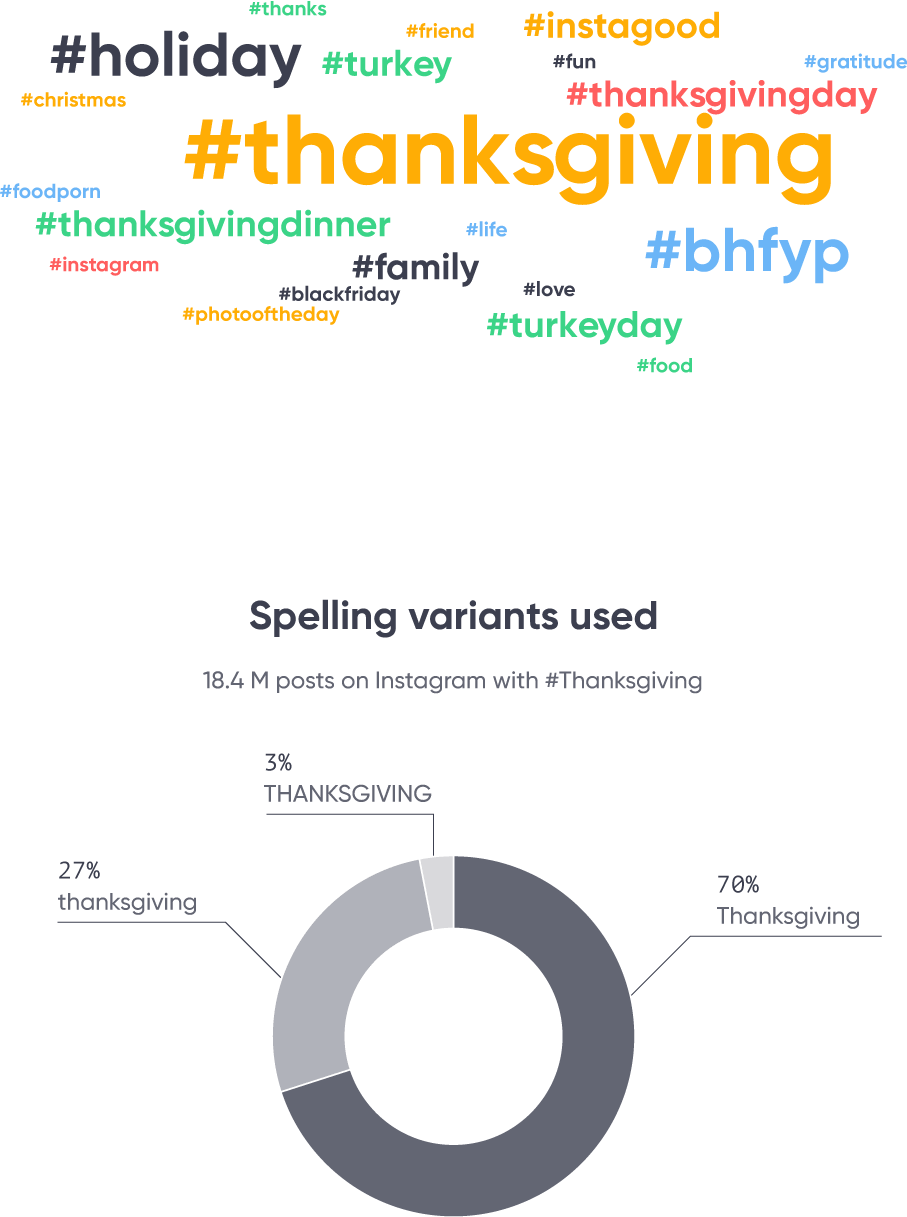 That's all, folks! 
Now go make magic happen!