2020 is coming, and so the trends are shifting. I believe the year 2020 is for discovering the secret of indie agencies working with large accounts. 
Big agency groups are starting to make more space for indie agencies. Successful independent agencies can sometimes be more suited for specific projects. Private equity firms are already investing more and more capital into independent agencies around the world, like the Phenomenon creative hybrid hub. 
"We believe we've cracked the code on the 'agency of the future' through our seamless integration of communications, creative, design, product development, and brand strategy," says Krishnan Menon, Phenomenon CEO, and Founder. 
And if you're looking to manage large clients with ease, we might have the answer for you. We looked at how our customers are managing their big clients and what makes these clients trust small agencies. 
The challenges of an independent agency
At first, you're excited. You won a big pitch and outranked all other big agencies in the game. But great clients come with great responsibility. We made a list with all the obstacles small agencies encounter when they start landing bigger clients – what's the most painful part for them? 
Working with fragmented workflows
Social media should feel like a journey from A to B. Truth is, most agencies have so many pit stops along the way, the journey becomes a maze. Here's how workflows look like in many organizations right now. 
There's a social media manager who puts together a content plan; then, they ping the designer to provide the asset, email the content team for feedback, and discuss the project at the weekly meeting. Next, they share the content with other stakeholders in a sheet. Set the time & date, media assets, and paste the links. 
After the content has been reviewed again on back-and-forth emails, Slack channels, and other messaging platforms, it's ready to go. However, there's still one more step – copying the content from the sheet to the social media platform or publishing tool and adding the assets from WeTransfer or Google Drive. To me, that's utterly insane. 
Miscommunications with clients
When communication starts in meetings, continues on email, Slack, and Whatsapp, and ends on the phone, it's hard to keep everything aligned. The team loses track of feedback;  information will gets lost; people get confused; managers get frustrated. Nobody wins in this situation. 
45% of marketers produce more than five pieces of content per week and publish over 11 social media posts at the same time. On average, it now takes teams 5.4 days from creation to the actual publishing of a piece of content. A third of that time is spent on collaboration, with 33% of organizations working remotely. 61% of content marketing teams suffer from delayed projects due to multitasking and excessive emails, as described in Behind the Scenes of Content Marketing Report. 
Previewing media formats
Our work grows in complexity every day, and the difficulties multiply when our own marketing house isn't in order. It's affecting everything, from the success of the work to those lost nights and weekends.
And here comes the next challenge – creating visual content in an environment that's not built for this. Spreadsheets, powerpoints, Slack, or Whatsapp messages are all excellent ways to communicate information. However, they're not for the visual content marketing era. It's incredible that one of the most innovative industries in the world is still working in such archaic ways – Spreadsheets, Word Docs, and Powerpoints. 
PR Crises
A lack of coordination and communication will result in PR crises. There are so many brands out there that got so much backlash because their workflow is broken. Remember the "coolest monkey in the jungle"?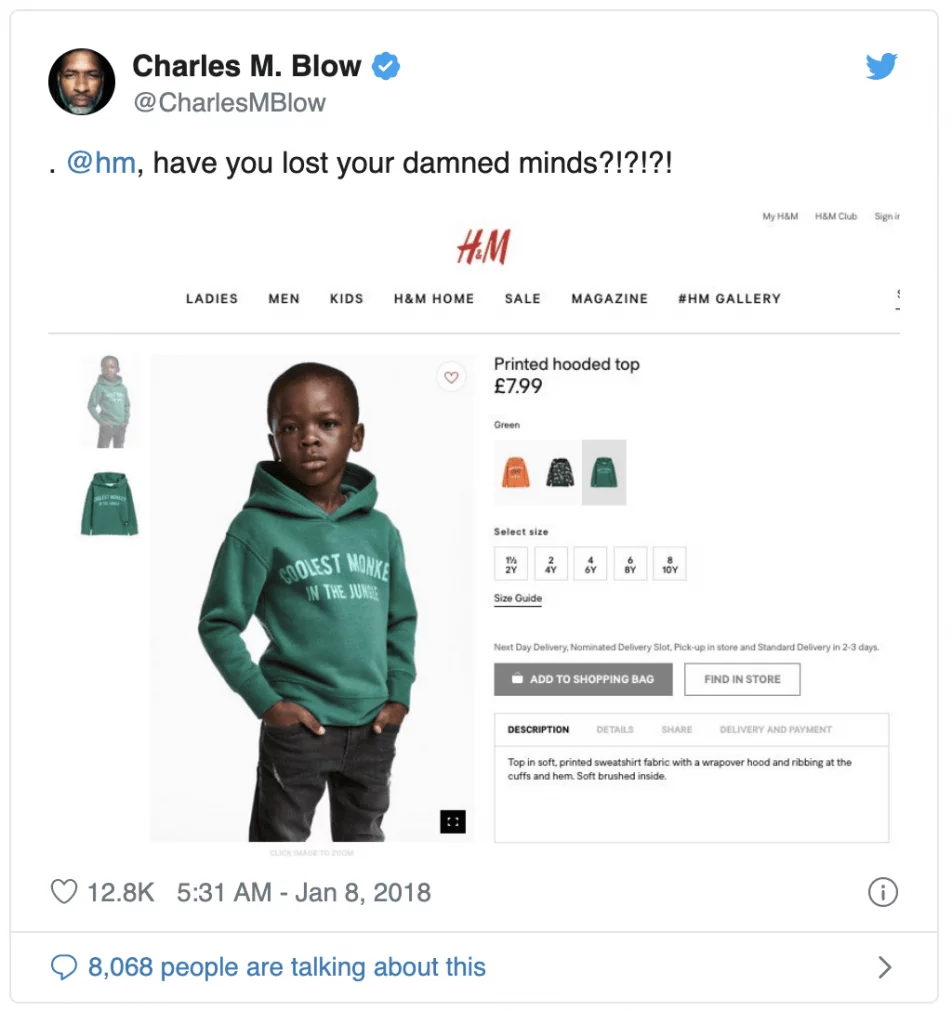 Marketing shouldn't create crises for PR to resolve, but that's what happened in another goof nominated by Kitterman. H&M advertised a hoodie that says "Coolest Monkey In The Jungle" presented by an African-American child. It drew significant charges of racism.
Such misfires happen when marketing teams are unable to have a transparent and efficient communication workflow that involves all the right team members. By that I mean the need to include both internal team members, as well as external stakeholders, including creative, advertising, legal, fashion designers, etc. 
There's a solution to all that. You guessed it, it's us. 
Create and collaborate on content with Planable
As the marketing trends are shifting and the skillset is rapidly changing, marketing teams need solutions that can gather all their team members, stakeholders, content, conversations, approval processes, publishing workflow into one single epicenter — introducing Planable.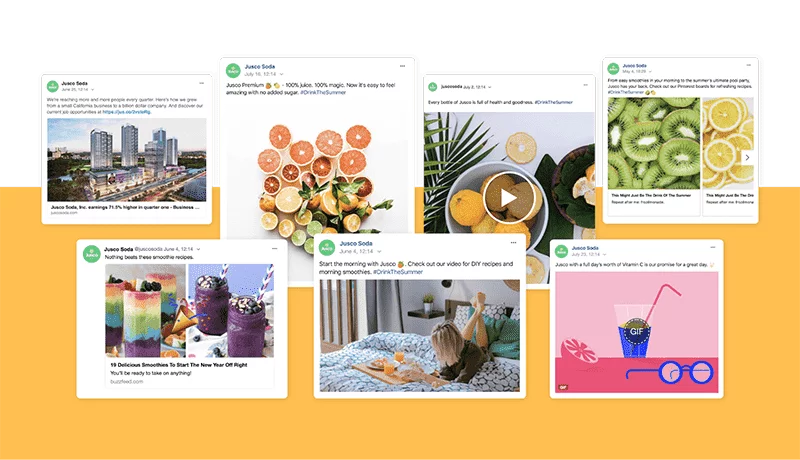 It's the command center of content marketing teams to create and collaborate on content. If you're a social media manager working in an agency, then Planable is definitely for you! It is built for agile marketing teams. Let me show you how the typical workflow looks. 
Agencies get everyone on the same page
Independent agencies use Planable to invite team members and assign them a distinct role and permission in the workspace. 
They assign a creator role for the content writing team, edit permissions for creative, approve role for the art director, administrator for the marketing or project manager overseeing the campaign, and the client with approval and review permissions.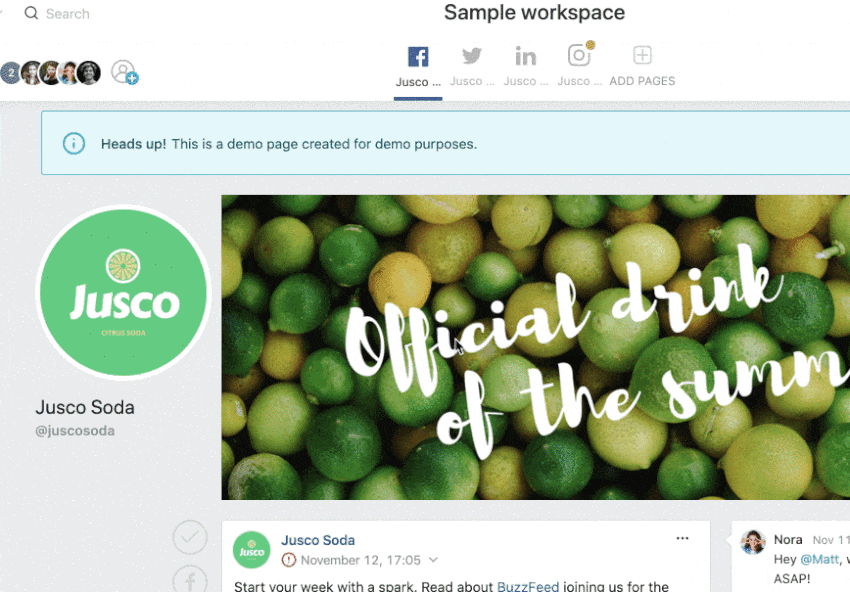 Creating & collaborating internally
Afterward, the creative agency team brainstorms content in the workspace directly with no spreadsheets involved. 
Angela, the content writer starts creating the posts for the next week and adds copies and links. She saves them as hidden from client for now. They're still in draft mode so she doesn't want the client to see anything unfinished.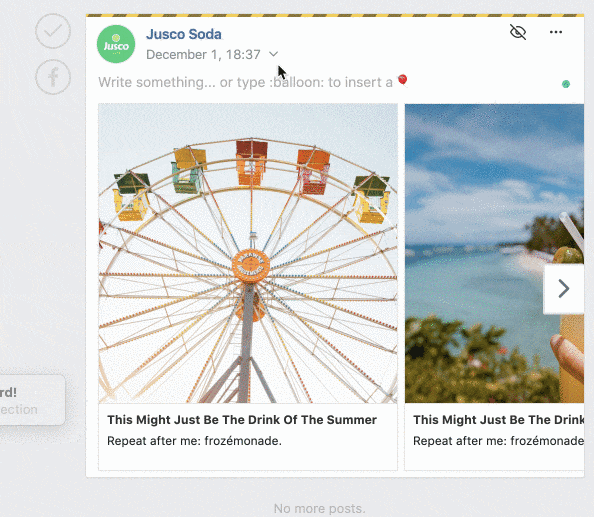 It's time for design, so the copywriter quickly tags Bryn, the designer, in an internal note to ask them for the needed images.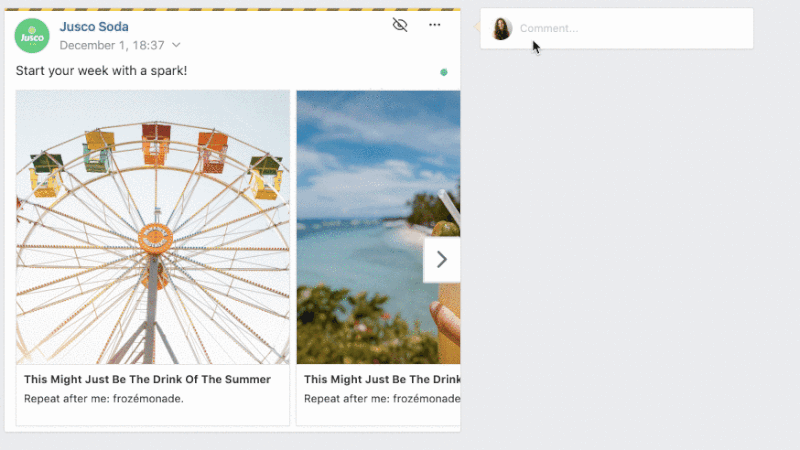 After Bryn adds the design, they tag Andrew, the project manager who leaves his own feedback. Angela and Bryn implement the feedback, and let Andrew know by resolving his internal notes. 
Planning the content
Angela now has all the content for the next week, but she wants to plan it accordingly so the client can have all the needed context. She goes into calendar view and starts to drag & drop the posts without any dates.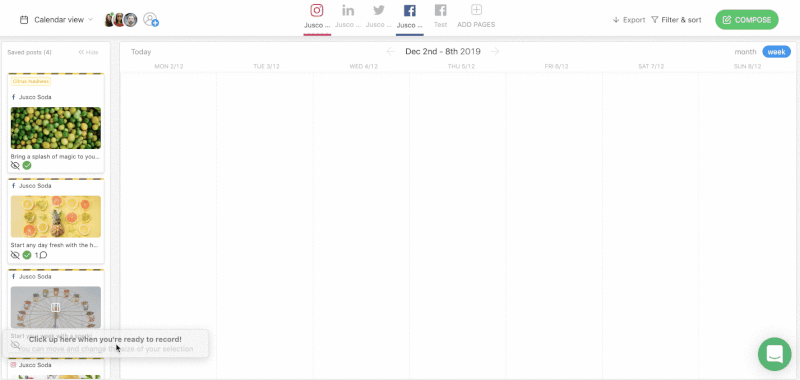 Client review
Everything seems set up, so it's time to loop in the client. Angela has all the posts for next week hidden for the client, so she goes into list view, filters to see only the hidden posts, bulk selects and shares them at once.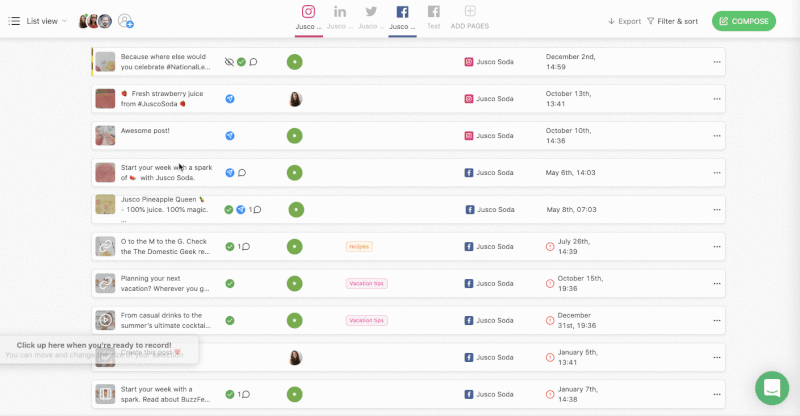 Alex, the Head of Social on the client's side gets the notification that new posts have been added. He knows what that means, so time to give some feedback. It's almost the end of the business day and he's in an Uber, going to a meeting. He opens the Planable mobile app and starts checking the posts, leaving feedback, and approving what's ready to go.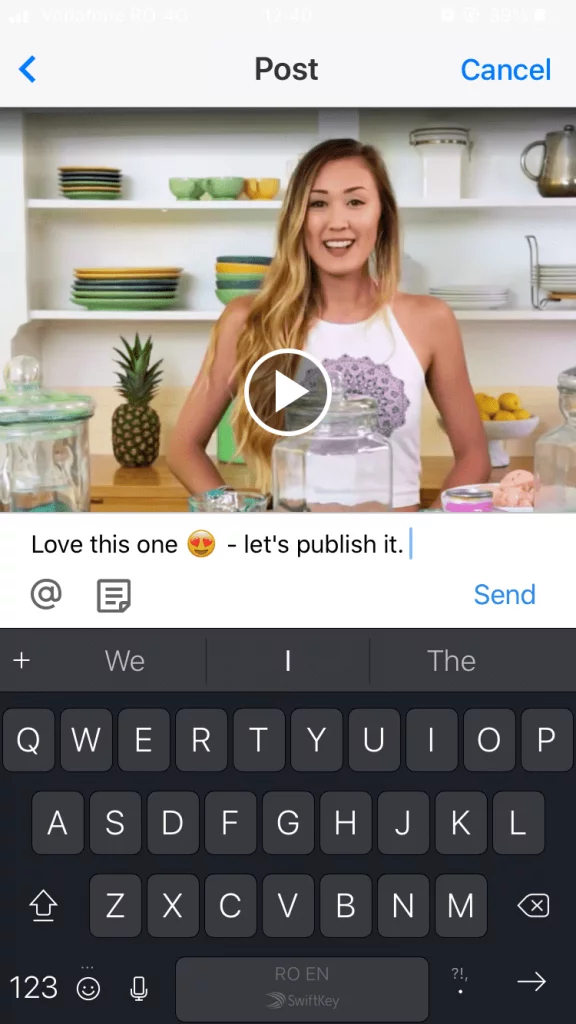 Awesome, Alex has shared some thoughts and Angela implements last-minute changes. Alex now approves all 4 posts and they're automatically scheduled.

Angela's happy
When everyone can see the same thing, no misunderstandings can happen. Agencies using Planable have forgotten about social media tools not designed for content creation. They got rid of emails, PowerPoints, or Spreadsheets and they can preview your content in the most visual social media environment. 
They can previews the content 100% pixel perfect before publishing any images, text posts, videos, URL links, etc. 
Planable helps you keep all your feedback and conversations in one single place. When reading a comment, you can reply directly there, and communicate on each post-in-context. Therefore, you won't lose any critical feedback if you need any extra info tag your team members or clients in the comments section.
Results our users already see
We think great social content is created by teams who are aligned, and we help them do that. Once you check Planable out, you'll realize how simple it is. As of now:
Angela has no more delayed deadlines – everything happens on time due to clear communication schedule 

Everyone is on the same page – when her team and her clients can see how the content will look like, there's no exhausting back & forth, hooray! 

Feedback happens in-context, so misunderstandings are a thing of the past. 

The entire workflow in one place – each client has their workspace, Angela will not get lost in threads and hundreds of emails, spreadsheets, media files, folders, and documents across multiple environments. 

Safety first – no content will get published on social unless the client has approved it
Collaboration and coordination is the main challenge of marketing teams today. If you're able to solve this one – you'll have a competitive advantage and your clients won't be leaving. 
In the next phase of content marketing, the winners and the losers will be separated by how well teams work together and how scalable production processes are.
And if you're still not convinced – give it a try yourself with a free 14 days trial or schedule a demo with our team just by following this link. See you there?

Vlad Calus
Dropped out of college, moved to another country with 2 of my friends and built Planable (Techstars London '17), social media collaboration platform, at 19 y. o. Forbes 30 under 30