Struggling to effectively manage collaboration among writers, designers, and other marketers in your team? Enter the power of project management for creatives — a tailored process that addresses the unique needs of creative projects.
In this article, I'll cover the difference between creative and traditional project management and provide you with four creative project management tools worth checking. Let's go!
What is project management for creatives?
Project management for creatives is the specialized approach to effectively planning, organizing, and executing creative projects. It involves balancing artistic vision, deadlines, budgets, and collaboration within creative fields such as design, advertising, marketing, and media production. It aims to streamline workflows, optimize resources, and ensure successful project completion while nurturing the creative process.
Creative project management vs. traditional project management
The difference between project management for creatives and traditional project management mainly lies in how they approach planning and measure success. While traditional project management establishes strict deadlines and celebrates milestones, creative project management takes a more flexible approach to time lines and and celebrates creative achievements.
That's why managing projects in design or content requires a higher level of real-time collaboration, timely feedback, and approval:
Copywriters add feedback or suggestions directly within live documents in brainstorming mode to find the perfect wording for a 30-word ad slogan.
Designers add annotations and comments on design files indicating specific changes or enhancements.
Video editors and animators use time-stamped annotations within files to mark the exact moment that needs polishing.
Creative project managers act as facilitators, building an efficient process, ensuring smooth communication, and fostering creativity. They are also the ones to provide a project management platform to ease everyday work.
Why does project management for creatives matter?
Among many motivational quotes on Linkedin, I ran across the saying, "The chief enemy of creativity is good sense." Whoever said that has never worked in product marketing, I thought. The difference between artistic and marketing creativity is that the latter has to bring actual value to the business rather than be creative for the sake of it.
And that's what creative project management does — it adds good sense and down-to-earth value to otherwise potentially abstract creativity.
Ensures the creative output meets business objectives
Creative assets can quickly become too creative when there's no specific goal and workflow to guide the stream of creativity in the right direction. A confident, transparent process is like rails, and a responsible creative project manager is the driver. Combine these two in your approach to project management  — and you'll be sure to get relevant assets and compatible expectations.
Helps creative teams focus with fewer distractions
Creative team members always have their plates full. Careful project planning and a streamlined pipeline help teams stay on track and only take on additional tasks when there's the capacity for it. Staying focused on the tasks ensures continuous delivery across the entire team.
Sets priorities between multiple creative projects
Prioritizing creative work across several directions matters greatly, especially for complex projects. According to business objectives, creative project managers decide which projects need more attention or resources. They also ensure there are no deadlocks or interferences between tasks, projects, and departments.
Keeps the creative teams on time and within budget
The creative vision can take an artist places the budget can't follow. But a creative project manager stays on guard: they ensure team members deliver projects according to deadlines and stay on track money-wise.
How to build a creative project management process
Project managers strive to build a creative project management process that balances business and creativity. It's more than just a "create tasks, assign tasks, do tasks" routine — you need a system behind simple task management to ensure the results your business hopes for.
1. Set clear project goals
As usual, any project begins with goals. This is the project owner's field: they're responsible for the vision, global goals, and problems to solve.
Identify your core objectives, define the project scope, and ensure your creative team knows what you're aiming to achieve. It's crucial for team members to stay on the same page throughout the whole process.
2. Determine tasks and dependencies
Imagine a creative agency has to launch a marketing campaign. It has several stages: brainstorming the concept, crafting a content plan, creating design briefs, writing copy, finalizing the budget, etc. Many people are involved: a creative director, graphic designers, copywriters, and internal and external stakeholders.
A creative project has many dependencies and stages which can easily form deadlocks. For example, you can only create ad assets after approving the concept with the stakeholders.
A project manager has to manage tasks so the stages don't overlap on a timeline. Lay out the whole process, find which tasks depend on each other, set reasonable deadlines, and assign tasks to team members.
3. Establish creative briefs
The creative process needs reasonable guidelines to ensure it brings the expected results. Briefs are sacred: even if you think a team member gets your vibe and will deliver on their own, never skip the brief stage — or accept that your marketing efforts might be in vain.
A good brief includes project details, references, guidelines, and requirements. Try to make them as straightforward as possible, with no room for misinterpretation — but enough room for creativity.
4. Assign delivery managers
Or someone who will take on their responsibilities — a delivery manager is a role rather than a specific position (unless we're talking big corporations).
The delivery manager is responsible for staying on top of the current status: they track progress, identify deadlocks and potential bottlenecks, and resolve any obstacles on the way to delivering results. This way, if anything blocks the project progress, you know who to call.
5. Find a tool that connects project management, feedback, and approval
Creative teams have tons of drafts, final drafts, and final.final(4) drafts. Sending it back and forth to key stakeholders can take ages and bring confusion. The FINAL approved version might eventually be lost to humanity, especially when managing multiple projects.
The right software can help you tame the chaos and manage projects peacefully. Four components of a stellar creative agency project management software are:
project tracking tools
collaboration tools
built-in feedback features
custom workflows for approval.
One solution to rule them all — and you're golden (ahem, take a look at Planable).
6. Continually refine the creative project management process
Building the process is also a process. These steps are just general guidelines that give your creative process a kickstart. Start small and move in iterations — ask your creative team for feedback, and don't be scared to change the workflow if there's a reason for it.
Eventually, your goal is to create a process where each team member can apply their creative skills, work comfortably, and bring value to the business within agreed deadlines.
5 best project management tools for creatives
Project management for creatives is complex, but the right creative project management software can make it significantly simpler. A lot depends on your team size and the creative problems you solve the most. Luckily, the market is full of options, so here are four project management software solutions for any team and budget.
1. Planable: best for team collaboration and content management
You say creative project management software, I say Planable. Planable is a robust tool that puts collaboration in the spotlight, making managing creative work much easier. The Planable team understands the challenges of working with creatives and provides suitable solutions to every woe of a project manager.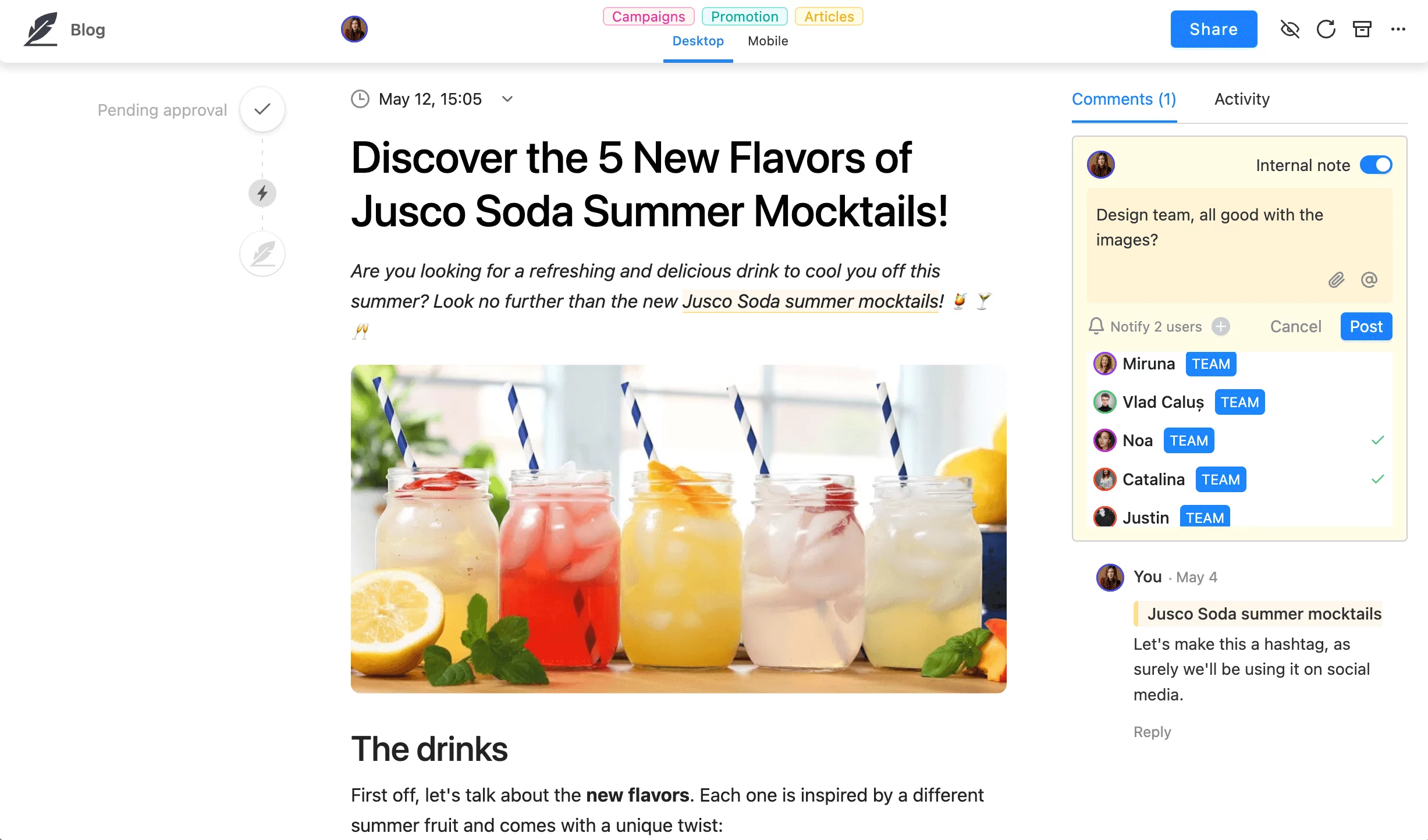 The cornerstone of Planable is collaborative content management: you can create, edit, plan, and approve any written content, from posts to blogs, newsletters or ads.
The key features that make Planable one of the most fantastic project management software options for creatives:
Collaboration tools. Team members can leave in-context feedback, comments, and internal notes next to the content to polish the final piece.
Custom approval workflows. An irreplaceable thing for creative teams with multiple stakeholders and agencies: keep every decision-maker in the loop with no excessive emails and get approved much faster.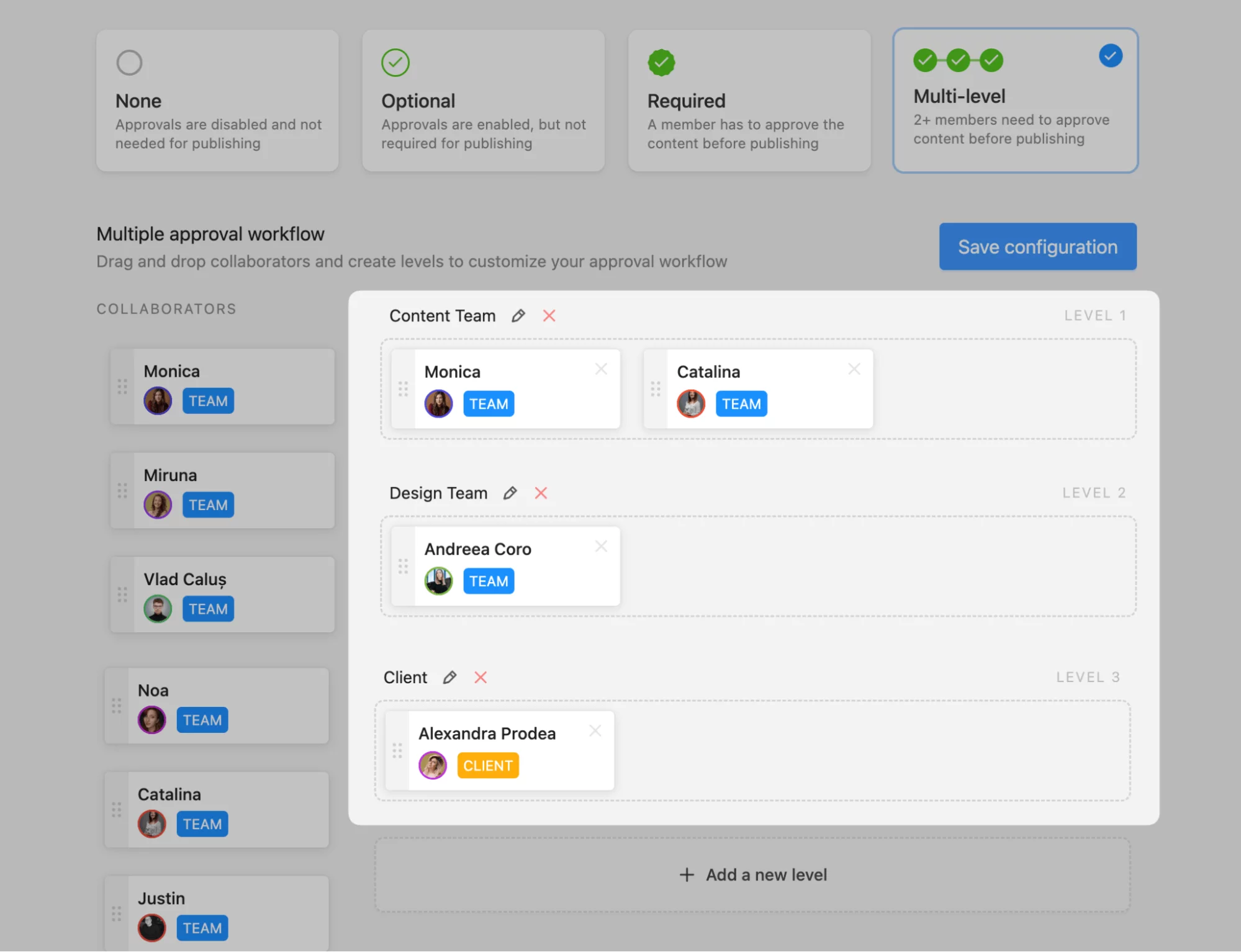 Roles and permissions. Assign specific roles to team members and clients to distinguish those who create content and those who approve it.
Content calendar. Planable has a highly visual content calendar to give a project manager an instant update on the matter. You can add communications to the calendar to plan them and schedule posts for social media for automatic publishing.
Planable only allows scheduling content for social media and offers no analytics on marketing campaigns. However, as a creative project management software, it does an excellent job for teams who want to stay on top of their plans.
Grab 50 free posts with unlimited features to give it a test drive. The upgrade starts at only $11/month.
Takeaway
Planable is the best project management software for team collaboration and content management. With an intuitive user interface, appealing visuals on the surface, and powerful features on the inside, it makes a perfect project manager's companion.
2. Asana
Asana is a project management software suitable for any project. It's a universal tool many project managers love for its advanced features and multiple ways to track team progress. Asana is great for streamlining cross-functional team processes and building efficient workflows.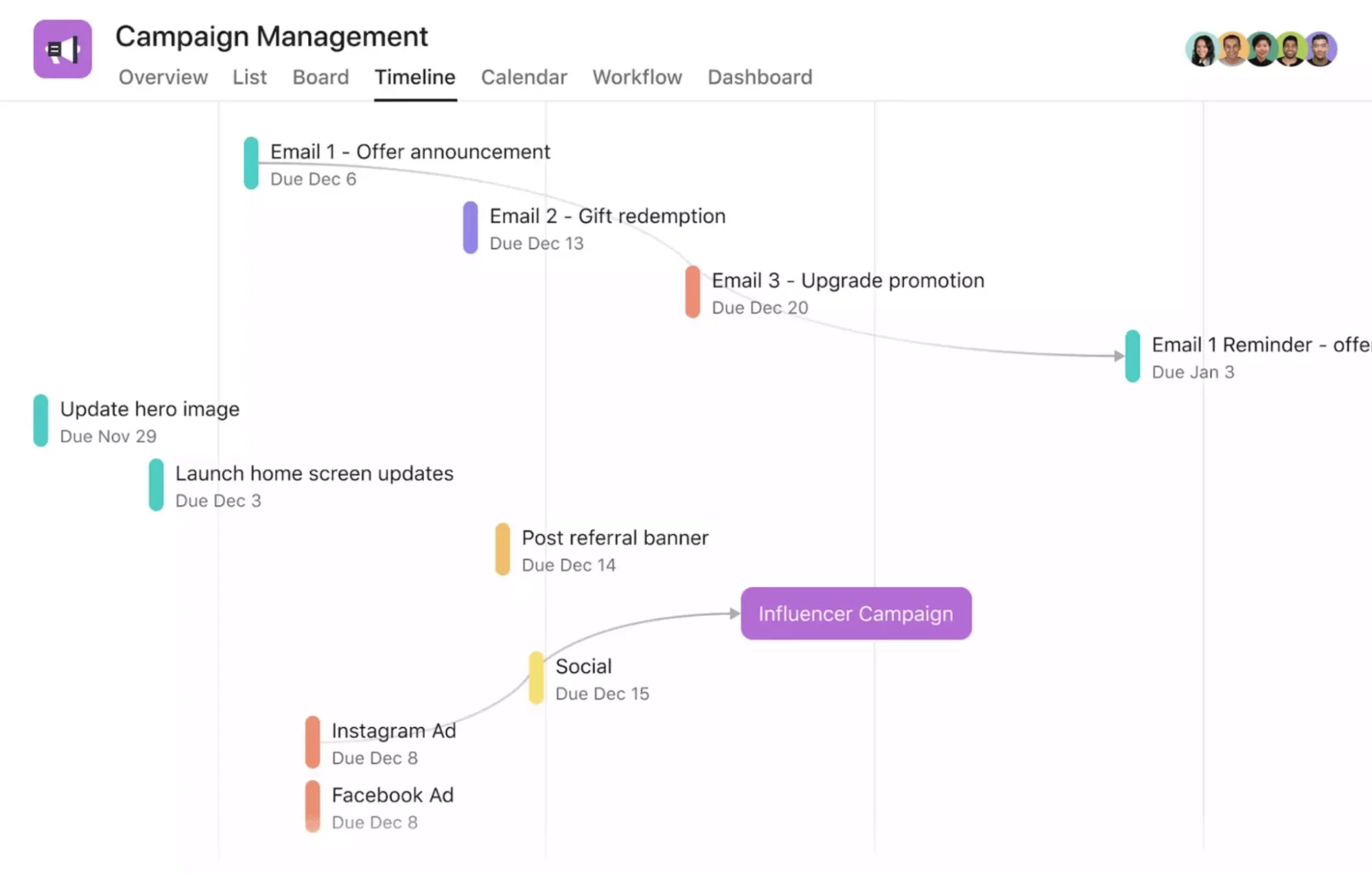 As a project management tool for creative teams, Asana offers:
Customizable project dashboards. Asana allows creative teams to create projects and gather them in dashboards that suit their specific workflows and preferences.
Visual timeline view. A creative project manager can visualize project schedules, dependencies, and deadlines on a timeline, making it easier to identify potential bottlenecks, adjust timelines, and allocate resources effectively.
Proofing features. Asana's Proofing allows teams to share designs and feedback in one place. It speeds up the approval process and takes email chains out of the equation.
However, if your core task is content management, Asana might lack content-related features. Despite having many integrations, it doesn't have scheduling or automatic publishing, which helps greatly when you work with social media campaigns, for instance.
Asana can operate nicely as a free tool as it has essential features included. Paid plans begin at $10.99/month per user.
Takeaway
Asana is a great option for mid-sized creative teams and agencies. It's a steady option with a clear, intuitive interface and robust functionality.
3. Teamwork
Teamwork is a project and team management tool for agencies, freelancers, and outsourcers. Its killer feature is a built-in billing system that allows you to track time spent on projects and bill clients based on this data.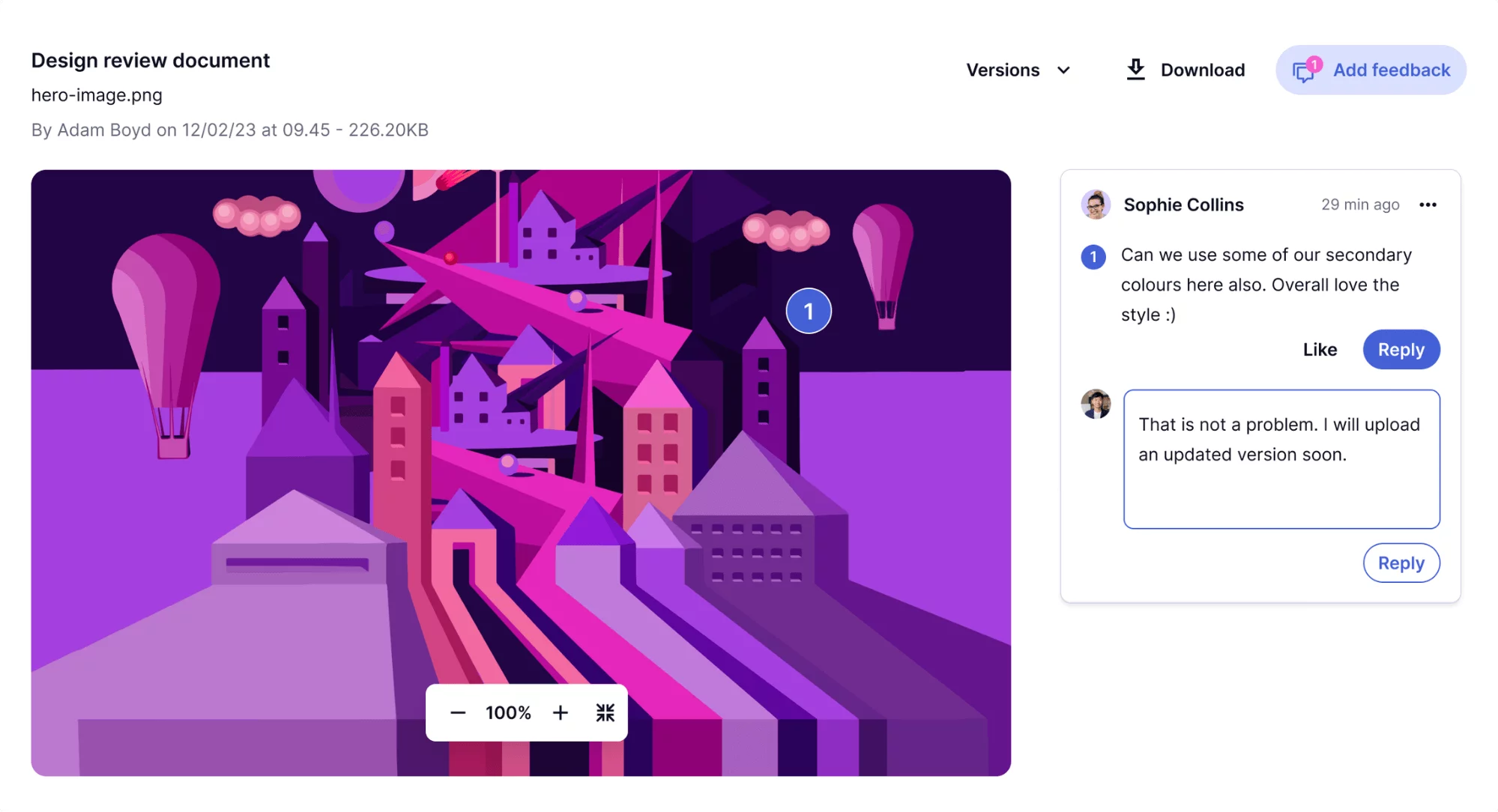 Among other cool features, Teamwork has:
Resource allocation. Teamwork provides a workload planner that helps avoid bottlenecks and overloading specific team members. Project managers can add, edit, and reassign tasks to meet deadlines.
Detailed task tracker. Project teams can choose the task-tracking option that suits them most: Teamwork has seven different dashboard views, from Kanban to Gantt Charts, plus highly detailed task descriptions, subtasks, tags, and file versioning to always stay on track.
Teamwork has numerous integrations but lacks creative ones like Canva, Figma, or Adobe Creative Cloud. If your team works closely with design, it might be a downside.
Teamwork has a free plan for small teams of up to 5 people and three paid plans starting at $5.99/month per user.
Takeaway
Teamwork is an attractive option for outsourced creative teams who want to streamline their client work.
4. Notion
Notion is an essential tool for project management, wikis, and other marketing efforts. Although the platform positions itself as a universal tool, I see it fit marketing and creatives more than, say, development. It's highly visual and straightforward yet very efficient for building a workflow.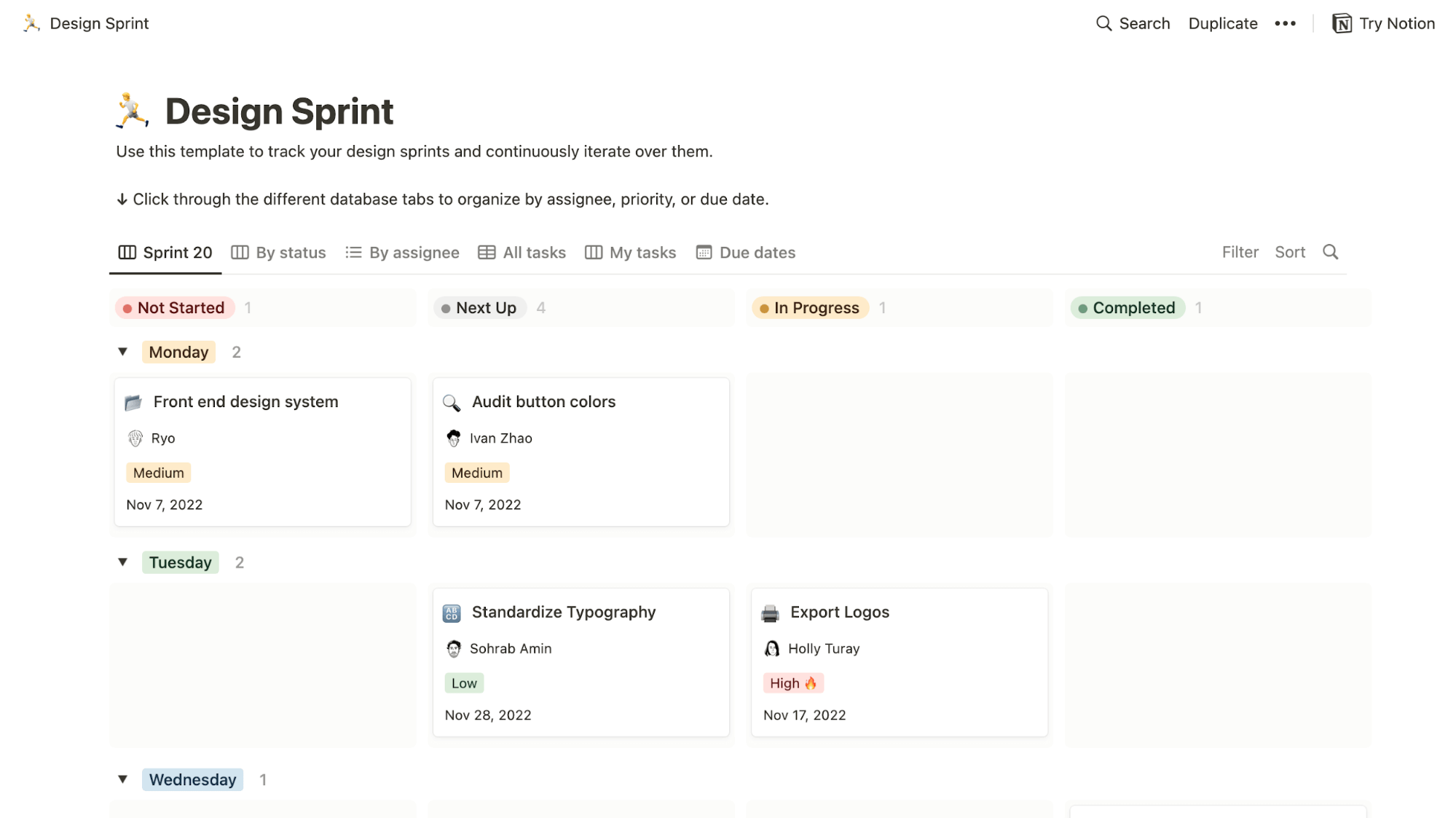 Notion stands out with:
Robust template library. From project to task templates, Notion provides it all to kickstart your project management for creatives and speed up everyday processes. Customize templates as you see fit.
Task management. Easy and visual, Notion offers multiple ways to track progress on tasks. Create and assign tasks, set deadlines, attach files for context, and leave comments in the cards to exchange feedback on the spot.
Notion works perfectly fine in its free plan. However, I'd highlight the sharing options as a downside. To share a page in Notion, you need to send a personal invite via email or make a page public. You can invite people to your workspace and simply share a link, but that costs money.
Notion's paid plans start at $8/month per user.
Takeaway
If you're looking for a basic, easy-to-use tool for streamlining your projects, Notion is your choice. It doesn't do much other than help you plan and execute projects — but that's what these tools are about!
5. ProofHub
ProofHub is an all-in-one project management with a huge repository of features suitable for teams of any size or department. It often stands out among other tools for its flat pricing structure with no-per-user fee.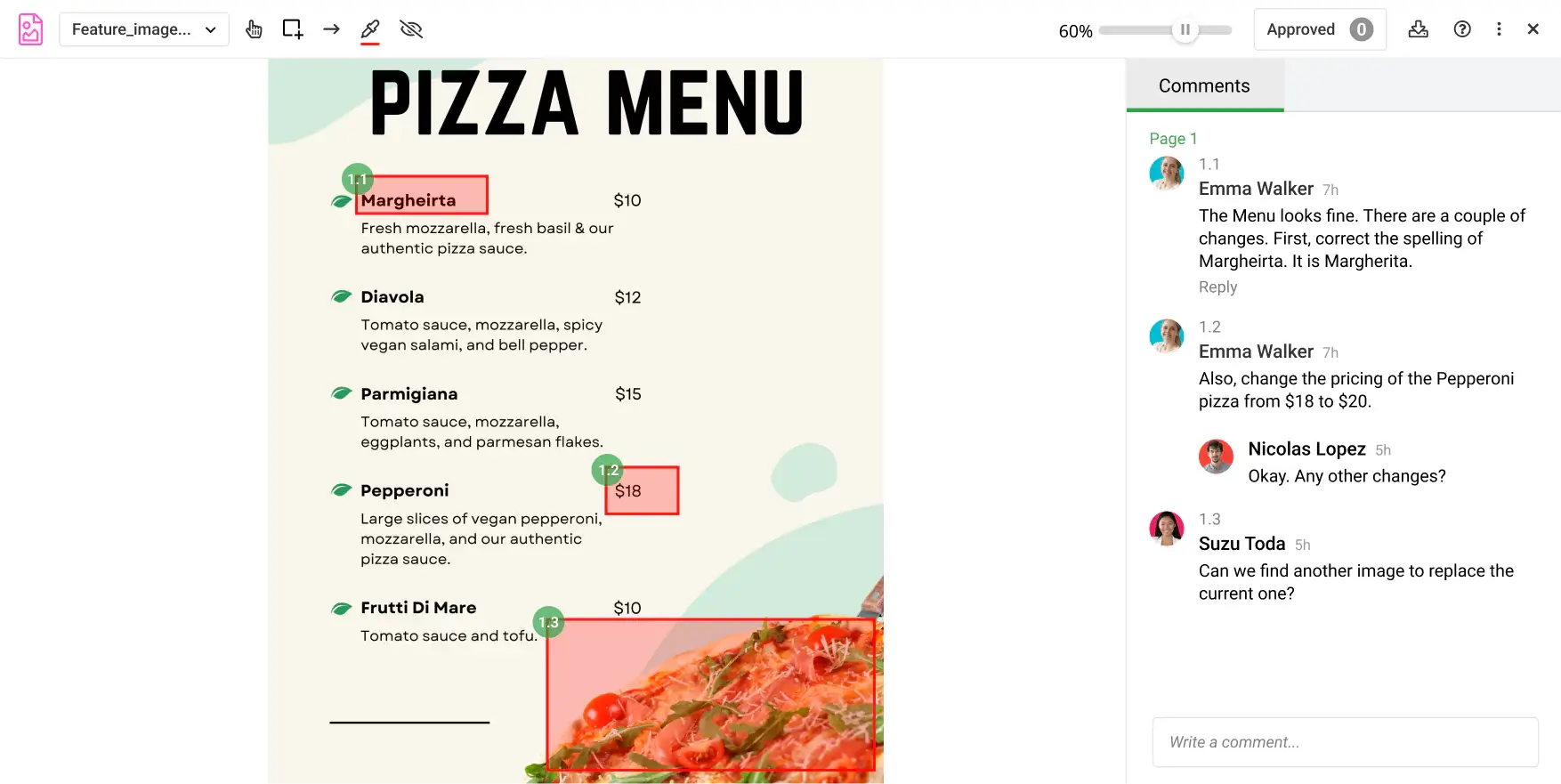 Apart from providing a customizable, centralized platform for streamlined workflows and seamless collaboration, ProofHub offers the following features for creative and design teams:
Proofing. This feature

comes with file versioning and markup tools to annotate, highlight, or share feedback directly on your creative asset through threaded comments. Also, the single-click approval feature eliminates the hassle of back-and-forth emails. 

Custom Forms for creative teams to use for managing and reviewing clients' design requests and feedback.
Takeaway
ProofHub is a robust tool for managing your creative assets and cross-departmental projects; however, it lacks some functionality of core content management software. For instance, it does not provide auto-publishing or A/B testing features to automate and analyze your campaign results. 
Wrap up
Tools for managing creative projects significantly ease the project manager's job. So choose your perfect tool and integrate it into your process — even though it takes some time, it's totally worth it. Start with Planable: grab 50 free posts and give it a try. No commitments, only absolute control over creative chaos!