Did you know that project management collaboration tools save the average employee around 498 hours per year? That's a full working month!
Project management collaboration tools are essential to increase productivity and ultimately save money. This is especially true for marketing teams, where team and social media collaboration alongside resource management is crucial.
That said, I'll go through the ten best project management and collaboration tools currently available. But first, let's see exactly what project management software is and why you might need one.
What is a project management collaboration tool?
A project management collaboration tool is a software solution that facilitates real-time communication between project stakeholders. Common features include file sharing, instant messaging, task management, team calendars, Gantt charts, and more.
Project management collaboration tools allow teams to seamlessly monitor and manage deadlines, store project documentation for streamlined team handover processes, and get a visual overview of the project's progress.
Why a good project collaboration tool is a must-have for marketing teams
Although the primary benefit of team collaboration tools is streamlined communication, marketing teams can also benefit from various other advantages.
Marketing is a highly dynamic field that requires constant monitoring, while a project can take a 180-degree turn within an instant.
As such, being able to manage projects from beginning to end, see who works on what and when, and leave feedback within the same platform leads to a high level of adaptability.
Communication and teamwork
Creative marketing team members require constant communication and a centralized place to store design assets. Which equals a creative project management solution. Going back and forth between emails, Google Drive files, and spreadsheets will slow down the collaboration process and potentially lead to lost design assets. Not to mention that tracking feedback is that much harder.
Team collaboration tools mitigate that risk — some, like Planable, offer built-in file storage, proofing, automatic notifications, and more, all in a single place.
Consequently, project managers can store and leave feedback on creative projects within the same platform, while team members have quick access to suggestions and can get to work right away.
Productivity and transparency
Collaborative tools will give you a bird's-eye view of who's working on what and when. Consequently, you can easily gauge project progress, while project teams can figure out for themselves when they need to pick up the pace or afford a bit of slack.
Additionally, you'll get to measure team members' workloads, preventing employee overworking. The boost in transparency also leads to more consistent workflows, prevents bottlenecks, and contributes to a generally healthier work environment.
Scheduling and tracking campaigns or projects
Project management tools eliminate the headache of setting up projects and delegating tasks manually. You can create workflows that automatically generate new projects, assign team members, and create recurring tasks — a handy feature for employee onboarding, for instance.
You can also use calendar views to schedule upcoming marketing campaigns and track progress.
Task management
Tasks management involves breaking down a large project into multiple smaller, more manageable tasks. You can then manage tasks based on their priority and delegate each task to the appropriate team members.
Most project management software solutions come with this functionality. They allow you to easily assign tasks to team members, automate recurring tasks, set up dependencies, and more.
Feedback and approvals
Project collaboration software allows for easy feedback and streamlined approval processes.
For instance, a project manager can leave feedback next to each completed task or by mentioning team members in comments on specific assets. This gives project team members easy access to suggestions.
Project management software solutions allow you to impose approvals before a project goes live. You can either give the green light or request changes, eliminating the risk of accidentally releasing unpolished projects.
What to look for in a collaboration tool for marketing projects
There are plenty of online collaboration tools available, but there's no one-size-fits-all solution— they can differ considerably in their functionalities.
Some of them are a great fit for smaller teams, while others are specifically built for software development teams, for instance.
To cut you some slack, I'll cover the key features marketing teams should look for when picking a collaborative project management software solution.
Content creation functionalities
Marketing requires a lot of creativity. Besides, two heads are always better than one! Consequently, a platform where creative teams can develop content and collaborate simultaneously is a must.
Take Planable, for example. The platform allows project teams to craft social media content and easily leave comments next to each social post in the making. This functionality streamlines the content workflow process and ensures that feedback is always visible — not lost somewhere in an email inbox.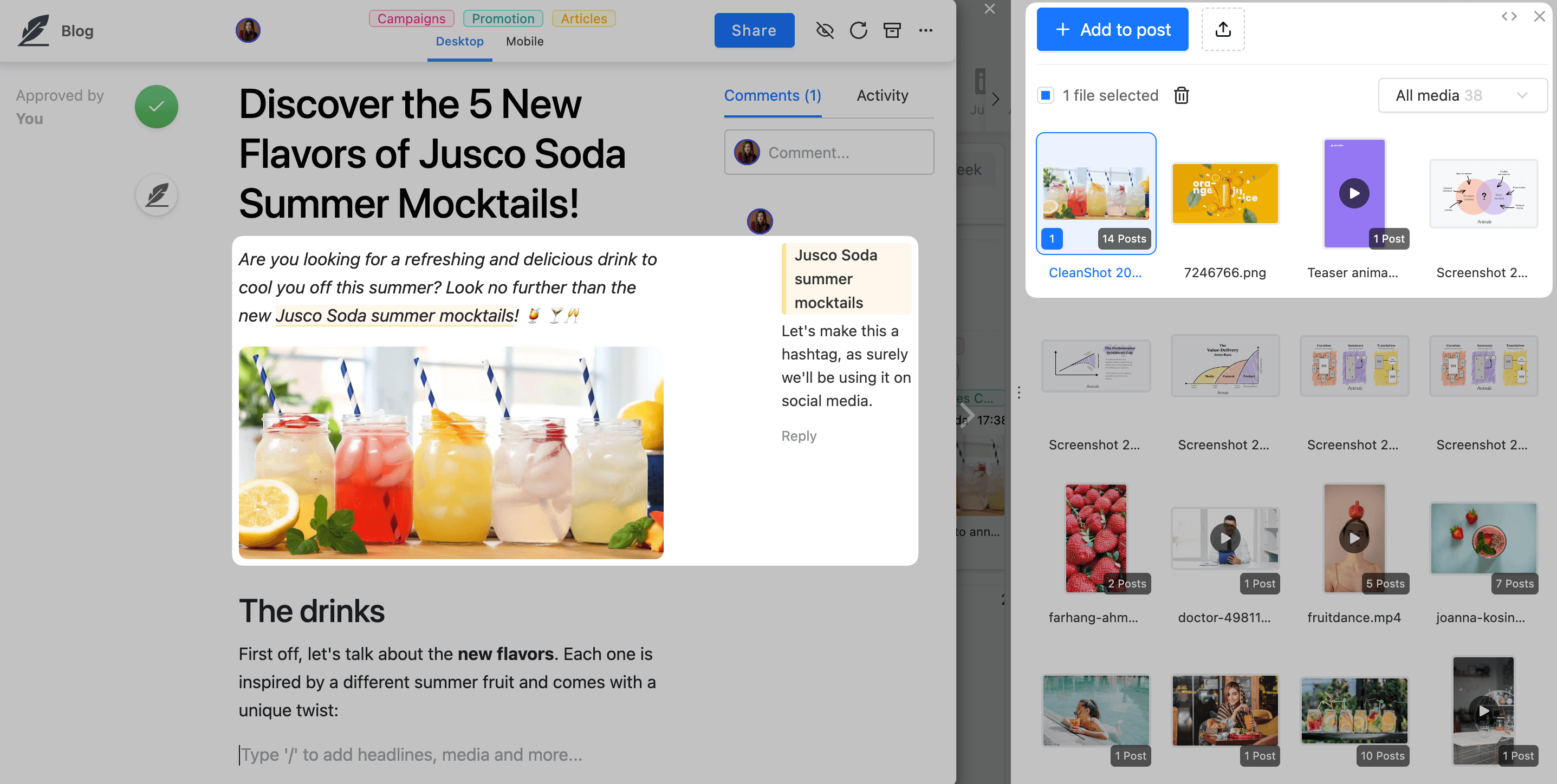 Additionally, the platform allows teams to store their design assets (videos, GIFs, and images) in the media library. This gives all team members easy access to all the design elements necessary to piece together and finalize content.
Direct collaboration and feedback
Speaking of feedback: look for real-time collaboration features, especially if you work with remote teams.
These allow multiple team members to communicate seamlessly and share project updates without needing to constantly press the refresh button.
Also, aim to unify communications as much as possible.
For instance, the ideal platform allows creative teams to work on assets, leave feedback next to each piece of content and approve work within the same place. The fewer tools you rely on, the easier it is to bring your team on the same page.
Share with external stakeholders
Make sure that your collaborative tool allows you to invite guests and share files with external project stakeholders. This streamlines communication with clients, especially if you're a marketing agency. It also keeps stakeholders up-to-date with the latest company news, promoting transparency.
Plan and organize projects
The ability to manage and plan multiple projects within a central location is also crucial. As such, prioritize tools that have Gantt charts or calendar views.
These allow you visually plan future activities and benchmark the time spent on past projects so that you can set realistic deadlines for upcoming activities.
Also, keep an eye out for platforms that handle task scheduling and dependencies. This automates the process of assigning tasks, ensuring your team gets a steady flow of work.
Multiple review and approval options
Project managers should have the option to set up multiple types of review and approval workflows.
This ensures that teams deliver projects to external stakeholders error-free. Or if you're one-man-army, the ability to skip the approval process entirely is a must.
Again, Planable perfectly understands this. The platform allows you to set up four types of approval workflows: none, optional, required, and multi-level.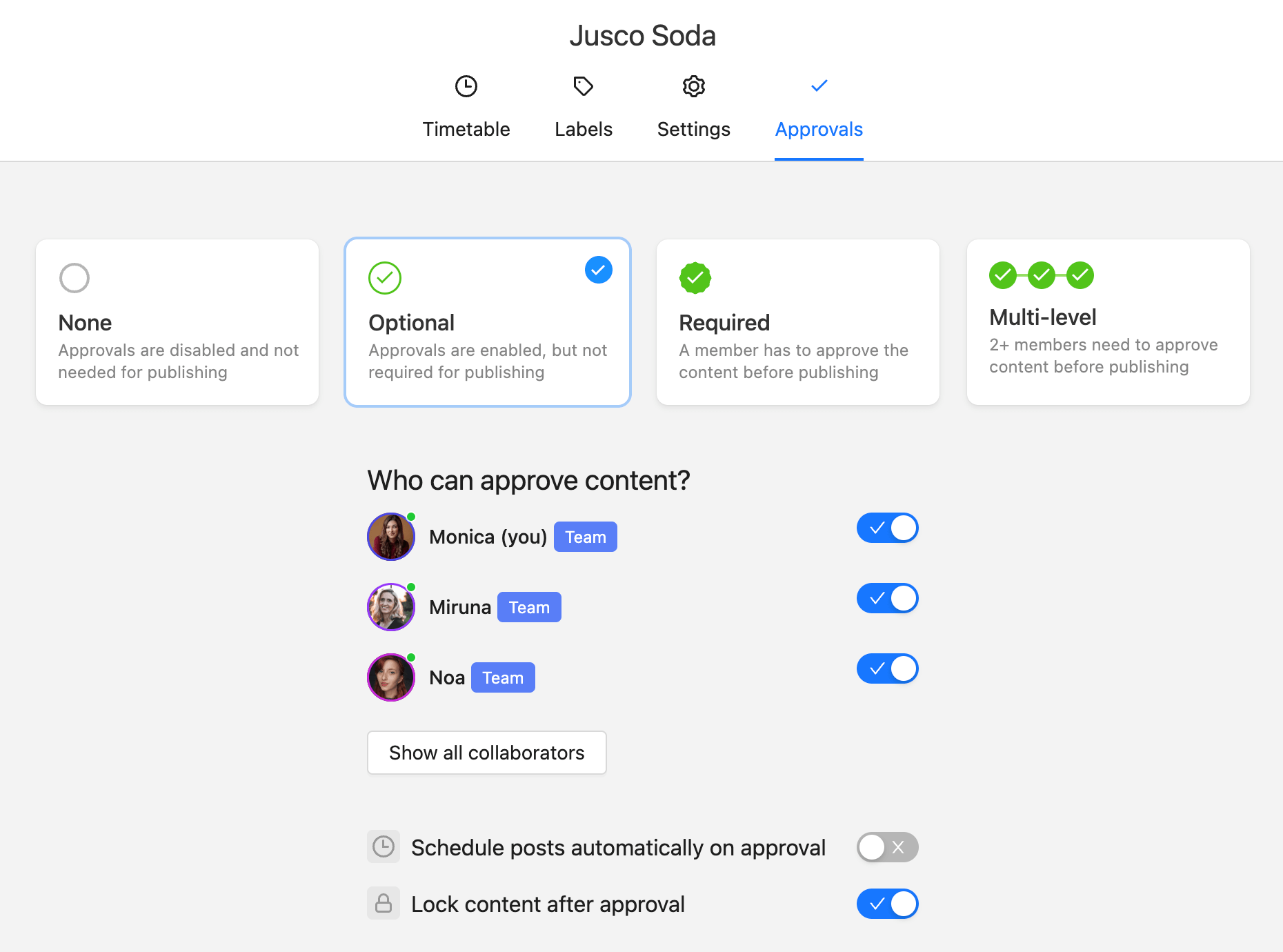 Automated reminders
Although they may not seem like much, automated reminders can make a significant impact.
Creative project teams juggle a lot of work and may require many tweaks — especially when clients don't know what they want. That said, deadlines can sometimes pass through the cracks.
However, setting up automatic deadline reminders can nudge team members to refocus and complete their work on time. Additionally, automatic project updates can keep stakeholders in the know about each task's status.
10 best project collaboration tools for marketing teams available right now
To spare you the research, I've compiled a list of some of the best online collaboration tools currently available. We'll see who each platform is for, what you can do with it, and its key features. We'll also cover each tool's advantages and disadvantages.
Let's get to it!
1. Planable: best project collaboration software for content approval & organization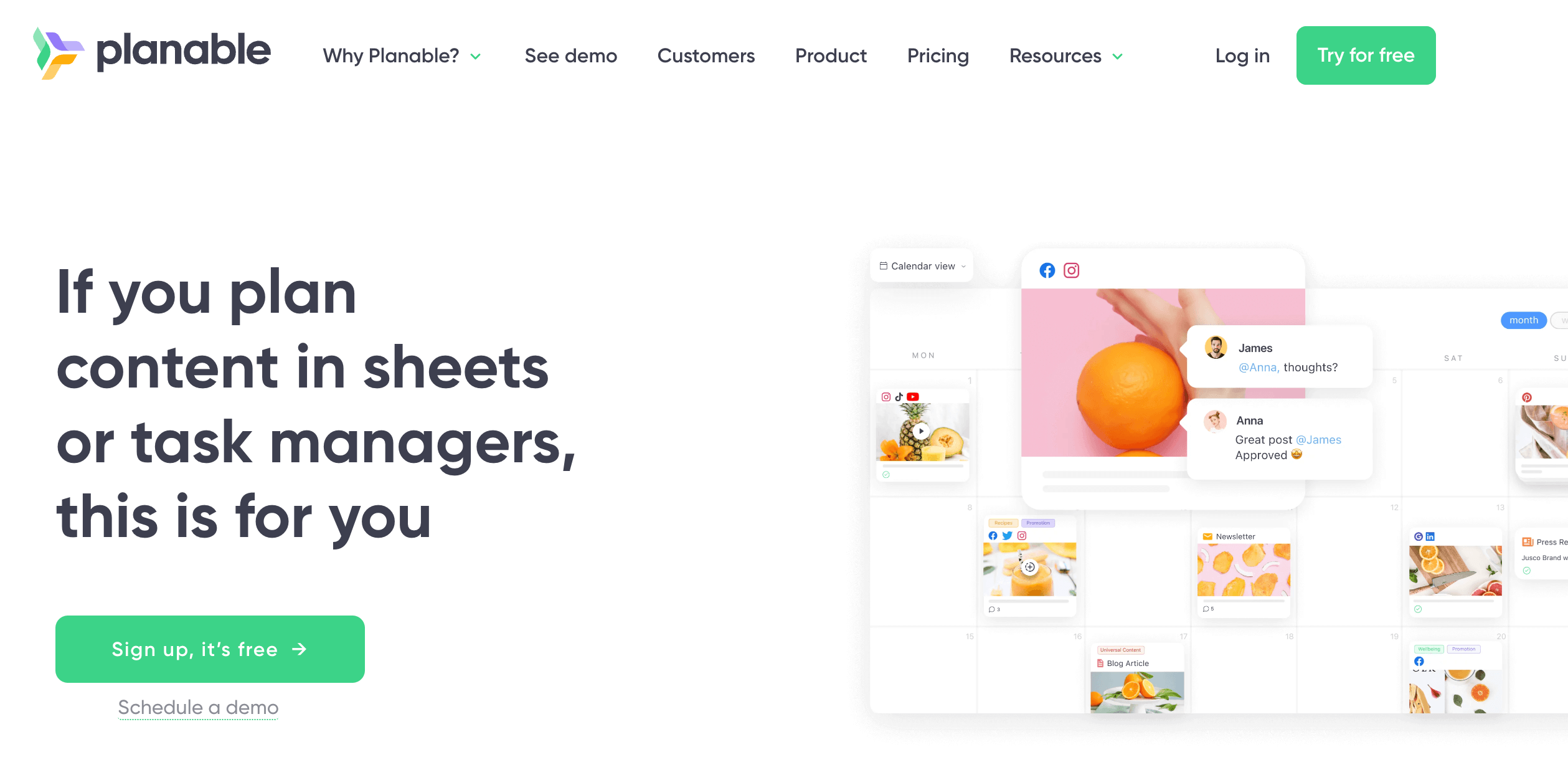 Planable is a straightforward content marketing approval and collaboration tool that allows team members to create and schedule posts in a collaborative workspace.
One of this marketing planning platform's main strengths is that it allows you to create, preview, and collaborate on any type of written content — be it social media posts, blogs, newsletters, advertisements, etc.
Coupled with the platform's calendar view and color-coded labels, you get an easy-to-grasp unified overview of all your marketing campaigns and activities — no need to get lost in dozens of open tabs!
You can then filter these labels to zoom in on a specific campaign or task.
Supported platforms: Facebook, Instagram, Twitter, LinkedIn, YouTube, TikTok, Pinterest, and Google Business Profile (formerly known as Google My Business).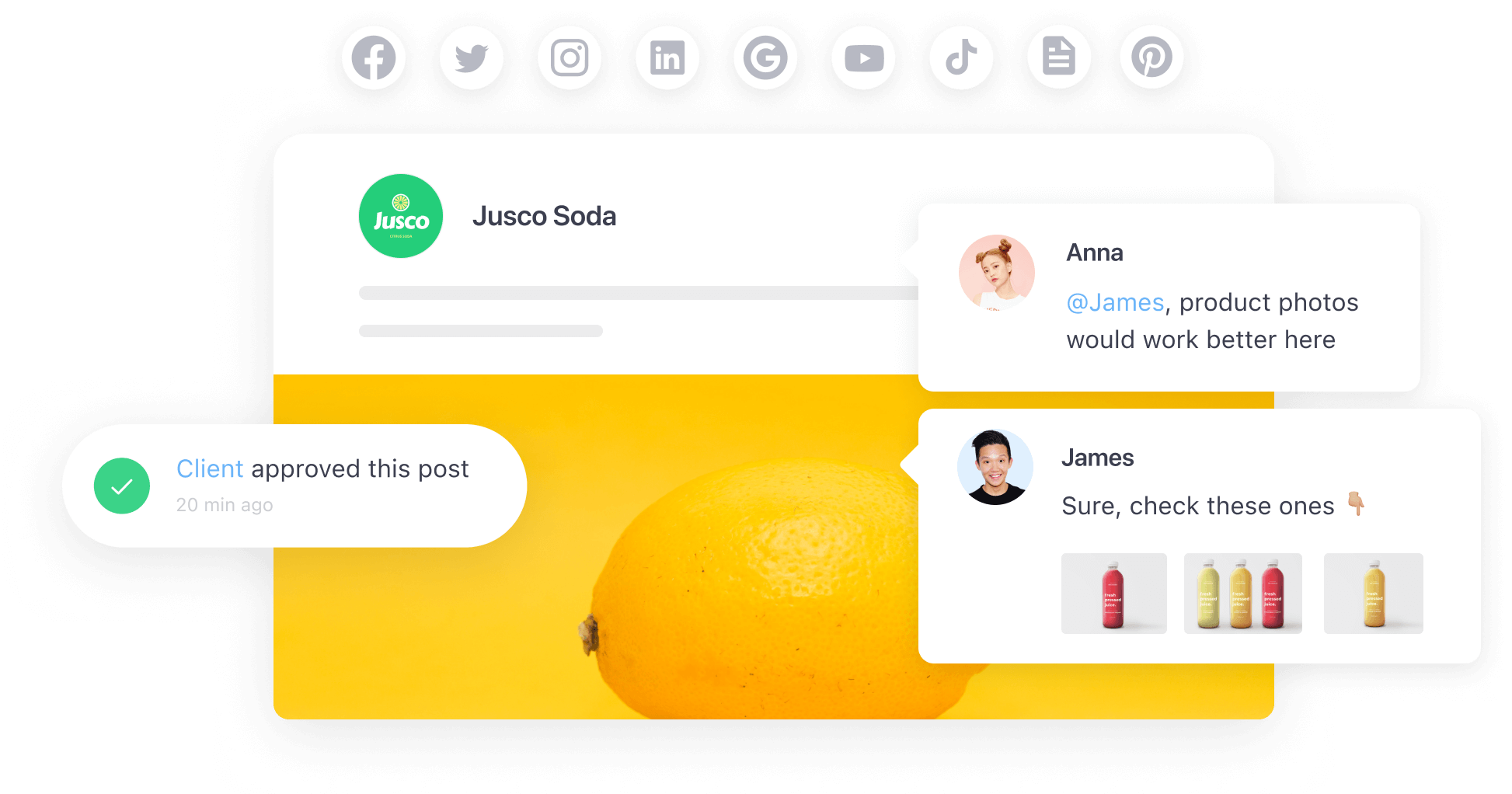 Key features
Draft posts and leave comments next to each piece of content for easy access to feedback.
Collaborate with team members through internal private notes. Mention teammates in comments to attract their attention and work with your team in real time.
Set up custom roles and permissions, as well as approval workflows to control who can see, modify, and give the green light on your content.
Easily schedule social media posts by dragging and dropping them into your social media calendar.
Use Planable AI to automatically shorten a text, make it more engaging, or expand on a specific concept.
Drawbacks
No analytics and reporting tools are currently available.
Content publishing is only available for social media platforms.
Pricing
Schedule up to fifty total posts completely for free! Paid plans start at $11/user/month. Pricing is flexible depending on the number of workspaces, users, and functionalities.
Takeaway
Planable is among the best collaboration tools for creative agencies and brands seeking a solution where team members can communicate with each other and draft content simultaneously to better handle complex projects.
2. Notion: collaborative project management software best for mapping campaigns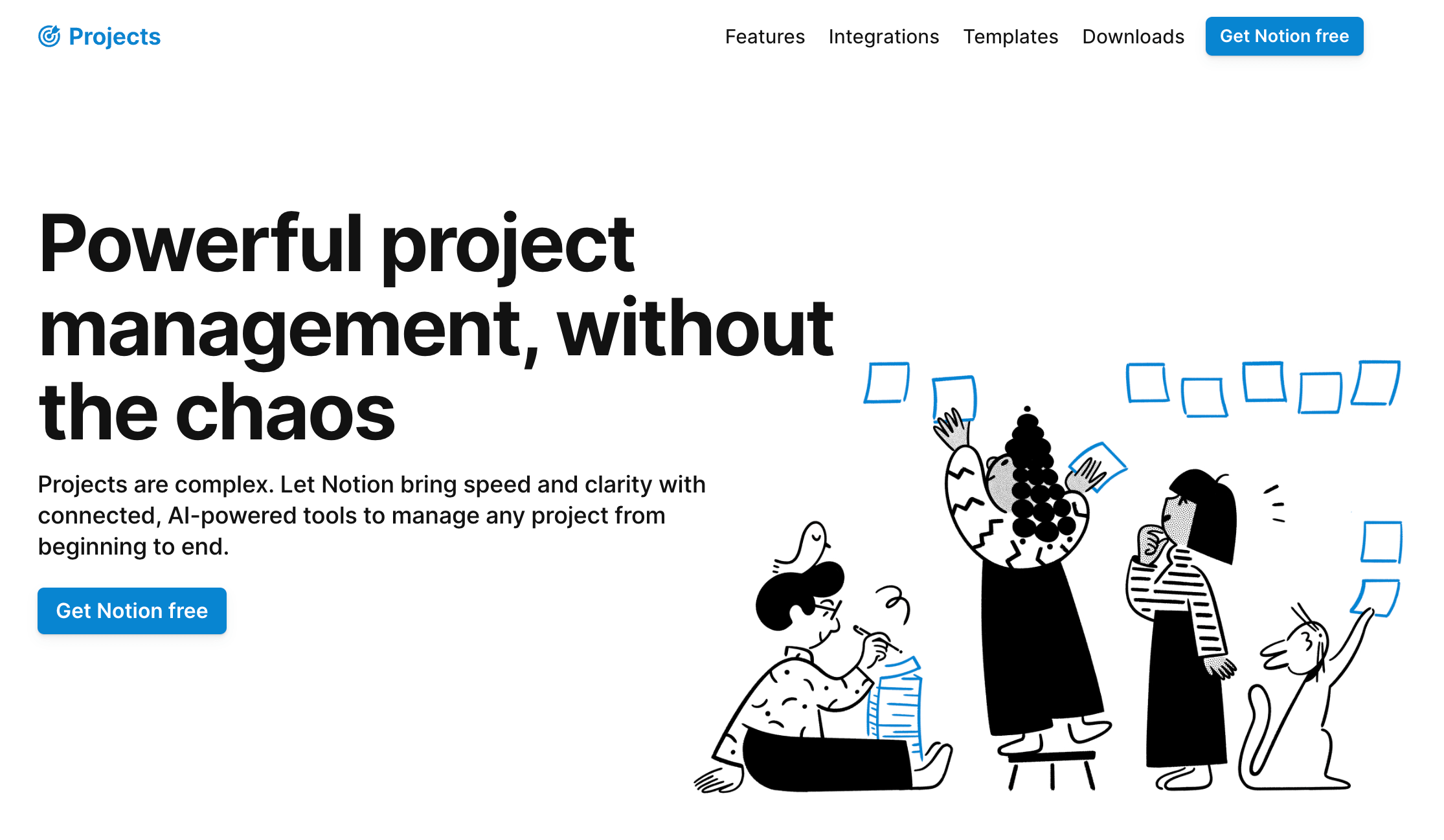 Although it originally started as a note-taking application, Notion evolved into a solid collaborative project management software solution that emphasizes ease of use and affordability.
The platform is also highly customizable — it offers various pre-made project templates fit for specific activities (like marketing campaigns, editorial calendars, roadmaps, etc.). You can then tweak a selected template based on your requirements.
Key features
Collaborate with team members in real time through comments and file sharing.
Use the Share to Web feature to quickly turn Notion documents into web pages for your organization (ideal for wiki or resource pages).
Schedule, prioritize, and monitor tasks by setting up task dependencies, lists, kanban boards, sub-tasks, and more.
Drawbacks
Some key functionalities are reserved for top-tier plans (workspace analytics, advanced user permissions, private workspaces, etc.).
The UI can get tricky if you handle a large number of projects.
Pricing
Notion offers a free plan that's available for up to 10 guest collaborators. There are three paid plans available, starting at $8/user/month (annually).
Takeaway
Notion is among the best project collaboration software for small to medium-sized teams seeking a highly straightforward yet customizable solution.
3. Slack: best collaborative communication tool for bigger teams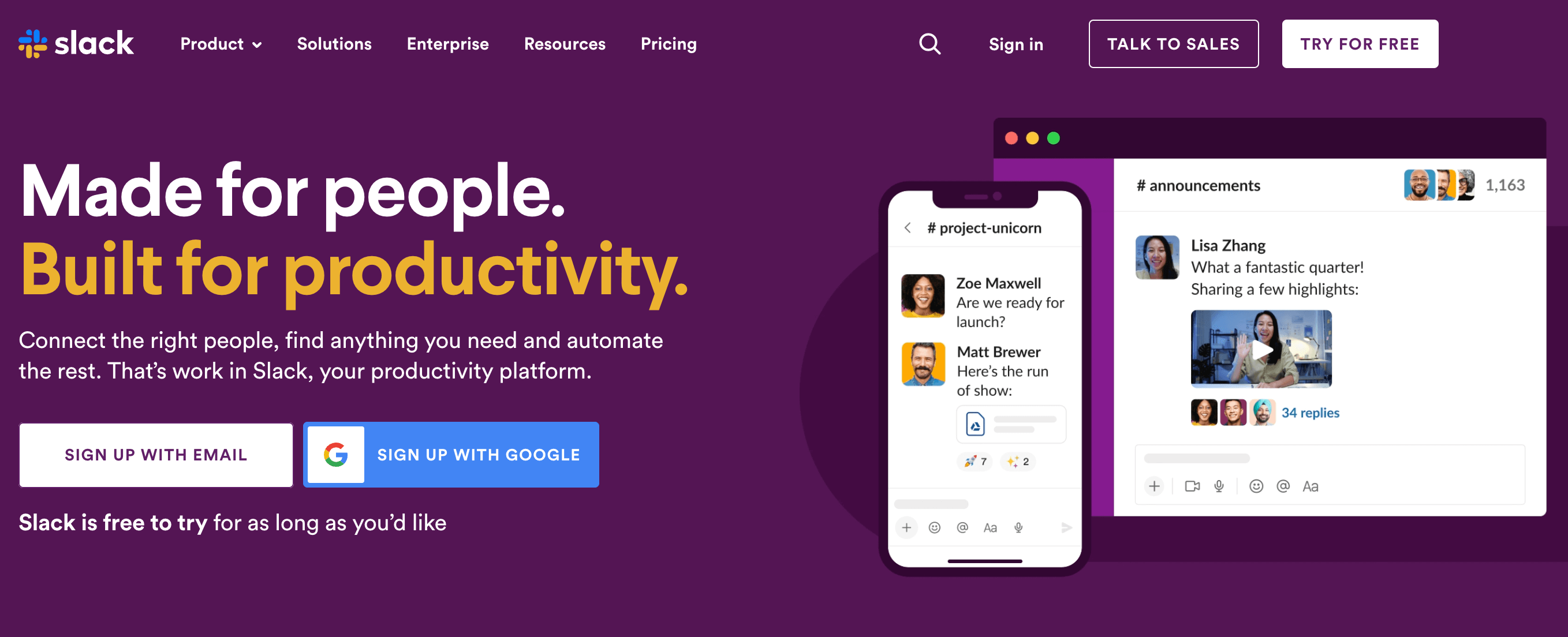 Slack aims to unify business communications. The platform allows you to collaborate with team members through group chat, one-on-one messaging, screen sharing, as well as audio and video calls.
The tool also integrates with 2000+ tools like Google Drive, Salesforce, and Trello — perfect for streamlining your work and eliminating the need to jump from platform to platform.
Key Features
Use canvases to create, organize, curate, and share information with your team — ideal for setting up to-do lists, project documentation, and more.
Set up automated workflows to get rid of tedious tasks such as sharing updates, gathering feedback, onboarding, etc.
Create private channels to keep confidential information away from prying eyes.
Drawbacks
No built-in project management-specific functionalities (no task management, kanban views, or productivity reports).
All pricing packages, except the Enterprise plan, allow you to create a single workspace.
Pricing
You can use Slack for free, while paid plans start at $7.25/user/month (annually).
Takeaway
Slack is an excellent online project collaboration tool that unifies business communication — especially handy for remote teams.
4. Teamwork: best task management software for group collaboration

Teamwork is a team collaboration software and project management tool with an emphasis on task management. You can easily categorize tasks using tags, set up task dependencies, create sub-tasks, and more.
As for marketing projects, Teamwork's card views (kanban views) are handy for tracking specific marketing campaigns. It also offers pre-built templates specific to various marketing activities (advertising campaigns, SEO planning, social media calendar templates, and more).
Key Features
Use the platform's time-tracking and workload management tools to analyze work capacity, avoid bottlenecks, and set realistic deadlines.
Track expenses, allocate budgets, and determine your projects' profitability via Teamworks' budget management and reporting functionalities.
See whether your tasks are going to plan via the Planned vs Actual Reports functionality. Compare the current task or milestone status to what you originally planned.
Drawbacks
Platform performance can get clunky once you have a large number of tasks.
The mobile version offers limited functionalities.
Pricing
Teamwork includes a free plan that's available for up to five users. Paid plans start at $5.99/user/month (annually).
Takeaway
Teamwork is an excellent choice for marketing teams that seek a project management solution with solid tracking, reporting, and team management tools. The platform handles billable time tracking, project status, health, profitability reports, and much more.
5. Asana: most popular task collaboration software for cross-functional work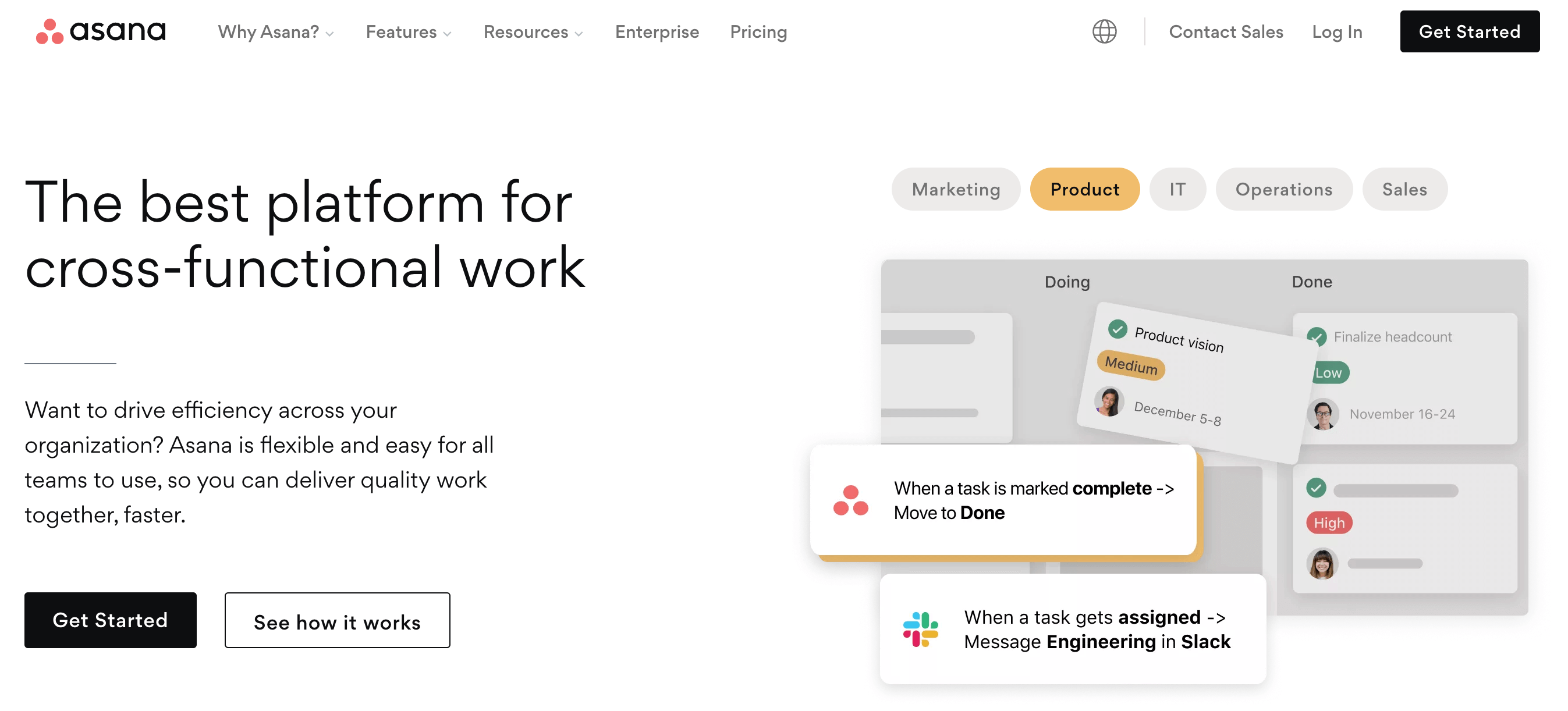 Asana is an in-depth yet highly easy-to-use project management solution that covers complex automation, workload management, approvals, and more.
As for team collaboration, the platform includes task comments, team or project conversations, and one-on-one messaging. You can also follow your teammates so you always know what they're up to.
Key Features
Use the Workflow Builder to create automated processes and task dependencies via a visual drag-and-drop interface. Save workflows as templates so you can easily reuse them in other projects.
Easily create and coordinate marketing campaigns through the platform's pre-built marketing-specific project templates.
Monitor and manage multiple projects simultaneously through the platform's Portfolio Views.
Drawbacks
There are large pricing differences between paid packages, hindering scalability.
File sharing is limited to 100MB per file.
Pricing
Asana's free plan handles up to 15 users. Paid plans start at $10.99/user/month (annually).
Takeaway
Given the platform's high user cap and portfolio management tools, Asana is a suitable collaborative project management software solution for larger teams seeking to manage multiple projects simultaneously.
6. Wrike: best AI project management solution for data driven marketers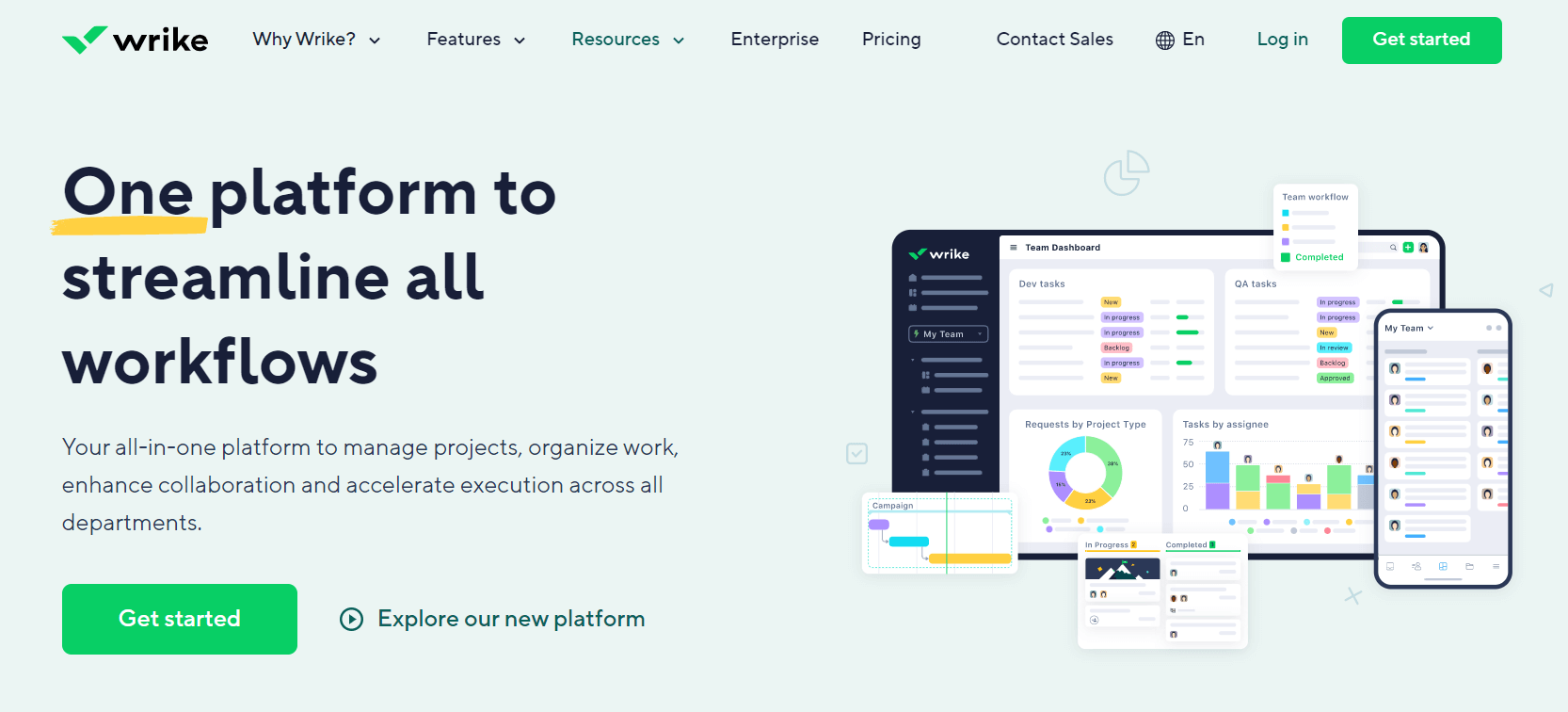 Wrike is an all-in-one project management platform designed for teams of all sizes.
The software stands through its Work Intelligence functionality — it leverages AI and Machine Learning technology to automatically create tasks and subtasks, assess project risk factors, and provide automated response suggestions.
Key features
Quickly launch projects through Wrike's various project templates. Select between multiple use cases (marketing included).
Track progress through a 360-degree overview of your projects. Create custom dashboards to monitor key metrics. Gather in-depth insight via the platform's reports.
Automate approvals for creative assets across multiple file formats (PDF, JPEG, MS documents). Compare original and updated work side-by-side to spot the changes. Invite external collaborators to modify assets directly within the platform.
Drawbacks
There are significant pricing gaps between paid packages.
According to user reports, the platform's UI is complex and has a steep learning curve.
Pricing
There's a free version available to unlimited users and includes most of the platform's AI-powered tools (except the risk prediction functionality). Paid plans start at $9.80/user/month (annually).
Wrike also offers a solution specifically built for marketing and creative agencies, which starts at $24.80/user/month (it includes marketing-oriented workspaces, campaign analytics, and more).
Takeaway
Wrike is a valuable tool for marketing teams seeking a project management solution with powerful automation tools.
7. Basecamp: best team project collaboration software with easy setup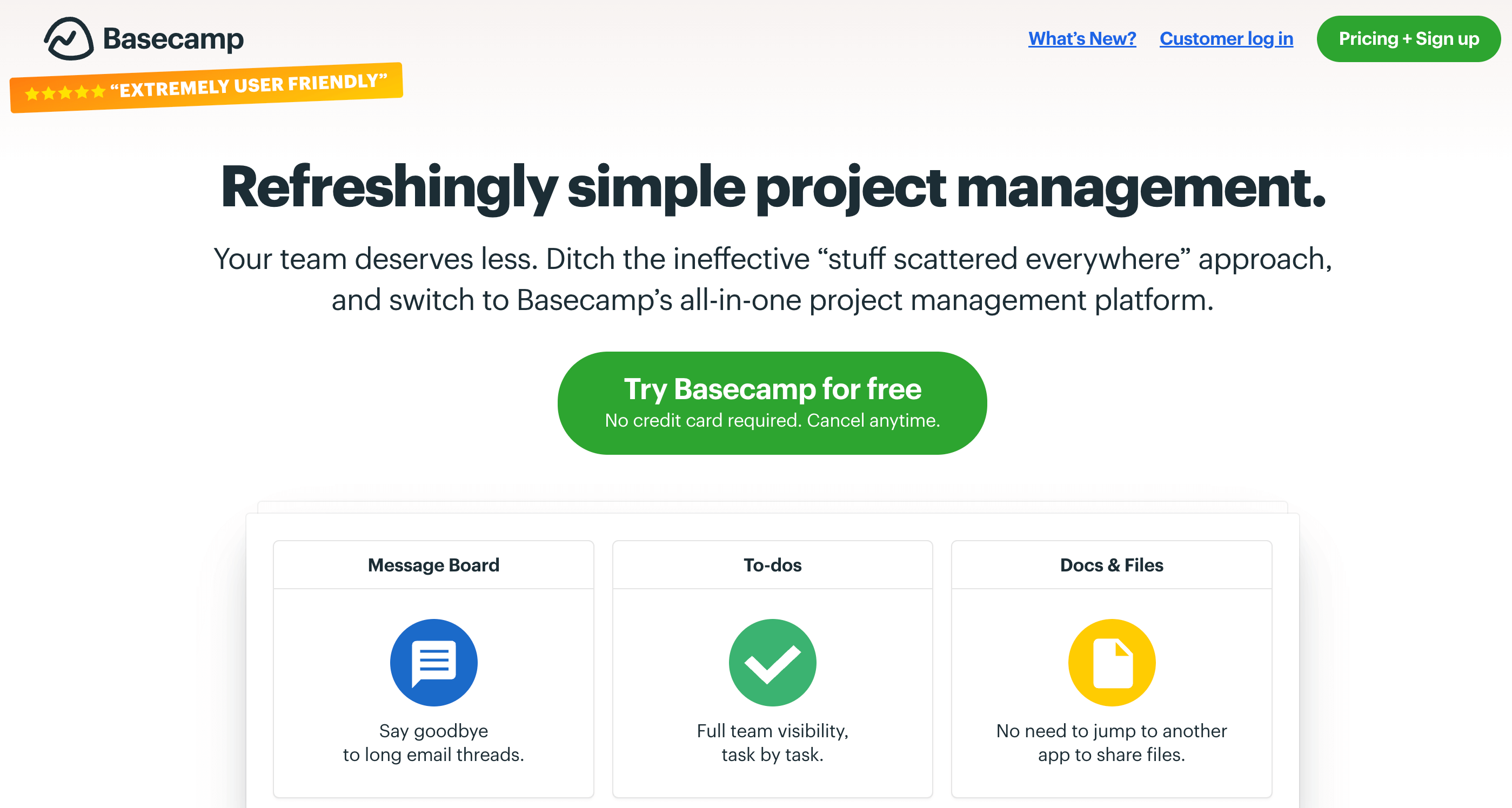 Basecamp is an online collaboration tool with solid project management capabilities. The platform includes one-on-one direct messaging, group chats, and a place where you can store, share, and discuss files.
Most notably, Basecamp allows you to set up automatic polls, so you can gather feedback. You can send these polls to your entire team or specific team members.
Key features
Use Hill Charts to grab a detailed yet easy-to-grasp overview of your progress. See key project moments with history snapshots.
Use Latest Activity to get a granular summary of everything that happens within every project, or see the bigger picture with The Lineup.
Decide how you receive notifications, so you won't get distracted (for example, get notified only when someone mentions you in a comment). Turn off notifications temporarily and control where you receive updates.
Drawbacks
Lacks native time tracking and task prioritization functionalities.
No free version is available.
Pricing
You can either use Basecamp for $15/user/month (monthly) or $299/month (annually, with no per-user charges) if you run a larger team.
Takeaway
Basecamp is among the best online collaboration tools for large teams seeking to closely monitor projects and strengthen collaboration at a fair price.
8. ProofHub: best collaboration software for flexible project management and reporting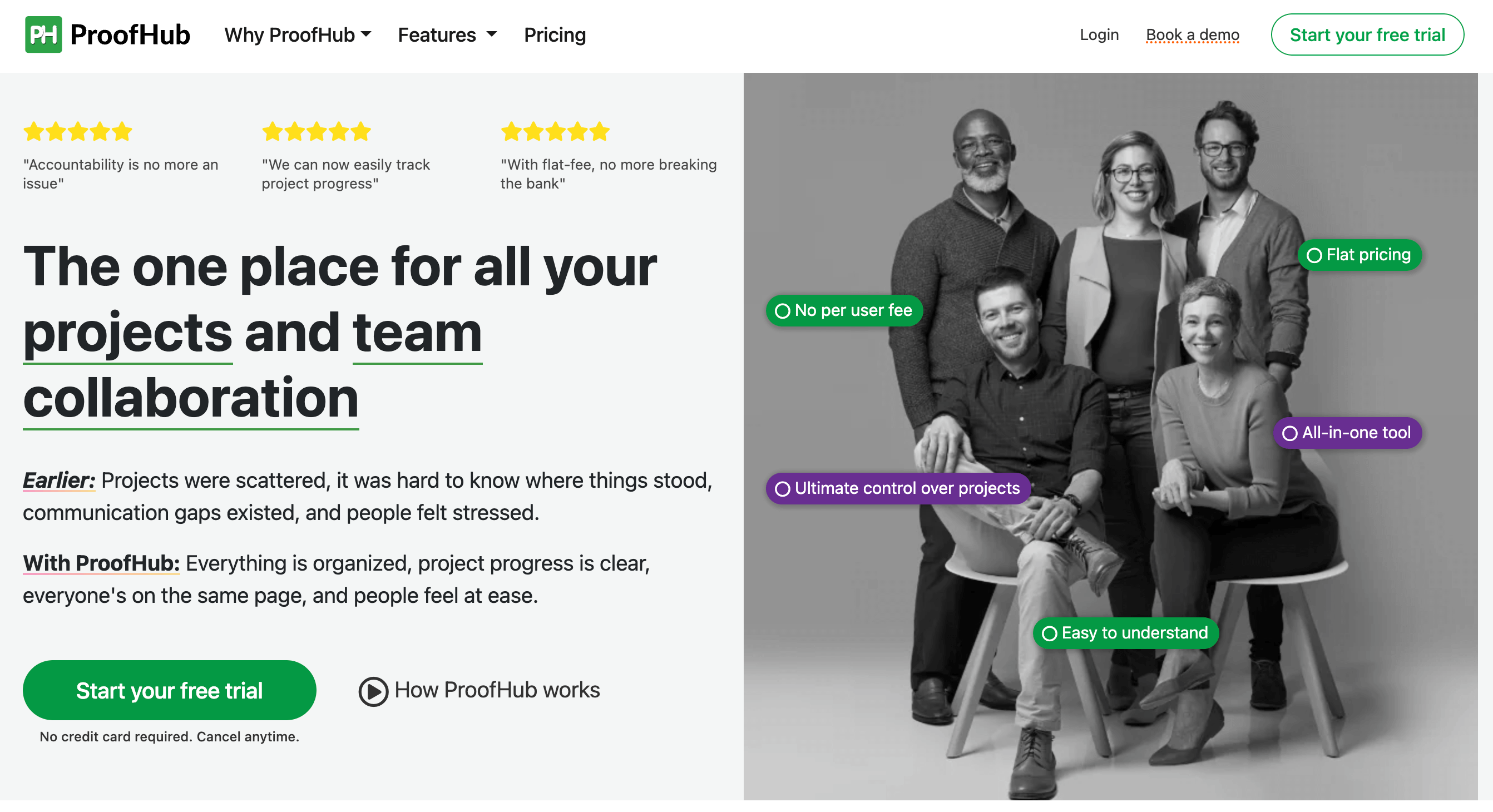 ProofHub is a highly scalable solution that offers extensive project management and collaboration tools. More specifically, the platform handles file proofing, time tracking, Gantt charts, and much more.
One of the platform's standouts is its flat pricing — it doesn't charge on a per-user basis, perfect for affordable scalability.
Key features
Easily approve creative work and share it with external stakeholders. Leave comments next to each file and highlight necessary edits for easy access to feedback.
Collaborate with team members via one-on-one and group chats as well as discussion threads. Automatically schedule and post announcements in the team's timeline so everyone is in in-the-know with the latest news.
Set up automatic workflows, task dependencies, and schedule recurring tasks to minimize repetitive work.
Drawbacks
Lacks budgeting and the option to filter notifications.
Users report occasionally sluggish performance.
Pricing
The platform covers two pricing plans: Essential ($45/month, annually) and Ultimate Control ($89/month, annually). The latter includes all of the platform's functionalities.
Takeaway
Since ProofHub doesn't charge on a per-user basis, the platform brings excellent value for larger marketing teams seeking a scalable, comprehensive project management solution.
9. Monday.com: project collaboration solution best for planning and tracking tasks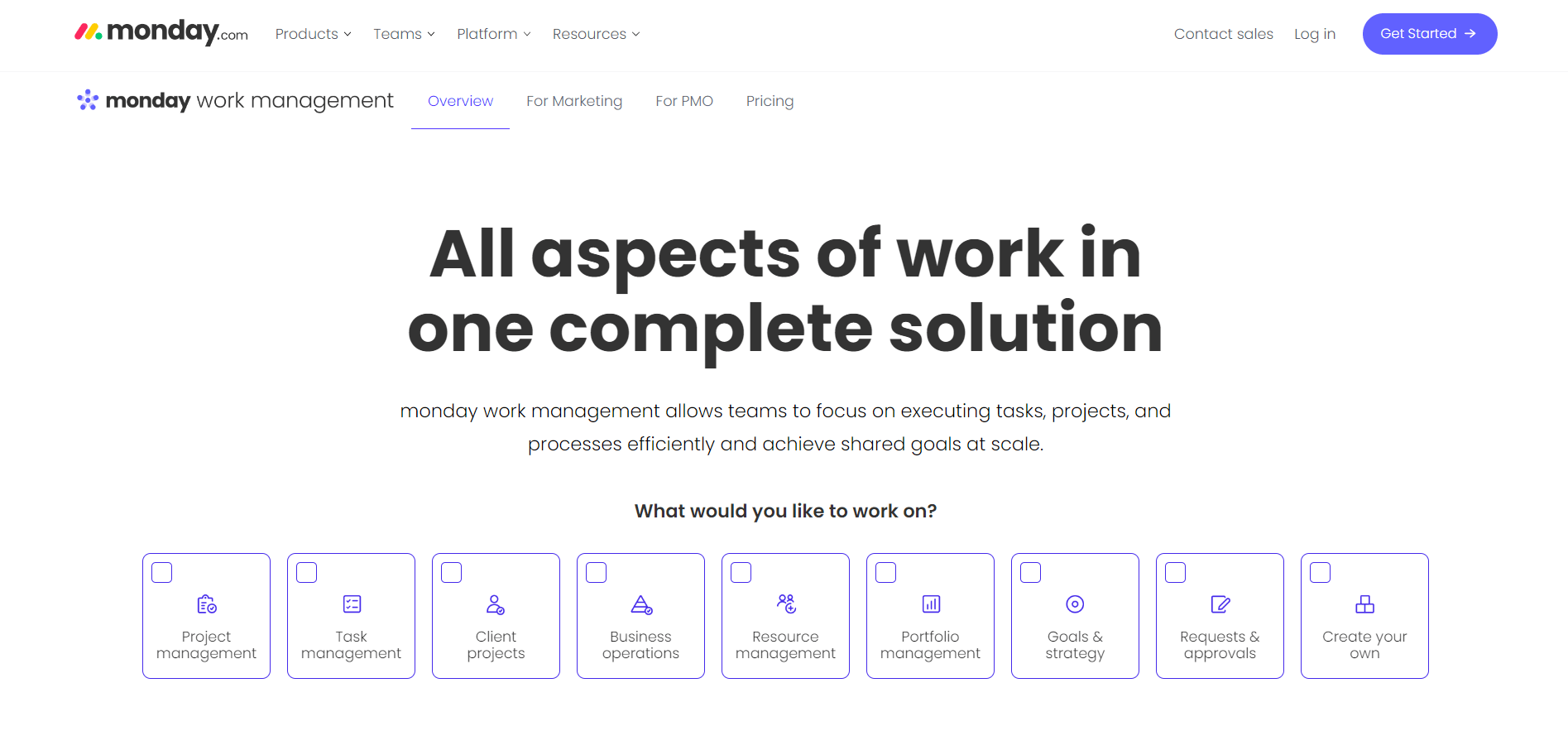 Monday Work Management, Monday.com's dedicated project management and collaboration tool, is a highly customizable solution that allows project managers to handle resource and portfolio management, proofing, and more.
As for marketing teams, this platform is useful for managing events, tracking campaigns, and managing creative assets.
Key features
Visualize projects in any way you want — be it through Gantt charts, Kanban boards, and timeline, calendar, or map views.
Access and customize a wide variety of project templates tailor-made for specific activities (campaign tracking, event planning, project roadmaps, and more).
Hold real-time brainstorming sessions with Collaborative Whiteboards. 
Drawbacks
Some key functionalities (like time tracking, automations, and workload management) are locked behind up-tier pricing plans.
The free plan is only available to two users.
Pricing
The platform offers a free version available for up to two users. Paid plans start at $8/user/month (annually).
Takeaway
Monday.com is an excellent option for small and medium-sized teams seeking a highly flexible yet affordable project collaboration software solution.
10. ClickUp: best collaboration tool for project managers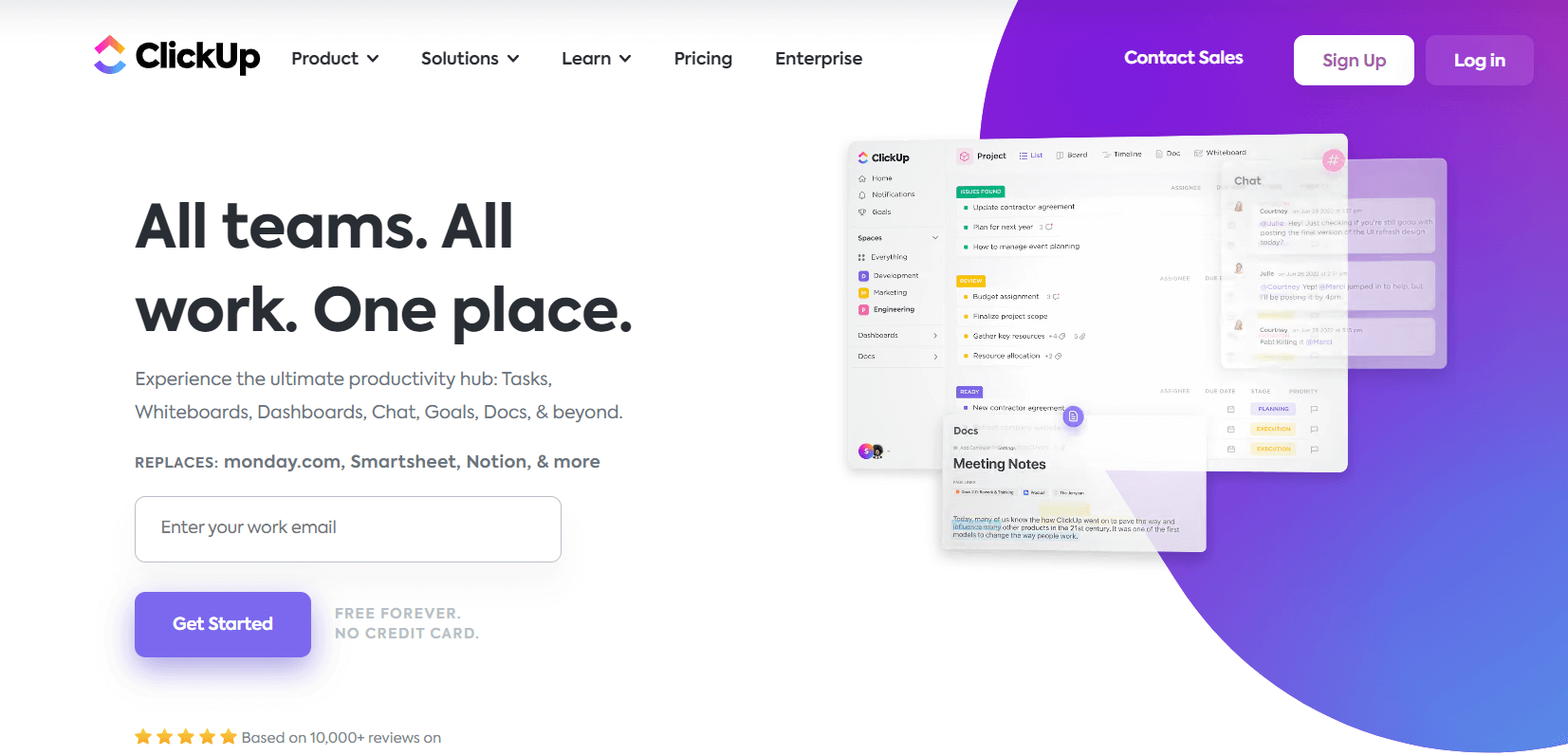 ClickUp is a comprehensive all-in-one project collaboration software built with affordability in mind. The platform brings collaboration tools, task and resource management, as well as in-depth analytics, all under one roof.
ClickUp is also designed to suit various working styles. It covers 15+ project views (Gantt, map, timeline, list, box views, and much more) and is highly customizable.
Additionally, the platform includes Agile reporting, spring management, and issue tracking — ideal for product development teams.
Key features
Use Mind Maps to visually plan projects. Draw logical paths between tasks and easily create, edit, or delete tasks directly within the dashboard.
Get a bird's eye view of all of your projects with the platform's portfolio management. Easily monitor progress and prioritize activities based on your objective.
See each team member's day-by-day workload capacity and use that information to set accurate time estimates and gauge whether you're on track with achieving milestones.
Drawbacks
Due to the large selection of functionalities and customization options, ClickUp may take a while to get used to.
Users report occasional performance issues.
Pricing
ClickUp offers a free version available to unlimited users. Paid plans start at $5/user/month.
Takeaway
ClickUp is among the best project management collaborative tools for those seeking a highly customizable and in-depth platform at an affordable price.
Wrap up
And there you have it — the ten best project collaboration tools currently available. Keep in mind that there's no one-size-fits-all solution.
For instance, some emphasize project management. Others aim to improve productivity and enhance the creative process by allowing teams to store media assets, craft content, leave feedback, set up approval processes, and publish content within the same platform — just like Planable.
Speaking of which, be sure to give it a shot! You get access to all of the platform's features and can schedule up to 50 posts – try it for free!