Google reviews play a significant part in getting noticed by potential customers. Did you know 76% of customers rely on online reviews before buying?
That is why businesses actively seek, manage, and respond to online reviews. The more Google reviews a business has, the stronger its online reputation and the more customers they attract. But getting more Google reviews can be challenging – especially in an overcrowded digital landscape.
So how do you get more Google reviews, and why are they so important for local businesses? This article will guide you through everything you need to know about the Google review platform. This includes how Google review works, ways to get more reviews, and creating and scheduling Google My Business posts to attract more customers.
What are Google reviews?
Google reviews are a feature of the Google My Business tool. GMB is a free tool that allows businesses to list their location, opening hours, and company information on Google. These listings appear in search results and maps.
Google My Business allows users to interact with any local business by asking questions and leaving reviews. These interactions can influence potential customers' purchasing decisions by building or damaging the business's reputation. The greater the number of positive reviews, the more credible the business appears.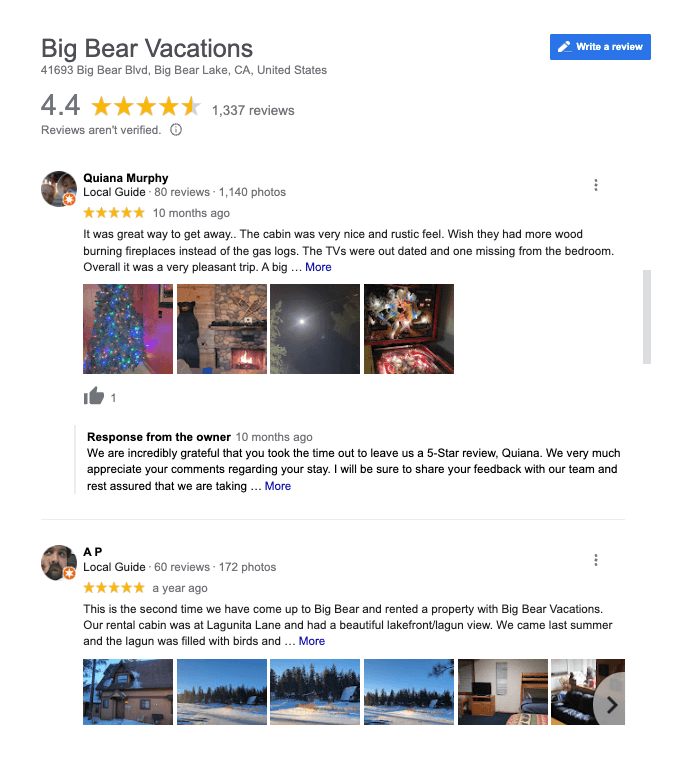 How do Google reviews work?
Anyone can leave reviews and comments on a Google business listing with a Google account. To leave a Google review, a user must find the business listing on Google, click "write a review", and leave a star rating along with a short comment.
Find the business on Google search or maps.

Click Write A Review (this will take you to the Google reviews page if already logged in).

Choose a star rating.

Write a short comment.

Click submit.
Where do Google reviews appear?
When the user leaves a review, it appears on the business's listing review section. The review shows up in a couple of places on Google:
When a user searches for a business or service in their location, they will likely see a local pack or map pack in the results just below the Google search bar. 
A map pack is a small map with at least three businesses listed underneath that relate to the search query. You can see each business's name, location, and review star rating.
Because this map pack is shown directly in Google search results, anyone can see it.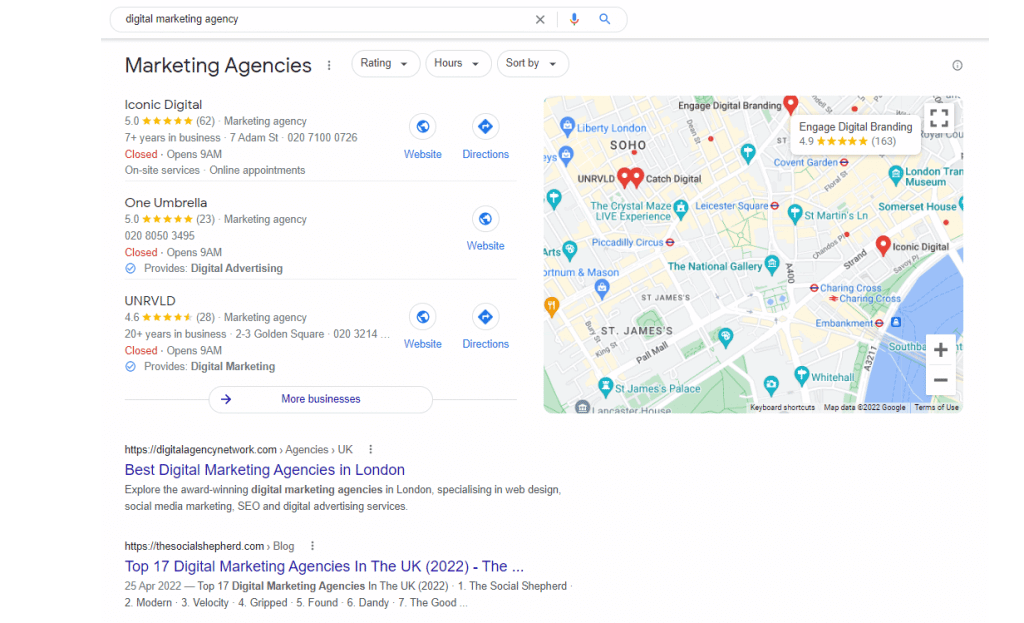 Clicking on the local map pack will take you to Google maps. However, businesses can be found in maps directly, either in a web browser or an open Google Maps mobile app.
As its name suggests, Google Maps is a GPS map for walking, biking, and driving. In 2021, Google Maps reported more than 1 billion active monthly users. 
If you have a business listing in Google, you can appear in front of those 1 billion users, location depending. Your Google Maps listing will display your business name, location, opening hours, images, and existing reviews for relevant local searches.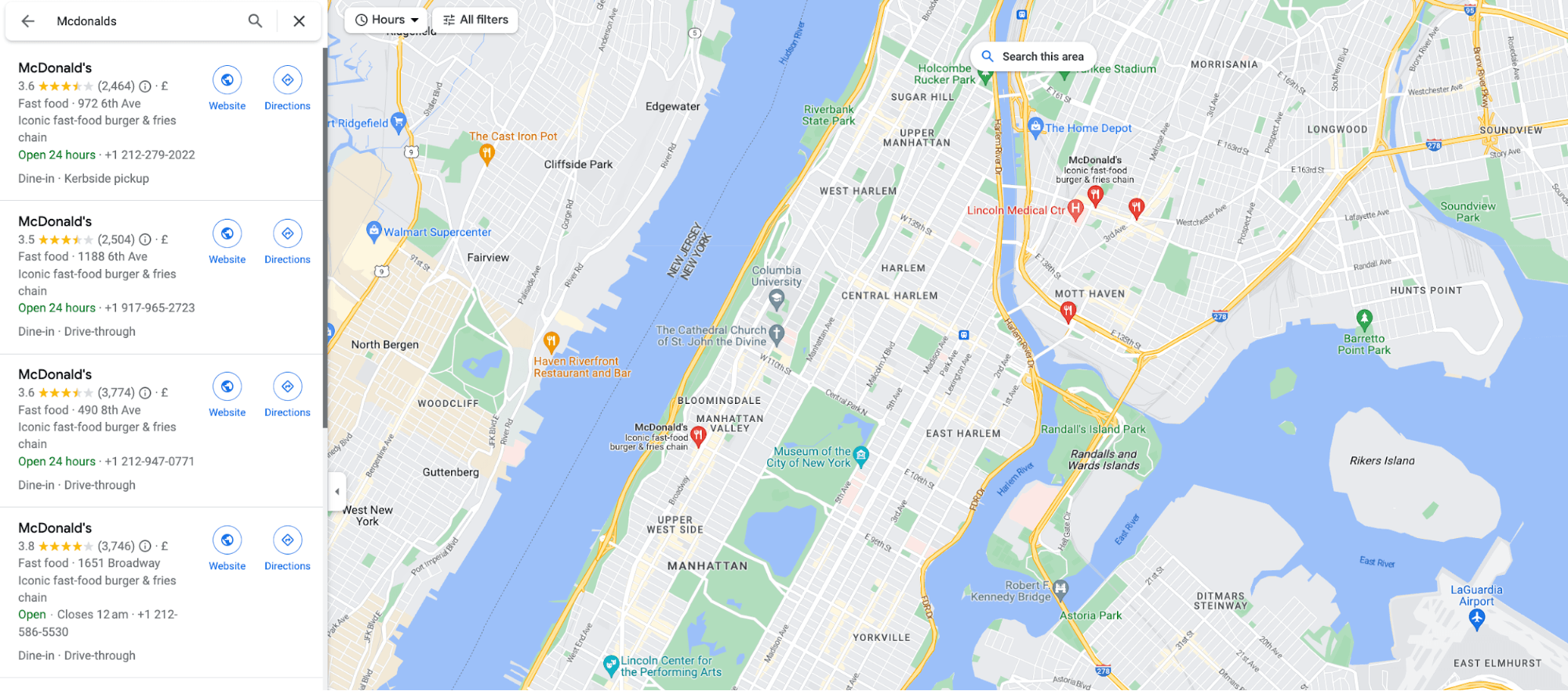 Why are Google reviews so important?
Whether your Google business listing appears as a map pack in a search result or maps, it will appear with a star rating. This star rating is based on your total review rating, which can have multiple benefits for your brand:
Increased visibility
Did you know that Google reviews are a ranking factor? Businesses with more Google reviews are generally more likely to rank higher in search results than those without reviews. So having Google reviews on your profile could increase online visibility and traffic, leading to more sales.
Trust in your brand
The sentiment of your reviews can help to build and solidify your business' reputation. More positive reviews can add social proof and an element of trust in your brand.
Competitive edge
The online space is very competitive, with companies fighting for visibility. If a business gains visibility but has no reviews, customers may be less likely to trust them and, therefore, less likely to click. If your business page has reviews, you may have a competitive advantage over competitors who don't have reviews.
Customer engagement
Reviews give businesses a direct line of communication with existing customers. You can respond and communicate with your customers directly, giving you the perfect chance to build relationships. Communicating with your customers this way can also give you insight into aspects of your business that you can improve on.
Free marketing
Google My Business is a free tool allowing you to collect and display reviews. These reviews can be shared not only on Google but on social media and on your website by embedding Google reviews with a Google reviews widget. This makes Google reviews essential as you can share their benefits across multiple marketing channels.
Why should you try to get more Google reviews?
Not only can your business reviews offer benefits for existing customers, but they can also help future customers. Positive reviews add trust for potential customers who may not have heard of your brand. And the more reviews you have, the more benefits they could have for your soon-to-be customers.
Getting Google reviews: step by step process
In just a few steps, you can encourage customers to leave Google reviews for your business. These reviews can help to build your online reputation and attract more customers.
1. Setup Google My Business account and verify your business
If you haven't already, you will need to have a Google business account. Without a Google My Business (GMB) account, you cannot create a business listing, appear in searches or gather Google reviews.
First, you have to verify your connection to the business, which can be done online or by post. Google has a comprehensive guide about setting up a Google My Business listing.
Once verified, you can upload information about your business, including opening hours, address, history, images, website links, and more with your GMB account.
2. Optimize your Google Business Profile
To stand the best chance of appearing when users search in Google, you will need to ensure that the information you upload about your business is optimized. This means it's updated regularly and as relevant to user searches as possible.
Google suggests that businesses should ensure the "business information in Business Profile is accurate, complete, and engaging…to maximize how often users find your business in local search results."
For example, if your opening hours change for a national holiday, you should make sure that your business listing reflects the difference in hours.
3. Publish consistently
You can publish posts to your Google business profile similarly to social media posts. These posts help to keep customers updated. So opening hours, sales, and other messages can be published to your business listing in the same way that you would publish updates to your social media pages.
To publish a post on your Google My Business page, you need to:
Log in to your Google My Business account.

Click on Posts.

Choose the type of post you want to create.

Upload an image and add a caption for your post.

Click 'preview' and then 'publish' your post.
Or you can schedule your Google My Business posts in advance with Planable. 
Scheduling posts in advance will help you publish consistently without the added time and stress of logging in and manually posting every day. 
If you're planning to invest more time and effort into your GMB strategy, you might wanna look into some Google My Business tools. Having a set of the right tools will help you cover not only content scheduling, but everything from monitoring reviews to analytics.
However, be aware that any Google My Business posts need to be approved by Google. Once you publish a GMB post, it will go through a review process before being published.
4. Ask for online reviews
Once your Google My Business listing is set up and optimized, it's the perfect time to start asking for Google customer reviews. This can be as straightforward as reaching out to get existing customer feedback via email, text, or in person. 
However, getting more Google business reviews can be challenging as not every customer you ask for a review will leave one.
Google strongly discourages incentivizing and buying Google reviews. Instead, they encourage businesses to add to existing Google reviews by:
Identifying existing customers

– via data capture online or in-store.

Saying thank you

– harnessing your customer relationships by expressing gratitude for their custom.

Asking for a review

– politely but directly ask if your customer would write a Google review to tell others about their experience. Consider personalizing review requests if your customer base is small enough to mention specific details to each request.

Providing a clear Google review lin

k – make it as easy as possible for a customer to go straight to your Google business reviews page with a direct Google review link. This can either be a hyperlink in a line of text or a QR code that users can scan to follow a Google review link.
By following these steps rather than pressuring or incentivizing, you are more likely to extend a positive customer experience and gain positive Google reviews.
5. Promote your business with the Google Marketing Kit
To help you get more Google reviews, Google offers a free toolkit to help businesses. The toolkit includes free downloads, like QR codes, Google review snippets, posters, and business post ideas.
To access the resources from Google's Marketing Kit, all you need to do is:
Visit

Google's Marketing Kit page

.

Enter the name of your business in the search bar.

Click your business in the results.

Download and/or customize the materials: social media posts, posters, business cards and postcards.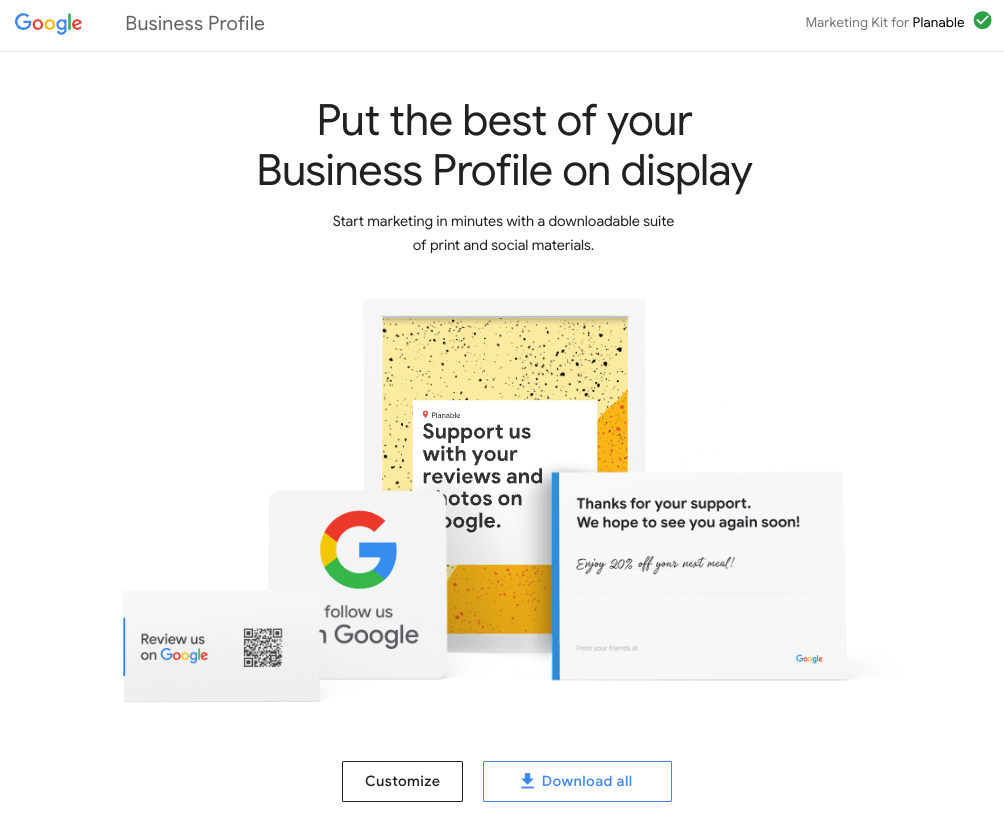 Managing Google reviews
As your business listing gets more google reviews, it's a good idea to manage them. This means replying to reviews, whether good or bad, flagging any inappropriate reviews, and taking customer feedback onboard to improve how your business operates.
How to reply to good & bad reviews
Replying to reviews is an opportunity for your business to interact with your customers. So whether the Google review is positive or negative, you should reply to engage with existing and potential customers.
Replying to a positive review can be easier by thanking the customer for their visit. But a more personal reply can keep the customer engaged, making them more likely to shop again. For example, you can try to pick out key moments of their visit in your response to add a personal touch. Perhaps they visited your store with a dog or called your business to request a special order.
Replying to a negative Google review in a positive way can be more challenging. It can be tempting to challenge or deny the bad comments; however, acknowledging mistakes and offering solutions can lead to better outcomes.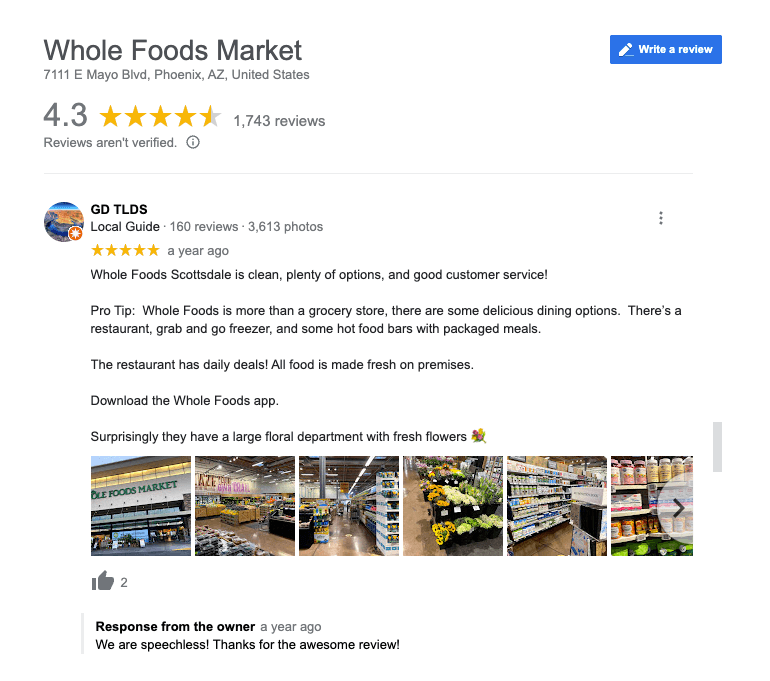 Respond to good and bad reviews promptly.

Keep responses short and friendly.

Don't get personal with rebuttals.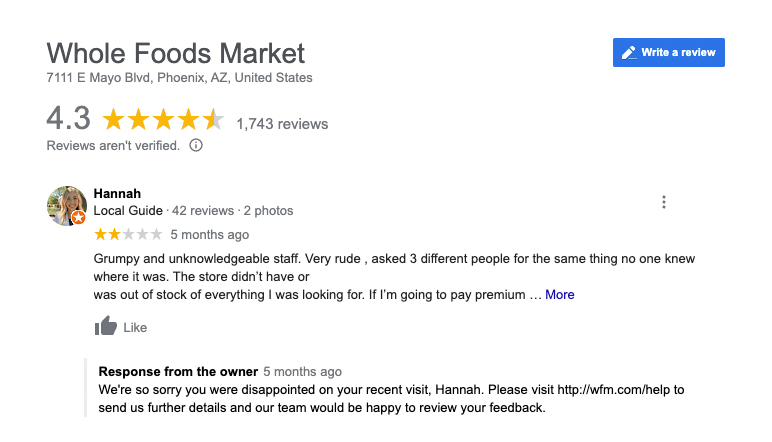 How to reply to a Google review
To respond to a review, you need to be logged into Google My Business. From there you need to:
Click on the "Reviews".

Find the review you want to respond to.

Click "View and reply".

Write your response in the text box.

Click "Post reply" to publish your response.
How to remove a Google review
If a review is derogatory, inappropriate, or violates the Google review policy, then you can request that it is removed.
To do this, you will need to:
Navigate to the review you want to report

Make sure you are signed in

Click on the review

Click on the three dots in the top right corner of the review

Select "Flag as inappropriate"

Follow the instructions
However, you are not able to remove a review just because it is negative. For more guidance on what type of Google reviews can be removed, read Google's support guide on how to remove a Google review.
Get more Google reviews FAQs
Can you buy Google reviews?
Google strongly discourages businesses to buy fake reviews. Genuine reviews are much more effective in building your business's reputation than fake ones.
Should I reply to negative reviews?
Absolutely! New customers will see that you take feedback seriously and are willing to make things right when mistakes happen.
How do I encourage customers to leave a review?
To get more Google reviews, simply send your customers a direct link to your GMB page and ask them to share their thoughts.
Ready to gain more Google reviews?
Google reviews are a free tool for businesses that can help build your reputation and your customer base. That is why it is so important to actively ask for reviews, which can be a simple process with help from Google's free toolkit.
Although not all your reviews will be positive, how you manage and respond to reviews can mean that a negative review can have a positive impact. Responding promptly with a friendly comment can help to build trust with existing and prospective customers. Being able to embed Google reviews to your website makes Google reviews matter even more as you can share their benefits across multiple marketing channels.
However, managing your Google reviews and associated Google My Business listing can be time-consuming. It's important to understand all of the options you have at your disposal. One of these options is Planable, which can help you to publish posts consistently by scheduling them ahead of time.