The average institution spends between $429 and $623 on marketing for each enrolled student. Social media in higher education is the most efficient and effective way of using these marketing dollars. Globally, 4.9 billion people use social media (around 58% of the total world population), and this number is steadily climbing.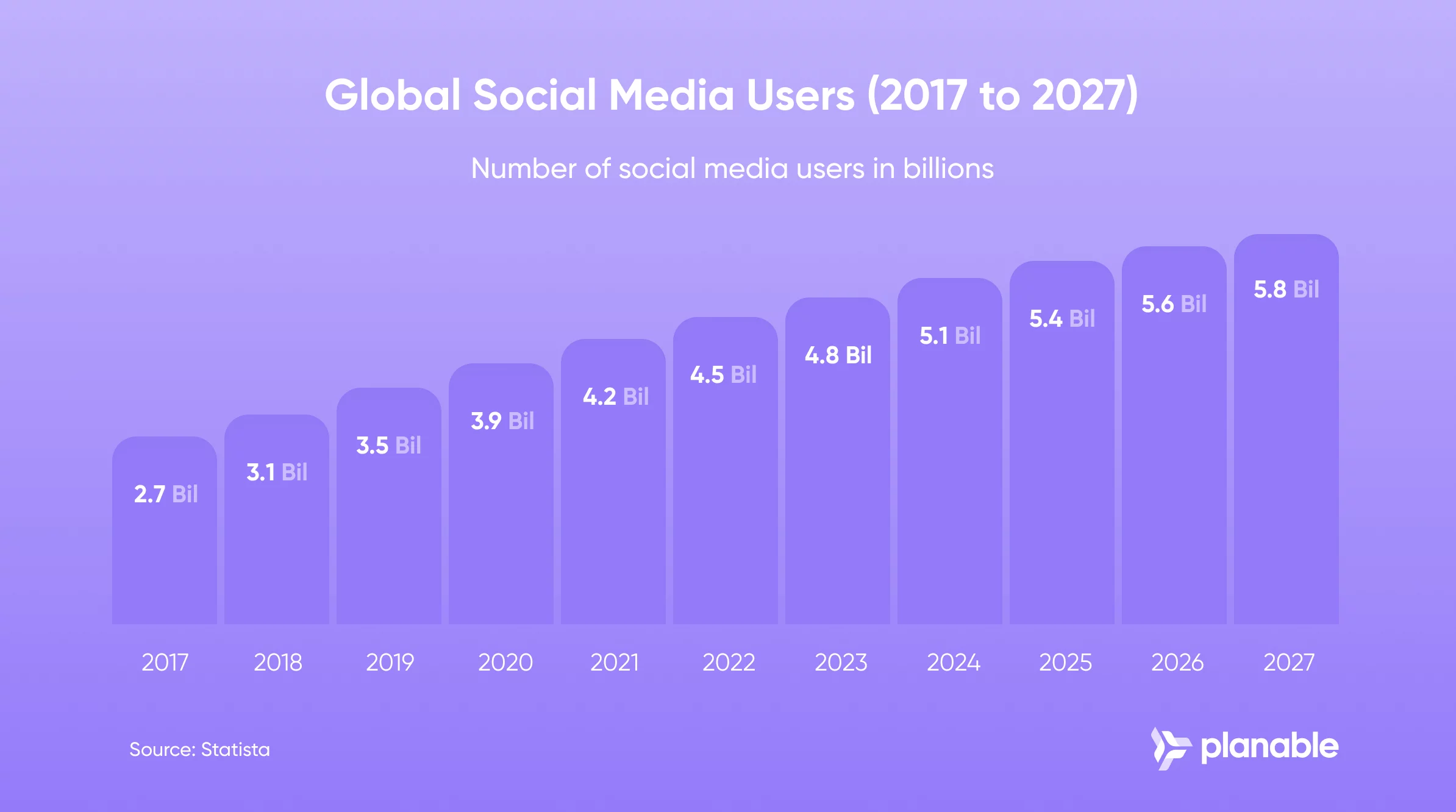 From admission queries to sharing campus life and #studentproblems, social media platforms have helped provide an insight that different platforms have been unable to match.
Imagine, being able to lure in prospective students through fun TikTok videos highlighting student life or Instagram Live sessions answering admitted students' burning questions.
In this fast-paced world, digital natives have come to avoid human interaction and automate processes as much as possible. Using social media in higher education provides just that: improved enrolment procedures, limitation of unnecessary human interaction, and better communication between the student body and the institute.
Let's discuss the many advantages and challenges of using social media marketing in higher education institutions.
6 advantages of social media marketing in higher education
Your target audience (gen Z) uses social media for an average 4 hours every single day. Institutes that take advantage of this and meet prospective students where they hang out the most – i.e., social media platforms – are seeing excellent results.
Let's discuss the advantages and opportunities that you can get by having a strong social media strategy:
1. Engage with potential students
With 4,360 higher education institutions in the U.S, competition is tough. Everyone wants the crème de la crème.
The best way to lure the best students to your institute is by engaging with them on social media platforms – creating content that is the right mix of fun + informative, engaging with potential students in the comment section, and showing your institute in the best light.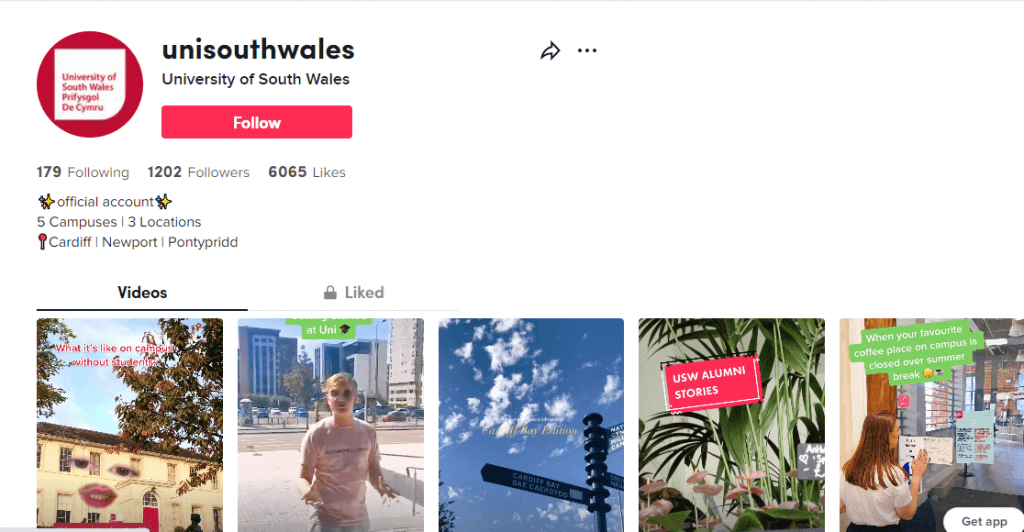 Your social media accounts represent you, and it is highly imperative to send an accurate picture forward.
Remember that your social media accounts are an extension of your institute. Take care not to post anything that goes against your brand or is not aligned with community members' values.
2. Keep current students engaged
Social media channels can also be an extension of the college bulletin board.
You can engage your current students by keeping them up to date with all the upcoming events, news, achievements, and anything else related to them and your college.
Got a cool party coming up? Put up a reminder post on Facebook and create a Facebook events page for it.
Got exams? Schedule a TikTok video with top tips to ace exams.
Event went great? Tweet a post-event group picture!
Students from @IBSBFSU joined our Vice-Chancellor and their lecturers to mark the Lunar New Year 🧧

More than 30 students attended the event at Keele Hall, to share their experiences about living and studying in the UK and celebrate the partnership between the two universities. pic.twitter.com/4NSVuvwDMY

— Keele University (@KeeleUniversity) January 27, 2023
3. Keep students' parents up to date
Another significant advantage of using a strong social media marketing strategy in higher education is that you can keep your students' parents up to date with whatever is happening at the university. They will get accurate and reliable information directly from the university's social accounts, so they do not have to worry about its credibility.
4. Boost participation at live events
Wellness day. Seminars. Fall picnic. Annual Reception.
As a college, chances are you host a lot of campus activities. One of your biggest goals? To get the maximum number of people to show up to these events.
Social media helps you boost participation at events. You can start creating a series of event teaser posts leading up to the event to intrigue fellow students, you can create an event page on Facebook to know how many people are planning to show up, and you can post reminders on social media on the event day to prompt maximum turnout.
5. Build a community
A strong community brings with it a sense of belonging. As a higher education institution, your job is to cultivate that. Build a social media community that students, long after they've graduated, still want to associate themselves with and be a part of.
One of the ways you can do it is by creating social media groups. Management, teachers, current students, and alums can all join these groups. Students can post queries. People can discuss job opportunities, students can conduct various polls, and even share inside jokes – all these things act as a binding force as they are shared by the members equally.
And so, communities are formed, and new audiences are reached.
6. Cultivate brand ambassadors
Gen Z is big on the opinions of their friends and family. 86% of Gen Z reads reviews before making a first-time purchase – this includes colleges, too.
Having a strong social media strategy and presence can cultivate brand ambassadors.
Conducting social media contests, creating hashtag-based social campaigns, and running user-generated content campaigns are all excellent ways of creating brand ambassadors for your higher education institution.
Make sure people have a pleasant and enjoyable experience at the institute so that they spread positive word of mouth. Having the university's brand on the alumni and current students' profiles is another way they can market your institute and act as your brand ambassadors.
Why is social media presence critical in higher education?
Only 1% of college freshers say they don't use social media platforms.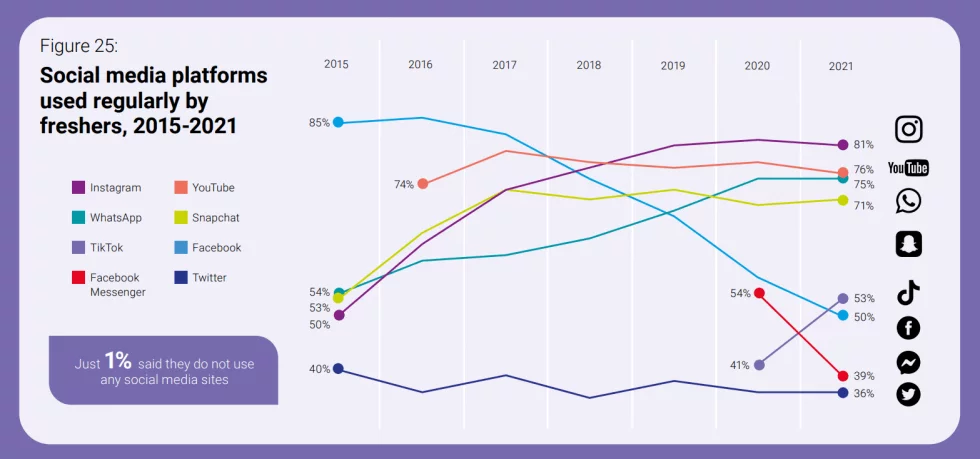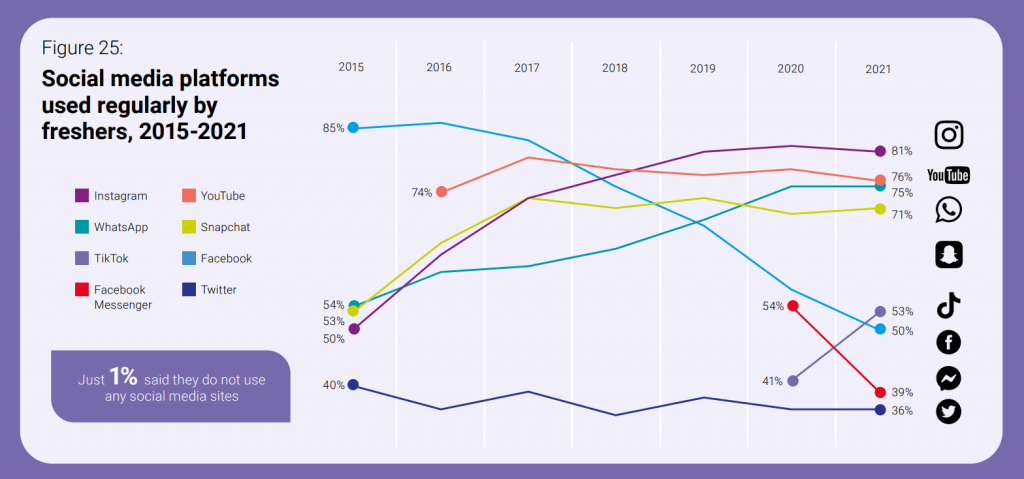 The Internet and social media have changed how things are done, and traditional practices are not enough anymore. People are directly connected in a way that was impossible before. Social media marketing has also revolutionized student recruitment processes. Platforms like Facebook and Twitter have become critical in helping students choose their colleges.
Studies show that over 95% of institutions are now using a social media marketing strategy to reach students, compared to less than 60% five years ago. 
Learning, too, has been shaped and molded into a different form by social media. Instead of traditional classrooms, we now enjoy online learning. Take, for example, the content on Southern New Hampshire Univesity's Instagram account:
View this post on Instagram
In short, social media has become a vital part of higher ed institutes.
8 ways higher education institutions can use social media
From recruitment processes to campus tours, higher education institutes can use social platforms in various ways.
Let's learn how you can create a strong social media strategy for your institute.
1. Post student feedback and testimonials
Testimonials are vital for attracting new students and convincing them your college offers the best education (and parties) than the rest.
Feature current students and graduates in your posts and ask them to say a few (positive!) words about your institute.
Some prompts you can use for your social media video content:
Describe your college experience in one word.
If you could go back to freshman year, what would you do differently?
What were some of the high points of your journey in this institute?
Which course/subject did you enjoy the most?
If you could give one piece of advice to current and prospective students, what would it be?
2. Make tutorial content on educational topics
What better way to use social media than to educate your current and prospective students?
Educational and informative content does really well on social media. And as 51% of Americansuse social media with the intention of learning, the best way to market your institute online is by making short but fun, informative content on social media.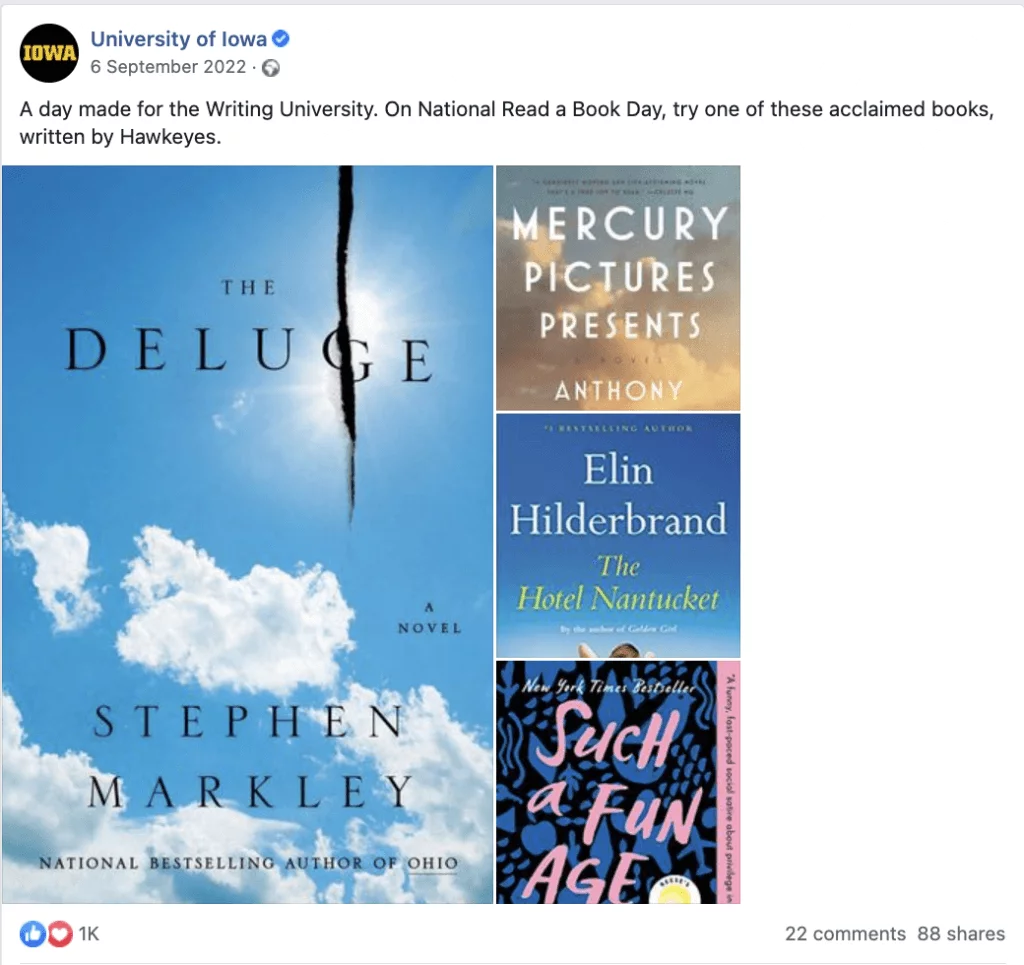 Use a mix of both, static and video content, to engage your audience.
3. Conduct live sessions with career counselors
Students will go to their trusted network to get information before they develop a relationship with someone in student affairs or the career office,
says Christine Cruzvergara, the director of Wellesley College's career-education office.
Today, that trusted network is social media.
Since 50% of current students often speak with faculty or staff about their future careers, offering career counseling Live sessions on social media can give you an edge over other institutes.
Combine career counseling sessions with Instagram and Facebook Live sessions, and you've got a powerful combo.
Live sessions also get higher social engagement rates than regular videos. The average viewer spends around25.4 minutes watching live video per viewing session, compared to around 19 minutes watching video on demand.
Career counselors, alumni, heads of departments, and other faculty members can pitch in with Live counseling sessions. Encourage students to ask questions in real-time, and hosts can answer those questions during the session. Social media takeovers are an excellent idea, too.
Tip: You can also record the session and use it to create multiple short videos for social media.
4. Create Facebook groups for students to discuss problems
Facebook groups not only build a community and give a sense of belonging to the students, but can also work as a sounding board for students and teachers.
Students can post their queries and discuss problems they may be facing, and the people work towards solving the issue as one community. You can also create campus exclusive events on Facebook via your group, invite all members directly, schedule group posts in advance, and boost social engagement for the event, as well.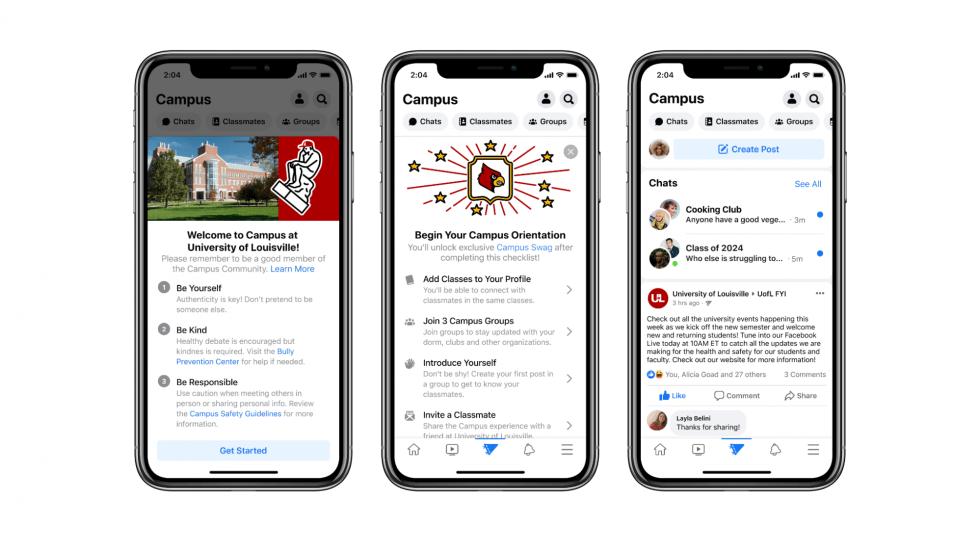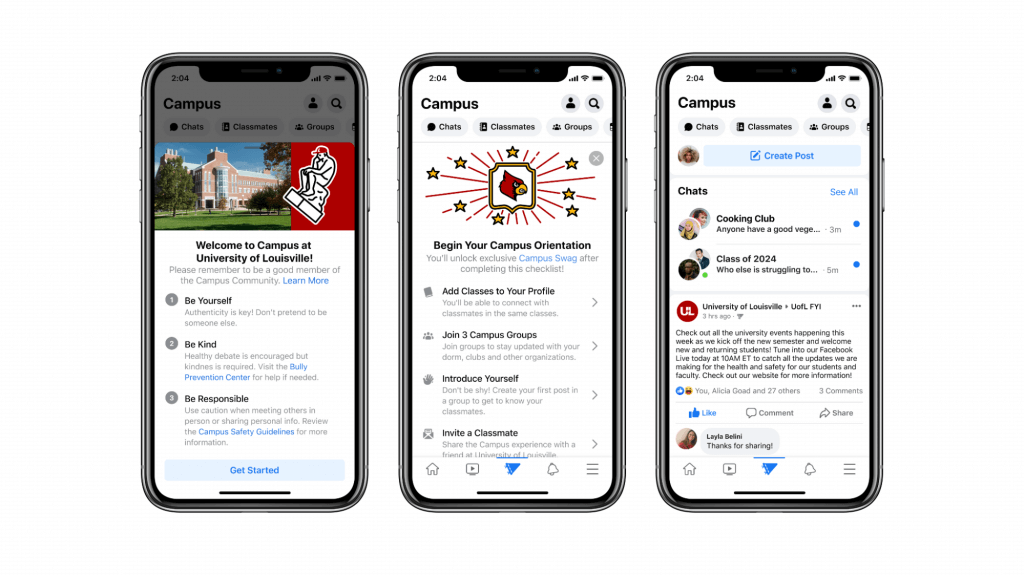 5. Make videos of students having fun in a little behind-the-scenes activity
Let's face it – nobody joins a college just for the education. Parties, winter festivals, sporting events, grad week, nature tours, educational talks, and even just volunteering at local charities with friends are all part of the great college experience.
And you need to show exactly that through your social media efforts.
Not only does it display a fun side of your institute, but it also gets more student engagement and higher vanity metrics than other types of content.
Here's a great example and a breakdown of key social media analytics of Georgia Institute's post!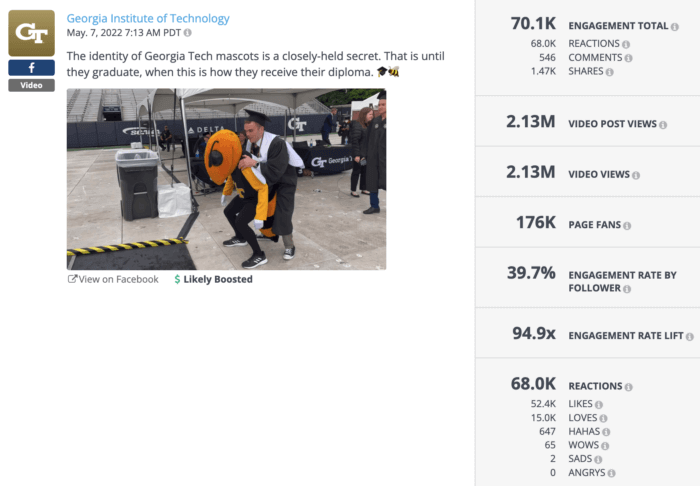 Entice high school students with video snippets of students having a blast on campus. Intrigue prospective students with teasers of events happening soon. Excite followers with a post of all the fun activities happening in the current year they can look forward to.
You can also do social media takeovers with students and have them shoot their shenanigans in real-time.
6. Share important updates via Twitter
Twitter can serve as a great digital bulletin board for your institute. Inform students of important updates about your institute directly via Twitter.
The marks for the first Twitter event for #HKR1000 081 have been posted! Great work! If you received a lower mark, I have details in the feedback explaining why.

Remember, your accounts must be linked (details on D2L) and the # must be used in EVERY tweet to receive credit.

— Laura Squires (@MUNles162) October 22, 2021
7. Conduct online seminars with experts
The pandemic and the increasing use of social media have made virtual conferences and online seminars staggeringly popular. Institutes can leverage this by conducting virtual educational seminars on their social media profiles and engaging students through it.
Start recruiting experts and influencers and host online seminars, speeches, and educational conferences. Ask students to join in. You can also make admission mandatory so that everyone attends. Moreover, as the need to be physically present is omitted, you can now arrange sessions with people from different countries and promote cross-border learning, as well.
8. Help students network
Where networking in real life may have been hard previously, social media has made it tremendously easier. Almost all social media platforms allow you to add your place of study to your profile. This tool allows college students to form networks and get to know people of similar backgrounds.
College students can build industry partnerships to help them advance in their careers.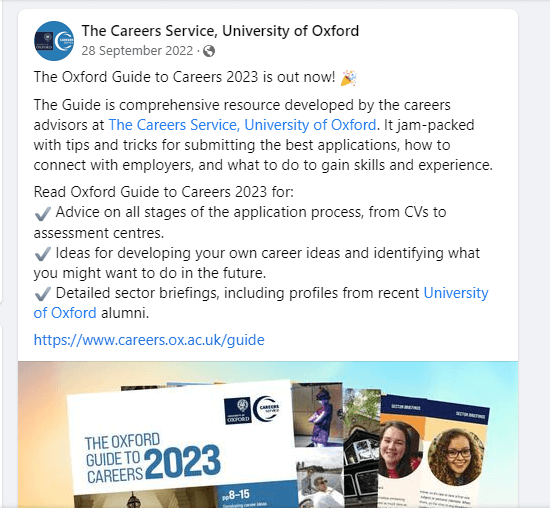 How can you help students network via your social channels?
Create social media posts asking your followers to introduce themselves.
Conduct virtual ice-breaker activities on your social media groups.
Engage with fellow students on Twitter.
Ask alumni to host Q and A sessions on your official profile.
5 challenges of social media in higher education
Where social media marketing offers a ton of advantages for higher education, it also has its own set of challenges.
Let's look at a few and also explore ways of tackling them.
Collaborating across the institution's departments
Everyone has access to social media, and while that is beneficial, it can make collaborating across different departments quite challenging.
Solution?
Use social media tools that allow for collaboration, such as Planable. Planable also offers features that allow you to share links with external collaborators like heads of departments, the dean of the college, and even the alumni. This allows you to ensure every post is perfect and has approval from all collaborators before posting it on social media.
Also, train employees to work efficiently. Encourage them to ask for feedback from the team and mark the feedback as resolved as soon as it is done so that the resources can then focus on other tasks.
Keeping an organized social media calendar
Too many cooks spoil the broth – and too many collaborators spoil the calendar.
With lots of collaborators, keeping an organized social media calendar can be a daunting task. It can get messy, important events can be ruined if the institute is not prepared well in advance, and your social media profiles can look amateurish (which can turn students away).
Dedicating a separate team (and using social media tools like Planable) to create and update your social media calendar is the solution.
You don't need a lot of people on the team, but make sure that the person you assign the task to is well-equipped and capable of handling, designing, and organizing the social media calendar.
Here's a great example of a social media calendar you can emulate.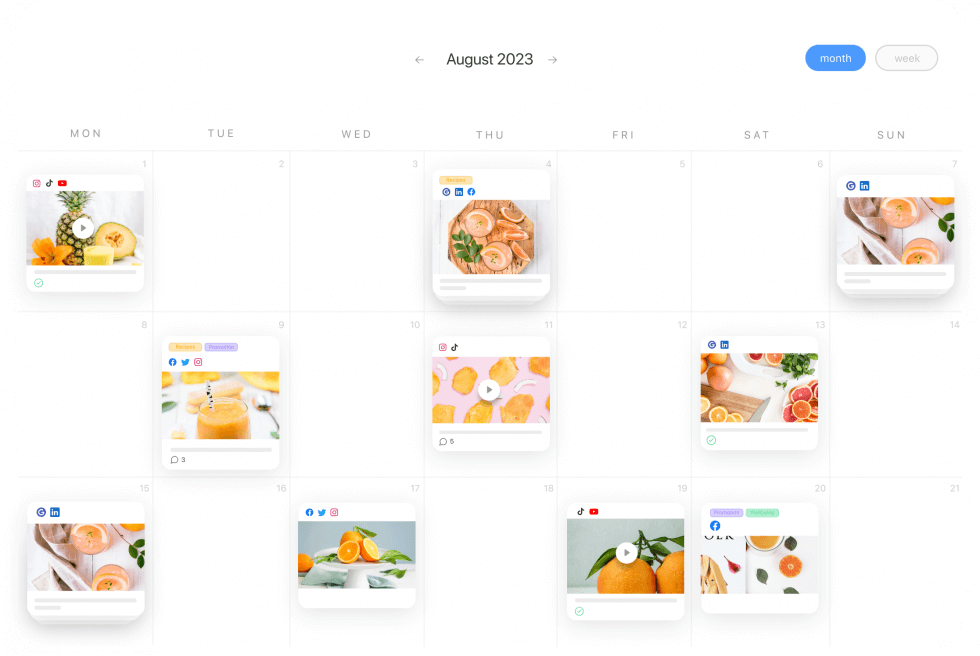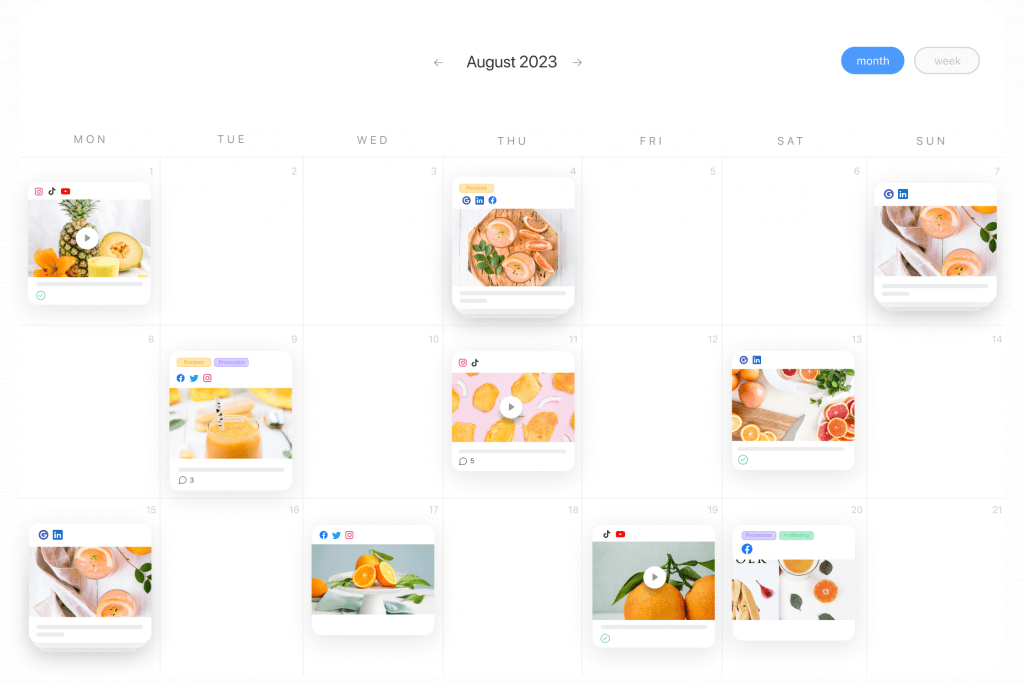 Maintaining a cohesive aesthetic
An institute needs to have an aesthetically pleasing, consistent brand image. With ever-changing trends, it takes work to maintain a cohesive aesthetic.
You can tackle this problem by thinking, planning, and designing social media posts that align with the brand image. Moreover, we can use social media tools, such as Planable, to help you create mockups so you can see exactly what your grid will look like.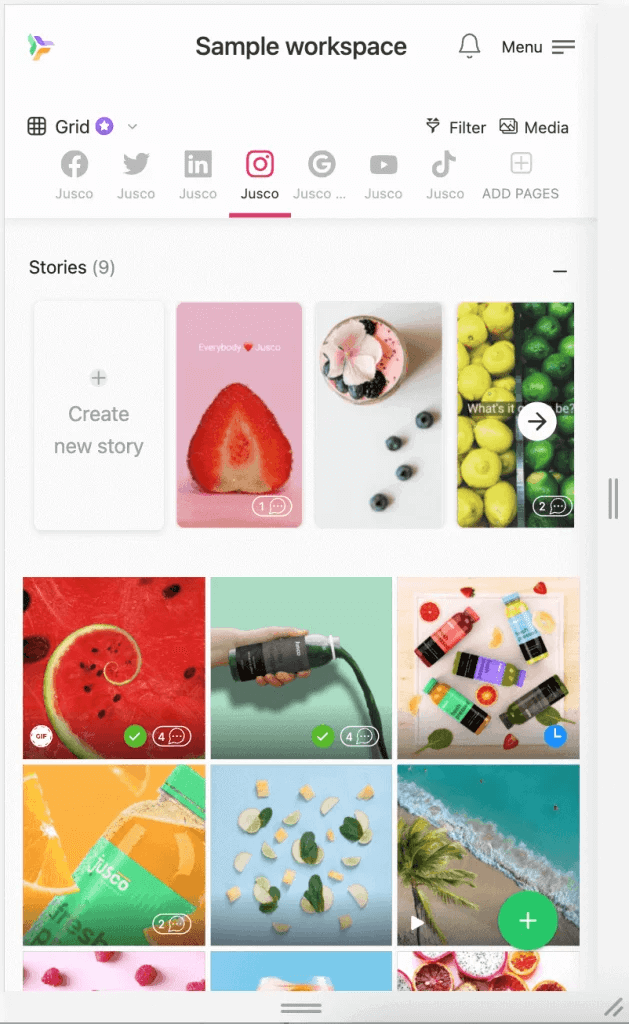 Promptly responding to queries
People want answers, and they want them fast. Failure to reply to queries quickly means customers (or students who're interested in joining your institute) are lost.
The solution?
Have automated responses for frequently asked questions,
A chatbot who can answer other queries promptly and comprehensively,
And, create a customer service team that answers students' queries on all social profiles promptly.
Keeping audiences engaged
It is a great challenge, not just for higher education institutions on social media but for pretty much everyone, to keep their target audiences engaged.
With content fatigue a real problem, institutes need to create exciting content on social media, test KPIs, and optimize their content. A tool like Planable is a huge help in planning, organizing, collaborating on, and scheduling social media posts.
Social media marketing in higher education – the good and the bad
A recent study found that 49.4% of students use social media several times daily. This number is only bound to increase in the coming days and months.
While social media marketing may seem daunting at first, especially creating a strong brand image and attracting your target audience, the right tools can help you tremendously. Start your social media journey with Planable right away! It's free!