Not leveraging the power of video marketing is a mistake in and of itself, it seems. But what happens when you need to take advantage of TikTok's video platform? You will need to invest in new tools, develop unique content, and use a TikTok scheduler to plan a winning marketing strategy. Seems like it takes a village, right? Well, it doesn't need to.
Let's see the best TikTok video ideas for epic engagement.
What Is TikTok and Why Does It Matter?
Let's start by mentioning the basics: TikTok is an app-first platform in the sense that it was created as an app and not meant for desktop use originally. That fact alone means that its target audience is well-versed with technology – and, of course, online marketing.
This social media app's focus is video content. Short-form videos were the main hit at first; at the moment, however, TikTok allows users to record videos for up to three minutes natively. That way, it aims to compete with YouTube videos. However, there is more to this effort than you know.
As mentioned above, TikTok was initially created for a generation that knows its way around any tech device and can appreciate digital marketing – so, mainly Gen Z and Millennials: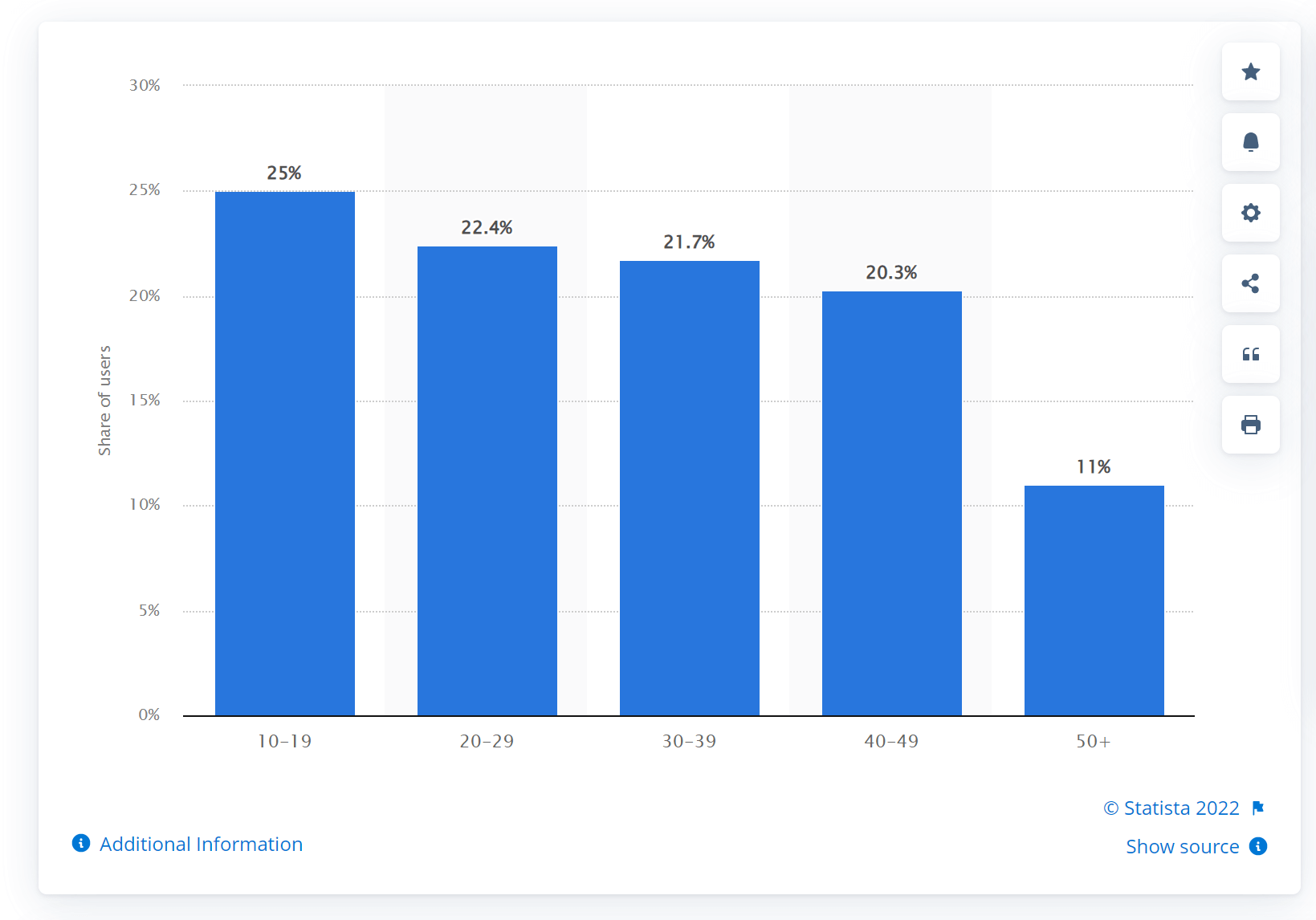 Distribution of TikTok users in the United States as of September 2021, by age group
This opens a huge window of opportunity for marketers that would like to use new digital marketing tactics to promote their business or organization on video platforms. Of course, TikTok's platform is fantastic for promoting your eCommerce marketing; however, it's not unheard of for SaaS organizations, NPOs, and even educational organizations to use TikTok as an integral part of their marketing plan.
Education Content Surprisingly Kills
Although most people think of TikTok content as being silly and kind of lowbrow, adult-themed content centered around informative educational topics can still perform extremely well. For example, many doctors have built massive audiences on TikTok over the last two years by sharing real, but highly informative content on topics such as vaping, the pandemic, and sexual health.

For example, medical doctor Danielle Jones (aka MamaDoctorJones), has gotten more than 6,000,000 views with her short videos on sexual education and health. We've used these more serious, educational video formats as inspiration for our own postings. Rather than leaning into the ridiculousness of modern culture and the latest goofy trends, we try to keep things somewhat highbrow and focused on education. For us, this has worked well.
– John Ross, Test Prep Insight
Tips for Engaging TikTok Videos
Tiktok video marketing… Sounds a lot easier than it actually is, doesn't it? The truth is that TikTok's marketing opportunities lie in the very essence of video marketing. Here's how this translates in numbers:

Before explaining the most popular tips and tricks for the best, most engaging TikTok videos, let's point something out.
TikTok managed to surpass Instagram and Facebook, mainly due to its authentic, raw content – which is something that Instagram and Facebook seemed to lack. And here's the result:

So, what are the tips to best leverage this power to your organization's advantage? And more importantly, how can you nail your TikTok marketing strategy?
What makes a good TikTok video?
TikTok users are young – too young, in fact. They crave content that is imaginative, creative, and raw as can be. Gone are the days of prim, proper, and polished marketing videos. A good TikTok video is relatable, with almost zero airbrushing. TikTok influencers are fresh, compete in dance challenges, and show their audience what they eat in a day. Their content is short, comprehensive and full of user-first value. Of course, TikTok's mysterious and brilliant algorithm helps with personalized video marketing choices – sometimes too personalized, in my experience as a user.
What's the Most Popular TikTok Video?
In 2022, Zach King's Harry Potter illusion was the most popular video on TikTok, with 2.2 billion – yes, billion – views.
Zach King's magical flight outside Hogwarts is just an optical illusion. The illusionist is merely riding on an electric skateboard, but viewers – myself included – were amazed at the trick itself. Not to mention how this hit straight into the heart of Millennial nostalgia.
When Should You Upload Videos on TikTok?
It's only normal for you to want to show your creation to your audience as soon as it's edited and ready. But there are some parameters to take into account first. The best time to upload depends on various factors, such as your type of business or even your social media calendar, but that doesn't mean that there are no staples to this.

The above numbers are not set in stone, though. Tap into your analytics and be more specific regarding posting times. They can be influenced by your audience's location, occupation, age, and gender.
Why Use TikTok for Marketing?
TikTok is a fantastic medium that allows marketers to reach larger parts of each brand's or organization's younger audience and allows for better engagement. Through memes, branded videos, and hashtags, all kinds of organizations – from eCommerce to Saas and beyond – can reach a wider chunk of their audience with a budget that is next to zero.
This is because you don't need to have followers to reach your audience – TikTok marketing allows your brand to go viral with zero followers, thanks to the mysterious algorithm mentioned above. And since we're talking about authentic videos and genuine reactions, engagement comes naturally, almost organically. The same goes for the benefits that follow, as TikTok is one of those marketing tools that bring that sought-after buzz naturally, magically even.
Should I Make My TikTok a Business Account?
This is not exactly a yes or no question, and it depends on the functions you'd like to use. Of course, business accounts have more advanced business capabilities, like automatic DMs or the ability to not be "mutuals" with someone to be able to communicate with them. You can also take advantage of social commerce, seeing as linking your store to your business account is one of the capabilities.
However, business accounts can't take advantage of all trending sounds, nor can they use the popular features like duet or stitch. So, if a full sound library and duets are what you're after to boost your engagement rates, a business account isn't for you.
17 Best TikTok Video Ideas You Can Try Today
As we said above, TikTok videos don't have to be tricky, too elaborate, or filled with edits to work. The platform's increased capabilities and TikTok's users' love for anything with an amateurish look and feel mean that your brand doesn't need advanced video marketing tools to participate in the most popular trends.
1. Share a Quick Tip
This is one of the best-converting video tips. Short TikTok videos that provide users with bite-sized knowledge have great rates. Like so:

6.7 billion views in one hashtag can boost your overall engagement and lead users to your other platforms – social or otherwise. This will ultimately help with lead generation and increase website traffic and conversion.
New Knowledge/life Hacking Videos
One of the best TikTok video formats that seem to work very well on the platform are videos surrounding new knowledge/life hacks. Many of these formats start out teasing the result to kick off the video and then reverse engineer how they got there.

It works well because it rerls the viewer in while scrolling through TikTok by showing them a teaser about something that seems almost "too good to be true," or it's intriguing to learn more. You can apply this video format to many different industries, so think through some creative tips and new knowledge that's not widely known!
– Nick Cotter, Growann
2. Answer FAQs
Here's why:

The #faq hashtag is quite popular and can establish you as an authority figure when it comes to your content and niche. An FAQ section with something as simple as the way your product works can give users more insight and, eventually, power up your conversion and serve as a great lead generation tool.
3. Do a Teaser/Sneak Peek
Especially useful for eCommerce stores and SaaS businesses, a teaser video on TikTok could give you the engagement the Hat Club got:
This will get your audience excited and waiting for your next move. Couple this action with a landing page or an expert sneak peek newsletter campaign for maximum engagement and visibility.
4. Stop Motion
There's this one TikTok video/format that I really enjoy and often use as inspiration for my own content creation. It's called "stop motion."

Stop motion is a way of animation where each frame is photographed separately, then played back in succession to create the illusion of movement. This can be done with any type of object, but I particularly enjoy using it with clay figures.

I think stop motion is so fascinating because it allows you to create worlds and characters that are completely unique. And since everything is made by hand, each creation has its own special story and charm.

There are endless possibilities when it comes to creating stop motion videos. The only limit is your imagination!
– Natalia Brzezinska, PhotoAiD
5. Use Myth-Busting for Your Niche
Another way to establish your brand as an absolute authority is myth-busting. Fact-checking has become second nature for most users, and it's only logical that myth-busting videos gain quite a bit of traction and engagement.
The secret behind this is the user's own intent. And if your brand is the one to give them the knowledge they're looking for, you'll gain their trust in no time.
6. Show Bloopers
Bloopers are not just for TV shows anymore. You could be creating a video with employee testimonials or an explainer video on how to use brand-new features. Bloopers are all part of the game, and they create a more human image for your brand – one that your audience will love, as they can relate to it.
7. Get Influencers Involved
TikTok influencers are not what you have in mind. Coming from the overly processed Instagram imagery, users have grown weary of content that is non-authentic and heavily airbrushed. TikTok influencers tend to be more on the side of the talented individual or the thought leader. Partner up with the appropriate one for your niche or one from a complementary niche.
Influencers are one of the first things that come to mind when thinking about social media, and they are skilled at driving engagement for businesses. Consider collaborating on promotional content or even a brand takeover. You'll be surprised at how much your social media engagement rate grows, traffic to your website increases, and even lead production increases while working with them.

According to research, businesses that use influencers as part of their marketing plan gain $6.50 for every dollar spent. However, one of the challenges of influencer marketing is identifying and verifying influencers that are a good fit for your company. If you work with an experienced marketing agency, they will guide you through the entire process and make executing your influencer marketing strategy a breeze.
– Dr. Frederik Lipfert, VPNCheck.org
8. Show Mistakes/Failed Results
Humans make mistakes. Human-led brands do, too. It's time for your brand to showcase its challenges, errors, and fails. You can create a TikTok series with dedicated content and show your users a less "glamorous" image of your brand. This is a great content marketing tactic to help users relate to you and keep you top-of-mind.
9. Create a Challenge (with the Dedicated Hashtag)
TikTok is gaining more and more popularity, it is thanks to its challenges. They go even more viral if accompanied by a catchy hashtag.

Organize a campaign to encourage users to create videos on a theme (related to your activity, for more consistency).

What are the ingredients of success for your challenges?

Define a goal: Generate sales? Increase brand awareness? Promoting a brand new product?
Simplify the challenge: the challenges should not require a particular skill. Everyone should be able to participate!
Make the challenge fun: users must want to try the adventure.
– Ilija Sekulov, Mailbutler
10. Show Off Your Dance Moves
This goes especially for eCommerce brands that want to show the flexibility of their clothes and products. Showing off what your products look like on a moving "model" can give users a better idea of what they should expect to see upon purchase. Just see what Boohoo did:
A TikTok influencer and a branded hashtag later, Boohoo's views exploded:

Branded Hashtag Challenge
The Branded Hashtag Challenge has been designed to fit with TikTok's user-generated content and engages your audience by encouraging the co-creation of content. It increases viewership and allows users to promote your brand for you. The format is broken down into three placements in the app. First, you have standard video ads appearing in the In-Feed placements, which can encourage TikTok users be part of the challenge. 

Next, there is a featured banner on the Discover Page, which (third) directs traffic to the Hashtag Challenge Page, which is the main hub for the challenge. Videos from all over the world that are submitted for the challenge are shown here. You are now being seen by potentially millions of viewers.
– Ouriel Lemmel, WinIt
11. Share Industry-Related Information
This would work beautifully for SaaS businesses, as it's one of the things that can turn a small brand into a thought leader. Share industry-related tidbits and secrets that could save the day during a type of crisis. This is especially useful if you're planning to start a blog and want to gather a larger audience first.
12. Share a Mind-Blowing Fact
Look how well the mindblowing hashtag does on TikTok:

It doesn't have to be too specific. Just ensure that you've got the authority to talk about this little-known or mind-blowing fact. Encourage your audience to stitch your content with one #mindblowing fact of their own to reach their followers and audience as well.
13. Create a Vlog
Much like a blog, a vlog is a great space to share tidbits from your everyday life and thoughts that could seemingly be random but have something to do with your product. A "What we do in a day in [your brand's name]" could be a fantastic way to attract more potential viewers who will get inside info on how your brand operates and what your brand's culture is like.
14. Try The Tiktok-exclusive Hashtag Challenge
An oldie but goodie, the TikTok-exclusive hashtag challenge is one such format that makes it easy to create, discover, and share great content, boasting an average engagement rate of 8.5% and inspiring some of the most unforgettable TikTok videos to date. Thanks to hashtag challenges, no matter how simple or ridiculous the challenge, when executed strategically, brands are gaining followers, customers, and free high-performing ads than they know what to do with.   

TikTok is a breath of fresh air in the world of social media where brands have essentially come to accept that to play in the game, they must pay in marketing dollars. Thanks to TikTok's never-ending rollout of content creation tools, formats, and trends, brands and consumers alike have no shortage of inspiration or incentive to create content that's so authentic and engaging, it's practically contagious.

– Greg Gillman, MuteSix
15. Share Something to Laugh About
It doesn't have to be failed attempts. It just has to be funny, unedited, relateable content. A bad joke, a funny fact, or even a TikTok challenge gone wrong, all can be your "Something to laugh about". And all of them can boost customer loyalty down the line and turn you into your audience's new favorite brand.
16. Do a Q&A
"Question and Answer" is a TikTok format used to respond to followers' questions and tell people about your product or service. These videos are usually no longer than 10 seconds long, making it as easy as possible for users to digest your content all at once. The format allows you to engage with your audience directly, which encourages further participation from others.

Here's how it works: first, find an interesting comment that constitutes a video response. In particular, look out for feedback or questions that keep cropping up around your business. This is an opportunity to address your audience's objections, thoughts, and suggestions, and to show them that you're listening. Once you've found a good comment, hold it down and click on the video icon to the left. This will open up your camera and the comment will be pinned to your video. Then, simply film the video and wait for the next round of comments to roll in. It takes minimal effort, and TikTok users love the interactivity.

– Max Wesman, GoodHire
17. Make how-to videos
One of the ways we share video content on TikTok is by showing snippets of our printing process to help the audience identify between different printing techniques and understanding the process.

When we use how-to videos, we show a step-by-step guide of each process, allowing users to understand not only how our products come to life, but also the time, effort, quality, and attention to detail we put into our work.

We also use these how-to videos as a response to questions and comments of users asking about printing techniques or how something is done to raise awareness and knowledge about the printing techniques we offer as well as provide the necessary information for those struggling with the how-to of it all.
Michael Nemeroff, Rush Order Tees
18. Before and After
Before and after videos offer inspiration for almost every creative business owner! For example, interior designers create TikToks presenting rooms before and after they've been redesigned. Makeup artists often film before and after makeovers. Fashion designers do the same, featuring clients' wardrobes. Videos like these not only draw customers to the creator's work, but inspire ideas and elicit creativity for everyone!
– Erin Banta, Pepper
Bonus: TikTok Video Strategy Inspiration
Without hesitation, the Washington Post is my inspiration for leveraging TikTok as a B2C marketing tool. With the Post boasting 1.3M followers and 57.5M likes, I'm not alone admiring the Post's remarkably successful social media strategy.

The paper creates humorous and memorable videos, some of which have virtually nothing to do with the Post's products as well as videos discussing current events, but always in an entertaining way. The combination of soft selling the 147 year-old brand while connecting with a younger audience is impressive and a template for social media success.
– Patricio Paucar, Navi
Ralph Lauren's Hashtag Challenge Plus video featuring actress Dana Silvers amassed massive followers and is an incredibly inspiring example to follow when attempting to garner viewer engagement. The company used the TikTok format to promote its US Open tennis gear using #winningRL and asked viewers to post videos of themselves "winning."

Hashtag Plus allows users to create their own brand's challenge which is then tied to a paid hashtag. Said hashtag brings the viewer to another TikTok landing page and viola! New Customers!
Michael Van, Furnishr
I watch Bretman Rock videos for inspiration. He always has hilarious and creative content that makes me want to get up and do something. Plus, his energy is infectious. I never know what he's going to do next, which keeps me on my toes. His videos always make me feel good, so I try to emulate that in my work.

Recently, I created a video inspired by his "Arianna Grande Lip Sync Challenge," where I lip-synced to one of her songs while wearing blood-red lip color. It was so much fun to film and edit, and I loved seeing the final result.
– Gino Louise Reichert, LSAT Prep Hero
TikTok Videos FAQs
I bet you've got a clearer idea of how to create TikTok content that will make users interact with your brand and get you that viral, "Wow!" factor that boosts conversion and sales. Now, let's get your TikTok FAQs answered.
Can TikTok Be Used for Marketing?
TikTok's power lies in the fact that it can promote anything without being spammy or intrusive. If users don't want to see something, they can simply skip it or hit the "not interested" button.
That way, TikTok is a fantastic creative outlet for brands that want to boost their lead generation and drive more traffic to their website. You've got interested users right at your door by using all current marketing trends organically and naturally.

Just make sure to use the numbers above to your advantage. Be smart and reliable instead of traditional and intrusive.
Can You Use TikTok for Business?
You can, provided your marketing needs are those that TikTok for business actually covers.
If you want to be able to duet and stitch videos and have increased user interaction, perhaps TikTok for business won't work for you. If, on the other hand, your objective is to drive more users to your website and generate more leads, TikTok for business is a better solution.
How Do TikTok Challenges Work for Business?
Participating in popular TikTok challenges is probably the easiest way to take advantage of the platform's capabilities to make it work for your business.
This allows brands to piggyback on trending challenges and get viewers and followers on board. This can bring in a lot of relevant traffic. Another fantastic tactic would be to create your own branded TikTok challenge and ask existing customers to participate. Here's why:

Entertainment is the most popular content category. Consider creating a challenge to show customer satisfaction through videos that others could stitch or duet. Encourage users to entertain their audience and talk to their circle about you and your product. You will bring in more relevant audiences and boost other marketing efforts, like your email list-building efforts or your lead generation.
'Stitch This' Format
I love the 'stitch this' format because it is endlessly versatile and frequently has surprising results. You can say, 'stitch this with the most important piece of advice you ever received,' or 'stitch this with an obscure fact that you somehow know,' and receive a wide array of interactions from all corners of the app.

Importantly, for a business account, you can also quickly answer trending stitch questions, increasing the chances that viewers will see and interact with your account. The only trouble is, 'stitch this' videos are like speeding bandwagons and you'll have to move quickly if you want to hop on.
– Jaymee Messler, The Gaming Society
Can You Use TikTok Videos on Instagram?
There is no way to connect the two apps natively. However, you can always download a TikTok video and upload it to your Instagram story or, even better, repurpose your TikTok content in the form of Instagram Reels.
Instagram's demographic is older, and the platform already has a user base that's not exactly going to dismiss content that's not authentic or not airbrushed. It's probably a good place to repurpose content that could boost your pr plan and revenue in a more stylized way.
The Takeaway
TikTok may be a new platform, but its results have proven to be outstanding, and many brands are on board with its marketing powers.
It's a platform that is refreshing and can help you leverage two major customer segments. The question is whether your brand is up for it or not.