We've all seen those gorgeous Instagram grids and stunning feeds where everything seems so sleek and well thought out. Brands like their social media to all look a certain way and give their audience the confidence to turn from passive viewers to keen customers.
But did you know that anyone can achieve a social media aesthetic that their followers will remember?
Creating the perfect social media aesthetic requires careful planning and consideration to ensure it reflects your brand's values and goals and appeals to your target audience. Ready to design your aesthetic for your social media pages? We'll take you through it step by step!
What is a social media aesthetic?
A social media aesthetic is a visual representation of your brand's personality. Your design style, brand colors, fonts, and imagery are used across your social media channels to create a unified look.
With a consistent aesthetic, the audience can immediately recognize that a particular grid, feed, or story is from you.
But why strive towards an impeccable social media aesthetic in the first place?
Because consistent branding and a unique style are essential for engaging customers, building trust, and establishing a social media presence.
A brand aesthetic saves you time once you have the basics in place: you no longer spend hours deciding on colors and fonts for your marketing materials. You can easily create templates, so all you need to do is apply your brand kit, and suddenly you're able to batch-create on-brand visual content.
For many people, this is reason enough to put in some effort at the start and set up an aesthetic social media channel!
Why is an impeccable social media aesthetic important?
Your social media aesthetic acts as a hook to draw the audience in, make them feel at home and encourage them to buy your products and services. A consistent social media aesthetic will help you:
create a good first impression
increase your brand recognition
make your social channels more memorable
accurately reflect your brand's core values
showcase your brand's personality
increase trust by getting an emotional response from your target audience.
Types of social media aesthetics to choose from
Here are just a few examples of the different types of social media aesthetics you can experiment with:
1. Minimalist / simplistic
This social media aesthetic showcases clean lines, understated design, and a refined color palette. This brand style is perfect for luxury brands, tech companies, fashion labels or influencers that want to convey sophistication and refinement. Take Emma Hill's instagram posts as the perfect example: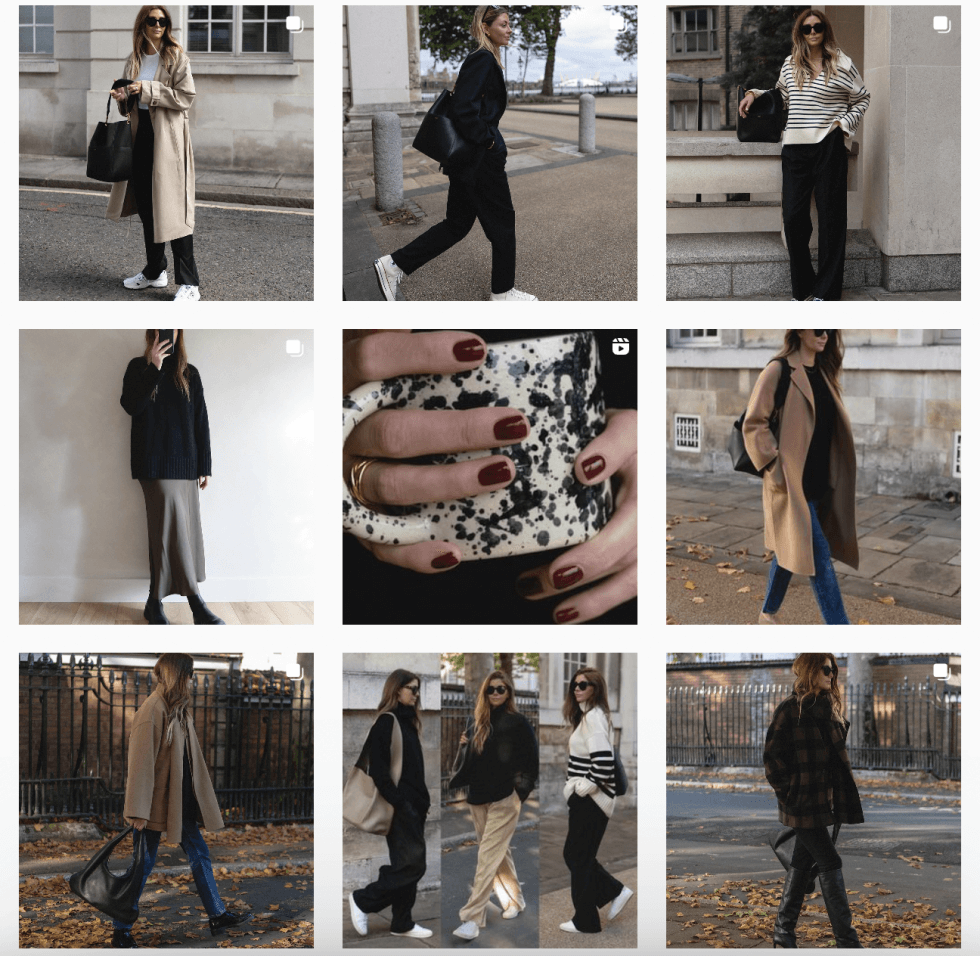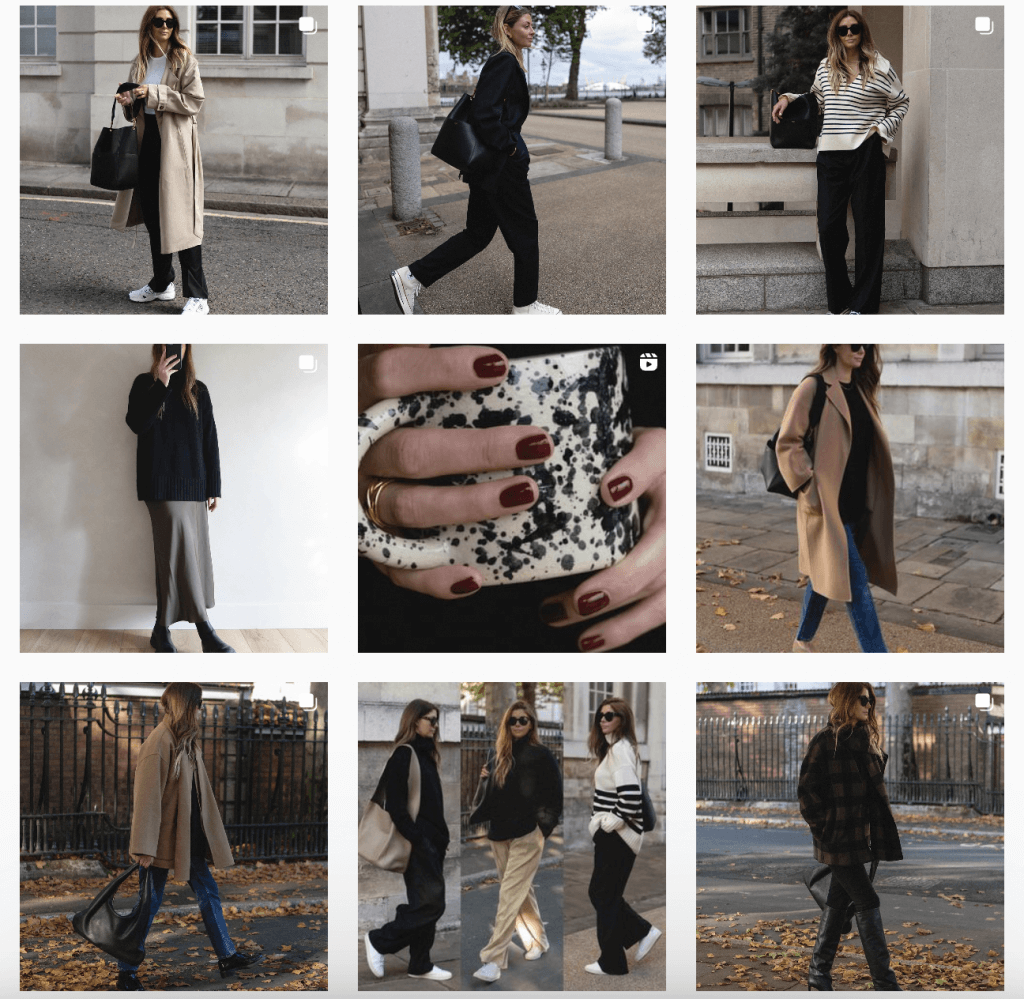 2. Free-spirited / bohemian
This aesthetic is full of life and whimsy, featuring vibrant color palettes, eclectic patterns, and organic shapes. Ideal for travel and lifestyle brands, as well as adventurous influencers who want to share their zest for life, just like Flying the Nest have done over on Instagram: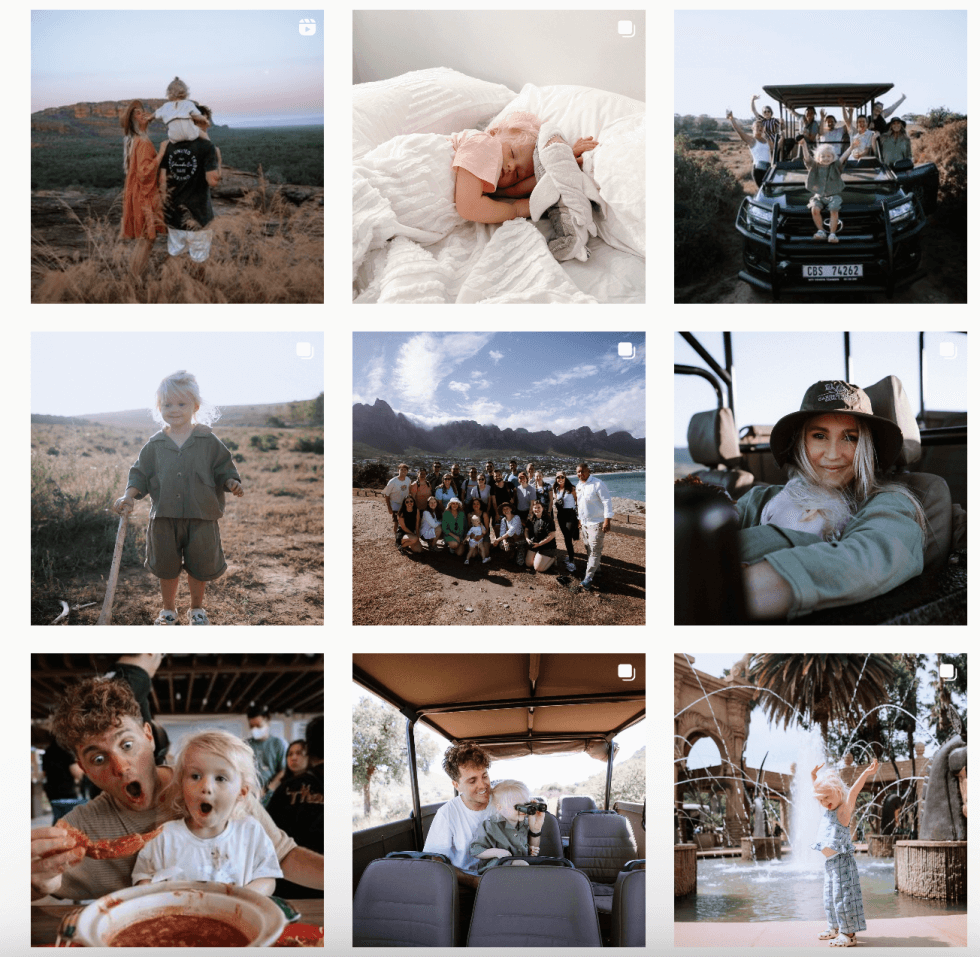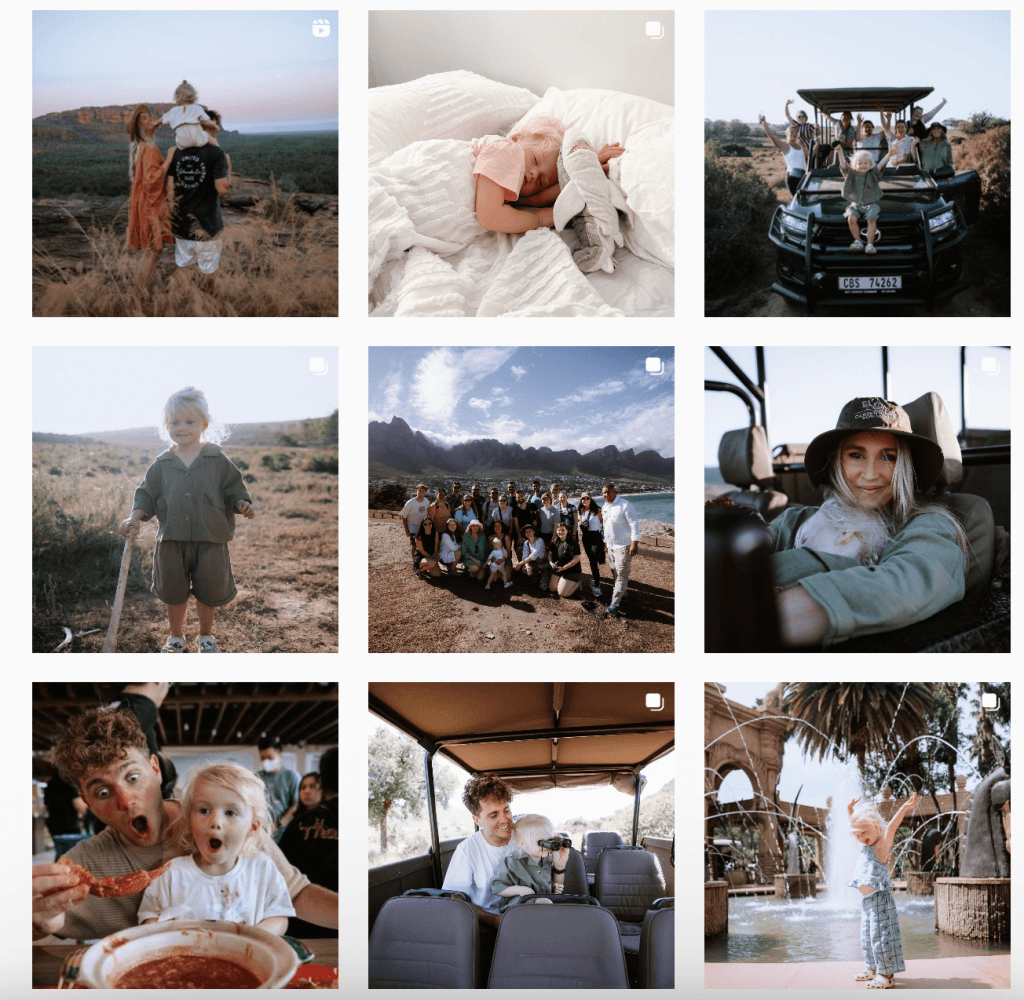 3. Rustic / cozy
This comfy aesthetic radiates warmth and comfort, using natural materials like wood and stone, earthy tones, and vintage or handcrafted accents. It lends itself great to different platforms. Choose this brand style for home decor, food and beverage, and outdoor recreation brands that want to evoke a sense of comfort and hominess. Like Minimalist Baker's social channels: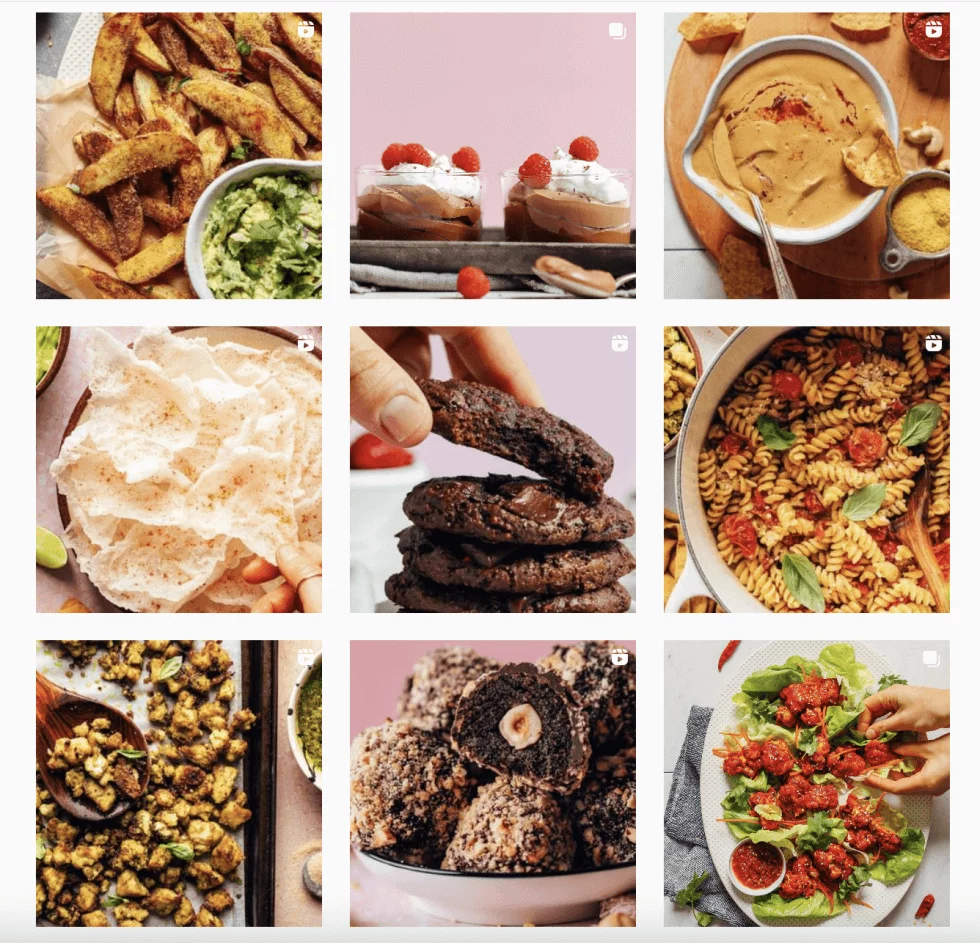 4. Bold / bright
A vibrant aesthetic pops with eye-catching color palettes and daring designs. It grabs the audience's attention and is the perfect choice for youth-oriented brands, fashion and beauty labels, and creative agencies that want to make a statement and stand out from the crowd. Fenty Beauty is the perfect embodiment of this brand aesthetic: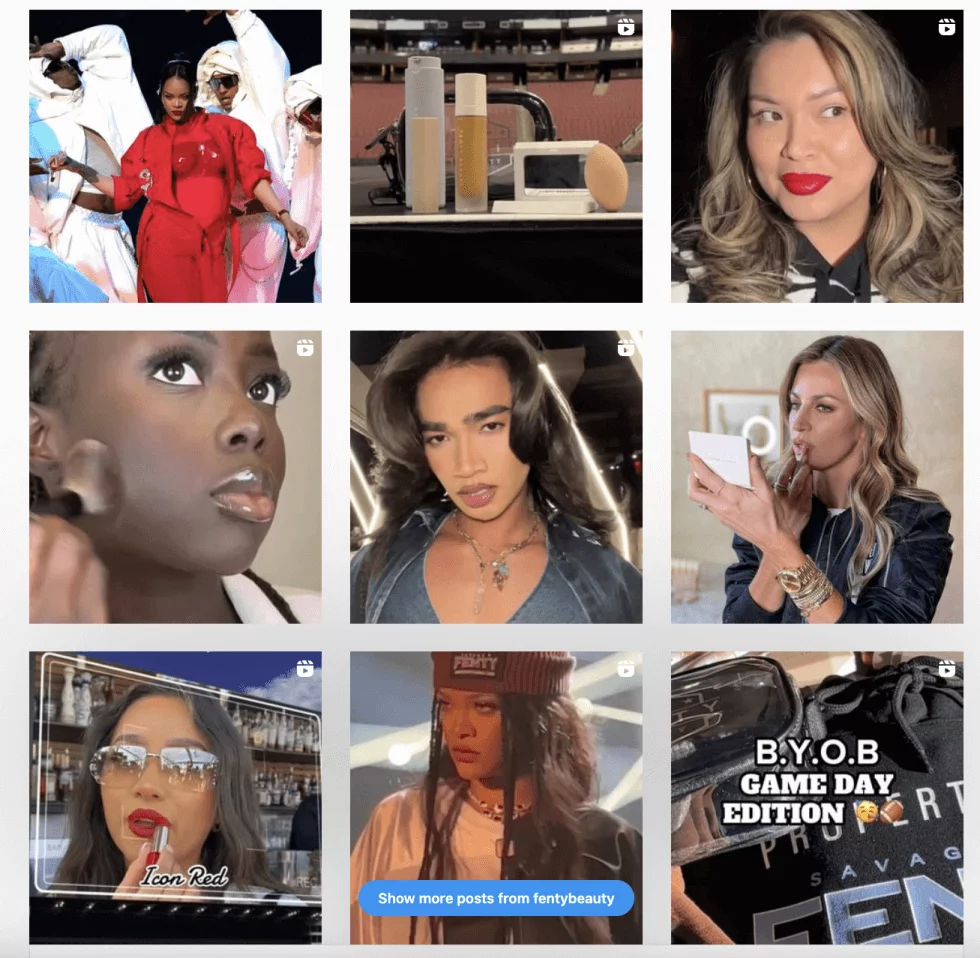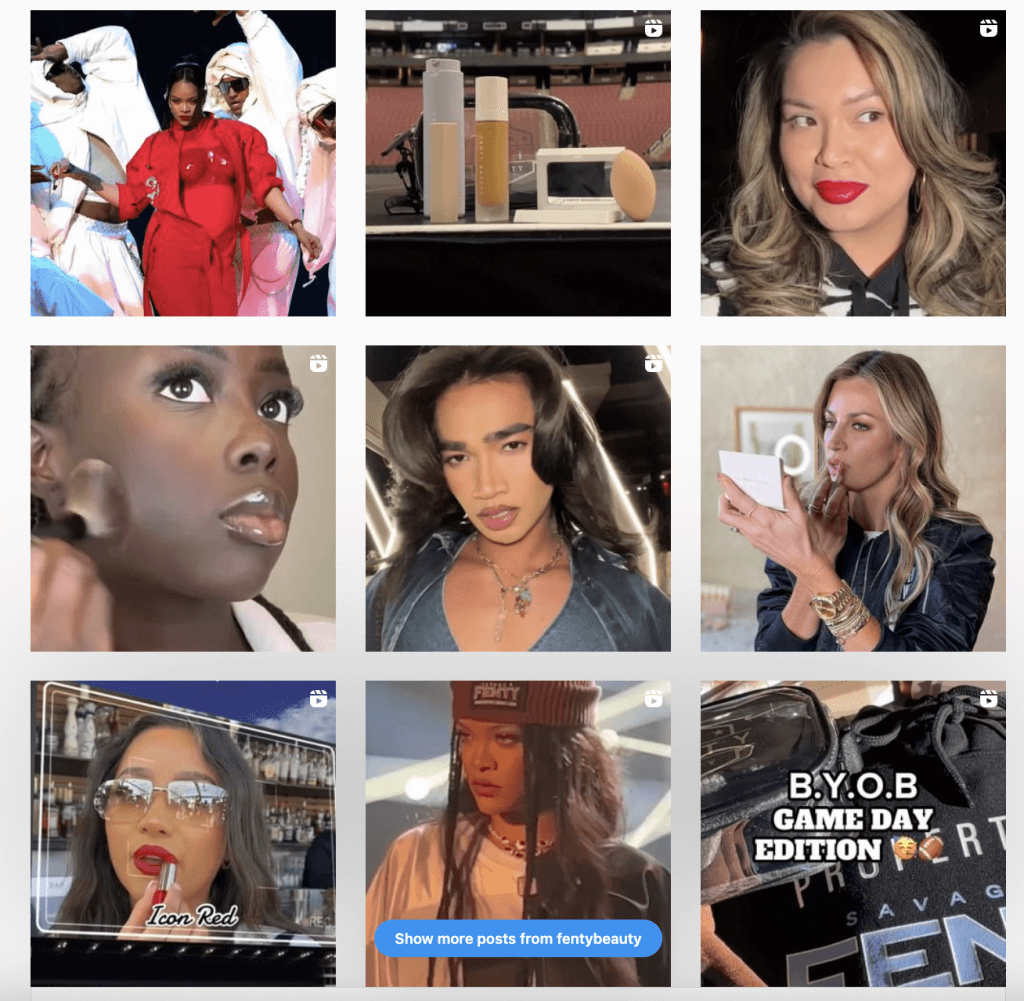 5. Monochromatic
A monochromatic aesthetic is all about a single-color scheme, with neutral accents. This is one of the design styles that's perfect for contemporary art and design brands, as well as individuals and businesses that prefer a minimalist-inspired look and feel. Case in point, Mint Mobile and their shades of green: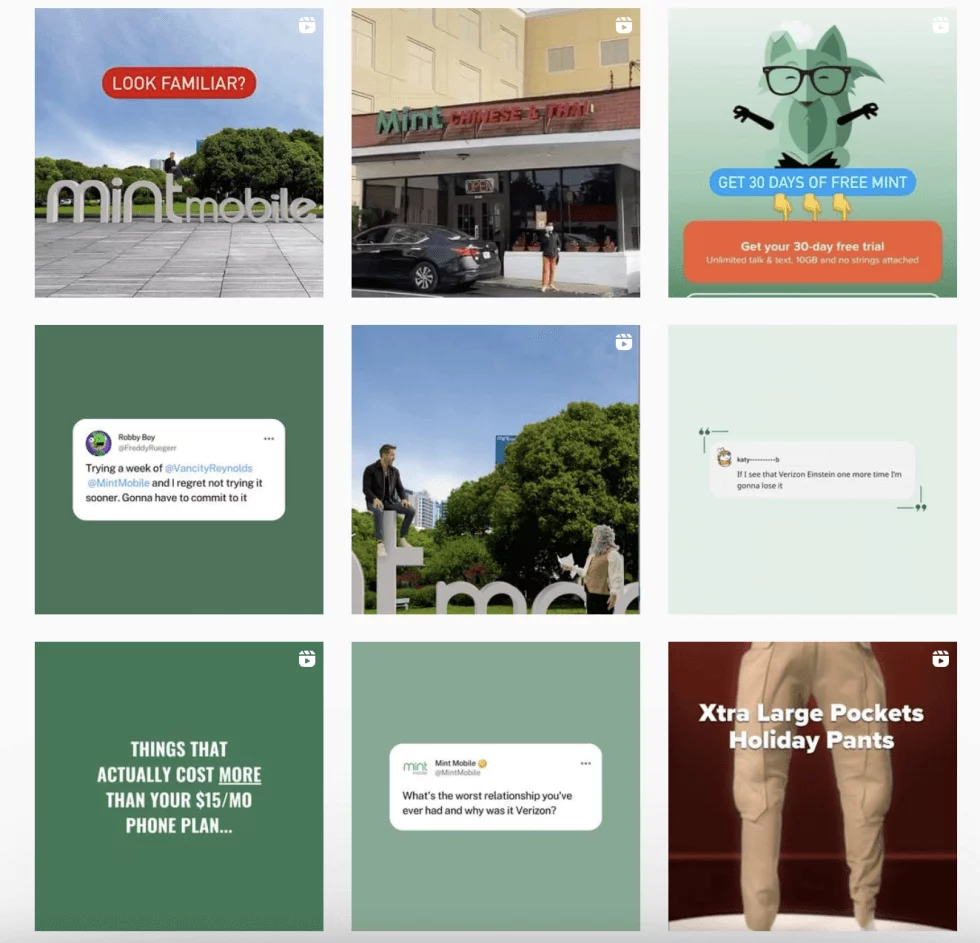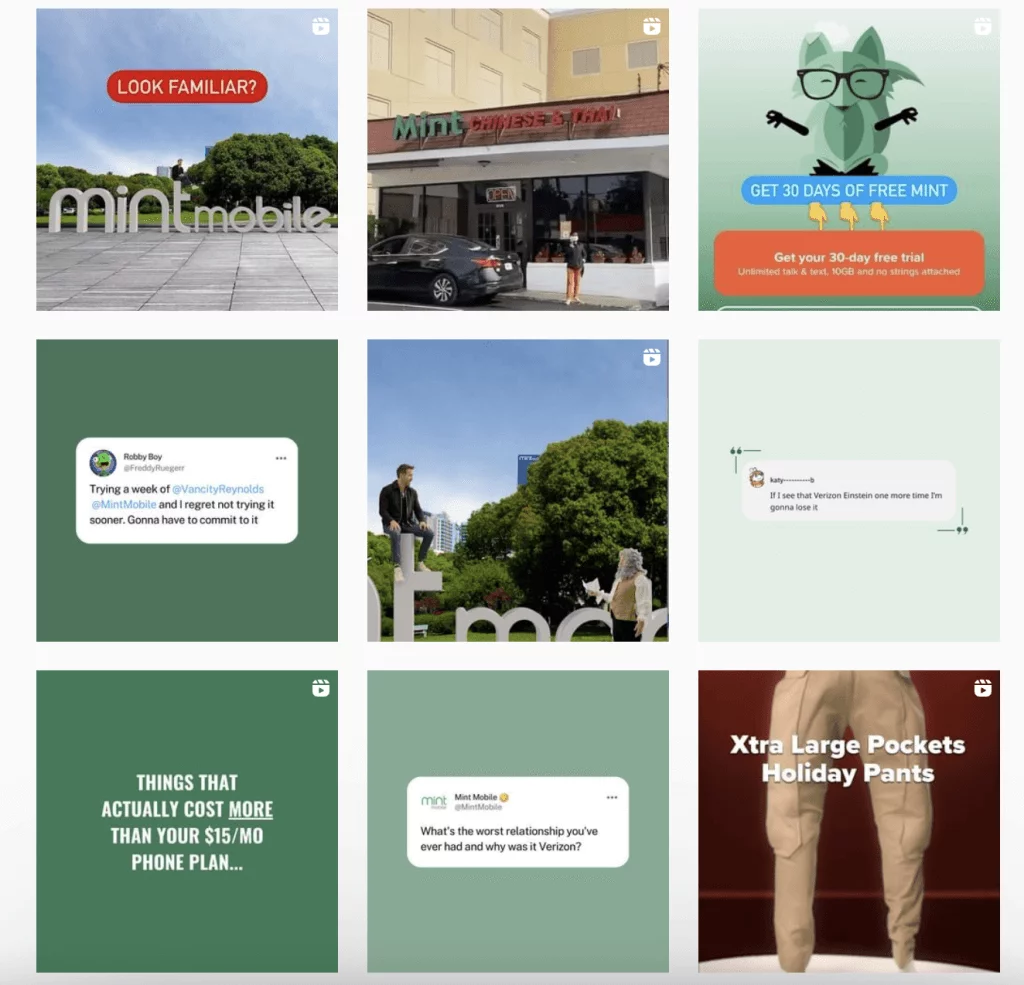 6. Modern / sleek
A modern aesthetic is all about simplicity and sophistication, showcasing clean lines, a muted color palette, high quality images and minimalist designs. This look is a favorite among tech companies, finance firms, and architectural firms that create content to convey a sense of innovation and progression. Like Le Cime on Instagram: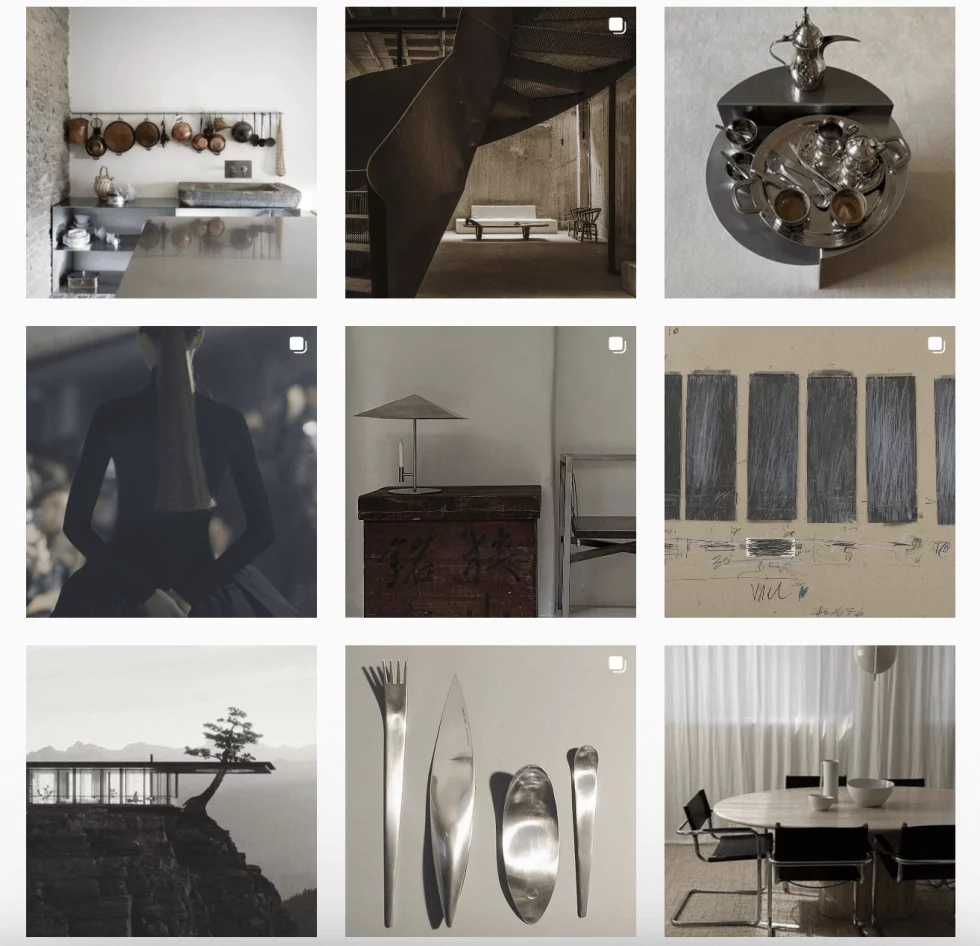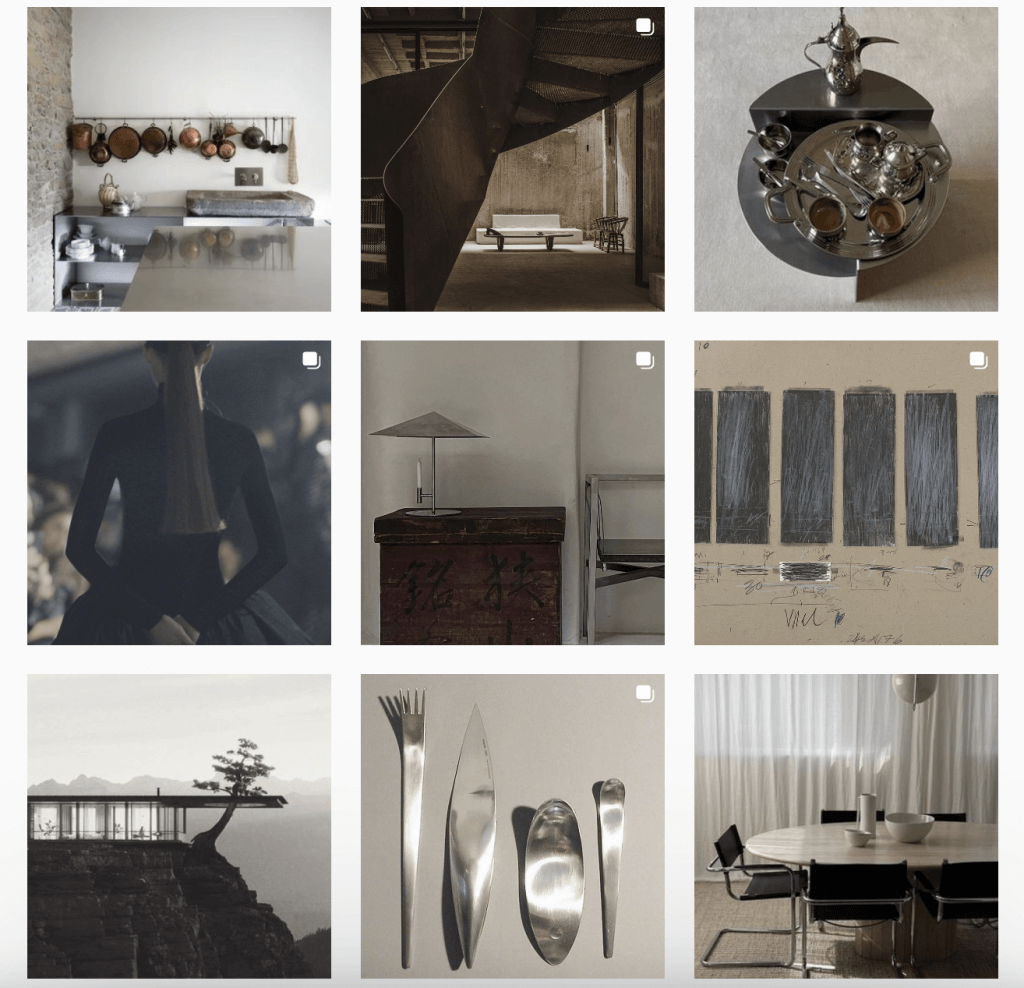 7. Traditional
A traditional aesthetic harkens back to classic design and timeless style. It's the ideal blend of elegant curves, intricate patterns, and rich hues. This social media aesthetic is most used by luxury goods and fine dining restaurant, looking to evoke a sense of history and sophistication. Take for example, this brand's aesthetic: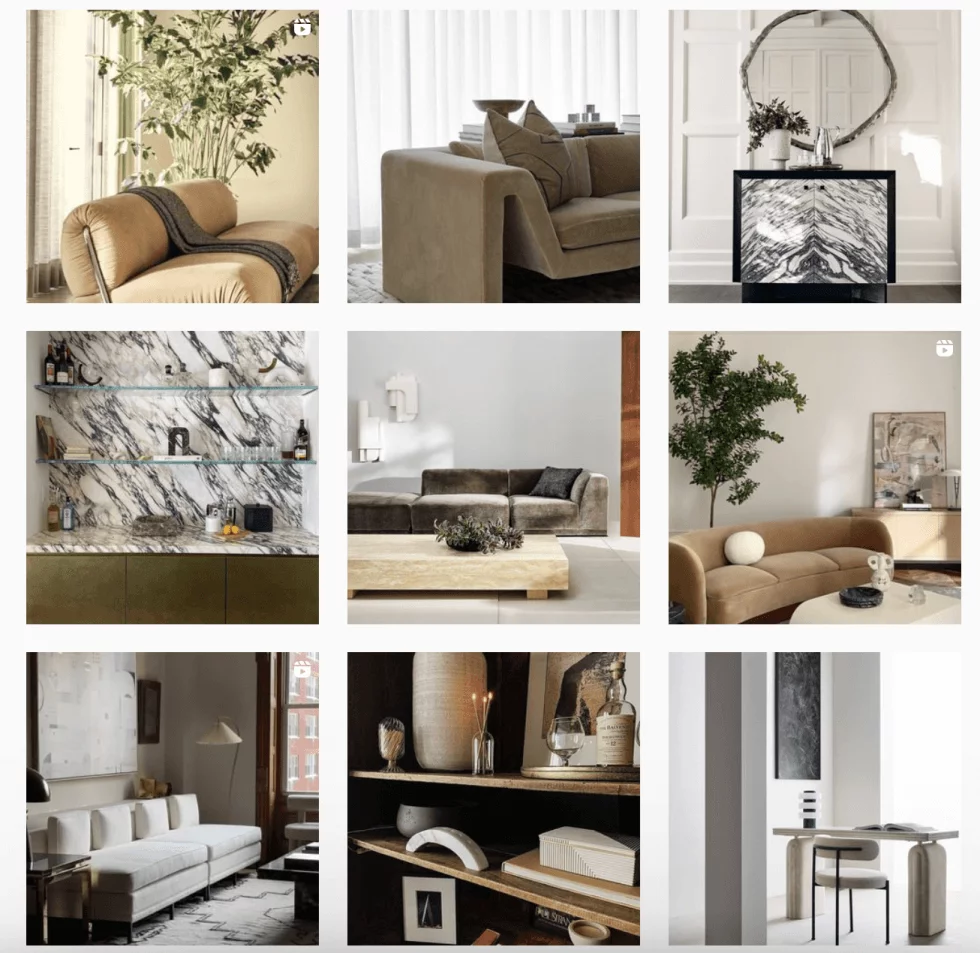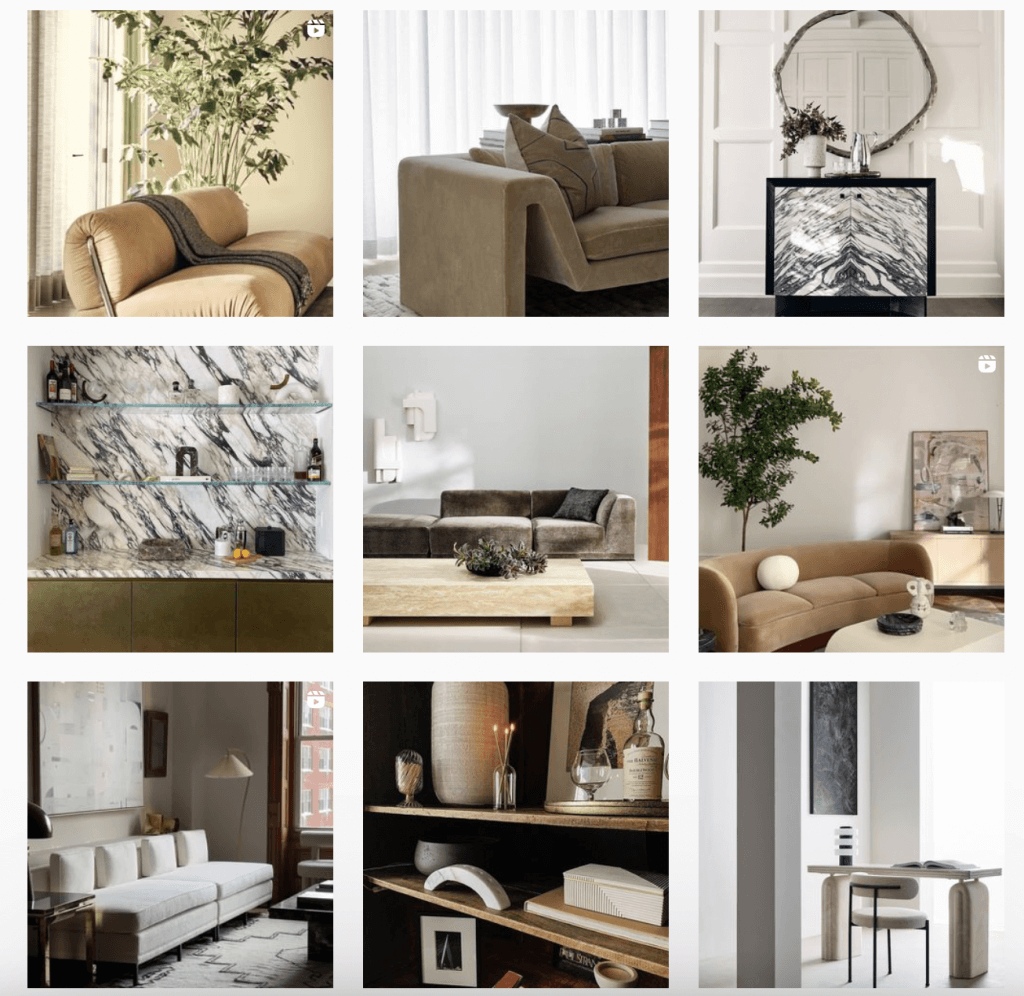 8. Luxurious
A luxurious aesthetic is all about glamour and opulence. Think rich textures, gleaming materials, and bold, extravagant designs that make an impression on potential customers. This aesthetic is often embraced by high-end fashion, jewelry, and beauty brands, seeking to convey a sense of luxury and extravagance. Hourglass' Instagram perfectly showcases this exclusive aesthetic: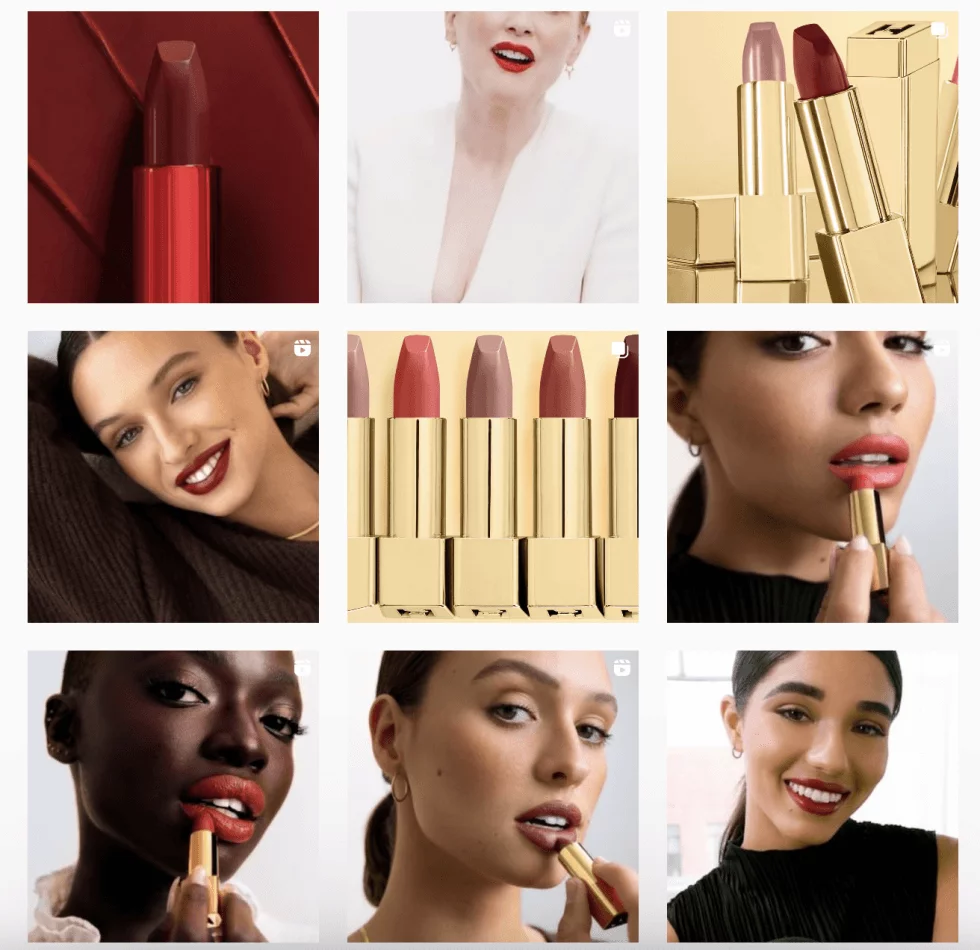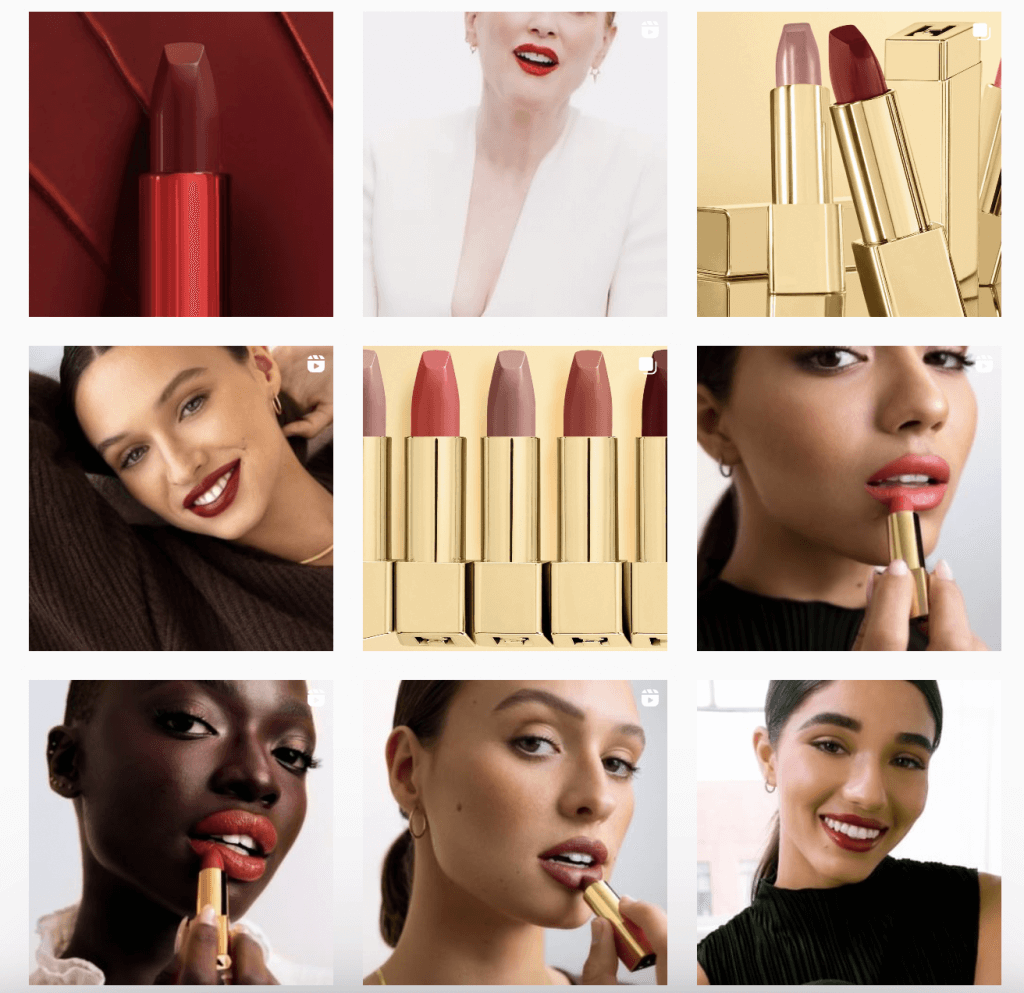 9. Utilitarian / functional
A utilitarian aesthetic is all about getting the job done. It leverages practical designs, neutral colors, quality content and a focus on efficiency and simplicity. Industrial, manufacturing and tech brands that value function over form gravitate towards this practical yet stylish look. Check out how Remarkable approach the utilitarian social media aesthetic: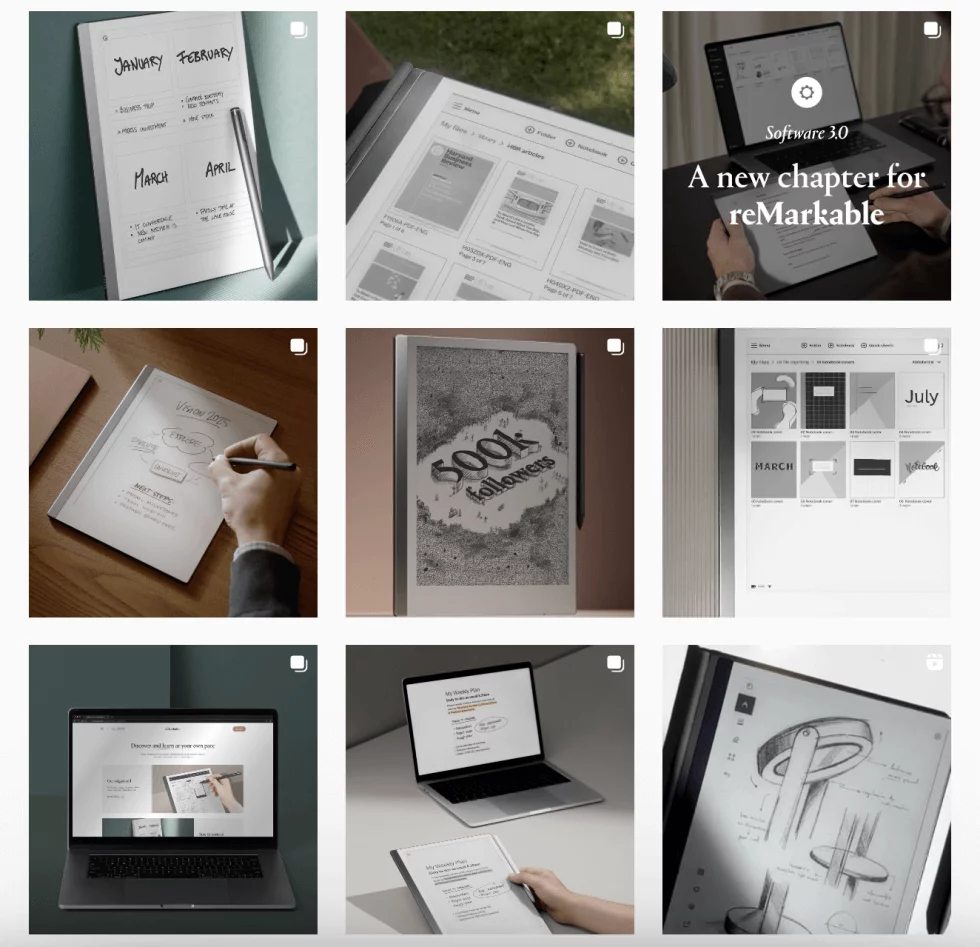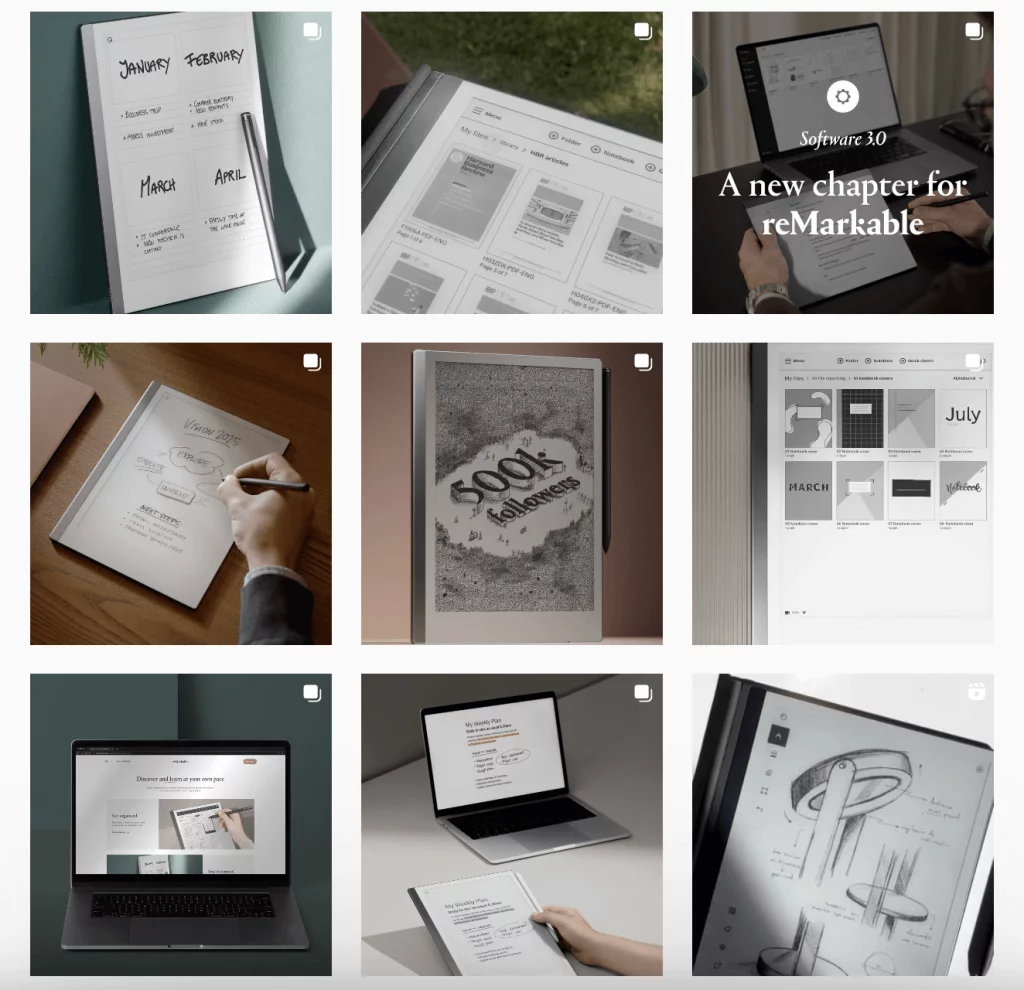 10. Classic / Elegant
A classic aesthetic is the epitome of timelessness and refinement, featuring a neutral color palette, balanced composition, and elegant curves. It looks splendid on all social media profiles. A vast array of businesses often opt for this classic look, from conservative brands, like law firms, that wish to convey stability and reliability, to photographers looking to showcase their work elegantly. No one illustrates this aesthetic better than Lindsay Adler: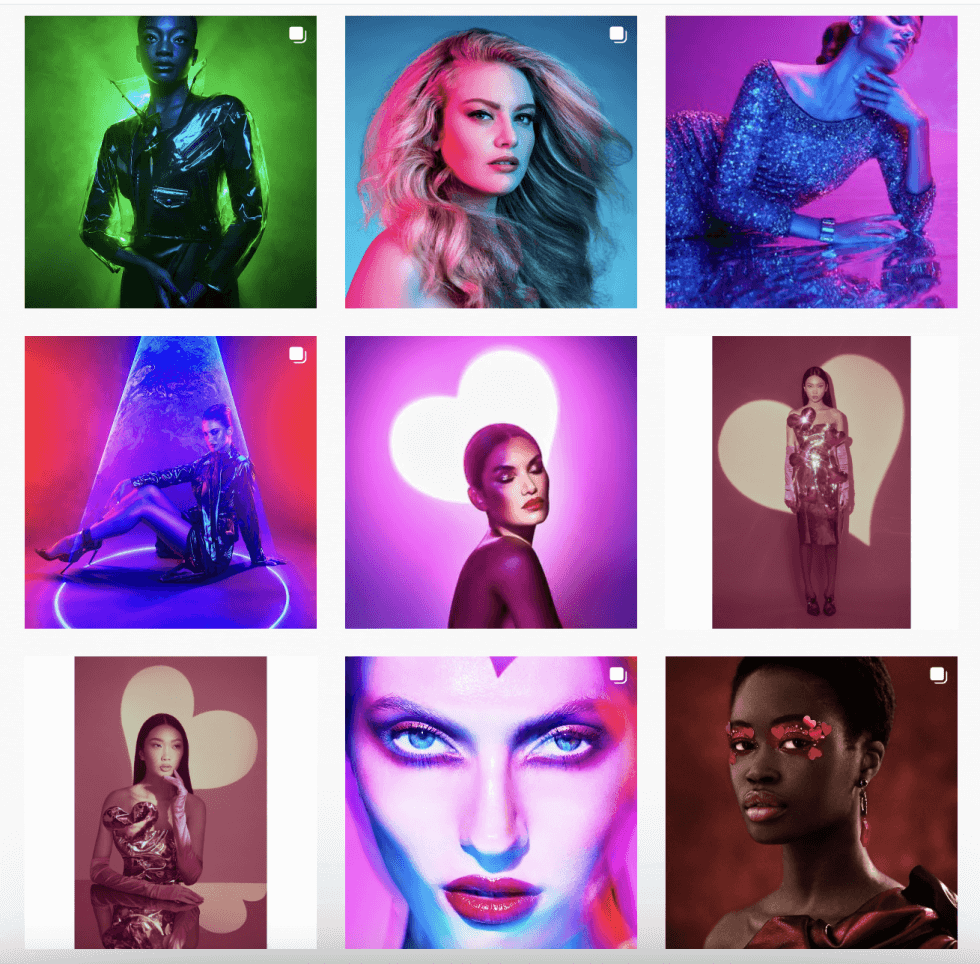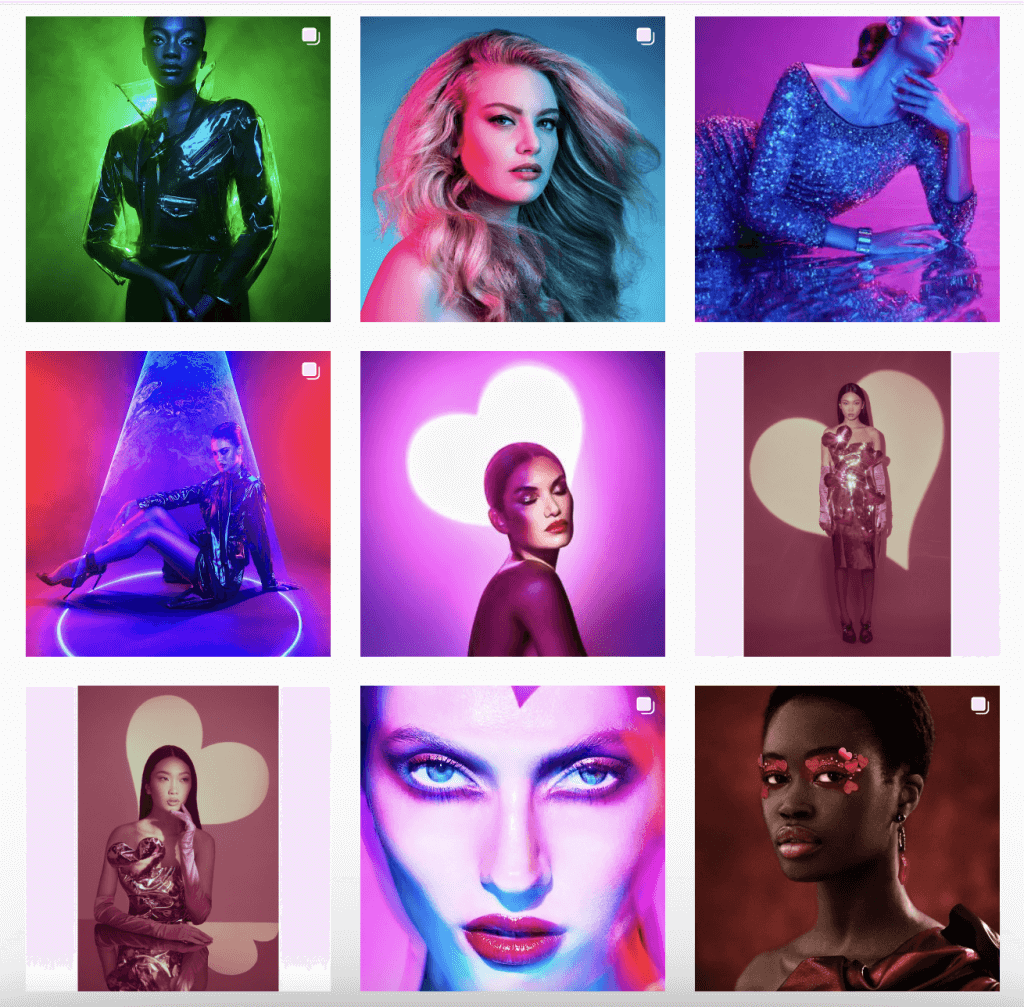 11. Whimsical / Charming
A whimsical aesthetic is all about adding a touch of fun and playfulness to the design. Customers remember this social media aesthetic thanks to its creative and quirky designs, bold colors, a unique yet uniform font, and lighthearted design elements. Brands that cater to children, creative industries, and those that value a sense of humor fully embrace this playful and enchanting look. Like Henneke's Enchanting Marketing Instagram account: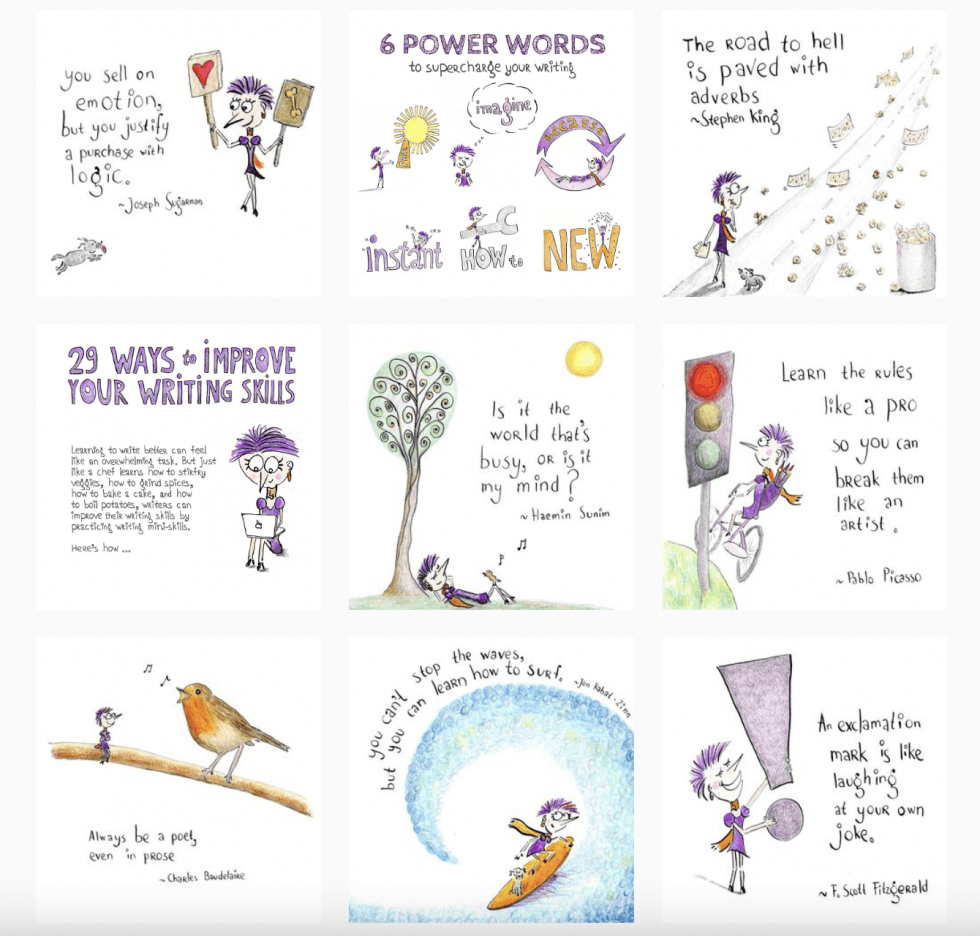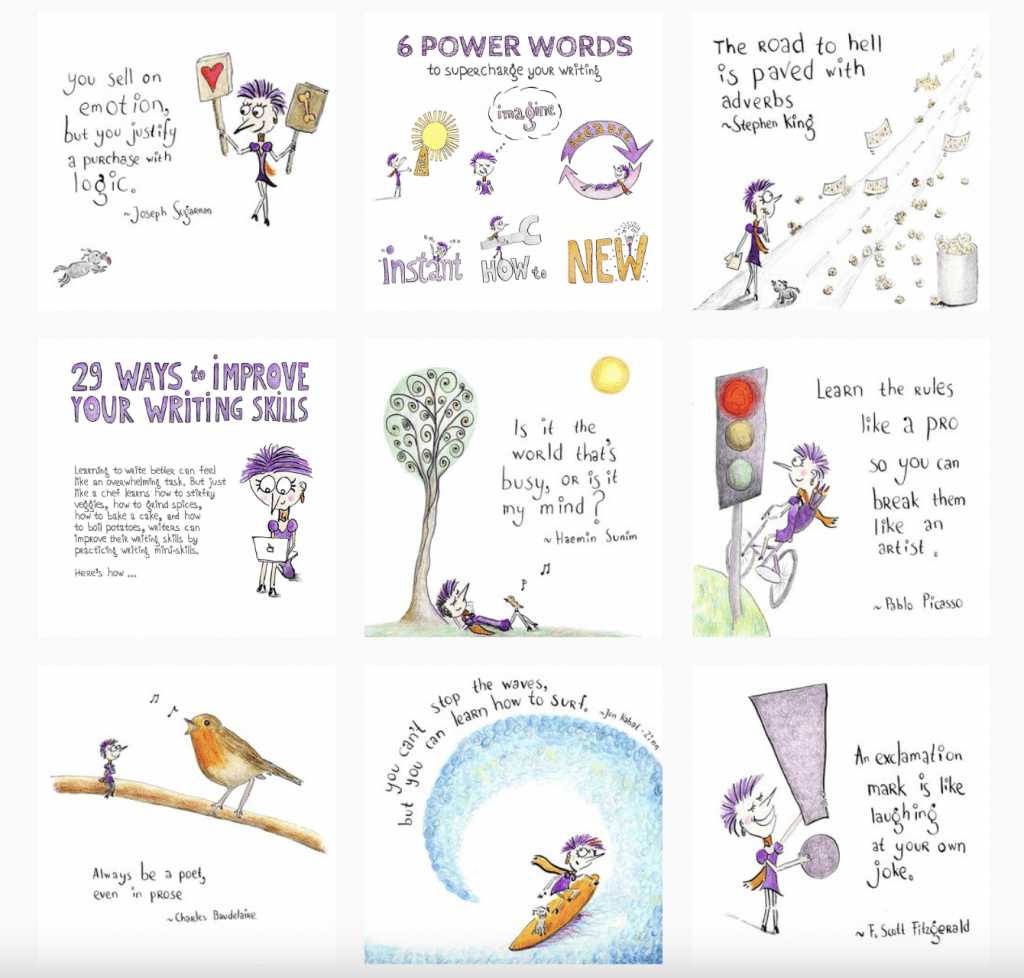 How to create pleasing social media aesthetics in 5 steps
Creating a visually appealing social media brand aesthetic will help you stand out on crowded social platforms, attract new followers and retain existing ones.
Here are our five tips on taking your social media brand from meh to magnificent.
1. Take stock of what you have
Different social media platforms, different styles. For an appealing and memorable aesthetic, start by inventorying what you're working with. Track down and catalog branding elements, such as logos, fonts, and colors. These elements are the building blocks of your aesthetic and set the tone for how viewers perceive your brand.
Logos, fonts, filters, and color palettes are the MVPs of your brand's visual identity. Identify what you have in your toolkit and you'll be able to create an eye-catching and cohesive look across all your social media channels.
Let's face it, your social media presence is like the cherry on top of your brand's sundae. But wait, have you checked if the cherry matches the sprinkles and the whipped cream? Take a close peek at your branding elements to make sure your social media game is on point and aligned with your overall brand identity. Striking this balance will not only win the hearts of your target customers but also solidify your brand's image in their minds like a scoop of ice cream on a hot summer day.
2. Find your brand identity aesthetic on social media
If you want to create a drool-worthy social media presence, start by nailing down your brand identity. Think about the vibe you want to give off, the clients you're trying to impress, and the message you want to send. With a solid understanding of who you are as a brand, you can then turn your attention to the visual content.
Find the identity of the client and designing posts and ads that talk to the right audience, that show what the audience wants to see. And the key is always being creative and remember that in design "less is more". Simple and impactful designs will always succeed.
Tami Kacevas, Graphic and Web Designer @ Tami Kacevas Designs 
Colors, fonts, and images (whether stock photos or custom-made) should all align with your brand identity and make your social media presence pop. Keep the same look and feel across all social platforms, so your brand image stays consistent.
Remember, a picture may be worth a thousand words, but a great social media aesthetic is worth a million likes. Make sure your visuals not only look fantastic but also accurately reflect your brand identity and are user-friendly for your audience. Don't be afraid to experiment and make changes along the way, but always keep the end goal in mind – creating a social media presence that both you and your followers can't get enough of.
3. Create a mood board
A mood board is a collection of pictures, hues, fonts, and other design elements that capture the essence of your brand. By using a mood board, you can see your brand's identity come to life, and make design decisions with confidence, knowing they're on brand.
Creating a mood board is super simple and a total must-do. Gather inspiration from your favorite brands, websites, magazines, and social media accounts. Then channel your inner mad scientist and experiment with different color combinations, fonts, and images to see what works best for your brand's vibe.
Needless to say, a mood board is a lifesaver when it comes to making design decisions for your social media marketing efforts. You can refer back to it over and over again to see all your aesthetic elements in one place and make tweaks until you have a visual representation that's true to your brand identity.
However, mood boarding is not a "once and done" exercise! Your mood board will develop with your brand over time. It needs to be an ever-changing visual project so that you always create social media posts that align with your carefully chosen and researched aesthetic.
4. Plan ahead
Now that you've established the elements that make up your social media aesthetic, it's time to develop a strategy. Yes, as with everything on social media, you will need a plan: how often you want to post, what type of content you want to share, and how you want to engage with customers. Having a plan in place means you can have consistency and a far better chance to maximize your engagement.
Creating a strategy for your social media aesthetic will help you stay organized and ensure that your posts are engaging and effective. Here are just a few examples of planning in advance:
Get ahead of the game by taking a whole bunch of photos at once and figuring out how to use them later.
Stockpile some aesthetically-pleasing pics to keep your content looking fresh and on track.
Make your life easier by using presets or customizing your own in Lightroom for a polished look.
Visualize your Instagram feed and content calendar with ease using Planable.
Check your visual brand consistency by making mockups with Planable.
Get the most out of your content by always repurposing it.
5. Stay consistent on all social media channels
Consistency is the backbone of a successful social media aesthetic. It makes your brand instantly recognizable, adding credibility and building trust with your audience.
But consistency is not just a branding tool, it also makes your content look more put together. A cohesive color palette, font style, and visual elements will give your social media accounts a professional touch that will draw in new followers and keep your current audience interested.
So, put the puzzle pieces of your brand together and let consistency be your guide. Get ready to slay the social media game with a recognizable, visually stunning, and effortless aesthetic! Here's how:
Make a lasting impression: ensure that your followers can spot you in a crowd by using the same profile images and bios across all your social media platforms.
Stay true to your colors: choose a color palette that that perfectly represent your brand. Use it consistently across all your social media channels to create a visual identity that is uniquely yours.
Use the same typefaces and font styles: choose two or three fonts that you love and stick to them. Consistency is key when it comes to font usage, it helps your content stand out from other brands and be easily recognizable.
Create templates to avoid starting from scratch each time: save yourself some time and effort while also ensuring that your content looks consistent and professional across all your social media channels. Some templates are even platform-agnostic, meaning you can use them across multiple platforms with just a few tweaks while also maintaining a professional and recognizable brand image.
Social media aesthetic examples to find inspiration
Check out these crowd-pleasers, they're our current faves:
Duolingo on TikTok
That cute green owl mascot appears in every post and is immediately recognizable. It doesn't matter that the text looks different sometimes, it's all about the owl! This is an excellent example of a social media aesthetic that stays with you for the rest of the day.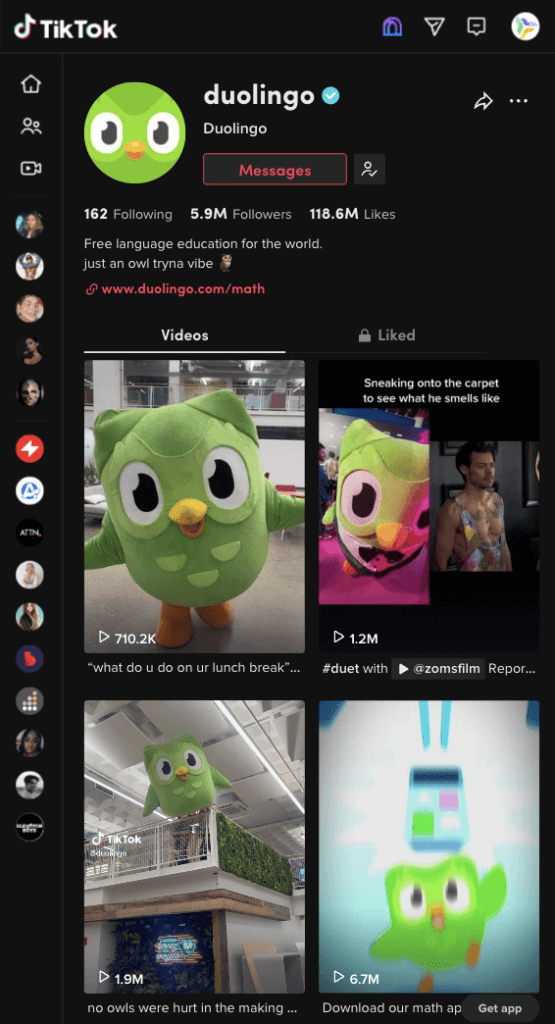 Her Amazing Mindset on Instagram
With a warm pink-based palette, uniform font, and post type, this brand is all about boosting your mindset. They don't use carousels or video, it's an easy-to-follow, easy-to-read account and a great example of how a color scheme can be used to help a brand.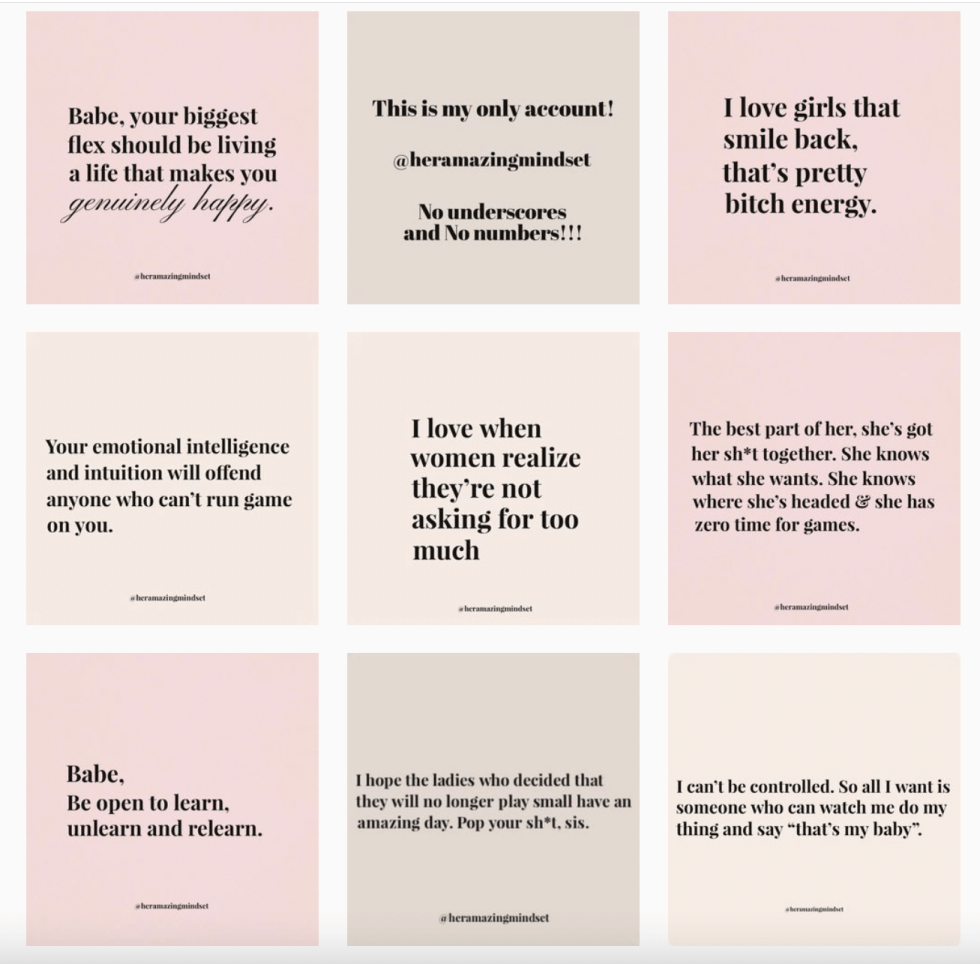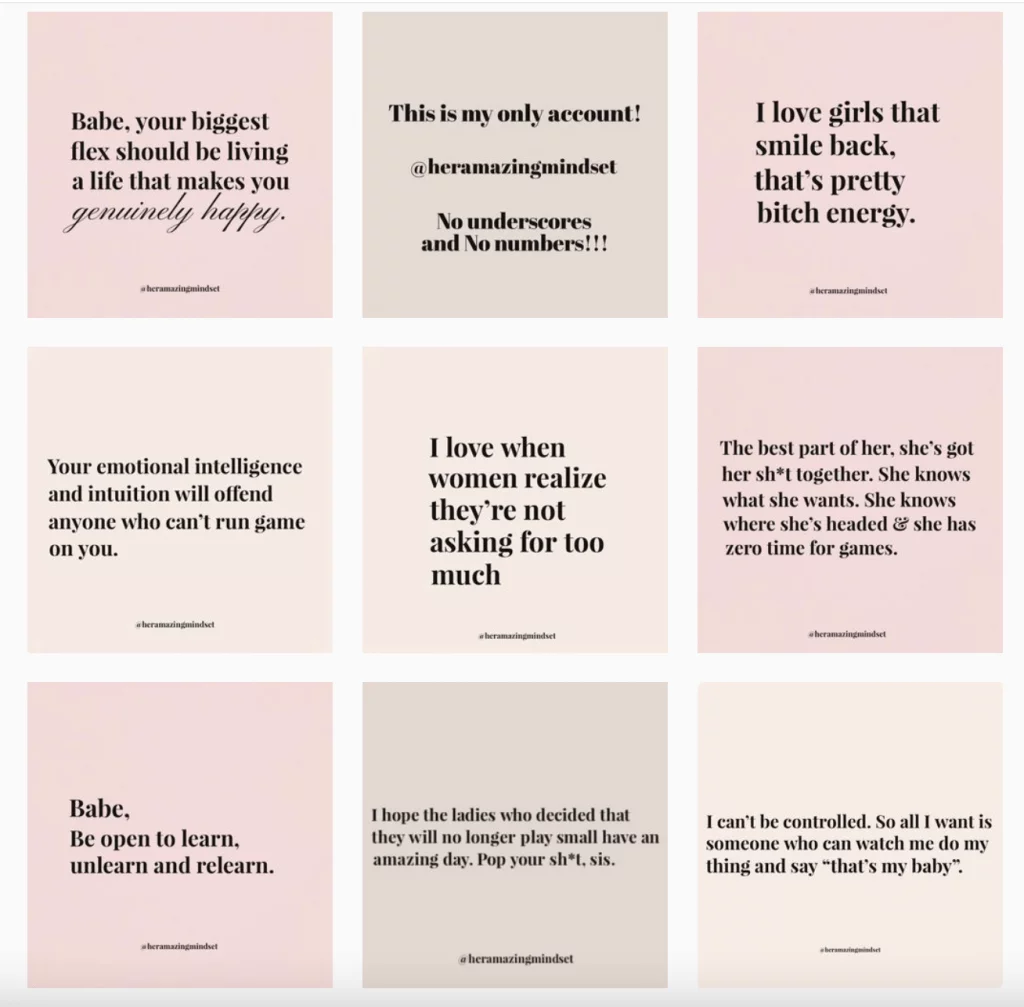 Tiffany & Co on Facebook
We all know the Tiffany & Co brand teal, and here it's used to great effect. Simple, clean images, discreet text, and the same font ensure consistency. It's no surprise that with an aesthetic like this, the brand content performs well.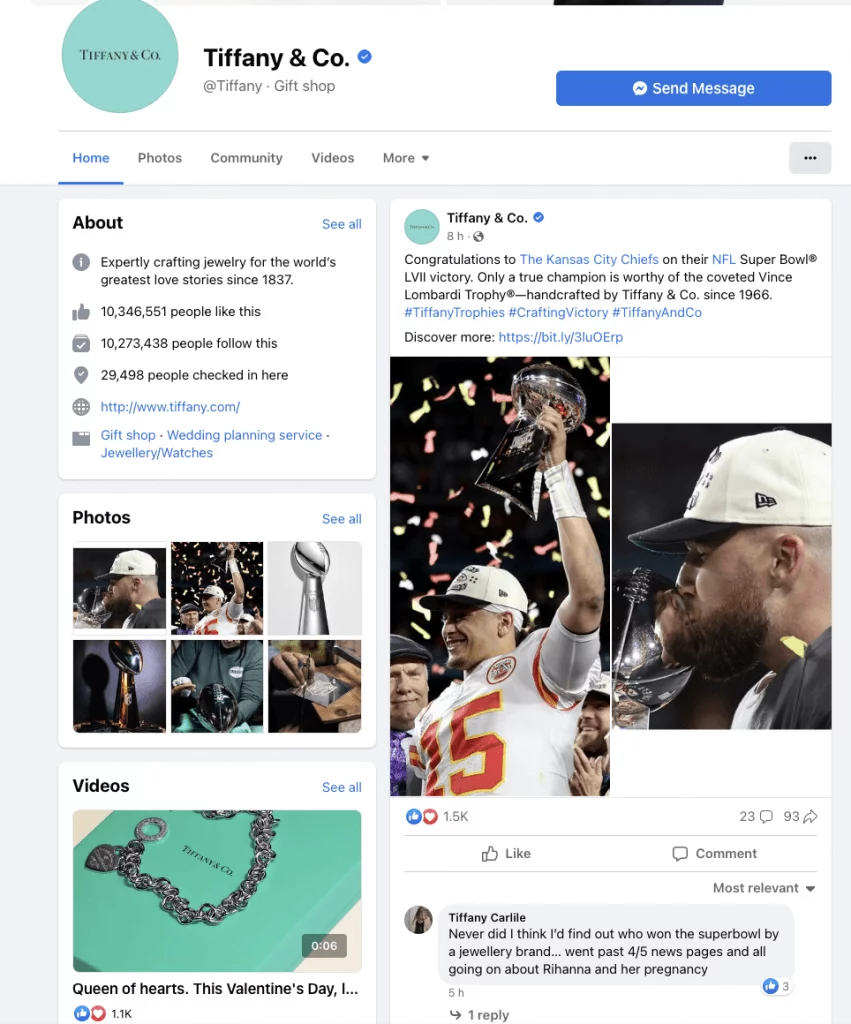 SocialJems on Linkedin
The bright colors, cartoon avatars, and chunky font tell us this brand is fun, friendly, and approachable. This is an excellent example of how to use a fun element in your branding.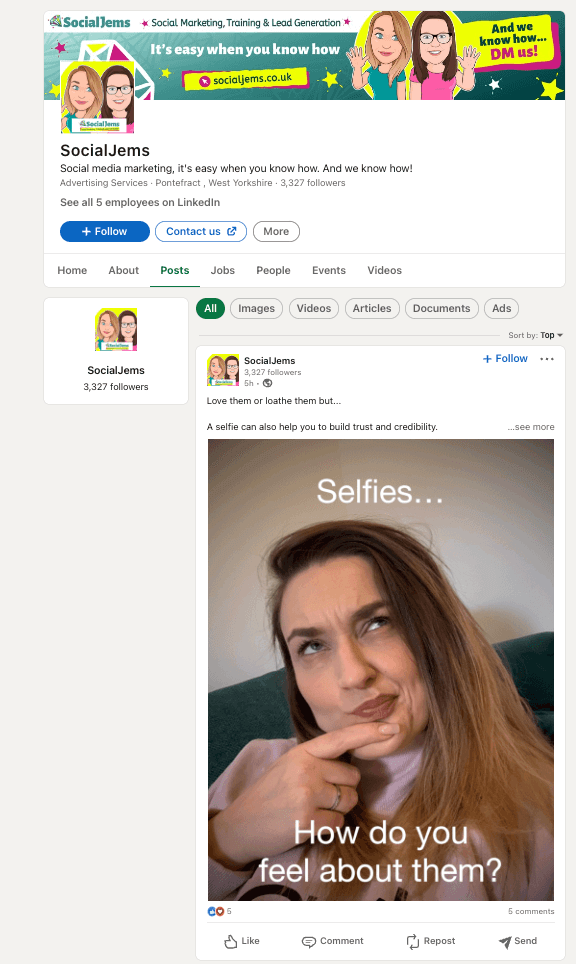 Your social media aesthetic checklist
How do you ensure you have a consistent social media aesthetic presence? Well, in case you need to refer back to this blog, here is a handy checklist:
Use consistent filters on your photos.
Post well-composed content designed for your target audience.
Remain consistent with your social media style for each of your social media platforms.
Use templates and press filters to achieve a cohesive brand identity.
Refer to your mood board to make sure you have consistent branding.
Stick to your color scheme and brand fonts.
Streamline your work and batch your photo shoots.
Repurpose high-performing content again.

Anna Rump
Anna used to be a teacher and taught teenagers, frequently telling them to get off social media and read a book! Oh, the irony! Now, she provides amazing social media strategies, training, and digital marketing consultancy for the B2B world. Anna's a countryside-loving, brownie-baking, seaside fanatic who can't knit for toffee but is chuffing good at social media marketing and everything it entails.