Instagram has over 1.44 billion users, making it the second-largest social media network worldwide. What's even more impressive is that Meta's younger sibling continues to capture the likes of Millenials and Gen Z.
These two generations account for 71.7% of Instagram's users in the United States. It's clear they can't resist turning to the 'gram to post pictures of their tropical vacations and engage with their favorite brands.
So if you're looking for a way to one-up your Instagram game and capture the attention of this sizable audience, an Instagram audit is a great place to start.
A successful Instagram audit can help you evaluate your brand's current performance on the platform and ensure everything is in order before you take on any new campaigns or strategies.
In this post, we'll show you how to perform an Instagram audit (in 1-hour or less) and how to use these results to drive future success on Instagram.
Are you ready? Let's dive in. 
What is an Instagram audit?
An Instagram audit is a simple way to analyze your Instagram account and identify opportunities for improvement. It's an essential method for anyone looking to grow their social media following or boost engagement.
When you run an audit, you should look at your Instagram account as a whole — not just one post but your entire presence on the platform.
When you look at what's working and what's failing to produce results, you can apply these insights to future strategies to keep your account growing and evolving.
1-hour Instagram audit checklist
Running your own Instagram audit can be a little overwhelming, especially if you don't know where to start. Don't worry. We have you covered.
With these six simple steps, you can conduct a front-to-back Instagram audit in 1-hour or less.
Let's jump right in.  
Step 1: Evaluate your current goals
Before your next Instagram audit, it's crucial to either identify any new goals for using the platform or recall the previous plans you set during your last audit.
If this is your first audit, you'll want to focus on creating new goals.
For example, if you are a new service-based business, your Instagram goal might be to gain followers and increase engagement with your target customers. If you are a retail or ecommerce store, you might focus on generating more sales by using Instagram's shopping tools.
On the other hand, if this isn't your first rodeo, think of a routine Instagram audit as a progress report.
It'll help you understand what goals you've been able to achieve since your last review. And most importantly, it'll shed light on where you fell short and establish new and improved goals for the next go-around.
Regardless if this is your first time around the block or the fiftieth, the information you unlock during an Instagram audit can improve your future strategies. But remember that your goals for your Instagram should be an extension of your overarching social media and business goals. 
Step 2: Check your profile details
Don't overlook the small details. Double-check your handle, profile name, and bio for inconsistencies.
Your Instagram profile is a direct reflection of your brand. And first impressions are everything. Your Instagram bio only has 150 characters to work with, so make it count.
Luxury Presence, a company that specializes in creating websites for realtors and growing their online presence, recommends creating a memorable bio with your logo as the profile picture, a short business description, and a link to your website.
Take The Corcoran Group, a luxury international real estate firm. With over 132,000 followers, they don't leave any stone unturned on their Instagram profile.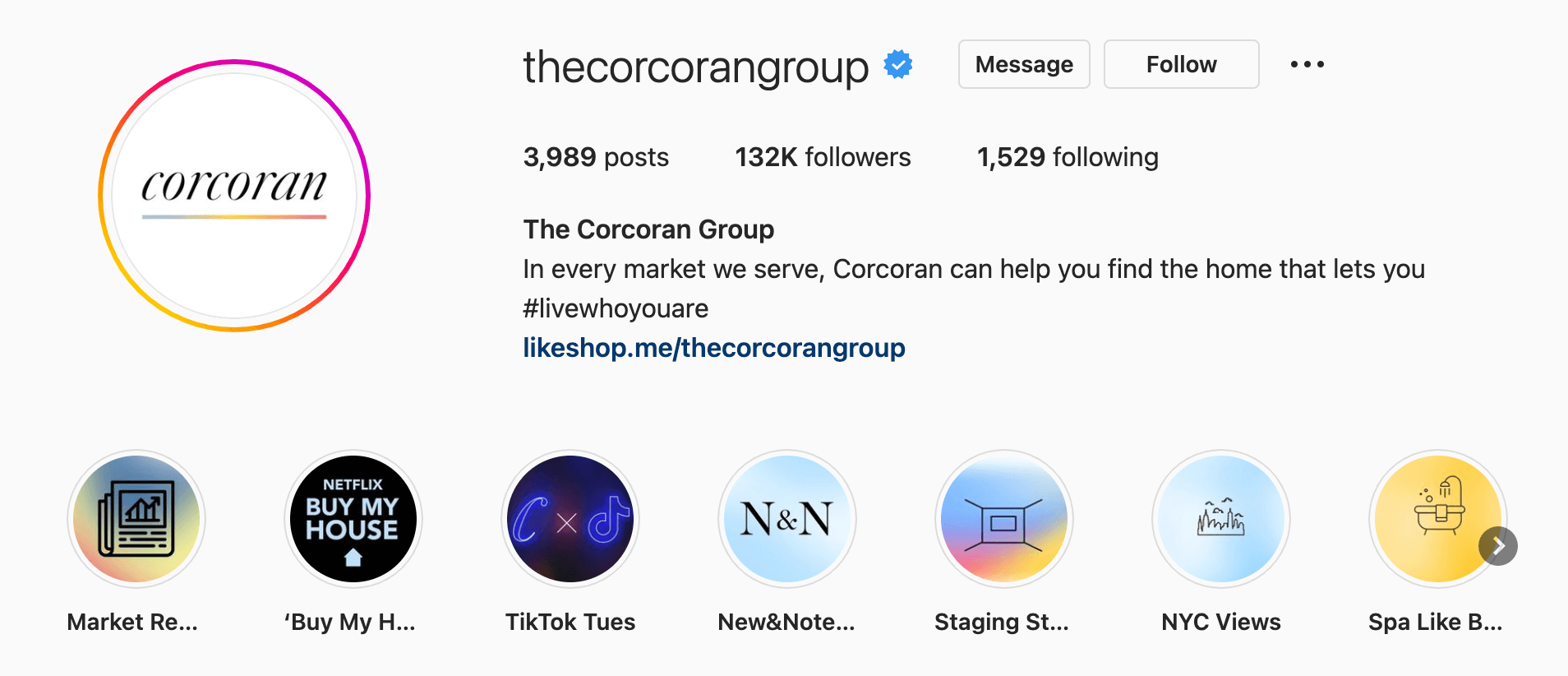 It's elegant and organized, with their logo as the profile picture, a short description of their business model and how they add value, and a simple, clean link to their website.
They go above and beyond by including a relevant hashtag for their niche and sharing well-designed Instagram Highlights. And for the icing on the cake, the blue check mark indicates they're notable enough in the real estate industry to be eligible for verification by Instagram's criteria.
Follow The Corcoran Group's lead and pay attention to the details. It matters more than you think.
Step 3: Examine your content strategy
Have you put all of Instagram's formats to use to help grow your reach?
There are a wide variety of formats that you can leverage to share content with your followers: photos, videos, carousels, Stories, Reels, live broadcasts, and shoppable posts. Sharing a mix of content formats gives your audience various ways to engage with your brand.
With the rising popularity of TikTok and short-form video, don't miss out on the opportunity to start creating a few Reels here and there to see if they resonate with your target audience.
Thankfully, if you conduct regular Instagram audits, you'll quickly learn the format your audience enjoys the most based on engagement rates with each format.
In addition to choosing the appropriate formats, consider how your visual content supports your brand. Can users tell what your brand represents from your latest Instagram posts? 
For example, suppose you're an e-commerce business. In that case, you'll want to ensure your products are the focal point of your Instagram content with a mix of contextualized lifestyle content and direct product marketing shots.
CB2 does an excellent job using a healthy mix of formats like videos, shoppable posts, and carousels to keep their followers interested in new product launches. It's also very clear from their content that CB2 is a brand that sells modern furniture.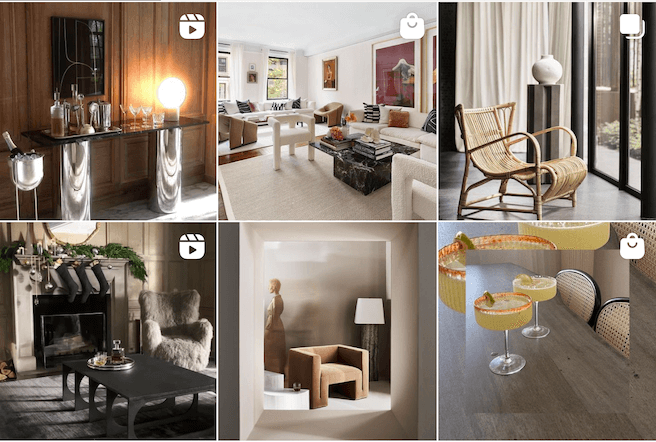 Content is king. Work smarter, not harder, by discovering the best content formats for your audience during an Instagram audit.
Step 4: Assess your branding and aesthetic
Now that you've uncovered the best content formats, it's time to start thinking about how your profile will look.
Your visual branding and social media aesthetic can help you make an excellent first impression with visitors and help them decide if they want to follow your profile.
Colors can play a significant role in the overall cohesiveness of your Instagram grid and how people perceive your brand. Rolex does a stellar job of using similar tones of silver, blue, and green to create a sleek yet luxurious aesthetic.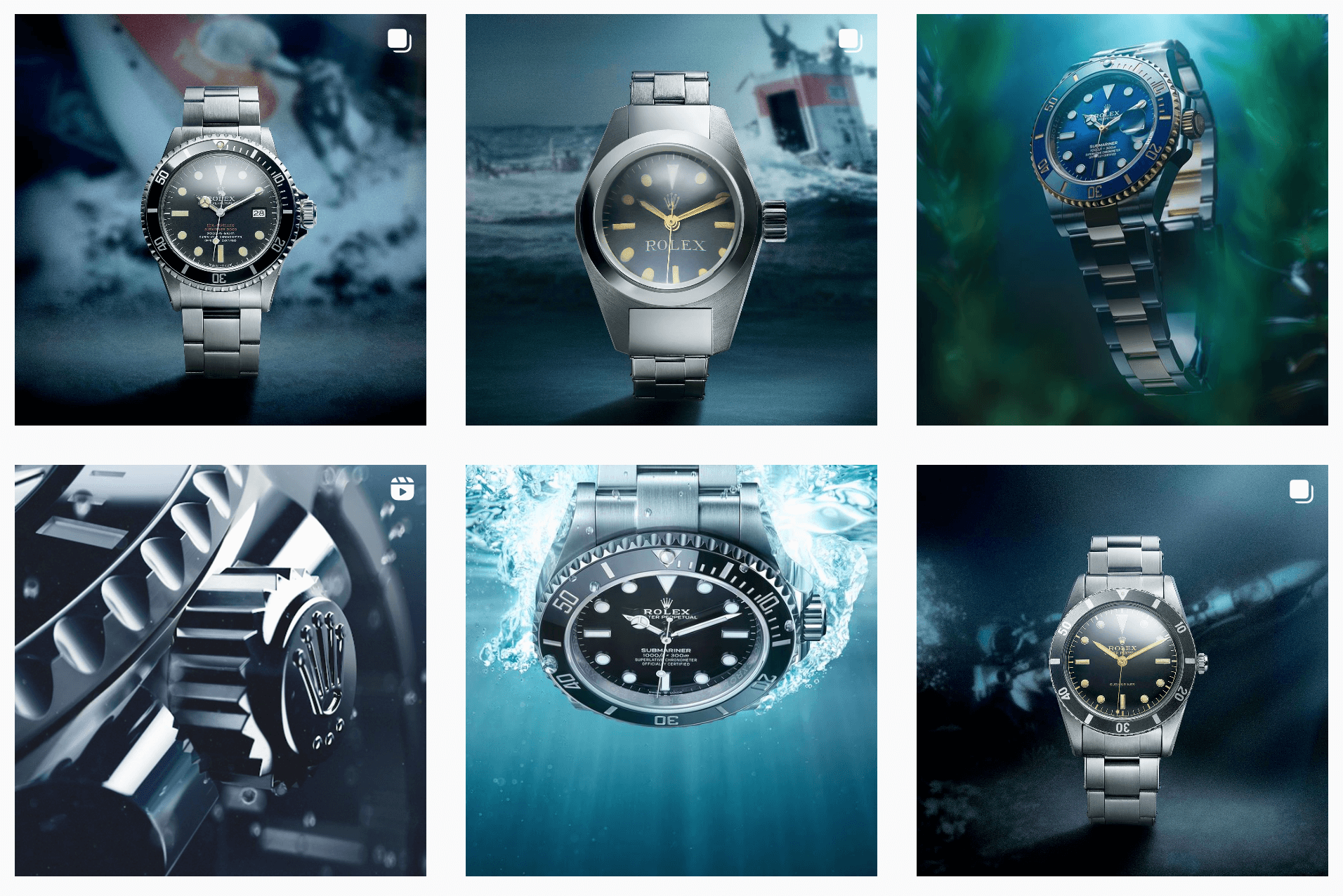 You can also use colors as a marketing strategy to build a buzz for new product launches.
For example, Lollipop recently launched a new Cherry Cola sold exclusively at Target. The last six posts on their Instagram profiles feature red in some way, shape, or form. The cohesive look pulls in viewers and entices them to learn more about the collaboration.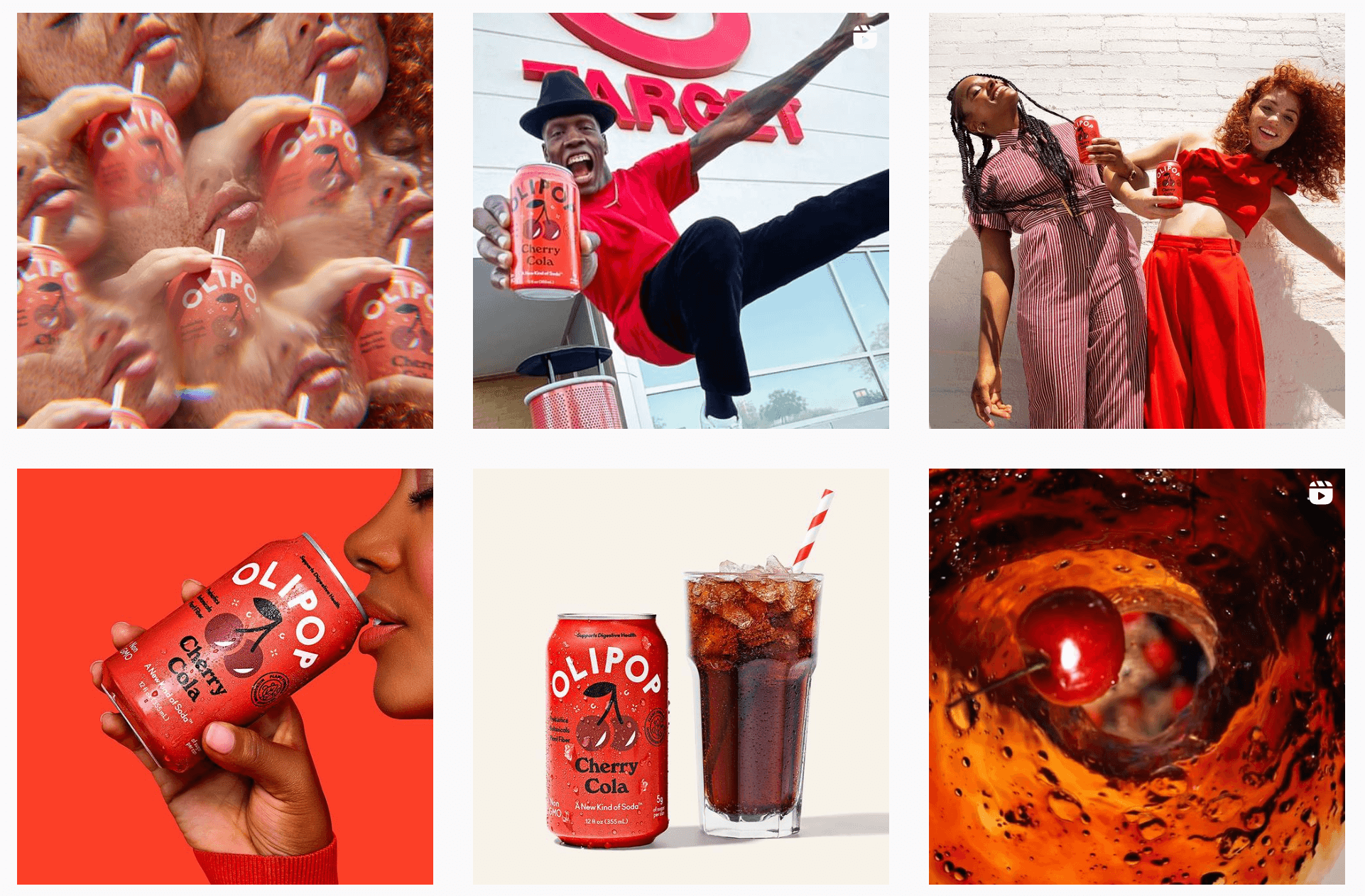 To make sure your photos are always on-brand and your profile looks cohesive, schedule your Instagram posts in advance to improve consistency and increase productivity. With Planable, you can even schedule Instagram Stories and carousel posts.
So if you decide that you are ready to enhance your aesthetic, use resources like Quicktools by Picsart to copy and paste fonts, design templates, mood boards, and reference materials. Now anyone on your team has access to create consistent content without reinventing the wheel every time you want to post something new.
The last thing you want is to go on a wild goose chase to find the specific color blue used in your previous post. Save yourself time with pre-saved templates.  
Step 5: Inspect captions for consistency and tone
Consistency doesn't stop with your photos. It also carries into the caption.
Your Instagram captions are there to help boost the engagement of your content, hence why you need to pay attention to what you write and how you write it. And the style and tone should align with your brand.
For instance, if you use a friendly and approachable voice in your content and blog posts, it wouldn't make sense that your captions are written in a super serious and professional tone.
Go through your captions and try rewording the ones that don't fit well with your tone. You can also use a rewording tool to make the job easier.
Are you looking for inspiration? Take notes from Starbucks' Instagram posts. They use a friendly tone that mimics that of their in-store baristas. They also keep their captions short and sweet and sprinkle emojis here and there to keep the content appealing.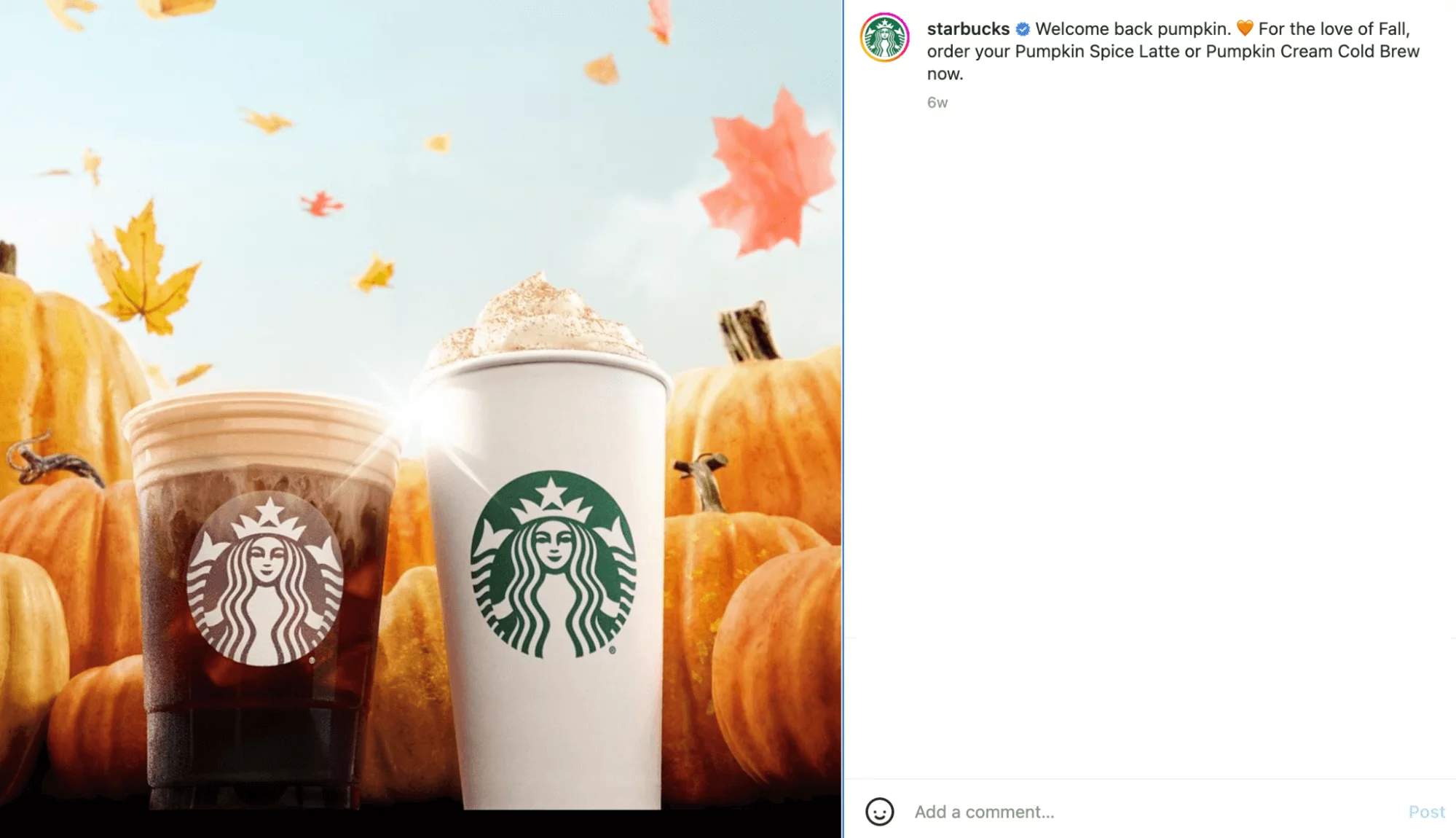 Step 6: Review your engagement tactics
Conducting a review of your Instagram engagement tactics is a great way to ensure you're reaching your goals on the platform. Here are some questions to ask yourself:
Am I spending enough time replying to direct messages and comments?

Am I featuring enough user-generated content?

Am I following the right set of like-minded brands?

Am I using the right Instagram hashtags for my niche?

Am I publishing enough content that resonates with my audience?
To build a community, you must have a two-way conversation with your followers. You can do this by spending an hour per day liking and responding to comments or blocking off time to interact with posts that you were recently tagged in.
How insightful and relatable your content is to your followers also determines the level of user engagement.
For example, HIMS has quickly grown its audience to over 143K by speaking openly about sensitive topics such as ED, Sildenafil treatment, hair loss, depression, and other men's health concerns. Instagram audiences love content that makes them feel like they're not alone in their struggles.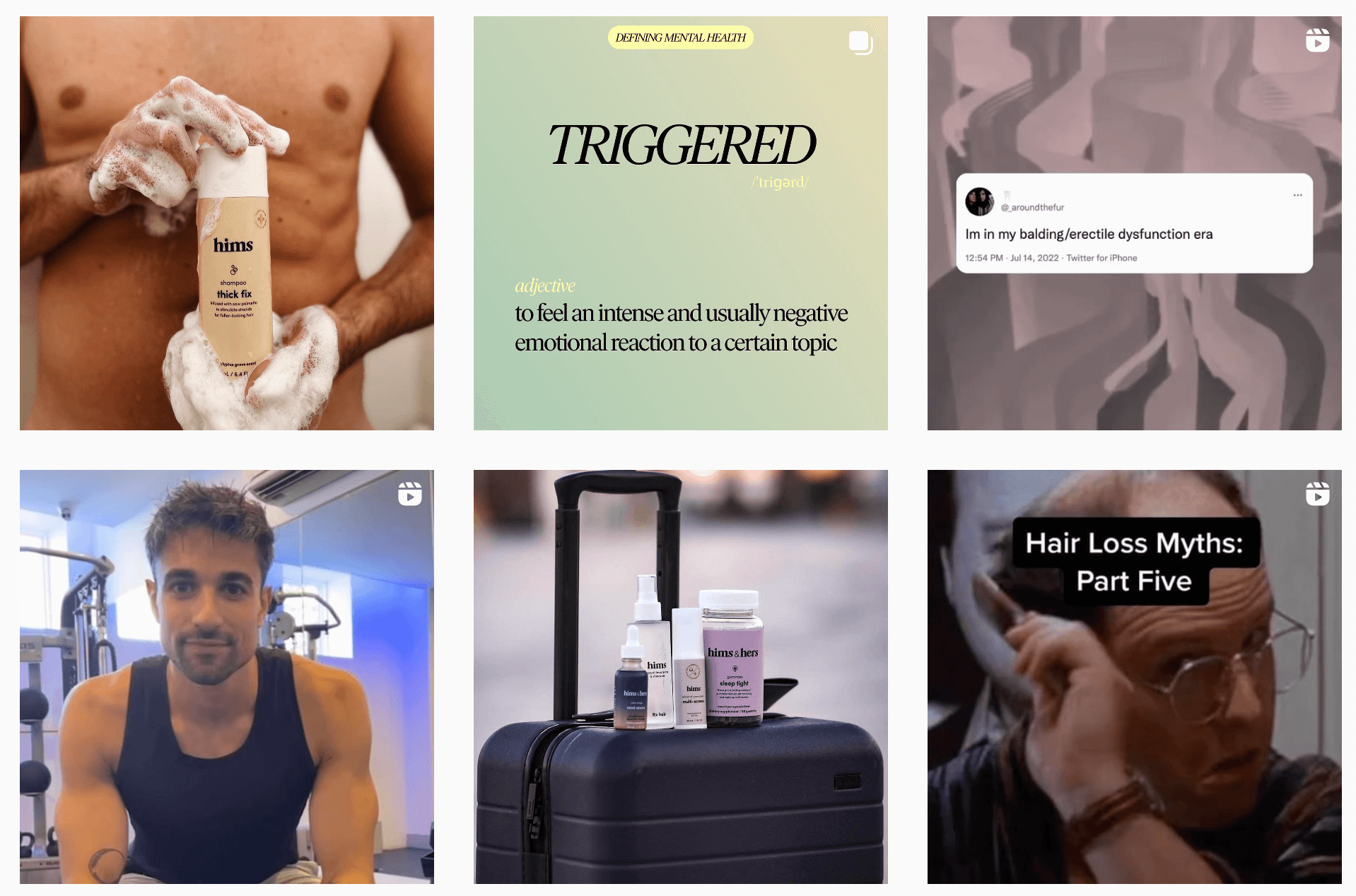 Keeping engagement rates high is the recipe for success. Find what's working well for you and stick to it.
Step up your Instagram game
TL;DR here's your 1-hour Instagram audit checklist:
Evaluate your current goals

Check your profile details

Examine your content strategy

Assess your branding and aesthetic

Inspect captions for consistency and tone

Review your engagement tactics
Throw away the notion that an audit of your Instagram profile is a complicated, time-consuming process. With these six simple steps, you'll quickly understand what kind of content resonates with your followers and what doesn't.
The insights from your Instagram audit will tell you exactly how people interact with your posts. You can tailor future posts accordingly to drive follower engagement and build brand awareness.
Now that you know what works, leverage a social media automation tool to plan and streamline your publishing schedule. Consistent publishing on Instagram helps keep your brand in front of the right people at the right time.
And the best part of all? It's a rinse-and-repeat process that'll steadily drive better results every time.
Conduct your 1-hour Instagram audit today. You won't regret it.