Instagram carousels have been a feature of the platform for a while now and are growing in popularity. They are very user-friendly and allow multiple images on a single Instagram post. A carousel post is perfect for showing off a product or giving a step-by-step guide on Instagram and even showing off seamless panoramic images.
With up to ten slides allowed, you can give your audience enough information to make them want to visit your Instagram account. Perfect for engagement and telling the Instagram algorithm your account is a great one to be made more visible!
Carousel posts on Instagram have undergone some updates, and now they are easy to plan in advance, edit and schedule with Planable, so grab yourself a cup of tea and settle down, as this guide will be your one-stop shop for all things carousel related. Just without the up-and-down motion of a regular carousel… no tea spilling here so desktop users are safe! Here's what we'll cover in this article:
What is an Instagram carousel?
Now, you could be forgiven for thinking an Instagram carousel is a set of motion sickness-inducing moving images, but no.
On Instagram, a carousel post is a set of up to ten images that a user can swipe through, like a slide show, but all on a single post.
This makes a carousel post a creative way to give lots of information in bite-sized chunks or show off a product in different settings. Or even just share some snaps from your latest outing. Think of them as a small photo library on a single post.
A single post with multiple images is also called a photo dump, and it's a great way to help your engagement. Because you are able to provide more information without multiple posts on the same topic, it keeps your Instagram feed lovely and tidy too!
Instagram carousel posts best practices
When it comes to Instagram carousels, there are some best practices to help you get the most reach:
Keep your images square (1080 x 1080) or portrait (1080 x 1350).
Make sure the photos flow in a logical order.
Put the topic subject on the first image of the carousel post.
Include a call to action on the last slide of the carousel post.
How to create an Instagram carousel post
Making a carousel post on Instagram is very easy, even on a desktop:
Open the Instagram app on either desktop or mobile.
Create a new post by clicking on the + sign.
Select up to ten images or videos in the order you want them to show.
Select and apply any filters you want.
Press "Post".
How to schedule Instagram carousels
Let's be honest, scheduling posts is the best invention since peanut butter met jam in the same sandwich. Scheduling carousels is great because it saves you time, fills any gaps in your content, and even gives you time to get approvals if you are working across a team. You can even schedule Instagram carousel posts to go out when your audience is online, even if you are fast asleep in another timezone.
You can schedule natively with the Facebook Business Suite or with a third-party app like Planable.
Schedule carousels with Meta Business Suite (Facebook Business Suite)
The Meta Business Suite allows you not only to schedule Facebook posts, but also carousel posts:
1. From your business Facebook page, click on Meta Business Suite.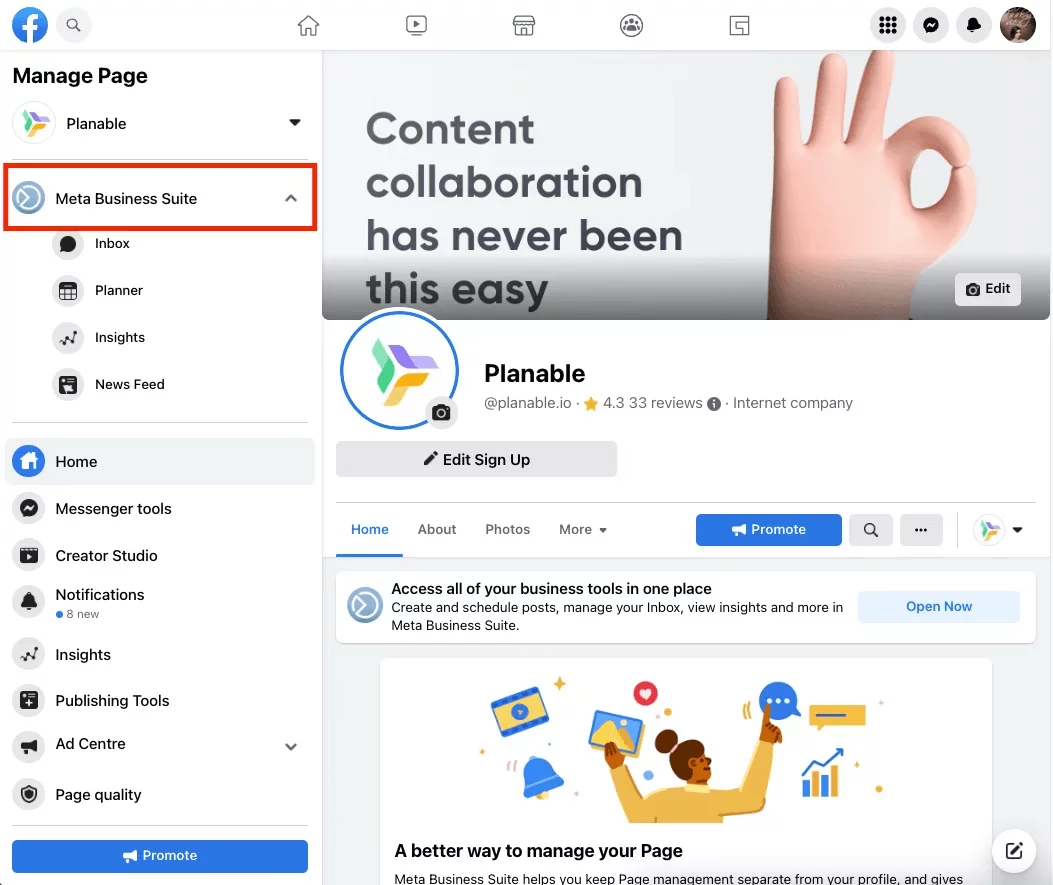 2. From the Meta Business Suite homepage, click "Create Post"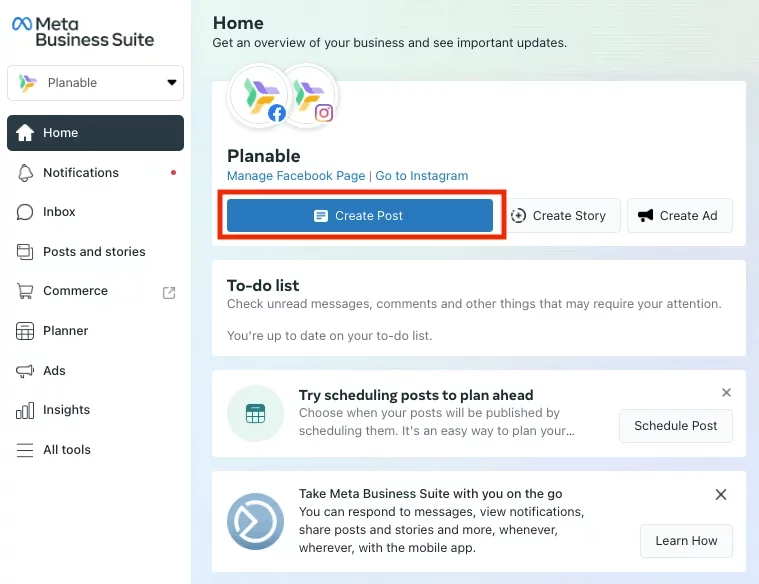 3. Add your post copy.
4. Add the images or videos you want to use, and arrange them in the correct order.
5. Select the schedule option.
6. Choose your time and date.
7. Press "Schedule," and you're done.
Schedule Instagram carousels with Planable
Planable saves time by allowing you to schedule posts in advance, maximizing your social media management, and building a library of photos and videos. Editing one image, video posts or a carousel is simple. Don't believe us? Check out our step-by-step guide:
Open up Planable on desktop or mobile.
Select the workspace you want to work in.
Select the Instagram account you want to work on.
Click on start a post.
Create the caption for the post.
Select the images you are going to make into your carousel by clicking on the photo icon or file icon to use the media library.
Choose your date and time to publish on Instagram.
Click on schedule, and you're done!
With Planable, you can select images from your device or your own media library. This means you can pop an image into your library and use it later. We think that's perfect planning!
Why schedule Instagram posts with Planable?
Planable is like having your very own social media manager in your pocket. With a huge variety of tools at your disposal, you can schedule carousel posts, add filters, upload your videos and create a grid that appeals to your followers.
With Planable, you can even schedule to seven platforms and both your business and personal Instagram accounts. It's the one-stop place for all your social media management.
Some of the most popular features in Planable for Instagram accounts are:
Add videos or photos to your media library on your mobile or desktop and use them later.
Schedule the first comment on Instagram to give your post a place for hashtags or to boost engagement.
Recycle post option so your best social media photos and videos can be re-used

–

no more trying to recreate them from memory.
Edit the scheduled post later; no need to publish to social media immediately.
Visualize scheduled posts in different views – calendar, list, feed, and grid.
Receive or ask for feedback from your team or clients.
Send to clients or your team for approval; after approval, it's automatically published

–

no back and forth.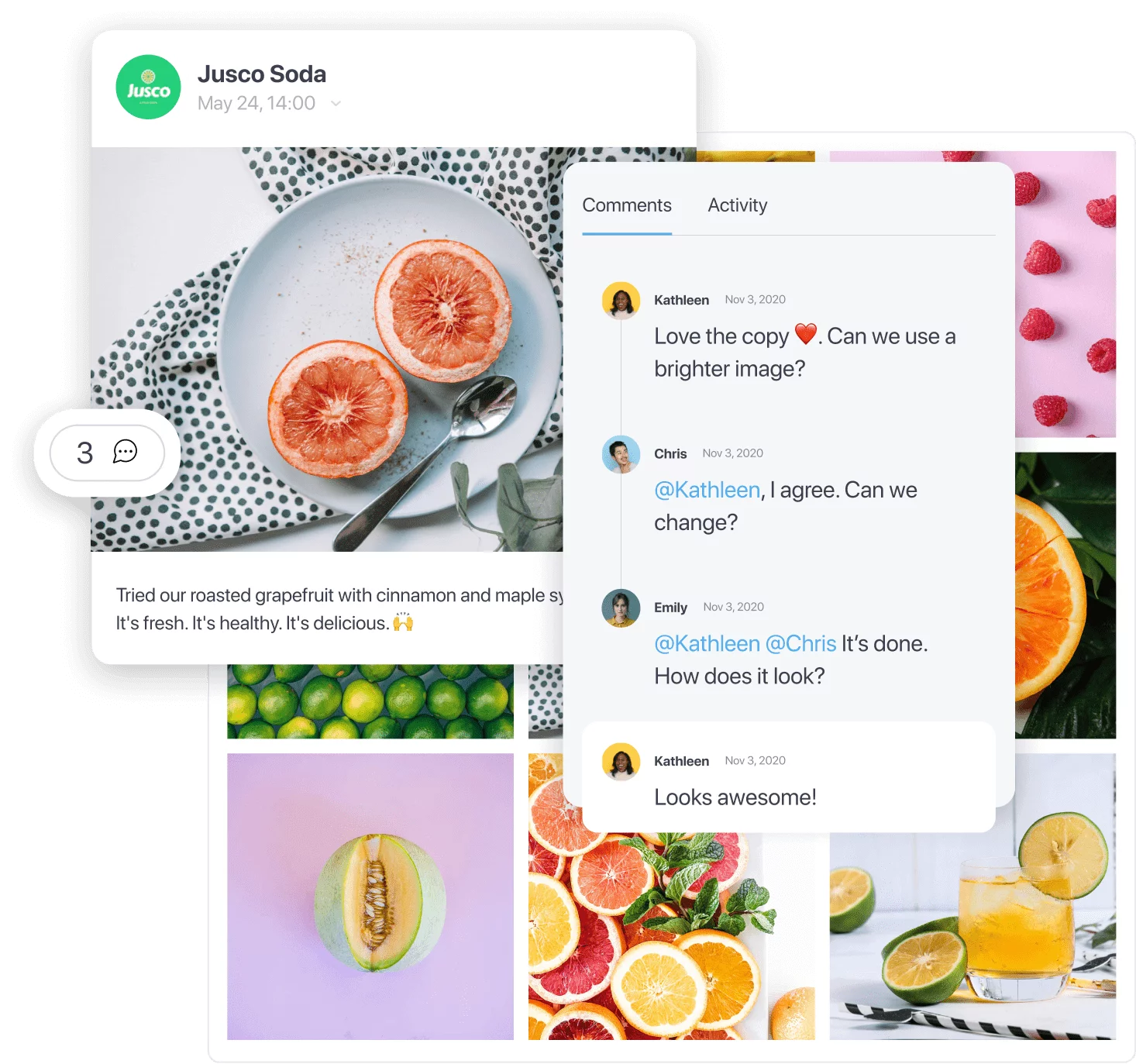 Why use Instagram carousel posts?
Videos or photo dumps make the best types of carousel posts on Instagram as they increase the engagement rate, and the algorithm will then push your post out to more feeds.
Videos can be uploaded as an Instagram carousel but should be in the MP4 format with a maximum size of 4 GB. If the size of your video is larger than that, use an MP4 compressor to reduce it to the needed file size. Carousel videos can't be more than 60 seconds long, which is the perfect length to get your message across! Photos can be uploaded as a carousel post on Instagram in either JPEG or PNG format as long as they are under 30 MB in size.
Did you know:
If someone scrolls past your carousel post without stopping to look at all the slides, they will see your post again in their feed, starting with the second photo in the carousel.
Multiple images can be used to give tips and tutorials in an easy-to-digest format.
By applying the same filter to all the images you can create an Instagram feed that follows your brand aesthetics.
You can publish a series of photos as one seamless panoramic image… without the wobble we all get when trying to do it on our phones.
Instagram carousel trends
Seamless images
Show multiple photos as one image without breaking it up, turning your carousel post into a panoramic photo. Perfect for those gorgeous holiday or event snaps!
View this post on Instagram

Swipe file
Guide followers through a step-by-step guide by using the swipe left function. The longer they spend on your post, the better.
Photo dump
When in doubt about what to post on Instagram, give your post its own photo library to accompany the caption. This is a great way to give a topic its own set of images.
View this post on Instagram
Before and after
Use media files to increase engagement by showing creative ways to save time on projects, or the before and after results of your own work.
Storytelling
Use the first slide as a navigation bar and tell a story with your carousel post. Storytelling is always a huge winner on social media for building engagement and loyal brand followers.
View this post on Instagram

Instagram vs reality
Social media loves to showcase the glamorous so give your audience a taste of what life is really like behind the scenes. By showing the reality, you can add humor and authenticity to your personal brand.
How to use Canva to make your own Instagram carousel templates
Canva is every social media user's best friend and the recent updates have blown us away with all the extra features. Our favorite is the seamless Instagram carousel function. Say goodbye to wobbly mobile panoramic photos. To work out how many slides your image will make, follow this handy formula:
Square images are 1080 x 1080, so if you want 5 slides, you need:
(width of 1080 x 5) x 1080
Portrait images are 1080 x 1350, so if you want to make 8 slides, you need:
(width of 1080 x 8) x 1350
Open Canva on your desktop or mobile.
Select "Custom size" and add in your dimensions.
Then click on File and add the ruler – you need to know where one slide ends and another begins!
Add a ruler every 1080 by dragging it from the left
To perfectly align content on the slides, use a rectangle, draw it to fit one slide (between two guides), send it to the back, and lock it. Now you can drag your content around, and it will show you if it's centered.
Brands making the most of Instagram carousel posts
There's no doubt that some brands are making great use of seamless carousel posts on Instagram, so we did you a favor and put two of our favorites here for you to drool over too. From cheeky animations to useful Instagram carousel templates, these brands know exactly how to create a carousel that increases engagement.
Disney has just released this action shot-type seamless carousel to celebrate the 20th anniversary of Ice Age. Watch as the determined Scrat reaches for his beloved acorn, with inevitable results":
View this post on Instagram
Pannoslice App is giving Canva a run for its money with the ability to place photos and images in different places within a seamless carousel post. We loved this handy tutorial carousel they did!
View this post on Instagram
FAQs
What images can I upload as a carousel post?
You can upload photos in either JPEG or PNG format as long as they are under 30 MB in size.
Which is better, carousel posts vs reels?
Carousels are a short series of images, whereas reels are videos. For people who want to engage their followers creatively, but dislike videos, the carousel post is perfect.
Should I use carousel posts or a single image?
Carousels are designed to be swiped through, and so you can give a lot more value to your followers by adding in more information. Single images can be easily overloaded and so a carousel is a great way to break up information.
How long should an Instagram carousel be?
A carousel post can be up to ten slides long.
Ready to start creating Instagram carousel posts?
If you haven't tried to create a carousel post yet, why not make today the day? Honestly, they are such fun to use and if you publish them with Planable, you can be sure of stress free experience too!

Anna Rump
Anna used to be a teacher and taught teenagers, frequently telling them to get off social media and read a book! Oh, the irony! Now, she provides amazing social media strategies, training, and digital marketing consultancy for the B2B world. Anna's a countryside-loving, brownie-baking, seaside fanatic who can't knit for toffee but is chuffing good at social media marketing and everything it entails.