Does your marketing team have an Instagram content calendar figured out for 2023? If you're an avid Instagram marketer, you know a calendar is the ultimate answer to your content woes.
Planning your IG content in advance helps you tackle the most significant challenge: consistent publishing. However, even if the advantages of keeping an updated Instagram content calendar are clear, you might wonder where to begin. Fear not; that's what we're here for!
In this article, we'll share tips on creating a top-notch calendar for your Instagram posts, Reels, and Stories that will align with your brand's messaging and business goals. Let's roll.
What is an Instagram content calendar?
An Instagram content calendar is a planned schedule outlining when and what to post on your Instagram profile. It helps creators and businesses stay organized and consistent with their content strategy, ensuring a steady stream of engaging posts to grow their audience.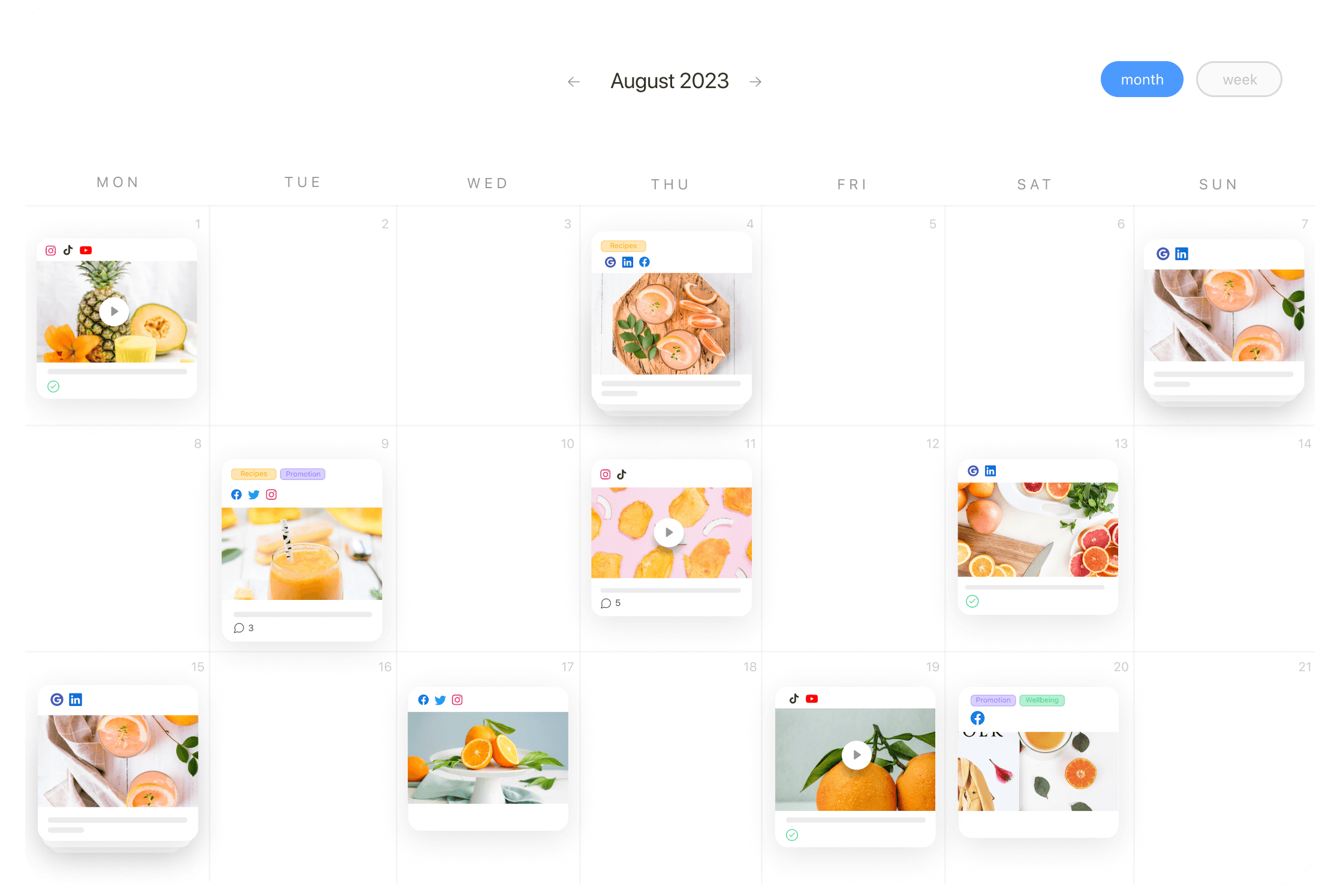 A calendar for your Instagram content can include dates, post ideas, visuals, and any type of scheduled content. In other words, an Instagram calendar is your visual and interactive dashboard for content marketing.
Instagram strategy vs. Instagram content calendar
The difference between an Instagram strategy and an Instagram content calendar is that the content calendar is a comprehensive tactic while the strategy is a tool to execute it.
A social media strategy is an overarching plan that a content creator or business takes long-term. It includes defining the target audience, determining the brand voice and messaging, and setting goals and key performance indicators. A sound strategy drives efficient content planning, giving your social media team an overall brief.
A social media content calendar is a tool that helps a social media team organize content efforts and maintain a consistent posting schedule. It gives social media marketers a bird's-eye view of the feed to ensure the content aligns with the overall strategy.
An Instagram content calendar can exist without the strategy but might not bring tangible results. So before rushing into creating a content calendar, support it with an exceptional social media strategy to set up goals and guidelines for your content planning.
And if you have your Instagram strategy straightened out, let's move on to breaking down Instagram content calendars!
How to get the most out of the Instagram content calendar
Your IG calendar should be an easy and handy tool that helps you post consistently, keep your feed tidy, track published posts, and plan new pieces.
Here are seven steps to building a perfect Instagram content calendar to drive your social media content creation to a new level.
1. Set your tangible goals
To ensure your social media posts bear the fruits you expect, identify your core goals before diving into content creation. When you have clear goals, creating a timeline makes it easier to plan ahead and align your content with your business objectives.
To set your goals straight, figure out these two crucial things.
What is the desired outcome of your campaign?
Every Instagram post serves a purpose for your brand. It can help you build brand awareness, generate leads, increase engagement across the community, or grow your follower base. Identify your main focus for the upcoming couple of months and plan content tailored to your intentions.
What are the relevant metrics and KPIs?
In social media marketing, metrics and analytics are your way to verify whether you're doing it right. To achieve results, you first need the definition of done. Set your KPIs on core metrics like engagement, growth, and reach beforehand to work towards tangible results rather than a generalized idea.
2. Run an audit on your Instagram account
If you already have an Instagram account, analyze it and study the scene. An audit helps determine the weak spots in your social media presence and decide what you can improve in your upcoming posts.
Instagram profile audit
Start by closely examining your profile — the first thing your existing and potential followers see. There are three core checkpoints here:
Profile pic and category title. Ensure the info is up-to-date and aligns with your profile goals. What describes you best: blogger, writer, or gamer? You call it.
Bio section. Write a bio that will catch your potential followers' eye. It should be concise, punchy, and informative. Give your audience a heads-up on what to expect from your page.
Link in bio. Add links to your external sources, be it a website of your small business shop, your TikTok account, or a portfolio. Since April 2023, you can add up to five links to your Instagram bio — use them wisely.

Instagram content audit
A content audit involves analyzing your published posts to find what worked and what didn't. By reviewing your past content, you can learn valuable insights into what your audience likes and dislikes, what drives engagement, and what aligns with your brand's messaging.
Study your posts from the past six months and identify the weak spots and your strong suit:
Which Instagram post gained the most and the least likes?
Which post was the most shared one?
Does your audience prefer video content over pictures?
Remain unbiased and keep a cool head when evaluating originally published posts. Regardless of what it reveals, a content audit will help you create higher-quality content in the future.
Competitor account analysis
Make sure to keep an eye on your competitors' social media channels. Knowing what your fellow creators are doing provides a better understanding of the industry's landscape and highlights the gaps you can fill to get the upper hand.
Competitor analysis helps marketing teams source content ideas for the brand's profile, optimize the content strategy, and identify trending topics in the industry. Besides, it's also a source of inspiration: marketers can tap into new engaging content formats and keep tabs on emerging hashtags to ideate on future content plans.
3. Choose the platform for your Instagram content calendar
Now, it's time to think of how to make your detailed content calendar efficient, intuitive, and engaging to use. You can always create your own Instagram content calendar template or use one of the solutions designed for managing your social platforms.
1. Planable
Planable is a social media management tool focusing on collaborative content creation. The platform allows marketing teams to create, schedule, and publish any written content, including Instagram posts.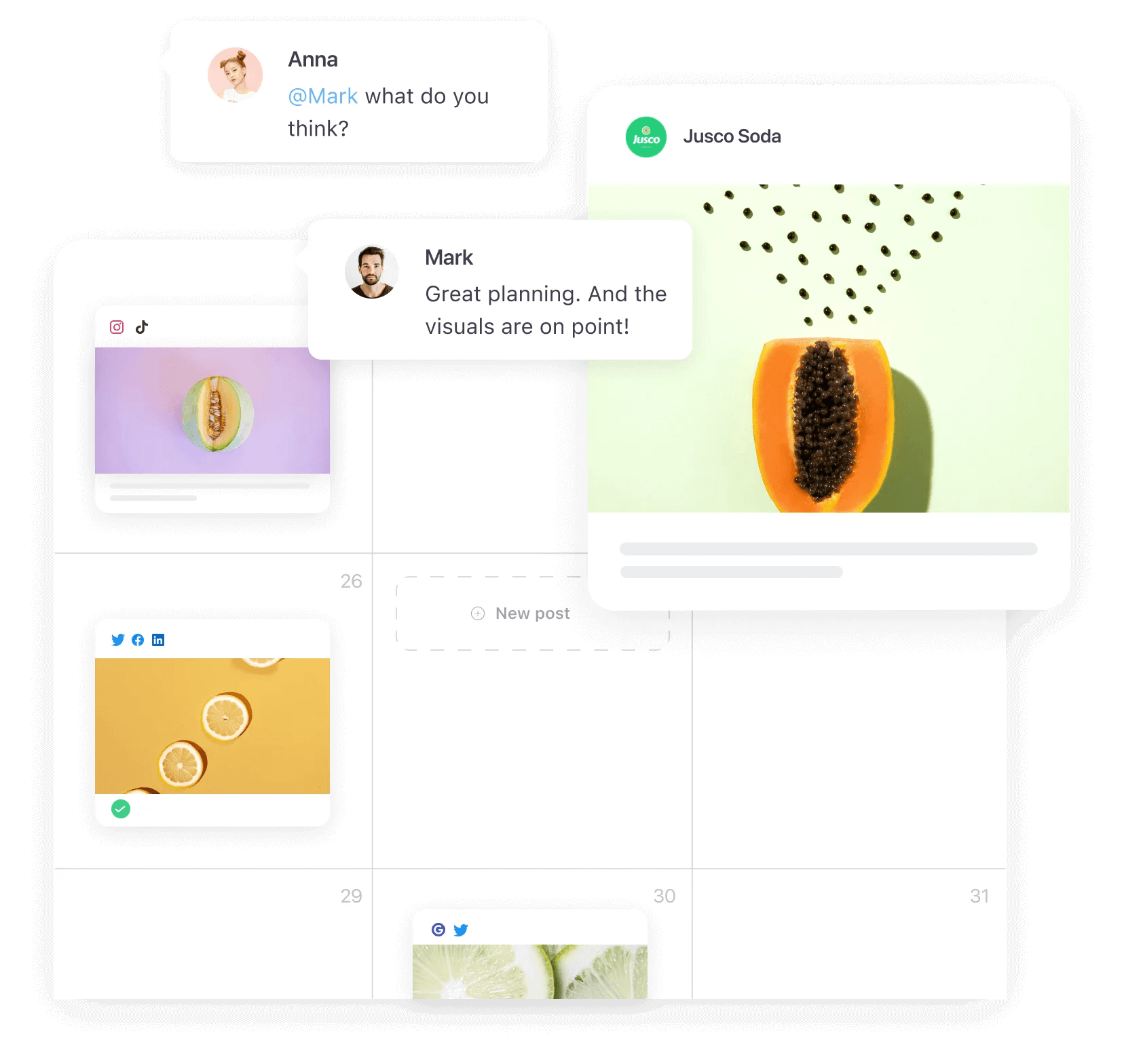 One of Planable's signature features is a highly customizable and visual social calendar. It offers three views to get a holistic idea of your social posts. Here's how you can level up your Instagram game with Planable:
Create, schedule, and publish posts: set a publish date, mark important dates for releases or holidays ahead, and shuffle your social media posts with drag-and-drop tools. Planable offers direct publishing for posts, Reels, and Stories.
Manage all your creative assets across multiple social channels: the media library holds pictures and videos you may repurpose.
Preview your grid feed to see how your posts will fit into the profile layout.
Planable doesn't offer built-in analytics for social media content. However, it remains a top-notch content calendar tool for posting consistently and managing social media efforts on one platform. The tool offers 50 free scheduled posts and an upgrade of $11/month only.
2. Spreadsheets
Google Sheets or Excel is a good start for teams who want to test the idea of a content calendar first. It's free and familiar to most; thus, kickstarting your social media content calendar would require little to no onboarding and preparation time.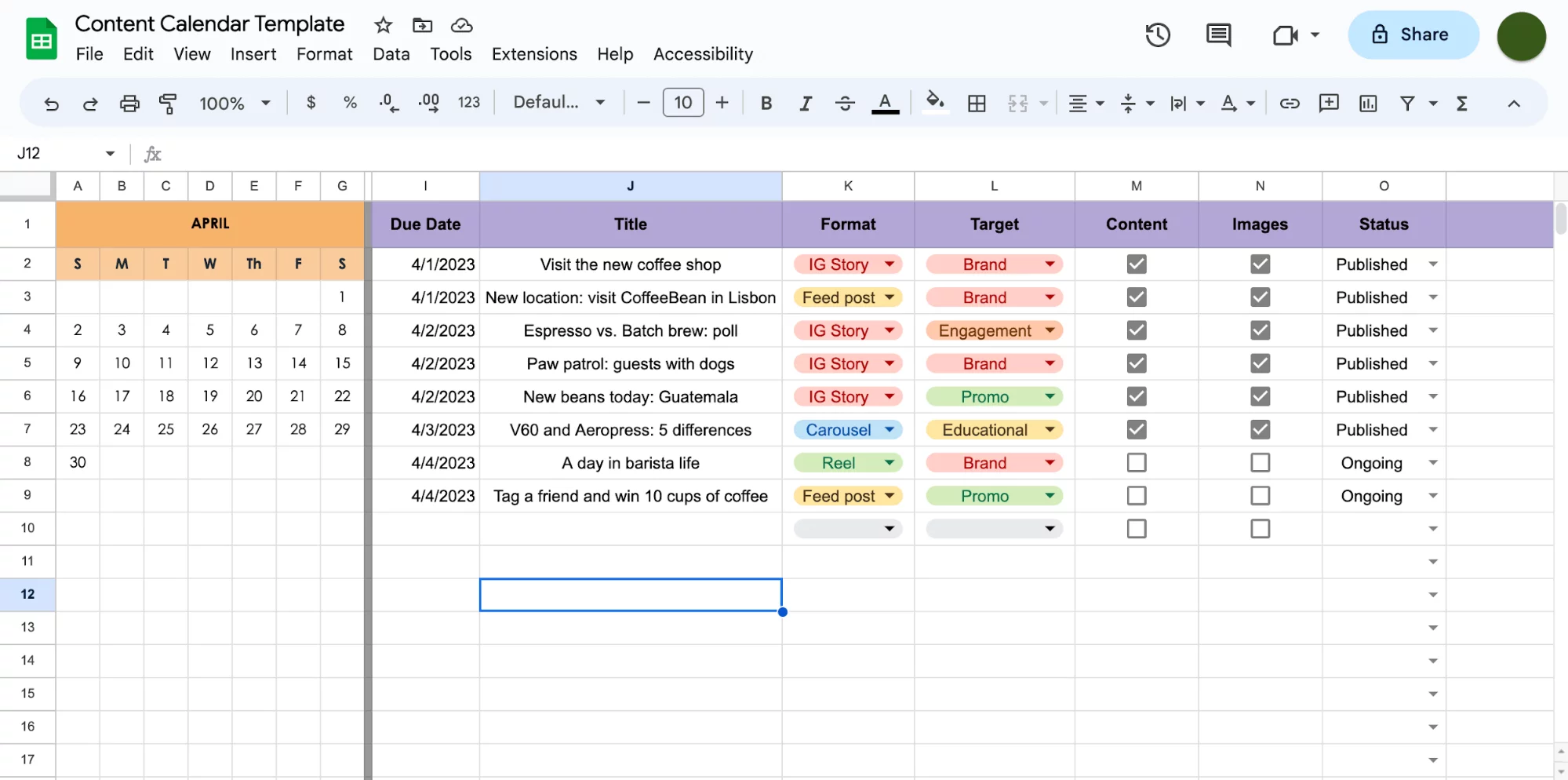 The only issue is to come up with a comfortable form. Meditating over your social media content calendar template can take a little longer, but you can always find inspiration in multiple free templates online.
3. Google Calendar
This is yet another free option for essential Instagram planning. As long as you don't need much context for each feed post, Calendar does a great job of organizing your feed and helping you post consistently. You can also color-code your topics or categories of content.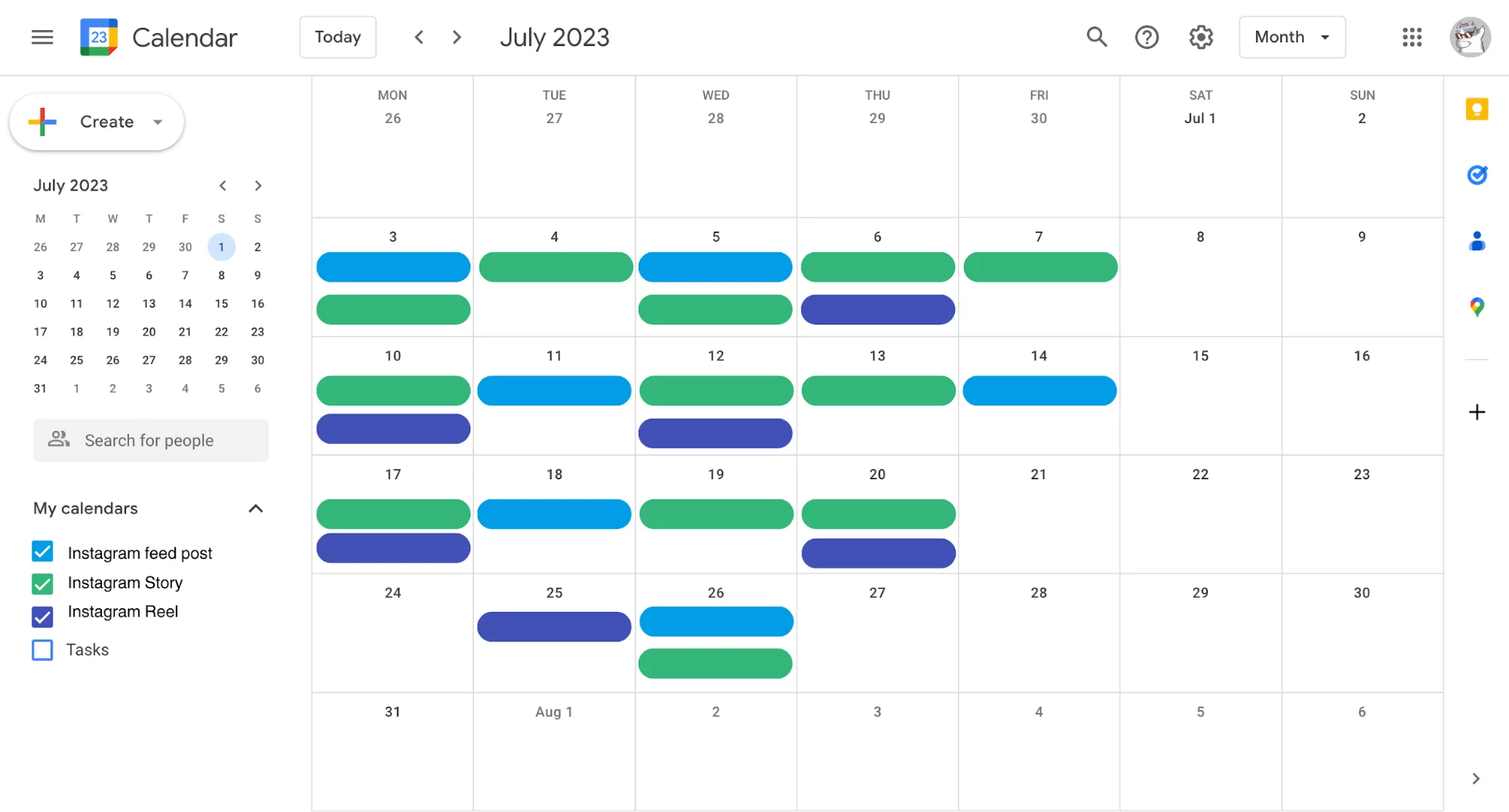 However, if you are a bigger business rather than an individual creator and have several social media platforms to handle, Google Calendar may not be powerful enough for you.
4. Establish your Instagram content pillars
Content pillars help you create relevant content that aligns with your brand, goals, and audience. It's the proven foundation that you can return to in search of new Instagram post ideas.
Although it's hard to classify or define content pillars, there are more or less common practices to rely on. Choose several content categories that fit your brand and mission and turn them into recurring themes. For example, if you're handling Instagram for a coffee place, your content pillar rubricator might look like this:
Educational content: tell your followers about ways to roast coffee and how it affects the taste.
Promo content: set up a contest or a collaborative post for the followers to tag a friend and get a branded coffee cup.
Inspirational content: create a carousel with capitals of the third-wave coffee culture.
Trust-building content: shoot a reel showing how your baristas take classes on coffee tasting and V60 technique.
With your proven content pillars, you can easily plan posts for the week ahead, using themes and adjusting topics to your current agenda.
To make it simpler, try Planable's color-coded tags to mark each rubric. And then, filter your content calendar to see only the educational content or promos to keep tabs on your plans.
5. Determine the best days and times to post
Have you ever created a bomb post that somehow didn't live up to the expectations performance-wise? Probably, that happened at least once, and there's a reason behind it.
What you post is, naturally, essential. But when you post is no less crucial for your content's performance. You'll have to aim for peak engagement time to ensure your upcoming content performs at its best. Posting at the optimal times doubles the chances that your content reaches your audience when they are most active on the social media platform.
However, determining the right time and day to post can be challenging, especially for global brands with target audiences across time zones. For instance, if your Instagram audience is both Los Angeles and Germany-based, what's prime evening time in Germany is early working morning in LA. Tricky? Yes, but manageable.
To determine your perfect timing, use professional dashboards in Instagram's business accounts for insights. Instagram analyzes your audience's activity to see when your current followers are the most active. Scheduling posts in prime time for your particular audience will significantly boost engagement.
6. Start planning and scheduling post ideas
Now, let's get down to business — planning and scheduling Instagram posts in your social media calendar.
Once you've established your Instagram goal, KPIs, recurring themes, and content pillars, you can create a content planning matrix. Determine what content pillar serves each purpose and what topics you can use to lead your social media campaigns to desired results. Then, add some content ideas to complete the plan according to your agenda.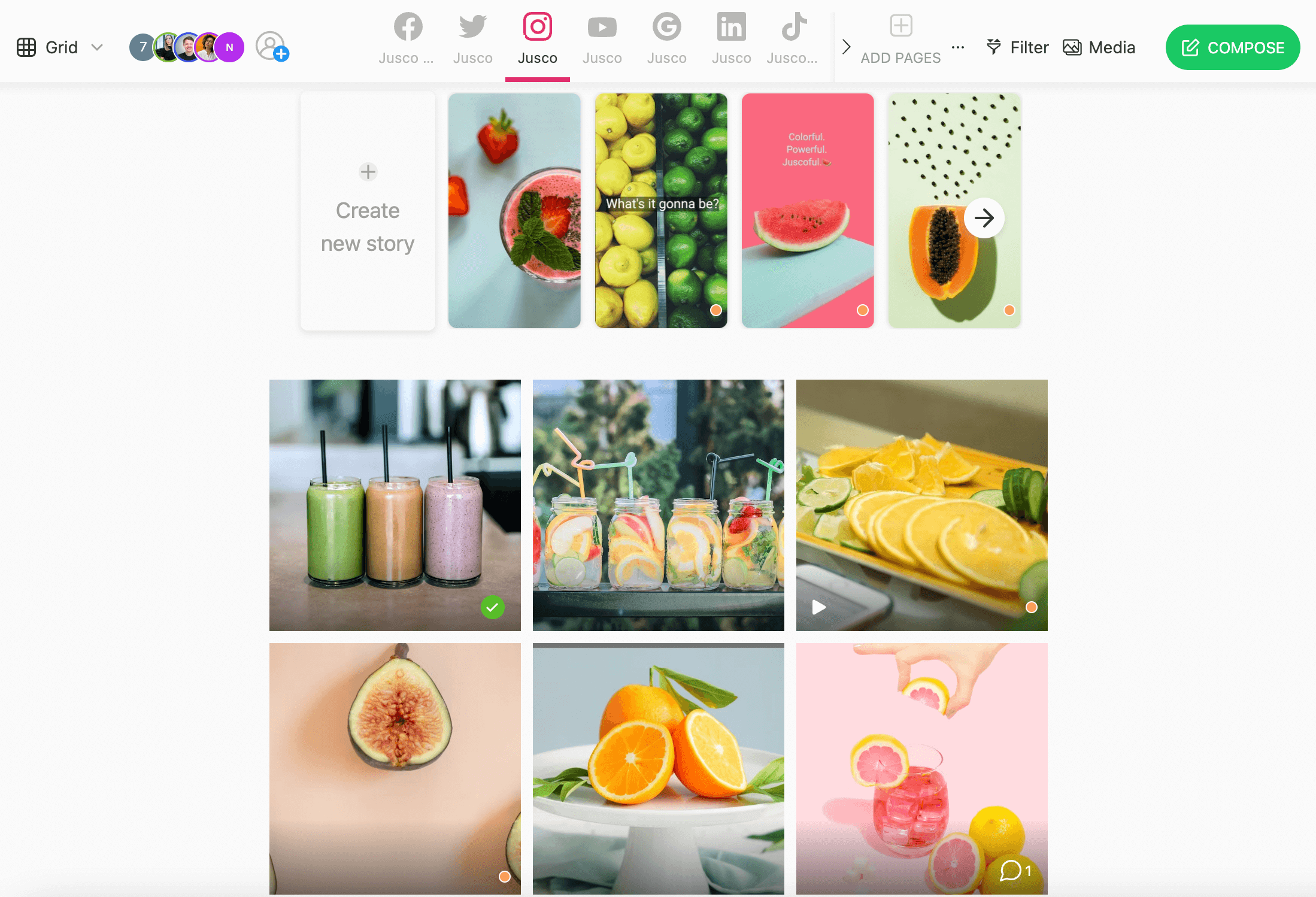 Draft your ideas to see how they fit into your current feed. In Planable, you can switch to grid view — a mockup of your Instagram profile. It's the perfect way to see if the recent post marries the published ones nicely and tells a cohesive brand story.
Feel free to experiment with formats. Instagram started as a picture-only social network, then added stories, and finally, in 2022, it took a raging swing toward reels. However, in 2023, Instagram decided to return to its roots, favoring images and feed posts over reels — and AdWeek's report proves that with a 20% decline in reel views.
So when you schedule posts, leave room for stories, Instagram reels, feed posts, and Instagram carousels altogether and see what works best for engagement. It will make your feed more diverse and future-proof your metrics in the ever-changing social media content trends.
7. Track performance with Instagram analytics
Keeping your careful eye on analytics is the only way to know what works well on Instagram and what needs improvement. Instagram has built-in analytics that help you track engagement, reach, impressions, and other important metrics to evaluate your content's performance.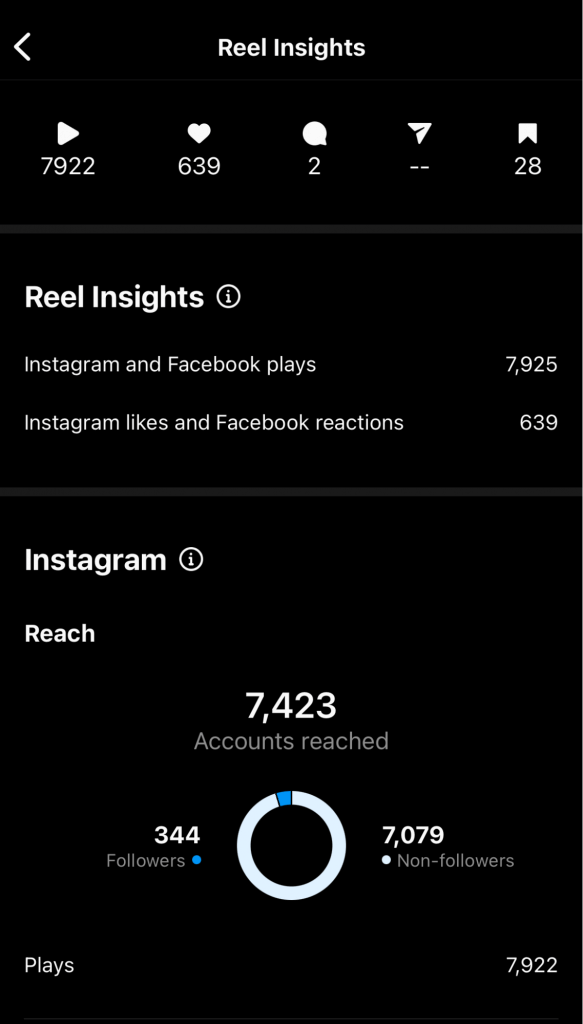 Although social media strategy is long-term, it's not set in stone and needs tweaking now and then. It's a continuous process that depends on how your content pillars resonate with the audience, what formats you use and how the Instagram algorithm treats them now, what's your industry and when you post your content.
So come up with theories and test them using analytics: experiment with formats and posting time, explore your content pillars, and find inspiration from competitors or other platforms. The road to reaching the KPIs can get whirly, but tracking analytics is what keeps you on track.
Wrap up
Social media content calendars are handy tools to streamline your content flow and help you navigate the rapid Instagram waters. Besides, handling an Instagram content calendar can be real fun: with all the theories and formats, you can get as creative as you'd like.
Try building your Instagram content calendar in Planable today: you plan and create, and Planable takes care of the rest.