Navigating the sea of marketing tasks can feel overwhelming, right? You're not alone. Many marketers struggle to keep track of tasks, handle team collaboration, manage multiple accounts and ensure seamless content creation.
That's where robust marketing planning software becomes your lifesaver. These tools are designed to organize and streamline your marketing efforts, making your workflow run more like a well-oiled machine.
But with so many options available, how do you find the one that best suits your needs? This article provides an in-depth look at 8 of the best marketing planning tools out there, breaking down their key features, benefits, and how they can optimize your marketing process.
Let's dive in!
What is marketing planning software?
Marketing planning software is a tool designed to streamline and centralize the strategic process of managing marketing campaigns. It's a one-stop-shop solution for team collaboration, task assignment, content management and scheduling, and campaign progress monitoring.
A marketing planner app's main goal is to reduce manual work and increase efficiency so your team can focus on what truly matters: creating compelling, effective campaigns.
Benefits of marketing planning tools
The right marketing planning tool can revolutionize your digital campaigns, fostering efficiency, visibility, and accountability.
Here are some standout benefits of planner apps for marketing:
Improved campaign visibility
A marketing planning tool brings your entire campaign roadmap to your fingertips. From content schedules to real-time updates, these platforms provide a bird's eye view of your campaign's status.
Enhanced team accountability
With clearly assigned tasks and deadlines, marketing planning software ensures that everyone knows their responsibilities. It's a win-win situation – team members have clarity about their roles, and management can easily track progress and contributions.
Comprehensive history tracking
Marketing planning software should offer a detailed log of all the changes. This feature enables you to restore old versions of your post with one click. No more worrying about making changes by mistake.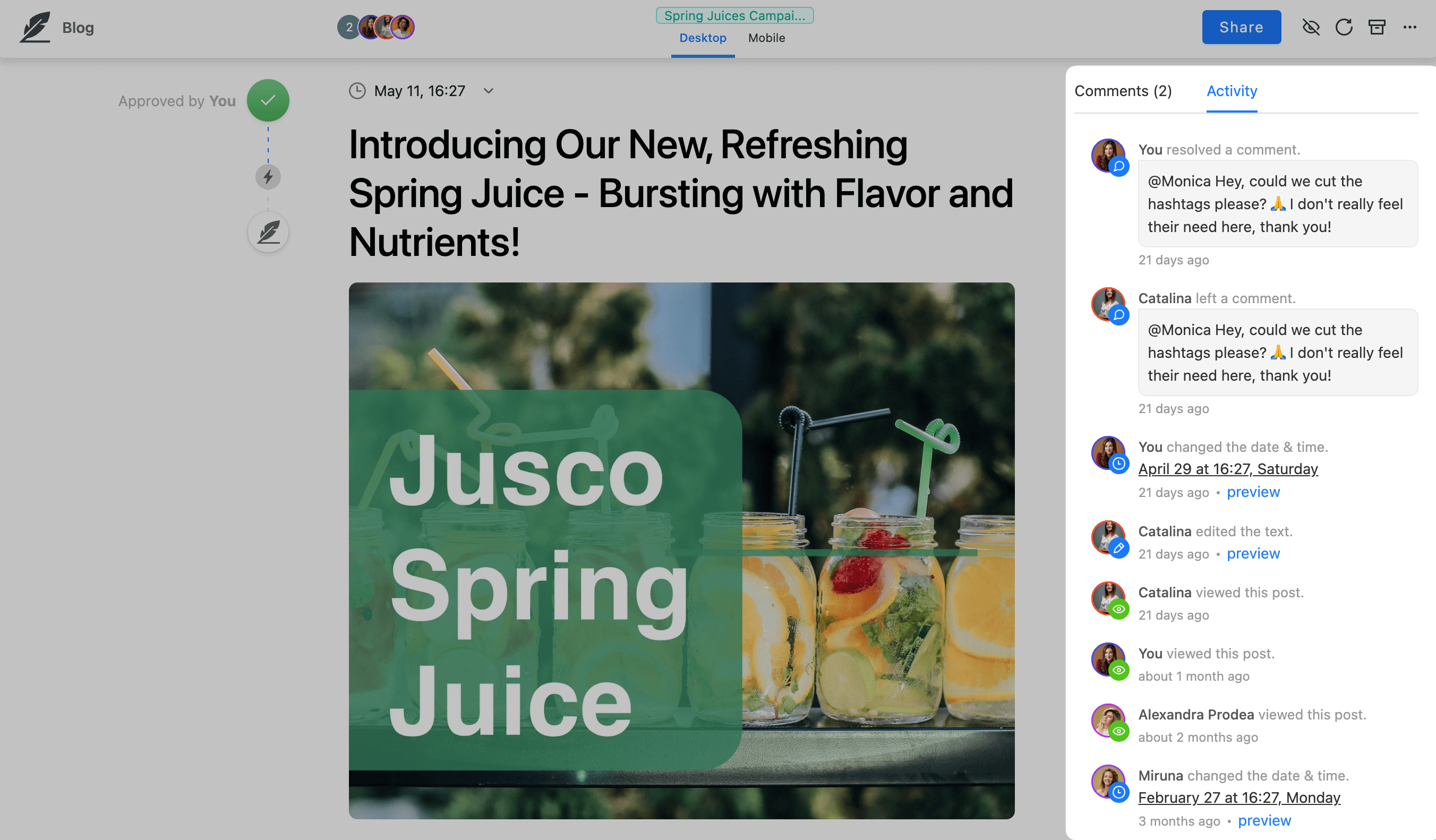 Real-time in-context feedback
Instead of juggling multiple channels for feedback and approval, a visual planning tool will let you streamline the process right within the platform. It becomes easy to leave comments, suggest edits, and get content reviewed and approved, all in one place – right next to the content in question.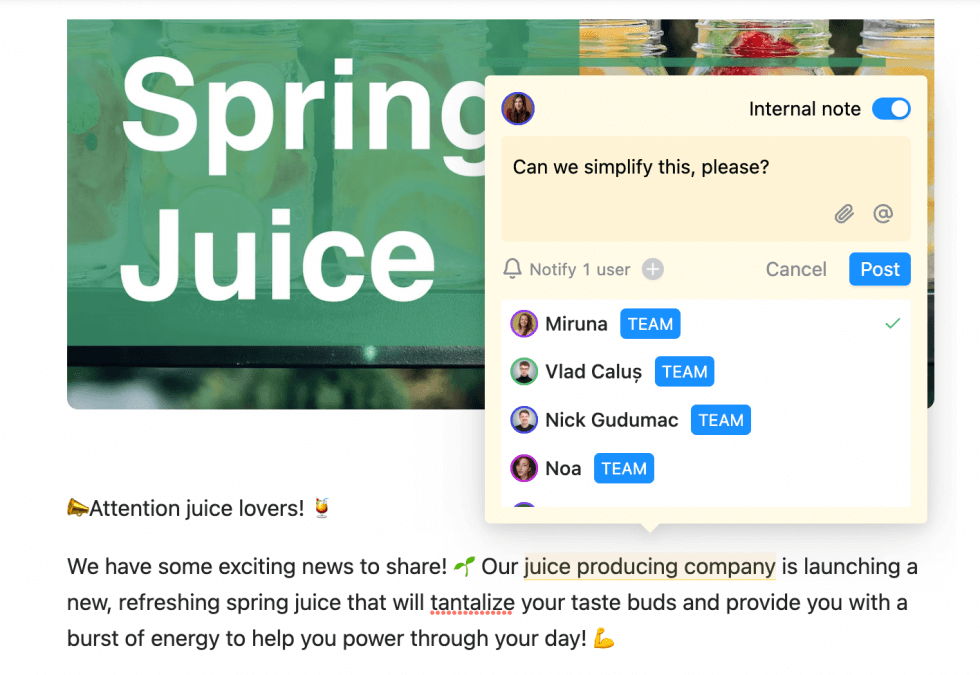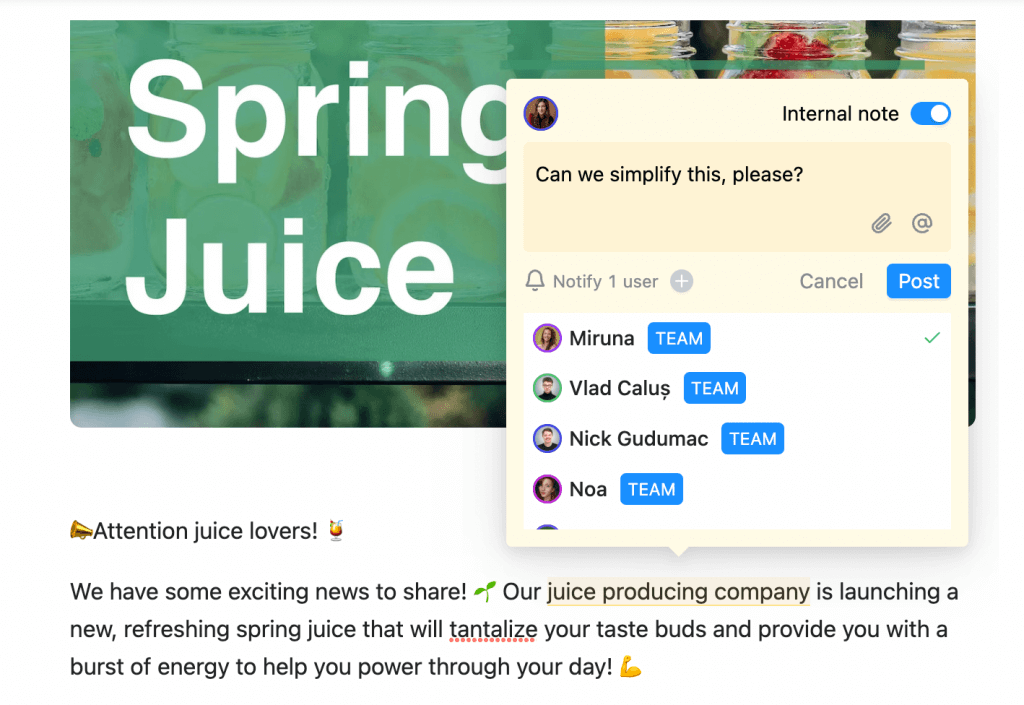 With all your resources, team members, and campaign plans in one place, your marketing workflow becomes a well-oiled machine. You can forget about cluttered inboxes and scattered files. Everything you need is in one place.
Key features to look for in a marketing planner app
When it comes to choosing the best marketing planning software, it's essential to prioritize features that truly amplify your team's productivity and campaign effectiveness.
Here are some key features to look for:
Working together as a team is essential for any campaign to succeed. So you should go for a marketing planning software that offers integrated collaboration space for team members to share ideas, feedback, and progress on their marketing plans.
Look for a tool that allows for a swift and efficient multi-level approval process. The ability to give instant feedback and approvals within the platform itself speeds up your marketing initiatives and ensures content consistency.
Marketing calendar planning
A clear, user-friendly calendar interface for scheduling and visualizing content is a must. For example, Planable allows you to plan your future marketing campaigns and make quick adjustments as needed in a content calendar.
Digital assets management
Another great feature to look for in marketing planning software is a media library. It's like a centralized place to store and manage all your marketing assets. The best tools allow for easy uploading, organization, and retrieval of various types of content, from images to videos to PDFs.
Effective delegation is crucial in marketing. And a tool with built-in task management features can ensure everyone on your team knows their responsibilities and deadlines.
The best 8 marketing planning software tools
There are many marketing planning tools out there, so I've compiled a list of the best. Let's take a closer look.
1. Planable: best marketing planner software with collaboration and approval features
Planable is a powerful marketing planning tool that combines collaboration, planning, and approval features. With Planable, you can co-create, preview, and work together on virtually any form of written content you can imagine. Social media posts, blogs, emails, newsletters, briefs – you name it, Planable can handle it.
With the platform available on the web, iOS, and Android, you can stay connected to your team and manage marketing plans anywhere. It's designed to facilitate seamless marketing processes with features like real-time collaboration, a unified content calendar, version history, and instant content approval tools.
Among Planable's standout features are:
Content scheduling across platforms
Planable allows marketing teams to schedule content for eight major social media platforms: Instagram, Facebook, TikTok, YouTube, Twitter, LinkedIn, Pinterest, and Google My Business. With Planable, you don't need to juggle different scheduling or content planning tools – you've got everything under one roof.
Simple approval workflows
Whether you plan marketing campaigns, organize social media posts, or coordinate content creation, you need to get your content green-lighted with one click while keeping everyone in the loop. This is where Planable excels through simple yet reliable approval processes that give you peace of mind.
Multiple layer approval process for a social media post in Planable
From cropping and filtering to annotating, decorating, and resizing, Planable offers a comprehensive suite of image editing tools for all your marketing tactics. It's like having a mini Photoshop built right into your marketing planner. You can also trim your videos and add covers to ensure they're ready to capture your audience's attention.
If you need to reuse old content, Planable makes it easy to import your previous posts. This way, you can build on your past successful marketing projects without starting from scratch.
With Planable, marketing managers can quickly filter your posts based on their status – whether they're approved, scheduled, have feedback, or encountered publishing errors. It's all about making your workflow as efficient as possible.
Need a little help with your content creation? Planable's AI can generate text and make your posts shorter, or punchier. It's like having an assistant writer on demand.
Planable supports alternative text for your image posts on Facebook, LinkedIn, and Twitter for search engine optimization. It's a small step that makes your content more accessible.
However, Planable lacks analytics and reporting features. So if those are critical to your strategy, you might need to pair it with another marketing software. Nonetheless, its robust suite of collaboration and content management features makes Planable a top choice among the best marketing planning software.
When it comes to pricing, Planable is as flexible as its toolset. You can start with a free plan to test the waters, and then choose from several subscription options (starting at $11 per user per month) based on your needs.

2. GDocs: best for real-time collaboration on a budget
GDocs, or Google Docs as it's widely known, is a great tool to consider, especially if you're tight on a budget. It may not have all the features of some other marketing planning tools, but for straightforward, real-time collaboration on written content, it's hard to beat.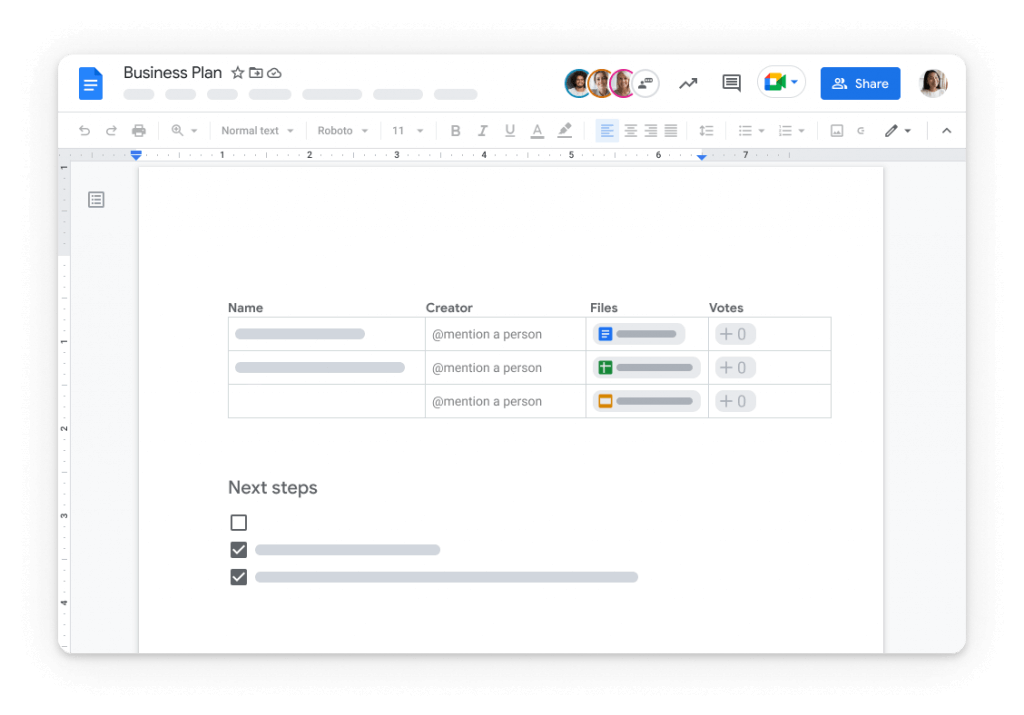 Source
At its core, GDocs is a cloud-based word processing tool, but its real power is that it offers team collaboration features. You can share documents with your team members, provide and receive feedback in real time, and keep track of all changes with an intuitive version history system.
As for pricing, GDocs is a part of Google Workspace, which offers a range of plans starting at $6 per user per month. However, for basic usage, you can use GDocs for free, which makes it a very appealing choice for startups or small teams on a budget.
The drawback? GDocs doesn't offer any built-in scheduling or publishing features for social media. You'll need to pair it with other tools for a more comprehensive marketing planning solution.
3. Monday: best project management tool
Monday.com is one of the best project management tools designed to streamline all your marketing campaigns. Its key strength lies in its visual project timelines and workload management features, providing clear visibility of deadlines and tasks. Integrated with various automation, it frees up your team from time-consuming administrative tasks.


This cloud-based software is available on the web, iOS, and Android platforms. It offers flexible pricing plans starting at $8 per user per month. You can also stick to the free version forever.
The major drawback is its lack of features for content creation and social media post scheduling.
4. Asana: best for managing marketing goals
Asana is a robust project management software focusing on managing tasks to meet certain marketing objectives. It provides a flexible workspace where you can effortlessly manage tasks, breaking down large projects into manageable chunks and assigning them to team members.


One of the most popular marketing planning tools, Asana lets you can structure your workflow in the way that fits your team best, be it through lists, boards, or calendars. Automation comes in handy in taking care of repetitive tasks, freeing your team to focus on creative and strategic aspects of your marketing campaigns.
Pricing for Asana starts at $10.99 per user per month for the Premium plan. A free basic version with limited functionalities is available, and a 30-day free trial of the Premium version is also on offer.
While Asana can help marketing teams to manage tasks effortlessly, it falls short in terms of content creation, editing, scheduling, and publishing features.
5. Notion: best for project planning
Notion is a comprehensive tool designed to manage your entire marketing strategy. It combines the capabilities of a project management tool, document editor, and task tracker into a single workspace. With notion, you can manage tasks, plan projects, build knowledge bases, and take detailed notes all in one place.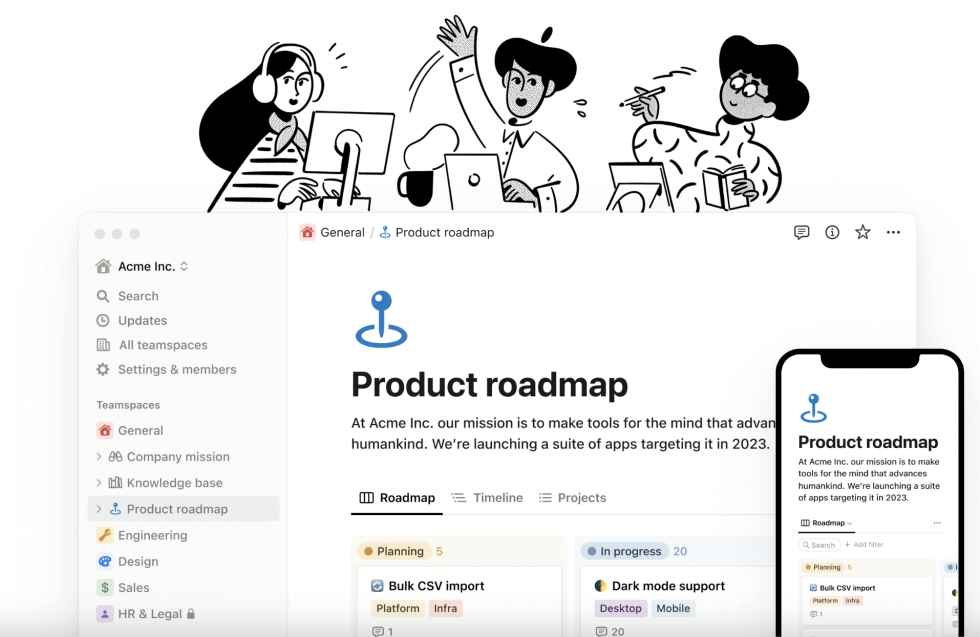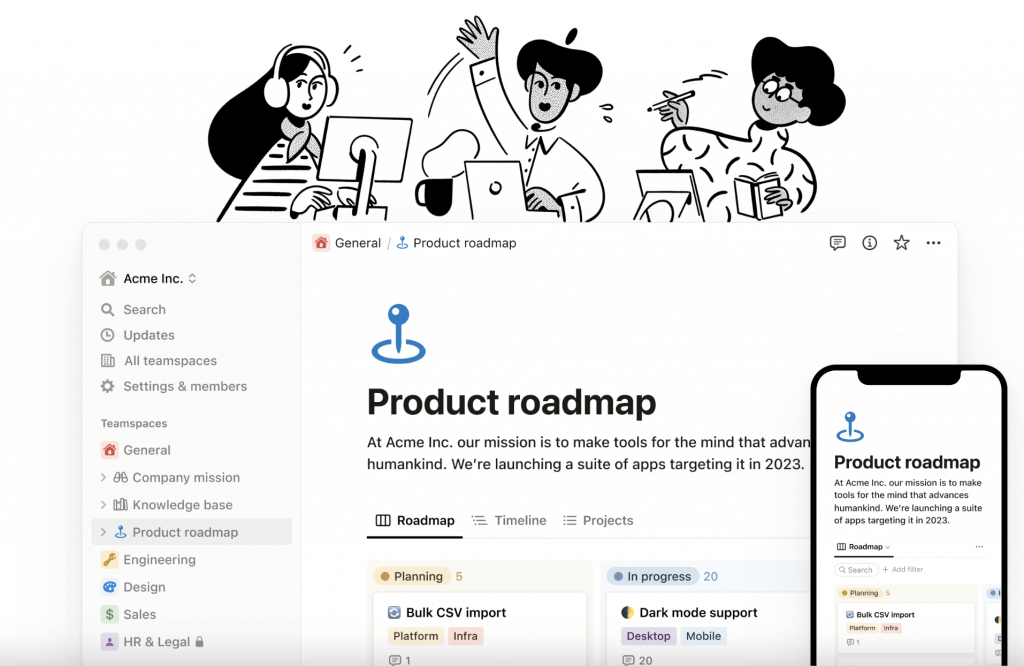 The platform's robust content support makes it a great tool for marketing teams. Notion boasts a diverse range of features, from embedded tables and kanban boards to calendars and galleries, all designed to make your marketing planning process more efficient.
Notion provides a basic plan for free, while its team plan costs $8 per member per month, offering more advanced features. They also have an enterprise plan for larger organizations with custom pricing available.
While Notion shines in project planning and content management, it does have a steep learning curve due to its broad range of features. This can pose a challenge for first-time users. It also lacks built-in tools for social media post scheduling or publishing.
6. ClickUp: best for managing your marketing strategy
ClickUp is a versatile project management tool, ideal for marketing teams tackling diverse tasks. It enables you to organize your marketing strategies into Spaces, Folders, and Lists, adjusting to your team's workflow.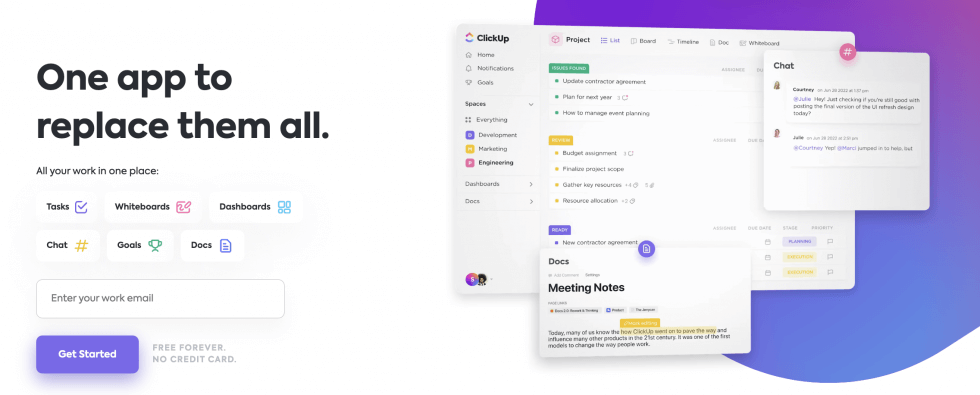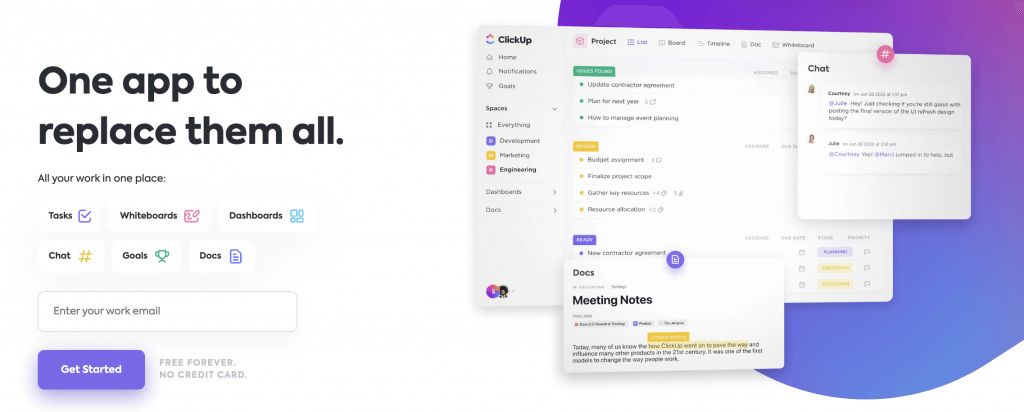 With list, board, and calendar views, you get a clear visual representation of your marketing activities. Best for marketing resource management, Clickup also includes built-in time tracking and productivity reporting to monitor your team's performance.
ClickUp's plans range from a free, basic package to a more comprehensive Business Plan at $9 per member per month.
Despite its strengths, ClickUp doesn't offer social media content scheduling or publishing, and its plethora of features may overwhelm newcomers.
7. Trello: best for visual campaign management
Trello excels at providing a visual representation of your marketing strategy. Its intuitive, card-based system simplifies campaign management, allowing you to assign tasks and track progress easily.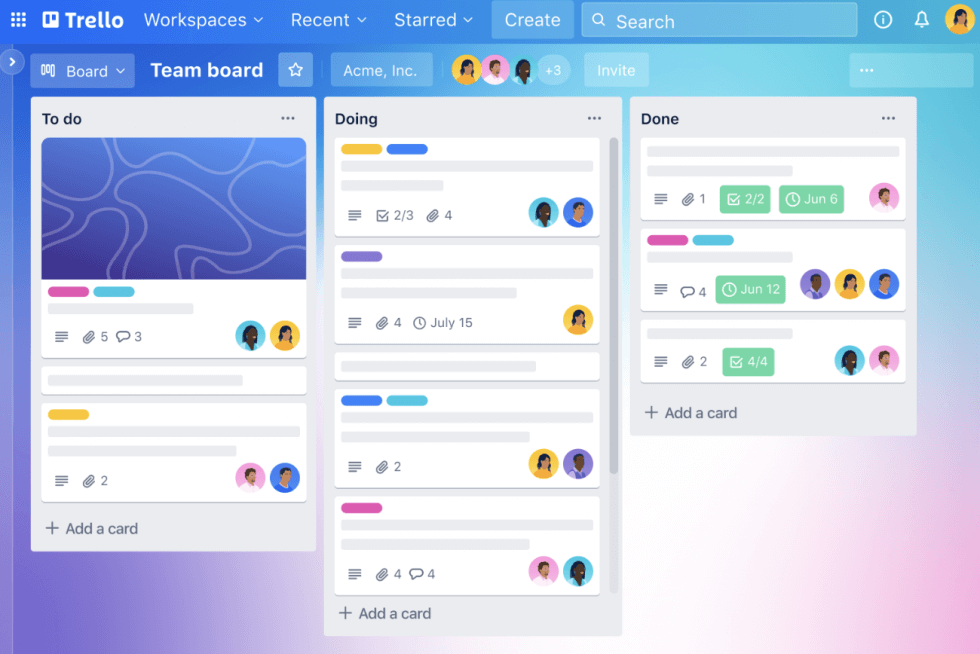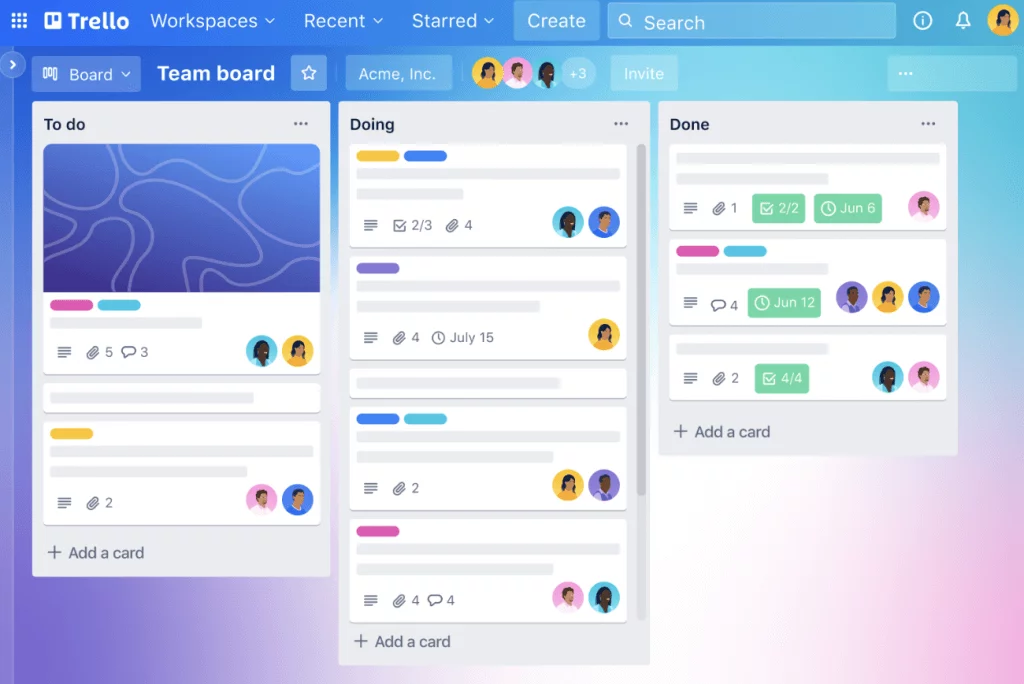 Your entire team can get a bird's-eye view of all activities with cards that move from list to list, reflecting their stage of completion.
Trello offers a free version with basic features, and more advanced options are available in the paid plans starting at $5 per user per month.
However, it lacks built-in time tracking and extensive reporting, making it ideal for smaller teams with straightforward needs.
8. HubSpot: best for holistic marketing campaign management
HubSpot is a good marketing planning tool, offering a comprehensive solution for your marketing campaign needs. It provides a suite of tools designed to help your marketing team manage and analyze their campaigns from a single platform.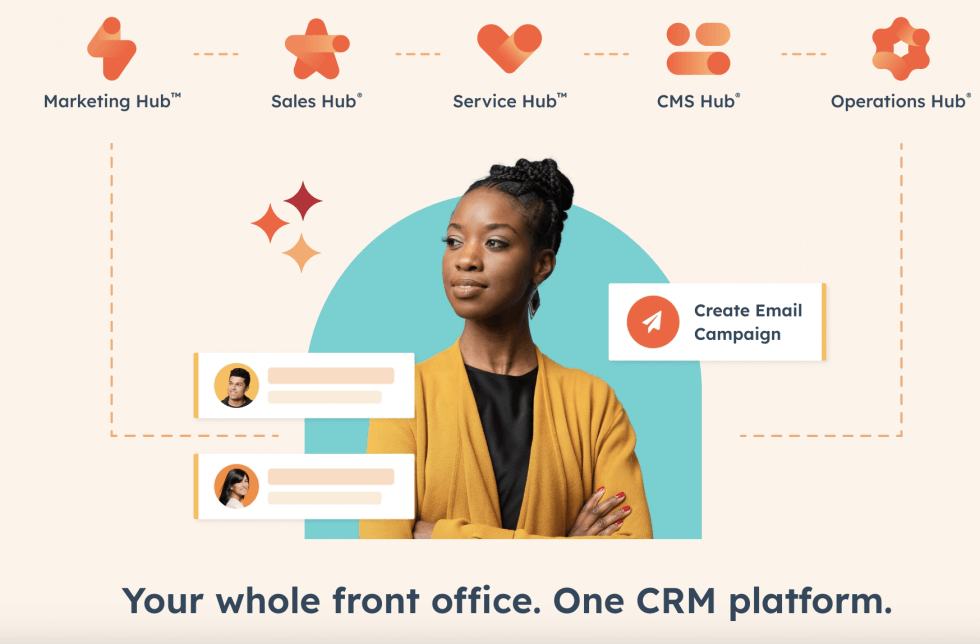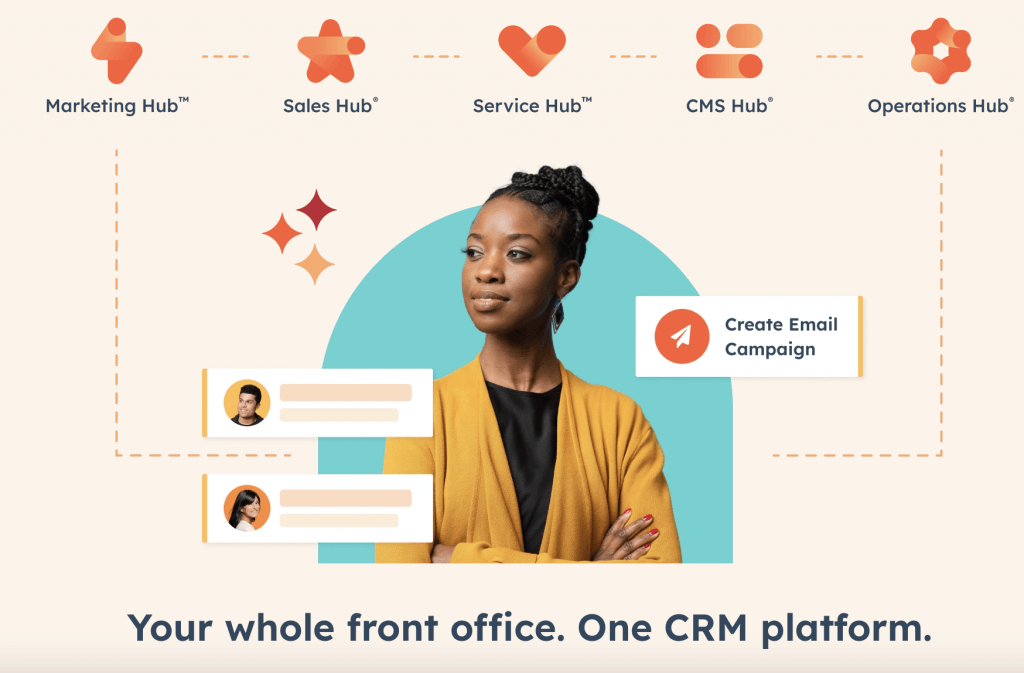 From creating and scheduling content to tracking customer interactions and analyzing campaign performance, HubSpot has it all. It's accessible across various platforms, so your team can stay connected and updated, no matter where they are.
HubSpot's pricing model is tier-based, starting with a free version offering basic features. For a more robust suite of tools, you can upgrade to premium plans starting at $50 per month.
On the downside, HubSpot might be overwhelming for small businesses or beginners due to its extensive features. Additionally, advanced features can be pricey for teams with smaller marketing budgets.
Marketing planning FAQs
What is the best platform to create a marketing plan?
If you're seeking a platform that emphasizes collaboration and content approval, Planable stands out as a top choice. It's a one-stop solution for planning, creating, and managing your marketing content.
Notion is another great platform, known for its ability to manage complex projects and strategize effectively. If you're looking for a comprehensive solution including customer relationship management, HubSpot could be a suitable option.
What tools do marketing professionals use?
Marketing professionals have a diverse toolkit, depending on their specific needs and objectives. Planable is often favored for its intuitive interface and collaboration-centric approach. GDocs remains a popular choice for its simplicity and wide range of integrations.
For those focusing on project management as well, Monday.com is a platform that many professionals turn to for its blend of task management and team collaboration features.