Do you struggle with maintaining the quality and consistency of your company content? A content review and approval process will help ensure all published content meets quality standards and adheres to your brand guidelines.
Without a clear review process in place, you risk publishing mistakes, inconsistencies, and inaccuracies. All of which can affect your company's reputation and brand.
In this article, we look at the feedback and sign-off steps that will help your creative team work seamlessly to review your content, digital materials, or any other type of creative work. 
What is a review and approval process?
A review and approval process is a way to ensure the quality of content and documents through a set of steps that involve multiple stakeholders giving feedback, suggestions, and the final green light. 
Typically these steps include copy editing to pick up spelling and grammar issues, fact checks to confirm the accuracy of the information, and tone of voice checks to ensure the content adheres to brand guidelines.
Why is a review and approval process important?
A content review and approval process is essential to ensure that all published content is consistent in quality, branding, and accuracy. Following the approval steps and editing your content accordingly will result in consistently high-quality content. That's because it involves multiple persons in the creative team providing feedback and input to:
Correct mistakes before content goes live
During the review process, content is checked for grammar and spelling. Any errors or inconsistencies are flagged and corrected before the content moves to the next stage. This means that published content is correct and readable as well as translatable.
Note that bad grammar or misspellings can impact how well your content can be translated into other languages, should it need to be.
Improve your content and optimize for SEO
For online publishers, a document review process can also include steps to optimize content for SEO, which is an essential part of being discovered by Google and getting users to see your content.
As part of the content approval process, content optimization can suggest ways to include keywords, for example, so your content ranks in users' searches.
Maintain momentum in the content pipeline
With different content workflows and more content being created simultaneously, it can be challenging to make sure all pieces are published in the right place and as planned. 
An approval process for all the content and documents you produce keeps your project on track and on target. It helps content keep moving through your workflow, passing through checks and feedback rounds on time.
To keep content moving through all of the steps in your process, automated reminders, email notifications, and due dates are important.
Stay aligned with overall targets and strategy
Review processes can also help all stakeholders and teams align with your overall business or marketing strategy. If your content approval process involves different creative teams, having visibility of an outlined set of steps can help each team member understand where their work fits in with others in the wider strategy.
This can be especially important if your business has remote teams who aren't able to physically see and overhear what their colleagues are working on.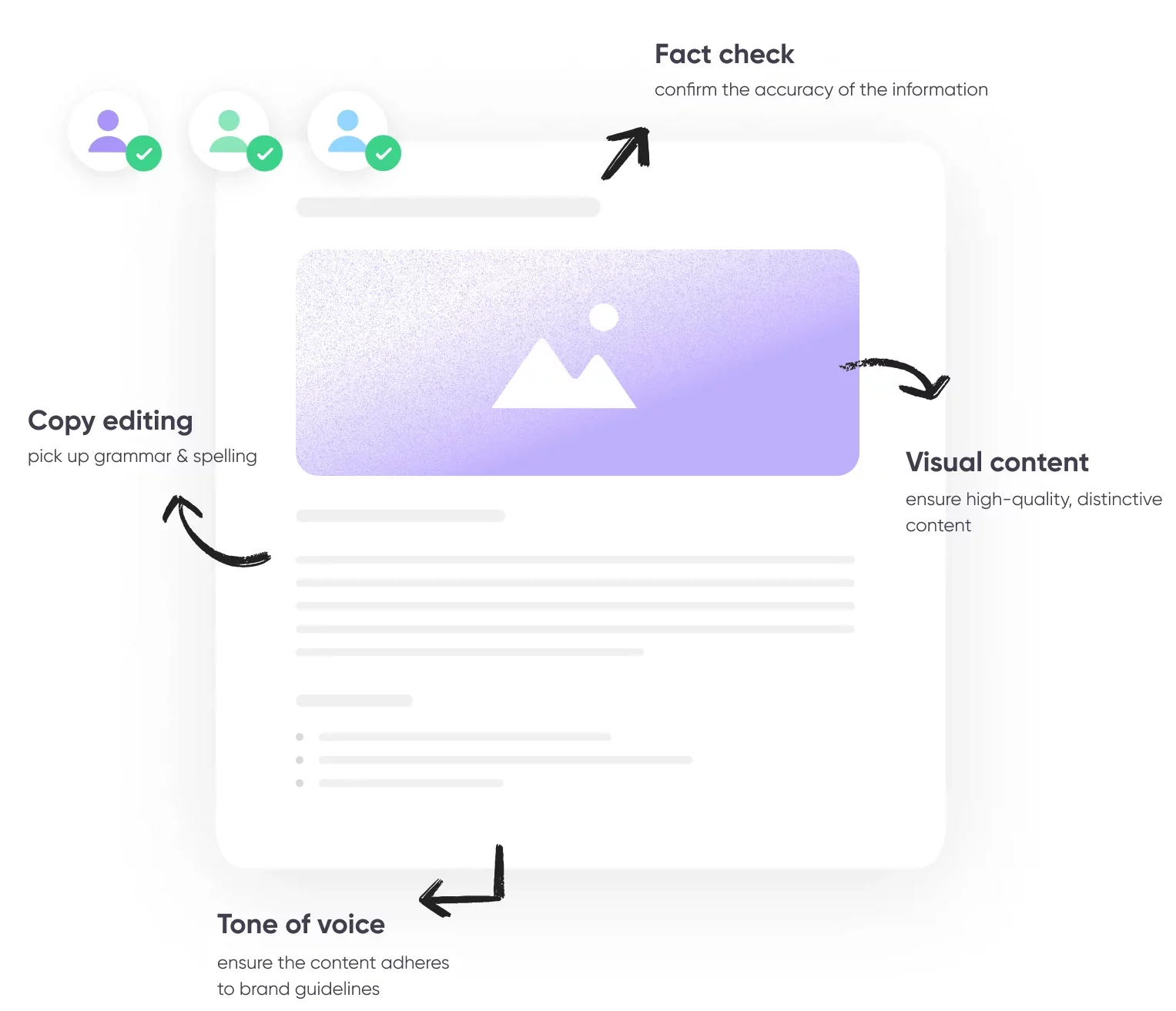 Types of review and approvals
Since different projects have different requirements, targets, and stakeholders, a one-size-fits-all approach in the content approval process can result in negative outcomes. This includes inaccurate information being made public, missed opportunities, and errors being published.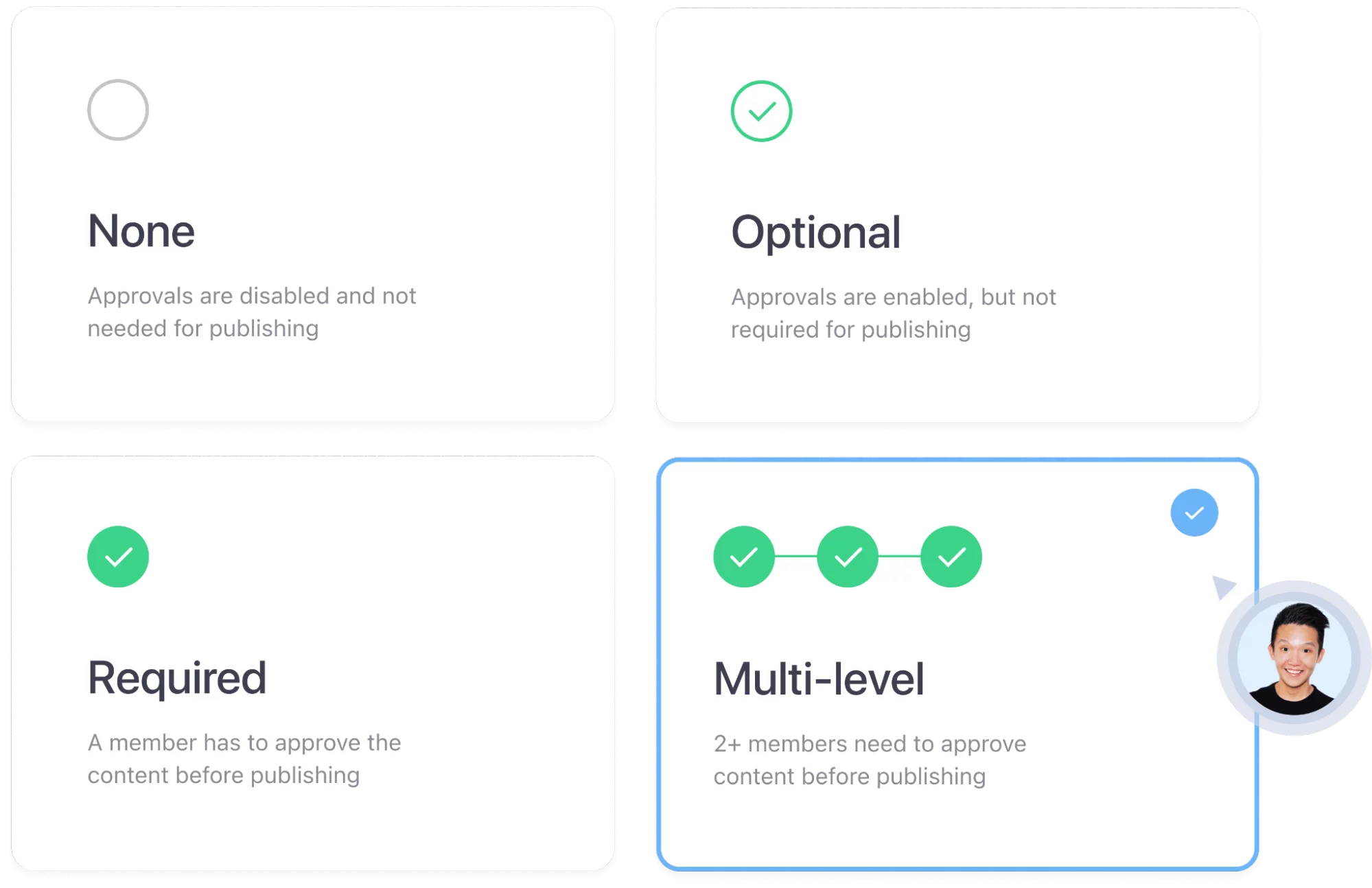 There are 3 different types of review and approval steps that you can use, depending on which best fits your project needs.
1. Optional approvals
An Optional Approval step in the content approval process doesn't require approval from all stakeholders or decision-makers for content or documents to be published. Often, specific review steps and approvals are considered optional.
For example, having your content reviewed and approved by a CMO is good. However, if they don't have the time to review your content before the deadline, your CMO feedback can be an optional approval step in the process. This means that you can still publish the content on time.
The optional approval review process aims to streamline decision-making and save time where possible. However, optional document review approvals are suitable only where risks are appropriately managed, and you can ensure that the final outcome will still meet the required standards.
2. Required approvals
Required Approvals demand formal approval from all stakeholders or decision-makers involved. This means that every document or content piece needs reviewing and approval by every team and stakeholder involved in the project.
For example, if a brand was running a paid social campaign and had a required approval process step in place, all stakeholders involved in the content approval process would need to check and sign off before the campaign could go live. This may include approval from your marketing team and marketing manager, as well as compliance and legal teams.
The purpose of the required type of approval is to minimize the risks of errors and issues with content by ensuring that all requirements and expectations are agreed upon and approved before publicizing any content.
3. Multi-level approvals
Multi Level Approval is an approval process that requires consequent approval and sign-off from multiple stakeholders and/or teams before the content can progress or be published. Who and when must approve the content depends on the project's specifics.
For example, if a sales deck is going through the content review process, it may need to be reviewed for accuracy at the same time it's being reviewed for slide design and layout. Or, you can choose to have your sales expert first approve the content for accuracy, and only after when this step is complete, have your internal creative team review the slide design and layout. Either way, these two steps require a multi-level approval process.
This review approach can help teams work more collaboratively, reduce time spent, and provide timely feedback between different stakeholders. However, the key to making multi-level approvals the most effective is to ensure collaboration, feedback, and approvals are shared consistently in the same place.
Planable's multi-level approvals feature is valuable because it provides a single place for multiple stakeholders to comment, give feedback and approve content.
How to create the best review and approval processes
With different approval types to choose from, the best review and approval process for your company is the one carefully tailored to your project.
But crafting a content approval process can feel like scaling a mountain without any gear. There are many decisions and factors to consider, like what the best communication channels are, what tools to use, and how to manage all the different teams involved. 
Our 5 steps to creating your own review and approval process will make the task easier. Following these steps will help streamline the process, reduce the risk of errors, and ensure there are no communication issues.
1. Decide who has a say in content approval
The first thing you need to decide is who your key stakeholders are. This is a list of teams or people who need to review content in your approval chain. Don't forget that these people can be internal (within your company) or external (from another company or organization).
To get a full list of people who need to review content and give their approval, you need to consider:
What do you need to review in your document? Do you need fact-checking with a legal team or a subject matter expert?
Who is the best reviewer to provide feedback? Is seniority important, or do you need someone with the most knowledge to check for the tone of voice?
Who might be affected by your content being published? Do you seek external feedback from a team member of another company when your content mentions their product or service?
2. Define the number of feedback sessions and final deadline
Once you have a list of reviewers who need to check your content, you need to understand what their review process looks like and when it needs to occur. So this step is all about timing.
Start by establishing a final deadline for your content to go live. You can then work backward to create deadlines for each review step so you finish the review and approval cycle on time. 
For example, if you are creating content about Christmas, you may need to publish it on December 15th. You can then work to this date by planning a review stage for each stakeholder, giving them enough time to complete their checks and make change requests on a first draft and any subsequent new versions.
Remember that some reviewer checks can happen simultaneously rather than following each other. This can help free up more time but ensure your communication process is in place so there are no issues with version controls.
3. Be clear on the editorial guidelines for new content
As part of your document review process, you will need to make sure that every stakeholder is clear on your content guidelines. The guidelines include everything from style, tone of voice, spelling, formatting, target audience, and purpose of your document.
To ensure alignment, you must establish the editorial guidelines for teams to follow before they embark on a content review.
You will need to clearly outline:
The purpose of the content, whether it's to educate, inform, persuade, or entertain. This will help reviewers to identify what type of language, tone, and structure should be present.

Who your content is being created for so that reviewers can ensure your content is tailored to their needs and preferences.

Branding guidelines, including tone of voice and spelling guidelines. This will make sure that your reviewers pick up any errors during the quality control process and that everything you publish is consistent.
4. Stay on top of version control
While stakeholders and colleagues are reviewing the content, you need to plan for a way to collate all of the feedback and manage how it is submitted and actioned. Version control is an integral part of the review and approval process, as you want the right people to review the right version of your content.
For example, if legal teams have reviewed your content for compliance and feedback with a handful of changes, you want the team in charge of spelling errors to review that document version. So making sure the right teams are reviewing the most up-to-date version of your content is important in being time efficient and making the most out of your process.
5. Choose the right tool for reviews and approvals
To stay consistent with communication and feedback, it's very useful to implement a content review tool or approval software. This allows different workflows to happen simultaneously while keeping on top of all changes, comments, and feedback. It allows different teams to communicate and edit all in one place.
For example, Planable helps multiple people leave comments on documents at the same time, ensuring everyone can see the latest version of the reviewed document. This helps improve collaboration and maximize time efficiency.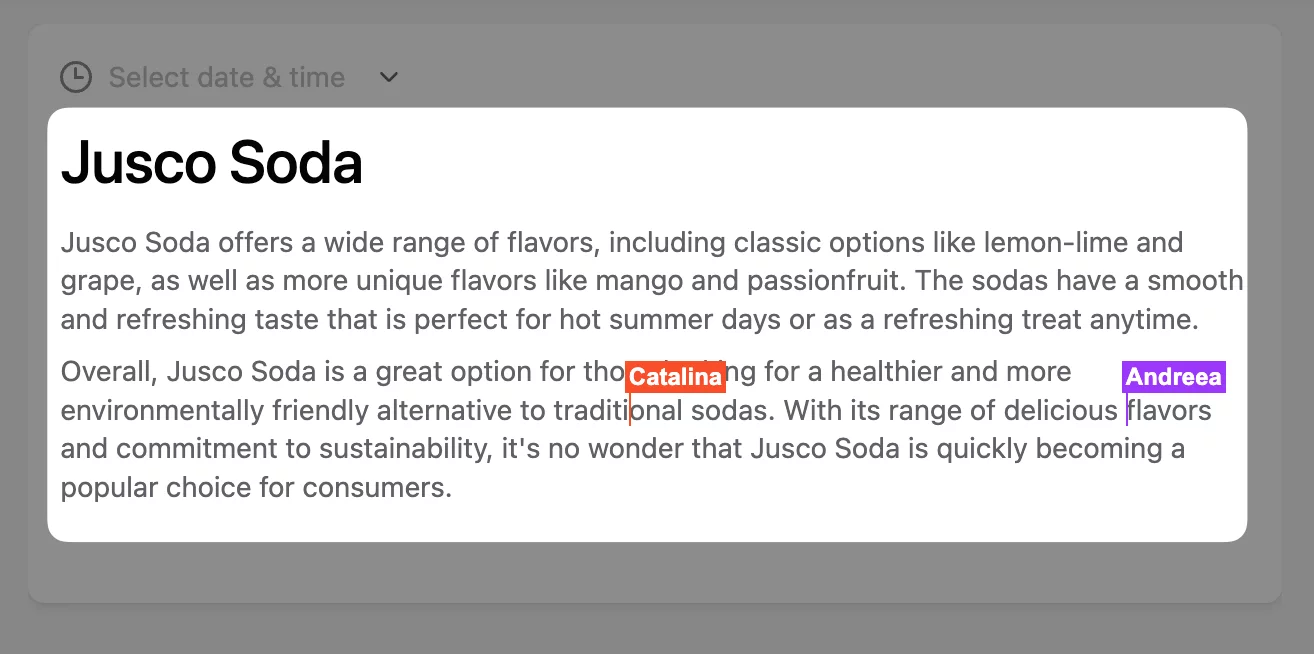 How Planable helps you perfect your review and approval cycle
In Planable, you can collaborate and review any type of written content. Whether it's bite-sized social media posts or weighty articles and offline documents, we've got your content covered.
Collaboration options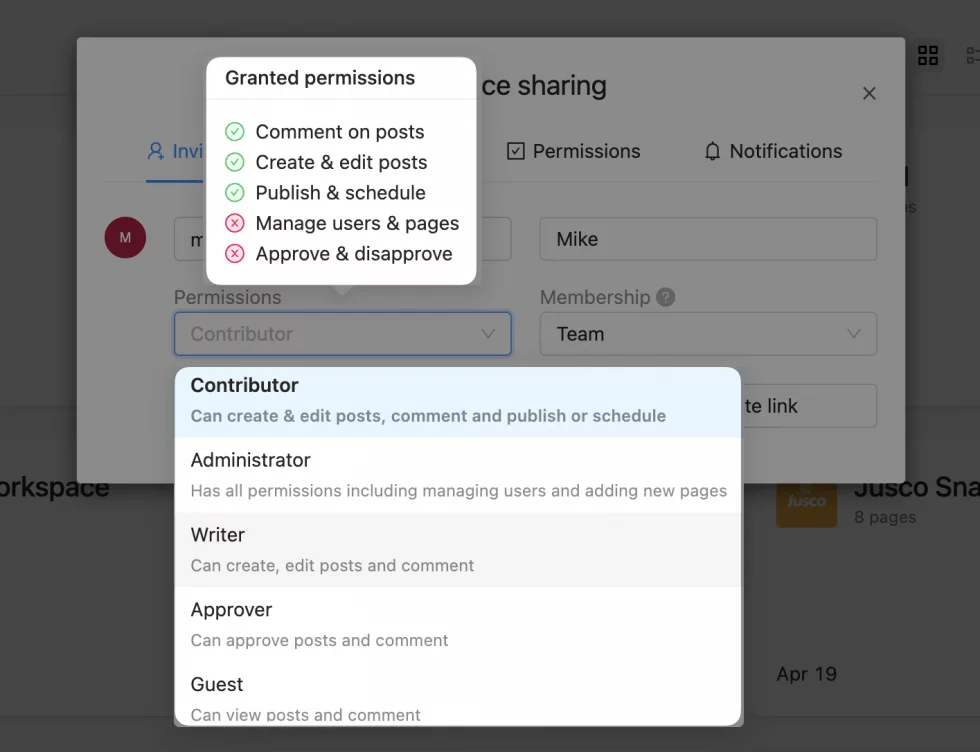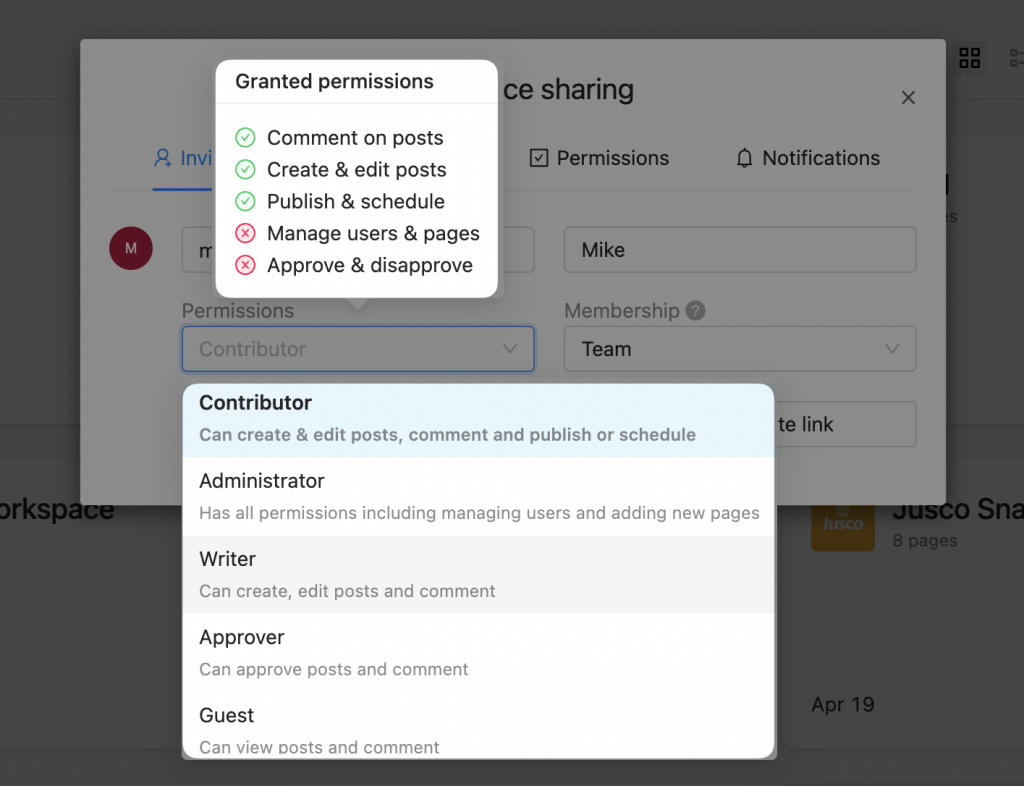 Planable is a centralized tool that can be accessed and used by multiple teams, including internal and external stakeholders, creative teams, decision-makers, and more.
Real-time comments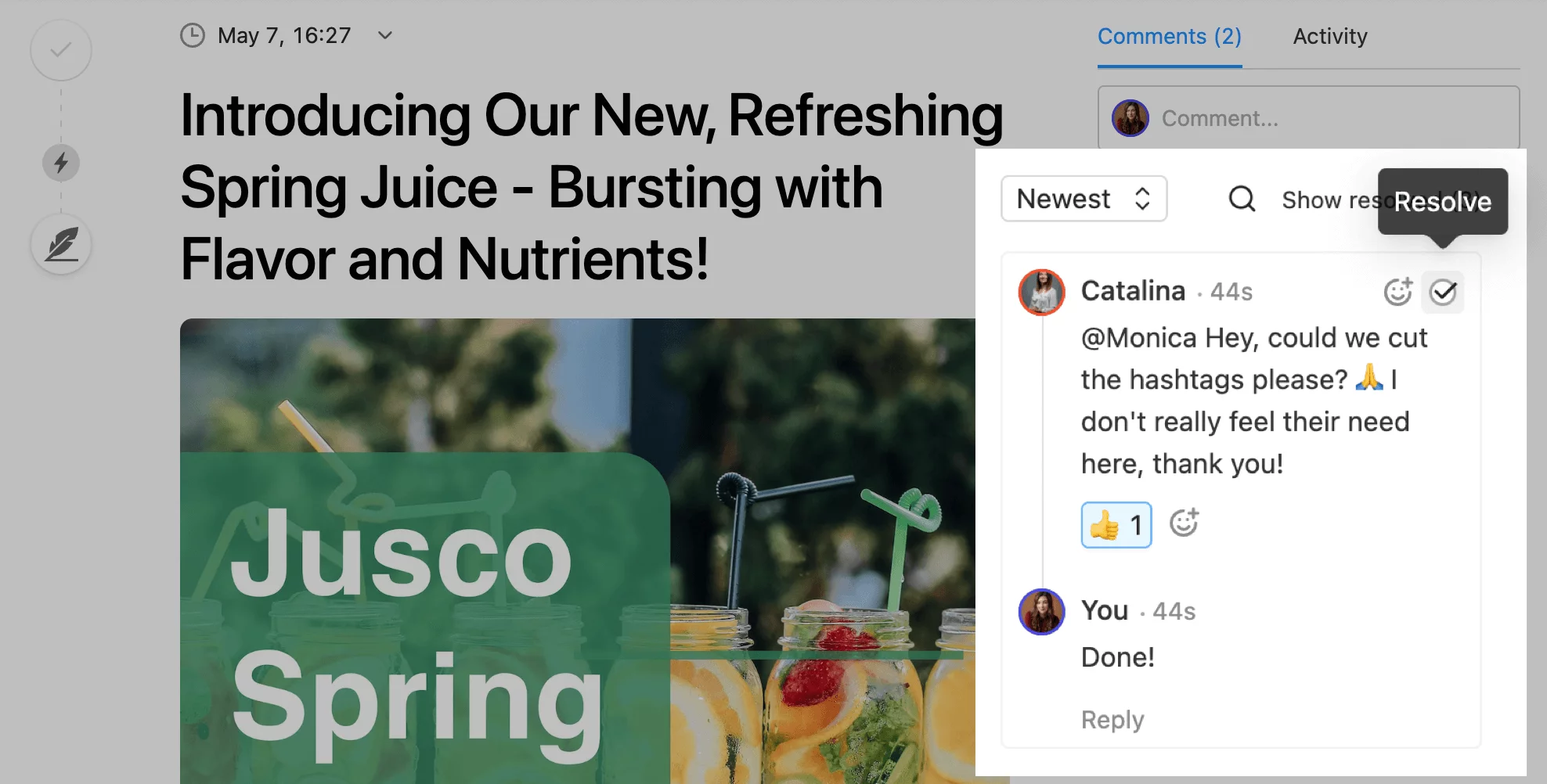 Planable allows multiple team members to review and add comments on documents in real time. This means you can quickly make changes and get feedback and approvals.
Simplified feedback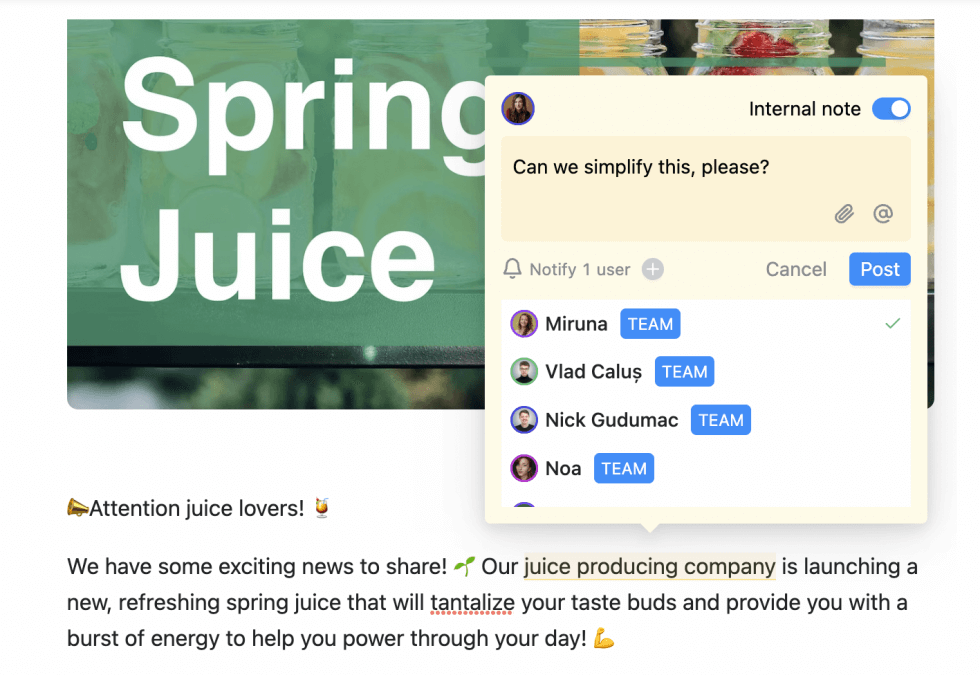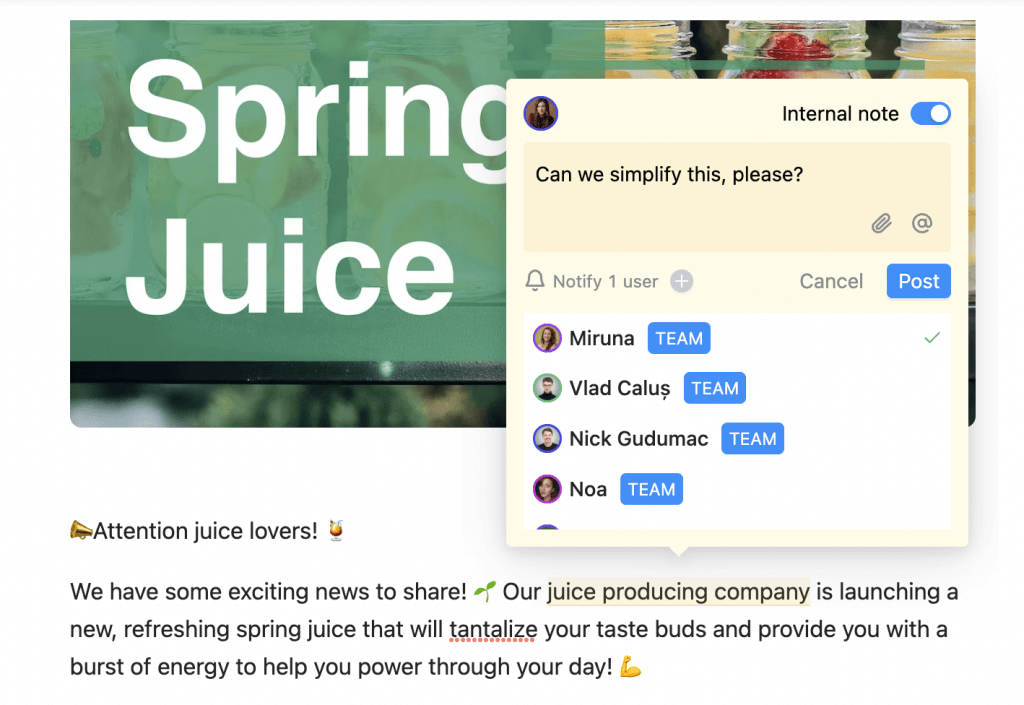 Feedback from team members is left directly in the document, which helps to keep feedback clear and actionable for the content owner.
Approval workflows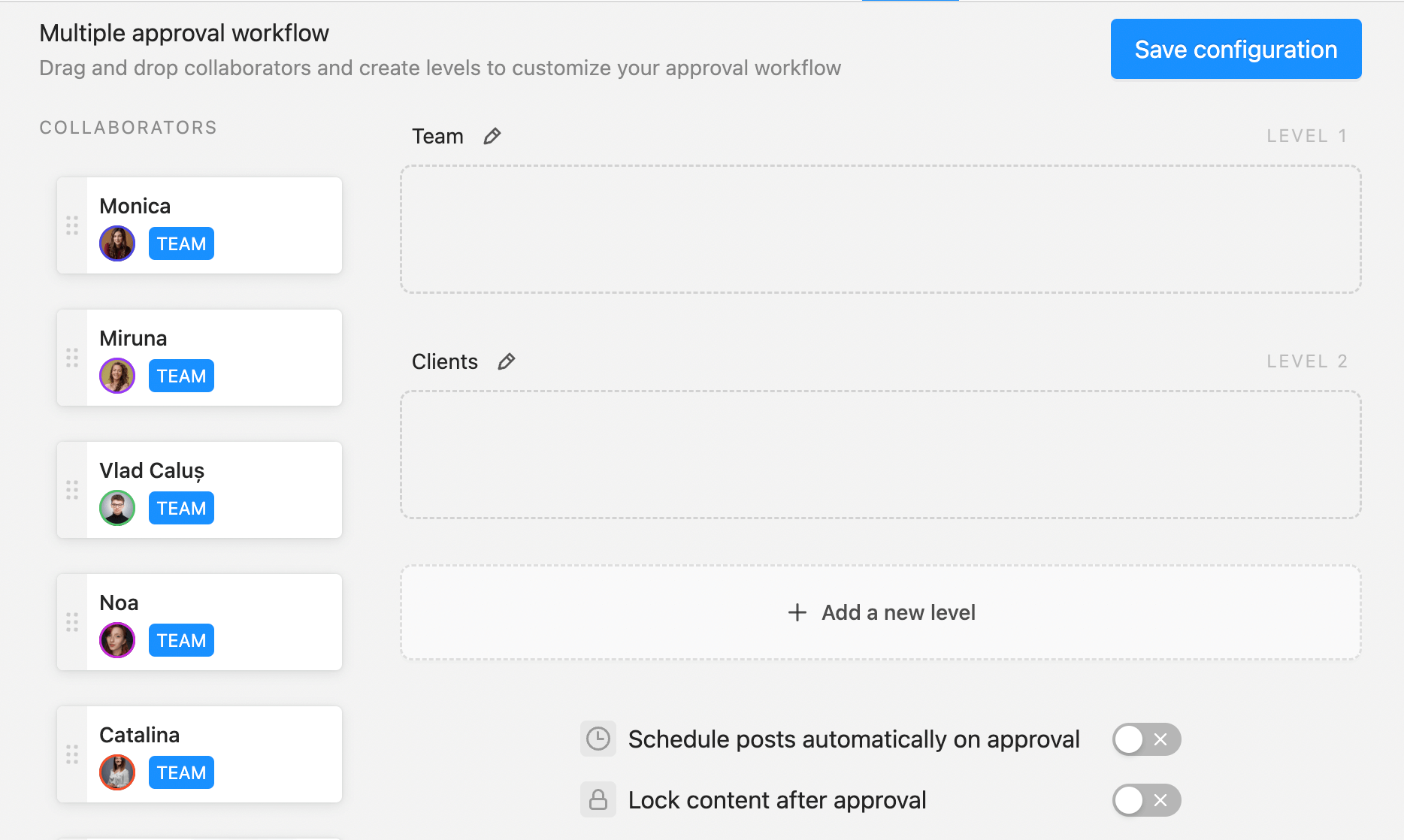 With the ability to completely customize your workflows, you can use Planable to create different stages of the approval process, assign team members to different roles, and set up custom notifications.
Version control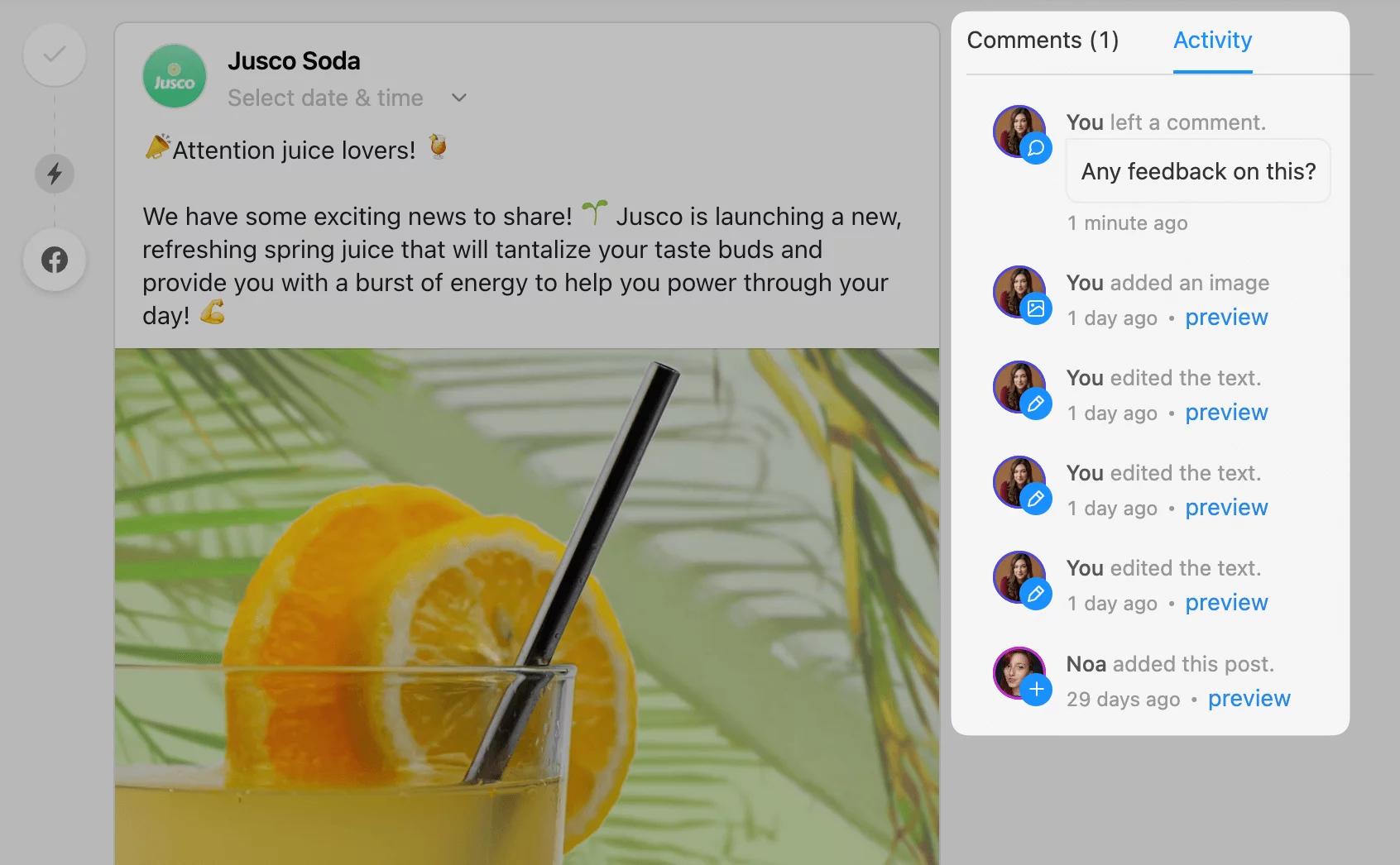 With a simple way to keep track of different versions of documents, you can easily compare and monitor changes at any point in the process, from initial drafts to final versions and final review comments.
Add to calendar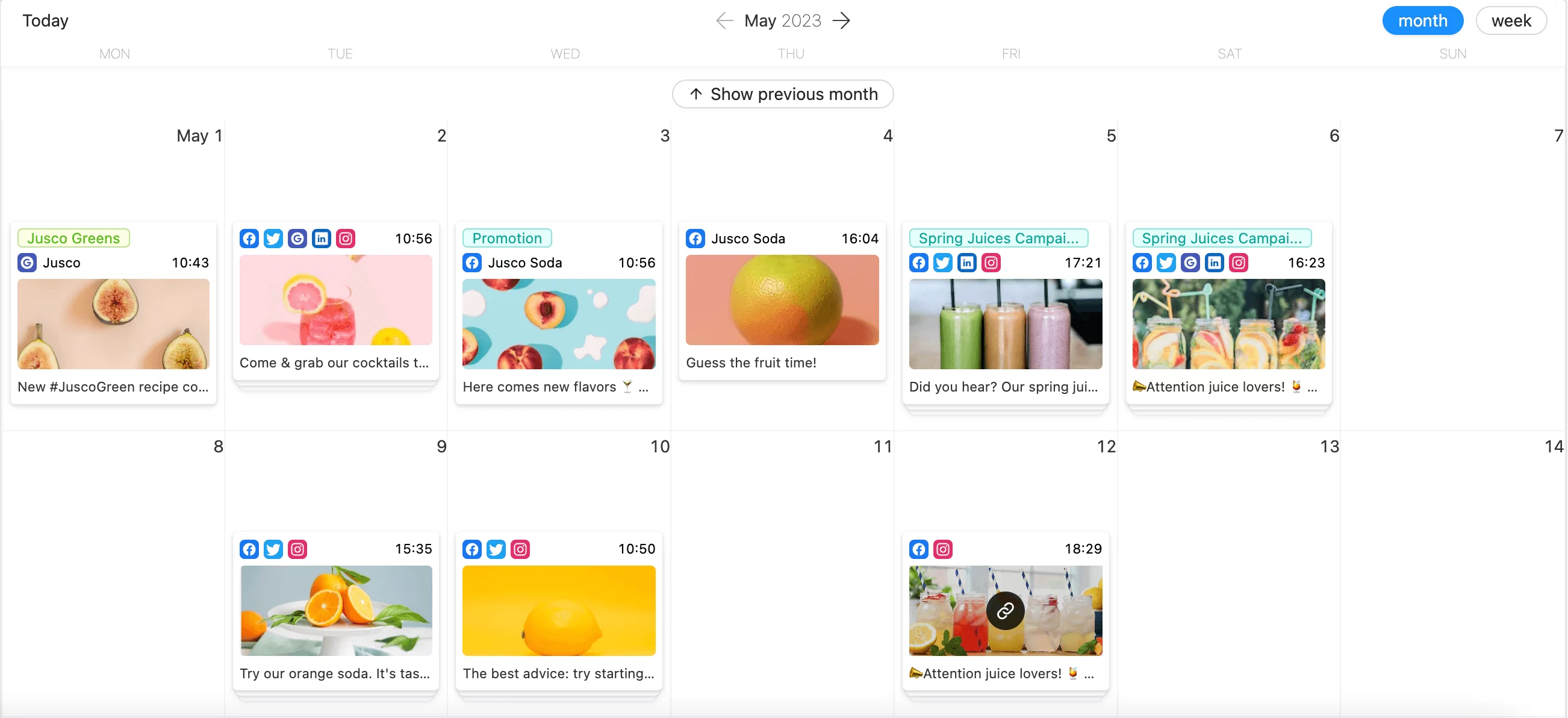 With Planable's Calendar view, you can easily see when each of your content pieces needs to go live. Thus deadlines for review and approval tasks are extremely clear for all stakeholders in your team.
Time to take your review process to a whole new level
A content review and approval process specific to your project is essential. It helps improve the accuracy of your content, ensures that your content is published on time, and offers opportunities to improve your website's SEO.
A successful review process means clearly defined roles and responsibilities, open communication channels (either its VoIP or email), and easy-to-use review tools. Step up your content game with Planable – the ultimate tool to effortlessly create, manage, and streamline your review process across internal and external teams. Get started now and experience content collaboration like never before!