Planning your content is essential for any marketing team: it helps publish consistently, always keep track of what's what, and streamline your content workflow to know who's responsible for that last-mile approval.
If you're on the hunt for game-changing content planning marketing tools, we've gathered 13 of the best in this article for you.
What are content planning tools?
Content planning tools help content teams stay on track and align their creative efforts with marketing strategy and business goals. Such tools allow you to publish consistently and always have a big picture of your content landscape at hand.
Teams use content planning tools to stay on the same page and organize multithreading processes across teams, departments, and brands.
Three reasons to use a content planning tool
If you're working in content, you probably know well enough how much a marketing team can have on its plate. Content planning tools are here to aid marketers and turn content creation chaos into a process.
Align your content efforts
Handling several communication and social media channels is confusing enough. But when multiple projects or more than one team are involved, content planning is doomed to get chaotic.
Content planning tools help marketing teams plan and develop content straightforwardly and keep tabs on one another. For example, with a content calendar, you always know when the PR will publish a new press release, what social media's agenda is for this week, and when that blog picture will be ready.
No more content gaps
Content creation is a must for any business, and the amount of materials one needs for a successful marketing strategy grows exponentially. Consistency is the most vital thing in content strategy, and content planning tools help to do just that — stay consistent in your posting.
Some tools, like Planable, also offer color-coded tags to label different types of content. That way, one glance at the content plan is enough to see if any core topics are off this week.
Stay consistent across multiple channels
For a content marketing strategy to bear fruit, the communication must be cohesive across the brand. Content planning tools help teams collaborate on content pieces, stay aware of each other's agenda, and ensure they stick to guidelines.
Some tools also offer built-in approval workflows to speed up the content creation process and ensure nothing slips unchecked. In Planable, teams can build their approval workflow and choose various options for each type of content: from no approval to a multi-layered one.
13 best content planning tools to organize your marketing efforts
Whether we're talking marketing agencies or small in-house teams, content marketers' biggest aspiration is efficiency. It's time to take content marketing campaigns under control! To aid you on this quest, we gathered 13 various content marketing tools.
1. Planable: best content planner tool for collaboration & approval
Regarding collaborative content creation, Planable is one of the best content planning tools for teams of all sizes and shapes. Marketers can easily create, plan, approve, and schedule any written content: from social media posts to blogs and newsletters.
Planable's Universal Content provides a wholesome toolset to manage the content cycle from ideation to publication. As a content planning software, Planable covers the needs of most marketing teams:
Create. Teams create content together: multiple content marketers can create content in real-time using comments and leveraging Planable's newest social media AI tool. Roles and permissions help divide creators from approvers at each stage.
Approve. Custom approval workflows make approval so much easier, even when it's a multi-level one. You can get your content green-lighted with one click while keeping everyone in the loop.
Plan. Planable's content calendar has three views: calendar, grid, and list views. It's easy to find a perfect place for your piece among existing content, overwatch the whole content strategy, and tweak it with the drag-and-drop tool.
Schedule. You can schedule your social media posts to publish automatically on major social media platforms like Instagram, Facebook, LinkedIn, Twitter, TikTok, Google My Business, Youtube, and Pinterest. The sync on/off feature is handy for scheduling the same post across multiple platforms.
Planable offers 50 scheduled posts for free and has flexible pricing starting at $11/month.
Content organization in Planable
What makes Planable the best content planning platform? Glad you asked! Social media managers and digital marketers love it because they can:
plan all content in one place: emails, newsletters, blogs, briefs, press releases and more.
track real-time collaboration
hide or show resolved comments for easy task management
label posts, blogs, emails and everything else for easy filtering and searching
save images and videos to the media library
create internal notes and internal posts
share workspaces or links to posts with external collaborators
Drawback
Planable has no built-in analytics yet, and although you can plan and create any content in Planable, the platform can only publish social media posts. However, analytics will launch soon, and you can already join the waitlist.
Takeaway
Planable is an excellent content planning tool for marketing teams who value collaboration. With flexible pricing and a wide range of features, it's a nice fit to ensure your social media strategy and content marketing bring results.

2. Asana: planning tool for task management
Asana is a project management tool for cross-functional work. Although it's not specifically tailored for content needs, it's a broad task tracker that also helps track the content creation process and marketing efforts.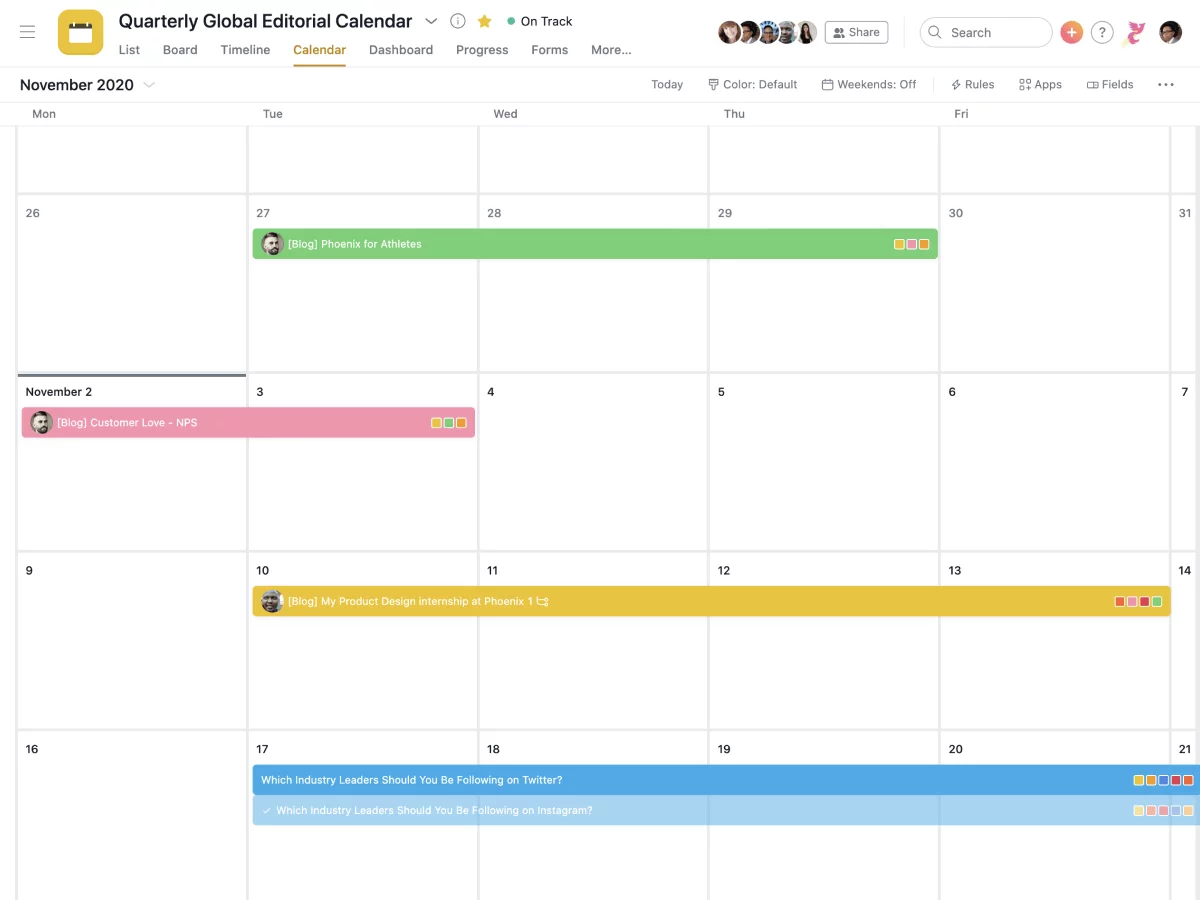 Among key features of Asana are:
Task management. In Asana, users create various boards and projects to track what goes on across teams. Teammates can assign tasks to each other, add to-do lists and sub-tasks, and set statuses to stay on the same page.
Customizable workspace. Teams tweak Asana to fit their goals — for example, content teams use its free template for an editorial calendar. You can find many templates in Asana's library to organize your workspace.
Asana has a free version for smaller teams and two paid plans starting at $10.99/month.
Drawback
Asana concentrates on project management features and doesn't have content-specific ones.
Takeaway
Despite being more generally management-focused, Asana's user-friendly interface and many customization opportunities make it a fine option for content planners of all levels.
3. Notion: website content planning tool for task tracking
Notion is a minimalistic tool that suits many marketing purposes. It's like a fancy version of Notes and Google Sheets combined. Teams use Notion for content planning, task tracking, stocking on references and digital marketing assets, brainstorming on new content ideas, and more.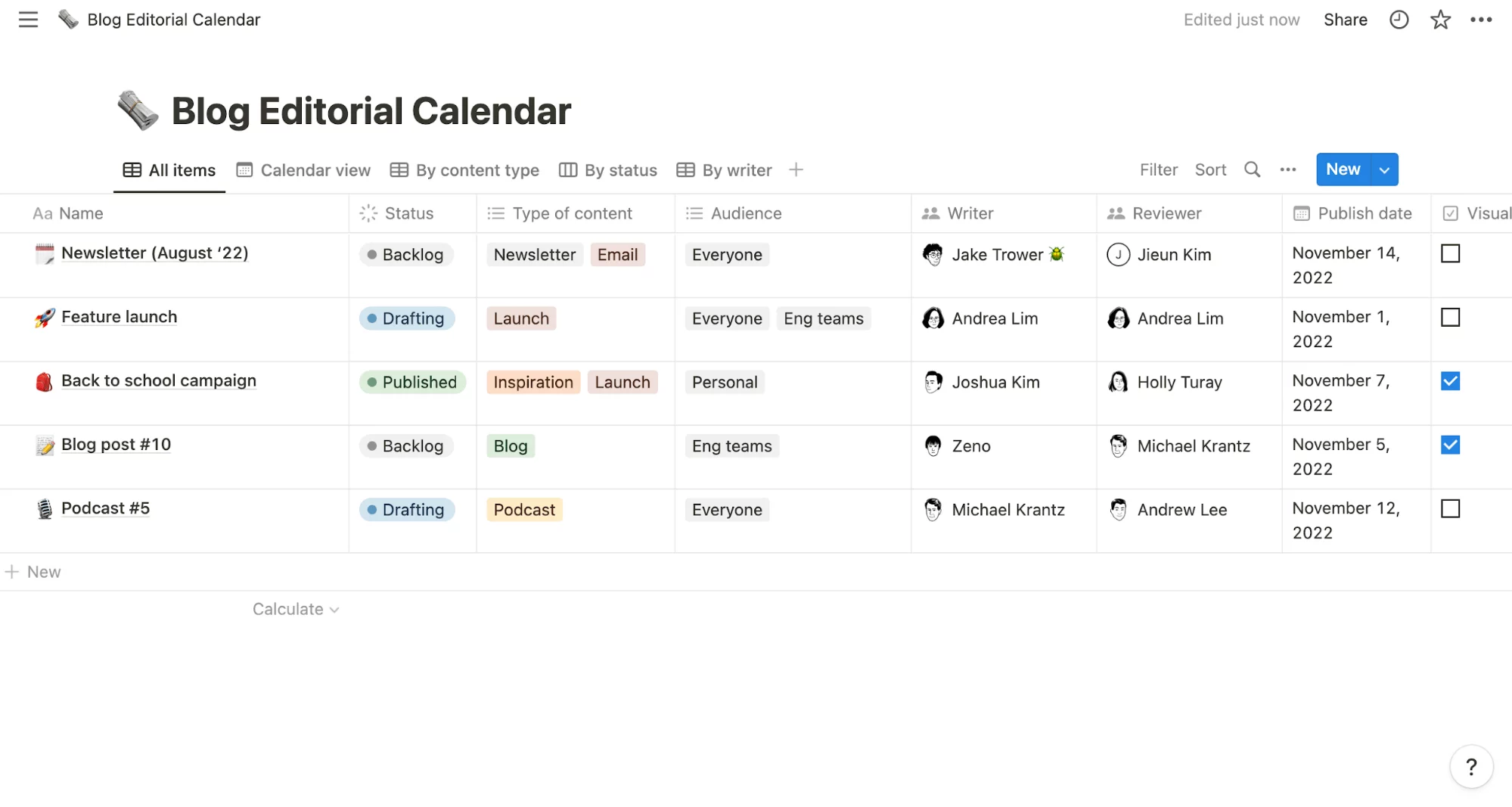 Notion's features for marketers:
Content calendar planner. Notion's calendar eases planning and organizes content for social media, blogs, and videos. Users can add labels, assign tasks to team members, set deadlines, create personalized content templates, and track progress.
Team collaboration. With a shared workspace, a content creation team can brainstorm ideas together, save relevant content for repurposing, leave comments, and tag members to get feedback.
Notion has a free version suitable for individuals or small teams under ten people. The platform offers three paid plans for bigger teams starting at $8/month.
Drawback
Some call Notion "a bit of everything," — meaning it has many features, but none are very advanced. It also lacks publishing features.
Takeaway
Notion is a customizable, clear, straightforward platform for tracking marketing efforts. Despite having no auto publishing or automated approvals, it's a fine multi-tool for content creation and planning.
4. Teamwork: content planning app for time tracking
Teamwork is a comprehensive project management software with much in common with other task management tools like Asana or Trello. The core difference from Asana is that Teamwork is more outsource-oriented and suits marketing agencies and teams working with freelancers more.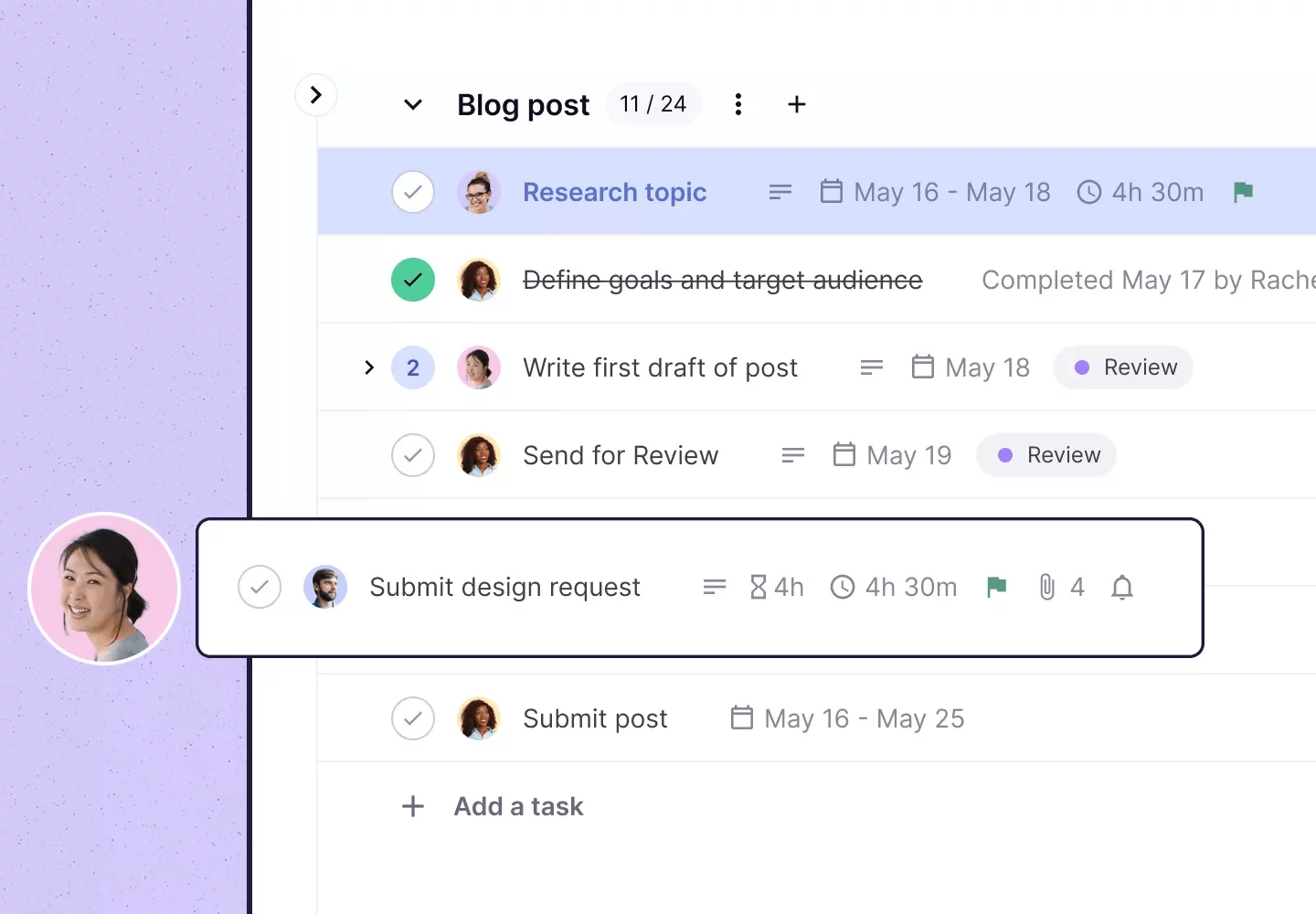 Teamwork's key features for fellow marketers:
Personalized boards. All task boards are very customizable: they include statuses, budgets, time spent on a task, sub-tasks, and many more. There are also ready-made templates to kickstart content planning and task tracking.
Time tracking & invoicing. A marketing team can easily bill their clients or track the progress of their freelancers with a built-in time tracker and direct invoicing.
Teamwork has a free plan for up to 5 people and three paid plans starting at $5.99/month.
Drawback
As a project management tool, Teamwork doesn't offer content-specific features like scheduling communications or gathering analytics.
Takeaway
Among management tools, Teamwork is one of the most intuitive and comprehensive ones. It's a robust option for agencies making content for their clients or in-house teams collaborating with freelancing content creators.
5. Airtable: content planning software for spreadsheet fans
Airtable is a low-code platform that combines spreadsheets, databases, and custom app creation. For content masters, it's a nifty way to organize content and sync on each step in the content creation process. For content folks, Airtable has a pre-made content calendar template.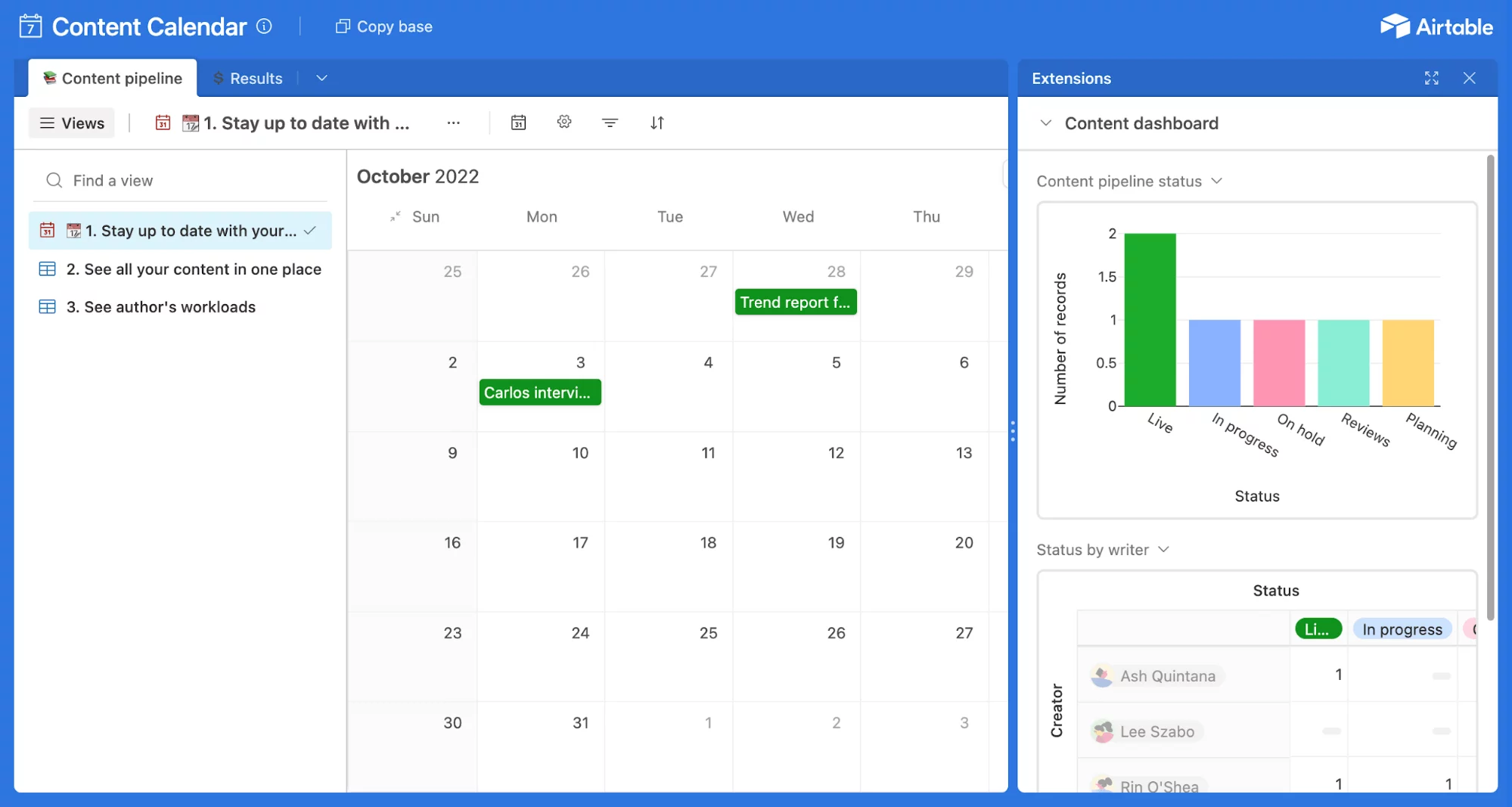 Here's what Airtable offers in content features:
Task tracking. Assign different content tasks, set deadlines, track progress, nudge your colleagues, and never miss the deadline again. As a bonus, get a comprehensive look at your content efforts in the calendar.
Schedule and publish. Once your content is ready, you can post it to your social media platform of choice.
Airtable has a free version and three paid plans starting at $10/month.
Drawback
Airtable's templates are just the foundations — additional features like publishing or analytics are separate Airtable apps you need to plug into your base.
Takeaway
If you are looking for a nice "wrap" for your database and don't mind spending time on customizing it, Airtable can help you create a content planner app tailored to your needs.
6. CoSchedule: content planner for progress tracking
CoSchedule is a content planning software that organizes workflows and tidies up the content marketing strategy. Its signature product is the marketing calendar for editorial teams to track their progress.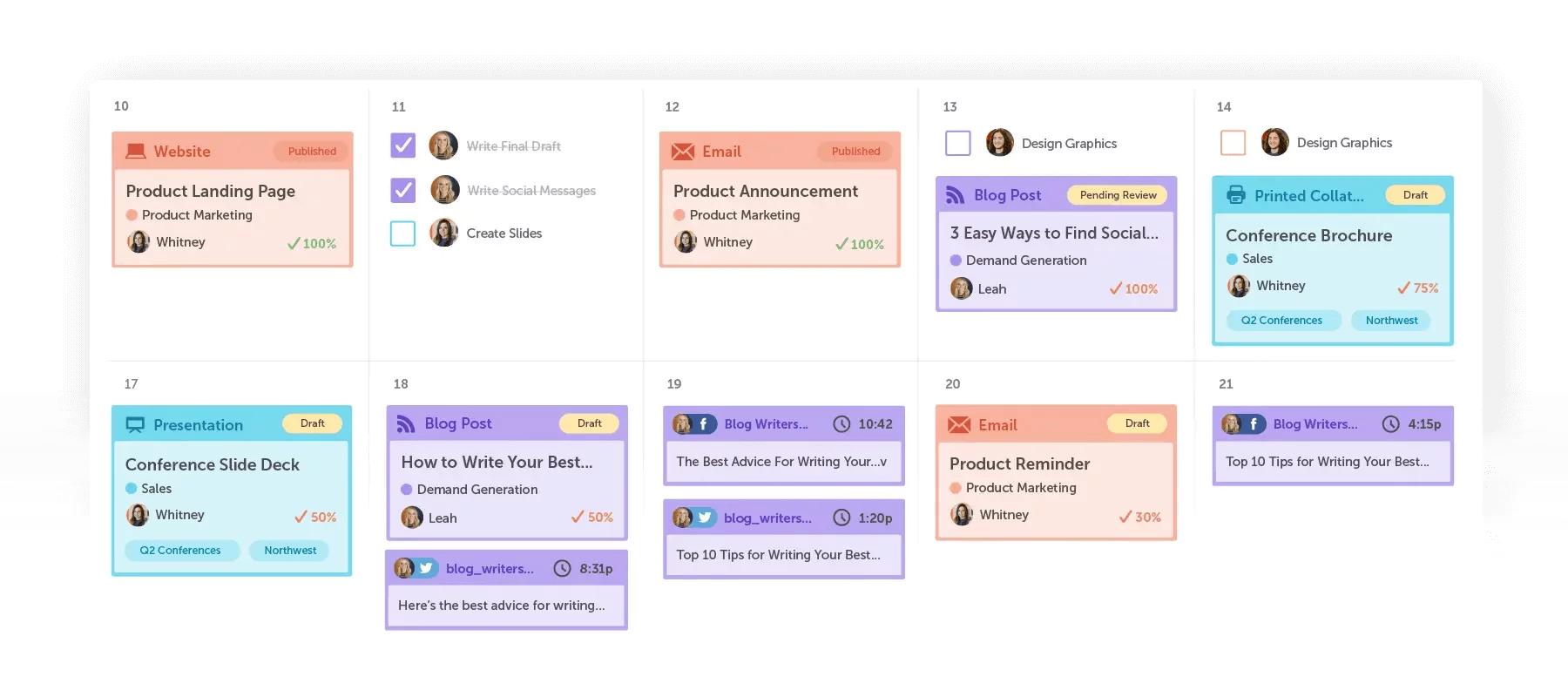 Features marketers find handy in CoSchedule:
Editorial calendar, where marketing teams can plan and schedule articles for blogs, social media posts, newsletters, and other communications. All content efforts are in one place and color-coded for easy scanning.
Analytics and reports. CoSchedule provides basic analytics on social media campaigns. Teams can gain insights into their audience's engagement and form a report for the management.
CoSchedule's marketing calendar has free and paid plans. The pro version costs $29/month.
Drawback
Besides the content calendar and collaboration features, CoSchedule has no flashy content solutions.
Takeaway
CoSchedule is perfect for small teams and individual creators who need to streamline their marketing efforts.
7. GatherContent: content planner app for document storage
GatherContent is a platform that allows you to gather all your company's content in one place and organize content workflows. It has some basic collaborative tools but mostly GatherContent concentrates on building automated content workflows and storing your documents securely.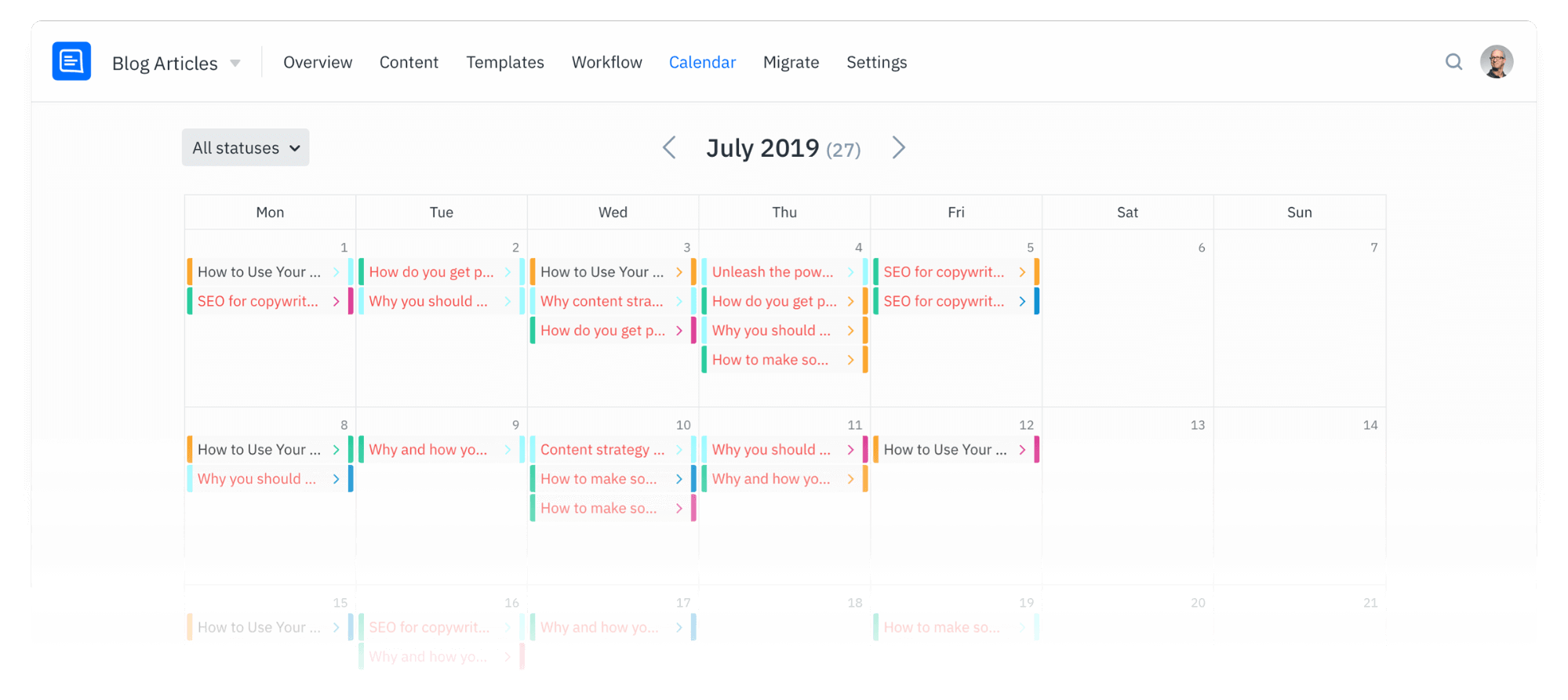 What marketers like about GatherContent:
Content Hub helps organize all the content in a neat system of projects and folders. Filters and statuses speed up searching for a particular piece of content and help users save time searching for that last year's campaign wording.
Content workflow ensures your teammates stay on the same page and consistently push content down the pipeline — no bottlenecks or week-long approvals.
GatherContent has three paid plans starting at $99/month.
Drawback
GatherContent is a bit expensive, and some users mention it's not always straightforward in features and interface. If you've tried it already, here's a list of GatherContent alternatives to check out.
Takeaway
GatherContent is a nice choice for those building an automated content pipeline and looking for a more optimized way to store content. It helps keep the team upscale and consistent in content cadence.
8. Loomly: planning tool for social media and content ideas
Loomly was created as a simple social media calendar with a smooth interface and straightforward onboarding. It supports most of the major social media platforms (including Pinterest, Snapchat, and some custom ones) and does a great job solving the woes of social media teams.

Key Loomly's features for social media marketers:
Custom workflow for every calendar. Social media managers can choose how many statuses their content will have and how many approvals it would need to go live.
Content ideas. Loomly curates post ideas based on your chosen industry, special events, and news. This feature is particularly helpful for social media marketers who need to generate engaging content ideas.
Loomly has four paid plans starting at $26/month.
Drawback
Loomly can't post automatically on Snapchat and custom channels.
Takeaway
Loomly helps social media teams stay on track and source new ideas for engaging content. With content calendars, custom workflows, and notifications, it's easy to reach out to all contributors. If you've already given Loomly a try and you're still on the lookout for another content tool that can meet your needs, check out this list of Loomly alternatives that you can try out.
9. Brafton: content marketing management for marketers
The Brafton Platform was made by content marketers for content marketers, with the purpose of simplifying end-to-end content marketing management. It's robust and scalable, and can be used to manage everything from content projects to entire multi-campaign marketing programs.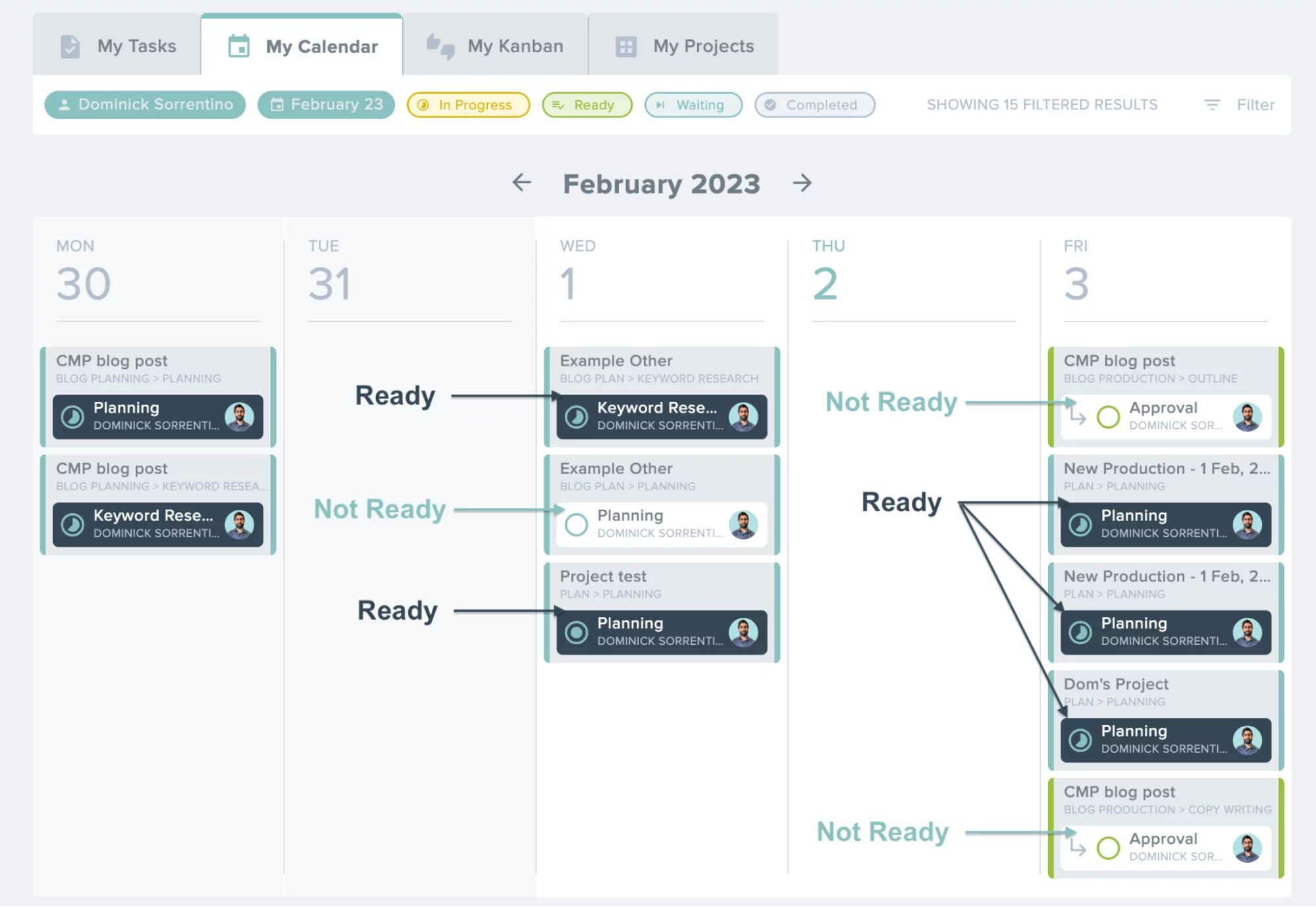 Amongst Brafton's features are:
Project planning and workflow management.

You can launch projects, customize the "tasks" associated with those projects, and decide who is doing what, when.

Project tracking:

With intuitive approval and rejection workflow, it's easy to track the status of projects as they move through a workflow; the platform also lets you organize projects by campaign to keep your teams goal-oriented. 

Content library:

The Brafton Platform has a built-in content library to help with digital asset management. Completed content deliverables can be stored, tagged, and intuitively filtered and sorted. 

Performance dashboards:

Integrations with GA4, Google Search Console and Semrush make it easy to track your KPIs within the platform.
The Brafton Platform costs $100/month for up to 50 users.
Drawback
Outside of content marketing user cases, the Brafton Platform is not as versatile as, say, Asana. 
Takeaway
The Brafton Platform is ready for any content marketing workflow on day 1. Its cost per user is exceptionally low, especially for bigger teams, and it does just about everything you would need and expect from a content marketing platform. 
10. Brandwatch: planning software for social listening
Brandwatch is a powerful social listening and analytics platform. It enables businesses to track and analyze online conversations about their brands, competitors, and industry across various social media platforms, blogs, and forums.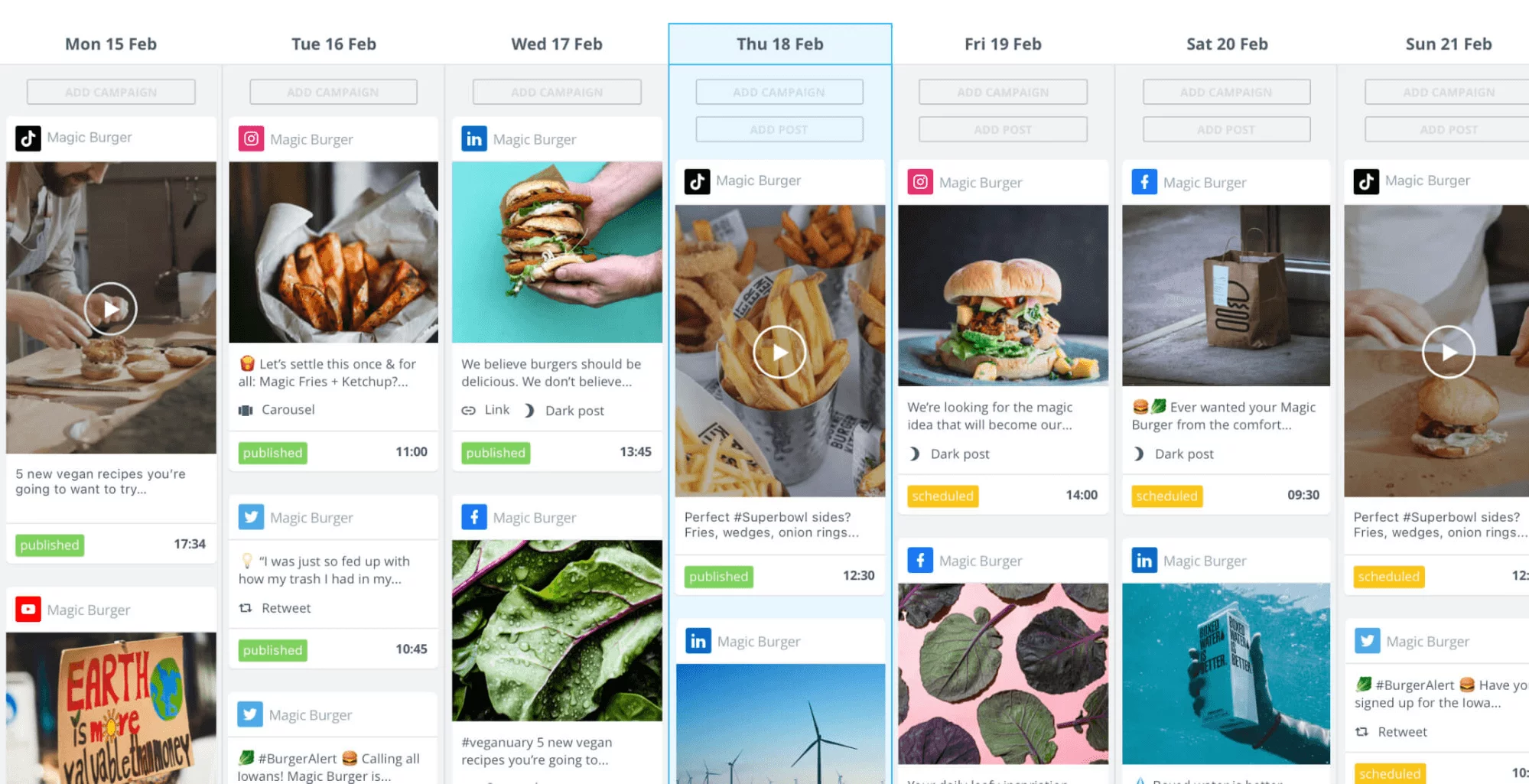 Two core features Brandwatch offers to content creators:
Social listening. Listening to the audience opens a great pool of ideas. Brandwatch helps marketing teams track conversations and make data-driven decisions on what to put on the content plan.
Social media calendar. Teams can manage, preview, and schedule paid and organic social media campaigns. Combined with the asset library, it speeds up content creation and helps keep a steady content flow.
Brandwatch has custom pricing for three solutions: influencer, social media, and consumer intelligence packs.
Drawback
Having its products scattered across three different packs, Brandwatch is a little confusing.
Takeaway
Brandwatch is an enterprise-class social media management and content marketing tool focusing on your target audience.
11. MarketMuse: planner tool for content analysis
MarketMuse is an AI-based content planning tool: it uses artificial intelligence and natural language processing to analyze your content and provide insights on how to improve it. It's especially useful for blog articles, as MarketMuse focuses on optimizing content for search engines.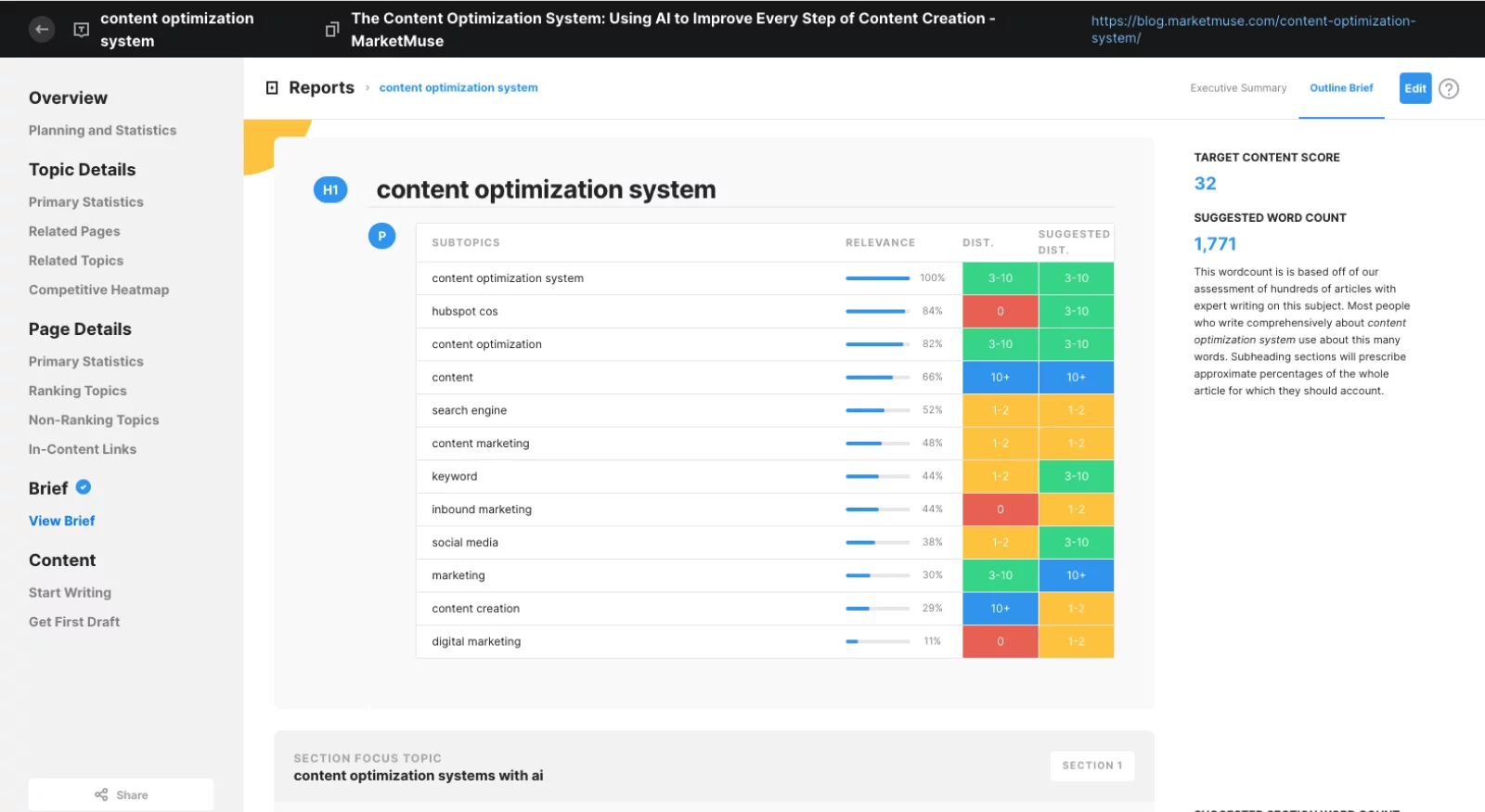 Among many blog-related features, MarketMuse offers:
Content briefs. MarketMuse automates content planning by providing detailed briefs on the most suitable topics. Briefs include extensive keyword research, search-engine-optimized structure, and internal linking opportunities.
Competitive analysis. The platform analyzes your competitors' content to identify gaps. Based on this info and additional insights on your existing content, you can cherry-pick your topics for a content plan and aim higher in Google ranks.
MarketMuse has three paid plans starting at $149/month. There's also a limited free version.
Drawback
MarketMuse is not universal, as it concentrates on longer pieces of content. It's also quite user-unfriendly, so it takes some time to get a hold of it.
Takeaway
If your team works in a very competitive market segment, and your main content focus is your blog, then MarketMuse is your trustworthy wingman.
12. Canva Content Planner: software for asset management
Canva is famous mainly for being a handy design tool, but it also has a content planner. It's a basic content calendar for social media with a major advantage — an opportunity to schedule a post directly from your Canva workspace.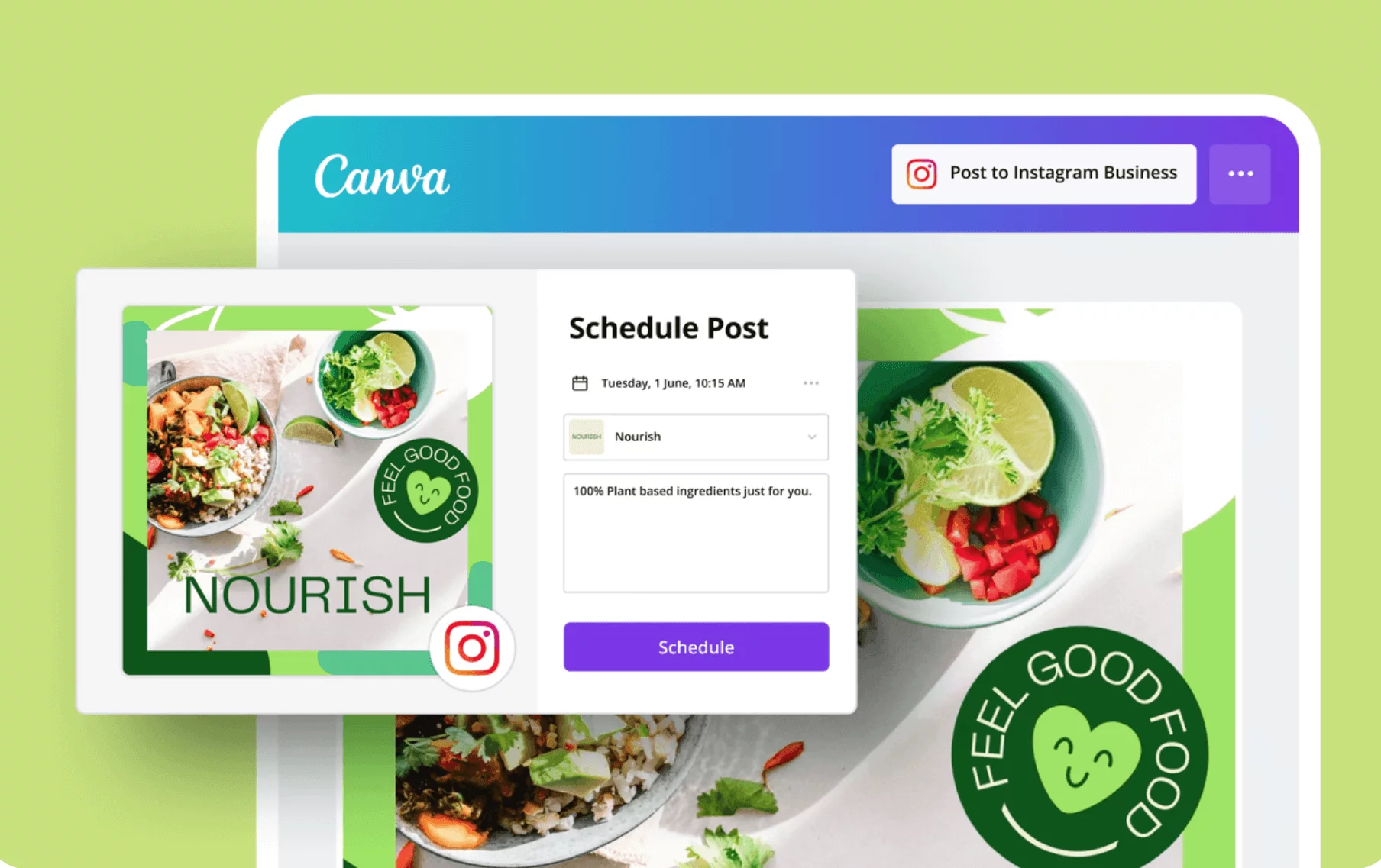 Besides beloved design solution, Canva Planner provides:
Smart and fast content planning. Teams schedule posts to social media accounts straight from the creation dashboard. Canva also recommends the best time to post for maximum engagement.
Collaboration tools. Team members who create designs together, plan together, using comments and edits. Canva also has an app to manage assets and content planning on the go.
Canva's content planner is only available in the Pro or Teams paid plan. The Pro plan starts from $11.99/month per person.
Drawback
The content planner works for social media content only. It's also only available in paid versions of Canva.
Takeaway
Canva Content Planner is a useful social media management tool for small to medium-sized teams looking to simplify their content planning process. Teams can gather and schedule their visual content instantly.
13. Content Snare: website planning tool for gathering content
Content Snare is a content marketing tool that helps teams gather content and documents. That's it. But when you are a marketing agency or a team with many stakeholders, it's a game changer.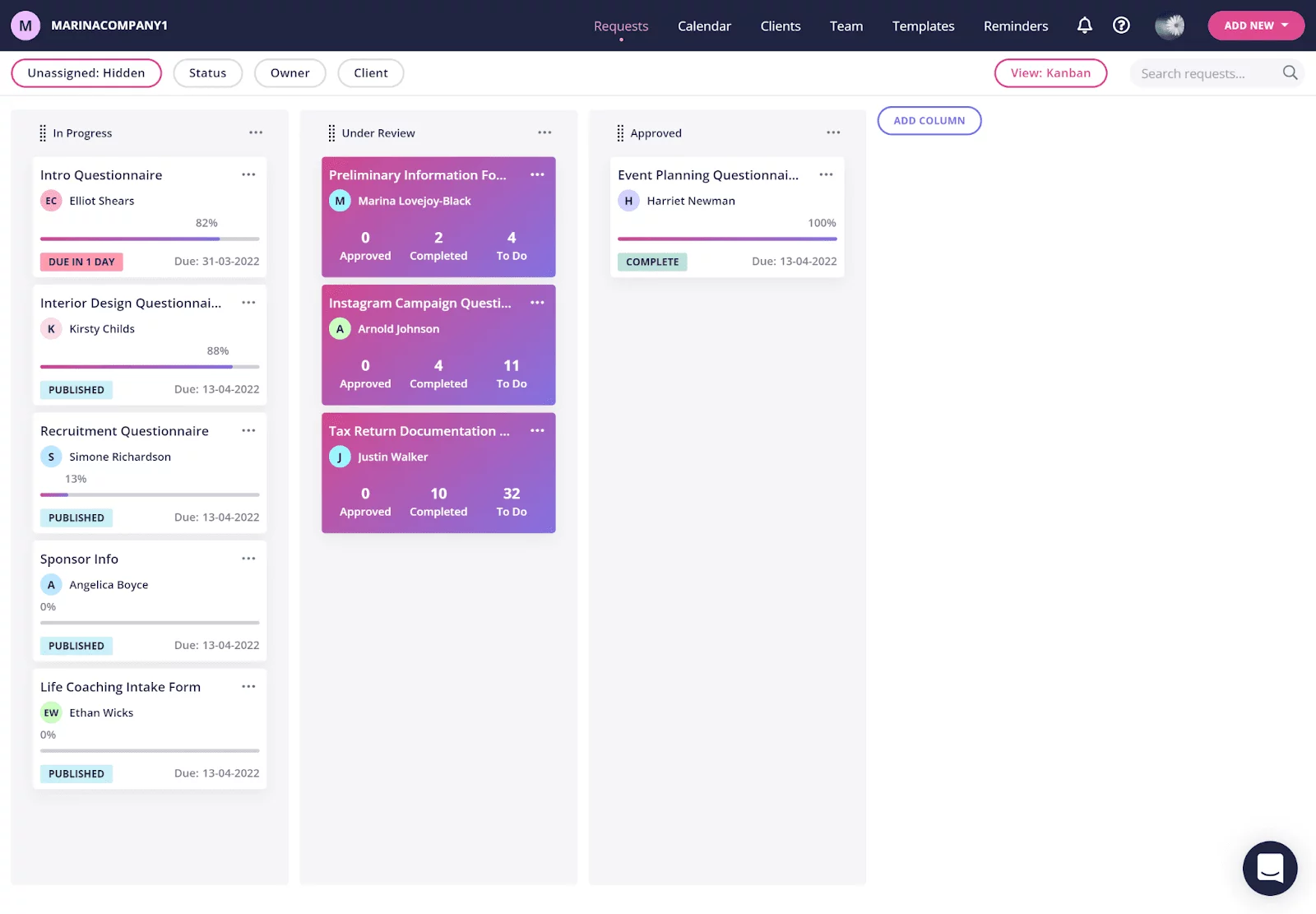 So two headlining features of Content Snare are:
Workflow for documents. In Content Snare, users create requests for the content and docs they need, set deadlines, and send automatic reminders to all contributors. It's like a step-by-step pipeline that teams can set up as they need.
Approval and collaboration. No emails — only one button to approve or reject your next content strategy or other marketing materials from stakeholders. There are also comments and discussions to let the team members know what to revise or how to proceed.
Content Snare has four paid plans starting at $29/month.
Drawback
Besides gathering and approving content, Content Snare doesn't provide advanced content planning features.
Takeaway
Content Snare targets approvals. Although it's not a stand-alone solution for handling content plans, this tool is a handy addition to efficient communication between teams, stakeholders, and clients.
Let's plan that content!
Planning your content ahead helps build a more sustainable and efficient content strategy. So choose the perfect solution that would fit your team the most (cough, try 50 free posts at Planable, cough) and get to planning today!