We've all been busy and it's only now that we got the time to look back at what happened with Planable in 2019. So much has taken place that we wanted  to recap our most popular projects launched last year. And boy, did we go out of our way to help marketers? #humblebrag
It appears Planable's marketing team put their minds at work for at least 10 big projects. We had a lot of experiments, produced webinars, wrote books, launched an entire content course, and collaborated on many reports. But most importantly, we had fun providing useful resources for avid learners.
In case you missed anything, here's a list: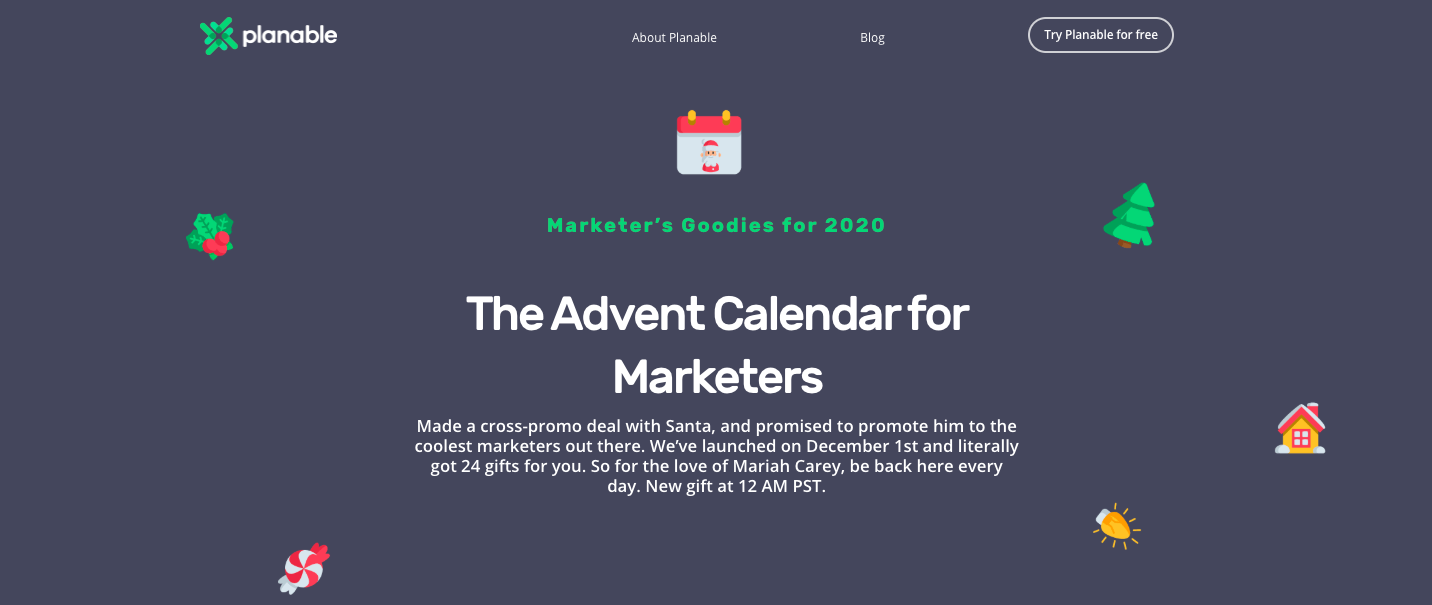 Until December 24th, we offered free gifts for everybody who signed up to our advent calendar. Marketers work way too hard for their Christmas campaigns. Sometimes, they spend 3 months on a project that stays live for only one week. They prepare super deals and super offers for everybody. But who is making sure they also receive nice gifts? You guessed it, we do.
We made a cross-promo deal with Santa, and promised to promote him to the coolest marketers out there. Free content, great discounts, books, healthy snacks, and so much more. Everything for our favorite marketers.

This book follows the content marketing's course from early beginnings and goes deeply into today's industry.
In order to keep up with the marketing universe, you have to understand it from top to bottom. We create more and more content, but how do we make it efficient and scalable? Efficiency is an urgent matter, and the way future of marketing teams will look like is in our hands. You should read this book if you're interested in looking at the past from a millennial dropout's perspective, see how present teams reach success or make the biggest marketing mistakes, and understand how teams should prepare for what's coming next.
In each of the 6 chapters, we deep-dive into every step of the modern content workflow. In the end, we have a little recap and clear guidelines on what to do next.
This video course is dedicated to those who want to learn more about content collaboration and creative workflows. We brought in front of the camera 20 experts who are on the frontlines of content creation and workflow management, and we got six chapters in which we deep-dive into every step of the modern content workflow.
6 lessons, 45 videos, final quiz, and a free gift guaranteed. You can enroll right now.

The past few years have taught us that you can save tens of hours and avoid major PR crises with the right workflow. A well-thought process that takes into account the core team, their tasks, stakeholders, and potential risks. 
You should definitely read this book if you're a marketer who hopes that one-day inbox zero will no longer be your one and only daily goal. Are you leading a content team or an agency? Start delivering more, better, faster. Keep reading if you want to bridge the gap between your team, your company, your stakeholders, and goals. In short, keep reading if you want to scale your content marketing efforts.
People of Marketing is a show produced by marketers at Planable and is dedicated to other marketers who want to solve their problems, learn more about the industry, and find solutions.
Content, freelancing, branding, tools – it's all here. If you're the type of marketer who likes to watch videos a lot, then you can always add this show to your playlist.

This year, we took some time and looked at the world's best marketing teams around the world. If you want to see how big brands succeed, download this report. We analyzed 100 brands in the 9 most popular industries. Through this report we want to provide a better look at the way brands succeed in digital marketing. Our team has also analysed the behaviour, interactions, approval workflow, and the way marketing teams collaborate on content creation.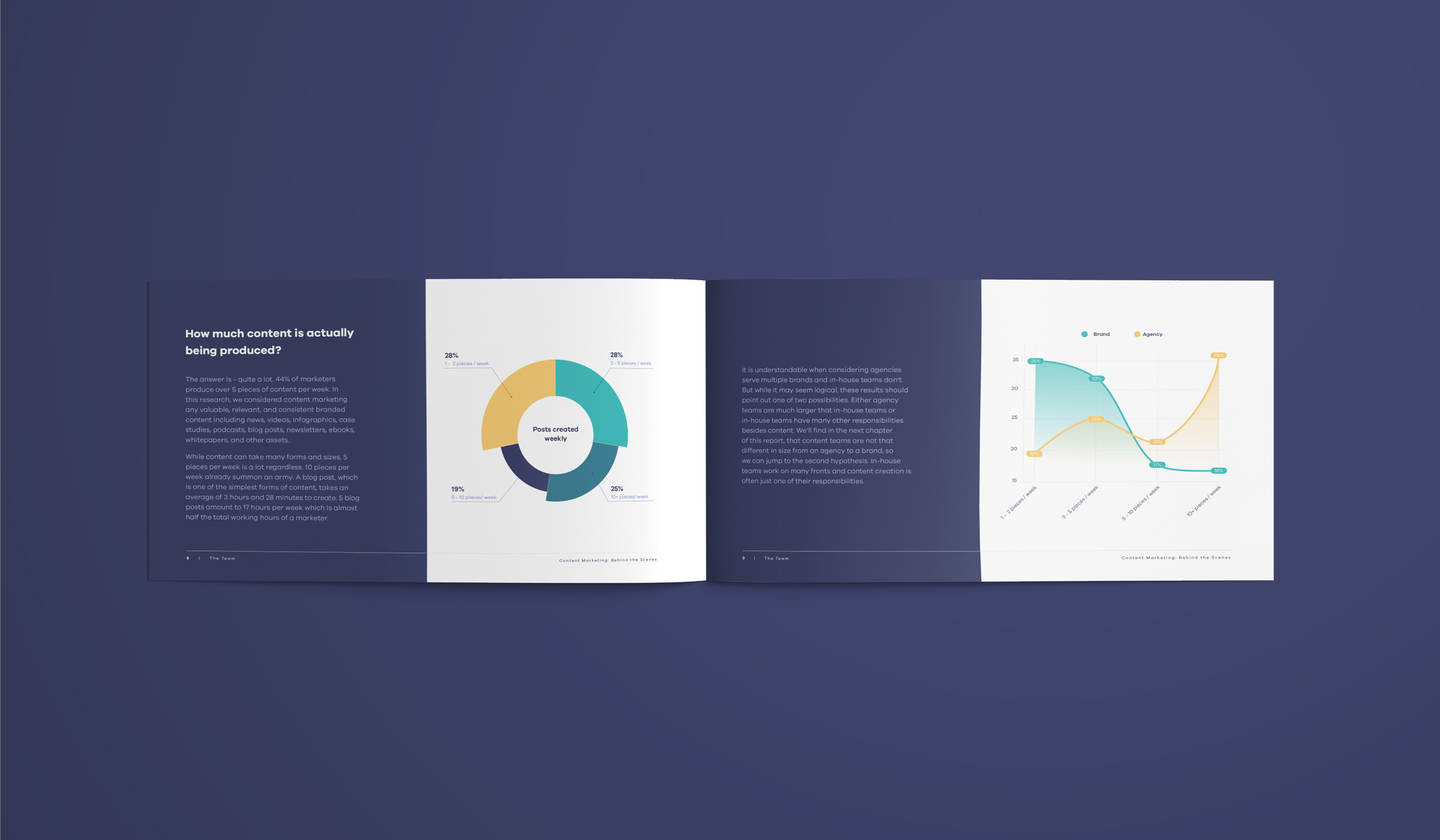 This report sheds light on what slows content marketing down, how efficient today's processes are, and how much is lost due to poorly defined workflows.
We asked over 250 marketers around the world how they work together. Our results are based on professionals working on both the agency side, and in the brands' in-house teams. We've even reached out to a few companies that are outsourcing content marketing efforts—clients.
The results? It's all in this report.
And because we want to learn more about our industry, we connect with a lot of top performers. This is how we started a webinar series. We try and take the best advice from experts and also give other marketers the opportunity to connect and ask questions during webinars.
This project just started, so you can easily catch up on it this holiday season.

Our latest study together with Socialinsider aims to prove which post type brings most engagement on Twitter, Facebook, and Instagram. We took a close look at over 101 million posts from 178,463 profiles across all platforms to figure out what the most engaging posts have in common. 
How can you raise engagement in social media? Try these simple tweaks and use your content at its full capacity.
See you again this year?
2019 was the year that only got us started. We already planned some of our projects for 2020. We'll focus on what we started, we'll add more formats, and we'll try to reach as many top performers as possible. If we didn't answer all your questions yet, we'll most probably do it next year. So stay tuned and don't forget we're always open to collaborate.