As someone interested in making the most of your social video marketing efforts, you might be struggling to choose between Instagram Reels and TikTok. Which channel is right for you?
TikToks go viral easily. So do Instagram Reels. TikToks help to build trust and desirability among younger audiences. And so do Instagram Reels. That being said, how should a social media marketer choose between these two?
In this post, we'll compare Instagram Reels to TikToks and help you choose the right platform for your short form video content. Read on.
Instagram Reels vs TikTok
What's the difference between TikTok and Reels? TikTok is more popular but Reels has more features. Both apps have their own advantages, so it's up to you to decide which one is best for you. If you're looking for a video content app with a large user base and lots of content, go with TikTok. But if you want something more community-based and feature-packed, then Reels might be the right choice.
Here are the Reels vs TikTok similarities and differences:
Max video length
90 seconds
10 minutes
Audio
limited library
copyright restrictions
extensive library
new sound creation
Upload pre-recorded videos
Max video length
90 seconds
Max video length
10 minutes
Account interaction
Collab
Account interaction
Duet, Stitch
Audio
limited library
copyright restrictions
Audio
extensive library
new sound creation
Upload pre-recorded videos
✅
Upload pre-recorded videos
✅
An overview of Instagram Reels
Instagram Reels are short, fast-paced videos that typically consist of different clips put together. Creators can record, edit, add music, and finetune their videos with the help of Instagram's built-in tools and filters.
Once they've been published, Reels can be discovered across the newsfeed, in Stories, and in the dedicated Explore tab. Being featured in Explore, Reels can reach completely new audiences and might go viral fast, which is one of the key benefits of Instagram Reels over traditional posts.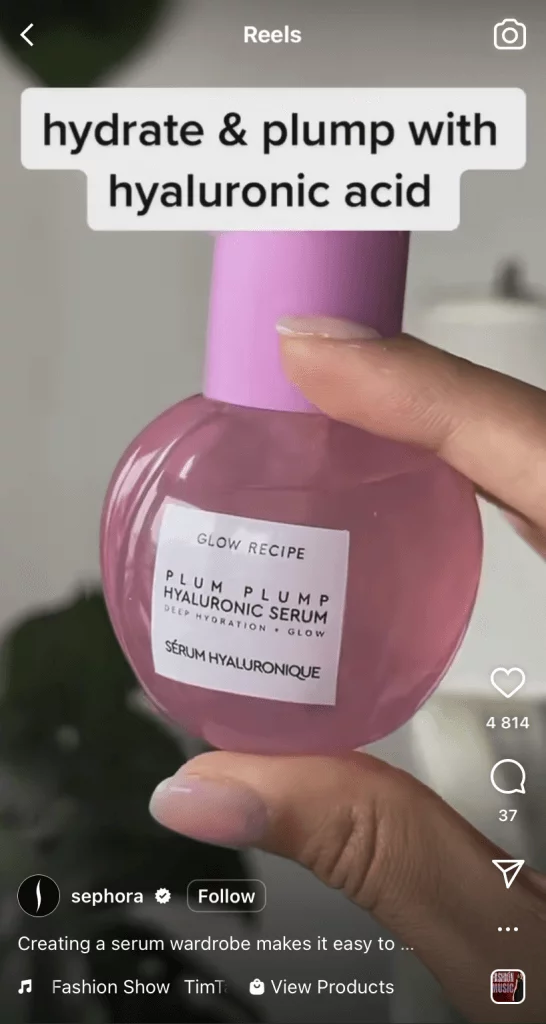 Brands like Sephora and Walmart have been successfully using Reels to boost engagement and promote their products on Instagram. As you can see in the above example, beauty and lifestyle topics play especially well here.
An overview of TikToks
TikToks are short-form vertical videos published on TikTok, the blockbuster video-sharing social app. In a few years, TikToks have evolved from 15-second dancing and lip-syncing clips to encompassing 10-minute presentation videos and even live shopping events.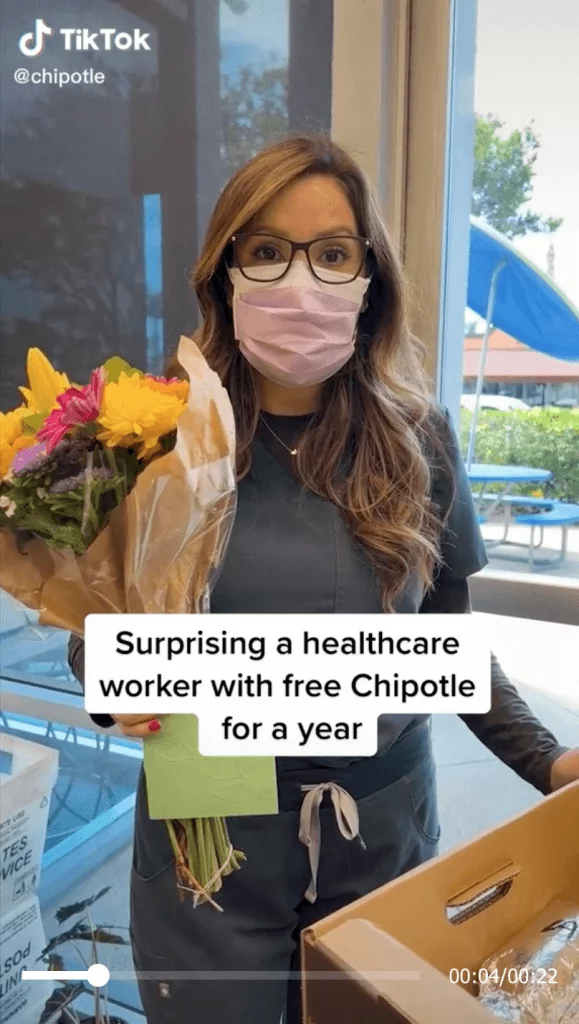 Brands have immediately recognized TikTok for business as a brand-new marketing channel and flooded the platform fast. Nowadays you can find the world's biggest brands like Chipotle and Ryanair here alongside local small businesses building their online presence with viral TikTok videos. In the example above, Chipotle evokes positive emotions and captures a moment, which is what TikTok is all about.
Do you really have to choose?
Before we dive into a deeper comparison of TikToks and Reels, it's worth remembering that you don't necessarily have to choose one over the other.
Both Instagram Reels and TikTok allow you to attract your target audience with catchy, engaging, vertical, short-form videos. As someone who is just getting started with video marketing, why would you go all-in on only one platform?
Given the similarities between TikTok and Instagram Reels, you don't have to spend time creating completely different videos for each channel. To begin with, you can repurpose the same content for both platforms and see how your audience on each channel reacts to it.
So here's what we'd recommend you to do:
Watch content that's been trending among your target audience both on Instagram and TikTok. Find trends that work well on both platforms.
Build storyboards and record your videos.
Edit videos with a third-party editing tool so that you don't have to publish videos marked with the TikTok logo on Instagram, and vice versa.
Use a scheduling tool like Planable to upload and schedule your videos through one interface.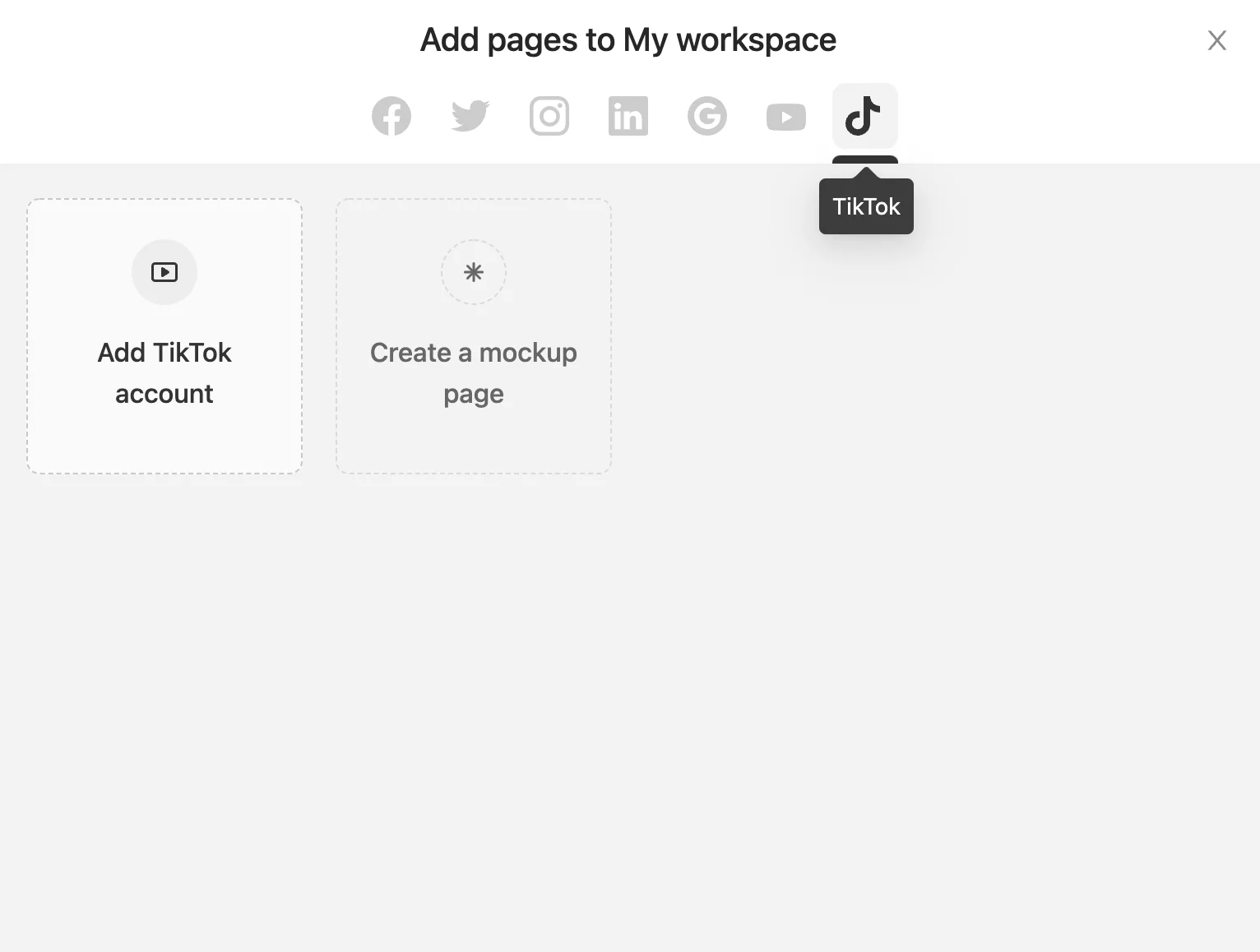 Monitor the performance of your content on the platforms and decide whether it makes sense for you to adjust your strategy specifically for Reels or TikTok, emphasizing one over the other, or doubling down on specific types of content for each.
8 key differences between Instagram Reels and TikTok
Whether you want to focus on one channel from the very beginning or will try to take the best of both worlds, you need to understand what distinguishes Instagram Reels from TikToks.
Instagram rolled out Reels in the summer of 2020, after TikTok had already won the hearts of Gen Z and Millennials. That's why many social media commentators dismiss Instagram's version as "a rather shameless TikTok copycat." We don't agree with this statement, though.
TikToks and Instagram Reels are different in many respects. See for yourself.
Video length
The first and probably most critical distinguishing feature is video length.
While TikTok started with 15-second clips, the platform's duration ceiling has gradually increased to 10 minutes. On the other hand, the maximum length of Instagram Reels is currently 90 seconds, up from 60 seconds as of April 2022.
With the launch of long-form videos, it feels that TikTok is aiming at competing with YouTube. So if you're looking for a platform for creative experiments with both short-form and long videos, TikTok might be the best option to explore these days.
Editing
Both TikTok and Instagram provide native tools for recording and editing videos right inside the apps. However, their capabilities differ a lot.
Instagram's built-in editing tools include the draw tool, speed controller, transitions, AR effects, filters, stickers, and audio libraries. Although creators have all the necessary tools at their disposal, they often lack trending effects available exclusively on TikTok.
Alongside standard editing features, like video trimming and syncing, effects and filters, captions and voiceover, TikTok offers exclusive brand-new features such as GIPHY in Green Screen, one-tap visual enhancement, and effects for voice recording and original audio.
What does it mean for you? Undoubtedly, TikTok provides way more sophisticated tools for video production than Instagram does. But you can always use a third-party video creation tool like Beatleap to streamline the video production process and enjoy over 20 editing features.

With this app, offered by Lightricks, you'll find features neither Instagram nor TikTok provides you with. You can enjoy automatic song-to-video matching, access a rich library of filters and effects, adjust the mood of your audio, and more. Most importantly, the app enables you to fit your videos into your social platform's time limit – if your resulting video is too long, Beatleapp will adjust its duration based on the maximum video length of the platform of your choice.
Content Style
Instagram is all about aesthetic lifestyle content – and Reels fits this model. To gain traction with Reels, creators should produce polished content that captures the audience's attention with an appealing image in the first place. Instagram Reels work well for brands that are ready to invest their time and money in building a consistent brand image.
TikTok has a less conservative and more experimental vibe. It doesn't matter how your account is structured and whether you've picked a nice-looking cover image or not. Oftentimes, you can't even plan your content a few weeks ahead because you need to jump on hot trends and create new videos on the same day.
Audience age groups
The pervading stereotype that TikTok is primarily for teenagers isn't necessarily wrong. It's true that TikTok is very especially among Gen Z audiences. According to Statista, 25% of TikTok users are aged between 10 and 19 years. Due to the younger ages using TikTok, that's why there's also a high prevalence of TikTok parental controls being used.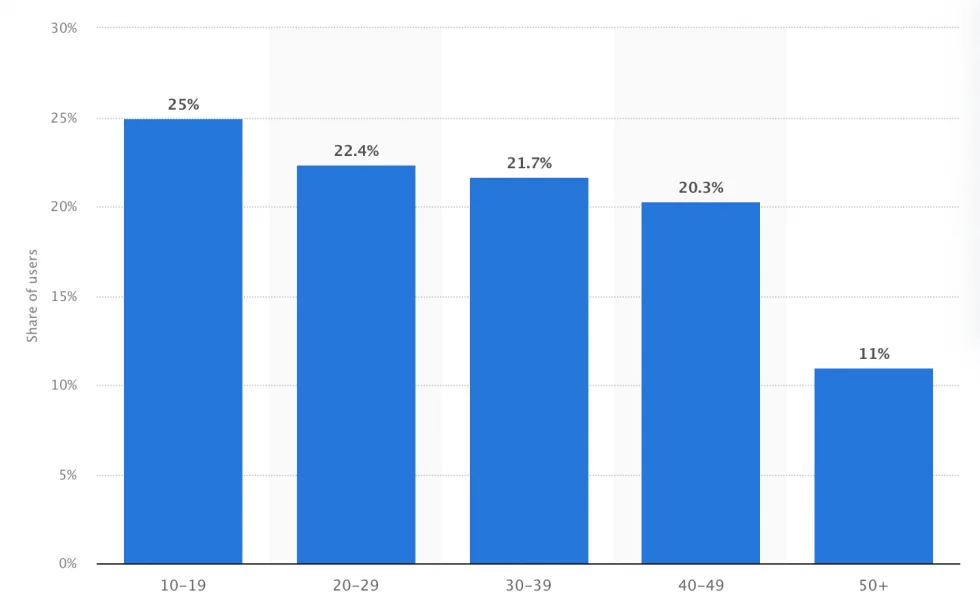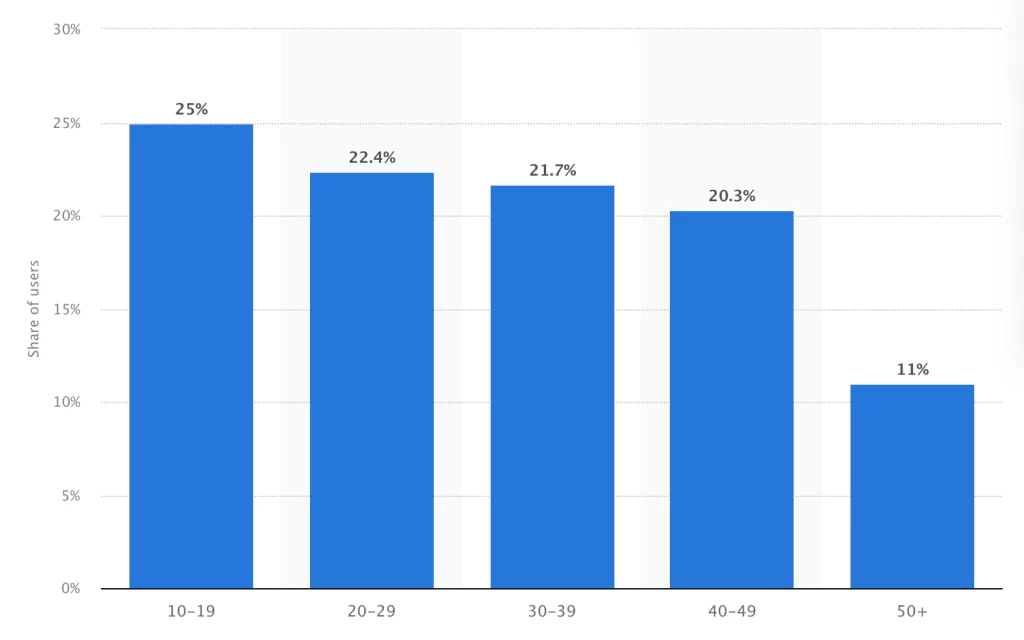 Meanwhile, the largest age group on Instagram is represented by audiences aged between 25 and 34 ages (31.7%).

Engagement
Due to TikTok's "For You" feed, which surfaces content according to people's interests as opposed to the accounts they follow, TikTok tends to generate higher engagement rates, especially if you're just getting started.
For instance, when Justin Bieber posted the same dance challenge on both Instagram and TikTok, the Reel received over 4.8M likes, which translated to a 3% engagement rate, and the TikTok video generated 9.5M likes with a 49% engagement rate.
Yet it doesn't mean that Instagram Reels are less effective. TikToks are great for encouraging user-generated content (UGC), while Instagram Reels help to get higher impressions and increase brand visibility.
High engagement rates on TikTok can be easily explained by the way its algorithm works, while it's still somewhat of a mystery how Instagram's algorithm works. Users can find Reels on the dedicated Explore tab, but you can hardly say whether recommended content is tailored to their interests or not.
On the other hand, there is some compelling evidence suggesting that Instagram emphasizes Reels in the newsfeed in order to promote the format, which they see as a strategic move to try and dethrone TikTok.
Advertising
TikTok advertisements aren't as widely used as Instagram Reels Ads. It's possible that this is because of the higher costs involved.
CPC on Instagram starts at $0.40 and can reach $1.00, with a minimum daily spend of $5.00. Meanwhile, TikTok's biddable ads vary between $0.20 and $1.00, depending on your campaign and budget settings. The minimum daily budget ranges from $50 to $500 based on the type of ads you're running. Although CPCs don't differ much across these platforms, an advertiser should be ready to allocate a significant budget when they opt for TikTok advertising, which raises the bar for entry.
Also, TikTok advertising options might be confusing to newbies: In-Feed Ads, Brand Takeover, TopView, Branded Hashtag Challenge, Branded Effects – all these ad types come at different costs and serve different goals.
Instagram Reels Ads are quite straightforward. They're displayed next to next to organic Reels in Explore, Stories, Feed, and Reels Tab.

And what about campaign performance? WordStream recently ran an experiment comparing TikTok Ads and Instagram Reels Ads. They allocated similar budgets, set the same goals, and used identical content. The result? Reels Ads generated over twice as many impressions as the TikTok Ads did, at half the cost per 1,000 people reached.
Music
In terms of audio options, TikTok definitely wins over Instagram.
Many business accounts experience problems with using the music feature when creating Instagram Reels. Moreover, Instagram's audio library isn't as extensive as TikTok's. The latter offers a wide range of audio options and doesn't impose as many copyright restrictions.
By updating its library with user-uploaded sounds, TikTok makes it easier for its users to create viral content and jump on trends.
Analytics
As Instagram Reels and TikTok are continuously trying to outperform each other, they keep adding new functionality allowing businesses to gather valuable insights into their video performance.
Instagram Reels Insights is a dashboard where creators can find and analyze the data critical to understanding the performance of their Reels. On the dashboard, key metrics like Plays, Accounts Reached, Likes, Comments, Saves, and Shares are displayed. Also, creators can access insights into audience demographics, including gender, age range, location, etc.
TikTok provides similar data on creators' video and account performance. It displays basic metrics like follower growth, video views, profile views, likes, comments, and shares.
Instagram Reels vs TikTok: FAQ
Why do I get more views on Instagram Reels than TikTok?
It's likely that Instagram promotes Reels to wider audiences than TikTok does, especially if you already have a following on Instagram. While TikTok tailors its recommendations to users' interests, Instagram Reels reach less granular audience segments.
Can you use TikTok videos on Instagram?
You can repurpose TikTok videos for Instagram. Creators say Instagram doesn't favor Reels with the TikTok logo, but you won't have this problem if you edit your videos with a third-party editing tool.
How many Reels should I post on Instagram?
Instagram tends to promote Reels from creators that post consistently. It's recommended that you post four to seven Reels per week to maximize your reach.
Do Reels get you followers?
Instagram promotes Reels through Suggested Posts in Instagram Feed and within the Explore tab. Therefore, it's easy to reach new audiences and win followers by publishing Reels.
Is it easier to get views on TikTok or Reels?
If you're building an audience from scratch, it's easier to get traction on TikTok.
Reels vs. TikTok: our Verdict
Instagram Reels and TikToks offer businesses an opportunity to win loyal audiences with light entertaining content. The key difference between these two is that TikTok is a trend-setter, while Instagram is still trying to keep up with its competitor, albeit with the muscle of Meta helping.
For a business entering video marketing, the best choice would be to take the best of both worlds – jumping up on TikTok trends, creating engaging videos, and distributing them across TikTok and Instagram. But that's just a recommendation for starting to experiment. Hopefully, with the right approach, you'll find the short-form social video channel mix that works best for you.
Tiffany Ruder
Tiffany Ruder is a full-stack marketer who specializes in creating customer-centric messaging and digital experiences that span channels and touchpoints. All about optimizing the customer experience as the ultimate conversion booster, she's based in Boulder, CO, but her clients are based all around the world.