A growing number of global companies and advertisers are turning to TikTok for business as their go-to platform for impactful branding, community-building, and shortening the purchase journey.
They must be on to something that others haven't fully grasped yet. Is it the raw, authentic content? The engaged audience? Or perhaps the innovative ways companies can interact and engage with their audiences?
Whatever the secret sauce is, let's take a closer look into the world of TikTok marketing, helping you create a successful social media strategy and a plan for scheduling TikToks.
What is TikTok for business?
TikTok for Business is a dedicated space for marketers and brands to create content, advertise, set budgets, and track campaign data through their TikTok business accounts. The platform also includes a business learning center where users can master how to create TikTok videos for their target audience, leverage user-generated content, split-test their content strategy, or get advice from other business owners.
What is the difference between TikTok and TikTok business?
The difference between TikTok and TikTok business is related to the intention of the TikTok users. TikTok is generally used for entertainment, self-expression, learning, and connecting with others through video content. On the other hand, TikTok Business is used by companies and organizations to grow brand awareness through video ads, increase trust by sharing user-generated content, create stronger customer relationships by collaborating with TikTok influencers, or draw an unexpected audience through brand takeover ads.
Fun fact: out of 1.1 billion monthly active TikTok users, over 5 million are businesses using a TikTok business account.
Is TikTok for business free?
Yes, TikTok for business is free.
Creating a TikTok business account only takes a few minutes and it's free for any user, regardless of the country of origin, type of business, or target audience.
TikTok ads start at $10 per CPM (cost per 1000 views) and a minimum of $500 for any campaign. Of course, the prices vary depending on the ad format and target demographic.
Why every brand should embrace TikTok for business accounts?
Amidst the rising popularity of TikTok, entrepreneurs and marketers might ponder, "Is TikTok for business worth the investment?". The answer largely depends on the target audience and social media strategy. Let's look at some main benefits:
The original TikTok audience was Gen Z. With quick, entertaining videos, the TikTok app captured the attention of over half of Gen Z consumers.
Recently, millennials and older generations also hopped on the trend, providing businesses with a massive and diverse audience to engage and promote their products or services to.
Ads perform better on TikTok
TikTok's algorithm favors content that resonates with users, offering businesses the opportunity to create viral marketing campaigns that can quickly gain traction and visibility. TikTok analytics show that users perceive TikTok video ads in a positive light, especially Topview ads.
This Kantar study shows that TikTok advertising successfully captures users' attention, inspires people, and creates trends. On top of that, ads on TikTok showed a 10% better ad receptivity on average, compared to other platforms tested.
The platform thrives on authenticity, allowing businesses to showcase their unique personality and connect with their audience on a more personal level, fostering trust and brand loyalty.
TikTok encourages brands to promote their organic content through Spark ads. This enables brands to amplify existing organic videos that fit their business objectives.
Plenty of User-Generated Content
One of the best TikTok marketing strategies is to share user-generated content and create challenges, to foster a sense of community around your products or services. Use this TikTok idea to put your customers in the center of your brand by uploading their user-generated videos on your business account.
Great Influencer Marketing Opportunities
If you're looking to apply influencer marketing to your brand's Tiktok strategy, learn that the platform is home to numerous influencers with dedicated followings.
According to GrowthCollective, TikTok micro-influencers have an engagement rate of 18% compared to Instagram's micro-influencer engagement rate of 3.86%. Partnering with relevant influencers can greatly improve your business account's access to a wider audience and increase brand awareness significantly.
Examples of successful TikTok business accounts
TikTok Business not only helps brands grow but also takes great pride in their success, showcasing their stories to serve as inspiration for other businesses. Here are some of the brands on TikTok that caught my attention: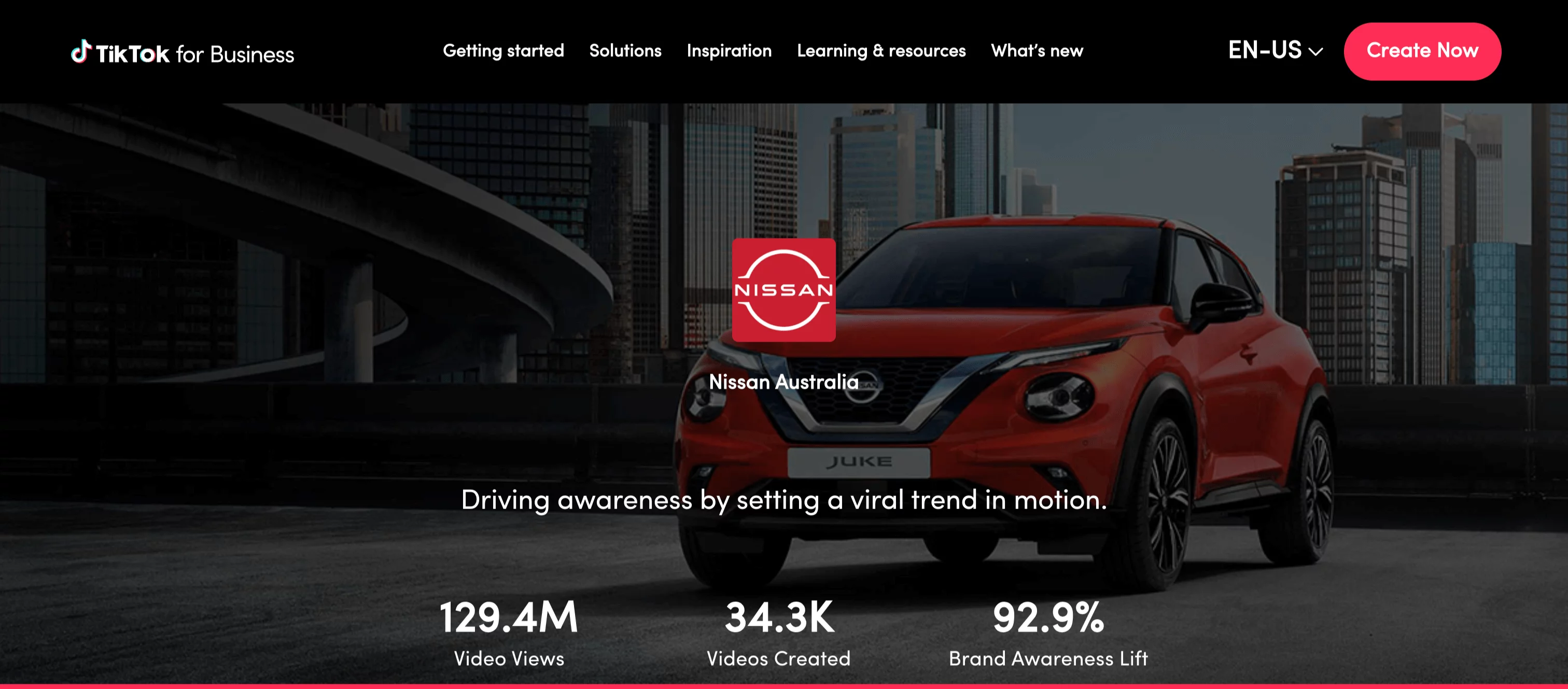 Popular automobile manufacturer Nissan used their business account on TikTok to raise awareness for the launch of their new crossover car, the JUKE. They tapped into the power of the branded hashtag challenge, encouraging users to post their own videos using the #improvisewithJUKE hashtag. The best user submissions would be featured as voiceovers in the JUKE TV commercial. The mix of ad placements, branded hashtag challenge, and official TikTok Creator partnership, resulted in one of the most successful TikTok campaigns ever in Australia, with a whopping 129.4 million views globally.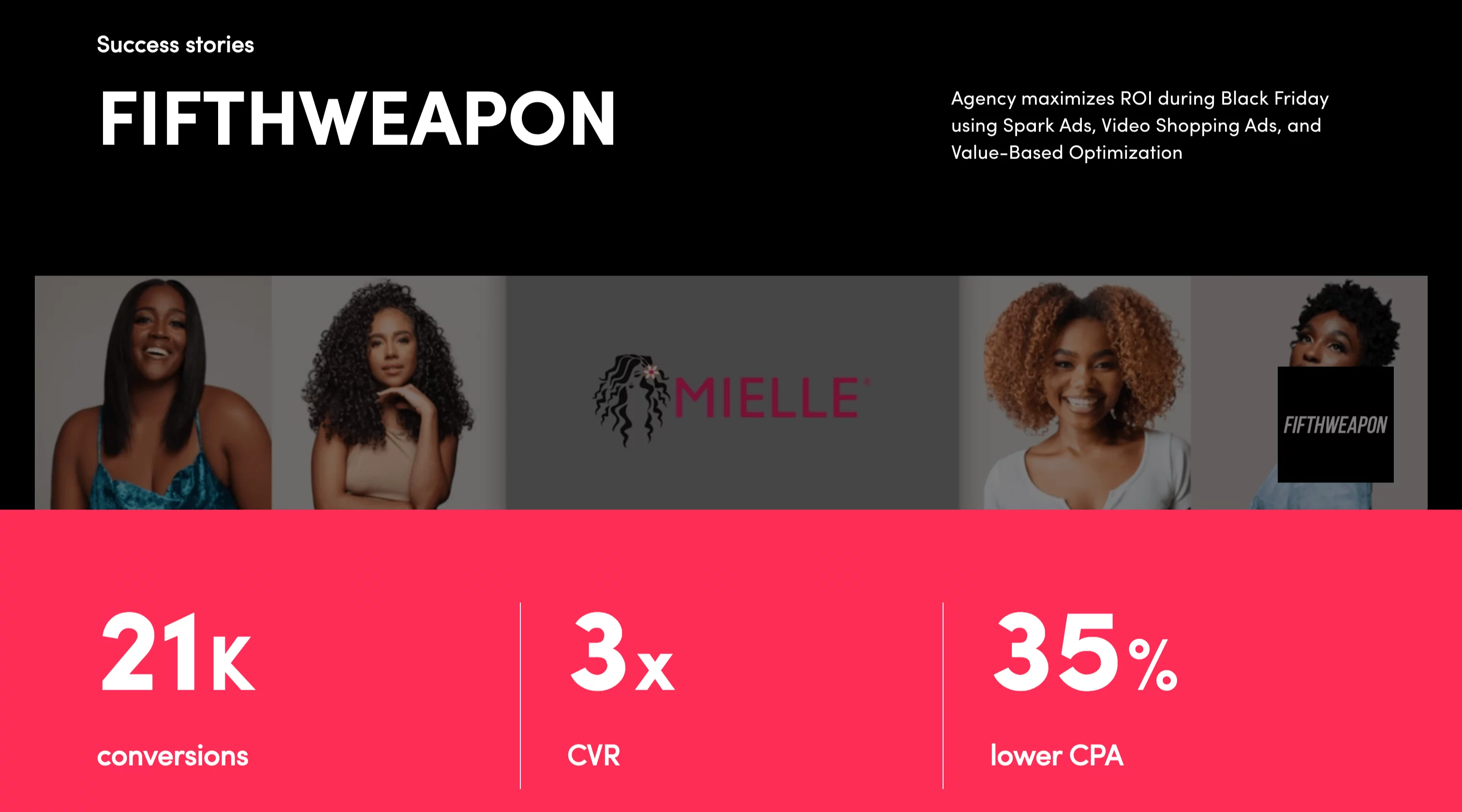 This advertising agency based in Miami, Florida uses a clever mix of spark ads, shopping video ads, and value-based optimization to increase brand awareness, and conversions and lower their CPA. As a result, they managed to drive over 21K conversions in less than 2 weeks for their client Mielle Organics.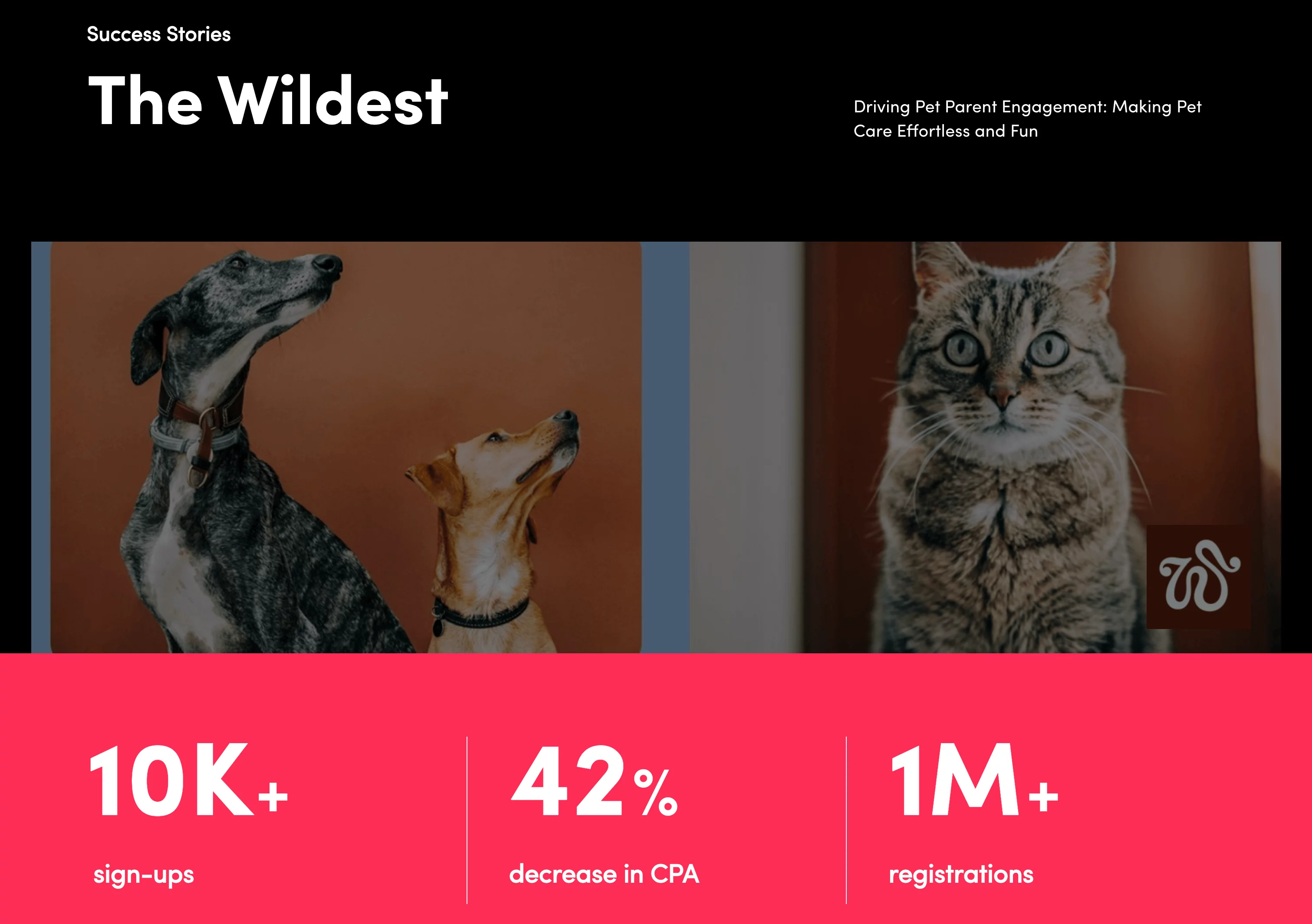 Here's a great example of how a pet care brand used tutorial videos to attract over 10,000 sign-ups to their campaign, decrease 42% of their CPA, and foster a strong, lasting community. They saw TikTok as the ideal platform to help drive their success due to its popularity among their audience – millennial pet parents.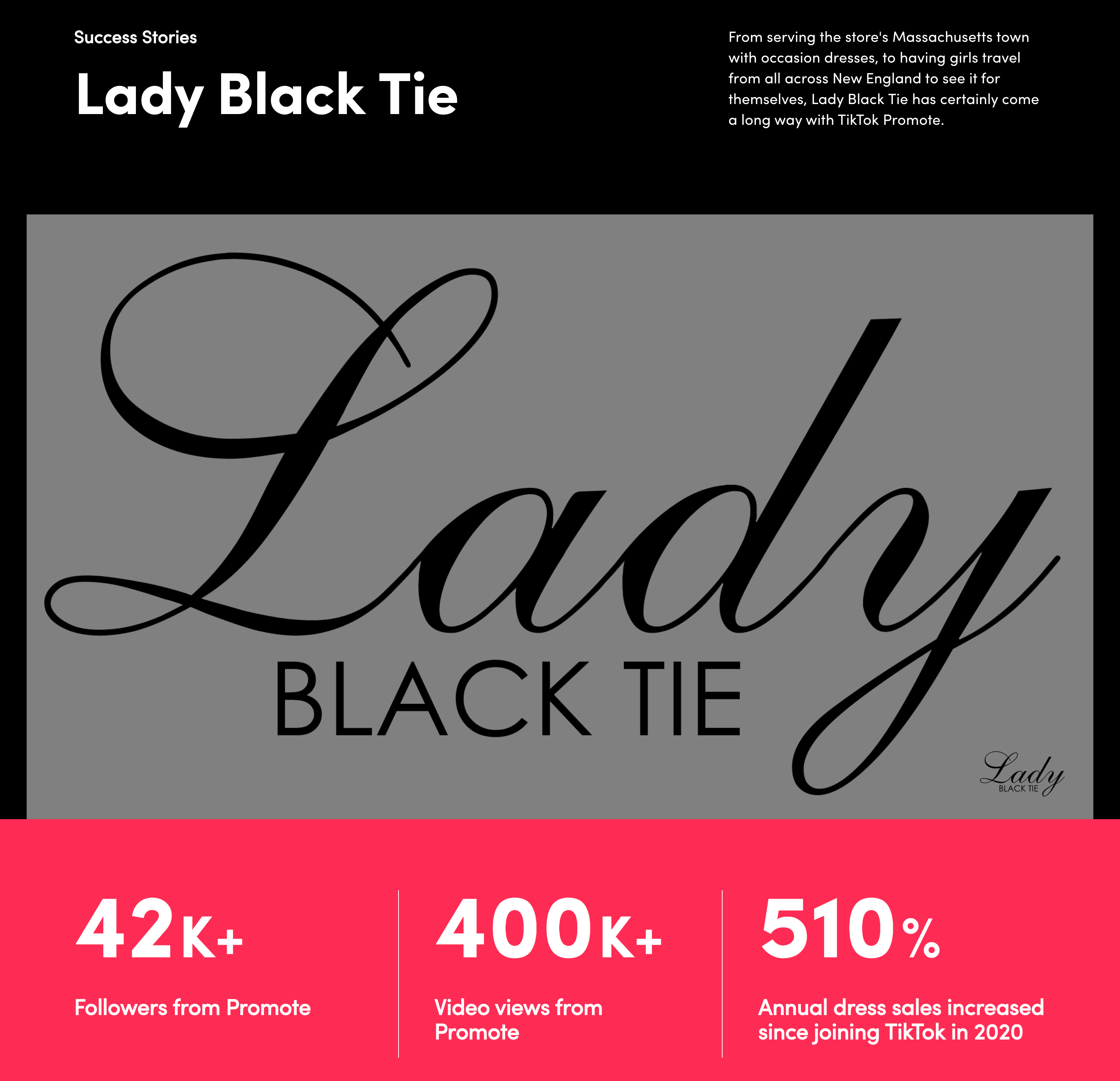 This women's dress store in Massachusetts paired TikTok Promote with its engaging fashion content strategy to successfully grow its audience, turning its business account into a sales channel. Using geographic targeting features from the TikTok ads manager, the owner of the store ran ads targeted to the state of Massachusetts and saw more people turning up at the store than ever before.
What are the disadvantages of using TikTok for business?
It's essential to take a moment to consider the not-so-glamorous side of TikTok marketing as well. Here are a few potential drawbacks to keep in mind, so you don't get caught up in the hype.
The TikTok algorithm changes constantly. One moment your content is riding high on the trending page, and the next, it might be lost in the TikTok feed. Staying in the algorithm's good graces may require some sorcery and a great marketing planner, to make sure your social media calendar is always on point.
More than 60 percent of TikTok's users are between the ages of 10 to 29. Depending on the type of business you have, this can limit the demographic for marketing your brand.
Unlike other social media platforms like Facebook for example, where the you can easily target older adults, TikTok might not be the best platform to invest in. But it can be a great platform to monitor for trending hashtags or viral songs, which you can use on more relevant social media platforms for your business.
What business tools does TikTok offer?
1. E-commerce
TikTok offers business accounts the opportunity to sell their products while showcasing them in creative ways. The commerce solutions offered by the platform come in the form of shopping ads and TikTok shops. With video shopping ads, businesses create shoppable ads (live or in-feed), allowing clients to browse and purchase products without leaving the platform. When users see a product they like, they can tap on the tag to view more details and make the purchase instantly.
The TikTok shop is a digital storefront where users can shop directly from your brand's account and get access to your products within the app.
For example, fashion trend-setter, Asos regularly creates videos for marketing campaigns that draw users to buy from their TikTok shop.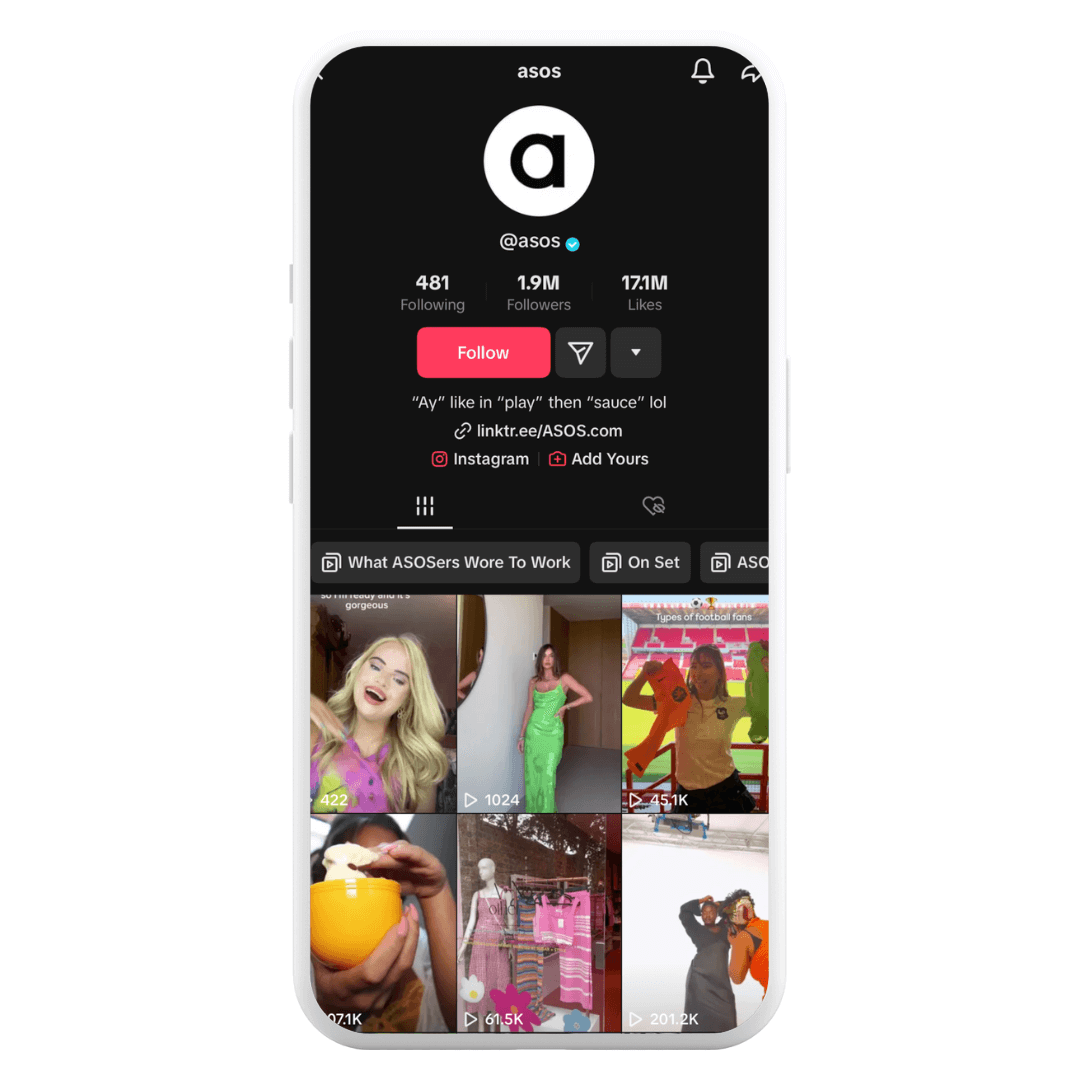 2. Ads
TikTok offers quite a range of advertising solutions. From in-feed ads, TopView ads, Spark ads, Branded ads, or even Branded Effects, the goal is to enable your brand to create captivating content, boosted through relevant format ads for your target audience. So let's break them down:
These appear seamlessly within users' "For You" feed, blending in with organic content. These short videos allow you to showcase your products, services, or promotions while leveraging the engaging and immersive nature of TikTok's feed.
These are premium, full-screen ads, that automatically play when users open the TikTok app. These ads ensure maximum visibility and provide an excellent opportunity for your brand to capture users' attention right from the moment they launch the app.
These are interactive ads that encourage user interactions. Spark ads allow you to boost your own TikTok posts, or organic posts made by other Creators – with their authorization. It's a great way to create engaging challenges or quizzes to promote products while fostering user-generated content and enhancing brand engagement. Note that branded hashtag challenges can be very successful.
This type of ads involves collaborations between brands and TikTok influencers or content creators. Through this partnership, your business can leverage the creator's authenticity and reach to promote its products or services to a broader audience.
AR (augmented reality) filters or effects that brands can develop to allow users to incorporate their branded elements into their videos. This type of ad fosters user creativity while increasing brand awareness and recognition.
This allows businesses to boost the reach of their organic TikTok videos by turning them into ads. By targeting specific audiences and demographics, your brand can extend its videos' visibility beyond its followers and gain new potential customers.
Take for example this Barbie effect which shows you what Barbie character you are. Yes, Barbie fans are going crazy about this filter, and they're creating countless user-generated content.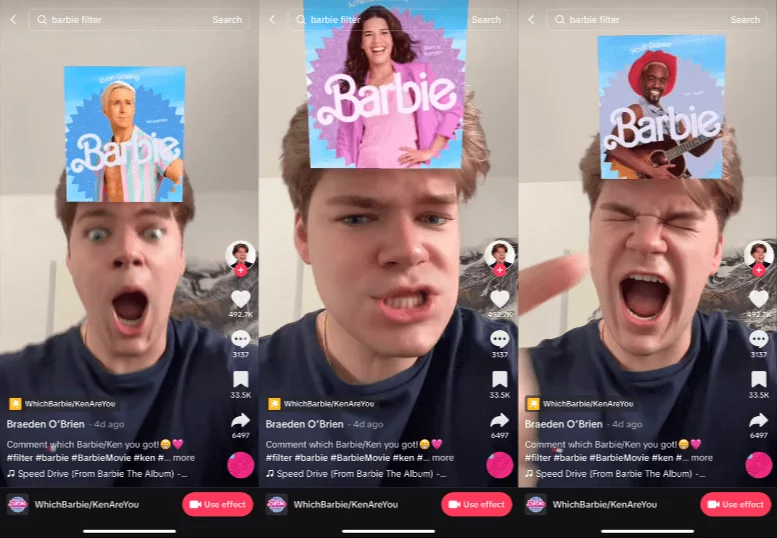 3. Creative
TikTok's Business solutions offer more than just a place where you can create content and manage account preferences. The creative space is all about letting that inner social media manager and content creator thrive together. TikTok's creative center helps you find trending sounds and viral content, breaks down top ads for you, so you can find inspiration, and even offers precious tips and tricks.
And if you're looking for niched influencers to collaborate with, you can jump straight on to the creator marketplace. Together with video editing and template tools, TikTok for Business is giving you almost all the tools you need to build a successful social media presence.
So let's find out what else you need.
How to start marketing your brand on TikTok for business
To successfully market your brand on TikTok, consider following these five essential steps:
1. Define your brand's personality and target audience
Before diving into TikTok marketing, it's crucial to understand your brand's personality and the audience you want to engage with. TikTok caters to a diverse user base, so knowing your target demographic will help you tailor content that resonates with them.
2. Create captivating and shareable content
TikTok is all about creativity and authenticity. To capture the attention of users, focus on producing visually appealing, entertaining, and shareable content. Consider launching challenges, duets, or collaborations with popular creators to increase your brand's visibility and user engagement. Remember to plan your content strategy in advance and schedule your TikTok posts accordingly.
3. Utilize hashtags and trends strategically
Hashtags play a crucial role in helping users discover content on TikTok. Research and use relevant hashtags that align with your brand and campaign goals. Additionally, take advantage of trending challenges and viral content to join conversations and gain exposure.
Using a content management platform like Planable, you can strategically set up your campaigns to follow the same copy style and hashtags throughout your content. You can even have your whole team on board, to get feedback and approval from everyone involved in the campaign.
4. Engage with your audience and build a community
TikTok thrives on interaction and community engagement. Respond to comments and messages, and interact with user-generated content related to your brand. Building a loyal fanbase requires active engagement. Host live streams, Q&A sessions, or behind-the-scenes videos to foster a sense of connection with your followers. When you build a strong and engaged community, they are more likely to advocate for your brand and share your content with others.
5. Track performance and adapt Your strategy
Like any marketing endeavor, tracking your TikTok performance is essential to understand what works best for your brand. Utilize TikTok's business analytics to monitor video views, engagement rates, and audience demographics. Identify trends and patterns in your top-performing content to refine your strategy continuously.
By following these steps and staying true to your brand's identity, TikTok can become a powerful marketing tool for your business. Embrace the platform's unique features, foster creativity, and actively engage with your audience to create an impactful TikTok presence for your brand.
TikTok marketing for business FAQs
Is TikTok better than Instagram for business?
It all depends on your business and target audience. It's hard to compare Reels vs TikTok as apples and apples because the truth is, they're not the same. My advice would be to try them both. Even if you upload the same content, just be sure to leave out the Instagram or TikTok watermark. Start with that, analyze your results, and then tweak it from there. Your audience will tell you what they prefer.
Bonus tip: here are some ideas to help you get more views on TikTok!
Which is better for business YouTube or TikTok?
TikTok is better for business than Youtube. Although YouTube is also coming strong with short-form content, which is great for exposure and awareness, TikTok is more optimized for business due to the platform's optimizations for ads, brand collaborations, and e-commerce features.
Ready to make the most of TikTok for business?
If you made it so far in the article, you already know what to do. If you're considering starting a business account on TikTok, go for it. Try it, experiment with it, and see where it gets you.
But if you want to go PRO, start with audience research, plan your content, and use a social media organization tool if you need to juggle multiple accounts, get feedback and approval or upgrade your social media scheduling strategy.
See you out there!