Remember how we talked about the best and most important news in the social media industry this October? Awesome news, we are baaaaaack .
A lot happened in the world of social media this month. We've seen the launch LinkedIn Pages (ex-Company Pages) willing to become a strong competitor of Facebook Pages when it comes to brand promotion. Then we found out Instagram is FINALLY working on fighting fake likes, follows, and comments by actively removing them. Also, it seems like Facebook's back to copy machine as they quietly released an app called Lasso that lets users create fun, short videos designed to compete with TikTok. 
So let's get this started
LinkedIn Announced Pages, The Next Generation Of LinkedIn Company Pages (via WeRSM)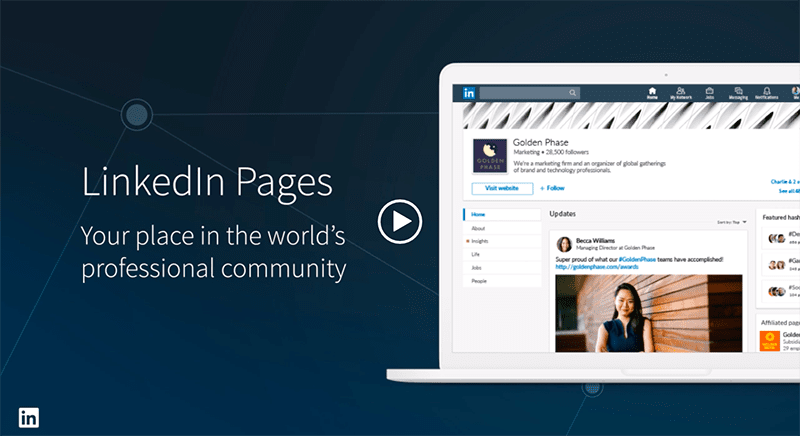 LinkedIn Pages have been rebuilt from the ground up to make it easier for brands, companies, organizations, and institutions to foster a communication and conversation with their fans and LinkedIn Community of more than 590M members. New LinkedIn Pages are built to help you drive your company's growth through meaningful conversations.
See more.
Instagram will remove fake likes and follows (via Verge)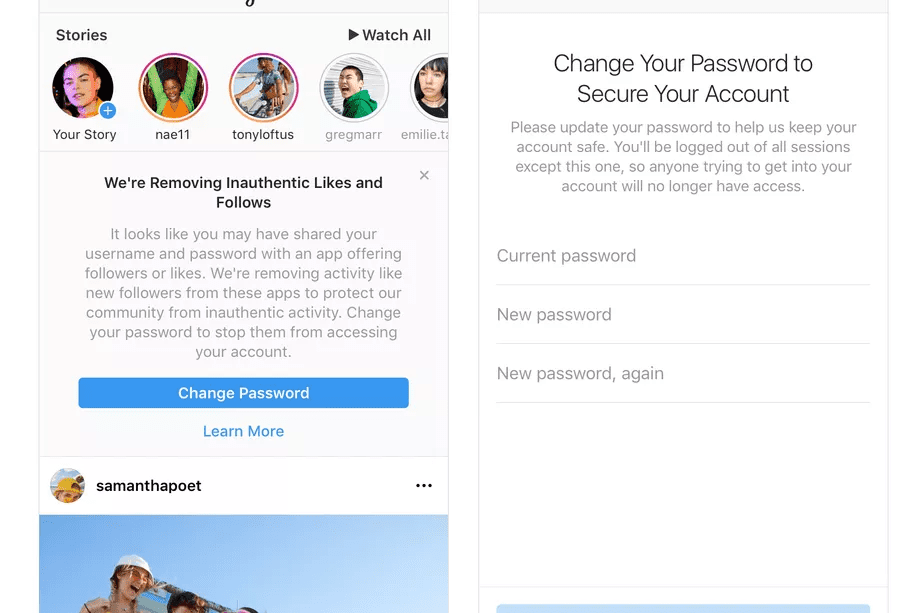 Instagram starts fighting fake likes, follows and comments aggressively by actively removing them Any fake like and follow that uses an app to simulate their engagement are going to be removed, the company announced as part of policy change. Instagram has built machine learning-powered moderation tools to help identify these services and automatically remove the likes, follows and comments. According to the company's press release, the platform is planning on taking more measures against fake activity in the coming weeks.
Facebook launches Lasso, its music and video TikTok clone (via TechCrunch)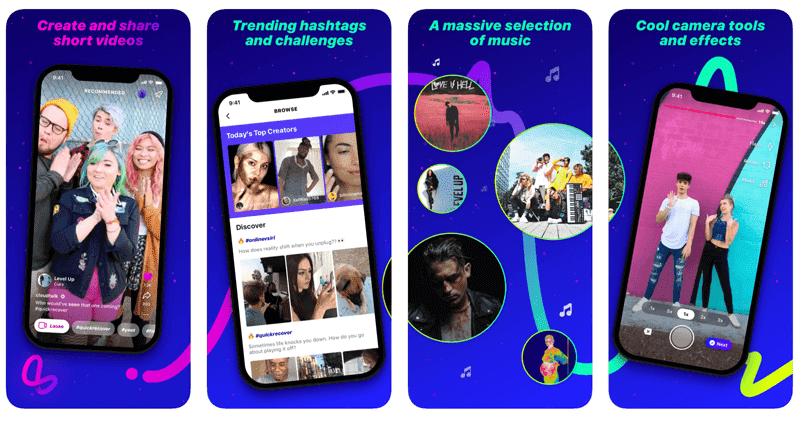 It already has become a norm for Facebook when it comes to cloning. It launched its own version of Chinese short-form video sensation TikTok. Available on both
iOS
and
Android
. Lasso is an app that follows the mobile lipsyncing trends that have gained huge momentum among young users around the world.
LinkedIn Is Rolling Out A New Share Box (via WeRSM)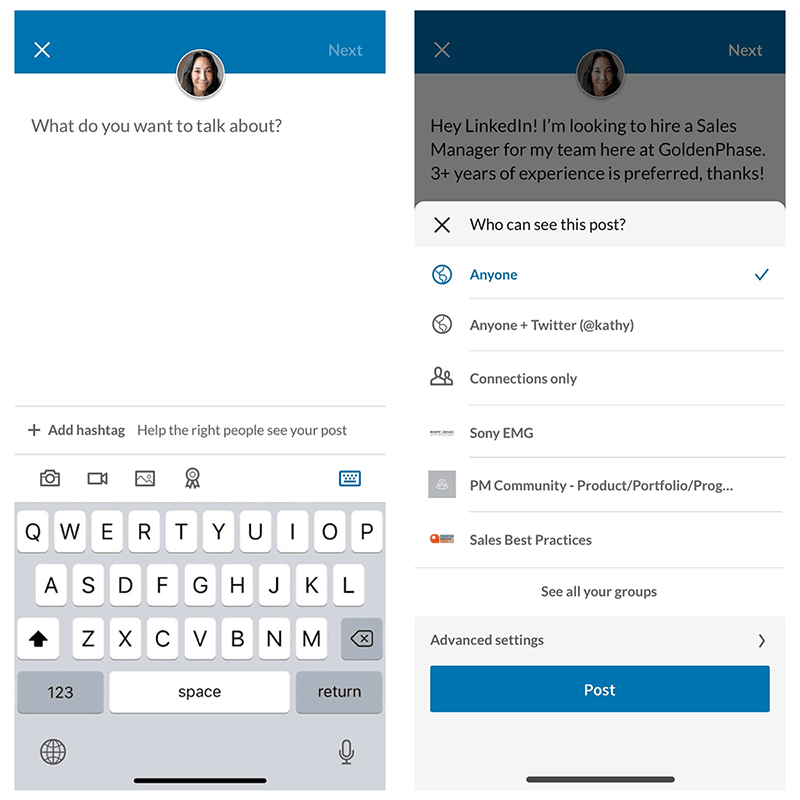 LinkedIn has been rolling out many good changes this year in order to improve their engagement, growth and user acquisition. Here comes a new update of the brand new share box, making it easier for users to choose where their posts are seen and pick the audience for each of their posts. The new look includes the ability to share posts publicly, to share them to connections only, or to specific groups, a lot like the way Facebook's sharing dialogue works.
Facebook is working on letting users ban words / phrases / emojis from showing up on their personal timelines.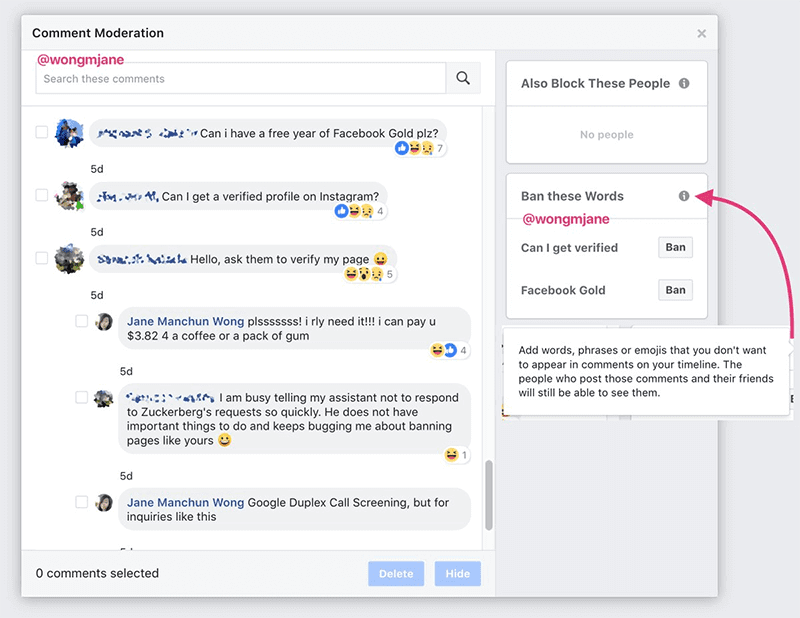 According to feature-spotter
Jane Manchun Wong
, Facebook seems to be testing a new feature that allows users to control what content appears on their profiles. Earlier this year, Facebook has rolled out a feature that allows users to snooze specific keywords in order to take a break from them in the newsfeed. Now, Facebook is testing a new 'Ban these Words' feature allowing users to block comments containing certain words.
YouTube officially saying goodbye to video annotations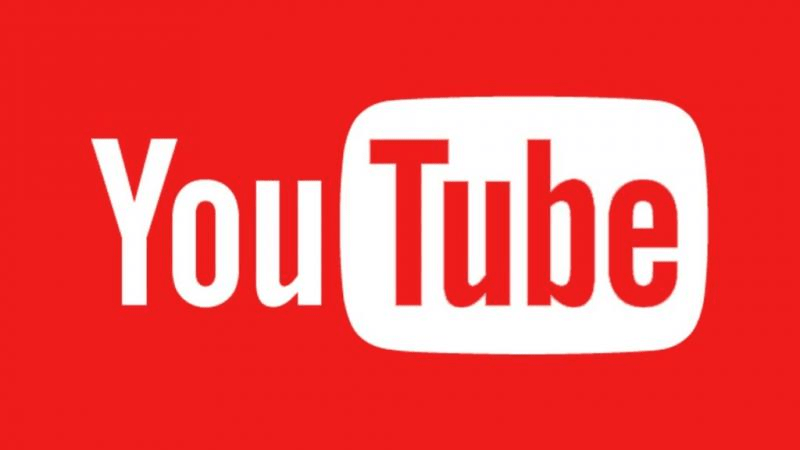 YouTube announced that annotations will no longer be part of the platform starting January 2019. Youtube annotations were one of the platforms' first feature to engage with viewers and drive them to take actions. Not only will you no longer be able to add them onto your videos, all existing annotations will also be removed, according to a YouTube support page.
Facebook Finally Lets You "Unsend" Messages In Messenger (via WeRSM)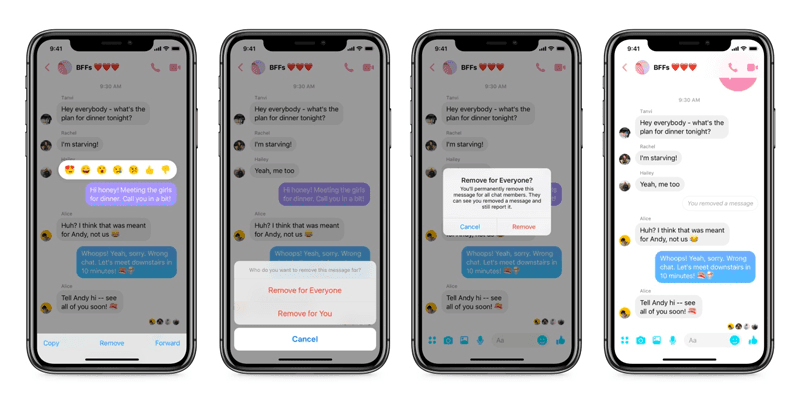 Awesome news, Facebook Messenger users from Poland, Bolivia, Colombia, and Lithuania can finally remove messages for up to 10 minutes after delivery. While the message can be deleted for all users, a "tombstone" message will remain to indicate that you have removed a message.
Pinterest Launches Instagram-Style Single Pin Feed in 'Following' Tab (via SMT)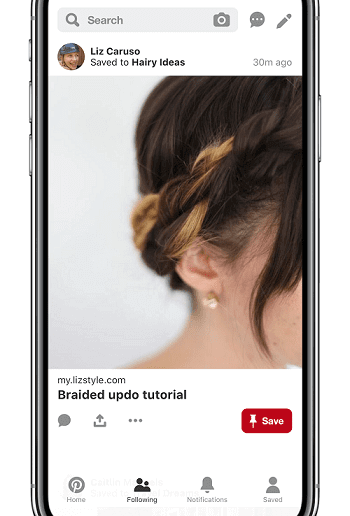 Pinterest is launching a new single Pin format for its chronological following tab that will allow more discovery. In April, Pinterest introduced its chronological following tab that includes the people and boards that people are following. To make scanning from idea to idea easier, the platform is now introducing an "immersive single Pin format" within the following tab that allows for more discovery.
Vine cofounder announces Byte, a new looping video app launching this spring (via VentureBeat)

Hofmann has been working on a followup to Vine, which he called V2, since at least November of last year. In May, he postponed the project, citing legal and financial difficulties. Interestingly, Hofmann launched another app called Byte three years ago, a collection of photo editing and creative tools. The old and new Byte even use a similar logo containing a yellow-red-blue icon in the top left corner. Hofmann also tried his hand at a social network with a Slack-like interface called Peach.
WhatsApp Will Soon Be Putting Ads In 'Status' (via WeRSM)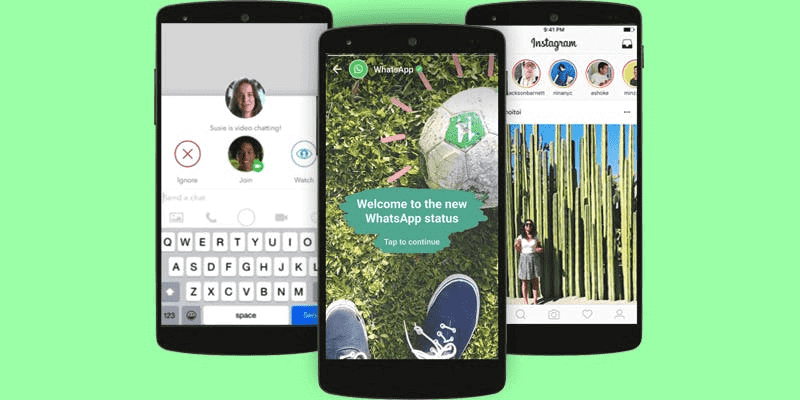 It's not just a rumor; it's going to happen this time. According to reports, WhatsApp has confirmed that it will be monetizing its Status section with ads. WhatsApp's VP Chris Daniels told Outlook India: "We are going to be putting ads in 'Status'. That is going to be the primary app monetization model for the company as well as an opportunity for businesses to reach people on WhatsApp."
It. Is. Happening. LinkedIn Stories (via SMT)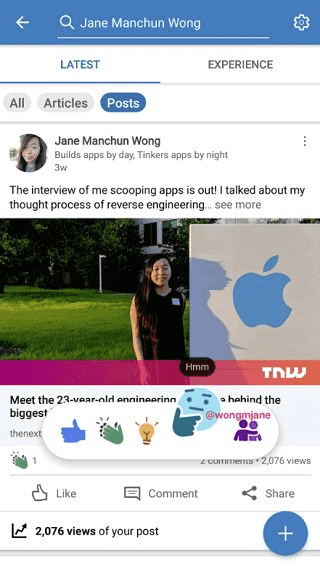 The reports suggest that LinkedIn is working on a range of Facebook-like features, including Reactions, GIFs in comments and, yes, its own variation of Stories. First off, on Reactions, code hacker Jane Manchun Wong has found that LinkedIn is working on its own variation of post reactions, putting its own spin on Facebook's tool.
Instagram Rolls Out 3 New Features to Make Shopping Even Easier (via Adweek)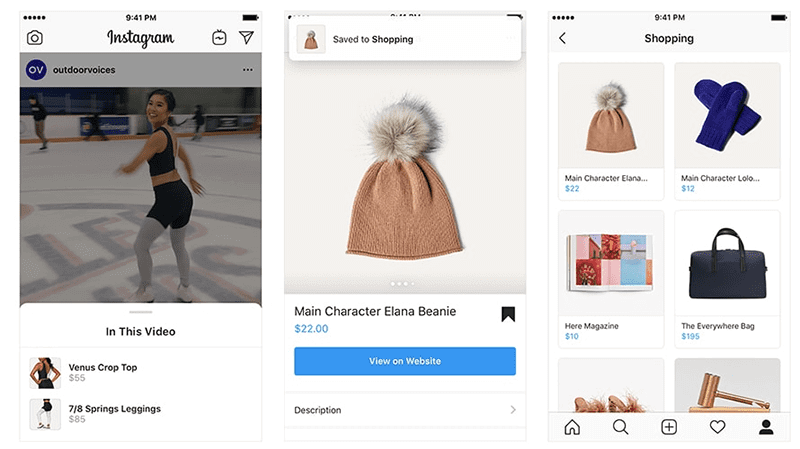 Just in time for the holidays, Instagram is releasing three new features to keep consumers scrolling through the app—and potentially completing a purchase. Instagram's new shopping collection feature. Instagram users will now have a "shopping collection" option that they can use to save products of interest.
Shop via video. Instagram has also inserted a shopping icon in the bottom left corner of branded videos that surfaces the products featured in the video, making it easy for users to view product prices.
A new shop tab for business profiles. Instagram business profiles will now include a "shop" tab that lets users browse products from the business. The "shop" tab will include a feed of product images that can be clicked to see product information and the post that featured the product.
Is @Twitter edit button coming? Jack Dorsey sheds some light. (via TNW)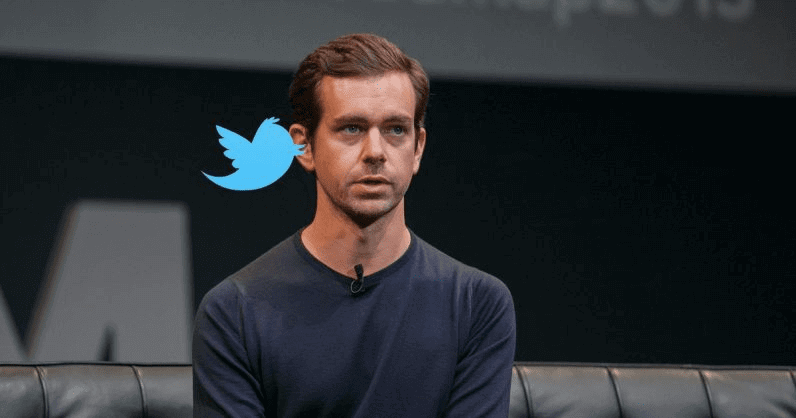 For the first time since the end of 2016, Twitter CEO Jack Dorsey shed some light on the company's thoughts about building an edit button for tweets. Speaking at an event in India's capital of New Delhi, he said that the company has to carefully consider use cases for the edit button before making it a reality – and it could potentially be tooled to help fix typos.
GIPHY's great announcement? Its short-form video platform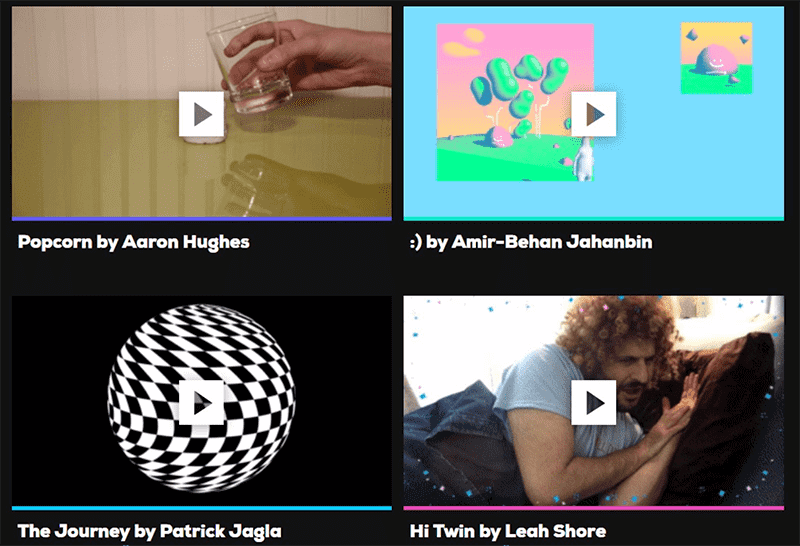 Giphy is again moving beyond the traditional confines of everyone's favorite animated image format, the GIF. The company soft launched its
video platform
, which showcases the 118 finalist videos from the first Giphy Film Fest.
Now you can share your latest IGTV video to your story (via Verge)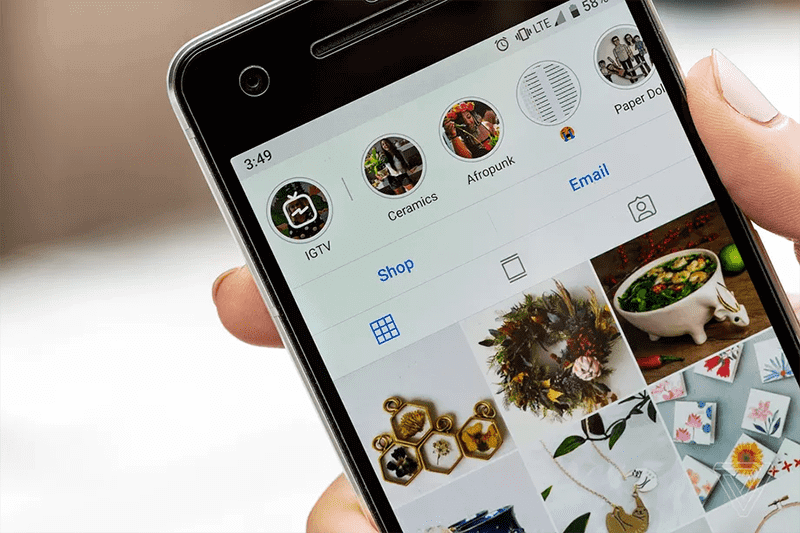 Tap the paper airplane at the bottom of the video you want to share. When friends see your story, they can tap the preview to watch the whole video in IGTV.
If you're interested in reading this month's Planable top resources, check it out below

Vlad Calus
Dropped out of college, moved to another country with 2 of my friends and built Planable (Techstars London '17), social media collaboration platform, at 19 y. o. Forbes 30 under 30