I should probably start with an inspiring quote on why learning is important. However, part of me feels like anyone working in the digital space in today's world deeply understands that it's not only important to stay updated and constantly learn, but vital. As a result, I'll just stress the fact that the internet brought us a great advantage by offering so many resources to learn anything we could possibly want. It comes at a great disadvantage as well though: it left us without excuses. In a competitive world, with everything at our disposal, we've got to stay on top and grow our know-how constantly.
Now that we're all convinced, let's book those afternoons and slow weekend mornings with some awesome resources! If you like learning from experts and reading is just not enough for your kind of memory – choose courses.
It's a great way to really understand and memorize what you are learning and not to mention, the experts usually go a lot more in-depth in a course than they do in articles. Hands-on online training made possible with these courses will make you a better and capable marketer of the digital age.
So here's our list of 27 social media courses online that you can choose from. Yep… that's 27!
We recommend you bookmark this list, start with one and work your way from there.
Fresh out of the oven: Planable Academy – Upgrade Your Content Marketing OS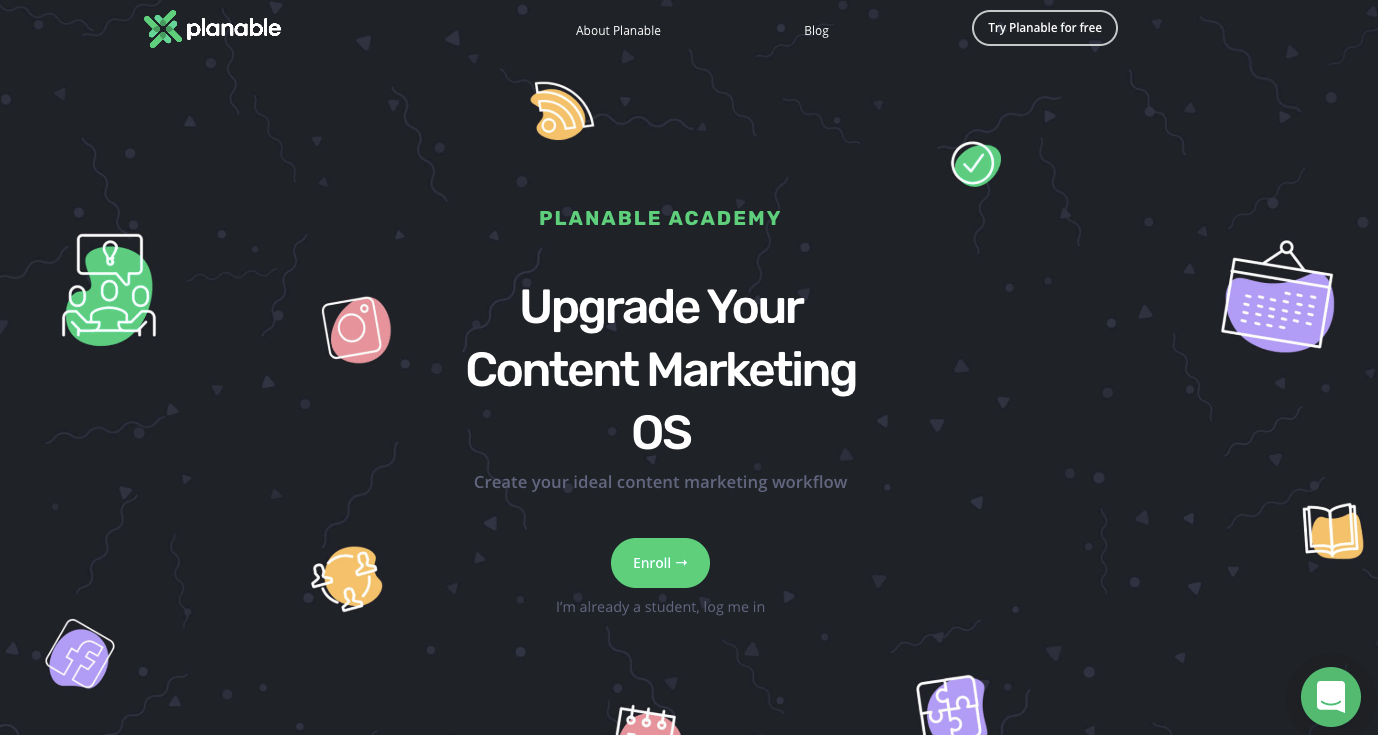 We started this academy because we want to raise the standard of content collaboration and creative workflow in the industry.
And we're not alone. We will be joined by 20 experts who are on the frontlines of content creation and workflow management.
In each of the 6 chapters, we'll deep-dive into every step of the modern content workflow. In the end, we will have a little recap and clear guidelines on what to do next.
Overview of the best social media courses:
Social Media Courses Online on Udemy for Facebook, Instagram, and LinkedIn
1. 10 Facebook Marketing Strategies That Make Me 6-Figures
2. Instagram Marketing 2022: A Step-By-Step to 10,000 Followers
3. Social Media Marketing MASTERY | PPC on 10+ Platforms
4. The Complete Instagram Marketing Masterclass
5. Facebook Ads & Facebook Marketing MASTERY 2022
6. Social Media Marketing For Beginners 2022 Marketing Strategy
7. Go Viral on 7 Social Media Marketing Platforms
8. How I Got Famous On Instagram In Just A Few Months!
9. LinkedIn Marketing – Build A Brand and Generate Leads
10. Facebook marketing: 1000% more engagement & boost sales
11. Instagram Marketing A-Z Strategies To Get 10k Real Followers
Basics of Social Media and Public Relations Courses Online on Coursera
12. What is Social? by Northwestern University
13. Marketing in a Digital World by University of Illinois at Urbana-Champaign
Learn Social Media Strategy, Writing and Reputation Management in Online Courses on edX
14. Social Media: How Media Got Social by Curtin University
15. Reputation Management in a Digital World by Curtin University
16. Introduction to Marketing by University of British Columbia
17. Online Marketing Strategies by Curtin University

18. Strategic Brand Management by Curtin University

19. Digital Strategy and Action by Babson College
Study the Art of Social Media for Personal Branding on Skillshare
20. Writing for Brands: Freelancing in the Age of Content Marketing
21. Building Your Online Presence: Personal Branding through Social Media
22. Intro to Your Business Social Media Strategy (writing, posting, tracking)
23. How to Create Engaging Social Media Content
24. Branding Your Creative Business: Social Media For Your Business
25. Social Media for Creatives
26. Social Media Best Practices for Marketers and Entrepreneurs
27. Social Media Certification Course by HubSpot Academy
Without further ado, let's hump into the best social media courses you need to sign up for.
Learn Social Media for Facebook, Instagram, and LinkedIn on Udemy
Udemy is a platform for online learning with more than 65.000 courses on a variety of topics, including public relations, growth marketing, web development, personal branding, web design etc. Udemy courses are not credentialed for college or university, people usually take them to improve their skills and knowledge in domains they're interested in. Courses are free of charge or have a significant 90% discount. Udemy is a great opportunity for anyone who wants to become an instructor in a field they're really passionate about.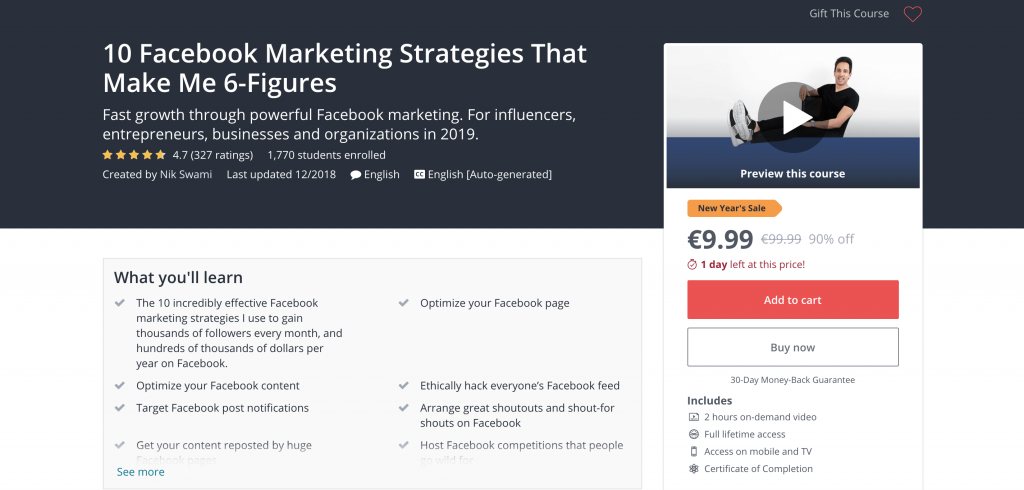 Nik Swami is an entrepreneur with multiple companies that have more than 8M views, followers from 35+ countries and 20.000 clients. Find him on NIKSWAMI.COM and Instagram at @mrnikswami.
Commitment: 1h 58min
This course will teach you 10 really effective Facebook marketing strategies that Nik himself used to gain thousands of followers and generate more than $45.000 / month. You'll learn the fundamentals of growth, how to maximize your chances to go viral, improve your Facebook page, increase engagement on your pages, build relationships in groups. If you subscribe to the course, you'll get 2 hours of video content, full lifetime access and certificate of completion. This course is for social media influencers, entrepreneurs, and small businesses

Benjamin Wilson is an entrepreneur and marketing innovator from Melbourne, Australia. He loves creating marketing strategies for all the social media marketing platforms and pinpoints the differences between them that can help businesses become successful. Benjamin already has created 8 courses on Udemy and has more than 100k students enrolled.
Anneliese Wilson is a Social Media Expert with a bachelor's degree in Journalism at Monash University and multiple skills in Social Media Management. Anneliese has grown several Instagram accounts to thousands of followers and now wants to share her knowledge with the world.
Commitment: 5h 44min
In this course, you'll start from the very basic principles of Instagram and learn how to create an appealing Instagram account that will effectively target and attract customers. Even if you already have an optimized account, this course will help you learn how to create relationships and attract potential clients. It contains more than 40 lectures with 5 hours of content designed for anyone with less than 10.000 Instagram followers. Instagram will skyrocket your business, especially if you have a consumer product. This course is for business who have less than 10K Instagram followers up to date and have no idea about Instagram analytics.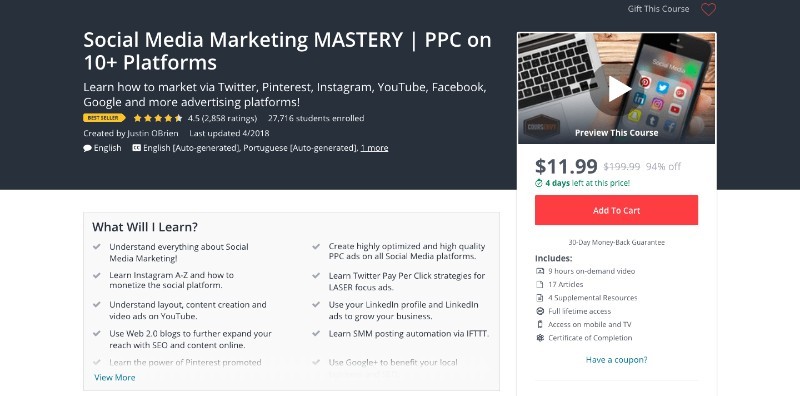 Justin O'Brien is part of Coursenvy, an SMM expert, and Investor. They taught more than 100k students the basics of Facebook Advertising, how to be a social media influencer and how to launch your own ad agency. It's an L.A. based company that offers a high variety of online courses with hands-on examples and bulletproof techniques.
Commitment: 9h 25min
Reading the reviews we immediately got that it's a great course. All the students are mentioning how excellent it is. It's focused on a concise overview of various social media platforms, SEO, and ad campaigns. It's great for business starters and new social media students. In this course, you'll learn how to grow your followers base on Facebook, Twitter, Instagram, Pinterest, Google +, YouTube, LinkedIn, and Tumblr. You'll be able to optimize ads for improved conversions and lower costs. You'll learn how to create better Ads, how to grow your page likes and get better engagement on your social media posts.


Diego Davila is an entrepreneur and social media innovator that wants to help businesses make more money through social media. Diego is on a mission to inspire and revolutionize the life of his students in doing what they absolutely love every day. He'll bring you to the next level of creating a community of fans, exponentially increase your sales and teach you how to spread your brand around the world. Diego already has more than 111k students enrolled from 192 countries in more than 30 courses on Udemy.
Commitment: 8h 7min
It's worth mentioning that no prior knowledge is required to complete this course as it covers everything from the basics to advanced marketing strategies on Instagram. You'll learn the power of Instagram to crush your competitor and improve sales. Together with Diego, you'll reach hundreds of followers, optimize your Instagram to become a powerful business asset and learn six ways to create a viral post. As a bonus, you'll receive ten ways to grow your Instagram organically without any ads and learn the biggest mistakes businesses make on Instagram.

COURSE ENVY has taught 100,000+ students everything from Amazon FBA, to Facebook Ads, to SEO, to Email Marketing, to eCommerce, to Investing, to Social Media Marketing, to Launching your own Marketing/Ad Agency! Coursenvy is a Los Angeles based company that offers an ever growing range of high-quality online courses that teach using hands-on examples from experts in the field of study and tested research; all backed with high-quality, studio voiceover narrated videos! The emphasis is on teaching real life skills that are essential in today's world.
Commitment: 14.5 hours
If you want to learn anything and everyhing about Facebook Ads? This is for you. Facebook Marketing is a required skill for anyone with a product, service, brand, or public figure they need to promote! What you will learn in this course is original, tested, and very detailed. In this course, you will learn Facebook Marketing from beginner level to advanced. How to use and optimize every type of Facebook campaign, Facebook custom audience, Facebook pixel.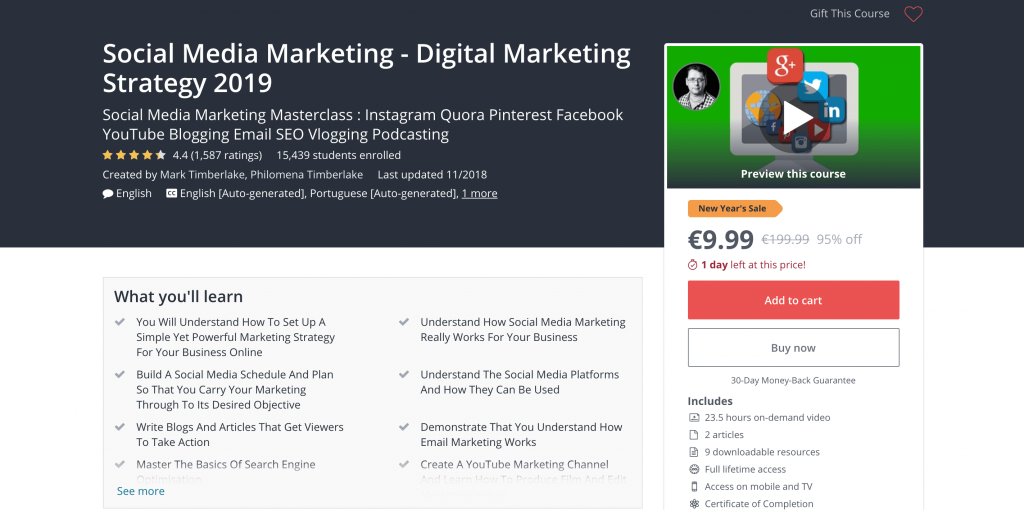 Mark Timberlake is the founder of SME HEROUS marketing agency, specialized in online marketing training. With more than 15 years of experience, he shares hard-won lessons and techniques to grow your business online.
Commitment: 23h 37min
It's not about paid advertising. It's about creating the best social media marketing strategies to have a powerful presence online. In this course you'll learn about buyer journey, mapping your marketing ideas, the truth about social media platforms, branding tips, creating visual content, finding inspiration for your posts, creating infographics and making a social media post visible to a huge audience.

Matt Jensen is a Marketing Specialist that teaches 6 courses on Udemy. He used to be Head of SEO at Instituto Cultura Brasil and marketing director for an investment fund. Before that, he worked in media, advertising, and online education.
Commitment: 3h 24min
It covers more than 3 hours and 100 methods to increase brand awareness, follower base, engagement and likes on your social media accounts. It includes multiple checklists after each video to make sure you implement all the homework in your own business. Matt will personally support you along the course and answer all of your questions. This course is for anyone with a website looking for methods to become viral.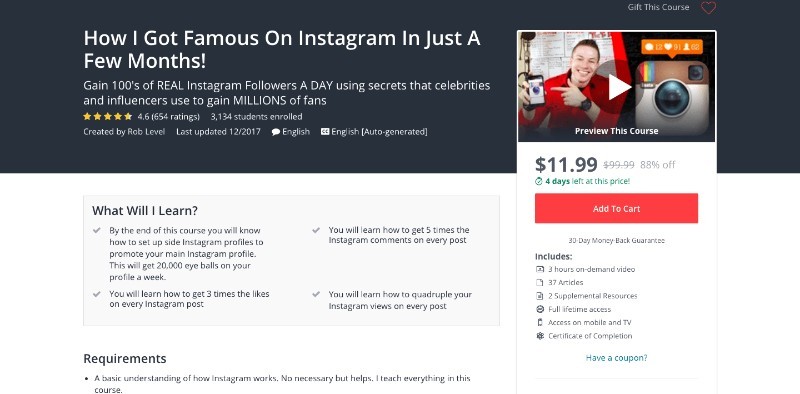 Rob Level is a music artist, songwriter and social media expert with more than 30M+ Youtube views. He is the owner of Dark Glow Media and has been featured on websites such as BuzzFeed, Huffington Post, TMZ and many more.
Commitment: 3h 53 min
Rob will show in this course every single secret trick he used to grow the number of followers for Alexis Ren and Kata Graham. All techniques will help you improve likes, comments, views and keep your account growing every day. You'll learn all the things that an agency would do for $3.000 / month for you. With the knowledge gained in the course, you can easily start your own Instagram marketing agency.

Ali Mirza is a Growth Marketer and CEO of iSocialYou where he helps clients create engaging social media brands and generate leads from their social media presence. Ali has been working in SMM industry for the past 10 years with brands such as Chevy, Lexmark, and Papa Murphy. He's on a mission to help 1.000.000 students get better at SMM efforts.
Commitment: 2h 41min
If you're looking to get more leads and sales from LinkedIn then sign up for this course. It will help you attract the right type of LinkedIn connections and generally get more out of LinkedIn. You'll learn strategies that generated 100s of sales and leads from this platform. Videos include how to optimize your profile, build a better brand, create a marketing system on LinkedIn, use Chrome extensions to get leads and how to create better LinkedIn posts.

WOW! Alex Genadinik created more than 100 courses with more than 100k students enrolled, isn't that amazing? He's a 3-time best selling Amazon author and host of Youtube Channel – Start & Grow Your Business (25.000 subscribers).
Commitment: 4h 12 min
It's an excellent introductory material for learning new ways to promote your business. You'll receive valuable content in an easy to understand way. Alex shares tons and tons of advice. Make sure to take notes. It's a very comprehensive course to determine what Facebook marketing strategies will work for you, and which ones you should kill. It will empower you to make a better decision on growing your audience on Facebook.

Pouya Eatemadi Rad is a business consultant, developer, and designer that is passionate about investing daily in learning and education.
Alireza Etemadi is a best-selling author and photographer.
Commitment: 4h 28min
No cliché, real strategies in each video – that's what most reviews are saying. The course is designed for business owners that are struggling to convert followers into customers using Instagram. With more than 6 months of research, Pouya explains everything in a step by step guide that's really easy to follow with multiple examples. You'll learn about live streaming, Instagram stories marketing, converting followers, best times to post depending on your niche and tools that can help you make quality posts for your account.
The Basics of Social Media and Public Relations in Online Coursera Courses
Coursera is a for-profit educational company that offers massive open online courses. It works with universities from all around the world to make some of their best courses available online in multiple subjects, from physics to engineering or marketing. It's a free online tool that you can access from anywhere with an Internet connection. Courses are from six to ten weeks long with one or two hours a week of multiple video lectures, assignments, articles, quizzes, and exercises.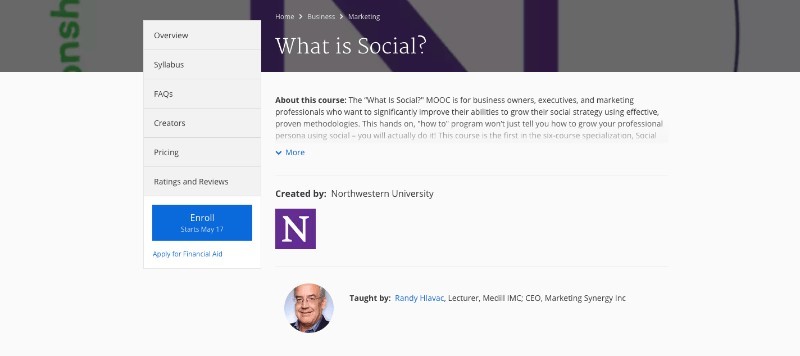 Randy Hlavac is the founder of Marketing Synergy and specializes in social marketing. Randy helps businesses develop a consumer-centric business perspective by using the best new technologies, analytics, and content marketing strategies to drive high value to the key audience.
Commitment: 4 weeks of study, 1-3 hours/week
Together with Randy, you'll build and implement a social media marketing strategy for your company. It's been designed to give you the tools, knowledge, ideas, skills, and insights to immediately impact your company. After completing the course you'll be able to improve the relationships with your consumers and engage better in the market. This course is for small business owners, executives and marketing managers who want to improve their social strategy skills. It's part of the six-course specialization, Social Media Marketing: How to Profit in a Digital World.

Aric Rindfleisch is John M. Jones Professor of Marketing, and Executive Director of the Illinois MakerLab at the University of Illinois at Urbana-Champaign. Aric has been named by Princeton Review as one of "The Best 300 Professors" in America
Commitment: 4 weeks of study, 6-8 hours/week
Rated by Class Central as one of the top fifty massive open online courses of all time the "Marketing in Digital World" course helps you understand the digital tools and how they are revolutionizing the marketing industry. Reviews mention that it's an excellent resource for digital marketing beginners to learn new concepts with multiple case studies. It combines academic insights and Aric's experience. He has a great way of presenting the digital marketing concepts and backs-up the theory with awesome case studies as well. This course is part of the fully-online accredited Master of Business Administration (MBA) degree program. You can sign up for the digital marketing specialization here.
Excel in Social Media Strategy, Writing and Reputation Management with edX
edX is a massive open online courses provider by universities worldwide that runs on open-source software. edX is organizing each year independent research and runs courses on topics such as marketing, development, biology, chemistry, business, etc. Each course includes video sessions and exercises. You can learn for free for most of them.

Tama Leaver is an Associate Professor of Internet Studies at Curtin University. He's been doing research in online identity, social media, digital health and landscape of media distribution. Tama received a national Australian Award for Teaching Excellence in the Humanities and the Arts.
Commitment: 4 weeks, 2 to 3 hours per week
Online communication is part of our daily lives and businesses need to understand this. Even if it's been here for more than a past decade, most of them still don't use social media at its best. By completing this course you'll be able to understand social media trends and map the ones suited for your brand or company. You'll understand the differences between multiple social channels and drive through the evolution of many aspects of SMM.

Bridget Tombleson is a Lecturer at Curtin University and a public relations expert with over 16 years of experience. She worked with multiple governments, corporate companies, and consultancy contracts in Australia and overseas.
Lydia Gallant is a Lecturer in the public relations stream at Curtin University's and delivers creative teaching techniques after 15 years of professional experience in both agency and in-house communication roles. Her expertise includes media relations, marketing communication, and brand journalism.
Commitment: 6 weeks, 3-4 hours a week
The digital landscape changed the way companies think of their reputation and it's really challenging to keep up with everything that happens online. During the course, you'll learn about the role of communications manager, managing your organization's reputation online, the principles of crisis management and how to build a strong and robust culture to engage with your audience correctly. This course is useful for anyone working in marketing, advertising, communications, social media, and PR.

Darren Dahl is the Senior Associate at the Sauder School of Business. He was appointed a 3M National Teaching Fellow in 2013 and is recognized globally for both his research and teaching excellence in marketing strategy, entrepreneurship, and creativity.
Paul Cubbon is a full-time faculty member of the Marketing and Behavioural Science Division at the Sauder School of Business at UBC. He's leading the entrepreneurship group and is a multiple award-winning educator for innovative design and pedagogical innovation.
Commitment: 6-7 weeks, 3-5 hours per week
No worries if you have little background in marketing, this course will teach you the core concepts and tools to help you better understand and be more agile in marketing. The main topics in this course include market research and its importance in building the marketing strategy, brand marketing, social strategy, and many more. You'll learn more about customer segmentation, and understand how marketing metrics can benefit your business.

Dr. Billy Sung is a Lecturer at Curtin University. Billy coordinates a postgraduate digital marketing unit for which he recently won an award for outstanding student satisfaction. He also co-founded and is currently an adjunct research fellow at the Laboratory of Social Robotics and Mobile Technology at Griffith University. Ask him about Neuromarketing!
Commitment:  12 weeks, 8-10 hours per week
Explore how digital marketing differs from offline marketing in this course by Dr. Billy Sung. You'll learn about the basic marketing tools relevant in any industry, how to apply marketing strategies, research the potential of market and industry in your field, understand the role of social media in your business and use analytics to optimise the efficiency of your strategies with platforms such as Facebook, Twitter, Instagram and Google+.

Ian Phau is a Professor of Marketing at Curtin University and interested in luxury branding. He is Editor-in-Chief of Asia Pacific Journal of Marketing and Logistics and loves market research, brand management, and consumer behavior.
Commitment: 12 weeks, 8-10 hours per week
This course is part of the Marketing in a Digital World MicroMasters program. You'll develop a framework to establish brand positioning and identify the key values that will help you build a better customer base, plan and implement brand marketing strategies, and design strategies focused on retaining brand resonance through loyalty, community, and engagement. It's relevant for anyone working in social media marketing, communications, advertising, and public relations.

Peter S. Cohan is a teacher, management consultant, angel investor, blogger, and author. He teaches strategy and entrepreneurship at Babson College and conducted over 150 projects for global tech companies looking for new growth opportunities. His latest investment is a San Francisco – based company called SoFi, valued at $4.3B.
Commitment: 4 weeks, 4-6 hours per week
It's definitely worth your time, cause this course is created by Babson College, the top-ranked college for entrepreneurship education. In this business and entrepreneurship course, you'll learn how to create a digital strategy for your startup by using prototypes to match your product in the industry, find a product/market fit, and test multiple ideas. You'll understand how to identify, attract and motivate the talent of your company for better growth and what are the exact marketing strategies that will work for you. Learn the digital strategies of companies such as Amazon, Facebook, Google, and Netflix.
Study the Art of Social Media for Personal Branding on Skillshare
Skillshare is an online learning community where anyone can create a course or join one. The categories of the courses are diverse and include design, marketing, photography, film, fashion, gaming, cooking, technology, etc.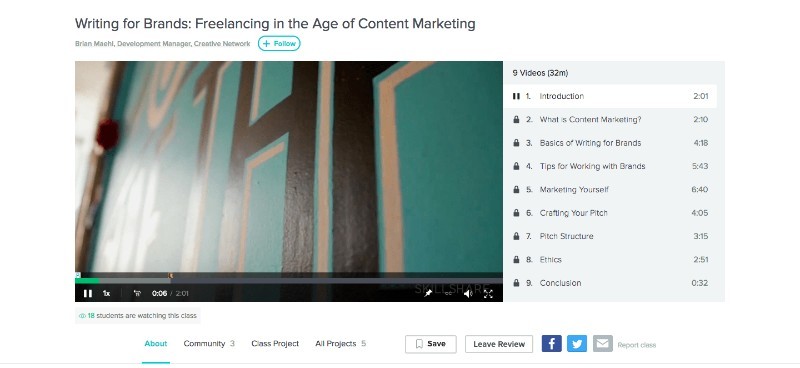 Brian Maehl is the Talent Development Manager at Contently who's responsible for improving the overall quality of contributors and releasing of multiple educational campaigns for users.
Commitment: 32 min
It's a "solid intro to writing for brands" where Brian deconstructs the importance of pitching and writing skills for building a successful career as a freelance writer. Living in this digital content-driven world, it's probably one of the most important skills to have in order to make sure you're being noticed. The 30-minutes course breaks down the simple steps of writing and explains what content marketing is, writing software, how to craft a pitch for a brand, writing ethics, and how to market yourself as a writer.

Kate Arends is the Founder of Wit & Delight, a lifestyle website and branding studio with more than 3M unique followers. The studio created brands from the ground up by building them to thrive in omnichannel climates.
Commitment: 68 min
Kate Arends shares a strategic class on how to create, evolve, grow and leverage your online personal brand. The success of her company – Wit & Delight is a thoughtful, strategic approach to her personal branding. In this course, she'll explore why a personal brand is important and how to optimize yours for exactly what you're looking for. It's full of data and real-life examples. Additionally, you'll receive exclusive downloadable PDFs to identify what sets you apart and how to set goals for your work.

Dana is a business & content strategist with over 10.000 students in various courses. Dana founded Boss Mom which grew into a six-figure business in less than a year. She's also the author of Boss Mom: The Ultimate Guide to Raising a Business & Nurturing Your Family Like a Pro.
Commitment: 1h 39min
It's really hard to make yourself noticeable on social media these days. Creating engaging content, driving people to your blog or web page and convert them gets complicated. Dana created a course that will help you understand how to create intriguing social media content for people to see and mention you. You'll learn how to research audiences, create posts and choose the social media platform that fits you best. Dana articulates easy to understand the content and will help you create a business marketing strategy, especially if you're new to social media.

Liz Azyan, awarded with Google Fellowship is a digital consultant working with dozens of entrepreneurs helping them figure out their brand, identity and improving their sales. Liz was named one of the top 50 Marketing & Advertising Influencers in the UK.
Commitment: 41 min
If you feel stuck and have no idea what to post on social media, seems like this course is for you. Liz will show you behind the scenes of a social media and digital consultant. You'll learn how to create better social media content calendars, multiple techniques for the real world, and advanced marketing strategies. It's perfect for an early-stage business that wants to kickstart their social media presence.

Faye Brown is a designer and animator living in the English countryside with her young family. She worked with brands such as BBC and Discovery Channel.
Commitment: 61 minutes
Faye starts you up with blogging and publicity, by giving you tips on time-management and work-life balance. In this course, you'll learn more about the big social media platforms and how to use them for your business, including Facebook, Twitter, Pinterest, and Instagram.

Chelsea Matthews is the Founder of Matte Black, brand marketing and creative agency based in L.A. She loves developing brand strategies, campaigns and experiences to get consumer engagement.
Commitment: 1h 33min
Eleven videos are part of this course developed specifically for brands and freelancers in the creative industry. Each chapter is full of knowledge in developing an ideal framework for successful social media campaigns on Facebook, Twitter, Instagram, and Pinterest. Whether you're just a beginner or already a specialist, it will help you figure out your content strategy, brand voice and take your social media to the next level.

Davis Jones is the co-founder of Eazl, the content team that created two of the bestselling online business courses of all time, and was named by North Bay Business Journal's People of the Year.
Commitment: 39 min
It will get you into the right mindset and get a grasp on the best tools for social media with lots of useful information. You'll understand better the social media framework, best practices, and techniques to grow social media pages, four primary social metrics, and important strategies that should be applied to your accounts. "Short and on topic" says one of the reviews.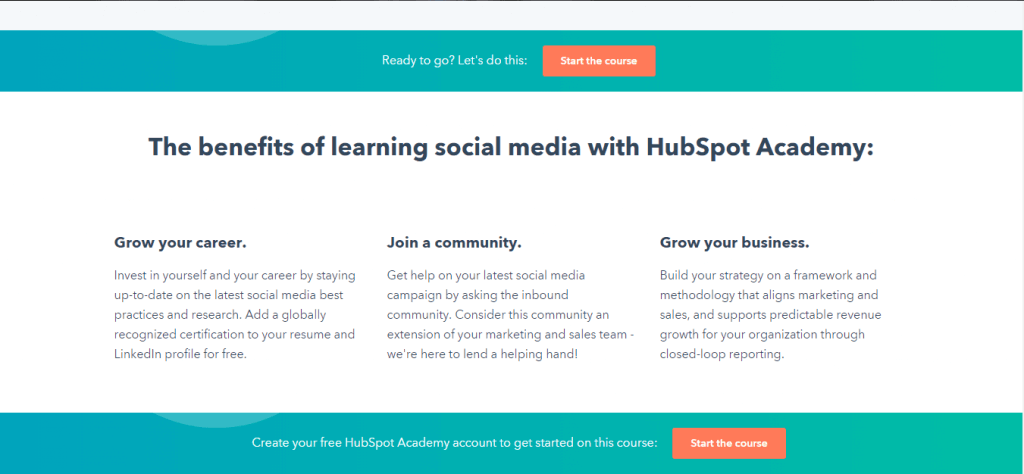 Crystal King is a Principal Inbound Professor for HubSpot Academy with a focus on social media strategy. Crystal has led global social media and community programs for companies such as Pegasystems, Keurig Green Mountain, CA Technologies and Sybase.
Commitment: 4h 40min
The certification course is eight lessons that run a total of four hours and forty minutes long, with a seventy-question test and an exam run-time of about two hours.
The lessons in the course cover social media strategy, social listening and moderating, creating a social content strategy, extending your reach with user-generated content, working with influencers, social customer service, social selling, digital advertising, measuring ROI, governance and risk, and so much more.
Alun Hill has run many successful businesses, partnered with some of the biggest businesses in the world, and taught almost 100,000 people worldwide on how to improve business activities and increase profits.
Commitment: 3 hours
As a business owner, it is important to know how to properly market your products or services if you wish that your business would be thriving. Social media plays an important role when promoting your business and can be a key to successfully attracting new customers. These social media courses will teach you all about the essential aspects of most popular social media platforms and how to promote your business through social media marketing.
Acadium is an online platform that makes it easy for everyone, anywhere to get the skills and experience they need to start their career without barriers like price, schedule, or location getting in their way.
Commitment: three months & 10 hours a week
Apprentices help tackle their mentor's business project as part of their training. In exchange, the mentor provides feedback and guidance to help them improve. Businesses get help, apprentices get mentorship and work experience. It's a win-win.
Who is Acadium for?
Apprentices – these can be students, recent graduates, or anyone who wants a career change. Acadium helps them obtain new skills and relevant work experience so they can bolster their skill-set to launch their career.
Mentors – these can be small business owners or industry professionals who are looking to provide mentorship in exchange for part-time remote help.
Planable has partnered with Acadium and you can use this link to get $150 USD off of an annual subscription with Acadium.

Vlad Calus
Dropped out of college, moved to another country with 2 of my friends and built Planable (Techstars London '17), social media collaboration platform, at 19 y. o. Forbes 30 under 30