You've probably come across the idea of a content workflow if you're working in content creation. It's no secret that top-notch content is the secret sauce for successful marketing in today's digital realm. But let's face it, creating content is no walk in the park. With a constant flood of new pieces popping up every day, content teams are always on the brink of total chaos. That's where content workflows swoop in to save the day
In this article, we'll cover what content workflow is, what's the difference between the types of content workflows, and how to build one to fit your team perfectly. Let's dive right in!
What is a content workflow?
A content workflow is a sequence of tasks or statuses your team goes through to bring a piece of content from a concept to the final delivery. Simply put, a content workflow is the rails that keep your content train on track.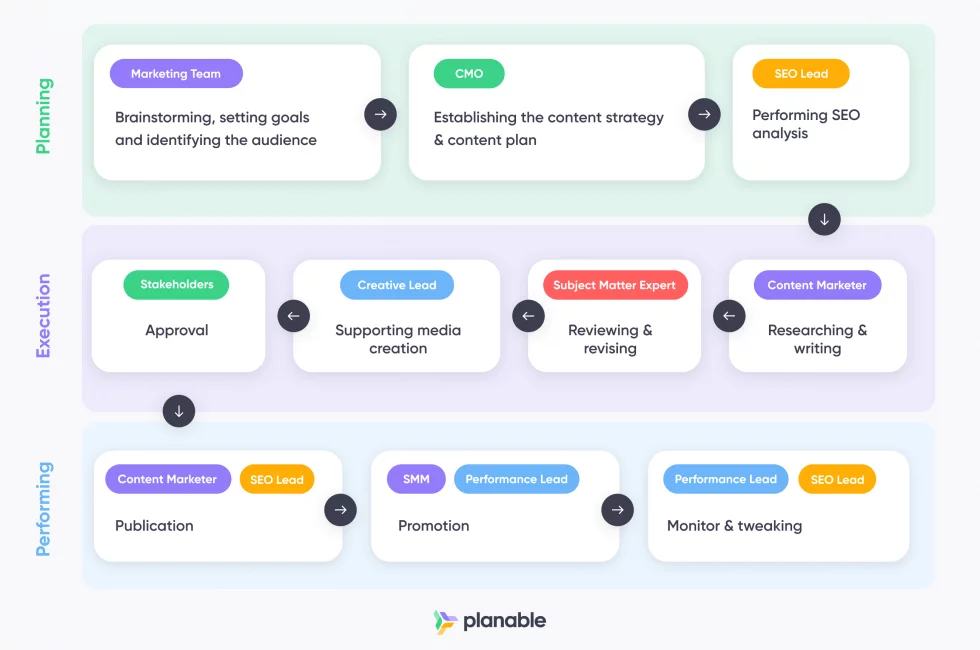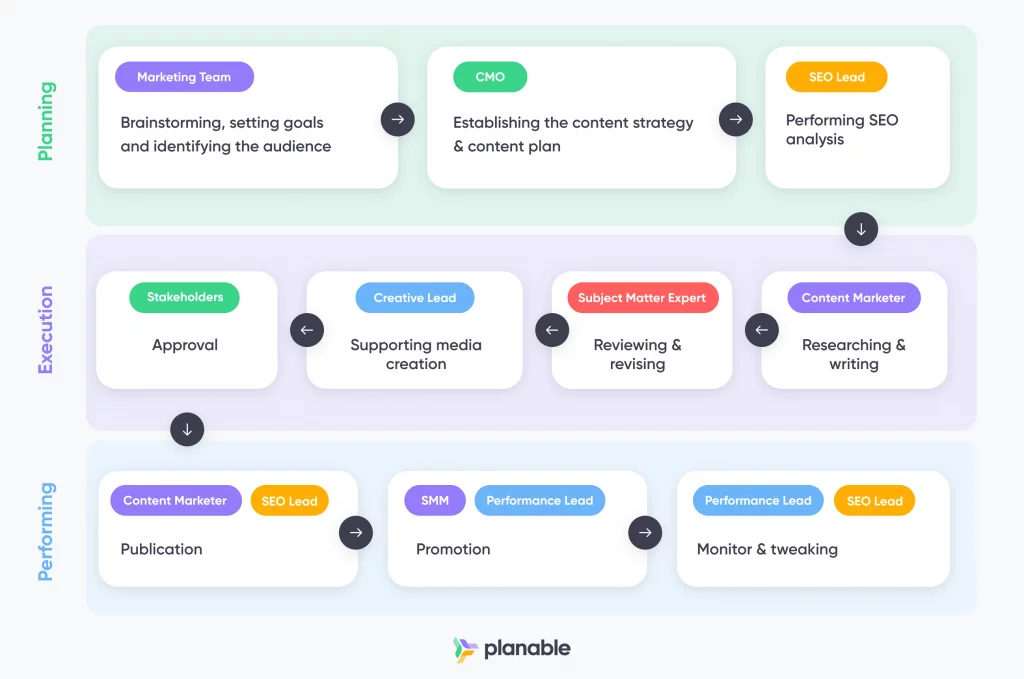 A tailored content workflow considers your team, goals, planning tools, and resources. Apart from laying out the steps to take your content from zero to hero, the content workflow also includes:
Roles and responsibilities within your team
Documents and tools used at every stage
Additional assets a piece of content gains on the way
Timeframes and deadlines
Like all things marketing, there's no formula for a successful workflow. There are trusty best practices and industry insights that can be your compass. Teams can rely on those to build their own best version of a content pipeline. Often content teams tailor their content workflows to fit their size, goals, and, most importantly — the type of content they're creating.
But the bottom line remains: all content teams benefit from a tailored content workflow.
Why do you need a content workflow?
Content is the power behind brands, creators, and businesses alike: we need more content created, and we need it to be the top game. How do you satisfy the need for speed and quantity without compromising quality? Stick to a worked-through content workflow that suits your needs.
More manageable and trackable processes
Content production is a massive part of modern marketing. The more your business grows, the more content you need, and fast. Making your content creation process manageable and controllable is a sure way to stay on the best side of content marketing and tune your strategy as you go.
And if you think this isn't true, just take a look at this snippet from our '22 Social Media Recap: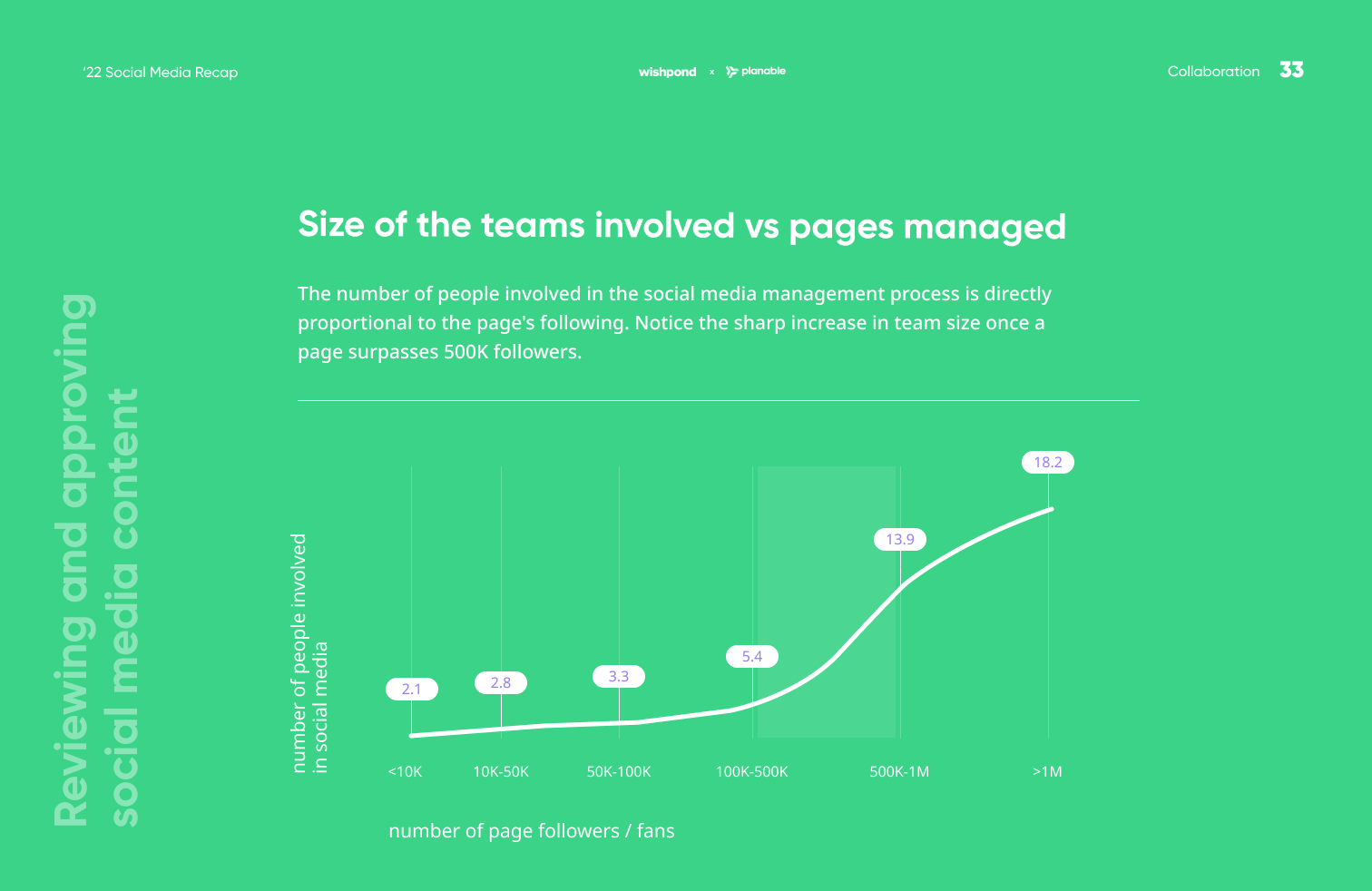 Clear roles and responsibilities
A clear content workflow empowers content marketing teams to have an overview of the entire content process and stay on track. With roles divided clearly and transparently, you know precisely which one of your team members is responsible for providing a brief or approving the final blog post. You also know who to ping when the process needs to catch up.
Consistent publishing schedule
When it comes to content marketing efforts, consistency equals success. A content workflow enables you to publish content in time and track the status of every content piece, never letting the posting day slip.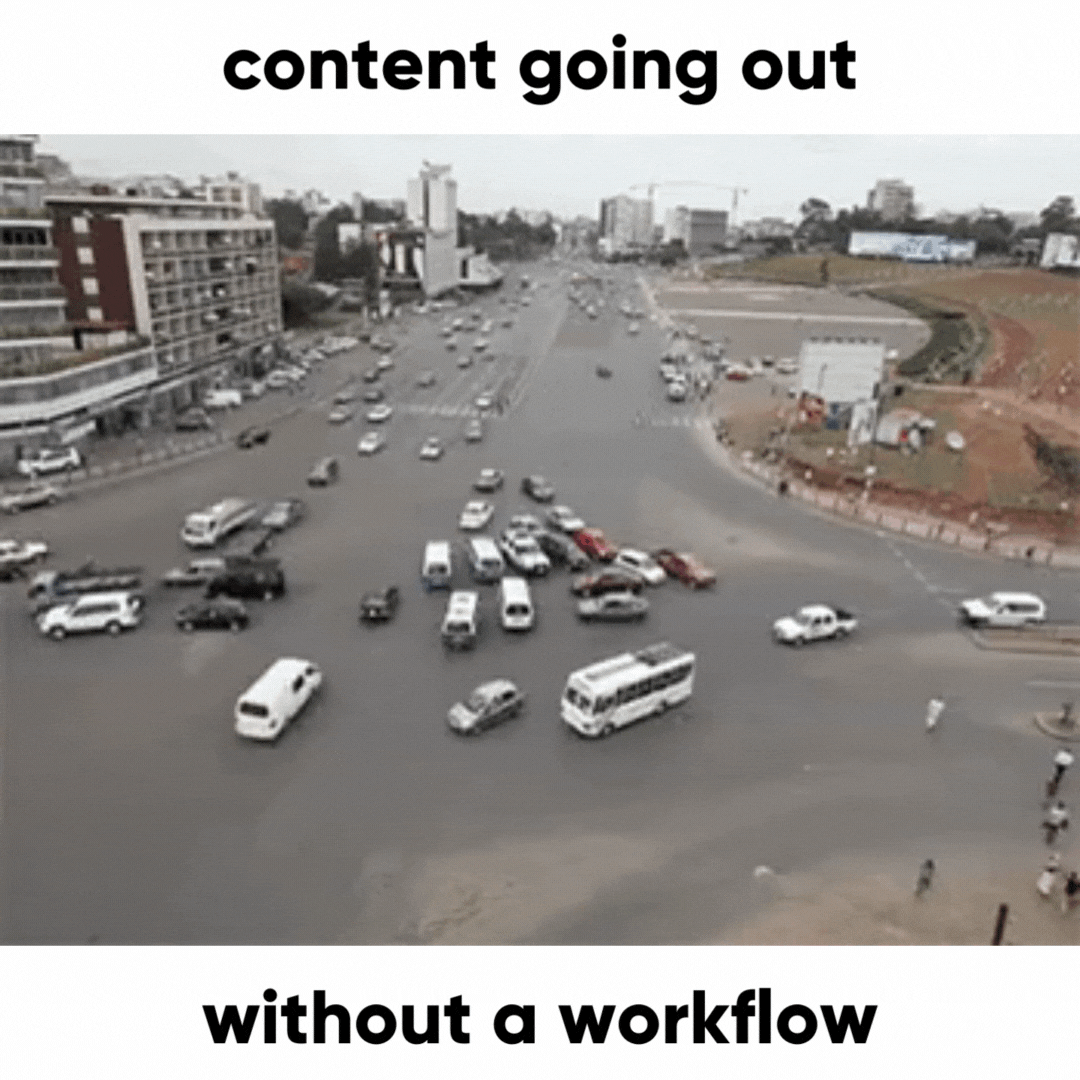 No bottlenecks and blockers
Content workflow gives project managers and team members a holistic view of the content processes, ensuring no crucial bottlenecks appear. With clear roles and stages, it's much easier to identify where the content gets stuck in your system and work it out.
Optimized time and resources
For many businesses, it's unclear how many people a content team needs and how much effort content production requires. Content workflow makes producing content straightforward and visual. It highlights the weak spots where the team needs extra resources to improve the process and get tangible results.
Why content creation without a content workflow is dangerous
The content creation process is exciting but can also turn messy in a snap — unless guidelines guard it. So what danger lies in content management with no workflow?
Missed deadlines
The content team always has a lot on their plate. Sometimes today's post gets stuck halfway through the approval process, and no one notices it. It results in a missed deadline and lost consistency points.
Scattered tasks
Content efforts may look scattered unless they're united by a streamlined content strategy and clear content-related processes. Without a defined content workflow, the tasks are just tasks: with no final goal or connection to business results.
Inconsistent quality
Without the content workflow, it's tough to stick to deadlines and timely content creation. One missed publishing day won't ruin the content marketing strategy. However, several missed days and hastily created content may significantly lower the quality and affect the final metrics.
Wasted time and resources
Content creation can be costly, but it's worth it as long as it brings results. However, with no content workflow, content creation gets tangled. The underperforming content leaves the business with wasted resources and a bad name for content marketing.
Failure to meet content marketing goals
Reaching goals through content marketing is only possible with consistent posting, quality content, and fine-tuned strategy. Content workflow streamlines the efforts — otherwise, your team risks losing it to content chaos and missing its targets.
Expert tip:
Imagine you have a big box full of toys, and you want to play with all of them. But instead of just taking them out and playing, you have to make a plan first.

You need to decide which toys to play with first, how to clean them up when you're done, and how to make sure all your friends get to play with them too.
Silvia Hellesvik, Project Manager @ Zulufadder Childrens Trust
What are the types of content workflows
Although there's no unified template for building a content workflow, there are two global approaches: task-based workflows and status-based workflows. Let's dive into it.
What is a task-based workflow?
A task-based content workflow defines each workflow stage as a task your team needs to complete. Say, your team has to write an SEO article. In the task-based workflow, the stages would look like this:
Conduct a keyword research
Create a brief
Write the first draft
Edit the draft
Finalize the copy
Proofread the article
Provide visuals
Approve the final piece
Publish
Every task has a set deadline, a responsible team member, and a detailed definition of each step to ensure everyone knows their agenda.
Pros
The biggest pro is clarity. It can be an excellent fit for new marketing teams who need a clear understanding of each stage: what's been done, what needs to be done, and what will happen next.
Cons
The over-detailed description may be a downside for a more experienced content manager. It lacks flexibility and brings an aftertaste of micromanagement into the content creation process.
What is a status-based workflow?
Status-based workflow concentrates on statuses rather than tasks. This content management workflow is more suitable for experienced specialists as it doesn't limit the performer.
Let's revisit our SEO-article example. In the case of status-based workflow, the stages are:
New task
Briefing
Drafting
In-review
Approved
Published
This content creation workflow gives more freedom to content managers: they're free to juggle their tasks at each stage.
Pros
It's flexible and more universal. A content manager uses one content creation workflow to create content of various types instead of separate workflow templates for social media, blog articles, video content, and landing pages.
Cons
Status-based workflow is less transparent. The roles and responsibilities might need not be as clear as in task-based content creation workflows, so remember to document and lay out your processes.
How to decide which content creation workflow is best for you?
Any good content marketing workflow starts with understanding the initial disposition of the team. Before building your content creation workflow in detail, consider:
Your team's experience level. Novice teams can benefit from detailed descriptions of each stage while it limits the more experienced content specialists;
The content your team produces the most. The task-based workflow works great for articles and bigger forms of content, and the status-based one suits video content more;
Your team's working style. Remember to communicate with your team and ask for its preferences.
If your team feels more comfortable mixing the approaches, consider starting with a hybrid content management workflow: keep the status-based workflow and support it with task-based checklists at each stage.
How to develop a successful content workflow
When working on a content creation workflow, remember three core things. Process refers to the content's stages: from strategizing and planning to publishing and analyzing. People include setting key players for each step, like a content strategist for strategy and a content manager overseeing an editorial calendar. Finally, software tools are your tech stack for every stage: whether it's Photoshop for covers or Planable for collaborative creation.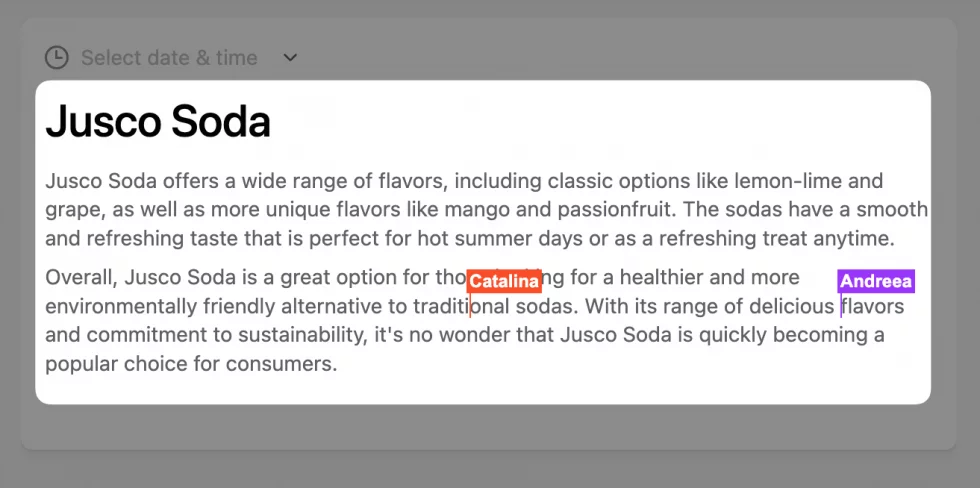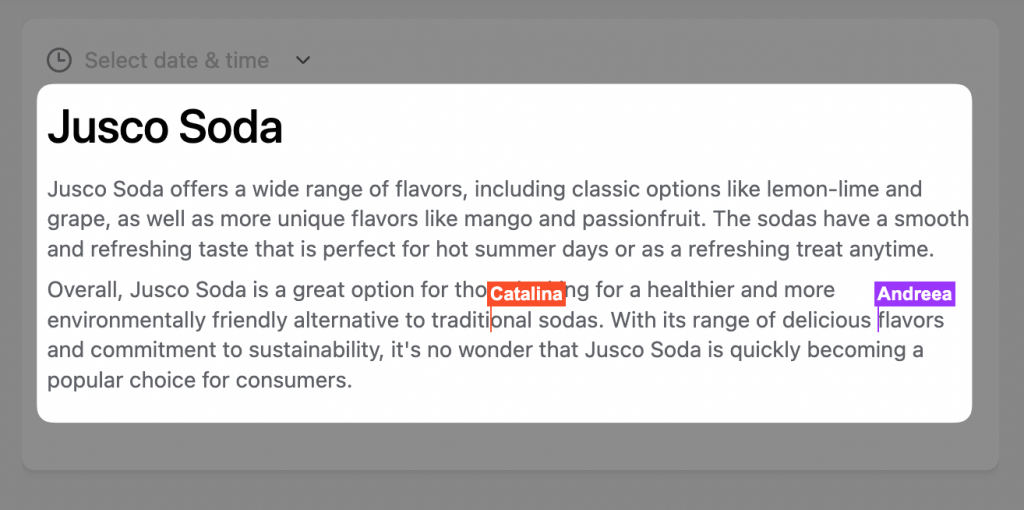 1. Determine the content types for your workflow
Multiple content types bring up differences in content production and target audience. Content distribution channels also vary based on the audience and ways of content publishing. You might need a defined workflow for each content project, as brands rarely opt for only one type.
For example, a workflow for video content will certainly differ from a social media post. A workflow for a YouTube video would include stages like shooting, post-production, and thumbnail creation. At the same time, a content production process for social media concentrates on writing, tag discovery, and visuals.
So for your first content workflow template, define the type of publishing content you want to create and then break it into steps.
2. Break down your content piece into actionable tasks
Say, you're working on a content creation workflow for publishing blog posts. What do you need to do to create a blog article? Your content workflow template might include these steps:
Planning the article
Conducting keyword research
Creating content briefs
Writing the blog post
Editing
Adding visuals
Publishing
Gathering results
Regardless of the content creation workflows you build, decomposing content pieces into tasks provides an efficient process and helps you decide on the roles.
3. Assign roles and responsibilities
Setting roles for each team member makes your process more transparent and helps the management analyze your team's capacity. Let's break the blog article down:
Strategy and planning — content strategist;
Keyword brief — SEO specialist;
Copy creation — copywriter;
Proofreading and editing — editor;
Visuals — designer;
Publishing and analyzing — content manager.
In content project management, roles don't always equal positions. Content marketing team varies from company to company: you might have a dedicated SEO specialist or Jack-of-all-trades content managers responsible for keyword research.
Expert tip:
We have a two-eyeballs policy within our company, so nothing goes in front of the client unless at least two people have reviewed it. Planable makes it so easy to collaborate on content, then share it with the client for approval.

Working in crowdfunding, on the regulatory side, we will often need the platform's Chief Compliance Officer to approve the content too. Planable makes it so easy to get the approvals and not have to be constantly chasing. Our clients love the tool too.
Victoria Bennett, Founder @ The Crowdfunding Hub
4. Set realistic timelines for each task
Keep the content creation workflow in mind: the copywriter can't start working on an article before the SEO specialist provides the brief. Therefore, to avoid blockers and fit into an overall deadline of 10 days, the due dates for every party could look like this:
SEO-brief — 1 day
The first draft — 2 days
Editing — 1 day
Finalizing the copy — 1 day
Creating visuals for the article — 2 days
Final approval — 2 days
Scheduling and publishing — 1 day
Pro tip: create a unified editorial calendar to track your content creation and stay on the same page with your colleagues across the content team.
5. Document your content workflow
Documenting your defined workflow is a must. Companies use a knowledge base and a task tracker or a content management system to describe the content creation processes.
A knowledge base has guides and descriptions of your business processes, approval workflow, content publishing, etc. If you're a newcomer and you need an overview of how social media graphics are created, you'll turn to a guideline on graphic workflows:
What are the stages of this process (get a task, design, create, edit, approve);
Who provides the data for infographics or references;
What's the approval workflow, and who gives the green light.
Content management systems or task trackers document the workflow through sets of tasks. Create tasks for content planning, creation, and publication according to your workflow, and assign them to the team members involved.
6. Automate where possible
The right project management tools are a game changer for streamlining marketing efforts. Automating parts of the workflow allow your team to stay in sync and concentrate on their functions instead of taking notice of the background process.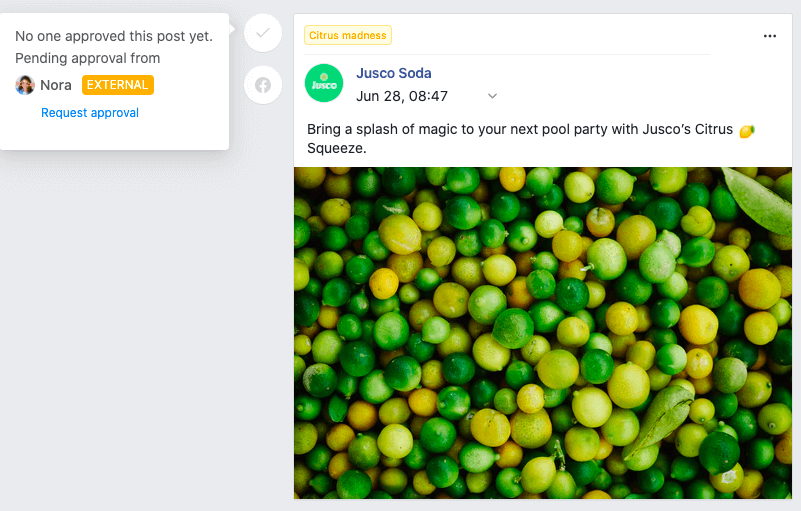 The approval workflow can benefit greatly from automation. For example, a content team can set up its content workflow software to publish the post automatically once everyone in the approval chain gives it a go. There are great content distribution software tools for you to choose from, to publish your perfected content in seconds.
7. Analyze and audit your content regularly
Analyzing the performance helps you tweak the content strategy and reach better results. Your content workflow is bound to evolve over time, too. As you assess your content's performance, you might find yourself changing the workflow.
For instance, if your social media posts don't engage, you may shuffle the deadlines and leave more time for brainstorming and graphic creation.
Six content workflow management tips for creating high-quality content
Every content team has its challenges, so the workflow template that suits one might be a different fit for the other. However, regardless of the final workflow you create, here are six neat tips to ease your content workflow management and enhance the content creation process.
Make the content process transparent to the newcomers
Onboarding is essential. Even if your content workflow is transparent and efficient, your new employees would need some help to tap into it. So document your business processes and ensure every team member knows their role.
Use a content calendar to stay ahead of the curve
Create an editorial calendar to help your team plan and stay alert on upcoming tasks. Your content strategist will thank you, too — with a visual representation of all the marketing projects and content efforts, it's easier to tackle the content strategy.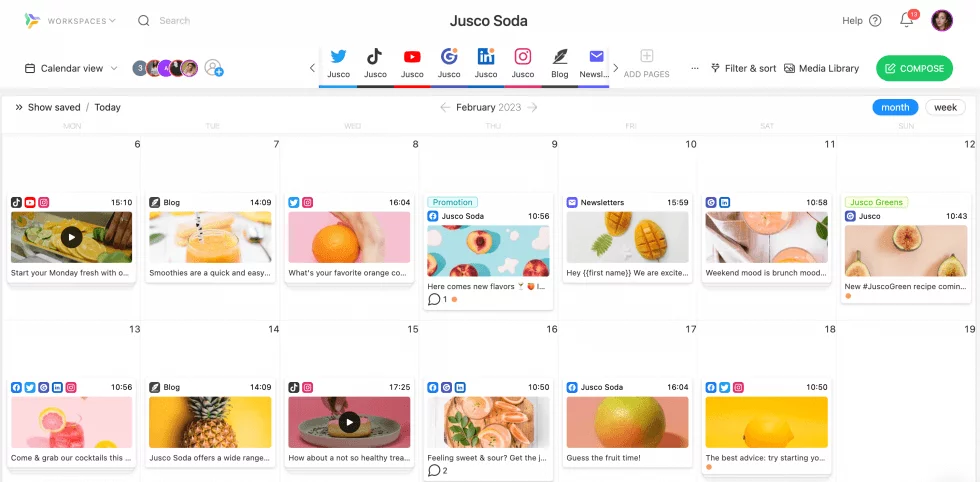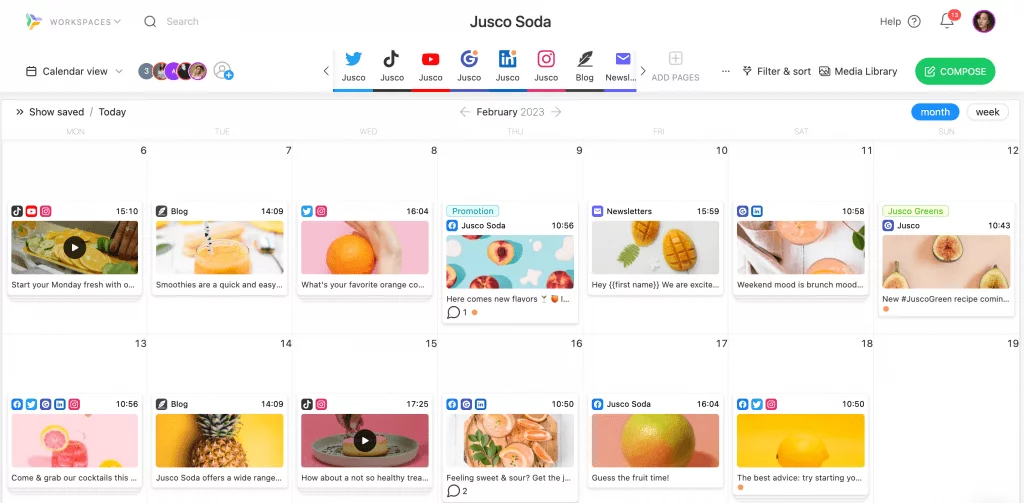 Secure spare time in case things go south
Sometimes things don't go as planned. When setting the deadline for each stage, leave a little extra time for juggling the possible issues in content creation. You can always optimize it later if the spare time is crucial.
Stay clear on content approval requirements
State precisely what you want from the team members, project managers, and other colleagues involved in the approval. It will help you push the content piece down the approval pipeline faster and with less friction.
Monitor progress and send reminders
The content creation process is ongoing and asynchronous. To ensure you stay on track while creating content, set up a system of updates and track the status of each content piece in work. Don't go over the top with pinging your colleagues every other hour, though.
Use a content workflow tool to manage your content from one place
Help your content marketers adapt to a new workflow faster and stay on top of the content game in no time. Gather the separate workflows, approval pipelines, and collaboration solutions in one place using a content workflow tool.
👉🏼 Skip the research and check out this comprehensive list of marketing workflow software tools.
How to choose the right content workflow tools
Content workflow software is a must-have for teams who want to implement their own process fast, efficiently, and as accurately as possible. So how does one choose the right workflow management software? Answer three questions:
Is the content workflow software right for your content team size and structure?
Always keep your team in mind, both process and money-wise. Make sure you consider a) how many people will use the software, b) what roles they hold, and c) how they collaborate.
Is this content workflow software a good fit for your work style?
Some straightforward processes within smaller teams are complete with a content calendar, collaboration options, and basic statuses. More complex workflows require advanced features: customizable workflows, multi-layer approvals, automated notifications, and integrations with other platforms.
Does this content workflow software have everything you need in one place?
Your content workflow can evolve and grow more comprehensively over time. Consider the scalability of your tool: would it offer you the features you might need later? Choose a tool that can easily add new users, roles, and workflows as you go.
Build a bespoke content workflow with Planable workflow management system
Collaboration is the cornerstone of successful content creation workflows for any marketing team. Planable makes the content creation process easy, efficient, and visual for content teams of all sizes and shapes.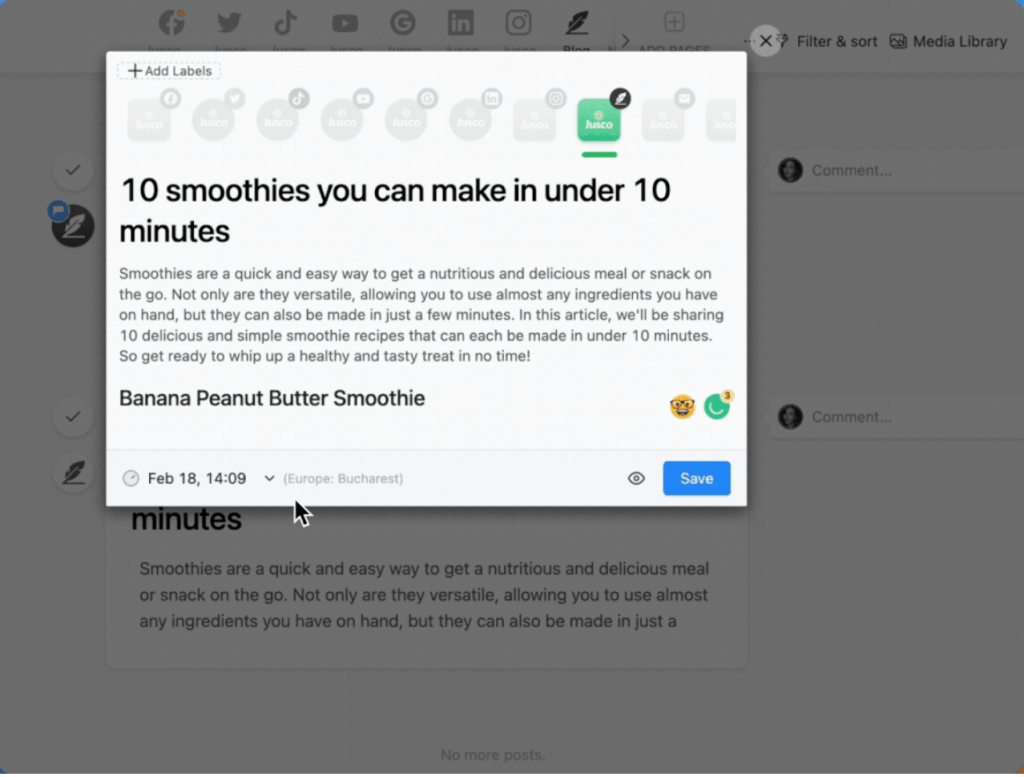 Planable's Universal Content is a bundle of features that helps content projects create top-notch content of any form. Here's what you can take advantage of while building your own workflow:
Use a content calendar to gain a holistic overview of your content marketing strategy, plan the blog posts and emails ahead, and schedule and publish posts on social media.

Collaborate on any written content and work together in real-time: write blog articles, briefs, and emails, use markdown, leave comments, and share feedback on one page.

Tailor approval workflows to fit your team structure regardless of the content created.
Set roles and permissions for internal and external team members to separate creators from approvers and move on faster.
Whether you're working on social media posts, blog articles, newsletters, or any other written content, Planable supports your process as a straightforward project management tool. With flexible pricing starting at $11/month per user, Planable makes an excellent fit for scalable and controlled content management that brings impressive results.
Time to launch your very own content workflow
Are you ready to level up your content game? Build your content creation workflow today with Planable and leverage the power of streamlined processes and team collaboration.