Ever had that moment where you can't keep track of your content organization? When do you wish for smoother internal workflows, visual content calendar, team collaboration, and feedback processes? I've been there too. But I've cracked the code on this one and discovered effective solutions that I'm excited to share with you.
In this article, I'll discuss how to organize content ideas and show you 5 tools to help you keep everything nice and tidy.
What is content organization?
Content organization involves the systematic arrangement of the content creation process within a team while emphasizing the internal workflow, collaboration efforts, feedback processes, and distribution strategies.
This approach ensures that your team works cohesively to produce content that resonates with the target audience and achieves its intended goals.
Why do you need to think about content creation organization?
If you asked about the one thing that would stop the whole content creation process from going bonkers, I'd say it's all about having those internal processes locked, along with some collaboration vibes.
"The State of the Content Marketer Report" found that 31% of content marketers create weekly content for at least 3 social media platforms. Plus, 15% are tackling not just one but 2 whitepapers, all while juggling their day-to-day content marketing stuff.
That's a lot of content in a single week, but it can be handled if a content organization is in place.
Think of content organization as your content's roadmap: it helps you and your team keep better tabs on all the content you've already published and repurpose old content whenever you have to.
For marketing managers, a well-organized content structure becomes the linchpin of smooth content flow across the team. It enables effective collaboration, as team members can easily locate and build on existing content assets. Such a streamlined process minimizes duplication of efforts and improves content consistency.
Keep better track of published content
As your content curation gains momentum, keeping an eye on your content development gets quite challenging. I totally get it. During my three years as a content marketing manager, it sometimes felt like a content tornado. And as I learned more about content organization, things really changed.
Organizing my content efforts was a game-changer. It helped me work smoothly with all the different people contributing to the content and seeking feedback. Instead of the chaos and uncertainty we once faced, we found ourselves well-coordinated. This transformation made a real difference in our ability to manage and optimize our published content effectively.
Repurpose and update assets more easily
When your content game is strong, you'll spot pieces from your existing content that need a little update.
Enhancing internal visibility is key for seamless cross-channel collaboration. By centralizing asset usage, such as design elements, various teams like blog editors, social media, and PR can efficiently access and use them.
Building a shared editorial blog calendar ensures social media is informed in advance about upcoming blog posts, enabling timely reshares and coordinated promotional efforts. This synergy optimizes resource allocation, minimizes redundancy, and fosters a more synchronized content strategy across diverse channels.
You see, content organization comes in super handy for content repurposing and updates. When everything is neatly sorted, you can quickly find your best-performing pieces for easy repackaging, and identify which ones could use a makeover, making the whole content workflow smooth.
Improve productivity in the content team
Another benefit of content organization is that it helps improve productivity among the content and social media teams, marketers, freelancers, and other parties involved.
When your content is planned and organized in an editorial calendar, it's like having a blueprint that guides everyone on the team. This calendar outlines what tasks must be completed and where important assets can be located for linking.
A content calendar prevents confusion, saves time, and minimizes the chances of missing important deadlines.
Based on the "Marketing Manager Mindset Report 2023," more than 22% of companies are rocking at least 3 social media channels, while 15% are juggling 5 social media channels.
Can you imagine managing all of that content without a content calendar? Plus, we're talking about website and newsletter content, too. Not a chance.
Incorporating content organization through an editorial calendar reduces the need for constant back-and-forth communication, allowing your team members and freelancers to focus more on content creation and quality.
Deliver the best possible audience experience
Creating an organized content creation process is key to delivering the best audience experience.
When your content strategy is aligned across platforms — like blogs, social media, and ads — your message becomes clear and consistent. This coordination allows integrated campaigns where each channel supports the same goal with complimentary content.
Imagine posting about different topics on different channels. It may confuse your audience and dilute your message. With organized content, however, your efforts are focused and aligned, so your audience can easily follow your story from one platform to another.
Check this out: the typical social media user is on 6 different platforms and spends 2 hours and 26 minutes of engagement daily, according to the 2023 Ultimate Social Media Trends Report. If they spot your content and message a few times, your brand will get some serious spotlight.
How to organize content ideas
Without organization, your content ideas might get buried under the clutter of your mind or lost in the shuffle of daily tasks. By organizing your content ideas, you set the stage for smoother execution and a more enjoyable content creation journey.
Now, I'll walk you through the four steps to show you how to get your content organized.
1. Be clear on your core topics
Let's start by being crystal clear on your core topics when organizing your content ideas. Every piece of content you create should snugly fit under one of these umbrellas.
And when you stay within these boundaries, your content marketing efforts remain purpose-driven. If a proposed idea strays beyond these core topics, it risks becoming a tangent that might not align with your content strategy and marketing goals.
Producing content outside these core topics will lead to a scattering of resources and effort.
So, the lesson here is clear: staying within your core topics isn't just about maintaining focus; it's about optimizing your resources and maximizing your content's impact.
2. Identify your target audience segments
When producing content, you always want it to appeal to the right people. To achieve that, you obviously need to know your target audience.
By identifying your target audience segments, you're categorizing your content to ensure a precise match between what you produce and who you want to reach.
So, whether you produce content for freelance digital marketers, health professionals, or aspiring chefs, assigning target audience segments ensures your content speaks directly to them. This will help create a harmonious connection that amplifies your content marketing strategy.
3. Establish your content posting frequency for each channel
The third step is to tailor your posting frequency to each channel, as it's vital for maintaining a consistent online presence.
First, start by deciding how frequently you'll publish content on each platform. Consider factors like your target audience's preferences. This way, you'll have your audience awaiting your next drop.
Once you've settled on posting frequencies, organize your plan by creating an editorial calendar. This calendar will serve as a visual roadmap for your content distribution strategy. It helps you stay on track and ensures a smooth flow of content across all channels.
According to "The State of Content Marketing 2023 Global Report" by SEMrush, 45% of marketers believe that publishing more content and posting more often is super important for successful content marketing.
Let me tell you how to achieve that same success.
To add an extra layer of organization to your editorial calendar, try tools like Planable. You can add color-coded labels to differentiate between various types of content and channels. This visual aid lets you gauge how your content strategy aligns with your posting frequency goals.
Lastly, consider working ahead by several weeks, or even a few months, when structuring your action plan. Such a proactive approach minimizes time pressure and provides a buffer for unexpected situations.
4. Decide who contributes and approves content ideas
From content marketers to sales managers and customer success champions, everyone may have a voice in the content ideation process. I mean you never know where the next big idea might come from.
I recently tuned in to one of the episodes of "The B2B Content Show" titled "The value of a holistic approach to content marketing," where Shae Henrie, senior content marketing manager at AdRoll, highlighted her collaborative efforts with the paid ads team. During one interaction, she inquired about the effectiveness of AI images in ads and intended to apply the insights to her team's social media and blog content strategy. Pretty slick move, right?
So far, so good. But what about getting the green light? Usually, the Chief Marketing Officer (CMO) or the client gives final approval. But for bigger projects, a few people might need to say "yes."
Take my experience as a content marketing manager — when content projects included paid contributors and sponsors, even the CEO's approval was part of the process. Here's what I did: I laid out the project plan, broke down tasks and deadlines, and then pinged the CEO for the initial green light.
Once onboard, I'd set up a collaborative space where everyone could keep track of progress. Regular check-ins with the CEO and stakeholders were part for the course, ensuring their "yes" was baked into each stage.
Now, did I find this process daunting? Not at all. Why? Because our processes guided us through these multi-level approvals without a hitch.
So, how can you achieve the same as a content creator and marketing manager? You need to establish a clear chain of command for content approvals. Identify who needs to review relevant content and sign off on different stages of content creation, from the initial concept to the final draft.
It might sound like a never-ending process, but ultimately, it ensures that every piece of content meets the highest standards of quality and aligns with your brand's message.
5 tools that support a strong content organization system
As you dive deeper into building your content organization, these five tools will prove valuable in improving your content strategy and organizing content. They can cover diverse needs, including seamless planning, streamlined collaboration, and efficient workflow management.
1. Planable – for a seamless content creation workflow
Planable is a solution that helps streamline your content collaboration and social media scheduling. It offers a unified platform where you can seamlessly collaborate on and approve various forms of written content.
From blog posts to social media posts, newsletters, or landing pages, Planable facilitates smooth collaborative work by enabling comments and approval workflows.
For example, you can conveniently view your blog post alongside its activity and version history. This feature proves helpful when you need to track changes, identify glitches, or refer back to earlier versions during your content creation process.
Its standout feature lies in its ability to streamline content creation and approval processes, and integrate with your editorial calendar. You can schedule and publish your content across 8 social platforms: Facebook, LinkedIn, Instagram, TikTok, Twitter, Google My Business, YouTube, and Pinterest.
Plus, the inclusion of a media library ensures easy access to visuals and assets, enhancing your content's visual appeal.
Another great thing about Planable is how easy it is to get everyone on board. You can invite your team members, freelancers, and marketing agencies into the team, and they'll be added to all the workspaces you create — no hassle.
Regarding the drawbacks, Planable lacks built-in analytics and reporting options, which may require users to use additional tools for performance tracking. Additionally, while it excels in social media scheduling, Planable's publishing capabilities are limited to social platforms only.
Takeaway:
Planable is best suited for content marketing managers and content teams seeking a collaborative hub to streamline content creation, approvals, and social media scheduling.
2. Google Docs – for basic content planning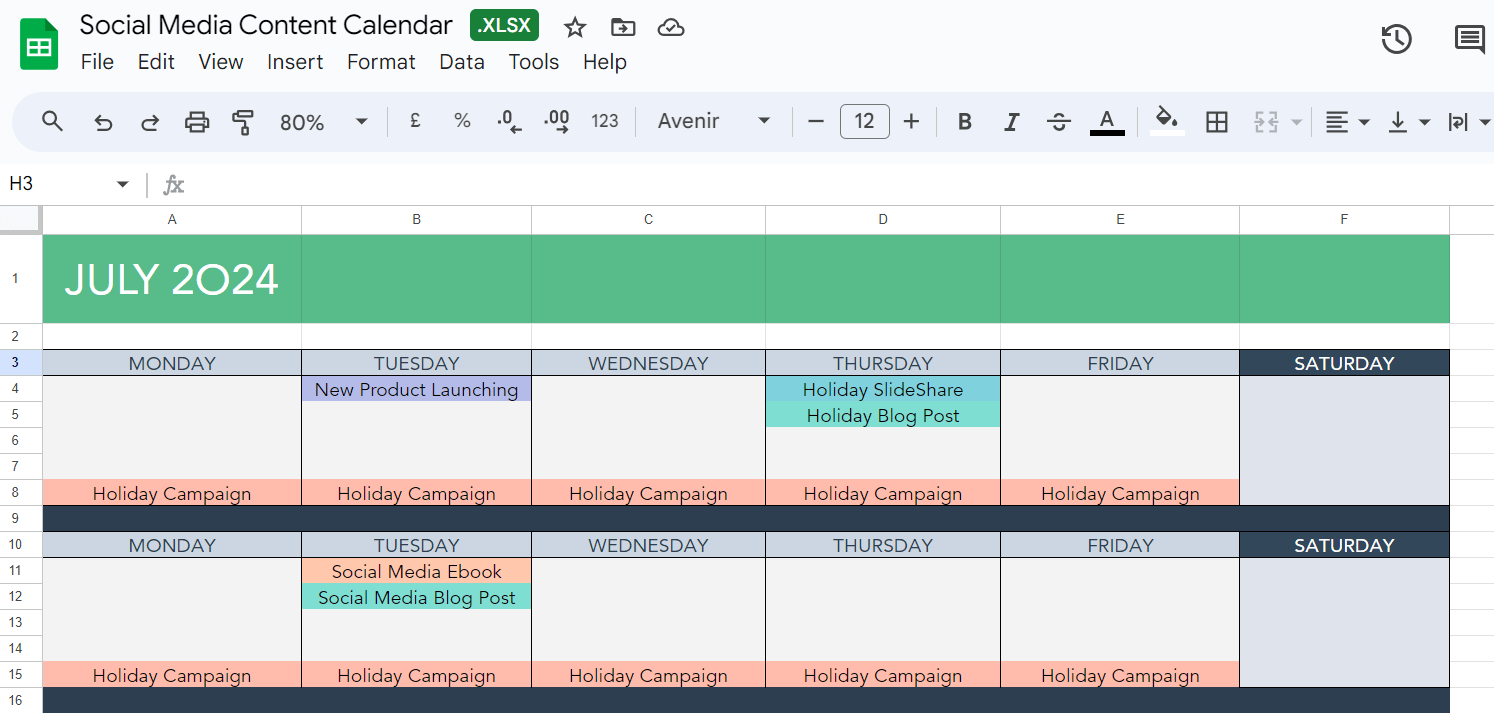 Google Docs is a versatile word-processing tool for content creation and organization. It's your virtual canvas to draft, edit, and structure written content, whether it's blog articles, content calendars, or collaborative notes.
Accessible across various devices (desktop, tablet, and phone), Google Docs is suitable for both individuals and teams. While it's budget-friendly with free access, maintaining a clear structure might require additional effort as your content library grows.
Takeaway:
Google Docs is ideal for collaborative writing and basic content organization across various devices.
3. Asana – for tracking content roadmaps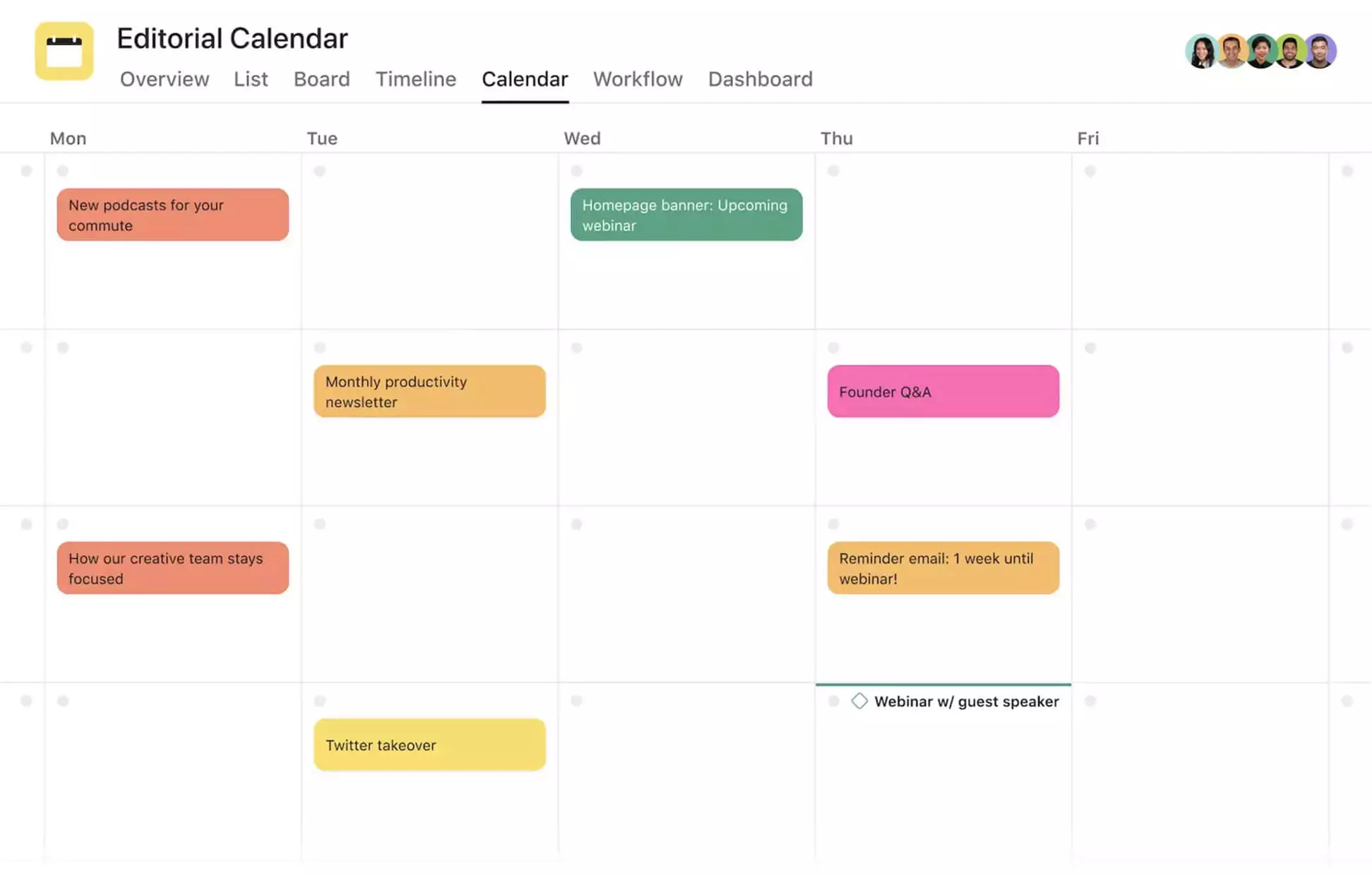 Asana is a versatile project management tool that aids in organizing and tracking your content creation process. It helps you create tasks, set deadlines, assign responsibilities, and collaborate seamlessly on content projects.
Accessible on web and mobile platforms, Asana is built for individuals, teams, and businesses needing enhanced content organization. While there's a free version available, more advanced features (like milestones, custom fields, or the Gantt-style timeline) come with a price tag.
Be aware that Asana might require a learning curve, especially for those new to project management tools.
Takeaway:
Asana is great if you want an all-in-one tool to keep your content creation organized and flowing smoothly, especially when working together with a team.
👉🏼 Here's a detailed guide by Planable on project management tools for creative projects.
4. Airtable – for monitoring content production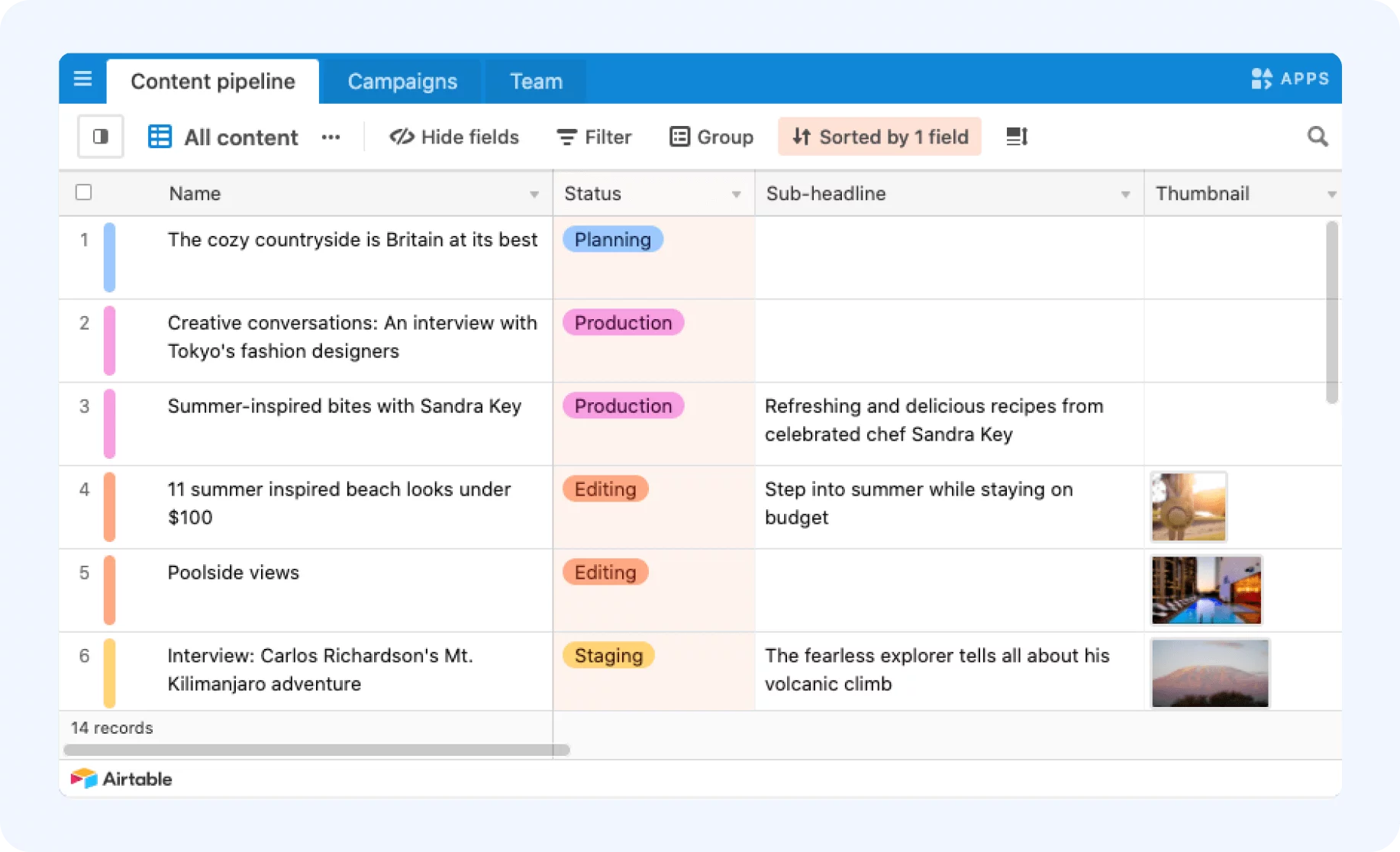 Airtable is a dynamic spreadsheet database hybrid that excels in content organization. You can create custom databases to manage and categorize your content ideas, track progress, and collaborate seamlessly with your team. It offers a free plan with paid tiers for advanced features.
While user-friendly, the learning curve might be steeper for complex functionalities compared to Asana. But unlike Asana's project management focus, Airtable leans towards a customizable database approach, making it a great choice for those needing a more tailored content organization system.
Takeaway:
Airtable is a great fit if you want a flexible and customizable tool to visually organize your content.
5. Notion – for complex content management

Notion is a versatile note-taking and workspace tool that goes beyond content organization. It allows you to create pages, databases, and boards to streamline content planning, writing, and collaboration.
While Notion excels in flexibility, its feature-rich nature might feel overwhelming for those needing basic content organization. Plus, its learning curve could be a potential hurdle for newcomers, especially if they're unfamiliar with its extensive capabilities.
Takeaway:
Notion is the perfect tool for teams seeking a versatile content organization solution with in-depth customization features.
Final thoughts
To wrap things up, building an effective content organization is a smart move. With the 4 steps to organize content ideas and 5 tools to build a content organization, you can create a system that takes the pressure off and lets you focus on what you do best: producing content.
Sign up for Planable and optimize the way you and your team create, plan, and approve all your content — all in one place.
Pasha Abdulov
Pasha is a SaaS content writer with 3+ years of experience, specializing in content planning, product analytics, reporting, and data management. When he's not busy writing, he loves exercising, cooking Italian recipes in his kitchen, or immersing himself in the world of detective novels.