Have you ever tracked the amount of time you spend on content creation versus content distribution? Look closer and you might notice how lopsided the two are.
While a world of effort goes into researching, writing, editing and getting approval for your content, not all that much time is left for distributing content. Promoting, sharing on social media, optimizing for search engines, sending out emails, and doing outreach often go on the back burner.
The downside? No matter how well-crafted and valuable your content is, it may not achieve its desired outcomes if it doesn't reach the right audience or if it isn't distributed across various channels.
Fortunately, you can address the imbalance. I'll show you how to leverage various distribution tasks from choosing your content distribution platforms to stepping it up with emails and social media marketing.
What is content distribution?
Content distribution means sharing and promoting content across various platforms to reach a specific target audience. It ensures visibility, engagement, and impact by leveraging communication channels like websites, social media, podcasts, video content, and email.
An effective content distribution strategy maximizes brand awareness, drives traffic, and helps you achieve your business goals.
Why do you need a content distribution strategy?
Producing outstanding content is no longer enough. Content creators must proactively ensure their material reaches the right people at the right time. Content distribution plays a vital role in achieving this objective.
Get your content in front of more people
It might sound obvious, but I'll say it anyway: the more people see your content, the bigger the chances they will engage and buy your products.
45% of all online content goes unseen, according to a 2021 study. That means that, on average, half the content a business creates serves no purpose other than to check off a task on someone's to-do list.
Instead of coming up with new stuff all the time, focus your content marketing strategy on distribution, outreach, and promotion. You will get more organic traffic, valuable leads, and opportunities to spark conversations.
Strengthen your brand trustworthiness and reputation
How do you build trust? You must make a great first impression, but that's not enough. You should follow up consistently with valuable, relevant, personalized content and experiences.
Showing up in people's social media feeds, inboxes, and search engines with information that solves their problems will keep your brand top of mind for the next purchase.
Maximize opportunities on social media
With multiple social media channels to manage, it's easy to feel overwhelmed. How do you gain social media followers on all platforms? And when should you invest in social media ads, and when is organic a better option?
A great social media strategy helps you create order in chaos. You can more easily choose between social media platforms, identify opportunities for engagement with the right audience, and know when it makes sense to have paid distribution.
Keep a competitive edge in the market
Content marketing can be a decisive competitive advantage when it's focused on quality, relevance, and consistency.
A well-planned and executed content distribution strategy can help businesses establish a powerful online presence, build trust with their audience, and ultimately have a stronger and more meaningful connection with customers than the competition.
The three kinds of content distribution channels
It's essential to integrate all three types of content distribution channels into your strategy.
From creating a stable content foundation to reaching your audience organically and investing strategically in paid media, I'll explain below what each type of distribution channel is and how to use it to your advantage.
1. Owned channels
Owned content distribution channels are platforms your brand has created and controls regarding branding, design, messaging, and user experience.
Examples of owned distributions channels include:
Website
Blog
Landing pages
Social media accounts
Email newsletter
Press releases
Mobile apps
These channels are the basis for all promotional efforts. It's where your content sits and abides by your rules.
The advantage is that you can build a loyal audience and communicate directly with customers, without interference from third parties. The challenge is to build that community in the first place and nurture it in the long run.
Here's how Pretty Little Marketer leverages Linkedin for content distribution: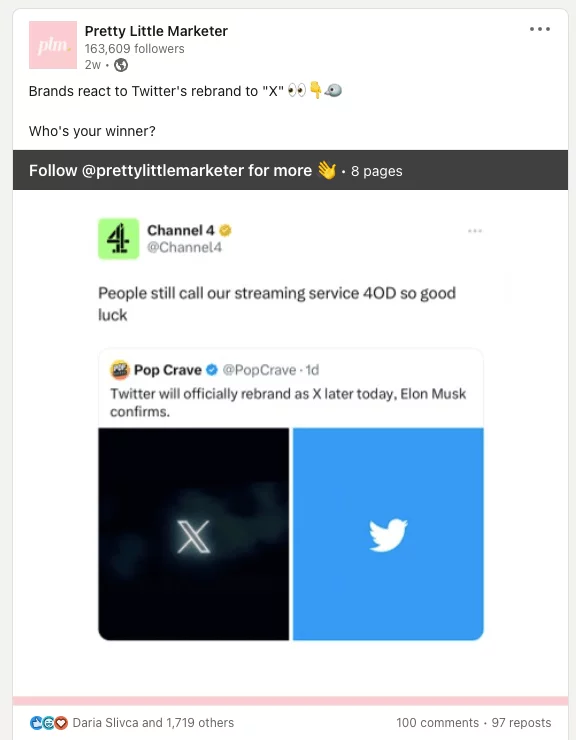 2. Earned or shared channels
Earned channels are those where your marketing efforts pay off organically. You earn people's attention, so they distribute and amplify your content for free because they find it valuable.
Examples of earned distribution:
Shares and mentions by influencers, industry experts, bloggers, etc.
Guest articles and roundups
Social media distribution by followers
Media coverage through PR activity
Product reviews
Discussion on online forums or communities
For instance, check out how Monzo Bank earned this mention from Sophie Miller on LinkedIn:
Think of it as word-of-mouth marketing. As you're not paying for it, customers will trust the "earned" recommendations more than they would self-promotion.
While incredibly valuable, earned distribution has one big drawback: you can't control the quality of the content, the credibility of the source, or the context in which your brand name is used.
3. Paid channels
Paid distribution means allocating and investing a budget in different types of paid distribution channels to reach your intended audience.
Examples of paid distribution channels include:
Social media ads
Sponsored content on news sites, blogs, and publications
Search engine marketing and pay-per-click ads
With paid content distribution, you get visibility right away, and target your desired audience. As you can get results quickly, you can use promotional media for product launches or time-sensitive marketing campaigns.
The downside is that it can be expensive, and you need to be strategic about targeting, or you risk getting great reach, but few engagements and conversions. Read on to make sure that doesn't happen.
How to develop an effective content distribution strategy in 5 steps
Step 1. Research your target audience
Audience research is one of the most important steps to ensure that you distribute content where your clients are more likely to pay attention. To find your ideal audience, I recommend you:
Use existing data to understand audience demographics: age, gender, location, education, and income. Who is already visiting your website and engaging with you on social media?
Research interests, behaviors, preferences, and problems. What are your ideal customers talking about? Which problems can you help solve? What language do they use?
Look at media usage and communication preferences. What channels are more popular among your audience members? Where are they more likely to read, post, and engage with content? What is their preferred communication frequency?
Get valuable insights from Google Analytics, your admin interface on social media channels, or other analytics tools. Leverage market research and statistics and the data that different distribution platforms publish about their users. Not least, get first-hand information from conducting surveys and interviews, and monitoring online conversations in communities and forums.
All this should give you a clear picture of where your customers spend their time and what type of content they consume. Use this information in your distribution process to prioritize channels and focus your efforts where it counts the most.
Step 2. Map out your existing content
Mapping out existing content means auditing  what has already been published. It gives you an understanding of what you have, how it aligns with your goals, and how to distribute it effectively. The process can also help identify content gaps, avoid duplication, improve organization, and maximize content value.
Here are the steps for mapping out your content:
Create a document where you list all your existing content assets, including blog posts, videos, infographics, long-form content, podcasts, etc.
Add metadata such as the title, URL, publication date, target audiences, and keywords.
Group content pieces based on topics, formats, or audience segments.
Include key performance indicators (page views, shares, comments, and conversion rates) to see what content is performing best.
A content audit is a must for any content distribution strategy to be able to optimize your efforts.
Step 3. Choose your content distribution channels
What works best for your business niche: organic channels, paid social media, or influencer-generated content? For most brands, the answer is in the right balance between various channels.
Paid and owned platforms often depend on one another to work. Take the example of press releases. They are pieces of owned media promoted through paid media to get earned media. So, instead of choosing one or another, you have to find the right mix.
Demographics
Research should already give you a good idea of what works best for your target audience. For example, according to Pew Research data, 77% of Americans aged 30 to 49 use Facebook, 48% Instagram, and only 22% TikTok. Comparatively, 70% of the 18 to 29 age group use Facebook, 71% Instagram, and 48% TikTok. Preferences also differ based on gender, location, or other demographics.
If you're targeting different groups, it's a good idea to be present on as many social media platforms as necessary but to adapt the content format and messaging depending on channel best practices.
Historical performance
You can also choose content distribution channels depending on their historical performance for your business. Look at website and social media analytics to understand traffic sources,engagement rates, and spot conversion opportunities. If a channel is not performing, consider eliminating it from your strategy and use the resources to invest in a more lucrative platform.
Competitor analysis
Look at your competition and see which distribution channels perform best for them. Competitor research can be particularly useful if you're at the beginning of your content marketing journey and have no previous performance to base your decisions on.
Step 4. Create and repurpose content
Create a content calendar with content distribution in mind. For every piece of content, ask yourself: who is it for, how will it help, what kind of content format is most appropriate, and what various content distribution channels will you use?
You must repurpose content to serve different goals and channels for a solid content distribution strategy. Here are a few examples of content repurposing:
Break down ebooks into several blog posts — or the other way around.
Transform data into infographics and visually appealing charts.
Create blog posts from podcast episodes or video transcripts.
Cut longer video content into bite-sized clips for TikTok or Instagram Reels.
Extract key points from longer content for catchy social media posts.
Don't just do this for new content. Give old content new life by recycling and repurposing it when the context fits.
Aim to create evergreen content you can use repeatedly in your distribution cycle so that you don't always have to be churning out new content.
Step 5. Distribute the content to your media channels
Depending on your business and research, you will end up with a number of content distribution channels to update regularly. You will also need to organize your activity so that you juggle owned, earned, and paid channels at the same time.
In the old days, digital marketers such as myself would go and update each platform manually. We would also be the middleman between in-house teams, agencies, and collaborators, endlessly attaching documents to emails and copying and pasting feedback. Luckily, times have changed and you don't have to distribute content with an aspirin at hand.
My advice is to choose tools that make the process easy by scheduling posts on several content distribution platforms at a time and collaborating and getting approvals on different types of content in the same place.
Best practices and tactics for a content distribution model
You can be very creative when marketing content. Below I'll highlight a few tactics you shouldn't miss, no matter your business or content distribution strategy.
Stick to a consistent editorial calendar
There's no room for one-hit wonders in the content hall of fame. Leading content creators are committed to creating valuable content and promoting it on the right marketing channels in the long run.
A tool can go a long way toward helping you be organized and stay on track. For example, Planable's calendar feature helps you plan, create, and schedule content on different owned distribution channels, including popular social media platforms.
The marketing calendar view shows all upcoming content at a glance: social ads, blog posts, newsletters, events, etc. It makes it easy to check if all distribution channels are included or if there are communication gaps.
Set content marketing goals and milestones
Why are you creating and distributing content? Define your objectives early in the process, set milestones, and track results. Otherwise, it's easy to lose focus and have a scattered approach.
Evaluate content distribution efforts periodically, decide which channels perform best, understand why, and have clear steps for improving your efforts where results are unsatisfactory.
Join forces with key influencers
Organic or paid influencer content can help you get a boost of credibility, website traffic, and conversions.
Select influencers you work with carefully, based on shared values, tone of voice, and objectives. Brand affinity is important to successful campaigns.
Focus on building long-term relationships with key influencers in your industry, as opposed to isolated campaigns. Ensure that partnerships are mutually beneficial and that you are giving influencers creative freedom.
Not least, whenever an influencer mentions your brand or shares your content, make sure to engage with them, be respectful, and encourage genuine conversations.
Put email marketing to good use
Email marketing remains an efficient owned distribution channel for most businesses. It is personal, flexible, and very accessible both from a price and technical skills perspective. It's also widely used by most demographic groups.
You can use email marketing efficiently in several ways, including:
Distributing website content, such as blog posts, ebooks, and reports.
Inviting people to follow you on other channels, leave product reviews, or participate in conversations in online communities.
Promoting landing pages to increase conversions.
Planable can be used to plan, approve, and collaborate on newsletters too, so that you have one go-to place for all your content creation and distribution needs.
Best content distribution tools and platforms
While there are many marketing platforms out there, I selected some of the best content distribution tools to help you reach your target audience based on the richness of features and ease of use.
1. Planable
Having everything in one place when it comes to content is a big plus — take it from a content marketer who has seen many ways of organizing content over the years. The more platforms you have to update, and the more tools you need to get approvals, the more difficult it is to be consistent and efficient.
That's why I recommend Planable, an online platform designed to make content planning and publishing easy for teams, no matter how big or complex. I love that you can collaborate on any type of content from social media to blogs, emails, newsletters, briefs, etc. You can tag people to ask for feedback, set different roles, and see content evolve in real time.
Schedule content on Instagram, Facebook, TikTok, Youtube, Twitter, LinkedIn, Google My Business, and Pinterest from one place, and have your entire publishing content calendar visually represented.
Edit photos and video content within the platform, and get copywriting suggestions from Planable's AI. Repurposing content is also facilitated by its content recycling feature. No more scratching your head over "What have we not posted in a while?"
Drawback: The platform does not offer analytics.
Pricing: Planable offers a free plan for up to 50 posts. Unlimited posts, several supported platforms, and different types of approvals and views are available starting at $11/user. Try it out now!
2. Hubspot
Hubspot is a comprehensive inbound marketing and sales platform that includes content marketing, email marketing, social media management, and CRM tools.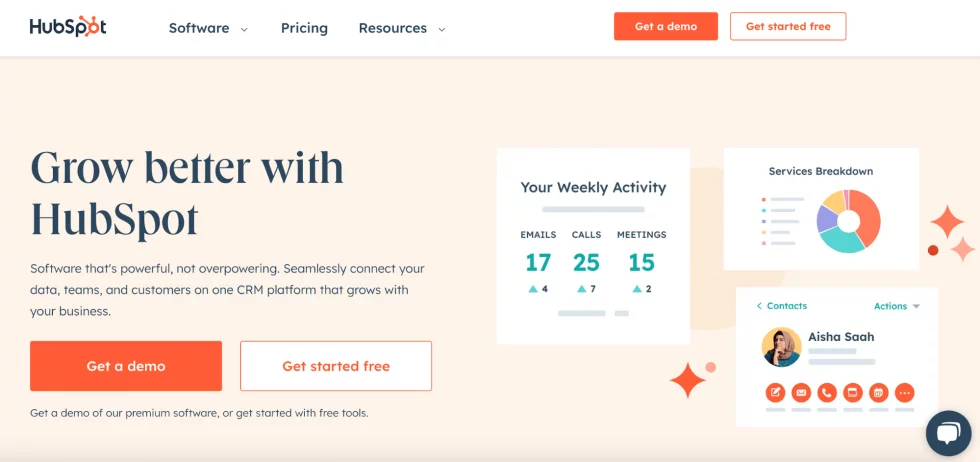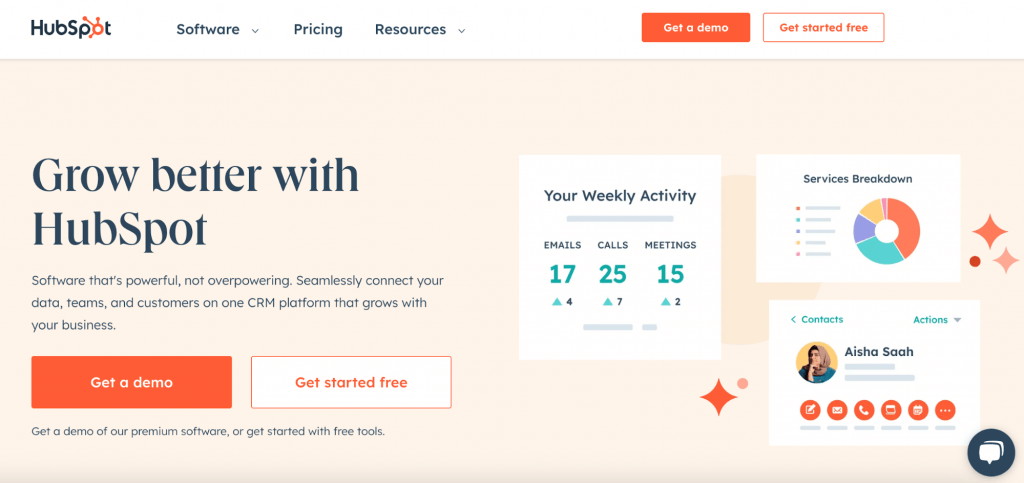 Hubspot is a useful tool for automating manual marketing tasks, nurturing leads, creating ad campaigns, and having a complete view of the marketing funnel from top to bottom. In terms of content distribution, it integrates with a plethora of platforms and tools, including social media, email, meetings, and events services.
As a content marketer, I cannot help but admire Hubspot's own content distribution strategy, which has passed the test of time and has served as an example for other players in the industry.
Drawback: Given Hubspot's complexity, there can be a learning curve in its adoption and implementation. It can also have a high price tag for more advanced features.
Pricing: Hubspot offers a limited set of free tools for individuals and small teams. A Starter plan that includes 1,000 marketing contacts costs €18/month.
3. Hootsuite
Hootsuite is a social media management tool that helps you schedule and manage content on various social networks, track mentions, and monitor analytics.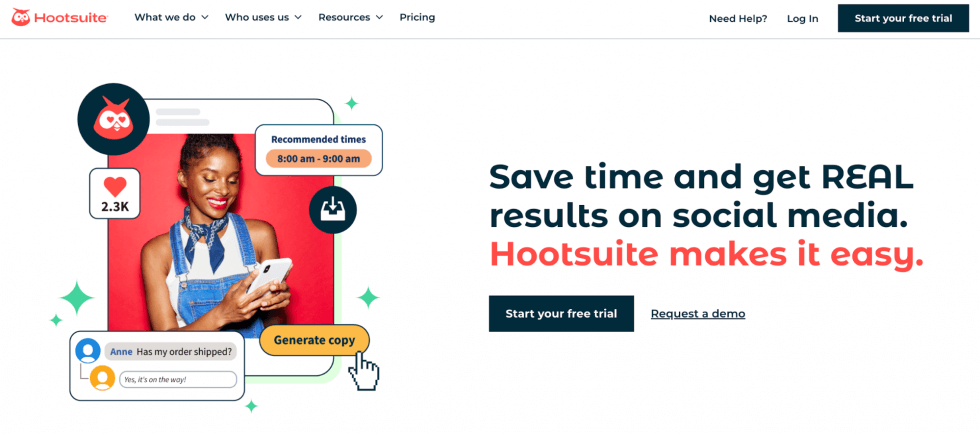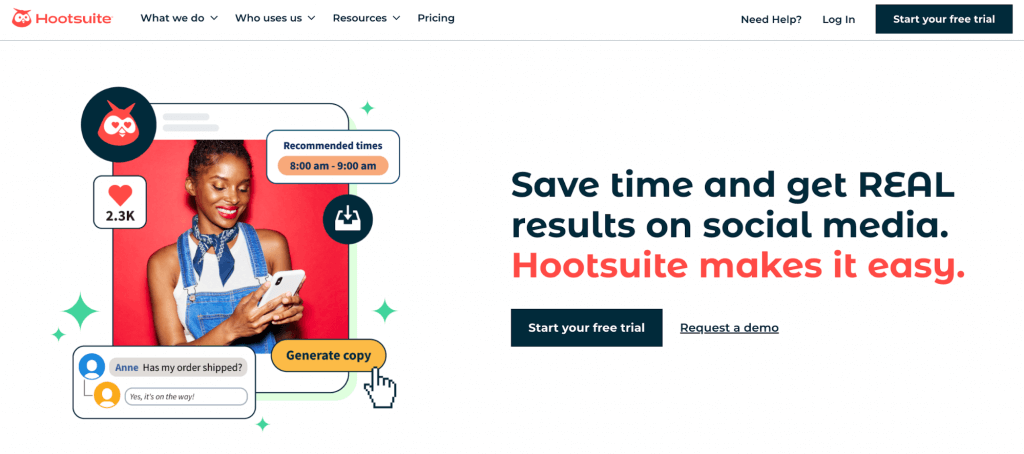 Hootsuite integrates with the most used social channels and with other marketing platforms and tools, such as Hubspot, Mailchimp, Shopify, or Canva. It's a great tool to assist you in streamlining and optimizing content distribution, and not only.
Drawback: Some users are dissatisfied with the platform's limited analytics, usage learning curve, and high price for small teams.
Pricing: Hootsuite offers a free trial for 30 days. Its Professional package starts at $99/per month for one user and 10 social accounts. If you find Hootsuite too pricey for you current needs, check out these Hootsuite alternatives.
Wrap Up
Ready to take your content out there and make an impact? Get your team excited as well by bringing them all together in one place and collaborating in an easy and intuitive way.
And if you're looking for help beyond your distribution efforts, also check out this article covering more general content marketing tools.