Choosing content marketing software for your team is no apple pie. I've been there. The market offers so many options, yet all you want as a content manager is smoother collaboration, faster marketing workflows and seamless social media scheduling.
To navigate this sea of software successfully, you simply need a starting point. And in this article, I offer exactly that.
I'll guide you through the key benefits and core features to look for and offer the eight best content marketing platforms to power up every aspect of your content team's work. Read on!
What is content marketing software?
Content marketing software is a category of digital tools designed to streamline and optimize the process of content creation, distribution, and analysis. These software solutions help you plan, create, and implement content strategies, leading to improved engagement, visibility, and conversions across online platforms.
Benefits of content marketing tools
I'm a fan of systemizing. Content management systems turn a creative mess into an efficient step-by-step routine that helps you get a hold of all your assets, manage creative teams, and build successful content solutions for your company.
So what are the real tangible benefits of content software?
Improved campaign visibility
With a content management tool, the team can see what's happening at each marketing campaign management stage. It helps you plan and execute it step-by-step and keep everyone aware. Bonus transparency points for assets' version history.
Simplified collaboration
Content teams value collaboration a lot, as it allows them to align every piece of content with brand objectives and ensure it works to benefit the business. Content marketing tools help provide real-time feedback and stay in touch for hot fixes and timely changes.
Efficient workflows
Content marketing tools force you to create intentional workflows if you didn't already have them. They also help you optimize and automate your content development pipeline. For instance, instead of pinging your colleagues in DMs, you can visualize the stages a piece of content goes through — say, research, draft, review, approval, — assign a responsible teammate to each stage and get automatic notifications when a task moves on. Content creation becomes a system rather than chaos.
Faster approval
The best tools for content marketing offer approval features. If you're ok approving your assets over email or Slack, you probably haven't tried built-in approval workflows with automated notifications. Much faster and less messy.
Key features to look for in a content marketing software
As always with such tools, consider your team's core issues, objectives, and the type of tasks your team usually encounters. However, here are five must-have features to look for in content marketing platforms:
Collaboration mode. Quality content requires the team to stay on the same page. Collaboration mode helps create stellar assets together and align them with the general content strategy.
Content calendar. Consistency is key: a content calendar helps your team stay on track with its content efforts and ensures there are no gaps in your content publishing.
Approval workflows. The most tedious part of content management is approving assets with team leads, legal, brand, client… Custom review and approval workflows push content down the pipeline x10 times faster.
Workflow automation. Content workflows benefit greatly from automation, whether it's moving tasks to the next assignee, sending an automatic follow-up email, or publishing a post after approval.
Version history. Never lose track of your final.final version and quickly revisit the previous iteration for insights. Saves tons of time and nerves.
The 8 best content marketing tools for power marketing
Content marketing has many processes involved, from ideation to gathering final analytics. Check out eight top content marketing tools that can help you optimize every aspect of your content marketing strategy.
1. Planable: best content marketing tool for collaboration and approval
I've tried multiple content marketing tools, and Planable remains my personal champion in social media marketing and seamless collaboration.
Planable does more than just social media: marketers can tackle any written content here, from posts to briefs, emails, and blogs. It's a very versatile content marketing platform with a user-friendly interface that doesn't raise questions.
Among the top features Planable offers to content marketers are:
Content calendar. A highly visual content calendar allows you to assess your content efforts at a glance. Create and schedule content, and Planable will automatically publish it to social media channels.
Approval workflows. Planable offers multiple types of approval: none, optional, required, or multi-level. Customize your workflow and get content approved in just a few clicks instead of tedious email chains.
Collaboration. The cornerstone of Planable is a collaborative working focused workspace where you can exchange feedback and work together with your colleagues in real-time as if you were sitting next to each other. Miscommunication shall not pass.
The only thing missing is built-in analytics. Besides that, Planable is an excellent choice for managing written and visual content across multiple channels.
Pricing
50 free posts with unlimited time and access first, payment second. Planable fits your marketing team like a glove with very flexible billing based on features and the number of workspaces and users. Tweak any metric you like — anytime. Try it out.

2. Asana: best for cross-functional teams
Asana is a general project management tool that can be a content marketing platform. It works best for cross-functional teams, as it helps build dependencies between tasks and present them all on a timeline to avoid bottlenecks. Useful for massive content campaigns with many people involved.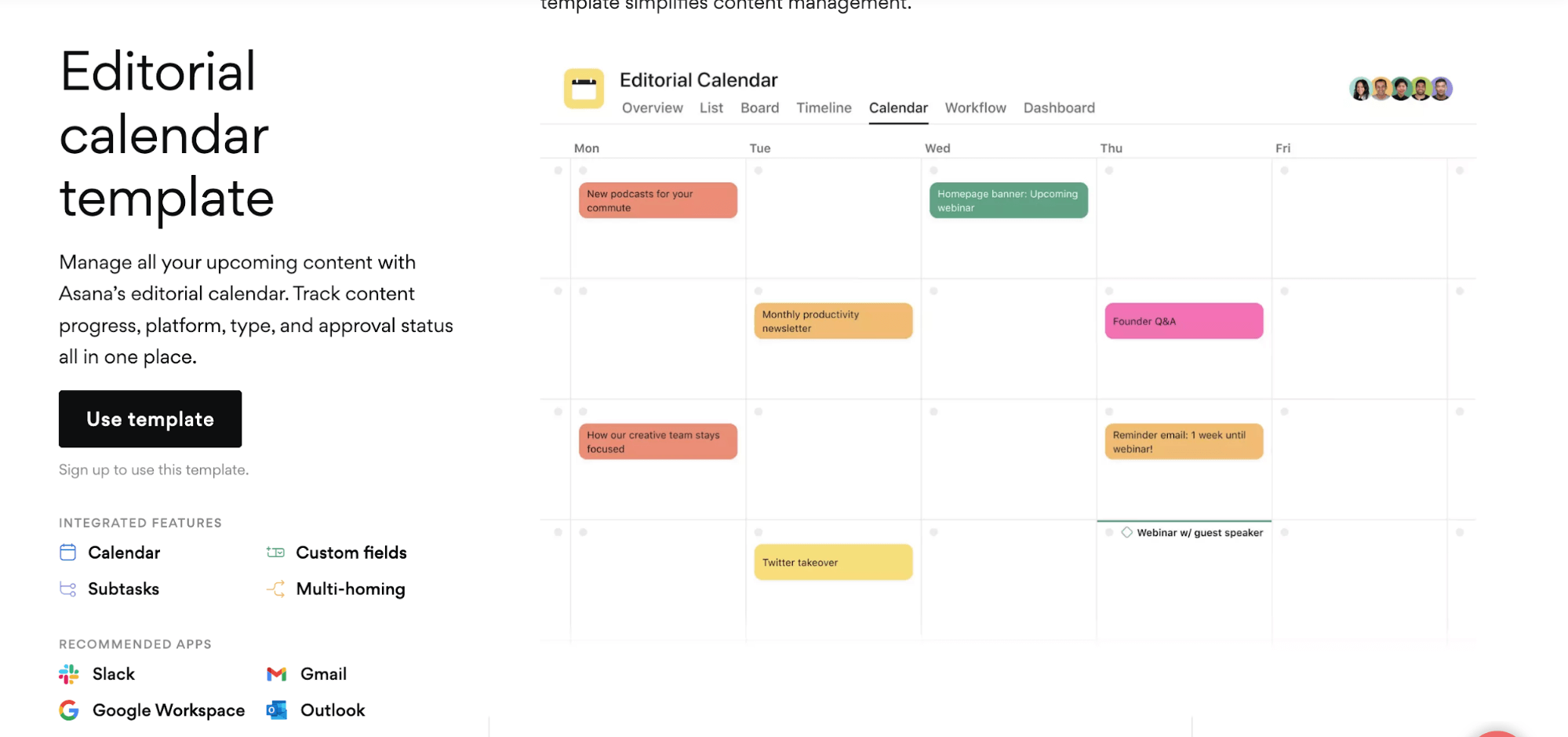 Here's what makes Asana stand out from other content marketing platforms:
Customizable templates. Asana has multiple templates for content creation and editorial calendars to hit the ground running fast and plan it efficiently. It comes with integrations, too.
Workflow builder. Teams can organize their content workflow using Asana's builder: from systemized requests turning into tasks to sending automated updates to integrated apps.
Asana doesn't have many specific content marketing features and can be a little confusing. However, it is a handy platform that can help content marketers streamline their processes.
Pricing
Asana's free version suits teams of up to 15 people. If you have a bigger team, you can choose from two paid plans starting at $10.99/month per user.
3. Google Drive: best for storing and sharing assets
Google Drive needs no introduction. A cloud-based Google Drive is a storage space for all your Google Docs, slides, pictures, video content, and whatnot. As for me, this is the most convenient way to organize and store content — provided that you devised a system beforehand and documented it well.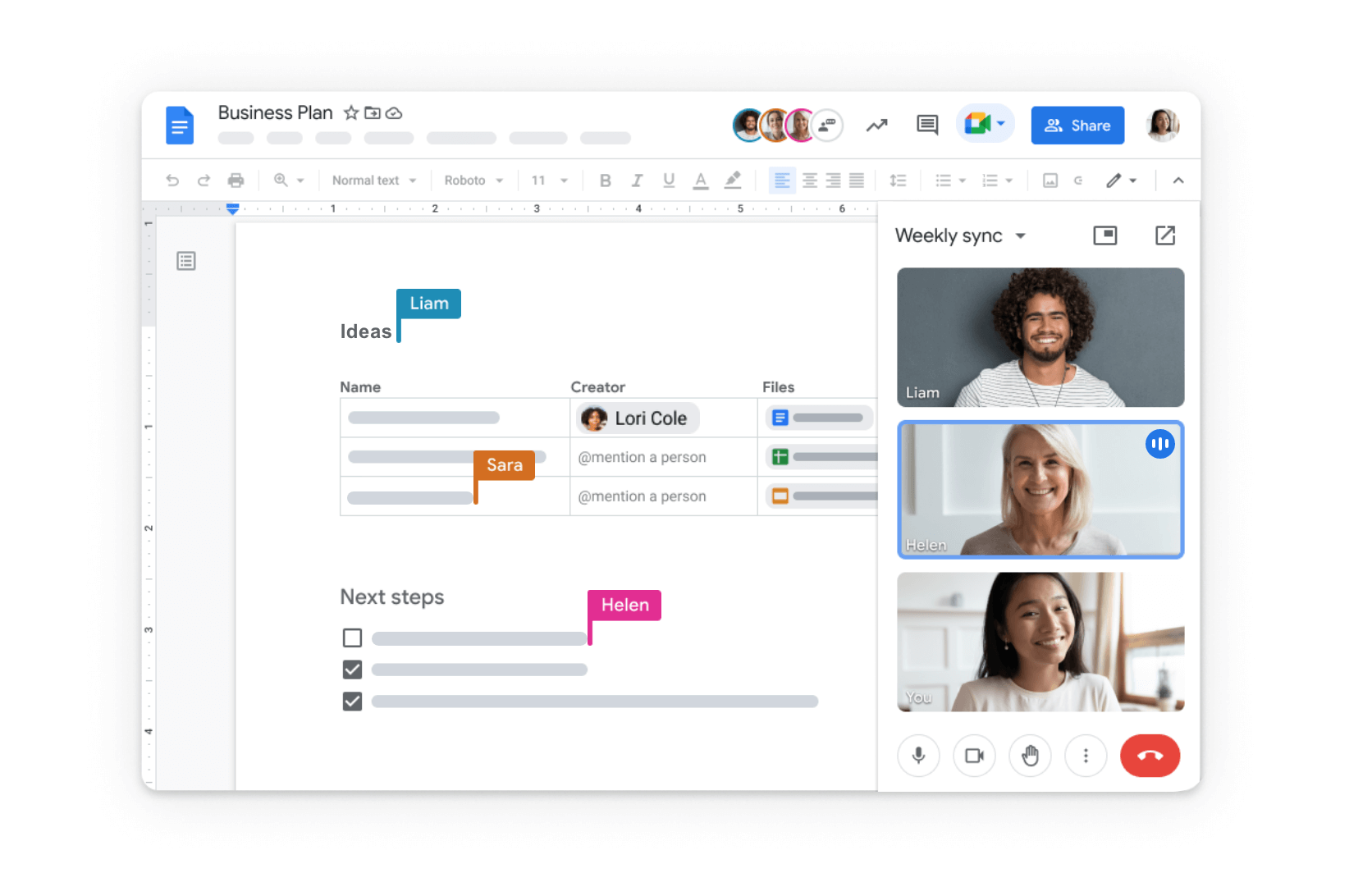 Two signature features of Google Drive are:
Collaboration. Drive integrates with Google Docs, Slides, and Sheets, where you can work on the same asset with your coworkers in real-time.
Content sharing. Create a shared workspace for your organization, organize content according to your system, and assign permissions — editor, commenter, or viewer — to each teammate.
However, Google Drive is not a multi-purpose content management tool — it helps you organize and store content but nothing else.
Pricing
Google Drive is free unless you want to go for a whole Google Workspace pack — then it begins at $6/month per user.
4. Airtable: best customizable project management tool
If you're a coder at heart and have a very clear idea of what you'd like to have in your content marketing platform, consider Airtable. It's a low-code platform that allows you to create your own app around your spreadsheets and database using templates and plugins.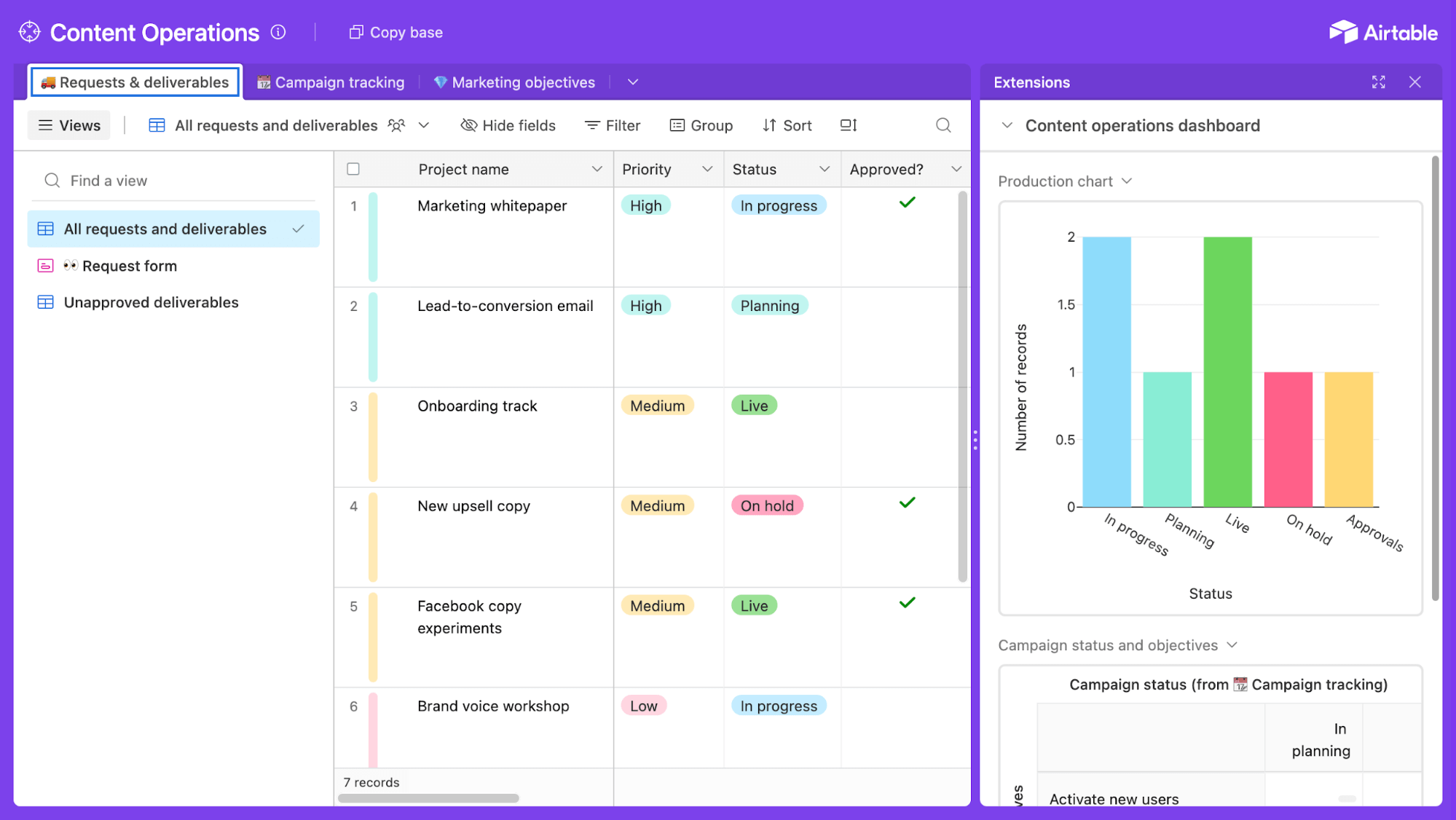 Among content marketing features you can include in your Airtable app are:
Manage tasks. Assign tasks, set deadlines, change statuses — a classic task tracker for content deliverables. Or not so classic: you're free to customize it according to your workflow and content marketing tasks.
Analytics tools. Airtable offers integrations with Instagram, Facebook, Linkedin, and Tumblr. By plugging these extensions into your app, you can track the results of your content marketing campaign on social media.
Airtable's pro can easily become a con: getting your app up and running is not a matter of a few clicks. Despite its robust functionality, Airtable is definitely not an out-of-the-box solution.
Pricing
You can use Airtable for free or choose out of three paid plans starting at $10/month.
5. Hubspot: best for big digital marketing teams
Hubspot is a whole ecosystem. It has solutions for any marketing request: from lead nurturing and tracking marketing campaigns to website building and blogging. You can even use it for Sales, as all products run on top of Hubspot's CRM.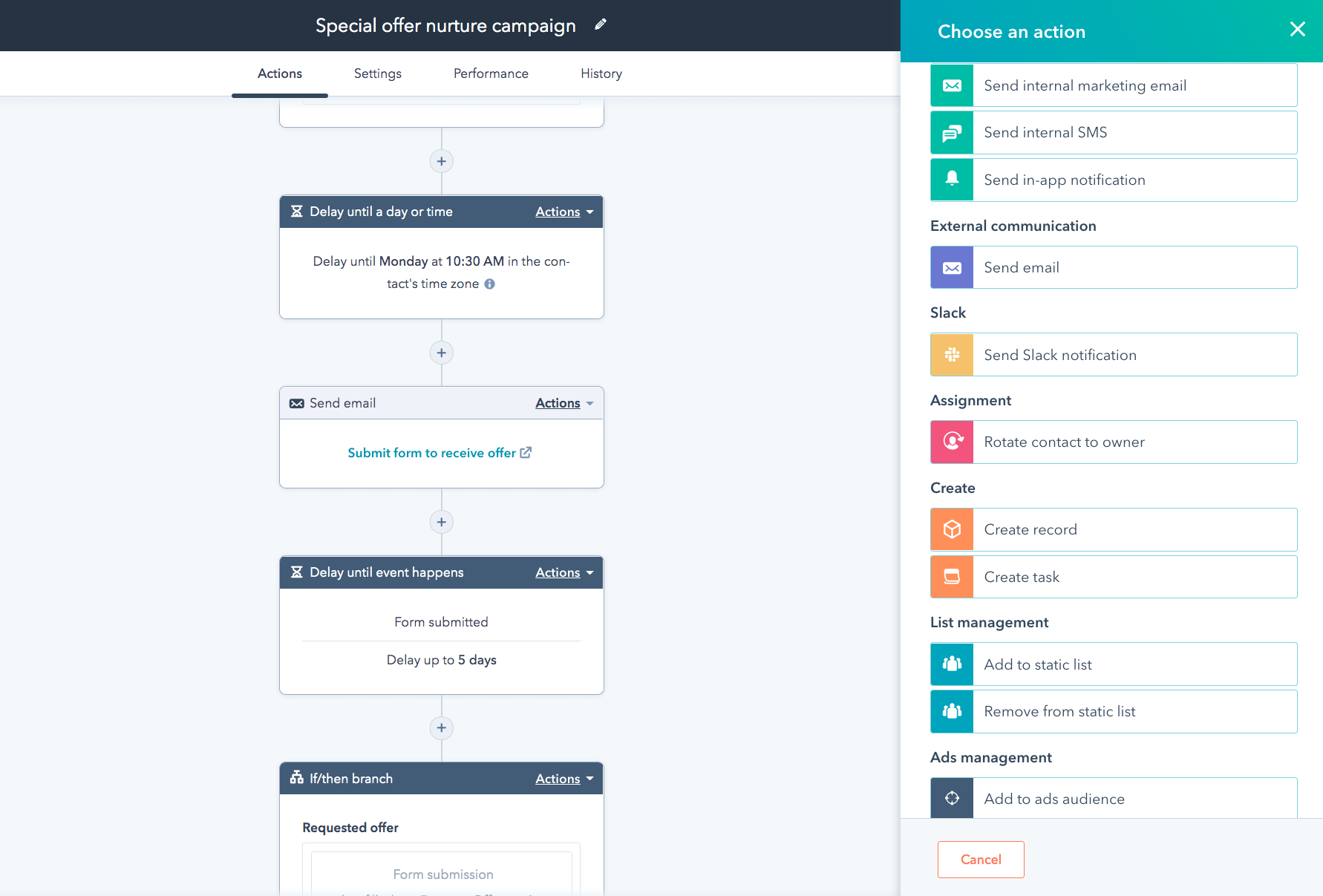 Some cool features:
Workflow automation. Hubspot offers many marketing automation options: for instance, it can send follow-up emails to your leads or transfer data from a form to your CRM.
Advanced analytics. You can connect your Google Analytics account to Hubspot's website. Hubspot helps you understand your traffic better by tracking site metrics and gathering campaign results.
Hubspot is definitely a multitool, but this also makes it confusing. It's a solution for advanced marketing teams with big stakes and extensive requirements.
Pricing
Hubspot offers a free plan and several paid plans starting at $20/month. Pricing is also a bit confusing with multiple products in the mix.
6. Buffer: best for affordable social media management
Buffer is a social media content planning tool that helps teams plan and execute their social strategy. Buffer concentrates on organic audience growth, providing insights into user behavior. It also offers basic collaboration tools and auto-posting to all major social media platforms.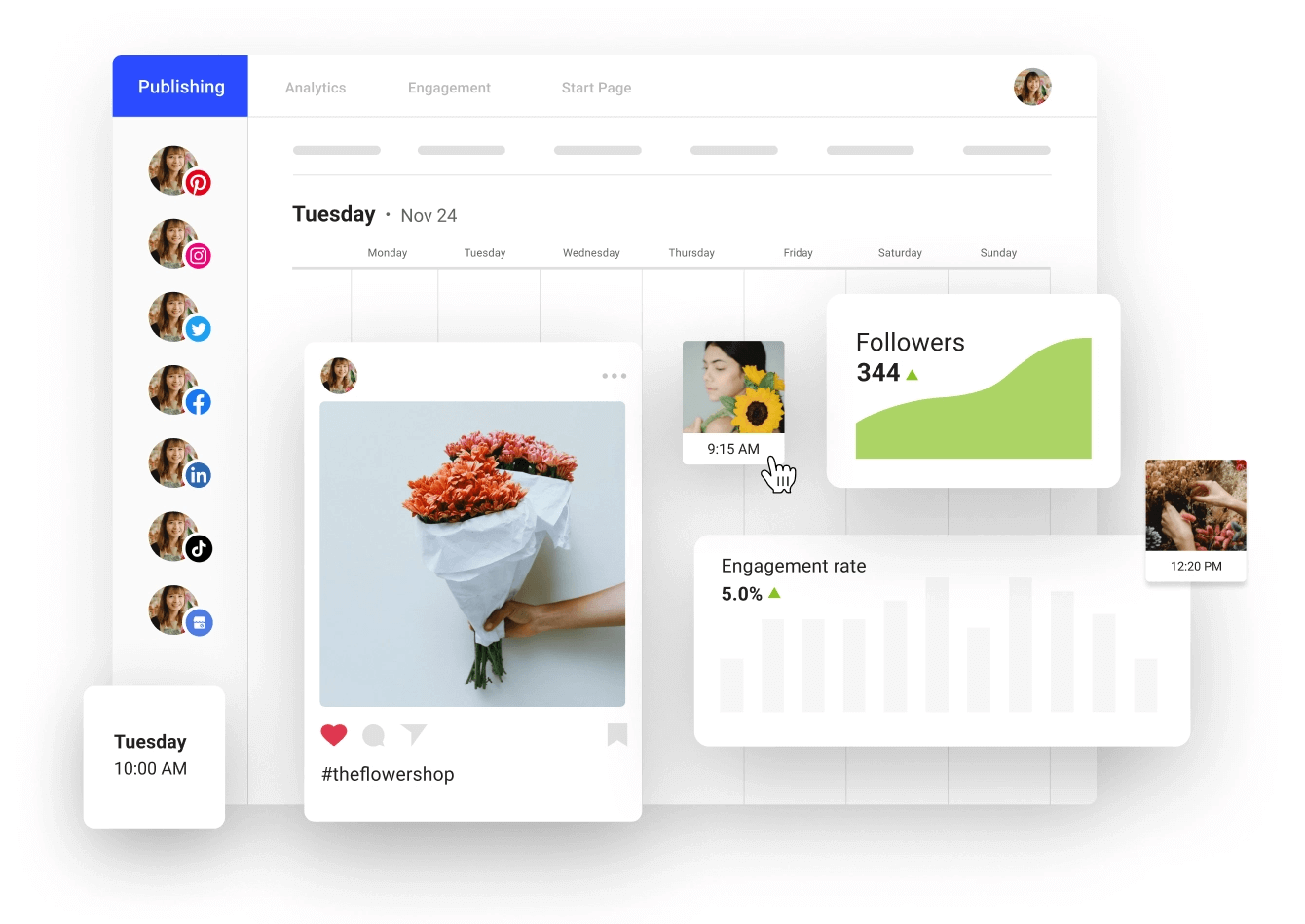 A couple of key features of Buffer:
Content analytics. The tool analyzes your content and the output to offer the best days and times to publish, which channels you should prioritize, and how often you should post. It also helps content research, offering potential topics.
Buffer extension. My personal favorite feature. The extension allows you to save content ideas online wherever you see them and gather them in Buffer's library to iterate later.
Buffer ticks most boxes for a social media content planning tool, but I didn't enjoy using it. The analytics felt slightly shallow, and I didn't dig the interface.
But that's a matter of taste. What remains is that Buffer is a good and affordable option for streamlining social media efforts. If you've already tried this solution and are looking for other options, check these Buffer alternatives.
Pricing
Buffer bills based on the number of channels and features. The cheapest plan costs $6/month per channel. There's also a free plan for up to 3 channels with essential planning and publishing.
7. Surfer SEO: best for SEO-focused content
Surfer SEO is definitely among the best content marketing tools for SEO-driven content creation. It does keyword research, helps drive organic traffic, provides tips on improving the ranking, and makes sure your content pleases search engines.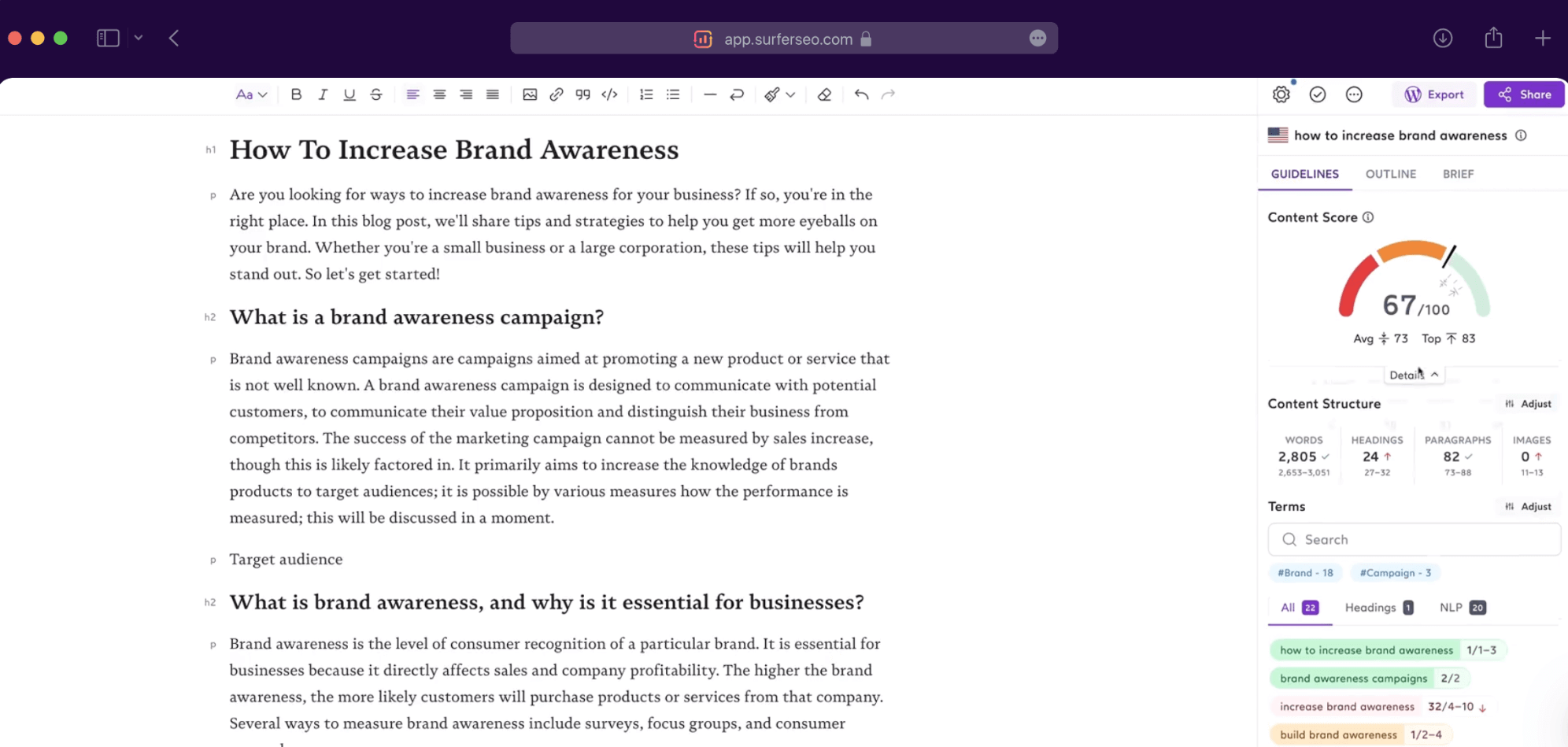 Among the top content marketing features are:
Content editor. My favorite thing — in fact, this article is written using it. The content editor helps you craft briefs with relevant keywords to attract more web traffic and create the best-performing content. It also has a WordPress plugin to export the ready-to-go text.
Add-ons. Like SEO Audit for your existing content or a free Keyword Surfer extension that helps you source keywords to master the Google Search Console and rank higher.
Although Surfer SEO doesn't offer features besides SEO-related ones, it is of great help for content strategy. The tool helps you automate keyword research and create briefs to hit your target audience — and you can always reuse your measured-out blog topics on social media.
Pricing
Some extensions, like Keyword Surfer and AI outline generator, are free. For extended functionality, you can choose three paid plans starting at $69/month.
8. Trello: best content management tool for small teams
Trello is an excellent choice for a small team of content marketers with status-based content marketing workflows. It's a Kanban board that helps you track the progress of tasks like writing a blog post, creating landing pages, or other content marketing campaigns with definitive statuses.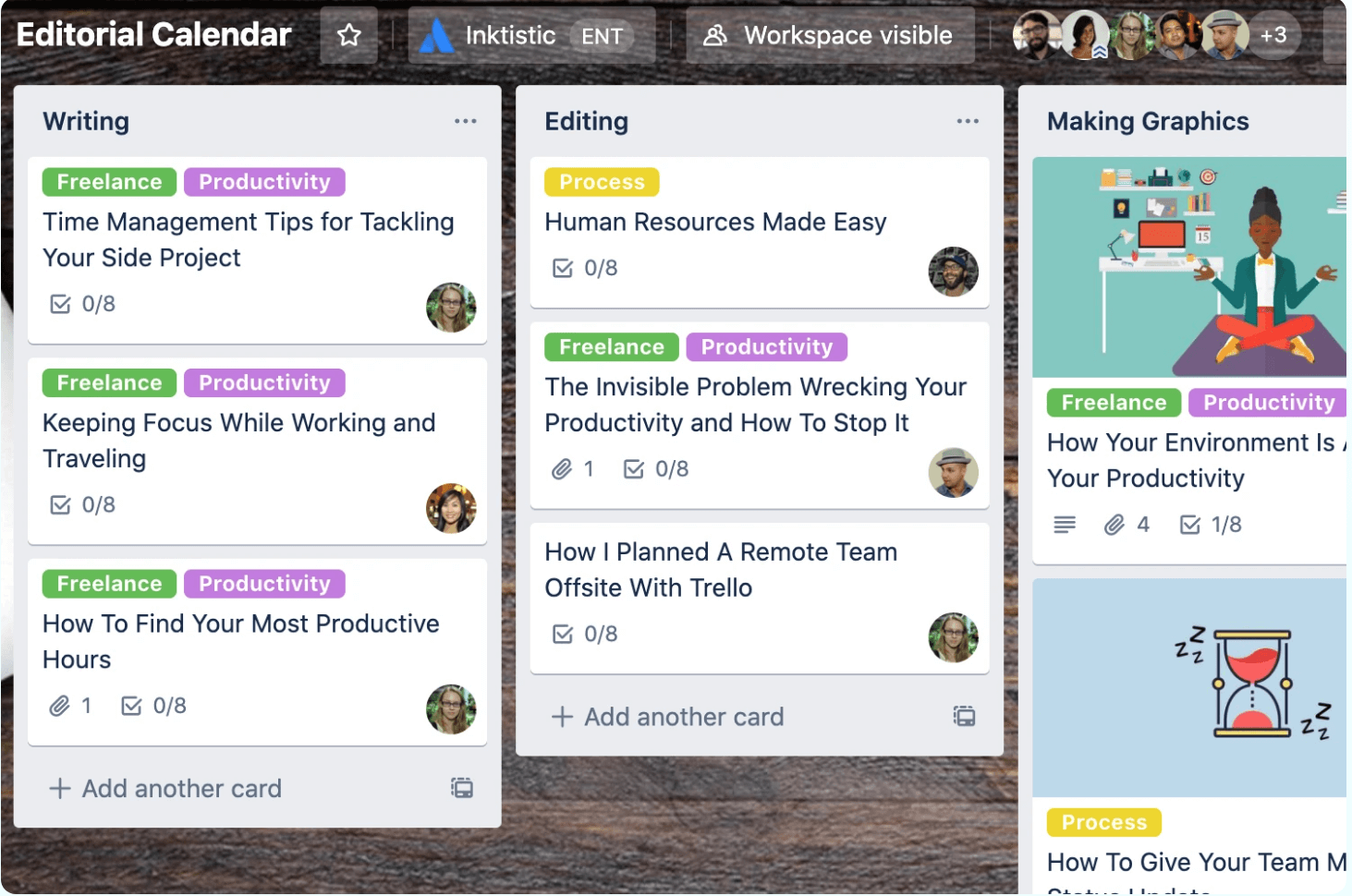 Here are Trello's features that help your marketing team create content:
Task management. Columns are statuses, cards are tasks. Assign cards to your teammates, set deadlines, create to-do lists, attach files, and leave comments.
Butler automation. No-code automation based on rules helps you automatically move tasks forward, send notifications to messengers, add people on the go, and many more — all just in a few clicks.
Trello is not a content-specific tool, so it doesn't offer automatic publishing or a content calendar per se. However, it works great for content writing and creative project management.
Pricing
Trello has a free version that is fully capable. If you want to add automation and some extras, you have three paid plans starting at $5/month.
Content marketing tools FAQs
What content marketing software publishes social media posts?
Planable — fast, easy, and 100% haste-free content marketing strategy execution guaranteed. Schedule and automatically publish posts to all major social media platforms.
Which tool is best for digital marketing?
Planable helps you manage the full content marketing cycle: from creating marketing assets to approving and distributing them.