I looove everything about Instagram and besides Reddit it's basically the only one social platform I'm visiting frequently. It's fun, refreshing, engaging and I feel up to date with everything that's happening in the world, my friends, and favorite brands or influencers.
Over the past few months, I feel like I've rediscovered Instagram for myself – dozens of features I've never used before are totally essential to me now. I'm on my way to develop my personal brand on social media and I'm here to use any possible tools, features, and techniques to actually do that.
Savannah Boysen at Tyme has mentioned that "our traffic from Instagram has increased 44% since implementing shopping on Instagram. It's a clean and simple way to show your product in a lifestyle setting, without impacting the user experience". Clearly, Instagram is a great way to get more sales.
That's why I think it's a good time to talk about all the hidden and new Instagram features you've probably missed (or possibly never seen).

Instagram Stories
Ok, we have a loooot to talk about Instagram Stories, their features and latest updates this year. It's been one of the biggest years for them. Every day, there are more than 300 million people using Instagram Stories where you can create photo and video content available only 24 hours after it's published.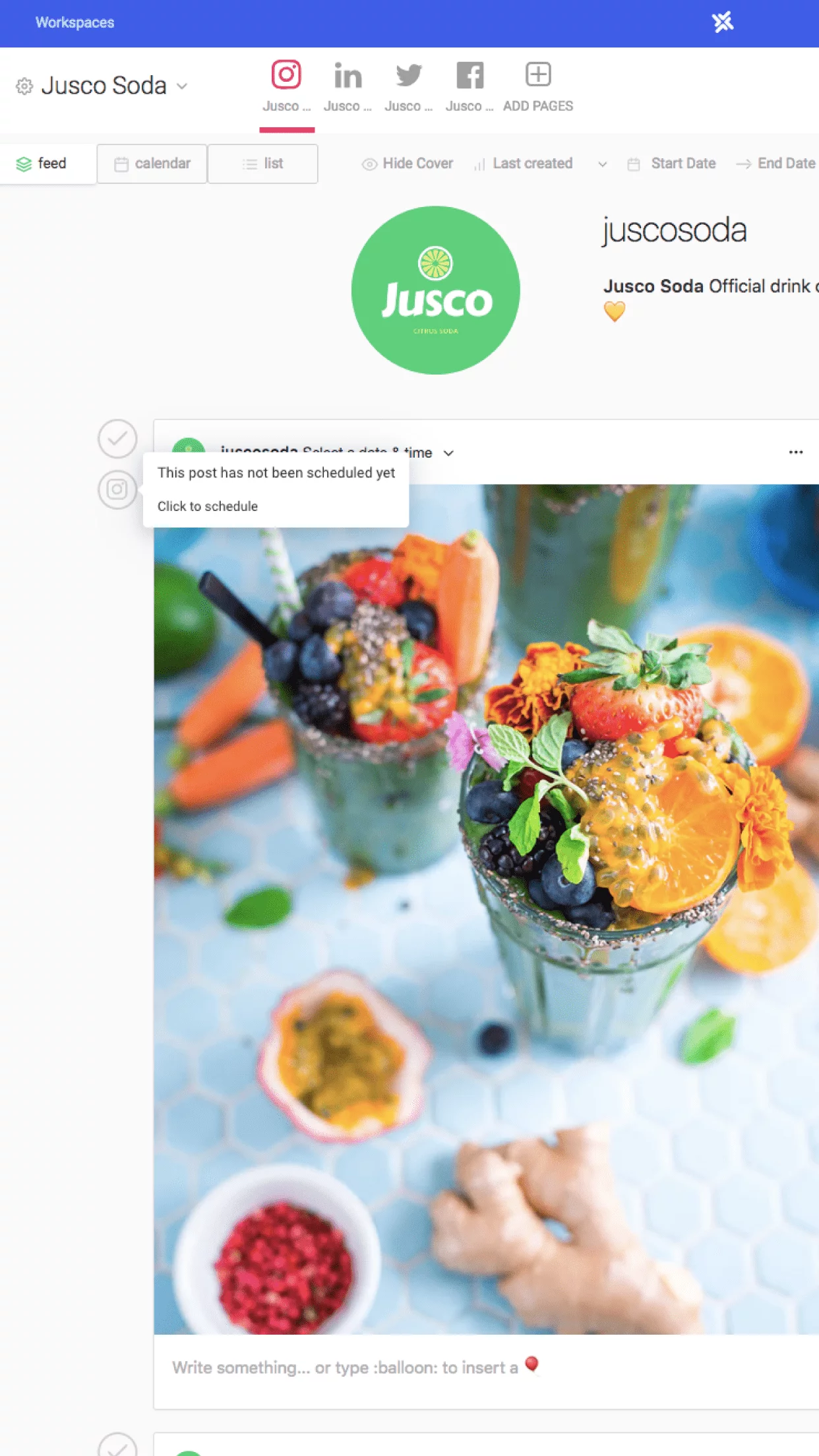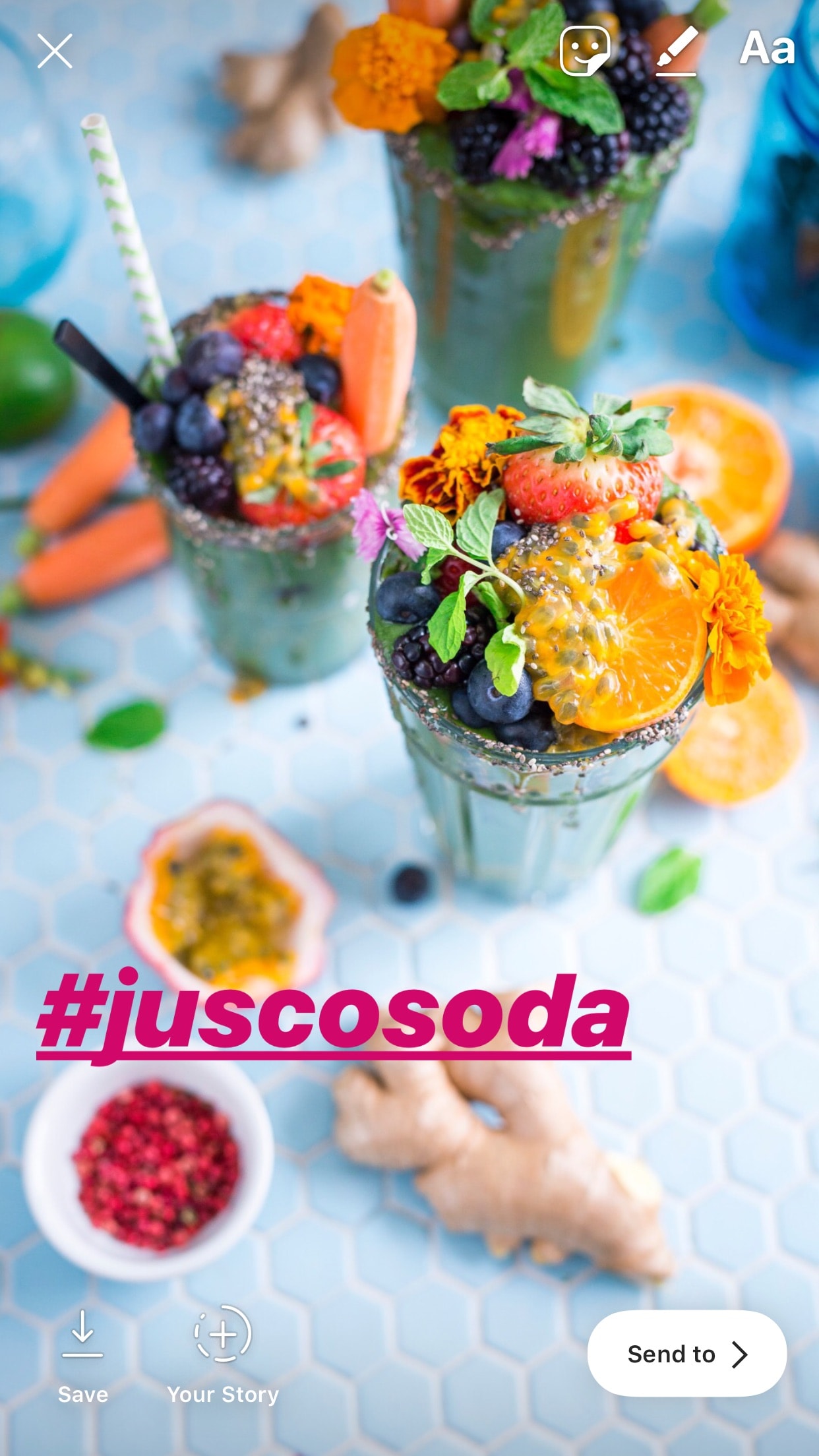 Even better, there are millions of business profiles that receive a direct message for one in five Stories. And if it's a lead, then there's definitely a chance to convert them to a customer. It has tons of benefits and there are plenty of Instagram story ideas to help you get started.
Open Instagram, then swipe left or tap in the top left corner:

There are a few Instagram Stories requirements & limitations that you need to follow, including:
Video recording is up to 15 seconds
Image uploading is up to 10 seconds
Add unlimited stories to your account
Instagram stories dimensions: 1080px by 1920px
Also, you can track the total number of views and see exactly who viewed your content—highly useful in other marketing techniques that we'll speak later about.
Emoji Slider Polls
This is Instagram's new way of putting emojis and interacting with your customers & fans when using Instagram Stories. It was introduced this May and it's one of my favorite new things. Emoji slider allows you to ask questions and find out how your fans feel about different topics such as – your latest product available in the new collection or how much they've enjoyed a story.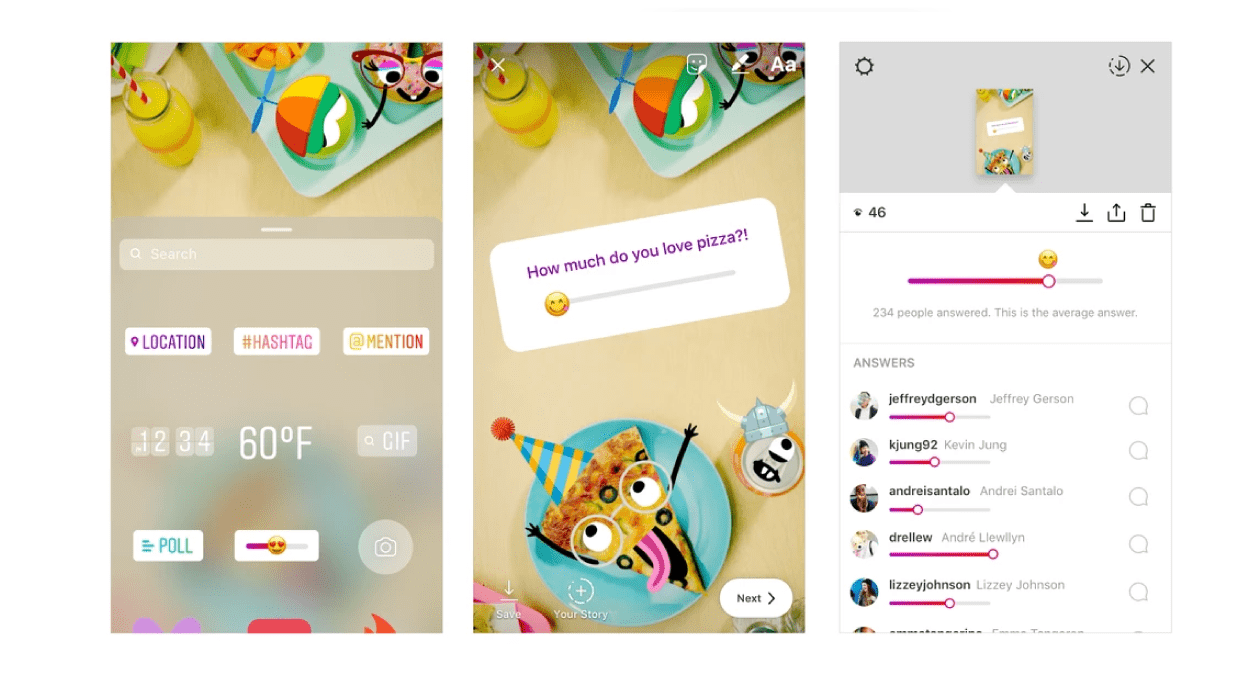 It will add a new layer of emotional connection with your audience which makes it priceless.
Bulk Upload to Stories
I know how frustrating and how much time it takes to upload each story separately all the time.  When traveling, had a great day, or simply have all the content planned out, it becomes exhausting. This year Instagram introduced a new way to upload photos and videos to Stories in bulk. It's a huuuuge time-saver for businesses and social media managers. Users can select up to 10 media files at a time.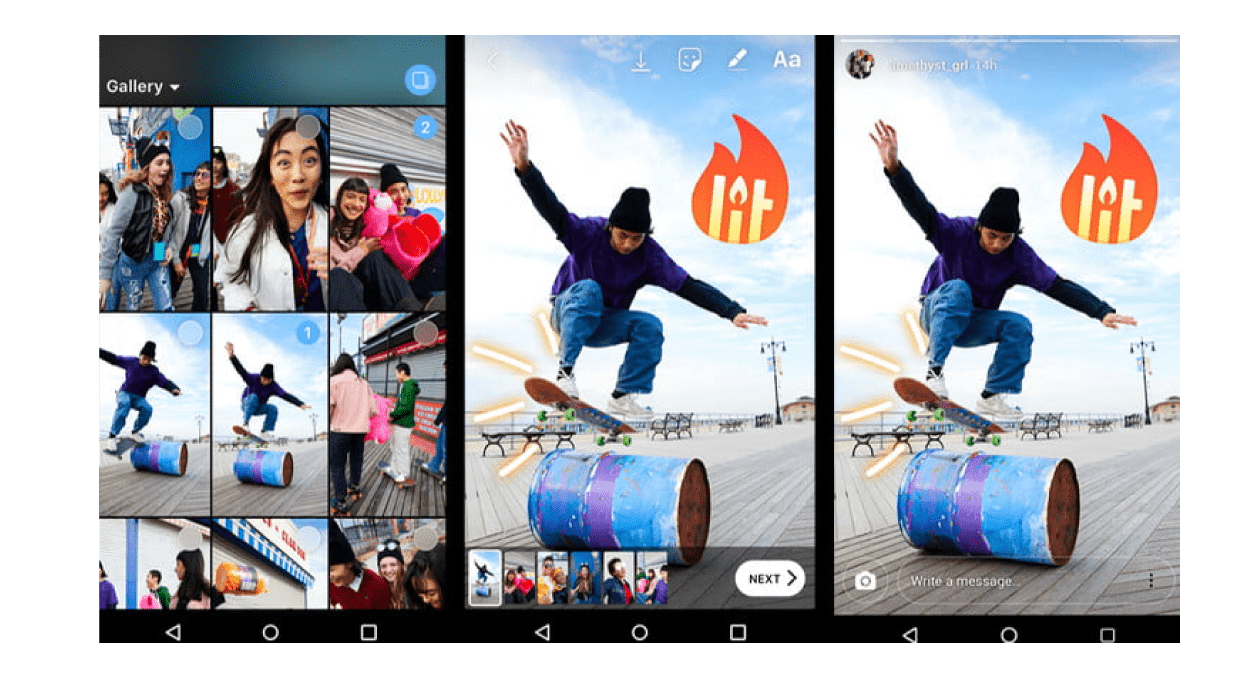 It's still not available for everyone, but if you see a multiple images icon when selecting photos it means that you can upload multiple posts. Awesome, huh?
Rewind tool
Waaaaait a sec. Can I see that again? That's basically Rewind Tool in a nutshell. Use it for many things you do at home, office, outdoor, parties or any activities in your company. It's usually either an epic situation, a funny one, or a cutesy one. You know best when and how it would work, but here are some examples:
Throw a bottle of water or any object for that matter
Dancing / goofing around (works great for employee advocacy)
Jumping or enjoying any sport
Even walking would work great with the right scenery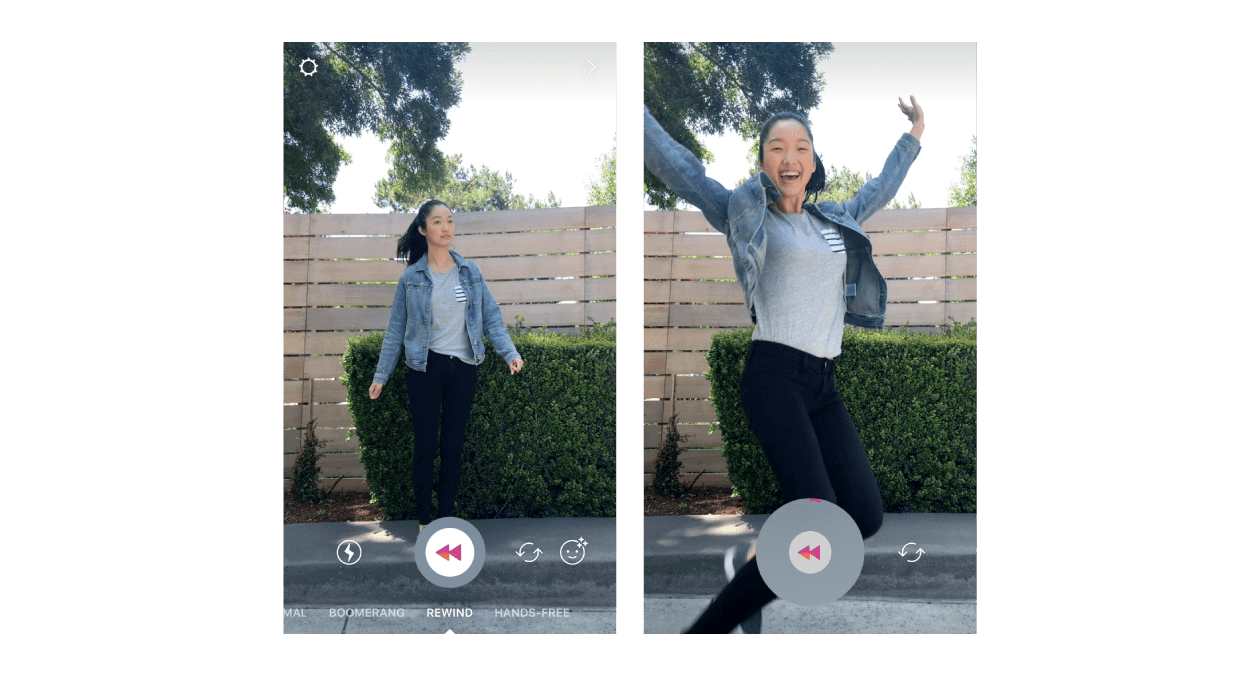 Open Instagram Stories, then tap the Rewind button and see the world in a new perspective on your screen.
New Superzoom Effects for Instagram Stories
Double update right here, Superzoom was officially launched earlier this year and allowed brands & creators to add a zoom with a funny, dramatic, beautiful etc. visual effect. Now, there are 10 in total, these include
Hearts – flying around
Paparazzi –  camera flashes
Fire – burning on your screen
Nope – an [X] sticker right in the center
Bummer – falling leaves in a dark grey scale for tragedy
Surprise – drawing zoom filter
TV Programme – sparkles
Beats – pumping
Dramatic – sad zoom
Bounce – similar to Beats, screen pumping and zooming slowly.
Add Soundtracks to Your Instagram Stories
With the new launch of music sticker in Stories, brands and creators can now easily add music directly on their content without using any other tools and select it via Spotify. When creating a post, add the "Music Sticker" that you'll find in the options menu, and then select the song.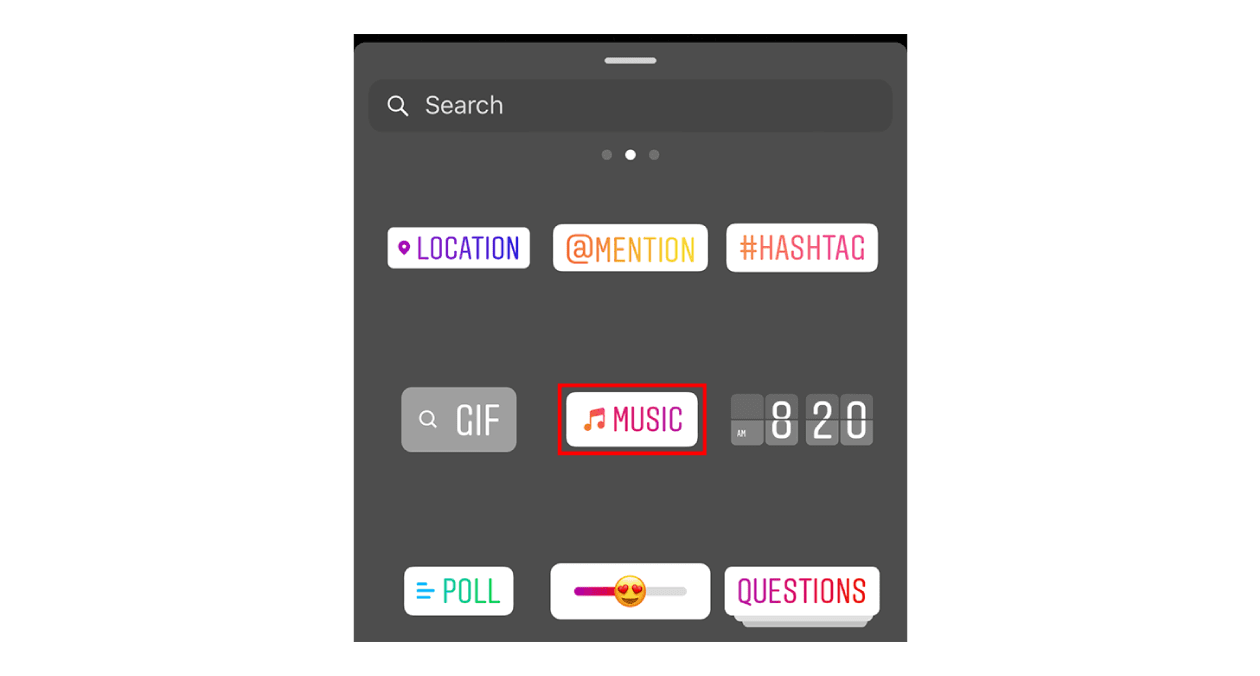 Questions Sticker
A new way to interact with your customers & audience on Instagram Stories is by using the questions stickers. It allows your fans to submit answers on your questions. It's a fun and new way to start conversations and be closer to your fan audience.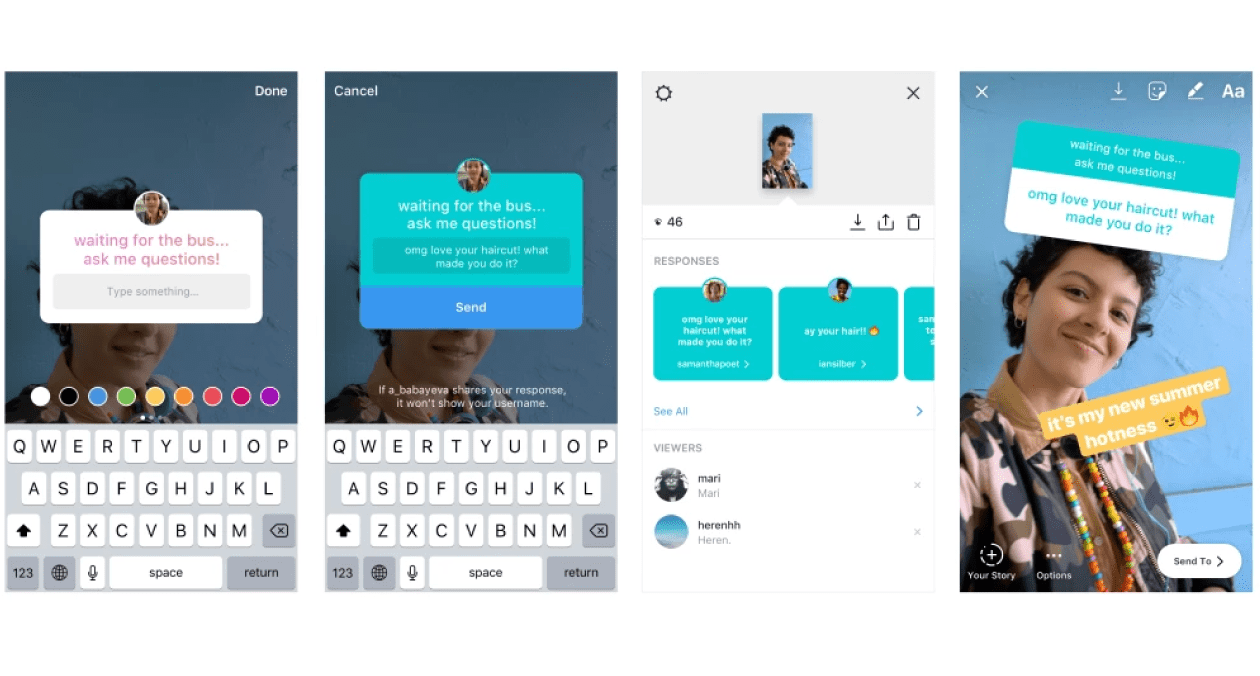 Add a question by selecting the questions sticker when creating a story after taking a photo or video. Type whatever you want to ask and then publish it. Your fans can see the story, tap on the question, submit their reply and reply as many times as they want. You can find your fans' responses in your story viewers list.
Share feed posts in Stories
It's incredibly hard to build an Instagram account only with organic content, sometimes you feel the urge and need to share posts exactly the same way you do on Facebook, Twitter, LinkedIn or Pinterest, right? Oh, that's awesome because now you can use the share feed posts in Stories feature. It allows sharing your latest post in Stories to get more attention to it, convert more customers and drive sales to your web page.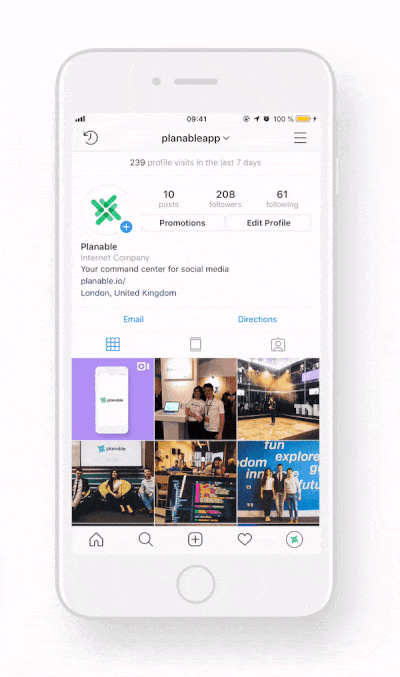 Brands and celebrities are already using it to tease their audience with the latest product release.
Shop directly from Instagram Stories
Shoppable tags will allow businesses to drive more sales to their products and get awareness with their photos. It's the direction Instagram is moving in right now. Let's say that your brand has a collection of shoes. Add photos to your Stories, then tag the shoes so that users can easily click directly there and go to the product page.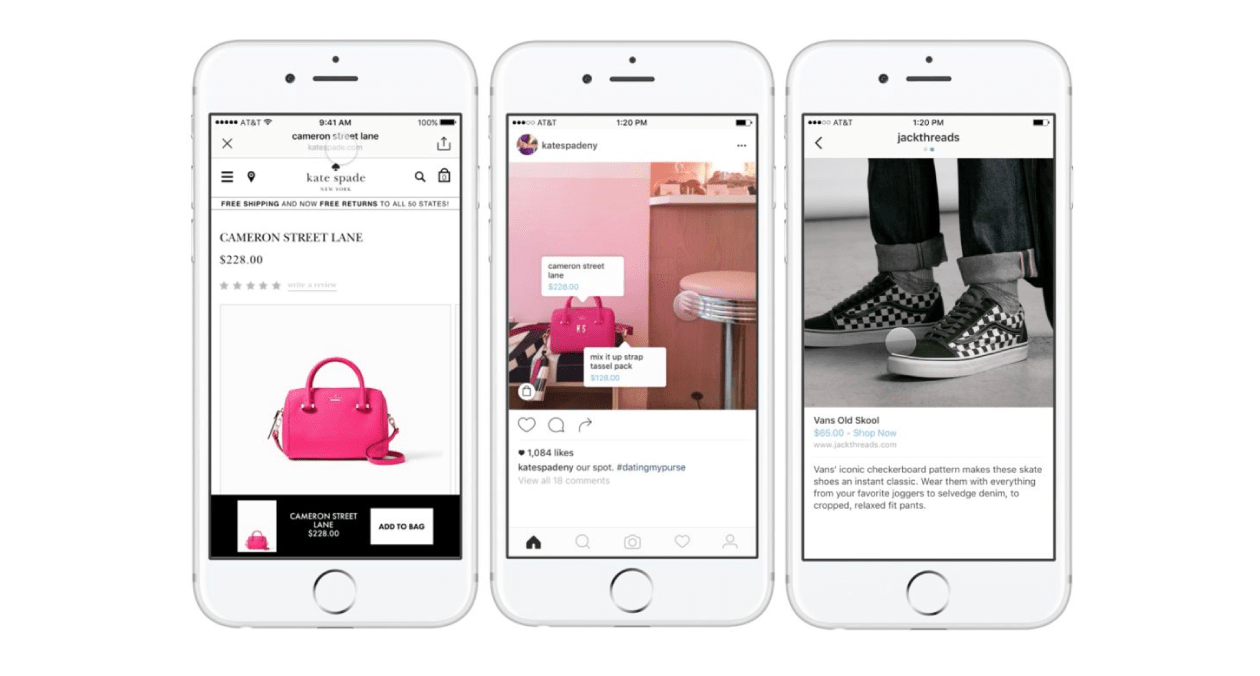 With this feature coming to Instagram Stories you'll be able to feature more & more live content from your customers by sharing their pictures and adding the link to the product. It will give even more credibility of buying this specific product for a prospect. Testing for Shoppable tags in stories started in June 2018 and it's currently available in 46 countries only.
Manage Multiple Instagram Accounts
A long time ago Instagram rolled out a feature that allows its users to switch between multiple Instagram accounts from the app. Just in case you forgot that I wanted to make sure you know about this as it allows social media manages to be 10x more productive and manage all of their clients from the Instagram app directly. Or maybe you're working at Nike and you have multiple brands, shoes and workout gear on separate accounts. Cases like these made Instagram make it easier for social media managers to simply switch within the app.

There's a catch though. At the moment you can add only up to 5 Instagram accounts at a time.
Active Status Tracker
One more. This June Instagram users have seen another new feature – a green dot indicating which of their contacts are active in the app similarly to Facebook Messenger. You can easily see that when browsing users in the Direct Message app. Also, this feature is available when you're sharing a post with any of your friends, teammates or fans.
IGTV
It's like Youtube but in Instagram and with a new format – naturally meant and built for mobile. Instagram TV is the biggest feature Instagram dropped this year. It's a space in which users can view and share videos that are up to one hour long but only in vertical format.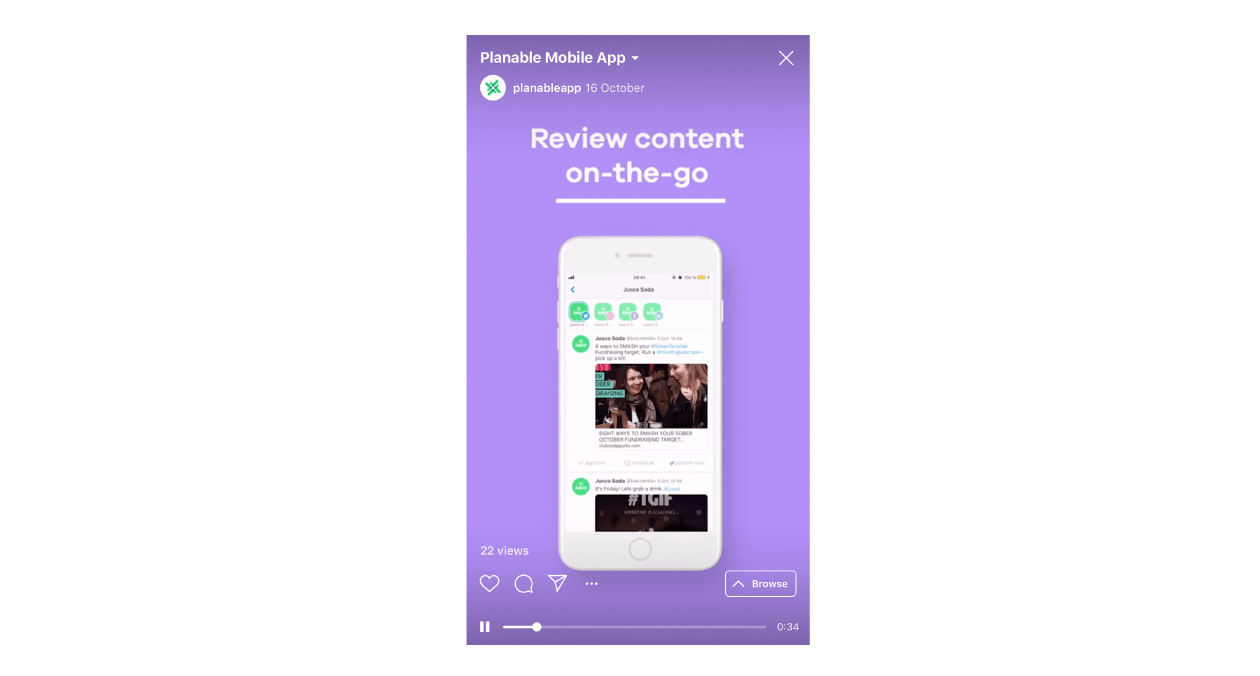 Video already takes 80% of content marketing trends today and most businesses are focusing on this fastest growing type of content.
Hyperlink Username & Hashtags in Account Bio
Remember when you used to add hashtags to your account bio but nothing actually happened? This changed. A few weeks ago Instagram introduced their latest update allowing users to hyperlink when you type @ username or # hashtag.
It's a great opportunity to promote your branded hashtags and give your users the opportunity to follow them and make sure they're constantly up to date with your brand. Also, it will help you easier promote multiple Instagram accounts if you have them, like in the Nike case we discussed earlier.
Verify Your Instagram Profile
Yes, everyone can apply now for the Instagram Verified Badge and it's a great chance to build more trust from your fans as a verified profile is more reliable. Users are more likely to follow verified profiles. Becoming verified could have a huge impact on your business by improving credibility.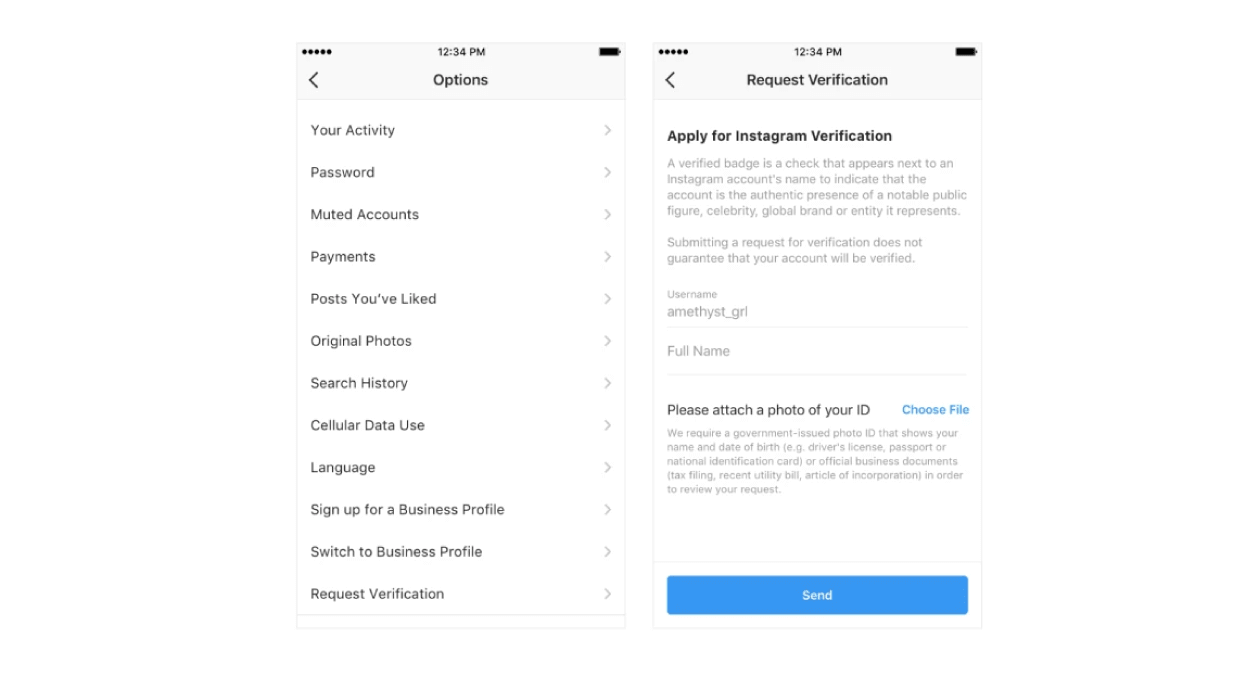 You're qualified for the blue badge if you're a notable public figure, celebrity, global brand or entity. That's easy to request, just go to "Settings" and then "Request verification". Afterwards, add all the mandatory docs and wait for a message from the Instagram team. They say that they will evaluate your account based on "authenticity, uniqueness, completeness, and notability". It means that an authentic account is represented by a real person or registered business.
As Instagram says, they look at various factors when evaluating if Instagram accounts are in public interest and meet their verification criteria. Here they are:
Authentic: Your account must represent a real person, registered business or entity.
Unique: Your account must be the unique presence of the person or business it represents. Only one account per person or business may be verified, with exceptions for language-specific accounts. Instagram does not verify general interest accounts (example: @puppymemes).
Complete: Your account must be public and have a bio, profile photo, and at least one post. Your profile can't contain "add me" links to other social media services.
Notable: Your account must represent a well-known, highly searched for person, brand or entity. Instagram reviews accounts that are featured in multiple news sources, and we don't consider paid or promotional content as sources for review.
Algorithm Updates
This is the highlight of this piece that I wanted to finish with. Unfortunately, we'll never find out what's Instagram's exact algorithm formula and beat it but they mentioned this year that they want users to see more posts from their friends and family. Less posts from ads. According to Instagram, users are now seeing family and friends posts almost 90% of the time.
What Matters Most to Instagram Algorithm?
User engagement matters the most and is ultimately the key to the success of your Instagram profile. If your users engage with the content regularly, your account is more likely to pop up in the feed more often
Users' interests are prioritizing what they will see in the feed – choose them wisely. It's also based on the accounts you follow, content you like, and what profiles you're engaging with.
Recent posts are more visible for the algorithm
What does it mean exactly for us – content creators?
You already heard it millions of times and there's no need for me to explain why "creating good content" matters now more than ever. However, there are few tricks available to hack the algorithm.
Instagram images with mostly blue overtones generate 25% more likes
Create a visually appealing profile as 93 of consumers consider this before purchasing
Plain text is dead – make it beautiful and visual for your customers
Add mentions in your Instagram captions, as they generate 56% more engagement
Add geotag to your Instagram content, it drives 79% higher engagement.
Remember. Engagement is key.

Vlad Calus
Dropped out of college, moved to another country with 2 of my friends and built Planable (Techstars London '17), social media collaboration platform, at 19 y. o. Forbes 30 under 30