Are you familiar with social media advocacy? I've seen it emerged as a powerful marketing strategy for any company seeking brand awareness, transparency, and customer trust.
But how can a social media advocate benefit your organization? Surprisingly, their influence can make a world of difference.
Buckle up, in this article I'll cover:
Let's roll!
What is social media advocacy?
Social media advocacy is the social media brand marketing done by people other than the brand itself. It can be employees, partners, customers, influencers, or anyone you can strategically include to support your campaign on social media.
A social media advocacy strategy helps you recruit active fans and employees to leverage their accounts and voice to advertise your brand. It's like digital word of mouth but more targeted.
Why is a social media advocacy strategy important?
Social media advocacy might sound excessive: why would you need an advocate if you have a solid marketing plan and an in-house team?
However, in 2023, social media users seek authenticity instead of glossy marketized pictures. And that's what an external thought leader can provide.
Builds trust in your brand or company
One of the 2023 trends is trust. Potential customers are more likely to give a brand their vote of confidence and convert if the communication comes from someone other than you as a brand.
Supporting your brand through advocates builds up your reputation and humanizes your marketing efforts.
Generates brand awareness
Social media has insane visibility potential. Brand advocates help you spread awareness by tapping into different clusters of people.
Say, a brand has 10K followers on Instagram. The influencer advocating your brand has another 10K. That's 20K potential customers who'll see your product and might spread the word.
Improves customer and employee loyalty
Community is a widely overused term. Yet, it bears significance for companies who want to build long-term relationships with their customers. If your employees and customers are willingly vouching for your brand, doesn't it make it legit? This support converts karma and sales, bringing more people in and retaining the exciting ones.
Creates new types of social media content
Influencer marketing wasn't a thing five years ago; same for employee-generated content. But here we are now: influencers are a solid part of most marketing campaigns, and employee advocacy is a hot topic on LinkedIn. Advocacy creates a new content layer, making the social media landscape even more diverse.
Types of social media advocacy
Ok, advocating on social media sounds useful. Now, let's investigate what social media advocacy can look like and what your advocates might do to help your brand's reputation.
Giving reviews and feedback
The most straightforward way of supporting a brand is through positive reviews. It can be your employees writing nice things on Glassdoor or LinkedIn, or satisfied customers leaving testimonials on their IG Stories.
View this post on Instagram
An advocate encourages potential customers to try the product; positive reviews build confidence that this is the right choice.
Sharing brand-related content
Advocates actively shape the brand's online presence. Their company-related content increases visibility and may influence public opinion about products or services.
One of the classic examples is wearing the company's merchandise: you think it's just an Instagram post, but it's free publicity, as long as your employees wear a t-shirt with your logo.
Showcasing how the product or service works
Social media allows brands to broadcast every product detail like no traditional media could.
Check out how many hauls and unpacking videos are on TikTok — that's an excellent way for brand advocates to transmit their positive experiences and answer questions about the service or product.
Creating user-generated content
UGC is an incredibly powerful tool because of its transparency and authenticity: in commerce, people believe other customers first.
When your users are willing to create content for you and distribute it on social media channels, make no mistake — this is the purest form advocacy.
Engaging with other customers, fans, and followers
Customers like it when a company is actively involved in the conversation. Now, imagine if the answers come from real people willing to share personal experiences.
A personal touch speaks much louder than another promo: advocates can leave comments, participate in polls, and overall engage with others. That's how a community is born.
Launching partner collaborations
Nobody said advocacy efforts should only be organic-sourced. Influencers, opinion leaders, bloggers — people with followers who value their opinions can become your advocates. Campaigns supported by brands can show products in a positive light and help tap into specific audiences. One option for showcasing these collaborations is to use collaborative posts on Instagram.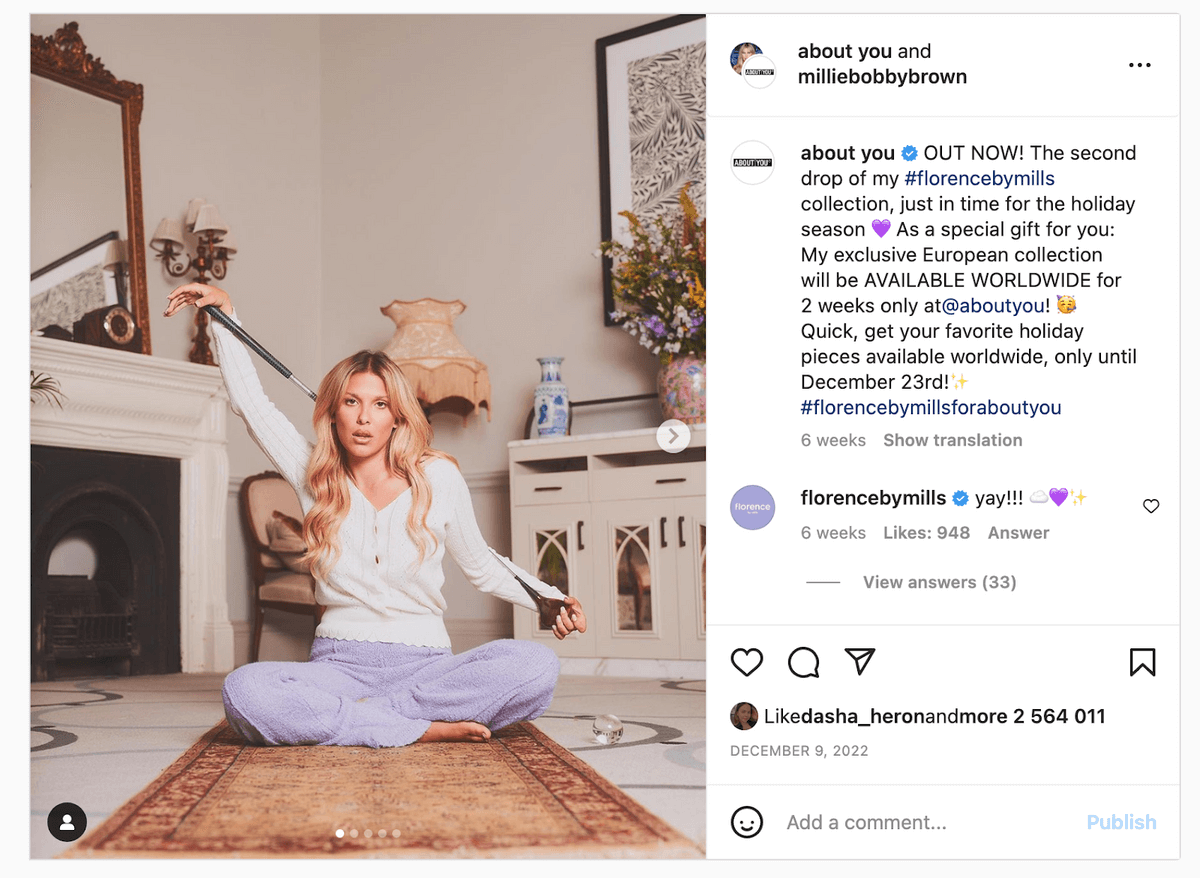 Who can become social media advocates for your brand?
So, you're positive you need brand advocates. Where do you find them? I'm sure you already have advocates for your social media — maybe you just haven't recognized them yet!
Existing customers and fans
If your brand has loyal fans and regular customers, look no further — these people are your potential brand advocates. Nurture and grow your relationships. Your supporters can provide you with tons of UGC. Make sure you follow a customer satisfaction guide to keep track of the pulse.
ASOS is making good use of it. The fashion retailer regularly encourages customers to share their outfit photos and styling ideas on social media platforms using hashtags like #AsSeenOnMe or #OOTDASOS. Customers advocate for ASOS by showcasing their unique fashion choices while wearing ASOS products. Ultimate social proof.
Employee advocates and colleagues
Employee advocacy is based on your colleagues naturally promoting your brand across their personal networks through expert posts, branded pics, or company-related stories.
Remember that employee advocacy is a matter of habit, and populating the idea of sharing company-related content regularly takes time. So every employee advocacy program needs a locomotive.
Find one proactive teammate willing to share their expertise and communicate the brand's messages on their social channels, or become one yourself. Setting an example will help you take a step towards making it a team thing.
Influencers and celebrities
Industry influencers and celebrities who are popular among your target audience can help you promote your brand through their social media.
A prominent example of celebrity advocacy for a brand on social media is Lady Gaga and her brand Haus Labs cosmetics. The singer actively promotes and supports Haus Labs on Twitter and Instagram. Lady Gaga posts content of her wearing Haus Labs products or showcasing the diverse makeup looks you can create, holds Q&A sessions, and interacts with the brand's community. She even started her hashtag, #HausOfGaga.
Thought leaders and experts
Some industries are more expert-oriented than others. In this case, try to enlist industry leaders in your advocacy program. Such an advocate would give your product or service more credibility.
Take, for instance, Rand Fishkin and SparkToro. Yes, he is the founder of SparkToro (and Moz, too), so it only makes sense for him to advocate for his brand. But the reason he can effectively promote it to other people is that he's an expert on SEO, and his opinion matters. His followers come for SEO advice, and they get it — while also being slightly exposed to SparkToro promotion as a tool for SEO thought leaders and their woes. 100% legit.
How to setup a social media advocacy program
Let's get practical: here are six steps to build your advocacy program from scratch.
1. Establish your goals
Guess what? We start with goals: there's no social media advocacy strategy without them. Determine what you hope to achieve: is it increasing brand awareness, driving website traffic, or attracting new talents?
Defining your goals will provide direction and help you align your advocacy efforts with your overall strategy. It will also identify your target audience and primary channels.
2. Decide how you will measure success
To ensure your advocacy efforts bring continued success, you must first determine what success is and how to measure it.
Increase brand awareness — pay attention to the impressions and shares of your promoted content. Your goal is to boost visibility and cover more ground.
Drive sales — your core indicators here would be CTR, conversion rate, and total revenue tied to each advocate's particular campaign. Use UTMs and personalized links to track results.
Attract talents — stay in touch with the recruiters and track the sessions on your career page using tagged links to see who's driving traffic and where it is coming from.
Set your KPIs based on goals, and remember to stay realistic.
3. Identify your social media advocates
Identify people who are already passionate about your brand or industry and have a significant following on social media. Look for customers, employees, influencers, business partners, or industry experts who align with your brand values.
Brand advocates amplify your brand message and allow your company to tap into existing networks. Organizations benefit from advocates' genuine connection with their followers both in terms of metrics and less measurable things like credibility and trust.
4. Offer incentives and rewards
Advocacy's widespread adoption is a challenging task. Ensure that your advocates are getting something out of your collaboration, too.
Support your employee advocates with various internal programs: virtual coins to spend in the company's shops, gifts, merchandise, etc. Make sure to highlight what they're doing and spread the word to other employees.
Repost the content your users and influencers share with you — being featured on the brand's account can help their personal brand and motivate them to engage with your company again.
Send samples and promo codes, and hold advocate events — in other words, communicate and engage with your ambassadors so that they feel seen.
It's not always about money — but it's always about recognition.
5. Provide ongoing inspiration and support
Brand advocacy is tricky because it's easier to spot than it is to fake: if your advocates don't believe in your brand, their followers will notice. So you don't want your advocates to promote you like any other ad channel — you want to develop relationships.
Inspire and support the content flow: share relevant updates, creative assets and freebies, and brainstorm ideas. But stay reasonable: don't dictate their posts but rather guide their creativity.
6. Track performance and results
Monitor and track the performance of your social media advocacy program. Analyze the data and metrics aligned with your defined goals and KPIs. Analytics help you identify patterns and trends and choose best practices for your specific case. Use the insights to refine your strategies and optimize your program for better results.
Best practices for social media advocacy success
Social media advocacy program is no easy nut to crack. However, here are several pro tips on how to make it bring robust results and keep it upbeat.
Create onboarding materials for new advocates
Make sure everyone is on the same page and up to speed. Brand book, FAQ, creative assets, a list of no-no things. Think of it as a welcome pack presenting your brand, product, and goals. It helps align the messaging and sets a foundation for a successful advocacy relationship.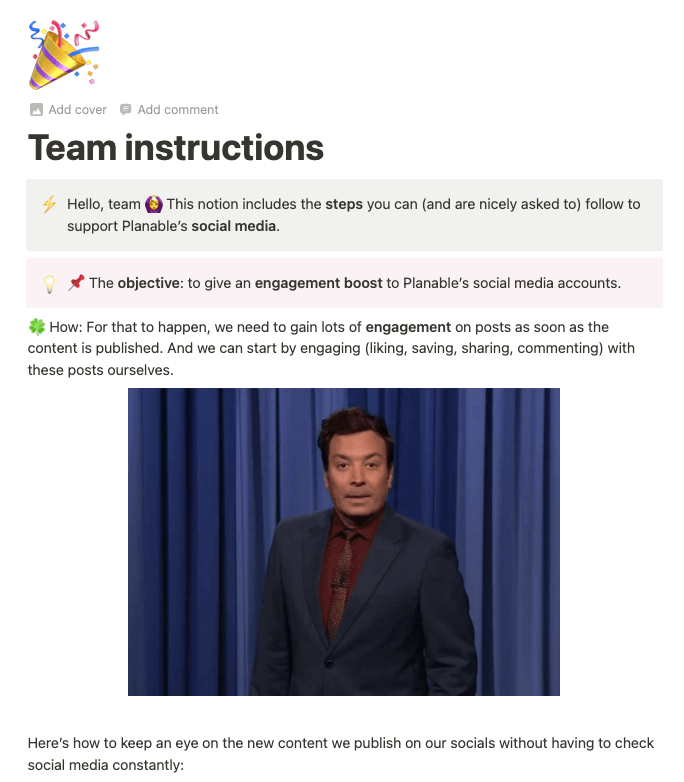 Boost participation with contests and challenges
Major social media platforms are designed to engage. Mobilize your advocates and encourage their active involvement by organizing contests, challenges, or interactive initiatives. Such activities foster friendly competition and motivate advocates to generate more content and engagement, ultimately amplifying your brand's reach. Plus, it's fun.
Listen to what your advocates say about their audience
Pay attention to the insights and feedback your advocates share regarding their audience. They've been with their followers for a while, so they know their interests, preferences, and needs. By understanding their audience, you can collaborate more effectively and tailor your content prompts to resonate with their specific communities.
Use a collaboration tool
Utilize social media management and collaboration tools that streamline communication, content sharing, and tracking. Such a platform simplifies collaborating with brand advocates: no need for lengthy review and approval processes, dozen emails on tweaks, and other necessary but time-consuming parts.
Review your social media advocacy program
Regularly evaluate and review the performance and impact of your social media advocacy program. Keep an eye on key metrics, ask for advocates' feedback, and search for trends that suit your company. This iterative approach lets you fine-tune your plans and stay relevant to your audiences.
Planable for social media advocacy
One of the challenges organizations face when working with social media advocacy is building a comfortable workflow that produces the right message but doesn't limit creativity. Planable is just the tool for that:
Highly visual content calendar for scheduling and publishing advocates' communications.
Roles and permissions to divide creators, approvers, and observers.
Custom multi-level approval workflows to ensure everyone's in the loop: from a thought leader to copywriter and legal.
Collaborative creation mode to craft any written form of content using comments, internal notes, and real-time editing.
Seamless publishing and scheduling posts to social media.
Imagine you're kickstarting an employee advocacy program and want to build an ecosystem for managing it effectively. This is how it can look like in Planable:
Leverage separated workspaces for each advocate: include the employee themselves, someone from the content team to help them craft the message, and legal or PR to ensure the post aligns with the company's rules.
Brainstorm ideas together — that way, every post fits your messaging and marketing goals while saving the unique voice of your collaborator.
Edit and approve written messages in real time. For instance, your employee wants to cover the latest game release, but the message sounds too accusative to be associated with your company. Tone it down a notch together in Planabe's collab writing tool.
Approve pieces with content, brand, and legal teams before scheduling them for automatic publishing. Fast, safe, and efficient.
All that comes for as little as $11/month — after you've used the free 50 posts felt the full power of the platform and inevitably grew fond of it. A flexible billing system allows you to tailor Planable to fit your team like a glove.
Let's advocate your company on social media!
Building a social media advocacy program may take time, but it's worth it. If you don't trust me on that, trust the market!
Now, grab your free 50 posts in Planable, and let's begin — the best time is the present time.