Editing is an underrated art form, and the sooner we acknowledge that, the better. Similar to how a film wouldn't feel like, well, a film without an editor's keen eye, that branded tweet would not be as well crafted without the input of several skilled marketers. 
This brings us to the subject of this article — social media editing, social media photo editing and, everything in between. And Planable, because we got just the right feature that that whole convoluted introduction was building up towards. Anyway, here's our article about photo editing on social media.
1. Why is social media editing important?
2. What to consider before editing for social media?
3. How does Planable help with social media editing?
4. What other apps for editing social media pictures are there?
Why social media editing is important
The answer to this question is pretty simple — you don't want shoddy work to see the light of day. But the importance of social media editing goes beyond just the all too human desire to avoid embarrassment.
Firstly, it comes down to protecting your content. If you've invested precious team bandwidth into putting together that piece of content, just as much time should be spent on ensuring that it's as close to pristine as possible. This applies both to text and visual content — especially in the latter. On that same note, even a small typo or a misaligned font can convey carelessness to your followers. And if that perception carries over to your brand, well, then let's just say work won't be pleasant.
Secondly, there's the whole nebulous concept of "credibility" to consider. You want your content to reflect the same level of behind-the-scenes professionalism that goes into creating it.
So, with the importance of social media image editing out of the way, let's quickly delve into some of its benefits.
Benefits of social media photo editing
Visual social media marketing helps in shaping a sturdy social media strategy
I don't think it's too controversial to declare that social media changed how brands and the public interact with each other. 
While visual marketing has been a thing for the last 500 years, visual social media marketing has changed the game dramatically. So marketers have to double down on making their work stand out. The reason's simple — because our walls and billboards are now digital, can't be painted over, and are designed to provide an endless stream of content. Image editing can take your digital footprint to another level: using touch-up features to make your pictures flawless and adding colors to make them attractive.
That's not to say this calls for a "quantity over quality approach" — quite the opposite, actually. In fact, it's not a matter of putting out quality content necessarily so much as it is about streamlining all the content production processes,*** which will help in shaping up a robust social media strategy. Things like:
Who writes the rough draft of the copy? 

Who edits the copy?

Who makes sure that the visuals are on brand? 

Who has the final say in whether the images are ready to go live?
Planable has multiple features that help streamline social media content production and publishing. One of them is the feedback system (more about it below) which allows social media teams to notice mistakes in a timely manner. Check us out →
Plus, there is data out there proving that grammar mistakes cost money, so yeah — more pressure on the SMM.
Social media editing & brand building — tied together 
Competition is higher than ever on social media, so marketers have to go the extra mile to make their content stand out. In this sense, image editing for social media allows you to carefully shape your own brand identity by molding your visuals around the language of your brand.
This section could warrant an article of its own, but long story short, businesses can focus on a particular style of editing. Just take a look at these awesome Instagram Grid examples.
Fonts, for example, need to be consistent from one visual to another. The same thing applies to focusing patterns, colors, and anything else that could be conveniently filed under "brand aesthetics".
Some things to consider before starting photo editing for social media
There are a few things you should take into account before editing your photos for social media. Things like:
Are your photos on brand?

Is editing taking way more team bandwidth than it should?

Does your team have easy access to assets and everything they might need to do a good job, and in a timely fashion?
Is your team using a good editing app? If yes, does that social media online photo editor make things scalable?

Trends. Are you following them? You don't want your pictures to seem kitschy.. The zoomers will meme your brand into oblivion.
Think about your brand — before jumping into the social media editing craze
Before you start adding filters, sizing up, and cropping images, take a moment and think about your brand. Aesthetical consistency (and not just posting) is key on social media. What does this involve, you ask? Things like:
Having the same colors, fonts, and other graphical elements across all social media images (videos included).

Use only filters from a specific category

The aesthetics of the images should be in-sync with other branded resources as well. Your blog, for example. Are the social media images sporting the same colors as your article widgets? 

Is your logo legible amongst all the graphical bells and whistles you've slapped on top of the image?
Over time, your followers will recognize a post as being yours even before seeing any branding. It's just how the brain works — according to people smarter than me.
But even so, when does one know something is on brand? How does one do that? Well, through the power of collaboration, of course. What do I mean by collaboration? It's that thing that happens between two people who want to make something happen faster and better. 
But for that to occur, you need a collaboration and editing tool and preferably no overly drawn-out preambles. So that social media editor you're looking for has to include a feature that encourages collaboration. And Planable has just that.
Planable real-time collaboration functionalities make collaboration not only a breeze but fun. 
Say you have this branded visual asset, right. And you're really, really excited to just, like, post it. But your anxieties about its off-brandedness outweigh your excitement about posting it. Plus, all those edits — my god, what if the client despises them?
So here's what you do:
Sign up to Planable

. It's easy, straightforward, and not to mention,

free

.

Configure your company and

workflow

.

Add your account. Click on "Add Pages", go to whatever

social media network you want to post

your picture on.

Click on "compose."

Drop that bad boy in the pop-up window.
Now, all you have to do is tag your team members and ask for feedback. "Is this on brand?" "Is the font in need of some adjustments?"; "Will that Nickleback reference age badly in the next 5.3 seconds?". Stuff like that.
How does this whole feedback thing work? I'm so glad you asked. In the comments right next to the post, where it makes sense. Because Planable not only makes collaboration easier, it also mimics the flow and feel of social media, so you'll feel right at home.
Take every platform into account before starting your social media editing process
Every social media platform has its quirks. Instagram stories have set durations. Twitter has a character limit. Facebook doesn't – seriously, you could publish a freaking novel on that thing. 
But while there are creative ways to work around those limits (that's the beauty of social media content creation, after all), image size and format restrictions are a whole different beast. 
Obviously, this makes cross-posting tricky, as an Instagram story picture looks different than, say, a Twitter image. And trust me, you don't want your client to see their logo pixelated to shreds on Facebook.
So here's the kicker: what if I told you there was a way to preview how content would look once it's published without resorting to the old "post and delete immediately" trick? Or test pages? 
If that sounds appealing, boy, do I have some good news for you. Planable has multiple ways to view social media content:
List view. For those who need a quick preview of their posts across all their pages. 

Calendar view. For those who love to see their posts sorted neatly in a calendar and want to make some changes on the go. More on Planable's social media calendar later.

Grid view. For creating and previewing beautiful Instagram grids.

Feed view.
Feed view is the one you need here. This view mode provides a pixel-perfect preview of their social media posts, be it Facebook, Instagram, Google My Business, LinkedIn, Twitter, YouTube, or TikTok (yes, you read that right — Planable has all of those things). 
What's more, you'll see the same page elements that you have set for your page. You can even scroll through a personalized news feed — meaning you'll be basically scrolling through your posts for an authentic, totally-not-meta social media experience.
While we're at it, here are some other things you can do in feed view:
create and edit posts 

leave feedback & comments

schedule posts

change labels
Clarity in access — photo sources and asset storage (media library plug)
A lack of clarity in access and information is something that many social media teams still struggle with. Where's the branded asset? What fonts do they use for recycled content? Should I tap our designer on the shoulder and have them whip up an asset for me? Wait, where's our designer? Jim? Does he still work here?
The chances of that last scenario happening are slim, but not 0. 
Making sure that your team has easy access to branded assets and pictures can do wonders for productivity. And it also makes the whole image editing process go smoother.
In this sense, Planable sports a Media Library where teams can keep all of their brand assets. It's easily accessible from the workspace, and moving files between this too can be done through a simple drag & drop. It also supports multiple file types, from images, gifs, videos — and best of all, files that are uploaded in posts are automatically copied to the media library. 
Speaking of images and assets, this brings us to Planable's social media editing tools. Here comes the big plug. Wait for it…
Planable, the social media editor made for marketers — social media editing at its best
Here it is, folks. The thing that this entire article has been building up to. 
Social media editing can be a drag. Creating content is the easy part — but making it looks just right, both from an aesthetical and brand perspective, requires another set of skills and tools. Marketers who use social media editors can attest to this.
But don't fret, Planable is here to help.
Use Planable's editing tools for pictures and forget about the rest
Looking for the photo editing software for social media marketing of your dreams? With Planable, marketers can tweak, edit, and collaborate on images, so they're just right for their social media posts.
Now here's the cool thing: Planable offers two options for this. You can edit images from the composer, or later after the post has been saved. To find this option, simply hover over the image, and it will pop up in the top left corner.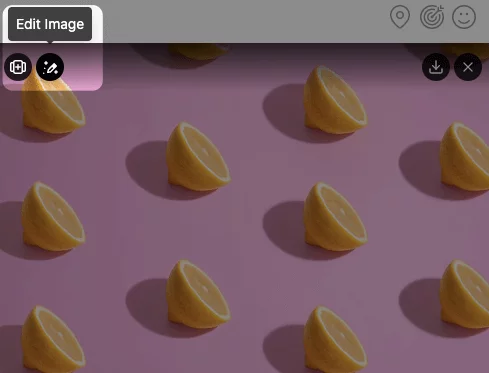 There's more to it than this, though. Planable's integrated social editor comes with the following options:
Decorate — for adding text and shapes to your design.

Sticker — pretty self-explanatory. Add to your discretion anywhere you want on the picture.

Resize — adjust the width and height of your image. Say goodbye to booting up Photoshop or a browser-based photo editor just to adjust the size of an image.

Cropping — crop an image freely, within certain ratio limits. Oh, you can also flip and rotate it. Neat.

Filter — everybody likes filters, so there are like 13 of them to choose from. Both colorful and black & white. 

Annotate — drop comments and suggestions on the image so that the creative team can jump in and poke fun at your filter choice. Don't take it personally, you know how these creative types are.

Finetune — brightness, saturation, exposure, temperature, gamma, clarity, vignette. Adjust them to your heart's content.
Not satisfied with your edits? You can undo them: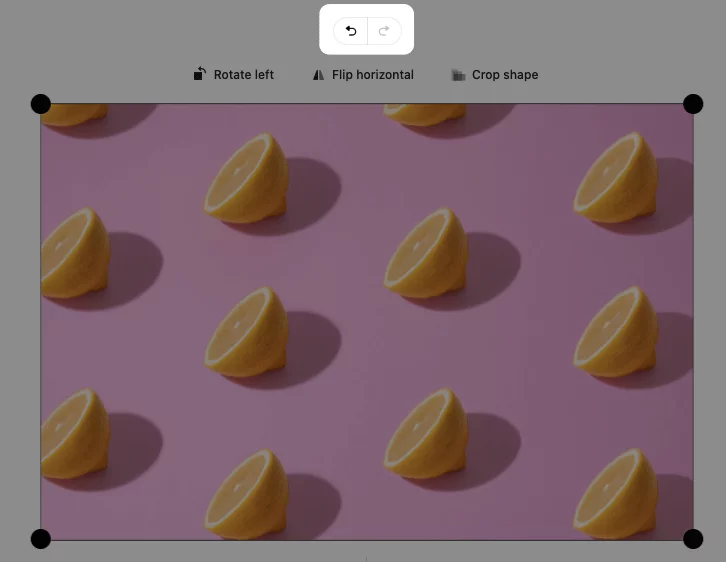 OR revert the image back to its original version.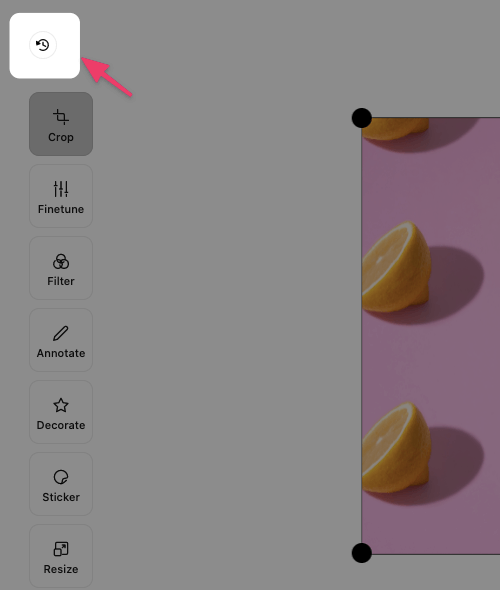 Click "Save" once you're happy with the design, and all the changes will be visible in the post. Feel free to drop in whenever you feel like making more edits after it's been saved. 
What you see is what you get — Planable's composer helps you edit and preview posts instantly
"What you see is what you get" — that's been Planable's mantra since, well, forever. 
When teams ctrl+V a piece of Instagram copy in Planable or edit a picture, they essentially see the post taking form in front of their eyes, exactly as it would appear on the real thing. No nasty surprises. No greyed-out hashtags.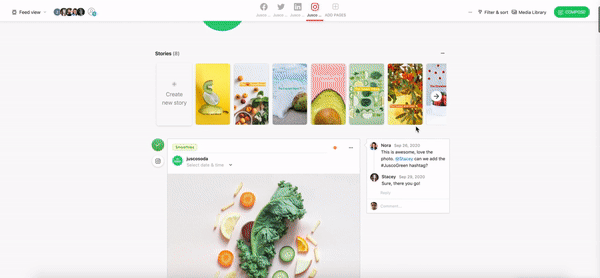 Planable's composer plays a significant role in this. With it, marketers can edit their pictures and preview their posts instantly, in real-time, with their teams in the background alternating between cheering for them and adding in their own input (that's how it works, right?). 
Want to frame your beautifully edited Instagram post? Sadly, we can't really help you with that. Spicing up your photo with a dope frame visual? Now we're talking. You can choose between 9, easily adjustable frame templates. You can even choose their color! 
A social media calendar to help you turn all that social media photo editing into a campaign
Let's say you've finally worked out how you want to edit your photos, and you've put the finishing touches. What now? Is there anything else you can do? Plenty. But today, we're gonna focus on just one: Planable's social media calendar.
How does this tie into the rest of the article? Let's put it this way — if you've spent so much time editing a picture, it would be a shame not to put at least the same amount of effort into planning a social media strategy around it.
And Planable's social media calendar empowers you to do just that. With it, teams can visualize their content by week or month and see everything at a glance across all their pages. It's designed with a "one calendar, one integrated strategy" sort of mentality. Meaning there's no need to alternate between multiple tabs just to check up on a tiny thing.
OH — almost forgot. Scheduling. And time slots. The calendar has those things, too. So here's how it works:
Sign up to Planable

if you haven't already (we won't judge). It's free. 

Go to the top left corner of the screen and select "Calendar view".

Take a moment and admire Planable's calendar. Look at it. It's just… I know, right?

Shake off the feeling of awe, click on "Compose" and start fiddling with your post. Make sure to apply all the stuff covered before.

Schedule the post.

Do the same with other posts.

Don't fancy its allotted time slot anymore? No worries — assigning posts to other slots is as simple as dragging and dropping them to their relevant slots.
And that's it. Go mess around with it; it's pretty fun.

Other apps for editing social media pictures to look out for
Pixlr is one of the most popular photo editing apps on the market. Available both on Android and iOS, the app has many social media photo editing features that can help your posts stand out. Some of these features include customizing social media photo sizes, making collages, double exposure, color splash, and many others. As far as social media editing apps, this one's pretty solid.
The next image editing tool for social media on the list is PicCollage. This is another social media photo editing app that is easy to use, including on smartphones. It boasts pretty much the same features as other similar apps but with a few exciting additions. Notable amongst them is its seamless integration with social media platforms and the ability to easily send pictures to print. It also has tons of templates for holiday cards and a "freestyle mode" to create custom collages.
VSCO is a hybrid photo-video editing, photo-sharing platform. Besides its user-friendliness, another notable feature (or rather service) is that, by becoming a VSCO member, paying users gain access to a community similar to Instagram. Other than that, VSCO includes tons of options outside your standard editing functionalities, such as the ability to create GIFs, a montage feature, and importing and exporting editing options for RAW photos. 
And that's our list of social media photo editing tools. If you have any suggestions, feel free to reach out!
Conclusion
That's gonna be a wrap on our guide about social media editing. We've walked you through the importance of social media editing, how to integrate it into your internal team processes, and the many ways Planable can facilitate that. We've even taken the liberty to list some of the best apps for editing social media posts for your convenience.
The takeaway: it's super important for tons of reasons, and using Planable can do wonders for your social media photo editing efficiency. So don't just stand there, sign up — it's free.