Have you ever scrolled on Instagram and suddenly stopped in your tracks after coming across an incredibly well-put-together profile?
You know, the ones with a cohesive aesthetic and carefully curated details that effortlessly draw you in. Well, that's no accident — it's the magic of a social media style guide at work.
So if you've found yourself wondering how to create a consistent, engaging, and downright fabulous social media presence for your brand, you're in the right place.
In this easy-to-follow guide, we'll walk you through ten simple steps to create a versatile social media style guide that'll have your followers stopping mid-scroll just to admire your brand's fabulous content. Let's dive in.
What is a social media style guide?
Think of a social media style guide as your brand's secret recipe for crafting the perfect online persona.
It's like a handy document that lays out all the essential ingredients — from visuals and writing style to how you interact with your audience. This trusty guide acts as a roadmap to help you maintain a consistent and harmonious vibe across all your social media platforms.
And that's the key to making your brand stand out (and stick in the minds of your audience) in the bustling melting pot of this digital world.
But do all brands need a social media style guide? And are there some scenarios when a social media style guide is more important than others?
The short answer is that all brands can benefit from a social media style guide, although it's not vital for success on social media.
Here are some helpful use cases when social media style guides work wonders:
Creating consistent content
New product or service launch
Rebranding or brand refresh
Expanding to new platforms
Onboarding new team members
Influencer or agency collaborations
Let's look at an example in action.
Clothing brands like StudioSuits can benefit from a comprehensive style guide for their social media content to ensure consistency across their posts to create a recognizable and trustworthy brand online.
For instance, they post a daily "Customer Order Spotlight!" to highlight the unique styles of their clients. These posts are always in the same format, helping their 35,000+ followers recognize the spotlight posts instantly.
Each post contains the following:
A headline featuring the text "Customer Order Spotlight!"
A subtitle about where the client is from
A detailed description of the jacket
A link to the product page where someone can buy it
A variety of relevant hashtags
A gallery of high-quality photos that show off the small details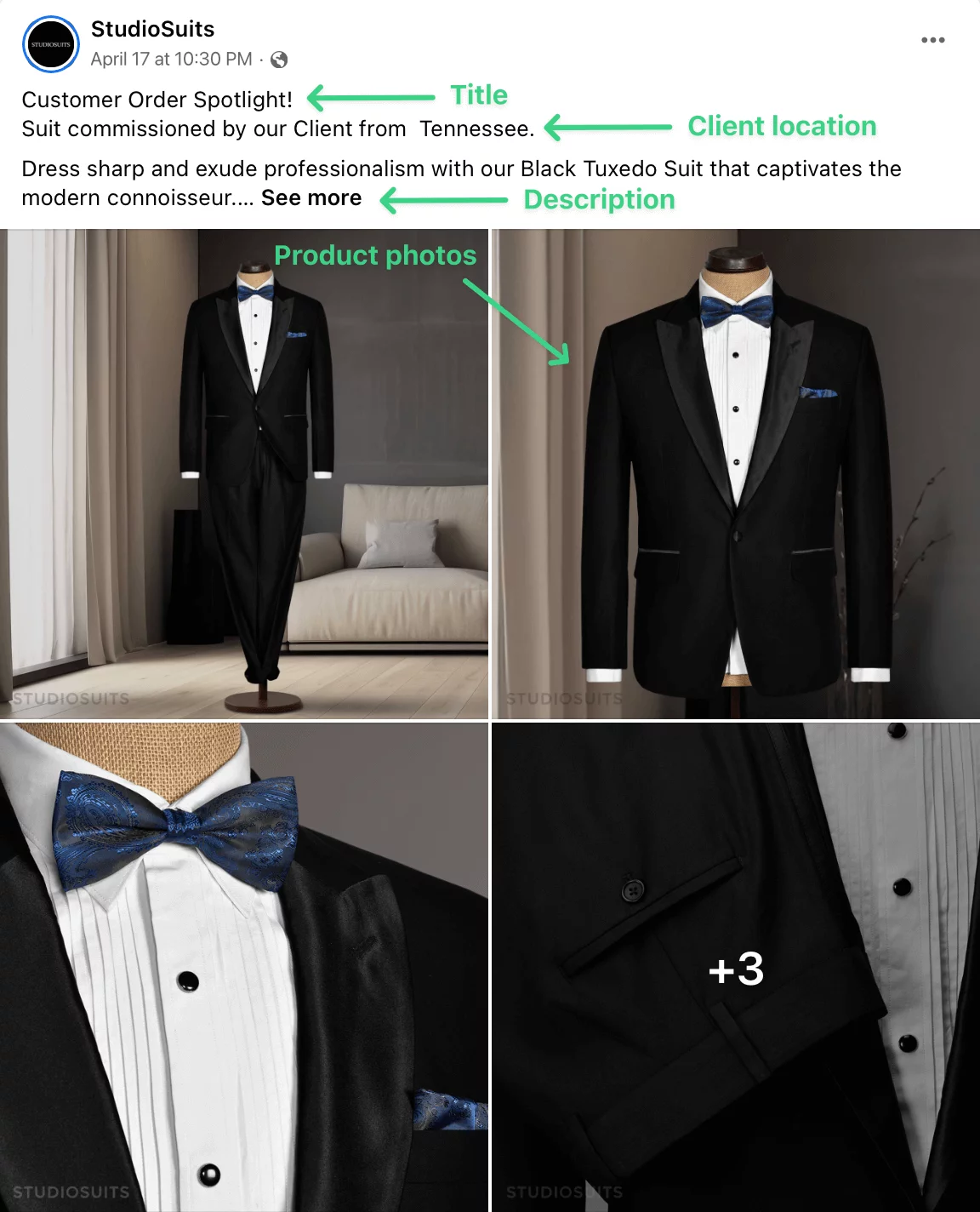 That's a long list of things to remember and a scenario when a social media style guide is your best friend. It outlines everything they need to remember for this important post on their feed. They'll never forget a caption, hashtag, or photo again.
The result? An engaged audience, a professional profile, and a trustworthy reputation in the high-end clothing industry.
In short, a social media style guide is a powerful tool for maintaining a consistent and engaging presence across multiple platforms, helping you achieve your marketing goals and build stronger relationships with your audience.
Follow these simple steps to create an effective and adaptable style guide for your brand:
Step 1. Define your brand's mission and values
To kick things off, take a moment to understand your brand's mission and values (the heart and soul behind it all). This extra step lays the groundwork for building a genuine and authentic social media presence that truly resonates with your audience.
So, use your favorite digital notepad (or a pen and paper) and start jotting down the core principles and beliefs that drive your brand. This is your chance to let your brand's personality shine, and it'll set the stage for the future of your social media journey.
If you need some inspiration, ask yourself a few of these questions:
What is the purpose of your social media presence?
What do you want to achieve with it?
What are your values as a brand, and how do those align with how you use social media?
For example, if one of your main goals is stellar customer service, it'd make sense for all employees representing your brand on social media (including those who create content) to show empathy when responding to customers' questions or complaints.
Or if your goal is to generate more leads, then maybe your focus is to create compelling lead magnets. At the same time, let your salespeople handle LinkedIn interactions, where people focus on building relationships.
Step 2. Identify your target audience
Now that you've grasped your brand's mission and values, it's time to figure out who your biggest fans are. That's right — we're talking about your target audience.
It may seem like a no-brainer. But it's important to know who you are talking to and what they like, dislike, and want to see from your brand. When you understand who you're trying to connect with, you can craft irresistible content that speaks their language.
Use first-party customer data (key demographics, interests, and behaviors) collected through customer data platforms (CDPs) to create detailed buyer personas.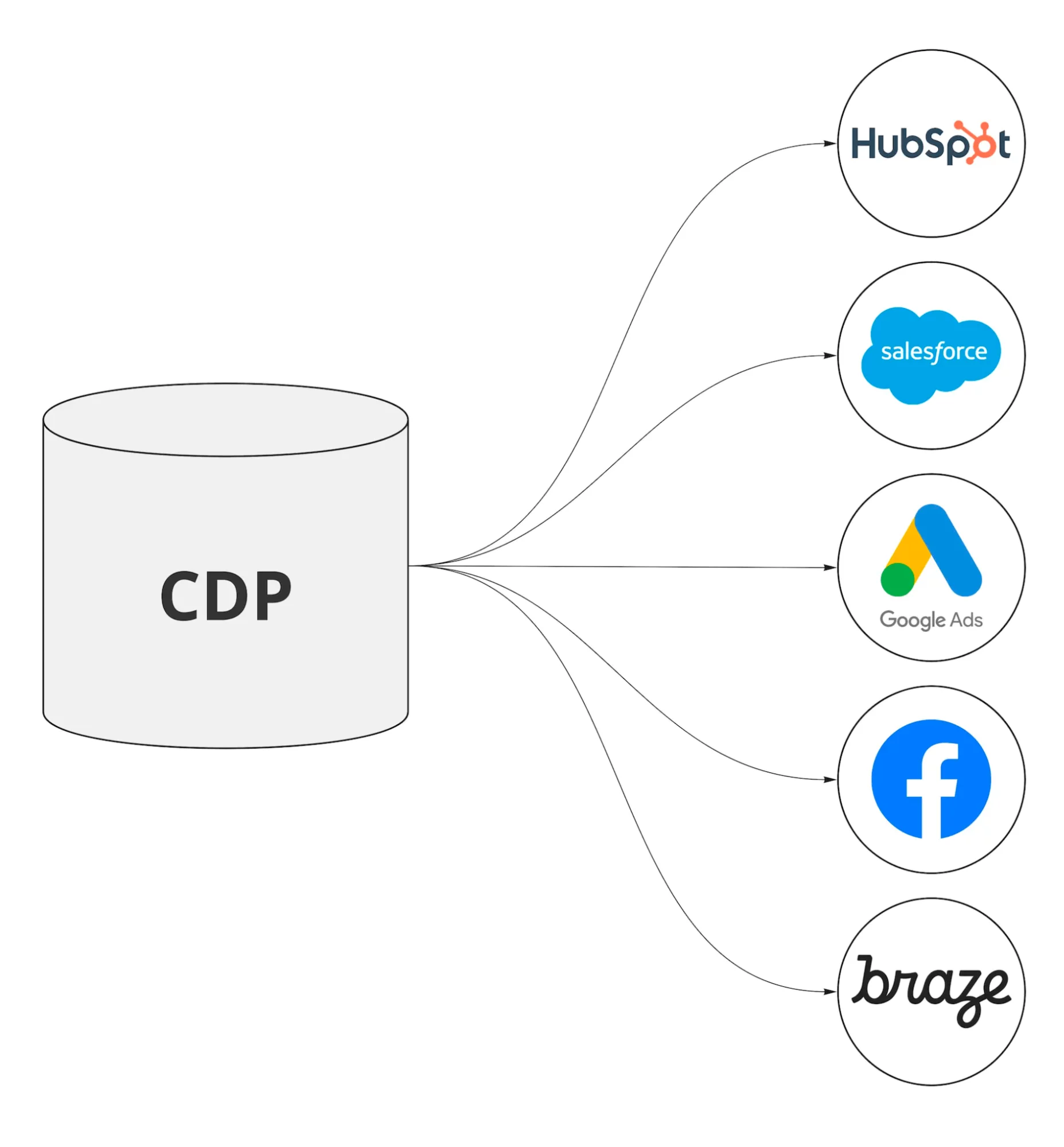 Source
Are they young and tech-savvy? Or eco-conscious vegan foodies? Whatever makes them unique, dive deep into those specifics and get to know them. These buyer personas will guide your social media strategy and determine which content your audience engages with best.
That way, you'll be well-prepared to create a social media presence tailored just for them — and they'll love it, and you'll reap the rewards of higher engagement and return on investment.
Step 3. Choose your social media platforms
Alright, you have a clear understanding of your brand's heart and soul, and you've uncovered the ins and outs of your biggest fans — now it's time to determine where the party's at.
In other words, it's time to choose the social media platforms that'll be the perfect hangout spots for your brand to interact and engage with your audience.
Remember, it's all about being where your audience is, so focus on the platforms where they love spending time and engaging with content. For instance, studies show that Gen Zers prefer YouTube, Instagram, and TikTok as their go-to social media platforms.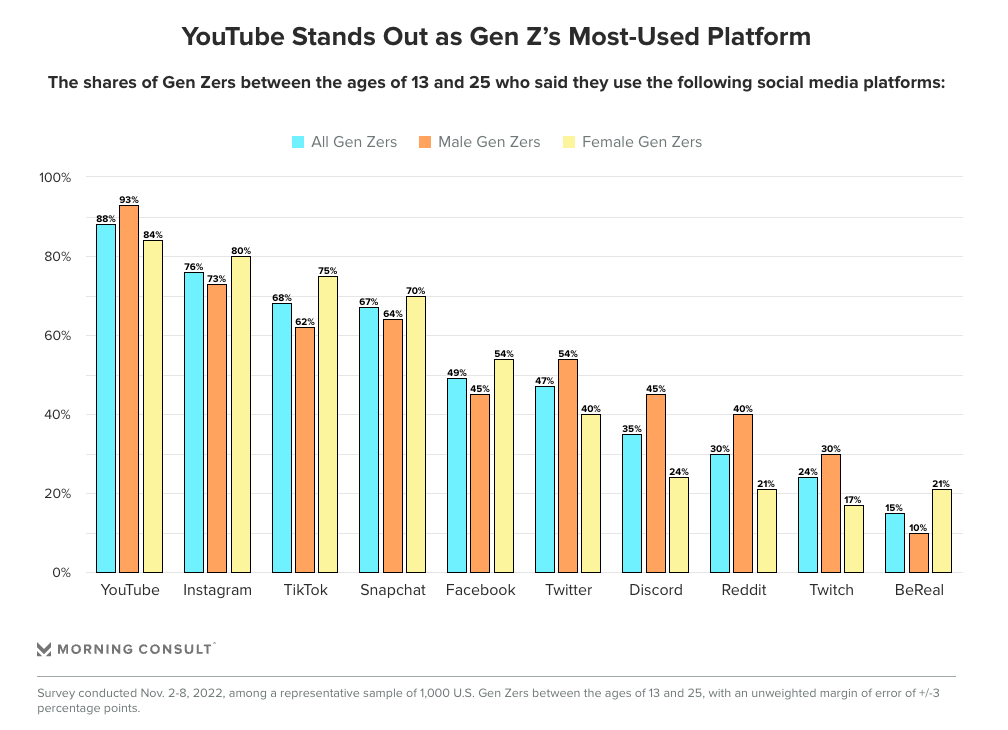 Picking the right social media playground sets your brand up for building meaningful connections online. So if this younger generation is your primary audience, focusing your efforts on these popular platforms is wise.
Of course, it's also important to consider your resources and capabilities as an organization when deciding what social media channels are right for you. In other words, don't bite off more than you can chew.
Step 4. Create a visual identity
And here we are, at one of the most crucial steps in the social media style guide journey. But it's also the step where you can flex your creative muscles and design the perfect look for your brand to shine bright on social media.
To get started, consider the key elements that make up your brand's visual identity, such as your logo, color palette, typography, and imagery. Consistency is key here, so make sure everything feels part of the same fabulous family.
Remote, a brand known for its global HR solutions, hits the nail on the head with a strong visual identity in this LinkedIn post: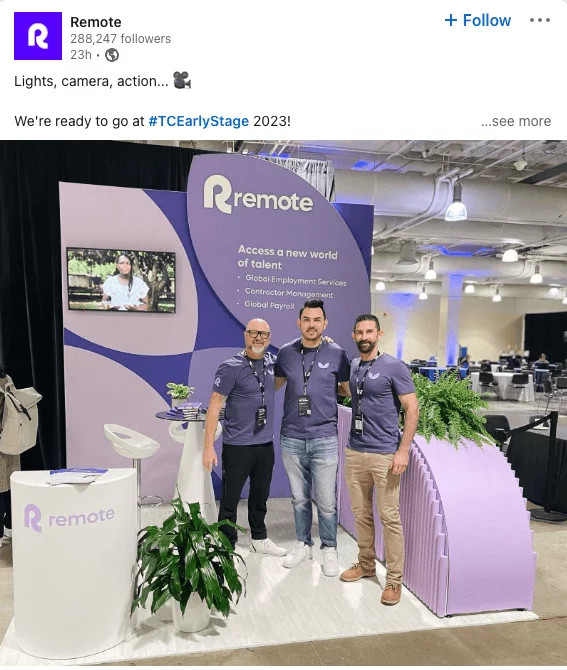 Source
The post immediately stands out from a crowded timeline thanks to the purple monochromatic color scheme. Everything from the employees' t-shirts to the booth decor is purple, modern, and professional.
Not only does this stand out on a social media timeline, but you'd stop by this booth at a conference, right? Plus, you'd be able to easily recognize the booth by aligning the logo from LinkedIn to the proudly displayed logo on the booth decor (above and below eye level).
So if one design element holds a higher priority than the next, it's the logo. A consistent logo and color scheme will help your customers recognize your brand across every channel and every medium.
If your current logo is outdated or you don't have one yet, you can use a logo maker tool or hire a professional graphic designer to make a new one, whichever works best for your team (and budget).
By designing a cohesive and eye-catching visual identity, you'll ensure your brand's presence on social media is nothing short of a showstopper. And you can carry that throughout live events and other mediums as well.
Step 5. Establish a consistent brand voice
It's time to breathe life into your brand by discovering its one-of-a-kind voice.
Is it bold and daring like Wendy's on Twitter?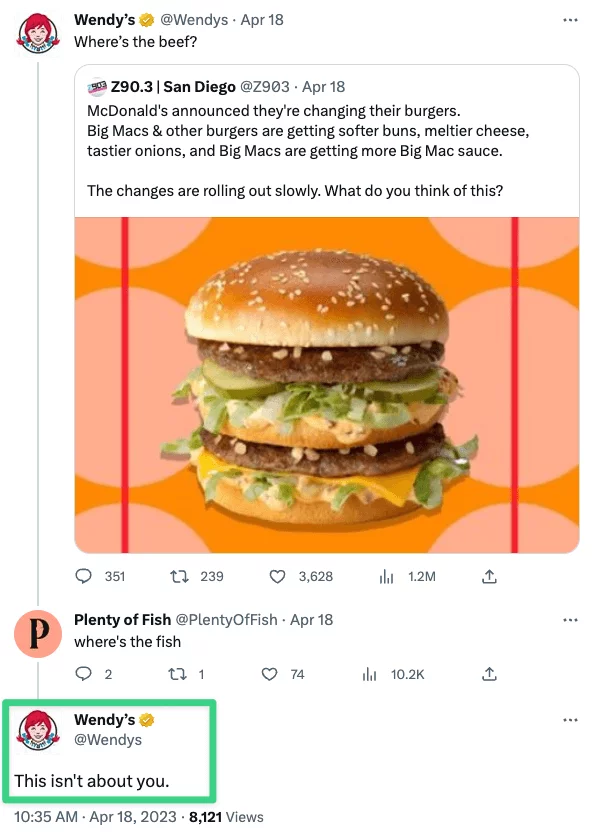 Source
Or maybe it's friendly and approachable, like Glossier?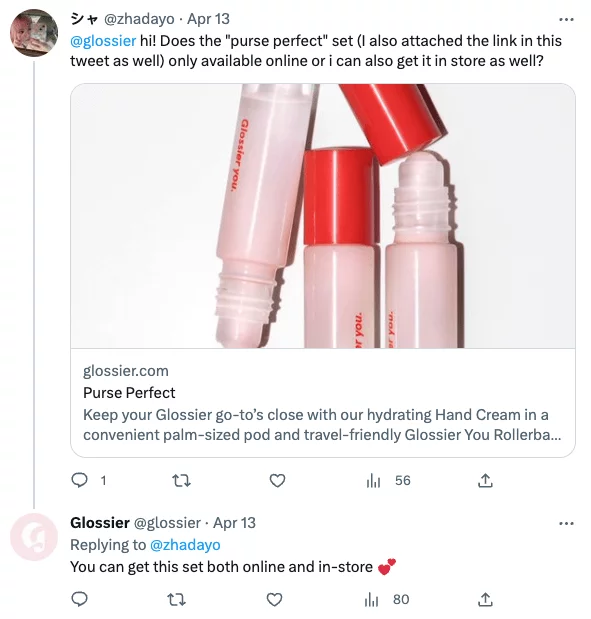 Source
Add the details of your brand voice to your social media style guide so your employees know how to communicate with customers across channels to create a cohesive customer experience.
And if you have a large social media team with different writing styles, leverage an AI writer where you can simply pick the tone that aligns with your brand. That way, you can write hundreds of captions in the same tone without nitpicking and editing every caption for consistency before publishing.
Step 6. Develop content guidelines
This step is all about laying out the guidelines for the types of content you'll be sharing across your social media playgrounds. The sky's the limit, from captivating images and engaging videos to thought-provoking articles.
Consider each platform's unique features and quirks, like character limits, image dimensions, and video formats, as you develop this content master plan. The goal is to tailor your content to fit each platform like a glove.
And sometimes, one of the best ways to ensure your content remains consistent is by learning from the "don'ts." A great example of this is Slack's approach to logo misuse in its brand guidelines poster.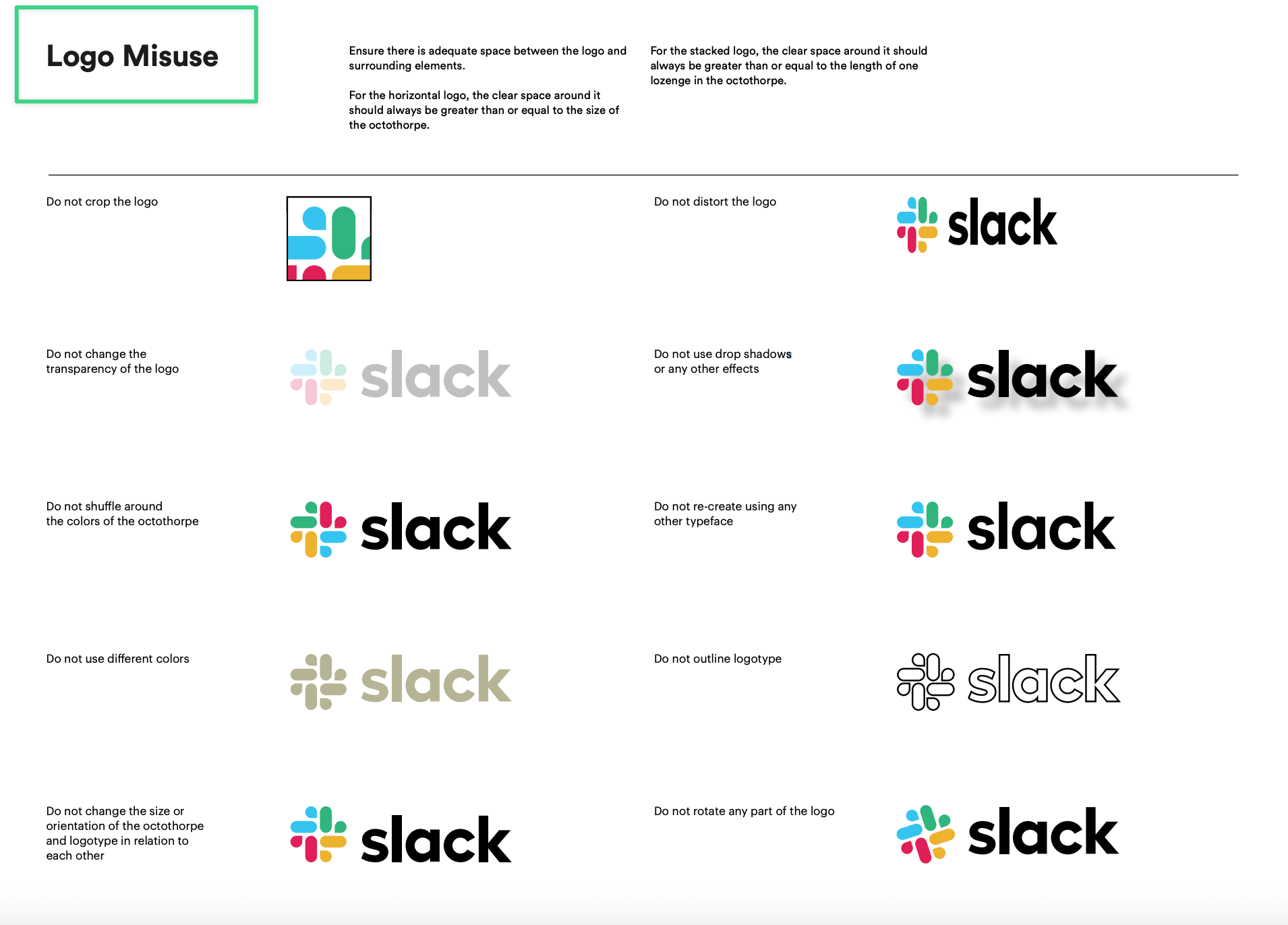 Source
Use a tool like Piktochart to create posters or visual reminders showcasing common mistakes and misuses. These posters act as educational materials for your team and collaborators on what not to do when publishing content.
The result? Faster approval processes and fewer fires to put out. Talk about a win-win.
Step 7. Outline engagement guidelines
Your work is far from over once you hit publish on a post. The secret sauce to social media is engaging with your followers and showing genuine interest in building a community around your brand.
That's why adding engagement guidelines to your social media style guide is so important. Will you respond to comments? How quickly will you respond? How do you approach negative comments? What is your engagement style and tone? These are a few questions worth answering.
And here are some examples of different engagement styles:
Playful and fun: Use emojis, gifs, or witty remarks to keep interactions light and entertaining.
Professional and empathetic: Focus on providing solutions and a genuine concern for your audience's needs while maintaining a courteous and respectful tone.
Let's tackle the not-so-fun part — addressing negative feedback and customer concerns. It's crucial to have a well-thought-out policy in place to handle these situations properly.
Consider these bullet points when developing your approach to negative comments:
Acknowledge the issue
Apologize when necessary
Offer solutions
Take it offline when appropriate
Be timely
And if you need an example of this in action, you can take a peek at any airline that deals with hundreds of daily customer complaints. Here's an excellent response from a representative at United: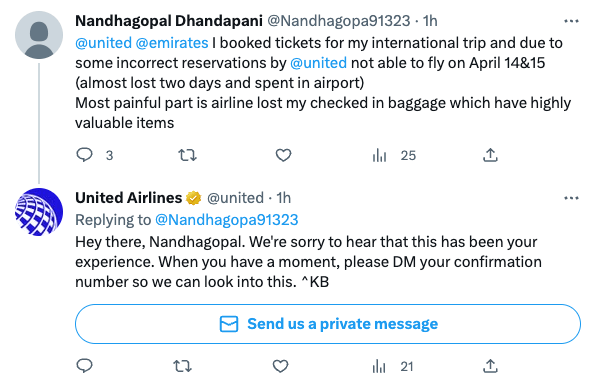 Source
Establishing clear engagement guidelines and gracefully addressing negative feedback will help you build genuine connections with your audience. And the best part is that you'll safeguard your brand's credibility and reputation in the long run.
Step 8. Include legal guidelines
If your brand has a lot of legal requirements, such as copyright and trademark guidelines or privacy policies, it's important to include them in your social media style guide.
When collaborating with influencers, it's helpful to remind them to disclose sponsored content in their posts. So make sure to include a section in your guidelines addressing this requirement.
Avoiding a Kim Kardashian-style $1.26 million scandal entangled with your brand is certainly in your best interest.
Step 9. Schedule content and frequency
Say goodbye to sporadic posting and hello to consistency. It's time to get organized and develop a social media calendar that outlines when and how often you'll post on each platform.
Outlining these small details makes planning content around high-volume special events, promotions, or holidays a breeze.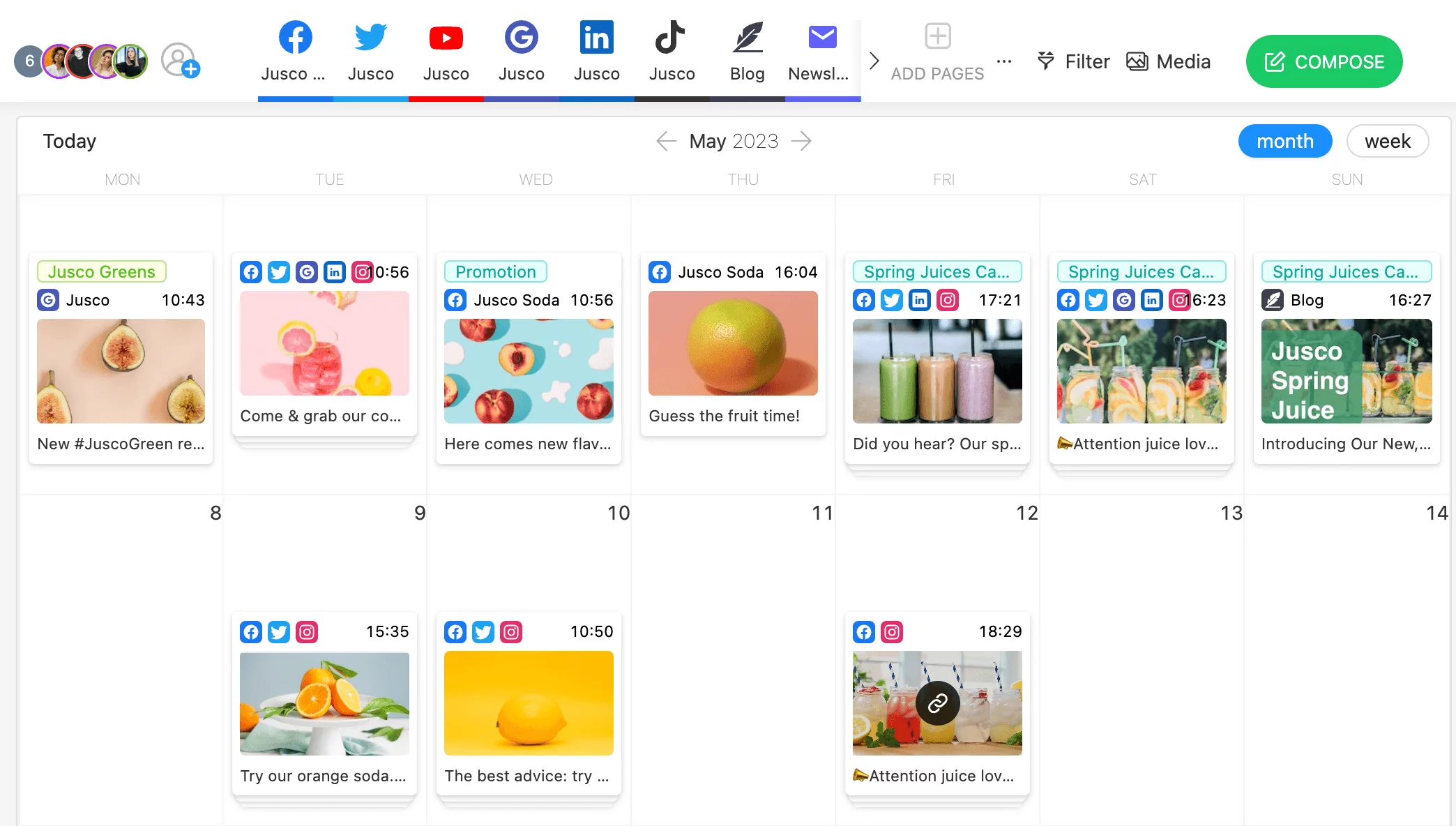 And here's a little secret to making your content planning even more effortless: Planable.
This fantastic tool will help you seamlessly create and manage your content calendar. Its user-friendly interface and collaboration features give you everything you need to take your content game to the next level. Plus, it's completely free to try.
Step 10. Document and share your style guide
And at last. It's time to document your style guide. Create a brief, comprehensive document outlining all of the guidelines you have developed from the above steps. And when in doubt, always add visuals or templates to streamline the content creation process.
Share it with your team via email, Slack, or your preferred communication channel when it's ready. Or you can always park it on your team's knowledge base so anyone can refer to it (at any time).
Create a cohesive presence online with a social media style guide
And there you have it — ten steps for creating a versatile social media style guide for your brand.
It might seem overwhelming. But having a well-documented style guide can be a game-changer for your brand.
Why? It helps hold your team accountable, keeping you on the right path toward building a social media presence that flourishes instead of flops.
So are you ready to build a loyal and engaged community that'll support your brand's growth for years to come? Start drafting your social media style guide today to transform your social media profile from average to extraordinary.
Kevin J. Kessler
Kevin J. Kessler is an experienced Orlando-based content marketer with over 15 years of experience writing quality, optimized content for businesses. He is also a fiction author, writing under both his real name and the pseudonym Vincent Valentean. Kevin is also a performer, working as a professional wrestler and a puppeteer in his spare time.