2021 was a hell of a year. I guess it's safe to say now that everybody is closing up the goals and KPIs for 2021. Even I'll be doing this in a week. And what a better time to start drawing out the marketing strategy for the upcoming year.  
You're probably reading this article because you want to make TikTok part of your social media marketing strategy. Or just because you want to get some inspiration for your ongoing TikTok campaign as the platform has become a chock-a-block place with startup videos, product reviews, and any marketing videos you could ever think of.
Whatever reason landed you on this article, I'm sure you'll find these brands on TikTok worth following and inspirational. So let's get this TikTok party started.

1. Companies on TikTok that will make you lol – Duolingo
"Duolingo uses their TikTok account as a marketing tool in an exceptional way. They have a consistent representation of the brand on their TikTok account which is the owl. It's the same owl from their logo and has since been dubbed the name 'Duo' who has become a TikTok sensation. 
My favorite video campaign from Duolingo's account is the one they actually posted only a few days ago. And it already has 18.2M views on TikTok! I bet there are a lot more views now when you're reading this. I believe one reason why the video is so popular is the recent surge in Taylor Swift's popularity as she re-released her album Red. 
With this song trending on TikTok, many brands have jumped onto the trend to use the sound in their own TikToks, but Duolingo executed it perfectly. This proves that they are ahead of the trends and, most important, they resonate with their audience. 
There is a lot to be learned from Duolingo as one of the most popular brands on TikTok. Let's take their main focus of using TikTok. And it isn't to encourage people to sign up and use the app, which would be like the first reason to think about, right?! Duolingo is on TikTok to show how authentic and present they are. TikTok does what a lot of social media apps can't and that is to offer relatable, inspirational, and funny content.
With TikTok's main user audience being Gen Z, selling a product in a very direct way would be a deal-breaker for them. Gen Z prefers content that is engaging, funny, creative, and that will start a conversation between friends. This is ultimately what will get people to convert to buying your product or service."

Millie Henderson, Marketing Jr. @ Surge Marketing Solutions
2. Washington post or how to be on of the coolest newspaper brands on TikTok
As one of the news-oriented brands on TikTok, Washington Post has a very unique way of presenting and approaching the news they're publishing. Take this TikTok about being "immunized" for example: 
@washingtonpost

In an August press conference, Aaron Rodgers said he was "immunized." He is unvaccinated and recently tested positive for coronavirus. #packers #NFL
 And it has 3.2M views. So simple, agile, catchy, and fun. It's a strike in terms of content creation. 
"I've only recently got on board with TikTok but can already see what a great marketing tool it is. A standout brand for me is the Washington Post which consistently publishes incredibly entertaining and well thought out content on the platform. TikTok is overflowing with content so if you're thinking of including it in your marketing strategy, make sure your content is engaging and outstanding."
Marcin Stryjecki, SEO Project Manager @ Booksy
One way to keep your sageness during content creation for TikTok is to organize. Every. Piece. Of. Content. You can use a content calendar for planning out your posts on TikTok. But before you go searching for content calendar templates, here's how one will look in Planable: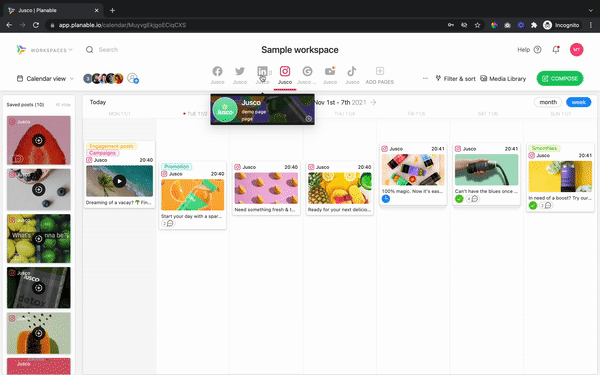 3. Tech companies that rock on TikTok – Vivo
If you ever wondered how to use TikTok for business and increase your revenue, take a look at Vivo. It's a tech company that recently got on TikTok and rocks this platform since.
"One of the brands on TikTok that has been under the spotlight is the smartphone giant — Vivo. Starting with their super-niched marketing campaign, they've targeted the enormous user base TikTok provides as the focus of their social media marketing campaign.
To answer the question of why I think this brand is one of the many a marketer should follow on TikTok, I'd say that Vivo has taken the social phenomenon and carved out an entire fanbase for their products. 

Their effective marketing team has utilized the 'TikTok challenges' trope to make sure people know about their products, participate in the growing trend, and meanwhile, get a chance to win one of their products. Making it an incredibly well-recognized brand in certain regions of the world.
Take their campaign #vivoY51 TikTok challenge as an example. It was quite a hit in Pakistan, where the smartphone market is a burgeoning sector. The campaign garnered a mind-boggling 2.5 billion views from TikTok users in Pakistan, smashing a world record in the process.
@ali_khan110

Join #vivoY51Style challenge & win 10 brand new vivo Y51 smartphones. 48MP Quad Camera, Ace AMOLED Display, In-Display Fingerprint @vivo_pakistan
Now, other companies, either non-tech oriented or not, can learn a lot from this campaign and how Vivo used TikTok as a powerful tool to catapult their brand to stardom. 
This is an era of trends, and despite the fact that these are incredibly short-lived, the coverage and discoverability they bring within a small amount of time are huge. Wouldn't it be a shame not to use TikTok for kickstarting a marketing campaign?"
Joe Smith, SEO Expert @ iCrowdNewswire
Take this awesome techy brand on TikTok that rocked Pakistan's social media trends. I hope it'll fuel your inspiration tank. This could be a great twist to your marketing campaign. Your stakeholders will love to see a marketer who's following the latest social media trends and adjusts accordingly. 
4. Bring your best moves on TikTok with Pepsi – the forward of the brands on TikTok  
"For me, one of the most impactful brands on TikTok is Pepsi. Their Pepsi Challenge has received an overwhelming number of views, likes, and reactions. This campaign strongly communicates the brand's message to its target audience. My analytic thinking here is based on marketing principles rather than aesthetics.
All of the videos on TikTok are easy to follow and very catchy. Not too long or too short. The users don't need to read them carefully, they can actually relax scrolling through their TikTok content. 
Each set is designed according to the consumer's needs and wants. It makes you want to watch all new videos at once. Fun, exciting, and yet a funny TikTok video is what the audience on TikTok looks for.
Each video within the sets is individually created by followers or brand ambassadors *cough cough* Lionel Messi. This means that it has a lot of fresh content, so each visitor will be attracted to whatever video they swiped to.
All of this is just enough to communicate the brand's message clearly yet not overkill on it. The characters are easy to relate with unlike their other competitors in the niche which are more complex and hard to relate with at first glance."

Stephen Curry, CEO @ CocoSign
5. Making money while scrolling TikTok?? Yes! – Honeygain
Honeygain is a worldwide known passive income brand, that will pay you free money for doing basically nothing. Yes, you can be scrolling TikToks and making money in the meantime. This app takes your unused bandwidth and pays you in exchange. All you have to do in order to earn money is download the app and register. 
Their TikTok account has been getting traction and going viral, the videos are funny, extremely entertaining but educational as well. If you want to learn how to make money online effortlessly, Honeygain's TikTok account is the one to follow.
6. World Health Organisation (WHO), yes you read it right
Who would know WHO would make it to the trending zone on TikTok? Yet, it has 2.9M followers. That is one hell of a brand on TikTok to follow. Considering it's an international health organization and not a fashion influencer. But this is what makes it so special — its capacity to set a multinational communication channel that makes everyone aware of WHO's mission. 
"To raise awareness during COVID-19 and encourage people to practice proper hand-washing techniques, the World Health Organization (WHO) launched the #SafeHands challenge campaign. This campaign aims to encourage people to practice proper hand-washing techniques in order to prevent the transmission of diseases. 
Users submitted videos to their social network accounts, and this TikTok trend quickly gained popularity. #SafeHands was used approximately half a billion times in the first 48 hours after it was launched in March 2020.
Celebrities such as The Pussycat Dolls, Billy Porter, Mariah Carey, and Charli D'Amelio have all posted videos of themselves advocating hand hygiene on their social media accounts. It truly inspired me as it brought global awareness through intelligent TikTok marketing."

Marc Tonkin, Digital Marketer at @ kevmrc.com
7. Not one but two brands on TikTok to check out: Empire State Building & Ryanair
"My top two favorite brands on TikTok right now are the Empire State Building and RyanAir. They both follow the trend of brands humanizing their product by completely personifying it. They also use it to be a part of the trends, engage with their community, and create funny TikTok videos from their character's perspectives. 
Rather than specific campaigns to highlight, these brands make their whole social media presence remarkable, so every one of their TikToks usually fits within that narrative. These brands can help marketers with their TikTok strategy by highlighting some very important points:
You absolutely shouldn't take your brand's social media (and especially TikTok) presence too seriously; 

Have fun with it because that's what draws consumers to you at the end of the day when they see you being authentic and lighthearted

Be creative! Marketers can literally make ANY type of brand successful on TikTok, even if it seems counter-intuitive.
TikTok's mainly Gen Z audience will be drawn to your brand over competitors any day if they see you participating in trends and creating authentic and funny TikTok videos. Or just TikToks. Lose the videos. It's cool like this now."

Erifili Gounari Founder @ The Z Link
8. To all the fashion lovers out there, here's Prada, on TikTok
"Prada is one of my favorite brands on TikTok to follow because much like its product strategy, the brand's TikTok strategy similarly focuses on quality over quantity. They use a mix of textures, bright hues, charming personalities, and evocative music to create expressive visuals. This does reflect the quality of the items of Prada's seasonal collections.
In most cases, they highlight just one, two outfits and accessories in TikTok zooming in on the most interesting details. This gives followers an almost 360-degree view of the fashion pieces, and the results are nothing short of mesmerizing. The brand successfully manages to exude all the best qualities of luxury marketing squeezed into a smaller package. 
And it is this creative ability to maintain brand image and culture, even in a condensed platform like Tiktok that most marketers such as myself are striving to replicate with our own brands and video production teams."

Eden Chengm Co-Founder @ PeopleFinderFree
9. Car lovers? Here's BMW
"As a marketer, you can follow BMW on Tiktok. It's one of the brands on TikTok that has taken a behind-the-scenes approach to the platform. The car brand's creative team uses traditional and cutting-edge camera techniques to show fans how some of its most memorable marketing imagery is generated.
The lively and refreshing material promotes a more youthful brand image, which more closely resembles TikTok's target demographic than BMW's more traditional marketing."
Dr. Elizabeth Lombardo, Ph.D, Global Keynote Speaker
With only 302.1K followers, BWM reaches almost 4 to 10M views on each video. Now that's what I call engaging content on TikTok. Sure, there are a lot of people and tech involved, but take a look at this TikTok shot with an iPhone:
10. Chipotle cultivates a better world as a brand on TikTok
"The campaigns on TikTok that I like the most include Chipotle's Boorito Challenge. It engages the TikTok community in an authentic and fun way. The dance challenges give a casual vibe to viewers that encourage them to create their own version of the challenge. 
Other popular fan-made contents are Chipotle hacks and recipes, but the behind-the-scenes clips from the crew really stood out for me as a marketer.
I think this TikTok brand account can help fellow marketers in their strategy by producing creative content that shares behind-the-scenes footage and exclusive clips that are not available anywhere else. Authenticity is key to any marketing strategy's success."

Christopher Liew, Founder @ Wealthawesome.com
11. Flighthouse
"Flighthouse, a media and entertainment agency founded by Jacob Pace, is my personal account to follow from all the other brands on TikTok. The agency produces high-quality music, videos, and other content for YouTube, Instagram, and now TikTok. They connect more and more with Gen Z and millennials.
I like it mostly because it hosts many shows that feature social influencers and celebrities discussing online trends or playing different fun games.
Following brands on TikTok, not only this particular one, could help marketers in a lot of ways: 
Increasing customer engagement rates

Boosting interactions with the audience

A chance to create credibility among customers"

David Reid, Sales Director @ Vem Toling
Wrap up
You've seen what the big brands on TikTok are doing. You've laughed at their videos and told yourself "I could do this". Now it's time to get those TikToks rolling on your brand/client's account. Hope these brands on TikTok got you inspired enough to consider creating a TikTok profile.