TikTok has become the fifth most popular social networking app, ahead of Snapchat, Twitter, and Pinterest in six years. It has nearly 700 million monthly active users (MAU). The hook that attracts visitors is the short, easy-to-digest, and entertaining video content. Because there is a vast untapped market for content on this platform, you need to learn how to get TikTok views on the videos you post.
The platform targets the millennials and Gen Z crowd. According to Pew Research, over half of the 18-to-29 population have used TikTok. It's worth noting that TikTok's use shows an accelerated rise across all age categories. The platform enjoys an engagement rate higher than YouTube and Instagram.
That's saying a lot. 

A high engagement rate means TikTok is rapidly gaining popularity with marketers, as it offers brands a new avenue for reaching their target audience. However, marketers often get frustrated with TikTok marketing since its algorithm works differently than Instagram or Facebook. 
This article will help your brand crack the code on how to get more TikTok views for your videos:
Getting more TikTok Views 101
Before we get into the tips on how to get TikTok views for your videos,  let's look at the platform holistically and answer a few basic questions:
What is a "view" on TikTok?
Unlike other social platforms, a "View" on TikTok is super simple. The second a video starts to play, it is counted as a view. The only caveat is that if you are the video's creator, your views don't count. With a low entry barrier to getting TikTok views, racking up the metrics is not tough on TikTok. 
How much does TikTok pay per view?
TikTok started its Creator Fund in August 2020. The fund offers payments to the platform's most popular users. As TikTok puts it, "Through the TikTok Creator Fund, our creators will be able to realize additional earnings that help reward the care and dedication they put into creatively connecting with an audience that's inspired by their ideas."
There's no standard payable fee since the funds available in the Creator Fund change daily. However, you can expect to make between $0.02 and $0.04 per 1,000 views as a thumb rule.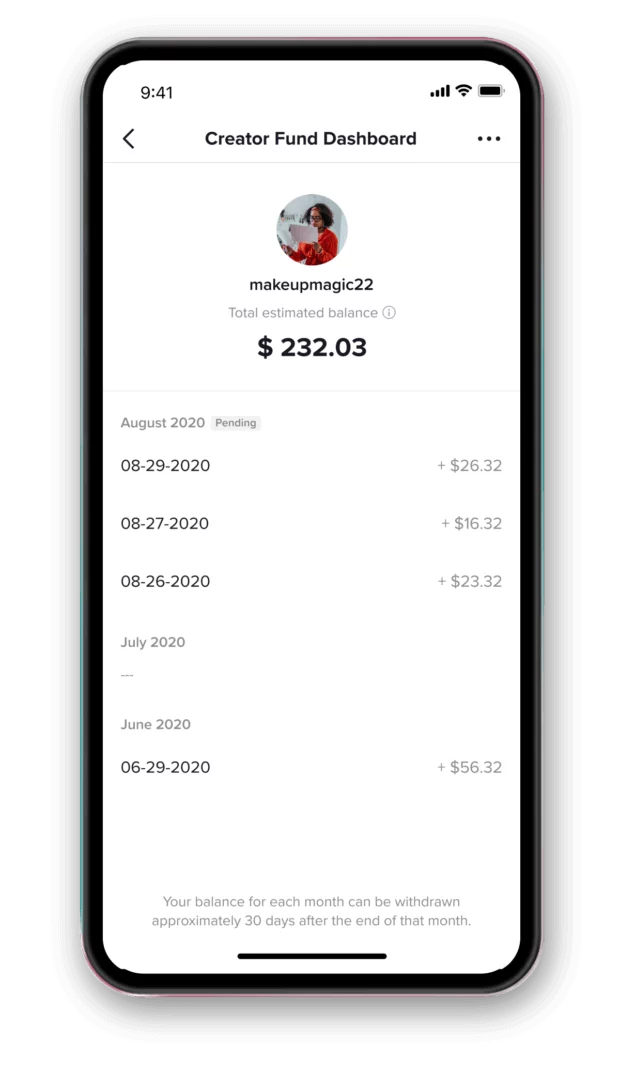 But, not everyone can cash in on TikTok's generosity. To be eligible for payment through the  TikTok Creator Fund,  you need to fulfill all the following criteria:
You must be at least 18 years old.

Have a minimum follower base of 10,000.

You should have at least 100,000 video views across all your videos in the past 30 days.

You should be based in one of the following countries, the US, UK, France, Germany, Spain, or Italy. (Sorry, rest of the world!)

Your account needs to meet the TikTok Community Guidelines and Terms of Service.
If you fit the bill, you can apply for enrollment in the Creator Fund via your app. Open Settings and Privacy, select Creator Tools, followed by TikTok Creator Fund. If your account is eligible, you'll be prompted to enter your contact details, and you'll need to sign off on the Creator Fund Agreement. If TikTok is blocked in your country, you should know how to get VPN on iPhone to access it. Don't know how to get TikTok views for your videos? Signing up for the Creator Fund is one way.
Should you buy TikTok views?
No! You most certainly shouldn't buy TikTok views! You can put your credit card back in your wallet. It's not possible to buy social media success on TikTok. If you do, your view metrics may rise, but your engagement rate will plummet. Don't even try to game the TikTok algorithm. Instead, invest your time using the tips we share in this article to get more TikTok views. 
How many views on TikTok is viral?
Typically TikTok will show your videos to 500-600 viewers. If you get views from 70% of that audience, your video is rated as viral. Remember, even a 1-second view counts. Knowing how to get TikTok views starts with knowing how to create engaging content.  
Are views or likes better on TikTok?
Views, followers, likes, and comments are all engagement metrics monitored by the TikTok algorithm. It's not about one being better than the other. To get noticed, you need to work on raising all the engagement metrics.
How long does it take for a TikTok to get on the FYP (For You Page)?
The FYP is the Holy Grail for all TikToks. The simple answer here is that it depends on your overall engagement metrics. Established TikTokers with high engagement metrics can get their videos on FYP within an hour, while it could take up to 15 days or more for those just starting. 
How long does it take to get more views on TikTok?
Building views for your videos take some time and patience. Each time someone watches your video, it's instantly added to your view count. However, if you're just starting and have a low engagement score, your videos might gain traction down the line because that's how the TikTok algorithm curates content for users.
Why is my TikTok not getting views?
There are a number of factors that affect the number of views your TikTok account gets. For example, TikTok flags newly-created accounts that post content right away. You need to use the app as a normal user to prevent this before posting your own videos. Your account might also be in the wrong category or use the wrong hashtags. 
Why does my TikTok stop at 1000 views?
This issue usually happens when you post videos too frequently. When you post too many videos simultaneously, TikTok will also need to check your videos first. It's also possible that your content doesn't interest your audience.
How to get more views on TikTok
The completion rate is king on TikTok. You need to focus on making videos that most people watch until the end. When your video has a higher completion rate, TikTok will show more people your video. That is how the algorithm works. 
Videos with a high completion rate and high repeat views put you on more people's For You Page. The key is to hook them in the first 1-3 seconds and keep them engaged until the end.
"TikTok is designed to be fast-paced, which means capturing the attention of the viewer within the first few seconds is imperative. Generally, the most successful TikTok videos are the ones that require little to no introduction, and dive right into the entertainment. You're going to want to immediately present the topic or theme that is intended to represent the overall purpose behind your video. 

For example, my most successful TikTok video (51.5 Million views) is a skit-style video that reflects a relatable customer-service moment in a grocery store; my strategy for this video was to promptly present a problem that was relatable and topical, in order to grab the audience's attention, and quickly spark their interest."
Samantha Erickson, TikTok Creator @snerixx
Let's now dive in and look at the steps you can take to gain more views on TikTok:
Use Hashtags
Hashtags are powerful tools in building engagement with your audience. Hashtags tell the all-mighty TikTok algorithm what your video is about and hence, who might be interested in watching it. Hashtags are also essential when users want to discover relevant new content via search. Another way is to go niche with a specific hashtag relevant to a more limited and focused audience. 
There's enough evidence to suggest that videos with hashtags of trending topics are more likely to end up on the For You page, so it can be worthwhile to keep an eye out for what's currently trending and hop onto the bandwagon (ensure the hashtag is relevant to your content). There are several ways to find trending hashtags. Hashtags are an excellent solution to the problem of how to get TikTok views for your videos.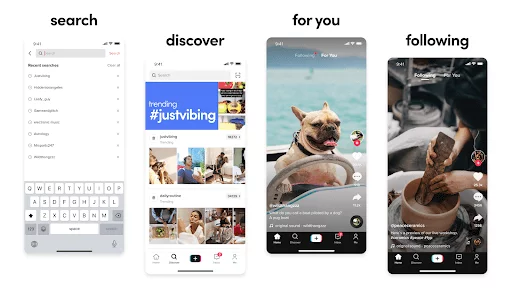 The easiest way is by simply tapping on the "discover" tab on your screen and tapping on trends. Tiktok will show you the currently trending hashtags and previews of selected videos tagged with these hashtags. 
Other ways to find trending TikTok hashtags are tapping on the search bar and typing in the topic you're looking for. Scoping out your competition is another way to see the hashtags they are using and the ones that are getting the most views. 
"TikTok hashtags are actually super useful to build a following and increase engagement – but you have to use them right. There are certain hashtags that are so widely used (think, #makeup as an example) that your video will be drowned out in a sea of viral videos from influencers.  

I would recommend hashtagging your brand. As an example, Shein uses the hashtag #Shein – this helps their brand to be discovered and increases UGC by rolling a hashtag of your brand.

It's hard to say what hashtags would work for your specific brand, I suggest monitoring relevant influencers in your niche to see what hashtags they use. My main tip is to make it relevant to the content – this will help you retain engagement and followers, which is ultimately more important than short spurts of attention." 
Sharon van Donkelaar, CMO and Head of Growth at Expandi
Quirky captions
TikTok makes it easy to turn on captions on the videos you create. There is a feature where TikTok automatically adds captions just by scanning your video's audio. Of course, you can always add captions manually to capture what you said or add more flair and a touch of your personality to your videos.
Captions work like the hashtags for the algorithm while it "reads" your video and decides who it would be most relevant for. The caption helps give the app additional context to what's going on in your video. 
Use music and sound effects
Hashtags aren't the tool in your TikTok arsenal to boost your views and engagement. Like hashtags, TikTok sound has its trending cycle. Different sound effects on TikTok Sound also go through popularity cycles. Keep your ears peeled for recurring sound clips that you can riff on. 
"One of the best ways to get more views on your TikTok videos is to use current trending sounds in your videos. Those who use TikTok like to look into the videos that are using trending sounds. By clicking the sound from a video, you are able to see all the other videos that use this sound or effect. This then widens the audience that will view your videos.

Even if you do not have the sound on all the way, and simply have it on in the background, as long as you use the trending effects, people will click on it to view the video. It can be helpful as a content creator to keep an eye on the trending sounds and to save them to use at a later time so you do not lose them. Many times these sounds have a specific dance or pattern that goes with them. It can be helpful to follow this pattern, or tweak it a little in order to increase the chances of someone watching the video."
Adam Moore, Founder of SocialPlus
Another way to discover trending sounds is by tapping the Create (+) button in the app and then tapping on Add Sound. That will show you the current most popular audio clips.
Invest time & effort in promotion & cross-promotion
Once you have created and uploaded your video on TikTok, you need to spend time promoting it. 
TikTok has released its Promote feature, enabling you to market your videos organically to reach new and relevant audiences. Finding your organic audience via the promote function will no longer be penalized or shadowbanned. If you're running an email outreach campaign as part of your social media strategy, you can use follow-up emails to introduce your audience to your channel and an email validation API to make sure your emails are hitting the right inbox.
TikTok could reward those who hop on this new trend quickly. TikTok Promote works like Facebook Boost and is a tool for advertising to the people on the platform. It enables creators, influencers, and businesses to push posts out to a larger pool of consumers. This feature is valuable for growing your audience on TikTok. 
Knowing how to get TikTok views extends beyond promoting it on the platform. It also includes promoting snippets of your videos on other social platforms. For instance, you may use teasers to lure audiences on Instagram Stories or tweet a link on Twitter. Soon you'll be running a full-fledged omnichannel social campaign. 
Find your audience/niche
If you have an engaging video, there is an audience there for it. The audience on TikTok is well segmented and can get hyper-focused ranging from a literary crowd on BookTok to a vibrant rug-tufting community. 
The key is to find the niche audience that best relates to your content. Look at some videos in your relevant community and figure out who you want to hang out with. Observe the popular accounts in these communities and pick up on thighs like the hashtags used, formats, references, and content that got high engagement. Use that as inspiration for your videos. 
Commenting and liking others' content can help build relationships with your specific audience. Hopefully, your quirky or insightful responses will inspire a fellow TikToker to check out the content on your page.
"There is a common misconception that only young people are using TikTok. In reality, TikTok users are from a wide range of demographics. Almost 60% of users are actually Millennials, GenXers, or Baby Boomers, which goes to show that TikTok isn't just for GenZ. 

This is good news for those interested in advertising on TikTok because it means there is a wide variety of communities and niches accessible. The key is to narrow your focus down to your ideal customer and find relevant topics, hashtags, and TikTokers who have a decent size following to help optimize your ads."
Leo Livshetz, Founder + CEO of Unhide
Pay attention to upload frequency
Here's another secret, successful creators on TikTok are frequent posters. The top echelon of creators posts up to 3-4 videos a day. If you hope to go viral with your videos, you must make enough content and upload it daily using your TikTok scheduler. We already said you need to devote time to start standing out on TikTok. There are no shortcuts here. 
If you keep a low profile and only post 1-2 videos a week, your videos are unlikely to appear in other people's For You feeds. The best TikTok accounts release several videos a day, and while that may be beyond your reach as a stand-alone creator, posting at least once a day is a must. 
A heads up here. Quantity without quality will get you nowhere on TikTok. Your videos won't gather engagement and traction, and your efforts will come to naught. If you're an established brand, once a day on all weekdays is a starting point. The more high-quality content you create, the more likely you will find an audience who will engage with it. When you ramp up your posting frequency, you don't need to worry about flooding or spamming your followers' feeds. Remember, all content you post on TikTok is curated. Hence, it won't overwhelm your followers, unlike if you post multiple Instagram or Facebook videos a day.
"Post Frequency is a widely overlooked metric which is a cornerstone of the TikTok algorithm

In my opinion, the key to succeeding on TikTok is to be strategic in your posting strategy. You need to find the right balance between creating or sharing fresh, engaging content that your audience will love and staying consistent with your posting schedule. This means posting consistently at regular intervals which for most will require following a content plan."
Chris Grayson, Founder of InfluencerMade.com
Be consistent
Be consistent with your creation and posting from end to end. Keep a consistent channel tone, type of content, and quality in your videos. Ensure consistency in your posting schedule and how you use the audiovisual elements in your video. The idea is to make your content instantly recognizable to the viewer. 
Consistency will get your channel traction and recognition with the viewers and TikTok's algorithm.
It's all about quality
Yes, most videos on TikTok are shot on people's phones, but that's no reason to compromise on quality. Let's divide quality into two parts here. The first is the technical part. Pay attention to critical details like maintaining proper framing, ensuring proper lighting, and using external mics for the best sound quality. Ticking the boxes on these critical technical elements will keep your users engaged. TikTok prioritizes high-quality videos for placement on the For You Page.
TikTok is a creator-centric platform that emphasizes fun content and rewards users' creativity. Think of topics that a broad audience relates to, hook the viewer within the first five seconds, and use the video to tell a funny and quirky story. A good narrative is about writing better dialogues. A story sets up the viewer for a twist that follows and leaves the viewer looking for more. 
"Balance your original and user-generated content. Unique content with the appropriate, trending hashtags will stand out among other TikToks, and when you share posts from your brand partners and customers, you add credibility to your brand. For example, one of our two best performing TikToks is original content featuring our employees. The other is a repost of a

popular video featuring Will Ferrell and Mark Wahlberg that we framed in our brand context. You can optimize your profile and increase views when you have a mix of both original and user-generated content."
Bill Glaser, CEO of Outstanding Foods
Collaborate with other TikTok creators
TikTok is a social media network, and like all social networks, the keyword here is "social." As a creator, you need to engage with other creators. Hence, you must spend time viewing, liking, and commenting on other people's videos. Remember, engagement is a big part of the algorithm ranking criteria. 
Another way to broaden the reach of your videos, thereby increasing the odds of them going viral as trending videos, is by collaborating with other TikTok creators. You can even reach out to influencers who might agree to work with you in your videos. 
Engage with the audience
(Likes, Comments, Shares)
Focus on your followers and audience. By responding to the comments, you build a relationship with your audience. When you respond to the same viewer across different videos, the TikTok algorithm views that as engagement with the viewer making your video more likely to show up in their For You feed. The more you interact with your audience, the more your videos appear on their For You pages. Just make sure that you don't use buzzwords in your dialogue.
Another nifty idea is to post a comment in 2-3 sentences explaining how you came upon the topic of the video. It allows the viewers to get to know the creator behind the content.
"Engaging with the users in your niche is a great way to boost your views on TikTok. When you know who your niche audience is, you can tailor content toward what they want to see. You can interact with the users in your niche by tagging their content and interacting with their comments on your page. The more activity on your page, the more the algorithm will boost your content."
Devon Fata, CEO of Pixoul 
Aim for completion rate
While it's true that users only need to watch a fraction of a second of your video for you to earn a "view," it's super important to keep them watching to the end.
That's because the TikTok algorithm prioritizes videos with high completion rates. It wants to serve up quality content as For You Page recommendations.
So, how do you hold your audience's attention until the end? Play with their curiosity, and offer value. Hook them in the first few seconds with a promise of what's coming if they stick with it (tutorial videos and recipes are great for this!), or use captions that build suspense (like Bella Poarch's "Wait for it" below) for a big reveal.
"As a B2B SaaS company, what we offer, and who our audience base consists of, is different from other, more traditional, B2Cs. Because of that, being super trendy or flashy with our TikTok just doesn't work quite as well. Our audience base is looking for a quality, informative resource that can provide them with value, and since we know what they are looking for in terms of service, we know what will work best in terms of social media content. Our best videos are ones that provide tips and tricks – short videos that are to the point and educational."
Kyle MacDonald, Director of Operations, Force by Mojio
Be unique and creative
Your TikTok idea should be one of a kind. You want to create content that resonates with a broad audience, is fun to watch, and makes you stand out as a creator. Where do you start? Here are a couple of suggestions to get you started (or discover even more TikTok video ideas):
Create a branded hashtag challenge:

TikTok

Challenges use specific hashtags and encourage your users to create videos on a challenge theme. It's often started as part of a campaign or viral trend.

Share a how-to video:

Use your video to give valuable tips on using a standard product or service or an educational video. Dr. Danielle Jones, or

MamaDoctorJones,

has reached more than six million views with her videos about sexual health and pregnancy. 
The idea is to let your creative juices flow and develop unique and creative content that makes you stand out in the crowd.
Jump on viral trends
There's always a dance craze happening on TikTok. Remember the Renegade? 
Once a trend hits critical mass, it enters the consciousness of the mainstream audience. That is your cue to jump on the bandwagon and create your viral video that aligns with the trend. 
Dance challenges are often built around a particular song, a specific sequence of moves, or in some cases, both. A case in point is Flip the Switch which features the Drake song and has two people switching places in front of a mirror. 
The trick with dance videos is to be genuine. If you're not enjoying yourself, it will show on screen, and the video will feel stiff and fail with your audience. 
"Be genuine and organic. While high-production videos can do well, those that tend to do better usually look like they were made by an average person. These are easier to relate to and have a similar legitimacy to them as advertising through word-of-mouth. When starting out with TikTok ads, we repurposed content from Facebook. The quality was high, and it performed fairly well on the intended platform. However, when it came to TikTok, it didn't generate the same kind of traction. We learned this was most likely due to it feeling like a traditional ad.

Moving forward, we are looking to utilize the virality of genuine content and the word-of-mouth feel influencers provide. Combining these two aspects with trending sounds or filters can provide a huge boost to creative assets."
Geoff Crain, Digital Director at Kingstar
Optimize your profile & videos
A unique and memorable name is the starting point of your TikTok bio. It sets the tone for what your account is all about and ensures that you show up in relevant keyword searches. TikTok gives you one clickable URL in your bio. Use it wisely since you only get one chance here. This feature turns your TikTok feed into a mobile-optimized and clickable landing page. 
A picture is worth a thousand words. Take the time to select a unique icon to represent you. TikTok gives you exactly 80 characters in your bio to describe who you are and what you have to offer. Keep it short, concise, snappy, and engaging.
Do your research
Last but not least, let's talk about research, which is perhaps the most important and sometimes most challenging part of your creation process. As you build your skills in curating content, you will learn how to post an increasing amount of interactive content with time. You will soon notice that only a fraction of your content gathers popularity while the rest remains buried in the crowd.
Use that knowledge and insights from TikTok to refine your content and make it more engaging. Start with understanding the type of content that works best with your audience and that which garners the highest traction. 
Extending the research to your audience can help you create a customer persona that includes your audience's demographic and psychographic details. That includes data on their likes and preferences. 
However, these insights and analytics are only available in TikTok's pro accounts. Hence, you would do well to change your account to "pro" once you have achieved a critical mass of followers. 
Ready to go out there and get more views on TikTok?
Use these tips and tricks to get your foot in the door of the TikTok world. The TikTok algorithm is mysterious, but it's possible to crack the code with practice and patience.
Make TikTok your social platform of choice irrespective of whether you're just starting your own business or looking to build your online presence. With a bit of time and effort, you can quickly accelerate the growth of your audience on TikTok and start witnessing positive results. Be open to experimenting with different ideas till you discover your sweet spot. 
Good luck!