The fact that Halloween is just around the corner is frightening enough. You don't need the extra pressure that comes with planning everything from scratch. From spooky Instagram story background designs to all those bloody popular #hashtags, we got your back. This article contains all the resources we've gathered in our Halloween Marketing Kit. Why? So you can have enough time to enjoy your pumpkin spice latte. That's why!
We'll start with the basics: infographics with the best time to post, best channels & formats, ideal campaign start for each holiday, image sizes, and the most relevant topics. Ready, get set, boo!
The basics. When, where, how, what to post
Best times and days to post on social media
These times are in Eastern Standard Time (EST). You'll need to convert them to the timezone of your audience.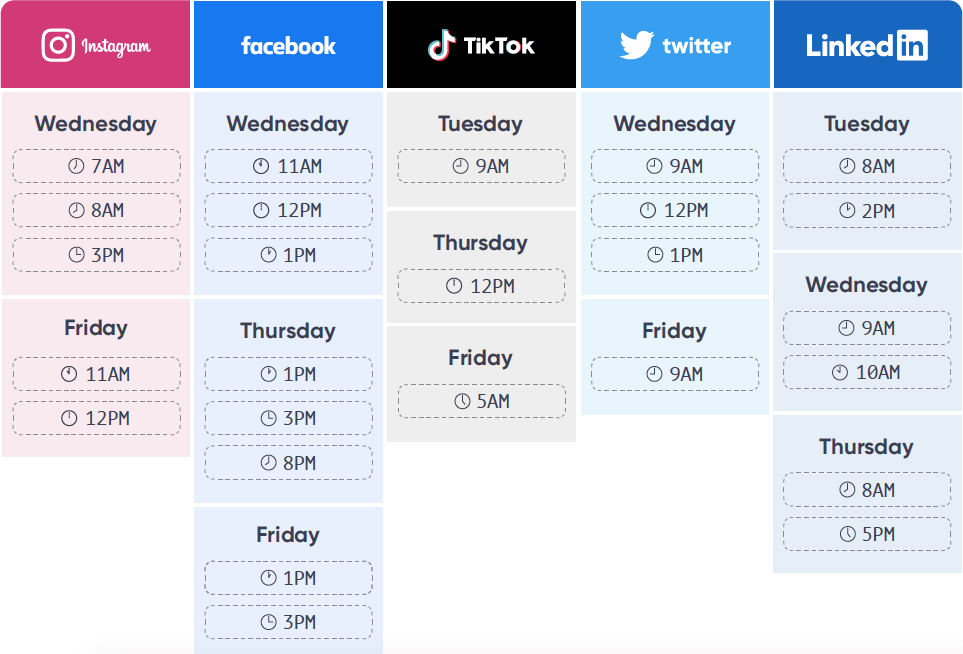 When to start talking about the upcoming holidays
While planning can start 3-6 months in advance, the moment you begin communicating with your audience is pretty standard.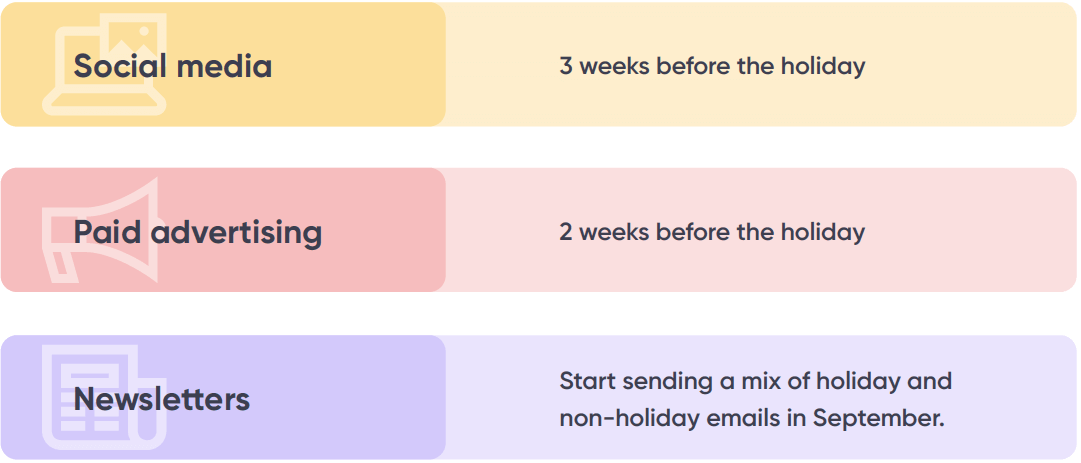 Frequency of the holiday-related posts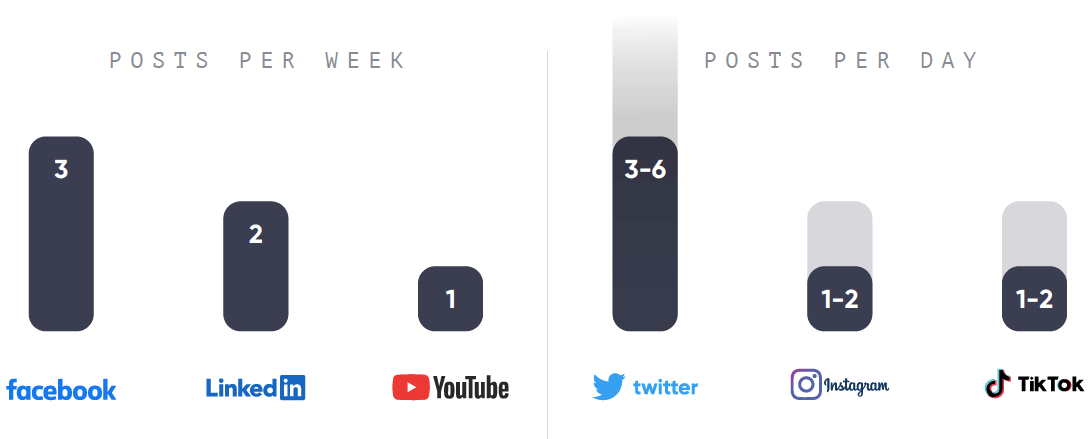 Best social media channels by users
More than half the people on Earth use social media and that number is still growing daily. This means your audience is probably out there. All you have to do is publish your holiday campaigns, engage, and make that sale.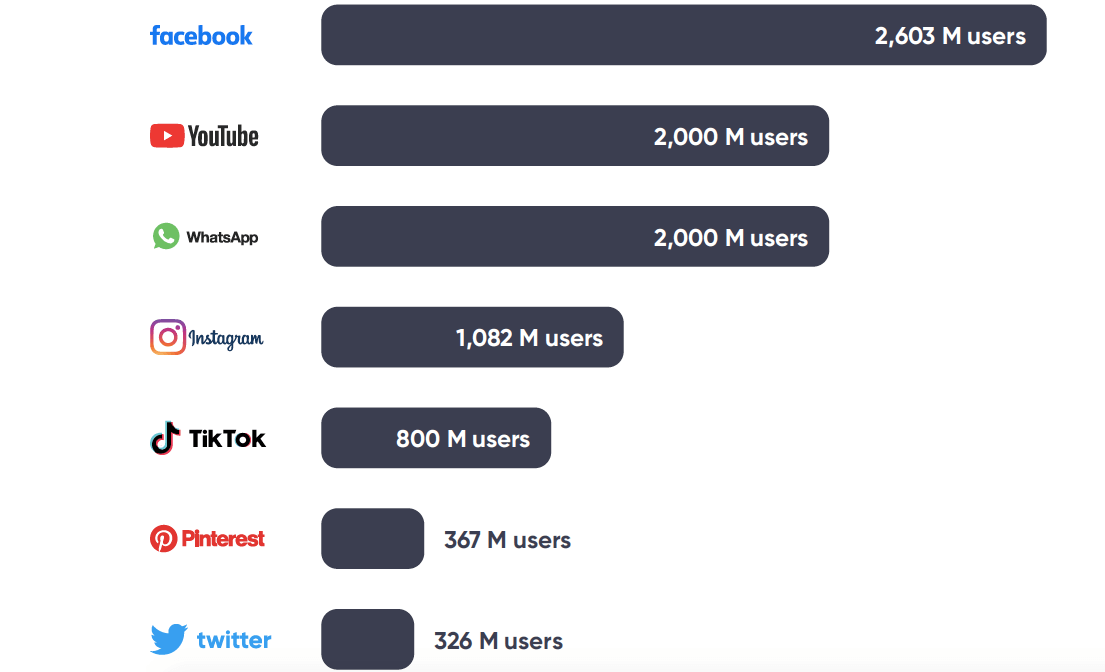 Image size guide for your social media posts
No need to remind you about the importance of visual assets in your campaign, right? Instead, here's everything you need to know in terms of image sizes for all main social media platforms. This leaves you more time to focus on creating amazing Halloween social media posts.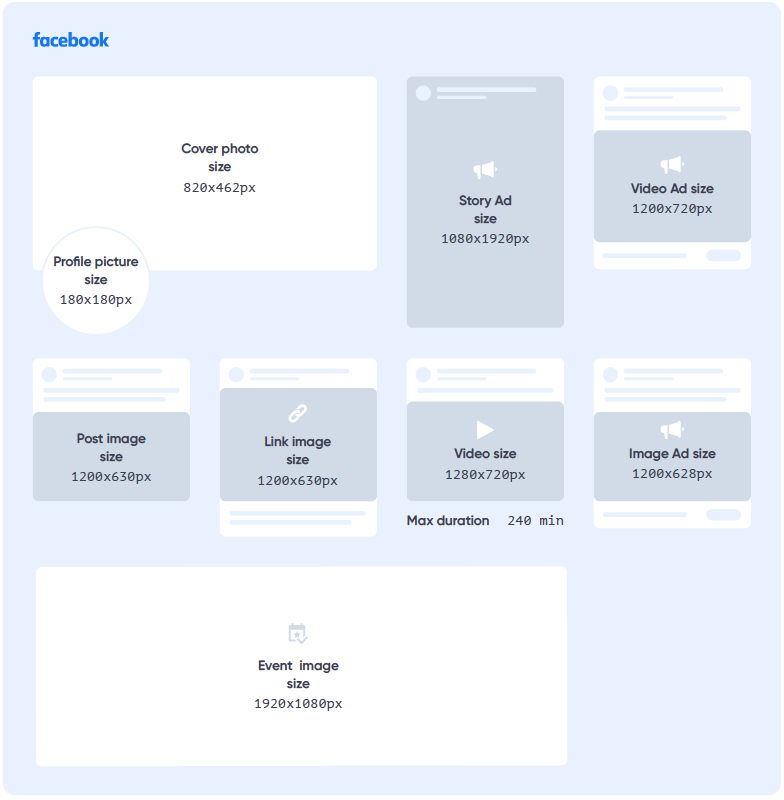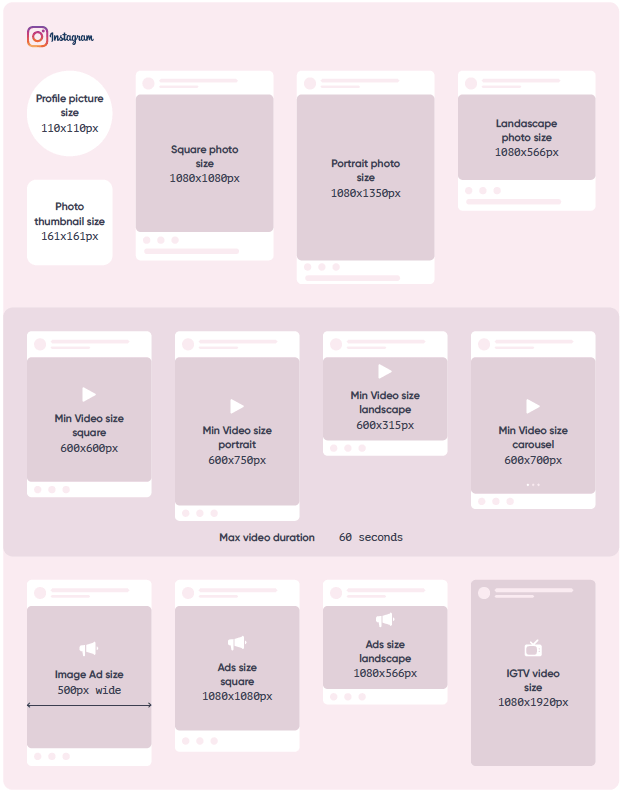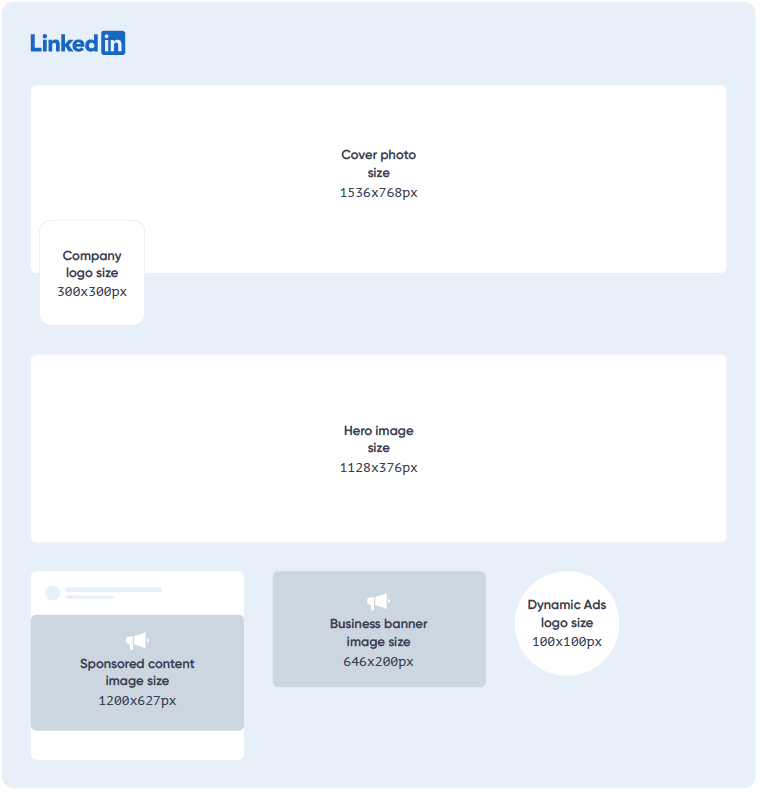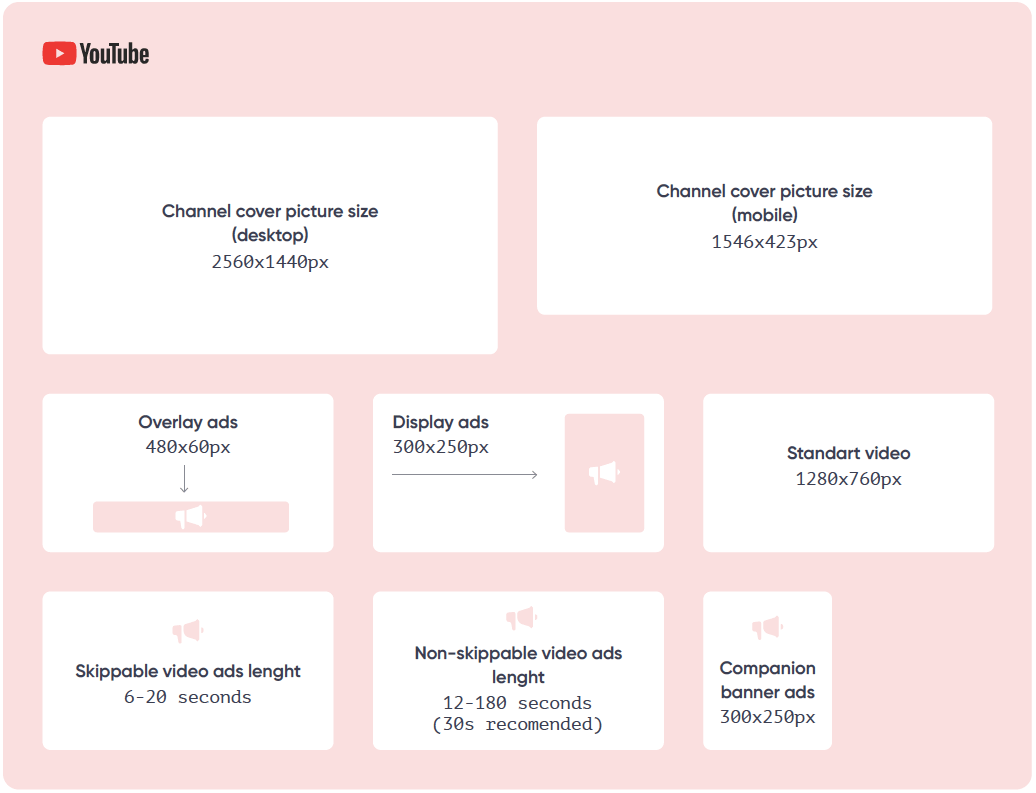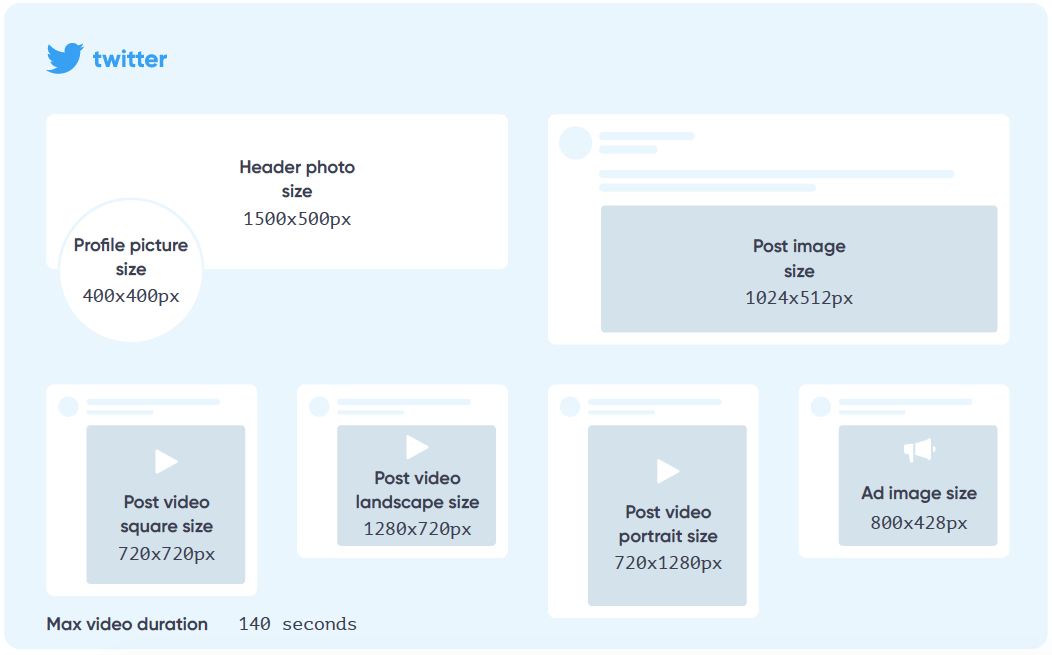 Best topics for your Halloween campaign
If you're in need of some inspiration for your Halloween marketing campaigns, check out this collection of topics to get your creative juices flowing.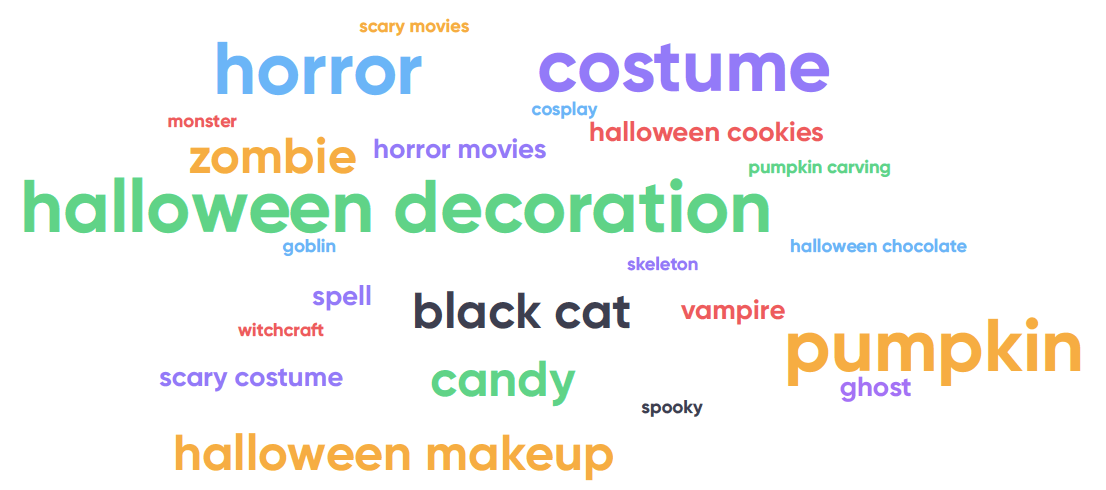 Merry tools for productive marketing teams
Next, you'll find a list of hand-picked tools that will make marketers' lives easier when planning the holiday campaigns. 
Best social media tools
Planable helps agencies & in-house marketing teams collaborate to create, approve, and publish social media content faster. With Planable, marketers have an all-in-one platform that streamlines content creation & approval. So no more misunderstandings or wasted time.
Pricing:
starts at $33/month billed annually (free plan available)
Kicksta promises pure organic growth powered by a cutting edge Artificial Intelligence technology for your Instagram accounts. They also have a hashtag generator tool which is very simple and includes a search box where you can enter a keyword or topic. Then the tool will generate a list of hashtags related to that topic.
Pricing:
starts at $49/user/month
Podium is redefining the way customers interact with local businesses. From collecting reviews on the sites that matter most, textenabling your website with Webchat, collecting payment via text, gathering private feedback to managing all your customer messages from one central dashboard with Inbox, Podium is the answer.
Pricing:
Available upon request
BuzzSumo analyzes hundreds of millions of pieces of content, making comprehensive and robust data accessible to businesses of all sizes. It provides insight into what content is working, why, and which influencers can amplify it.
Pricing:
starts at $79/month billed annually 
Mention is a social media marketing suite that helps brands and agencies drive the conversation. Monitor what's being said online about your brand or product, get analytics on your industry and measure the impact of your marketing & PR activities.
Pricing:
starts at $25/month (free plan available) 
Best design tools
Personizely is a conversion marketing toolkit used to make the most of every website visitor. Create high-converting pop-ups, bars, and callouts. You can easily edit your website according to visitor's activity history, source, geolocation, device, store activity, and many more, creating variations of your website.
Pricing:
starts at $23/month billed annually
Venngage empowers you to easily create infographics, presentations, social media posts, and other visual designs with thousands of customizable templates, charts, icons, and design elements.
Pricing:
starts at $39/month billed yearly (free plan available)
Designmodo offers best-designed tools to create well-coded websites and beautiful email newsletters. Using this awesome tool, you can create different types of content: promotional, E-Commerce, news, transactional, and more.
Pricing:
starts at $15/month billed annually (free plan available)
Canva empowers users to create social media graphics, presentations, posters, and other visual content. Featuring a simple drag-and-drop user interface and a vast library of templates and design ingredients, anyone can take an idea and create something beautiful.
Pricing:
starts at $9.95/month billed yearly (free plan available)
Lucidpress is a design & brand templating platform that empowers non-designers in your company to create and distribute marketing collateral all on their own (without going off-brand). Lockable templates protect your brand while allowing colleagues to make small design tweaks and customizations, easing the workload off your creative team.
Pricing:
starts at $10/user/month (free plan available)
Best task management tools
Paymo is a work management tool that connects teams looking to manage tasks, schedule team workloads, track worked hours, and bill clients from a single platform. Keep your team aligned and engaged.
Pricing:
starts at $8.95/user/month
Todoist is a to-do list app that can help anyone get organized, no matter where they are or what device they use. From planning large scale projects to simply remembering to pay the rent, Todoist can be really helpful.
Pricing:
starts at $3/month billed annually (free plan available)
Asana helps teams orchestrate their work, from daily tasks to strategic initiatives. With Asana, teams are more confident, move faster, and accomplish more with less, no matter where they are located. Teams do great things when everyone has clarity and is empowered to do their part. 
Pricing:
starts at €10.99/user/month billed annually (free plan available)
Description: Trello helps teams work more collaboratively and get more done. Trello's boards, lists, and cards enable teams to organize and prioritize projects in a fun and flexible way. Whether it's for work, a side project or even your next family  vacation, Trello helps you stay organized.
Pricing:
starts at $9.99/user/month billed annually (free plan available)
Notion is the all-in-one workspace for notes, project management, documents, and collaboration. Tens of thousands of teams and companies around the world use it to keep their employees informed and working together in one place.
Pricing:
starts at $4/month billed annually (free plan available)
Best analytics tools
Socialinsider is a social media competitive benchmarking, analytics, and reporting tool. They support all major social media networks: Facebook, Instagram, Twitter, Linkedin, YouTube, and TikTok. With Socialinsider you can impress clients with data they haven't seen before by comparing their efforts with the efforts of their competitors.
Pricing:
starts at $83/month billed annually
Brand24 is a simple yet reliable social media monitoring solution. Brand24 empowers its users to stay updated on what's being said about their businesses online, get customer insights, engage communities, identify sales leads, improve social customer service, reach out to influencers, and monitor their competition.
Pricing:
starts at $49/month billed annually (free plan available)
Awario is a social media & web monitoring tool that will help you track brand mentions, monitor competitors, find sales opportunities and influencers, and engage with your audience online.
Pricing:
starts at $24/month billed annually 
Cyfe is all about data. This social media management app helps you keep and analyze all of your business data in one single place. From social media to finance and SEO, all your data will find meaning with Cyfe. 
Pricing:
starts at $26.06/month billed annually (free plan available)
Social Blade tracks user statistics for YouTube, Twitch, Instagram, and Twitter. Social Blade gives all users access to their public database which, using advanced technology, is able to provide you with global analytics for any content creator, live streamer, or brand.
Pricing:
starts at $3.34/month billed annually
Social media activation ideas
Now let's take a look at some fresh social media ideas to drive engagement and make new users fall in love with your brand. 
Virtual costume contest
Sharing time. Who doesn't like to brag? Especially with their Halloween costumes and makeup. Start a contest and encourage your audience to virtually share their costumes from this year.
You can organize it anywhere on social media – with a photo in a comment on Facebook, or with hashtags on Instagram, Twitter, or TikTok. If you opt for hashtags, make sure you mention that all posts must be public.
Choose a Halloween-themed prize, a coupon, or some of your products or services. It's up to you and your budget.
You can randomly choose the winner, or you can let their friends vote and let the best one win – hint: we'd suggest you go with the latter, as contestants can bring you exposure.
Scary story contest
Think everyone's pulling the costume contest? Go with the horror story idea instead. With a similar mechanism, the story works for everybody, whether they have a costume this year or not.
All it takes is a little bit of creativity and you can help them anyway. Create the contest around your main product, decide on a specific theme, or choose up to 10 words to be included in the scary story. Top of mind ideas. You can create the contest however you want, and reshare the stories in social media posts. User-generated content and happy audience.
Pro tip: if you choose to use a specific hashtag to follow your contestants, make sure it's a new hashtag, so you won't count some old posts that have nothing to do with your awesome contest.
Instagram story poll – this or that
Instagram is on a roll with its story features. So why not take advantage of it? "This or that" type of content works since the beginning of marketing and Halloween interactive posts make no exception.
The mechanism is pretty straightforward: prepare your visuals in advance. Choose two types of opposite items from the same topic: costumes, cookies decoration, cats or bats, etc. Then use the POLL option from IG stories to let your audience say what they prefer. 
If you want to elaborate on that, create a BuzzFeed style quiz. Add up to 5 "this or that" poll stories, and at the end reveal what their choices say about them. For example: do their answers reveal they're more into the candy part of Halloween or are they more into the horror spectrum of this holiday?
Facebook reaction vote post
Similar to Instagram Polls, but in Facebook's feed, you can make use of emoji reactions to engage with your audience. Thumbs up for superhero costumes, love for Disney characters, HaHa for funny outfits, etc. Let them vote what they'll wear this year with one simple emoji.
Bonus points: it only takes one Facebook post to get all the engagement you need for this year's Halloween.
LinkedIn employee costume contest
LinkedIn may not seem like the right place to have a Halloween campaign. Not for your audience maybe, but it never hurts to make your employees feel appreciated. Organize a virtual costume contest and encourage them to share how awesome your company really is.
Plus, Zoom Halloween backgrounds will be a great hit. Create some for your next meetings and be sure your employees will brag about it.
Examples of successful social media campaigns
We've also curated a collection of brilliant Halloween advertising campaigns from various brands to draw last-minute inspiration from. Halloween advertisements can be a great way to make consumers think of your brand next time they're out shopping, so let's make sure they're memorable.
Skittles. Zombie Skittles 


In 2019, the Mars company came up with a brilliant idea for Halloween:
Zombie Skittles
. People got to enjoy five tasty Halloween themed flavors, such as Boogeyman Blackberry & Mummified Melon. However, an undercover 'rotten' Zombie flavor was included. A terrifyingly awful taste to complement the frightening holiday. Mars also encouraged consumers to record their experience and share it on Instagram using #DareTheRainbow and @skittles.
Dior. #DiorMakeupHalloween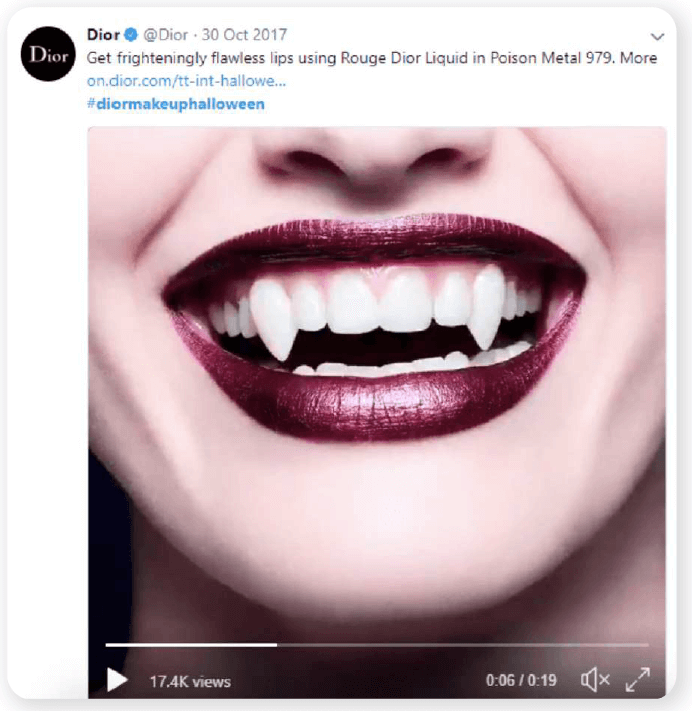 Halloween doesn't have to be all about pumpkins, candy, and horror costumes. Dior proved that brands can elegantly combine beauty with the dark side of Halloween. They came up with an influencer campaign featuring Bella Hadid. The supermodel showed how to create fabulous makeup looks just for Halloween and the videos were posted under the #DiorMakeupHalloween hashtag.
Burger King. #ScaryClownNight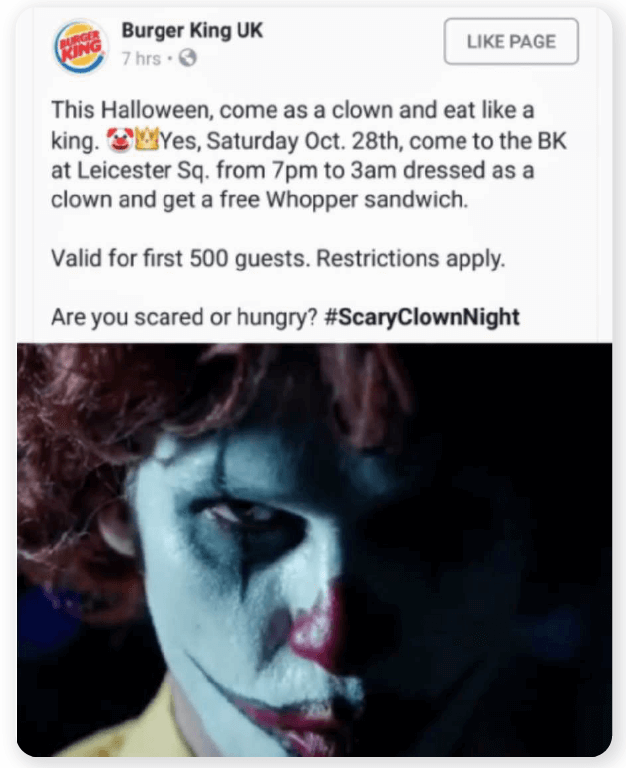 Would you dress up like a clown to eat like a king? Burger King offered a free Whopper burger to the first 500 people to visit selected stores wearing a clown costume. If this makes you think about the mascot for the rival brand, well…mission accomplished. They made a Youtube video and promoted it with the hashtag #ScaryClownNight. 
Aqua Carpatica. Scary nitrates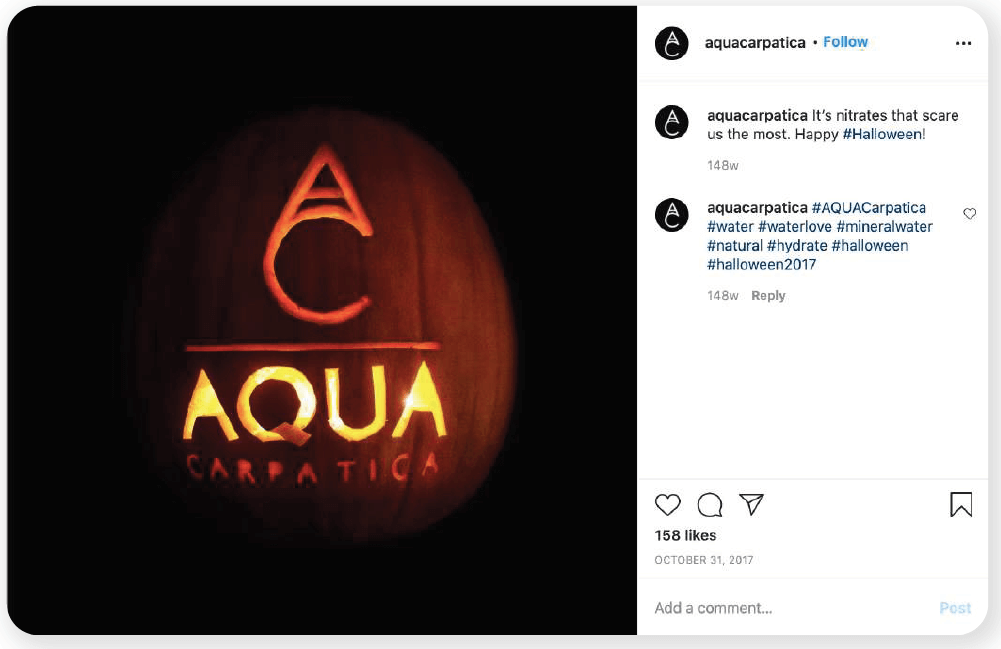 Some people are afraid of creepy clowns, others are scared of nitrates. Sometimes, all it takes is a smart caption. Aqua Carpatica's Halloween post keeps it nice and simple by making a confession: "it's nitrates that scare us the most". It's a good example of how brands can integrate their product qualities (e.g. naturally free of nitrates) into a creative campaign for Halloween. 
LG. So real it's scary

LG also found a creative way to combine their brand message with a scary experiment for Halloween. They replaced parts of an elevator with LG television screens and then tricked unsuspecting elevator riders into believing that the floor was falling away. The
YouTube video
was fun to watch but also proved that the screens present an ultra-realistic picture. 
Instagram story background designs
So you know when to post, you have the tools, you've chosen your favorite Halloween ad and got inspired. Now it's time for some holiday-themed backgrounds for Instagram stories that any marketer can personalize.
That
easy? Why? So you can have enough time to enjoy your pumpkin spice latte. We mentioned that already and we meant it.
Visuals to the rescue
You also need high quality images to impress users. That's why we prepared a curated Unsplash collection containing 30 drop-dead gorgeous images that go well with any Halloween marketing slogans you can imagine.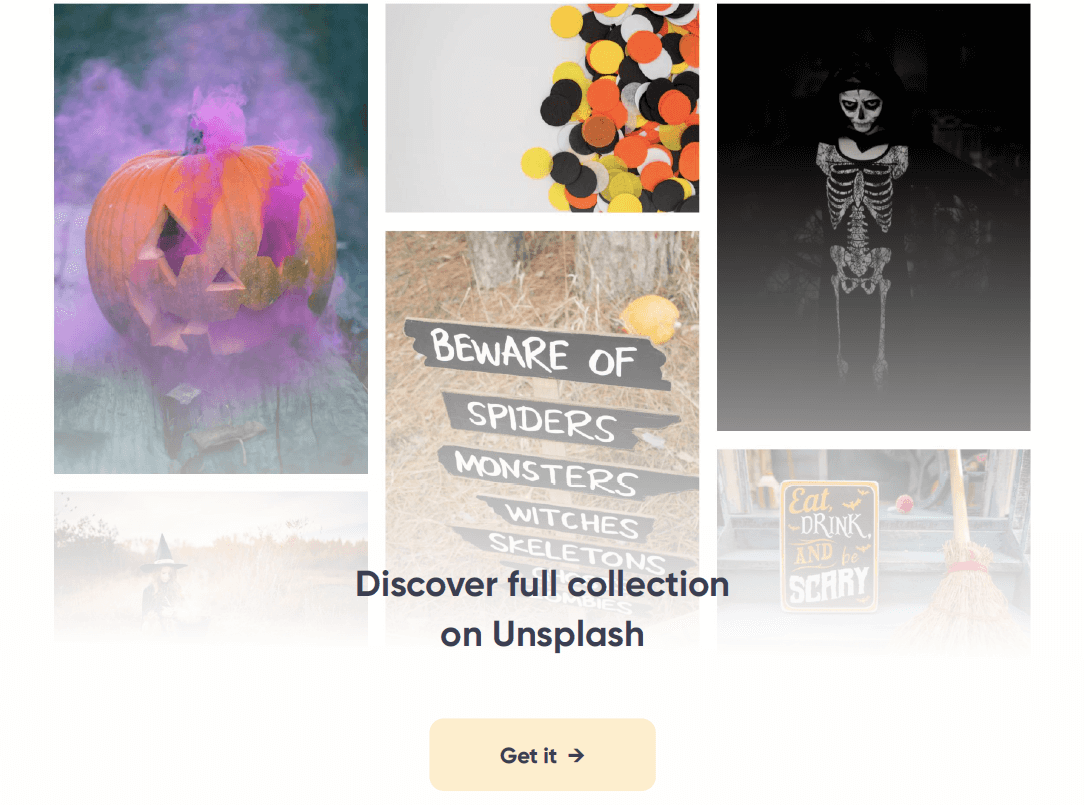 Post templates
Halloween posts should be planned ahead of time. No doubt about that. Get into the holiday spirit by customizing your own posts using Planable.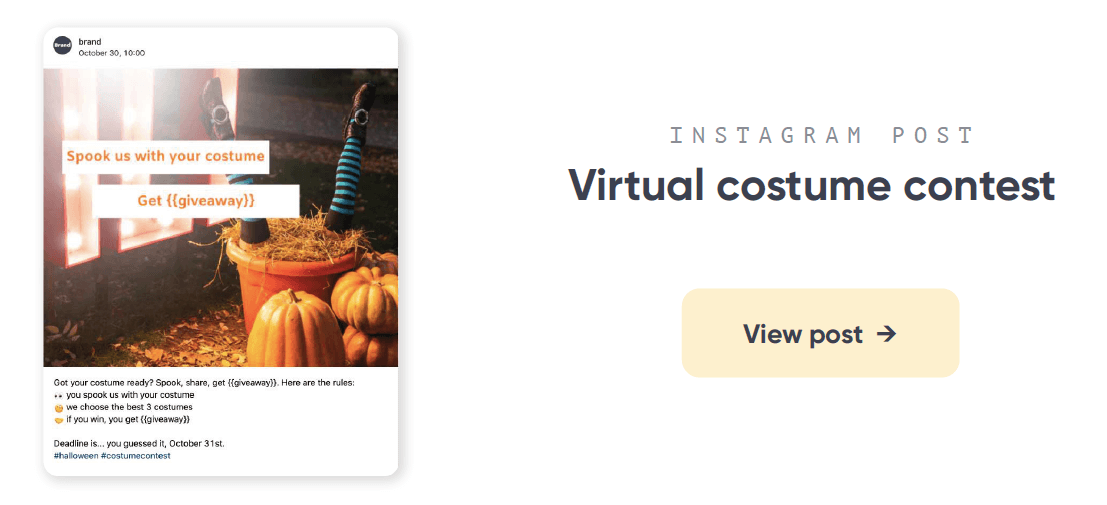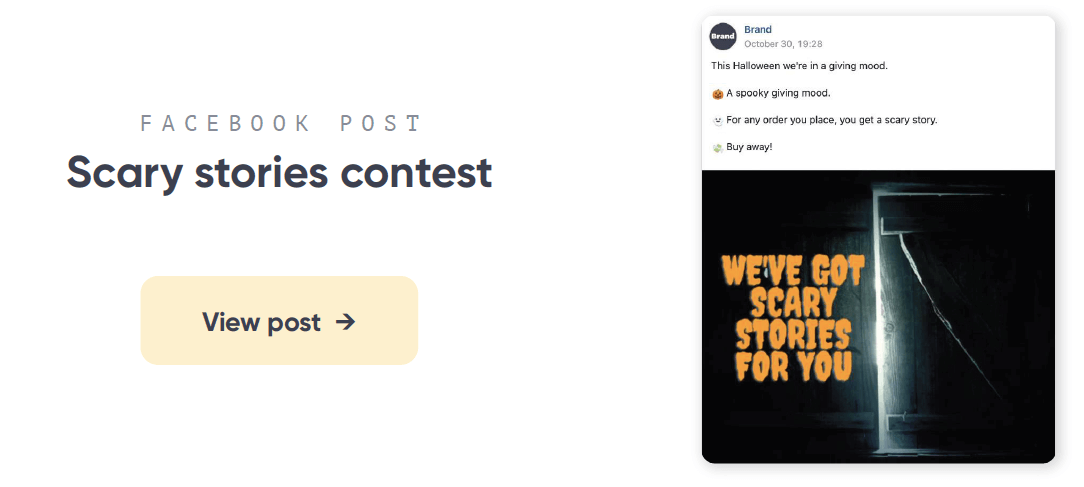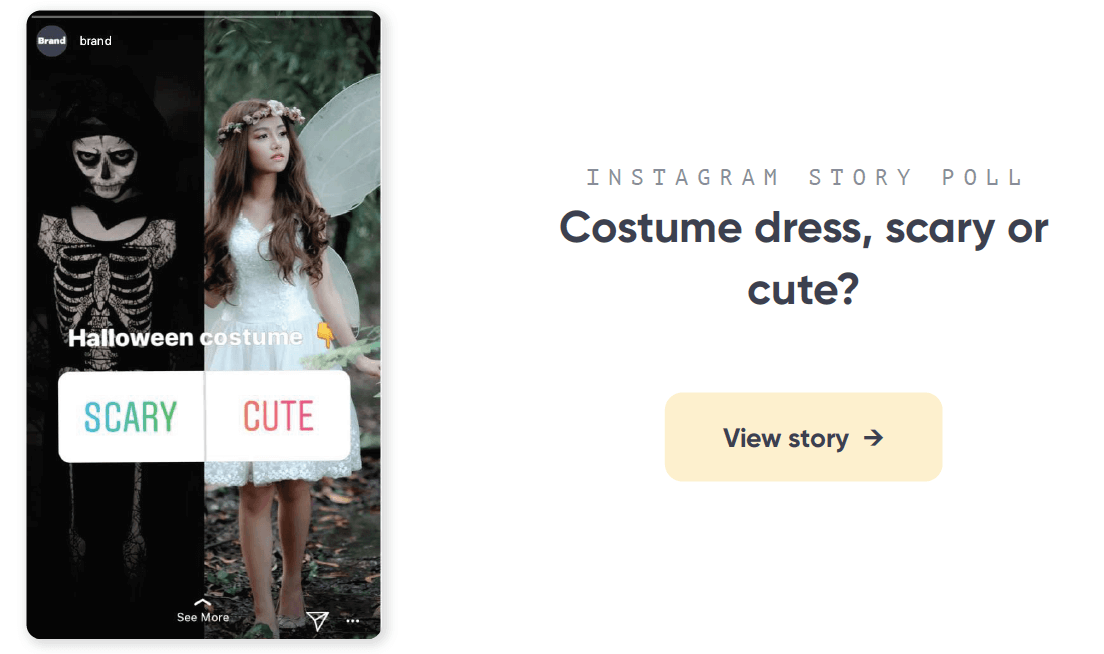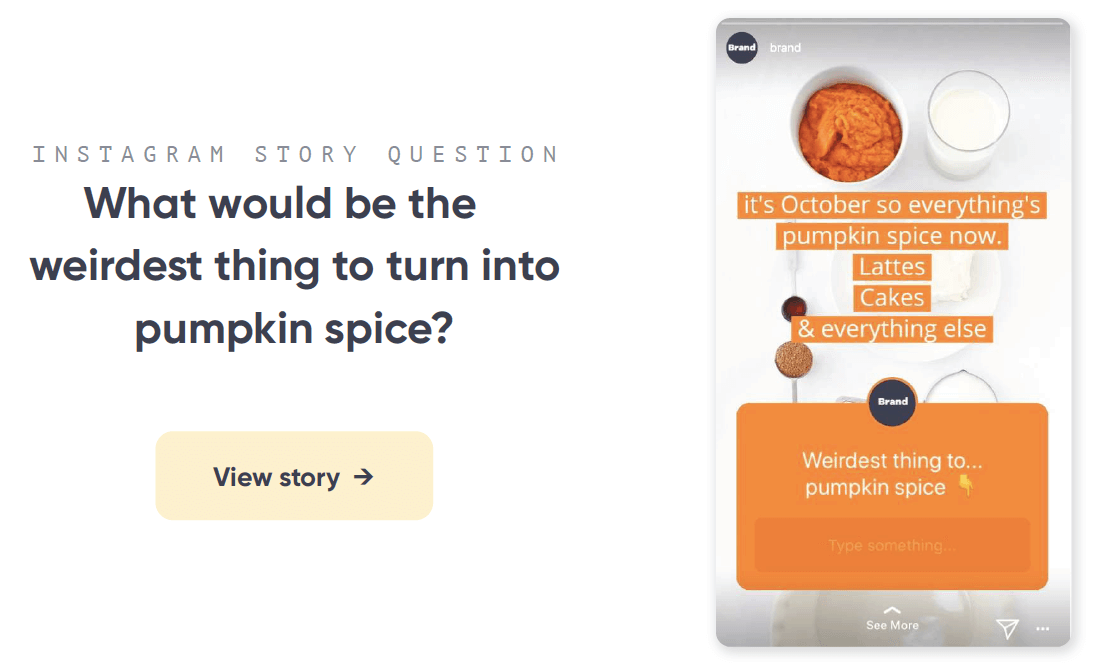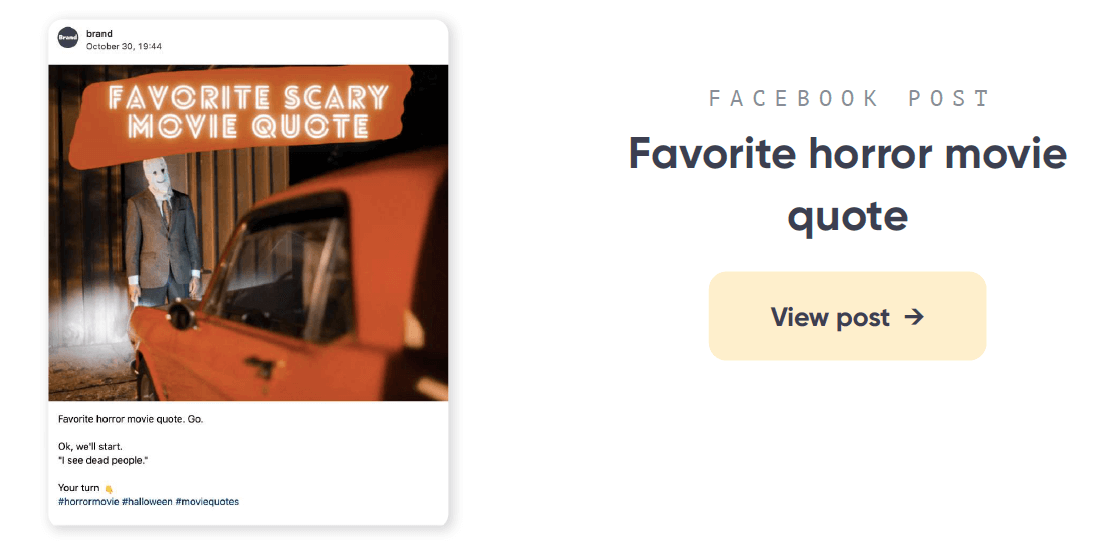 #Hashtags
Have you tried adding #tbt or #picoftheday to your posts but the only engagement you got was the awkward sound of crickets chirping? Don't worry. We've all been there. 
Hashtags are still a great way to connect your social media content to a specific conversation topic. Since Chris Messina first came up with the idea back in 2007, the popularity of hashtags has skyrocketed. Whether you're considering adding them to a simple Tweet or incorporate them in a Halloween advertisement, all you need to do is use them the right way and find the best hashtags for your brand.

Hashtag basics
#
Yes, they start with # but please, please don't use spaces, punctuation or symbols between the words and still hope for the best. Keep the words #together and you'll see results.
#
Although it's tempting, make sure not to string too many words together. #otherwiseyoullendupwithsomethinglikethis. Short & simple, folks! 
#
Are your accounts public? If not, this may be the darn reason no one discovers your awesome content. So make that account public and give a warm welcome to those new followers!
#
You may feel like #Christmas or #BlackFriday are too broad but #krampusnight2020 or other obscure hashtags won't do you a favour either. So maybe save the half-goat, half-demon Krampus stories for the description. If your team
approves
the post.
#
Less is more. Using ALL the hashtags you can think of just looks spammy. Choose a few and save the rest for later posts.
Why use hashtags?
#visibility
#engagement
#support
just to name a few.
Most popular & relevant Twitter hashtags related to Halloween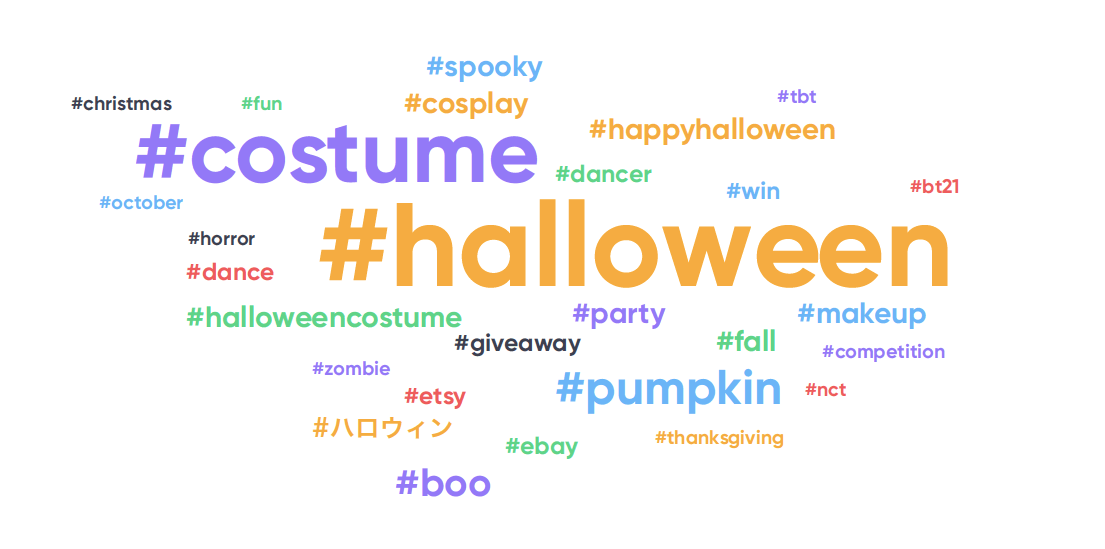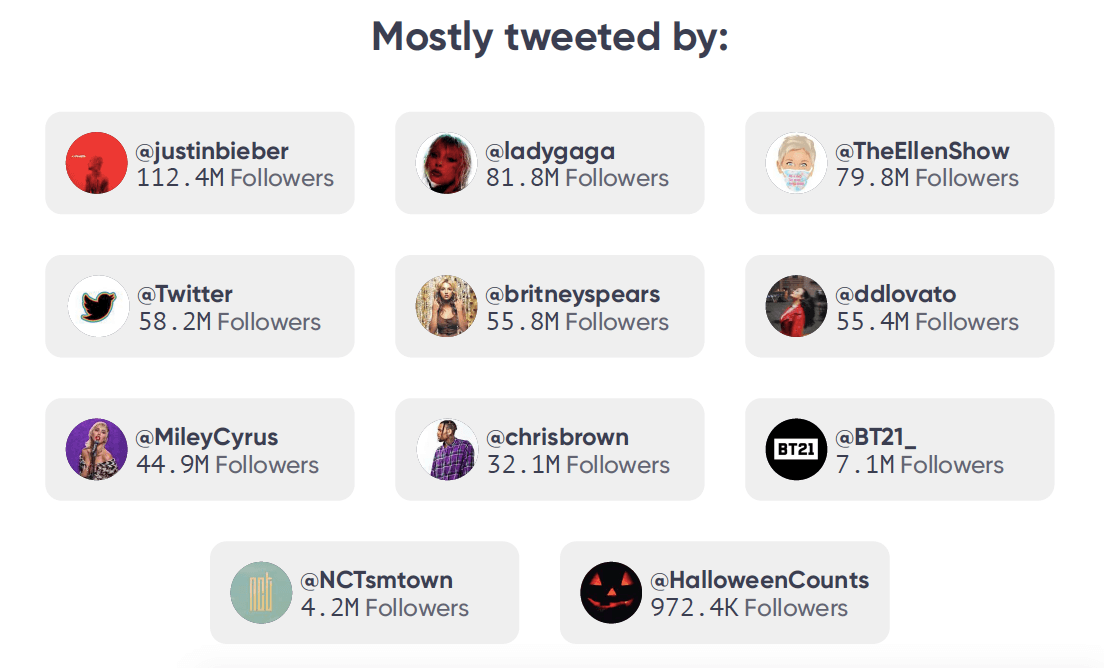 Most popular & relevant Instagram hashtags related to Halloween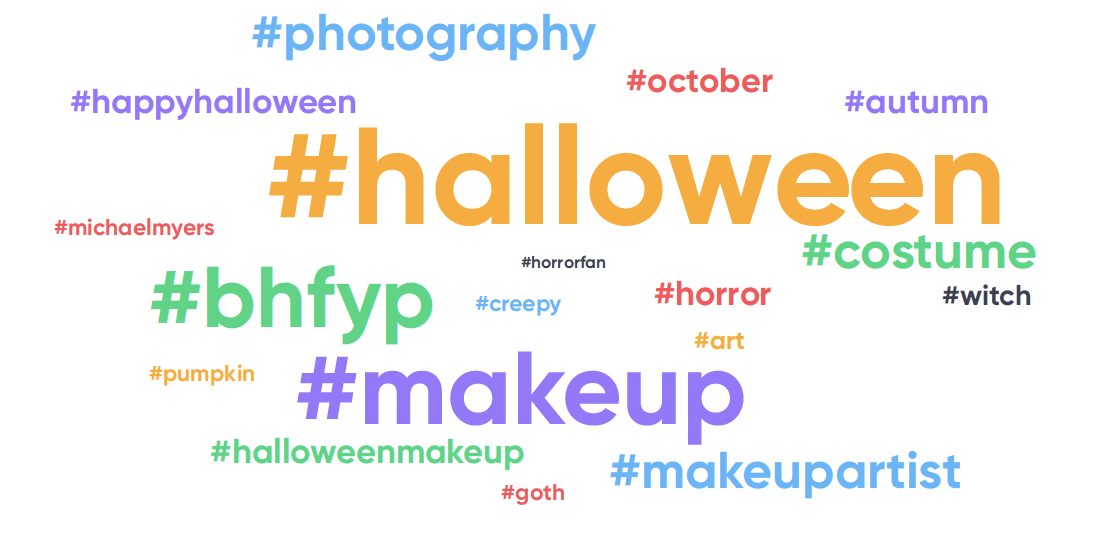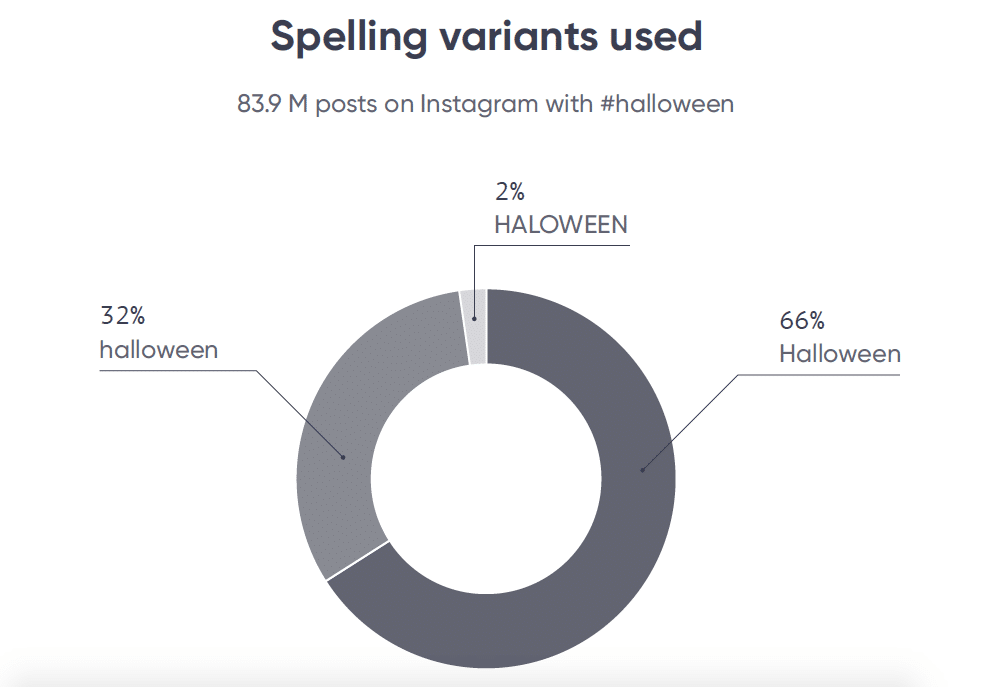 Dos and don'ts
'Tis the season to be creative and give your audience a reason to talk about your brand. Here are some dos and don'ts to keep in mind when you start working on those amazing Halloween marketing ideas. 
Things you should do
Be mindful of your audience's preferences
Do you worry about the backlash that a holiday-specific phrase can bring? Are you having nightmares about that joke you scheduled for Thanksgiving? Stop right there. Take a closer look at your audience. Where are your customers from? What kind of content do they share? How about their age? Role? Pain points? No more guessing. Do your research and give your audience what they want, not what you think they might like. Data never lies. 
Engage, engage, engage
The holidays are all about sharing. Sharing presents, meals, special moments, and sometimes sharing too much information at family gatherings. This is a huge opportunity for you to engage with your audience. Ask them to tag a friend, share their photo using your hashtag, or share your content with their friends and family. Ask them questions, create polls, initiate conversations, do AMAs. Sky's the limit. 
Say "Thank you!"
Now that we talked about asking for things, let's take a moment to express gratitude. Thank your customers, your followers, and your team. It can be anything from a simple "Thank you!" to a more creative way of showing how much you appreciate them. For instance, Avon created a customer appreciation week, offering its clients a new deal every day of that week. It doesn't have to be around Thanksgiving. Think about it. People are going to receive tons of special offers & coupons that day. Surprise your customers. Pick a random day. Make them feel special. After all, your brand is alive and kicking thanks to everyone supporting it. 
Use multiple channels in a consistent way
Get in front of as many eyes as possible. Not everyone's on Instagram. Some prefer Youtube. Or good old email. Make sure your holiday marketing plan isn't limited to one channel. Also keep in mind that your message should be consistent across each channel and be true to your brand. Your Black Friday campaign doesn't have to focus on discounts or sound salesy. It can be quirky and funny if your brand's that way. Think about Cards Against Humanity and its long history of pulling Black Friday stunts. In 2013, it actually raised the price of its game and people still bought it like crazy. 
Set smart goals and track ROI
This is something we should all do. At all times. We know it. You know it. Everybody knows it. And yet… a friendly reminder is a friend indeed. Or something along those lines. Here's the deal. It's easy to get lost in execution and lose sight of the bigger picture. So before you go into overdrive, set SMART goals: Specific, Measurable, Achievable, Realistic, and Timely. It will make your life easier and your manager happier. Don't forget to track the return on investment and adjust along the way if needed. 
Things you should avoid
Don't change your branding
Now that we covered what you should do, it's time to meet the don'ts. You're probably considering one of them for your campaign and don't even know it. Like maybe change your logo's colors to something more holiday specific? Or perhaps the typography, packaging, and messaging? After all, it's that special time of the year, right? Don't get us wrong. We love it when brands add a twist to their marketing campaigns. And we trust that you'll find clever ways to incorporate holiday specific elements without actually changing your brand. People are confused enough after having a bit too much to drink at family dinners. At least make it easier for them to recognize your brand.
 Don't go crazy with holiday promotions
 There's nothing wrong with rolling out some special offers to drive in customers. In fact, you should do it. The overdoing part is what we're referring to here. People love discounts, sure, but they also appreciate good entertainment, engagement, and education. So if your only plan is to make it rain with discounts, we're sorry to let you know that this falls under the umbrella of don'ts. Mix those special offers with some friendly content. The internet will be flooded with discounts and aggressive marketing. Stand out.  
Don't forget to schedule social media posts 
So you went over the top to create this amazing, out of this world content. Graphic designers and videographers were involved. The legal team approved it. And now it's going to become viral. Except you forget to schedule it. And you're forced to say "Hey, guys, Thanksgiving should be celebrated everyday!". Riiight. Here's a different scenario. With Planable, you can strategically plan and schedule your content by drag and dropping posts in your predefined time slots. It takes seconds. You can then enjoy a cup of hot cocoa while seeing everything at a glance across all your pages. 
Don't overlook collaboration and approval
We all need some sort of approval process. Even when we say we don't because "we trust each other". As a general rule, our industry has to internalize that review and approval are important. They are not about control. Nor are they about a lack of trust. They're simply there because more brains add up to better results, more pairs of eyes add up to flawless content, and more types of expertise add up to progress. Sure, forgiveness during the holiday season can be one of the best gifts you give to yourself. But we're pretty sure your audience isn't going to overlook that typo. Shockingly (not), we recommend trying out Planable. It's not an add-on, it's not a feature, it's an entire tool built for the sole sake of making social media collaboration seamless.
Don't use a one-size-fits-all approach
Not all people are the same. Not all channels bring the same results. Then why use a one-size-fits-all approach? Your goal is not only to reach as many people as possible but also to provide them with content they'll love, in a format they'll enjoy. Divide your audience into smaller groups such as existing customers, warm leads, people you want to reach, and so on. Stalk them a little. Where do they hang out? What are they sharing? What's their mother's maiden name? Scratch that. This will help you narrow down your channels of distribution and content formats. More time for creativity. Yay!
That's all, folks! 
P.S. If you want super helpful resources for the other upcoming holidays too, download our Holiday Kit 2020 that contains everything you need to create perfect campaigns for Halloween, Thanksgiving, Black Friday, Cyber Monday, Christmas & New Year's Eve. Bonus: the kits include exclusive discounts for some of the tools we mentioned.
Now go make magic happen!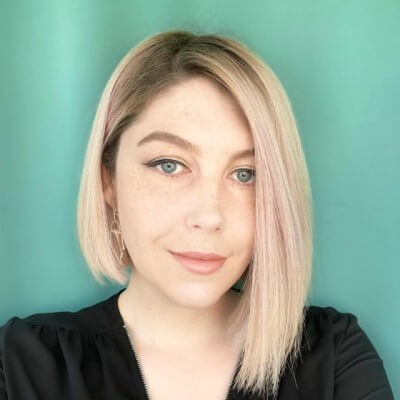 Raluca Cirjan
Raluca Cîrjan, Digital Marketing Specialist @Planable.io. Advertising enthusiast, fast learner & ailurophile. I believe that one joke a day keeps the doctor away. Feel free to share a funny story with me.