Today, the number of social media integrations supported by Planable goes from seven to eight. We're beyond excited to announce that you can now plan, collaborate on, approve, and schedule Pinterest posts with a few clicks in Planable.
The same intuitive collaboration and approval workflow you know from planning posts on Instagram, Facebook, Twitter, YouTube, TikTok, LinkedIn, and Google Business Profile (ex Google My Business) is now available for Pinterest!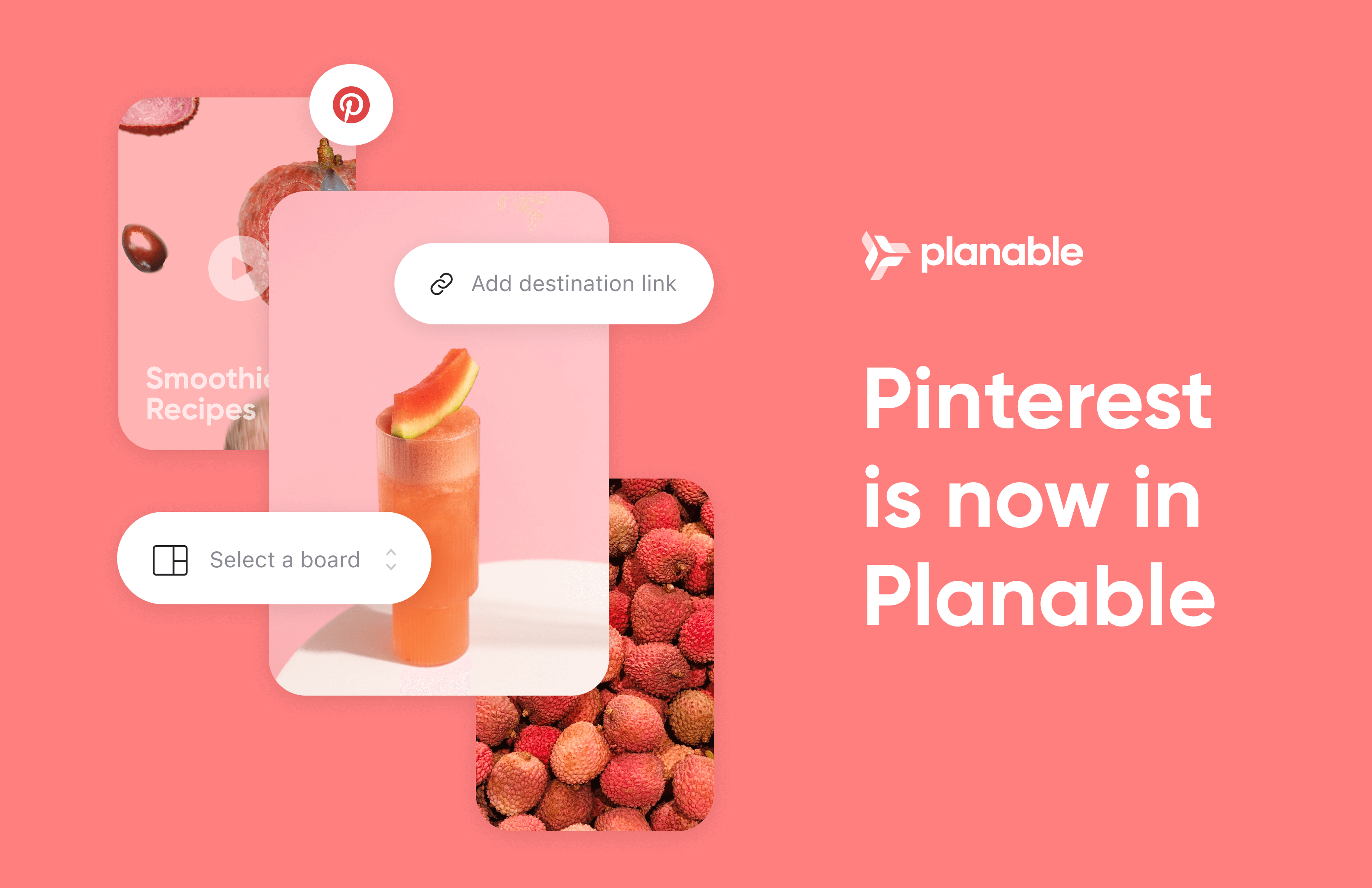 Here's what you can do in Planable for Pinterest:
Create your pins & add all the details like destination link, title, description, the board to add the Pin to, images, or videos in specific countries.
Plan all your campaigns together in our calendar view — drag & drop for easy planning.
Get feedback and approval on each individual pin.
Schedule your pins to be published directly on Pinterest.
Here's how to get started with planning, approving, and scheduling your Pins through Planable:
1. Connect your Pinterest Business page
Click on "Add Pages", go to Pinterest, and log in with the account you manage. Due to API limitations, only Pinterest business pages are supported, and personal profiles can not be connected.
No Pinterest Business page?
You can easily switch from personal to business in 2 minutes.
You will keep all your Pins and followers and unlock additional features exclusive to businesses (like analytics insights and promotional capabilities).
2. Create your posts
To create a Pinterest post in Planable, click on the compose button at the top right corner.
You can add the following details to your Pin:
destination link
title
description
the board to add the Pin to – you can choose from your current Pinterest boards from the drop-down menu in Planable
images: up to five photos
video: supported only for the countries that Pinterest offered access to
3. Collaborate on your posts
Now that you've filled in all the necessary information, you can:
Leave comments right to the post.
Receive and ask for feedback from your team and clients.
Share post links with external collaborators.
Track all changes in the Activity History tab.
4. Schedule your posts
Once you're ready to make your Pin available to the whole world, you can:
Select the date and time to publish the Pin.
Recycle the post: set it to repeat daily, weekly, or monthly.
Send it for approval and then have it automatically scheduled for publication.
See your scheduled pins in your content calendar.
Currently, only Business Pinterest pages are supported, and tagging and Idea Pins are unavailable through the API. If you have a personal Pinterest account, you can easily transform it into a business profile. Also, users in countries that have access to Video Pins can create and publish video posts as well.
Ready to conquer Pinterest?
With our new integration, we've got you covered on the eight most important social media platforms. You can organize, collaborate on, approve, and publish your Pins in the same place as your Instagram, Facebook, Linkedin, GMB, Youtube, TikTok, and Twitter posts. Collaboration has never been easier!