Have you heard about AI tools for social media management? We bet you have unless you've been offline for a while.
AI technologies are as controversial as they are groundbreaking: they remain the hottest topic among marketers and creators. Whether you're already using them or not, AI-powered marketing tools are taking hold of the market, bringing new capabilities and speeding up our processes.
In this article, we cover the perks and downsides of adopting an AI marketing tool in your social media strategy and explore nine social media AI tools to choose from.
What are AI tools for social media?
AI tools for social media leverage the power of artificial intelligence and machine learning technologies to automate content creation and assist social media marketers to produce and consume content faster. With AI, creators gain an extra pair of virtual hands to work on written content, images, or videos.
Smart scheduling tools, campaign management platforms, content generators, and many other social media tools now use AI. Such instruments help:
Generate content using natural language processing algorithms. You write a prompt — the tool creates a text, image, or video based on your request.
Analyze data to optimize social media efforts: they provide the best time to post for peak engagement, offer topics, and tweak audience targeting.
Polish existing content: AI technology can work on brand language optimization and see that all brand communications are cohesive in their style.
AI social media tools can significantly automate social media marketing, giving creators more time to concentrate on the bigger picture and more complicated content pieces.
Perks of using AI tools for social media posts
Digital marketing is a rapid industry heavily dependent on tech. Marketers who adopt new tools into the content workflow instead of rejecting them are likely to take a step forward faster than competitors. Here are some perks you gain when taking on an AI-powered tool for your content management.
Efficient social media planning
Sourcing ideas for at least five unique social posts a week is exhausting. Sometimes, ideas are not there, but the content plan is due tomorrow.
Content managers dig ideas everywhere: from keyword research to Quora and Reddit. However, an AI social media tool can significantly speed up the ideation process and come up with a bunch of topics in a blink of an eye.
Are all of them awesome? Far from it. But you can iterate with AI on the most promising social media prompts until they make sense to your marketing strategy.
Semi-automated content creation
Whenever you create content, you always have a routine part. With AI tools, you can automate mundane tasks to speed up the process and concentrate on creating content that matters.
For instance, any blog post starts with an outline. Delegate the structuring to AI and polish it. It helps a lot when working with a somewhat unfamiliar topic: the AI-generated outline saves you time researching by highlighting things you might need to look up.
Besides, AI is a time-saver in the era of repurposed content: it can paraphrase existing content in seconds, which comes in handy for busy social media marketers.
Faster media consumption
Social media marketers must stay on top of the market to keep their marketing strategies relevant. AI helps them consume information from various social media channels and resources faster and develop timely ideas for social media posts.
An hour-long talk from an industry event can provide a whole week of post materials. Compared to human content creators, AI needs less than a minute to scan a lengthy article or video and offer an in-detail summary. Having these highlights at hand saves social media teams a lot of time.
Things to consider when using AI tools for content creation
However dreamy they may sound, AI social media tools are not perfect solutions. Here are some peculiarities you should consider when implementing an AI social media tool into your routine:
Fact-checking is on you
Natural language generation ensures your AI-generated post feels human. However, most AI writing tools are designed to imitate rather than source facts.
So if you're operating any numbers, citations, sources, or anything else that might be a real-world fact, you have to check it yourself.
Human creativity remains unbeatable
Artificial Intelligence works excellently regarding time-saving or automation of humdrum easy tasks. But it doesn't create per se. AI doesn't come up with potentially new ideas — it's more like compiling existing ones into a paraphrased form.
Sure, most content is repetitive; sometimes, going with the trend and relying on what everyone else is doing works. However, adding a human flair to your social media posts for crucial branding messages is better. So delegating is fine, but don't get too carried away.
AI-generated content is not for every niche
In some industries, content marketing stands on domain expertise. In this case, social media audiences are more demanding on content quality, and brands rely on their audience's trust.
Since fact-checking is not the AI's strongest suit, the chances of making a mistake when relying solely on AI-generated social media posts are much higher — especially in niche content. It undermines trust and alienates the most important target audience from the brand.
9 best AI tools to help content teams elevate their social media marketing game
Many social media tools leverage machine learning technologies and artificial intelligence in their features. It enables creators to stay within one social media management tool and integrate AI into their social media strategies. Here are nine AI marketing tools for your team.
1. Planable
Planable is a social media management tool that helps you create, schedule, and publish any written content. The platform concentrates on efficient collaboration, making content creation inclusive and streamlined.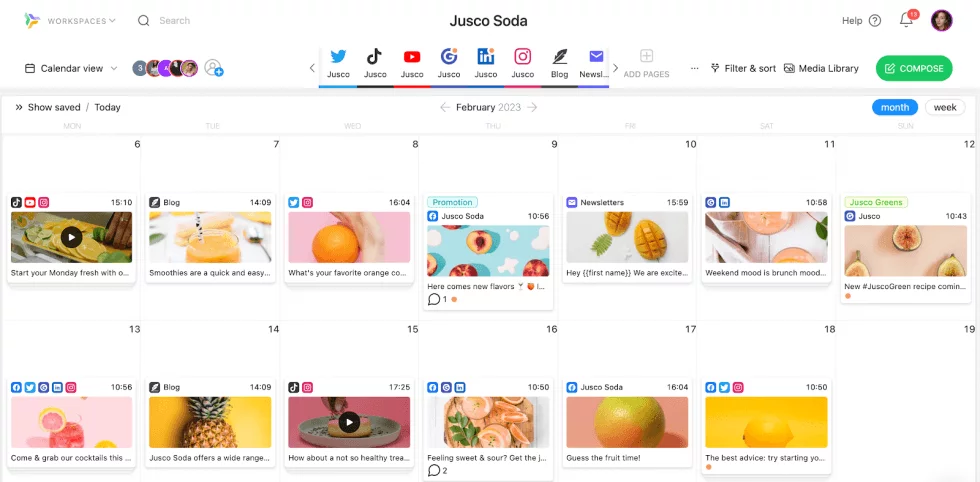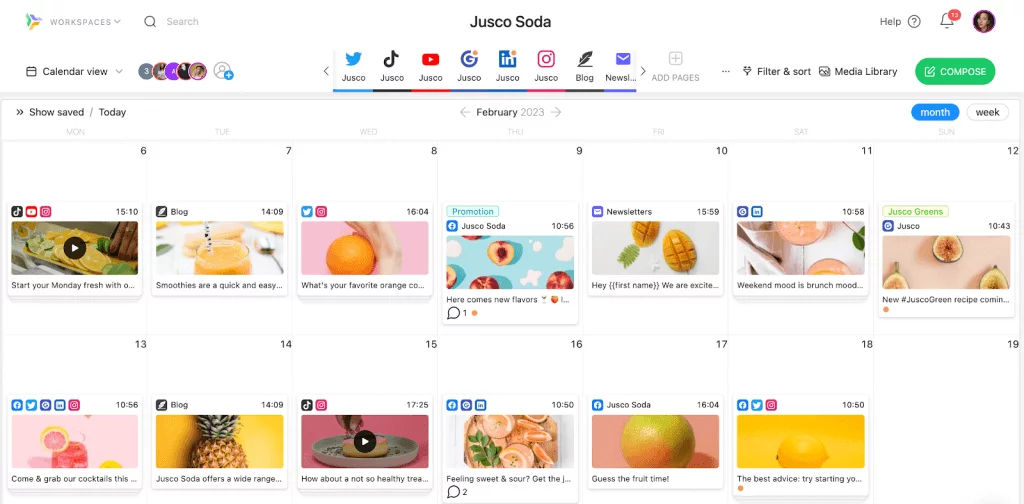 Teams working in Planable can use customizable social media approval workflows, a clear and intuitive content calendar, and a co-op creation mode. With automated publishing and sync on/off features, social media tasks take significantly less time, allowing marketers to publish posts simultaneously across top social media platforms.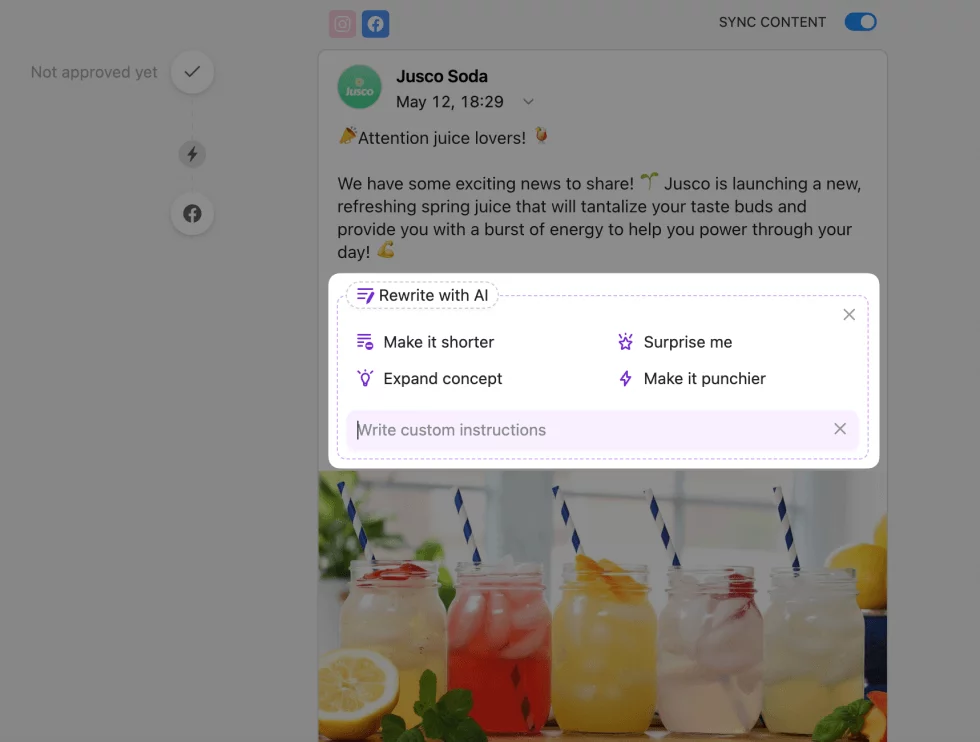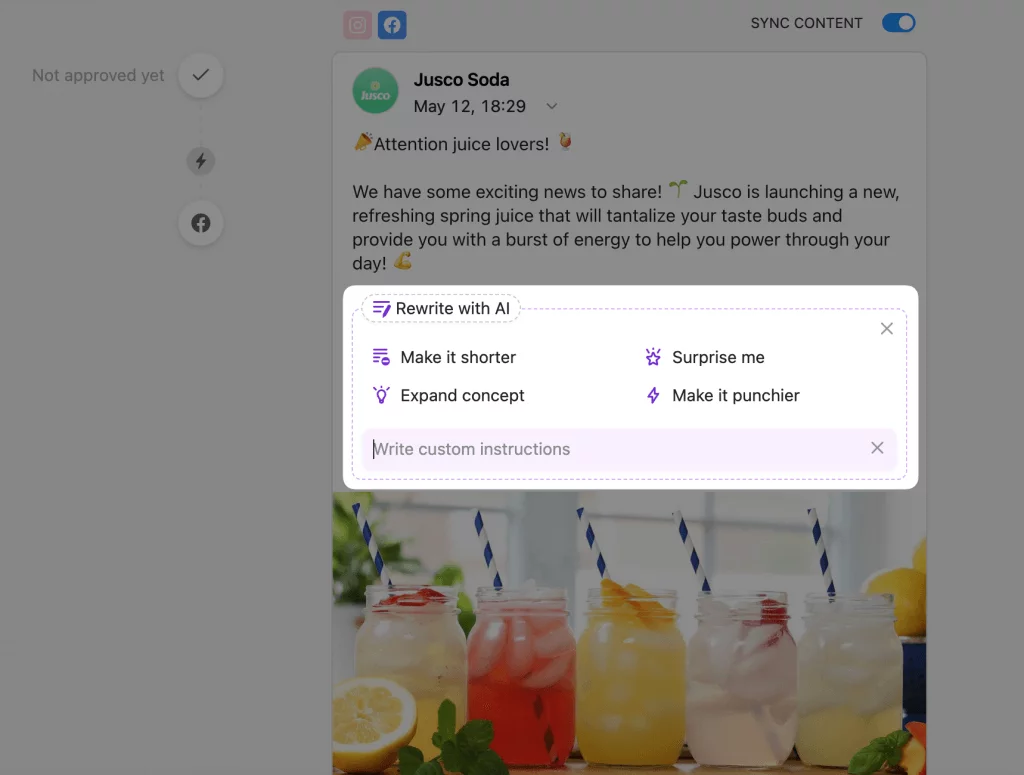 One of the new additions to the extensive list of features is Planable's AI wingman for social media. Here's what it can help you with:
Create a new post from scratch based on your requirements, including the topic, structure, and whether the post should contain hashtags or emojis.
Continue a post: the AI can pick up where you left off and finish the text, sticking to your writing style and guidelines.
Rewrite a post: whether it's polishing existing text, recycling old content for another round, or repurposing one post for other social pages, AI's got you covered.
Planable has a free plan that includes 50 posts. After you try it, you can upgrade for $11/month and scale on demand in one click.
Drawback
Planable has no built-in analytics tools. AI features are only available in the web version, in the social media posts composer.
Takeaway
Planable is a perfect fit for teams of any size and industry. With advanced collaboration features, an easy social schedule, and a highly visual editorial calendar, AI makes Planable an ultimate tool for executing any social media strategy at an A+ level.
2. Lately.ai
Lately.ai is an AI-powered social media management platform that helps marketers create, schedule, and publish content across multiple social media channels. It focuses on creating compelling content to drive social selling and automating social media processes.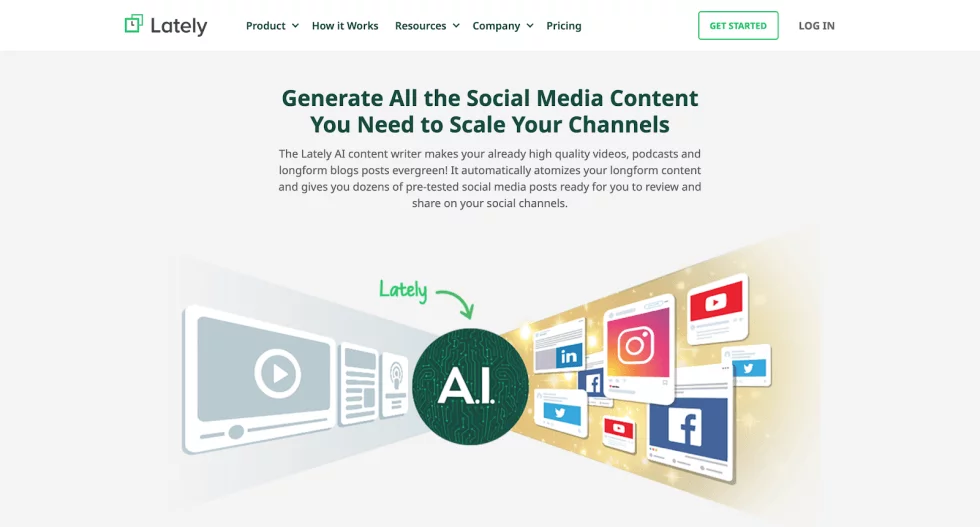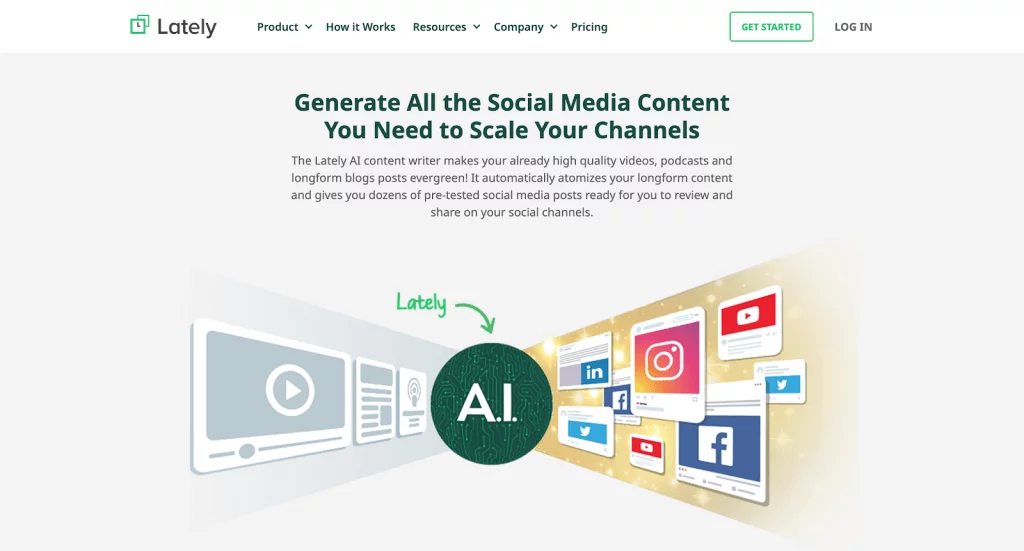 Lately.ai is helpful for:
Topic sourcing: Lately.ai analyzes existing content and suggests new ideas based on audience interests and engagement patterns.
Video creation: auto-generator turns long videos into small bite-sized clips for social media.
Writing: AI can automatically create social media posts from long-form content in multiple languages.
The pricing starts at $29/month.
Drawback
Lately.ai doesn't create social media posts from scratch but rather atomizes long forms like videos and articles. The cheapest plan only includes working with texts.
Takeaway
Lately.ai is best for teams managing multiple social media accounts who need to speed up content creation. The platform works very well if you have enough long-form content to turn it into bite-size posts.
3. Vidyo.ai
Vidyo.ai specializes in video creation: this AI tool turns long podcasts, webinars, and videos into short pieces of content according to your preferences. It supports several templates for top social media platforms like TikTok, Instagram, YouTube, Facebook, and LinkedIn.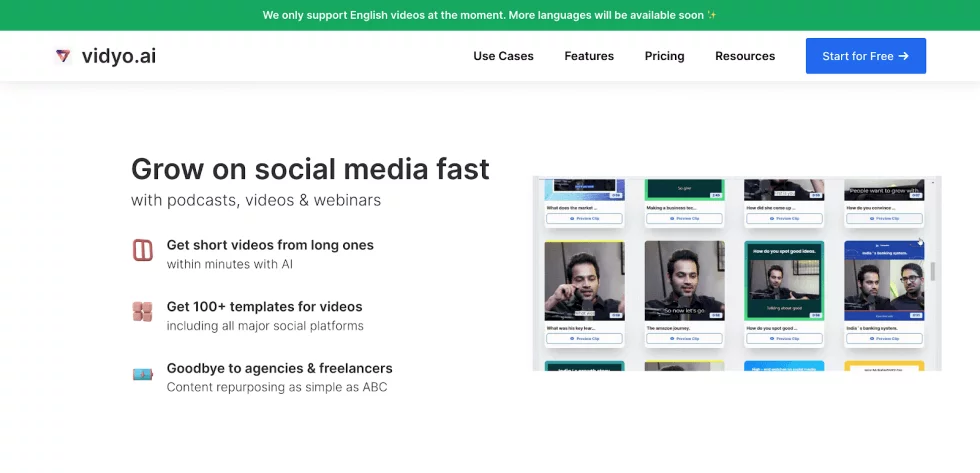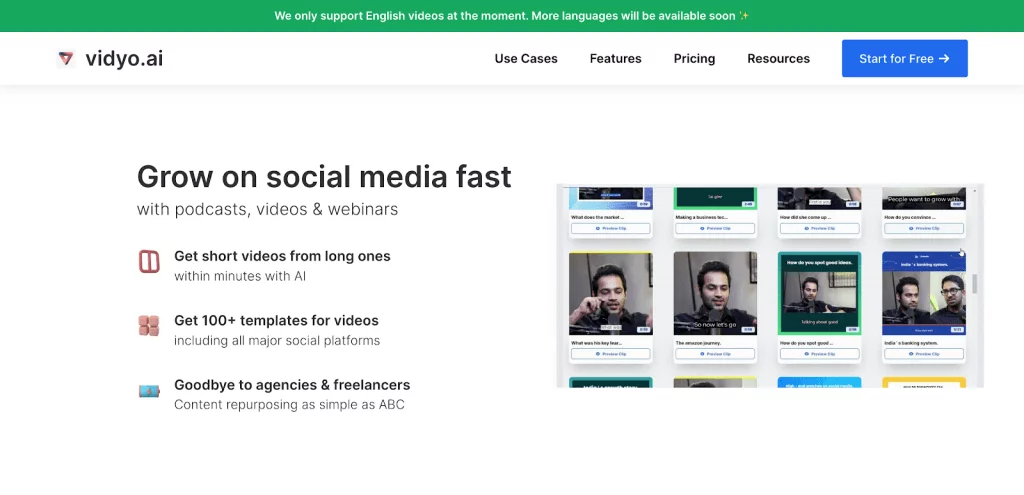 With the help of AI, users can:
Create subtitles in seconds using automatic captioning.
Set chapters and time stamps for more straightforward navigation around the video.
Create highlights of the most exciting moments from long videos.
The tool has a free plan and two paid ones starting at $29.99/month.
Drawback
For now, the tool only supports English. It has no additional functionalities for social media project management or analytics.
Takeaway
Vidyo.ai is perfect for small teams or individual creators focusing on video content. This straightforward tool eases repurposing videos into highly engaging content and speeds up social media expansion.
4. Shutterstock AI
Shutterstock is known across social media managers as the primary source of slightly cringe visuals for commercial use. Now, Shutterstock AI is an image generator that creates pictures based on your prompt.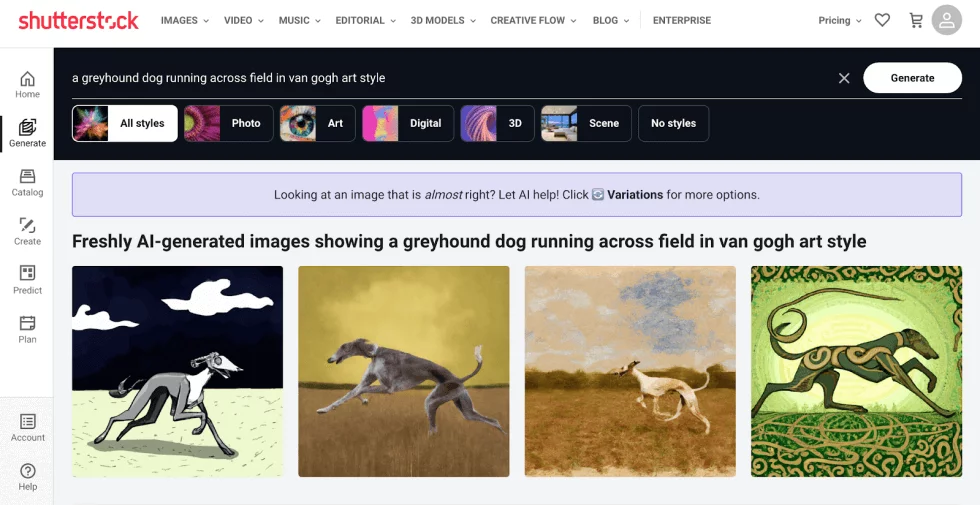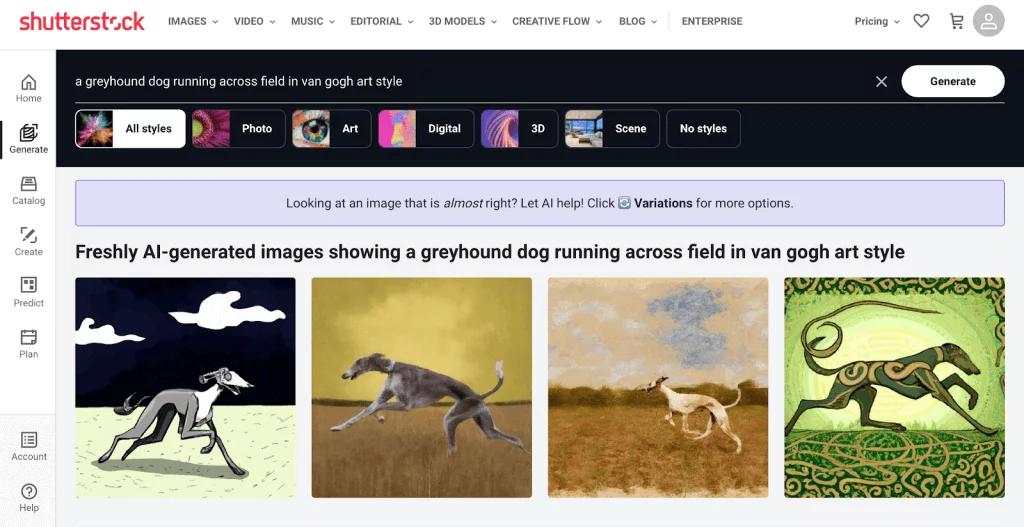 Here's what the tool can do:
Create unique pictures using detailed prompts in 20+ languages: from a general idea to a particular art style and emotions.
Edit the results: add text and background, resize the image, and personalize the final visual.
Your team can use generated images for commercial activities if you have an active plan.
The paid plans start at $29/month.
Drawback
It's not a stand-alone product but an extension of the Shutterstock platform. Visuals are only available for commercial use if you have a paid plan. The pricing is confusing.
Takeaway
Shutterstock's AI-powered image generator helps create personalized and specific visuals to support the brand's social media presence. This AI social media tool suits teams who already use Shutterstock as their platform for sourcing visual content.
5. Emplifi
Emplifi is a customer engagement platform that helps teams build an effective marketing strategy and tackle social media management. It is quite a complex social media tool with various features and solutions.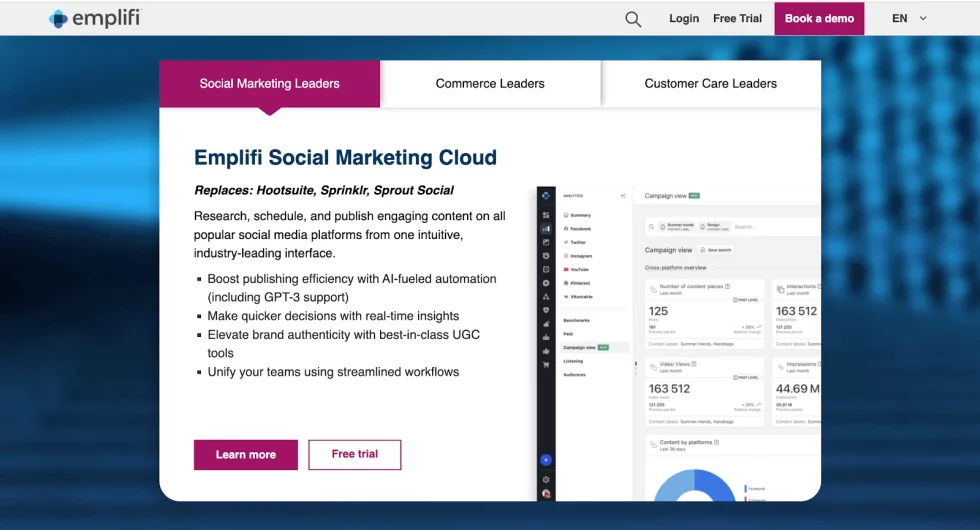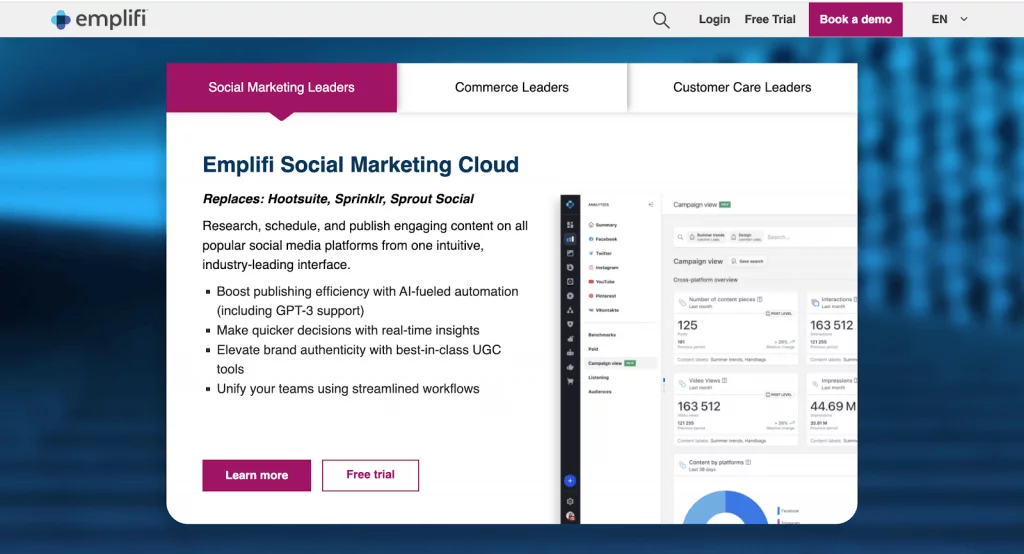 Besides creating social media posts, Emplifi allows scheduling and publishing content on major platforms. This AI tool can:
Generate content using GPT-3 AI technology: tweak the tone of voice, set text length, and add the most relevant hashtags gathered from social media data.
Smart social media scheduling: based on historical metrics, the AI suggests the prime time for posting to reach the most critical target audience.
Manage direct messages across various social media platforms.
The pricing starts at $200/month.
Drawback
As an enterprise-scale solution, Emplifi is expensive and massive.
Takeaway
Emplifi is a full-bodied platform for big-scale social media management. It runs on GPT-3, a powerful natural language processing model, and suits well-funded teams searching for a holistic solution.
6. Heyday
Heyday is Hootsuite's AI-powered child mainly focused on chatbots. It's a conversational AI platform that allows businesses to create and manage chatbots for customer service and sales in Facebook Messenger, WhatsApp, Google Business Messages, Instagram, and Shopify.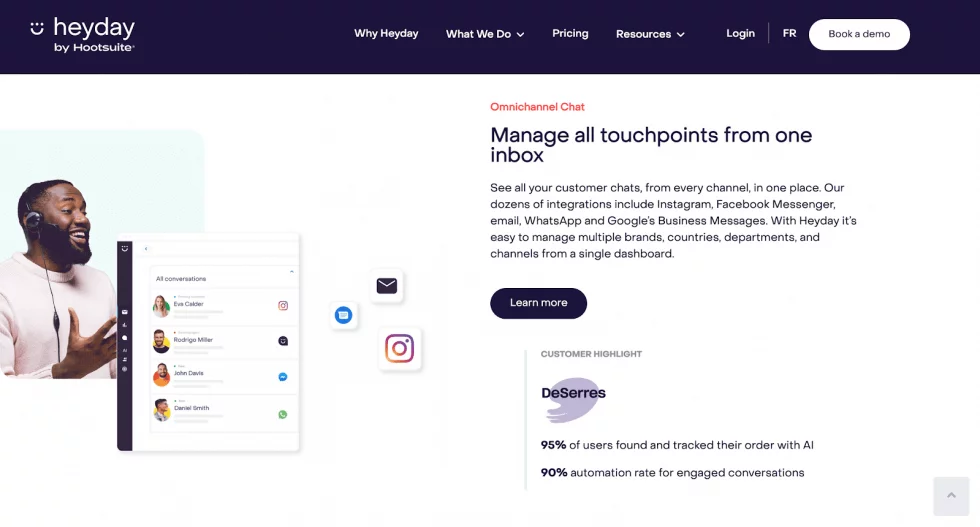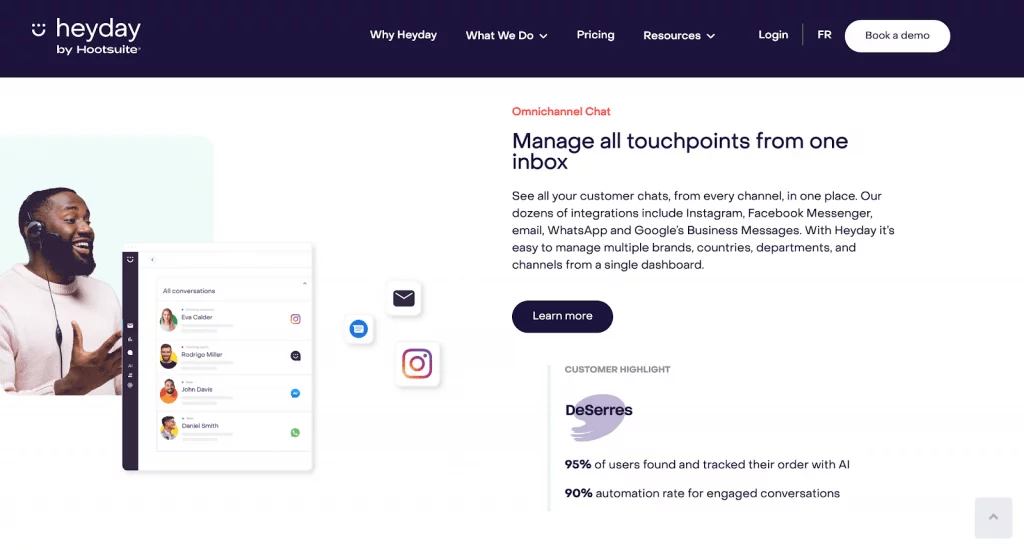 Heyday's core features are:
Human-like communication: AI-powered chatbots use natural language processing to understand customer requests and provide personalized real-time responses.
No-code chatbot creation: you can create a chatbot using an intuitive drag-and-drop interface.
Customer experience analytics: Heyday provides valuable insights into customer behavior and preferences through detailed analytics and reporting.
The price for Heyday's conversational AI chatbots starts at $49/month.
Drawback
There are only two paid plans: one for $49 and another for $1000. It's a dramatic change in price for an upgrade.
Takeaway
Heyday is of great help to brands working in retail: AI chatbots keep the selling wheel turning even when your human crew is away.
7. Quillbot
Quillbot is a paraphrasing AI-powered tool that helps social media managers find a fresh approach to the same old message. It's an easy tool for reusing past marketing assets in seconds.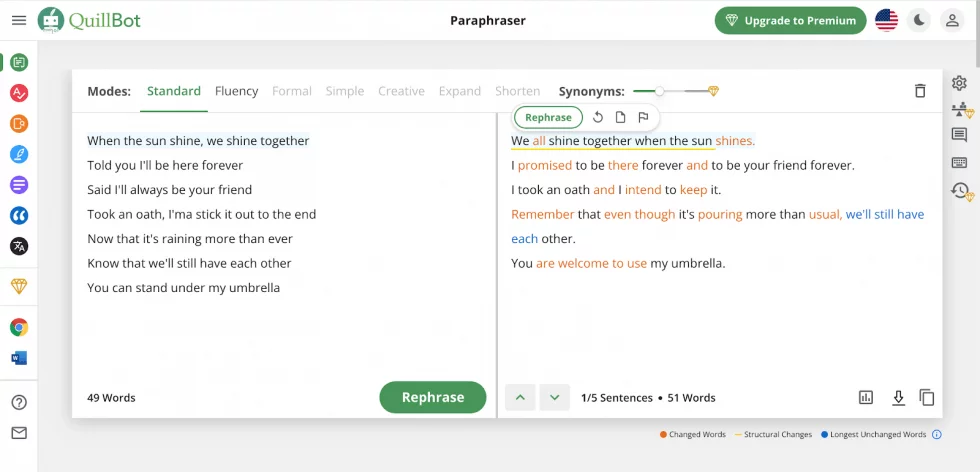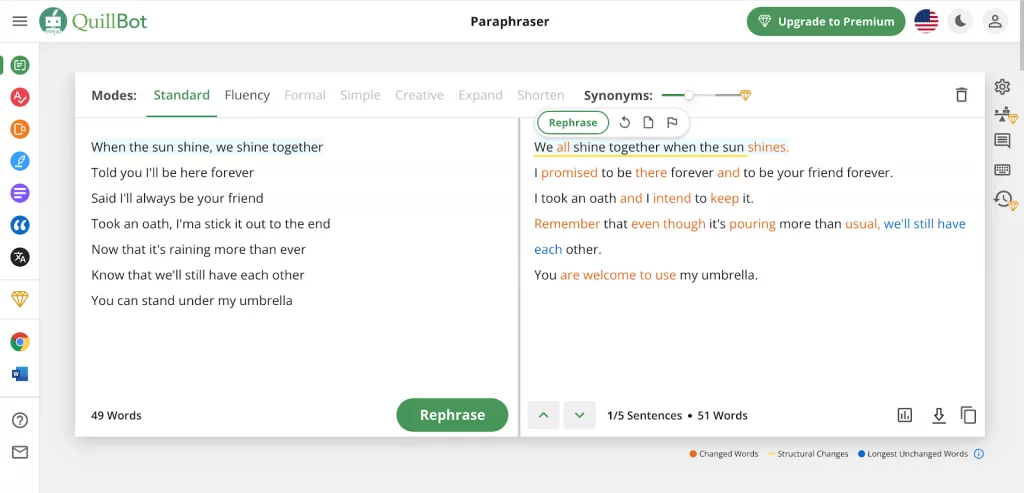 Besides paraphrasing, Quillbot can also:
Check your grammar and spelling.
Ensure your text is authentic and run a plagiarism check.
Summarize an extensive text in a shorter version.
Create a citation based on your prompt.
All those features are united in a mega-tool called Quillbot AI Co-Writer. You can use each feature separately or opt for a package deal.
Quillbot has a free version and an upgrade starting at $4.17/ month.
Drawback
A free version is limited to 125 words and omits Co-Writer and plagiarism check.
Takeaway
Quillbot is a nice power-up for those who pay special attention to the text. It's an affordable AI tool to polish your posts and quickly repurpose written content.
8. Podcastle
Podcastle is a podcast-oriented AI social media tool focusing on audio and video. Your team can use it for a whole cycle of podcast creation, including turning your recorded interviews into written posts for social media networks.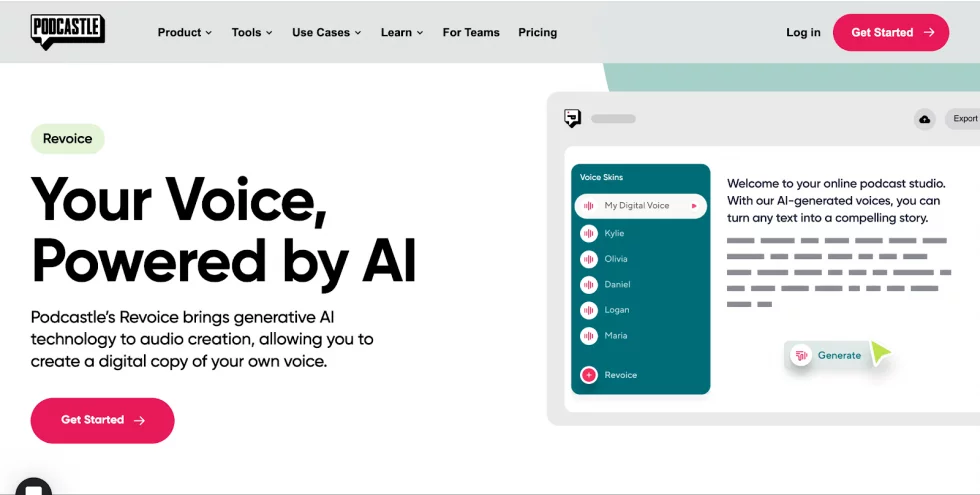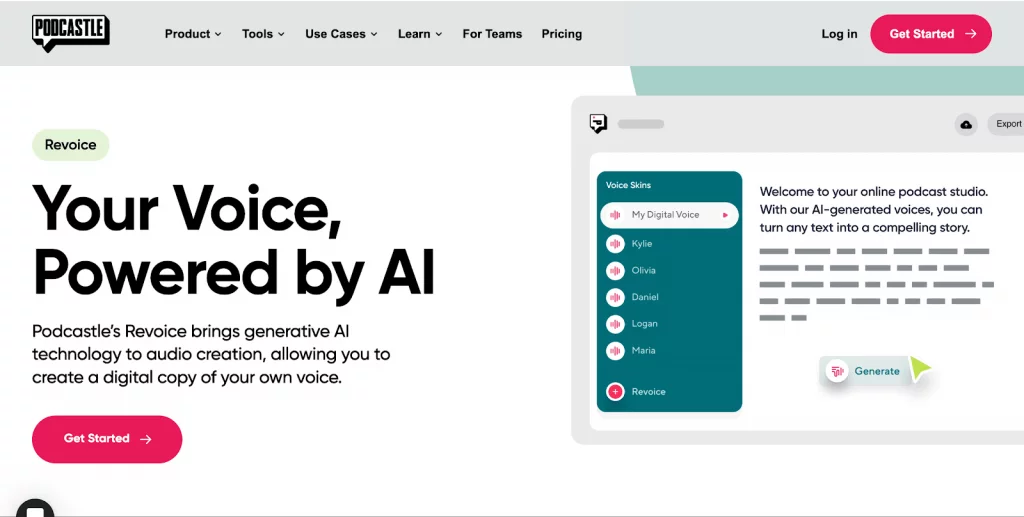 AI-powered features of Podcastle allow you to:
Turn your voice into a digital asset: the platform allows you to create your digital voice and turn written content into an AI-generated audio record.
Clean your audio record: Magic Dust helps remove all unnecessary sounds to provide an uninterrupted clear track.
Polish your text: the AI will identify the filler words and transcript your audio or voice into written content.
You can use the platform for gratis or choose one of the paid plans starting at $11.99/month.
Drawback
Podcastle is purely a creation platform and doesn't offer social media scheduling or analytical features.
Takeaway
Podcastle is a niche platform for podcast hosts. If your team has podcasts in its social media strategies, Podcastle can significantly simplify the creation and future repurposing of audio and video interviews for social media.
9. Phrasee
Phrasee is an enterprise-grade tool for generating on-brand AI content for digital channels. It covers numerous content types, from social ads and emails to push notifications and websites. The platform has its own AI content generation technology that builds content in real-time.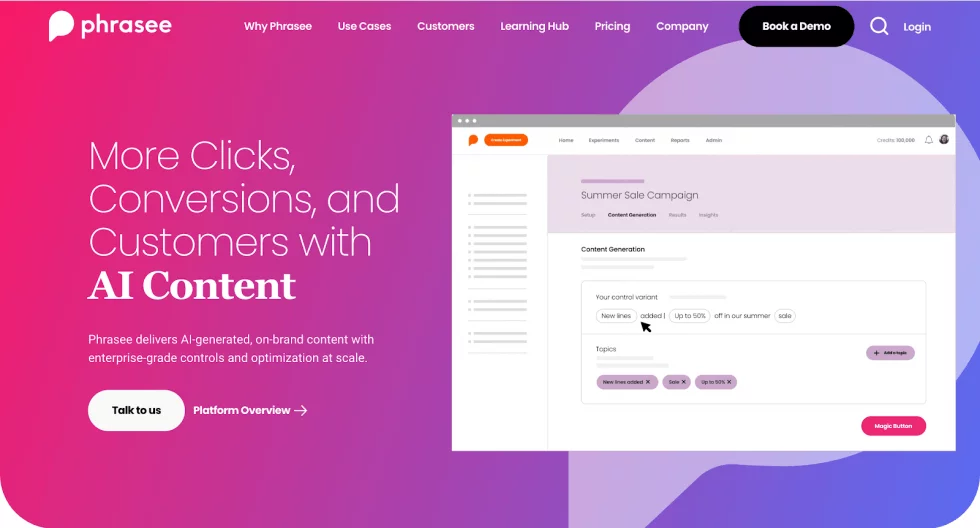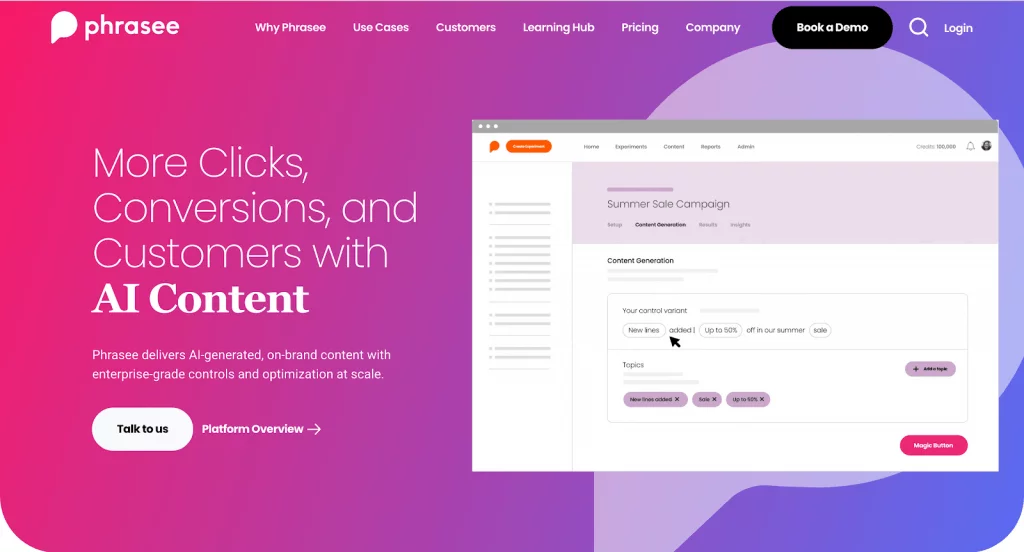 Here's what Phrasee brings to its users:
Extensive analytics, including predictions on the campaign outcome, automated testing for various copy options, and language insights.
Tested and on-brand AI-generated content for ads on Instagram and Facebook social platforms.
A machine learning model that keeps learning based on your tweaks and feedback to comply with brand guidelines and your tone of voice.
Phrasee has custom pricing based on your particular needs.
Drawback
Phrasee doesn't generate copy for social posts and has no social schedule features. It doesn't have an open API for additional integrations.
Takeaway
Phrasee is a solution for enterprise marketing teams prioritizing mass communications through different digital channels and paying particular attention to ads. The tool provides an immense amount of copy in a much shorter time than a copywriter team ever could.
What's next?
AI technologies are certainly new to the social media marketing world. However, harnessing their power can give your team a vantage point on the market and take the mundane tasks off your hands. Less time for routine — more time for creativity and content that matters!