Are you exploring Cloud Campaign alternatives to streamline your social media content? Whether you're searching for your first social media tool or looking to switch, I'll help you find a solution that offers a visual content calendar, smoother scheduling and a better social media content management experience.
There are tons of social media management tools out there with all sorts of useful features and price ranges. In this article, I'll cover the best Cloud Campaign alternatives currently available on the market.
Why should you consider a Cloud Campaign alternative?
Calendar | Collaboration | Approvals | Takeaway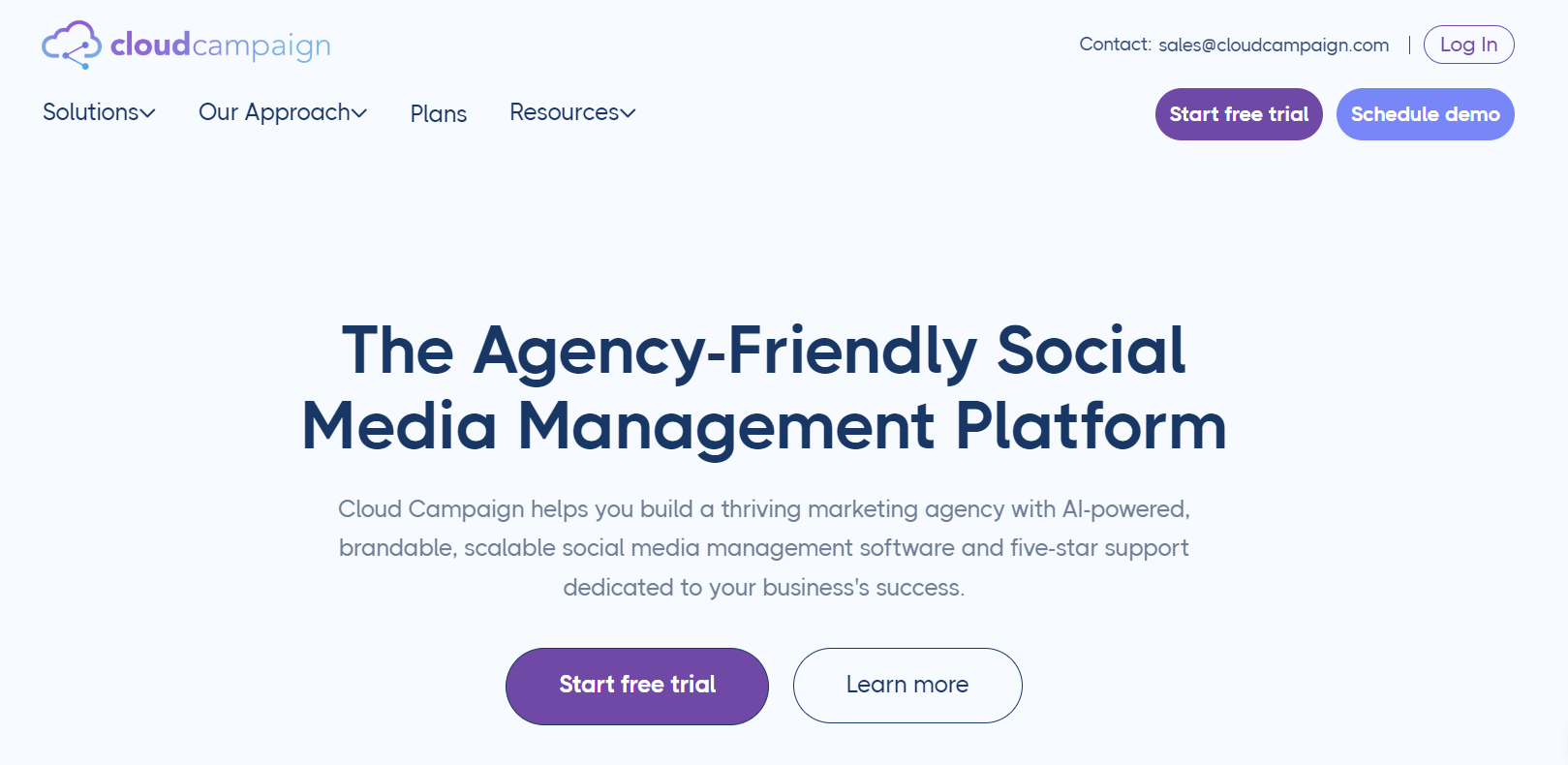 Cloud Campaign is a social media management platform that helps businesses schedule posts, monitor feeds, build reports, and track engagement on social media channels. Cloud Campaign integrates with Facebook, LinkedIn, Twitter, Instagram, TikTok, Pinterest, Google My Business, and YouTube.
I tested the platform, as well as the other Cloud Campaign alternatives in this article, looking for the three key elements when it comes to working on content as a team: social media calendar, collaboration, and approvals.
Calendar
When you hop onto Cloud Campaign's dashboard, you'll spot the Calendar tucked away under the Publish section on the left side. The good thing is you've got three ways to view the calendar: month, week, or day view.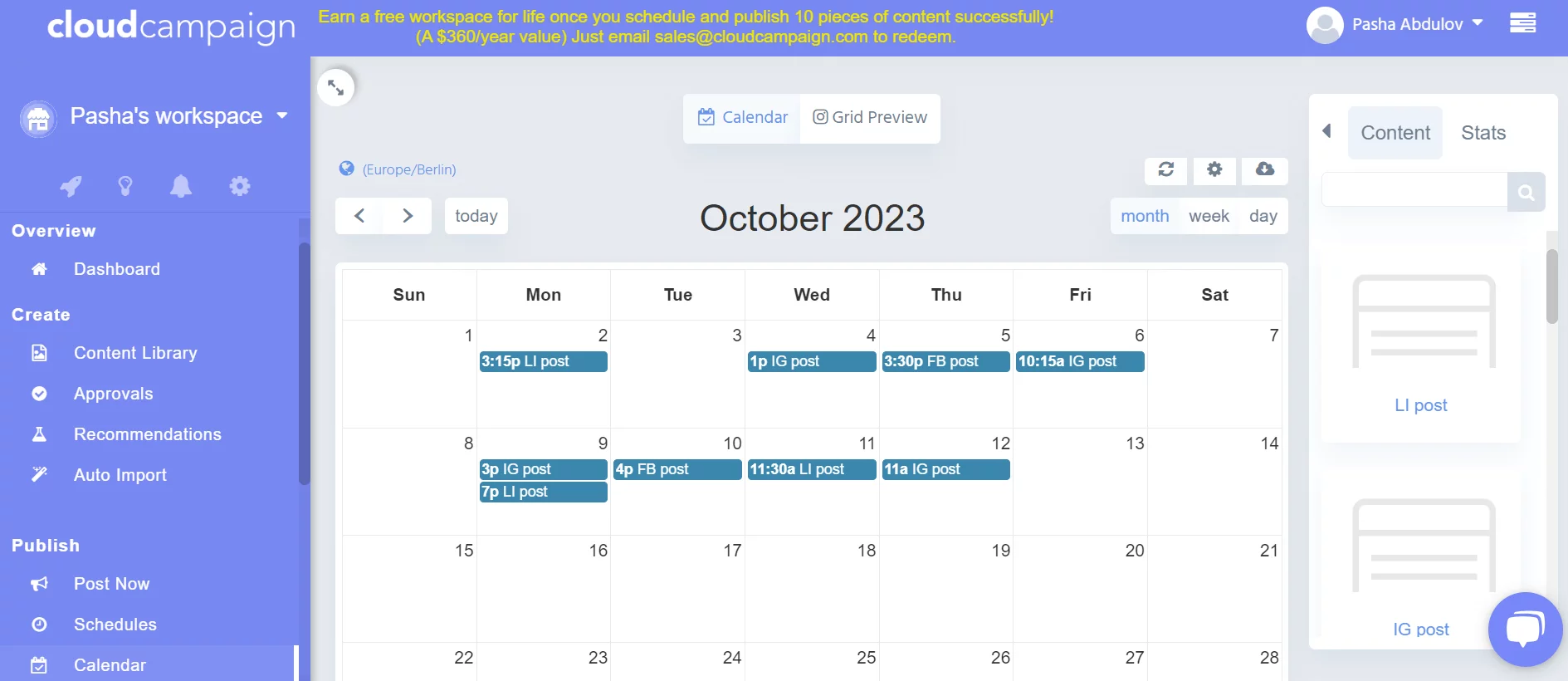 One thing I noticed was that the post visuals are so tiny. It'd be awesome if they were more noticeable and had a better spot. And when I wanted to tweak a post I'd already made, I had to go through a bit of a maze in the settings to find the edit button — not the most user-friendly.
Cloud Campaign calendar takeaway: Overall, Cloud Campaign's calendar does the job, but it's not the most user-friendly in terms of image previews and editing posts.
Collaboration
Cloud Campaign offers tagging and categorization features. It comes in handy when you've got loads of content to manage.
Plus, you can store and organize content assets, including images, videos, and text, in a centralized content library. This feature makes it easy to reuse and repurpose content across different campaigns.
However, one drawback to keep in mind is that the interface can sometimes feel a bit overwhelming, especially for new users. It might take a bit of time to get the hang of it and navigate through all the features efficiently.
Cloud Campaign collaboration takeaway: Cloud Campaign's tagging features are a real help when you've got a lot of content to manage. But again, I found myself having to dig through various settings to really fine-tune things and get the collaboration just right.
Approvals
Cloud Campaign allows you to give your approvals titles, which is a good way to keep things organized. Plus, you can select one or more pieces of content to include in your approval workflow.
Another thing I noticed is that there's a toggle that says "internal approval." This lets your team know what's going on, keeping everyone updated.
I must add that it's easy to edit or delete approvals. The settings are right there, clearly visible next to each approval you create.
Cloud Campaign approval takeaway: Cloud Campaign's approval feature brings a lot to the table, with customizable titles and content selection. I also like the straightforward internal communication options through comments and the internal approval toggle.
Here's why social media managers should consider a Cloud Campaign alternative in 2023
Tricky calendar scheduling: Cloud Campaign's calendar scheduling can frustrate users who want to change post timings after adding them.
No mobile app: There's no mobile app, so managing social media on the go isn't an option.
Disconnecting social channels: Frequent social channel disconnects lead to content posting issues.
Cumbersome user interface: The user interface can slow down your workflow.
Higher price tag: Cloud Campaign can be pricier than alternatives.
1. Planable: top Cloud Campaign alternative for collaboration and approval
Calendar | Collaboration | Approvals | Planable vs Cloud Campaign Takeaway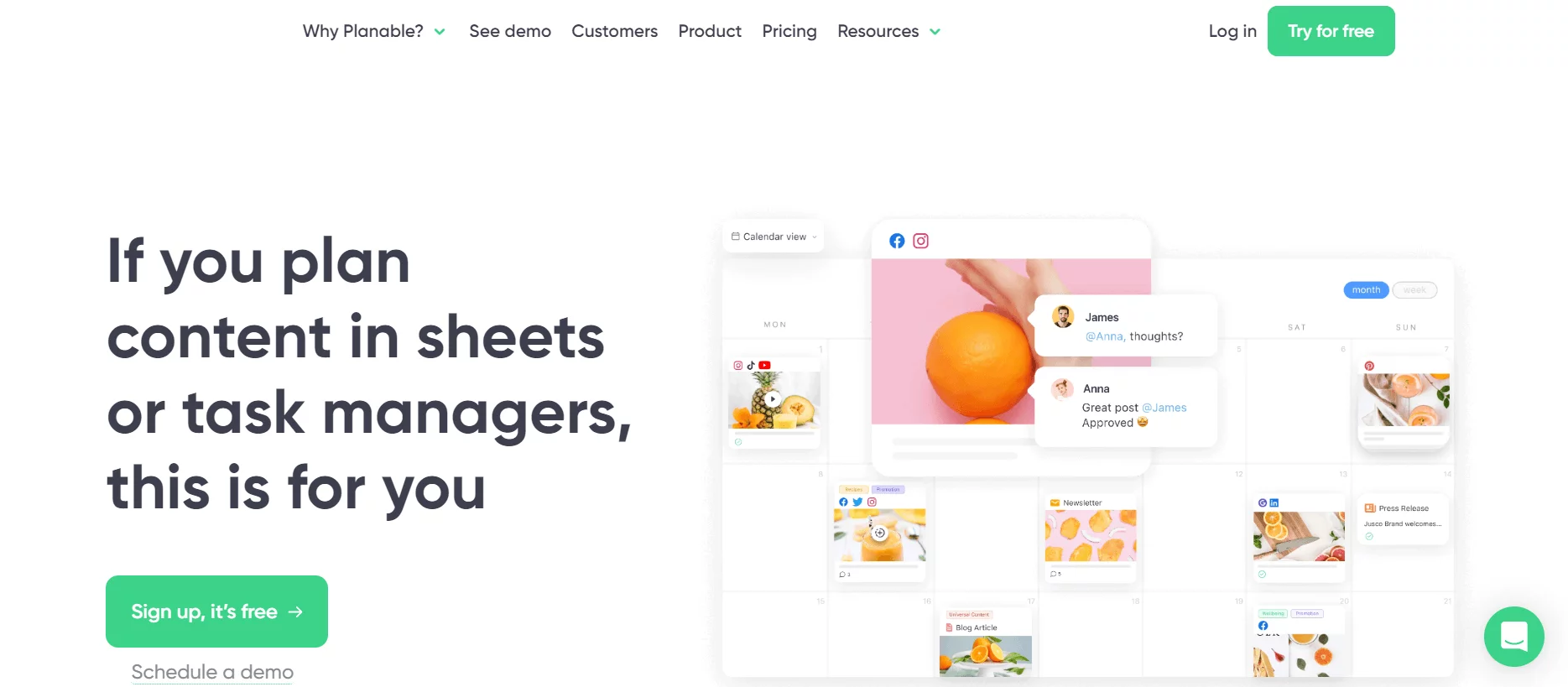 The first name on my list of the best Cloud Campaign alternatives is Planable. Planable is a powerful social media management tool, empowering social media managers and teams to create, plan, and review content while streamlining their social media efforts.
What I like most about Planable is the ability to schedule posts far in advance. I had never been consistent with social media and felt like I couldn't spend much time on it, but with Planable, I schedule all my posts so they are batch-created and prepared to fire off at the time I provide.
Verified Planable review on G2
Planable has your back for all kinds of written content, including social media posts, blog articles, and newsletters. Plus, it comes equipped with its own AI text generation tool — Planable AI, right there in the post creator, making your life a whole lot easier.
So, what exactly can you do with Planable? I'll discuss everything in detail below.
Calendar
Planable and Cloud Campaign both include drag-and-drop social media calendars. They also let you do important calendar stuff, like filtering things and looking at your scheduled content for the whole week or month.
Planable is easy to use and fantastic for client approvals. No training is required. Our social media calendar looks beautiful, and the workflow is seamless and easy to use.
Verified Planable review on G2
Having tested both tools and their social media calendar, I've discovered that Planable offers some significant enhancements that make managing your social media a breeze.
Planable's social media calendar is really functional. It provides an organized way to plan and schedule your social media content, making it easy to coordinate your marketing efforts across various platforms.
Plus, Planable's content calendar is versatile, offering you 4 different ways to view your scheduled posts: calendar, list, grid, and feed.
Collaboration
Planable stands out as one of the most flexible content collaboration solutions for team collaboration.
One of the things that's got me hooked is how Planable makes it easy to get feedback from your team. You just drop your content in there, and your team can jump in, share their thoughts, and give you some high-fives when it's spot on.
Next up, you can mark feedback as resolved by simply ticking it off — it's like turning Planable into your trusty project management collaboration tool.
Another useful feature is the ability to create internal notes within Planable. These are like secret notes between you and your team that your clients won't see.
As you see, Planable is really transforming your collaboration into an efficient, organized, creative and collaborative working process that makes your content efforts more enjoyable.
Approval
One of Planable's most notable features, greatly appreciated by marketing managers, is its robust approval workflows.
With Planable, you can set up your approval process exactly the way you want it. You can choose from four different levels:
None: No approvals are required. Posts go live immediately.
Optional: Team members can provide input and approvals, but it's not mandatory.
Required: Approval is mandatory before a post can be published.
Multi-level: For more complex marketing campaigns, you can choose the

multi-level approvals

.
Planable keeps a detailed record of all post activities. This means you can track every change, comment, and approval made to a post.
Here's a real time-saver. For social media posts, Planable lets you toggle on the auto-schedule option. This means that once a post is approved, it automatically gets scheduled for publication. No need to go back and do it manually.
Planable vs. Cloud Campaign
User interface: Planable clearly beats Cloud Campaign in terms of user interface. Planable's UI is known for its sleek and user-friendly design, making it easy for users to navigate and create content effortlessly.
Content calendar: Planable's calendar offers a more aesthetic and visually appealing layout than Cloud Campaign.
Mobile app: Planable's mobile app is a significant advantage for on-the-go users. Download the Planable app on

AppStore

or

Google Play

. Cloud Campaign has no mobile app.
Analytics: Cloud Campaign takes the lead in analytics, offering comprehensive insights that help users refine their social media strategies.
Price: Planable wins in affordability by offering a

free plan

for the first 50 posts, while paid plans start at $11/user/year; making it a cost-effective choice for budget-conscious users.
Takeaway: Planable is absolutely the best Cloud Campaign alternative for streamlining and simplifying your social media management and collaboration needs. It doesn't include analytics just yet, but it will be launched soon, and you can already join the waitlist.
2. Hootsuite: best for holistic social media management and analytics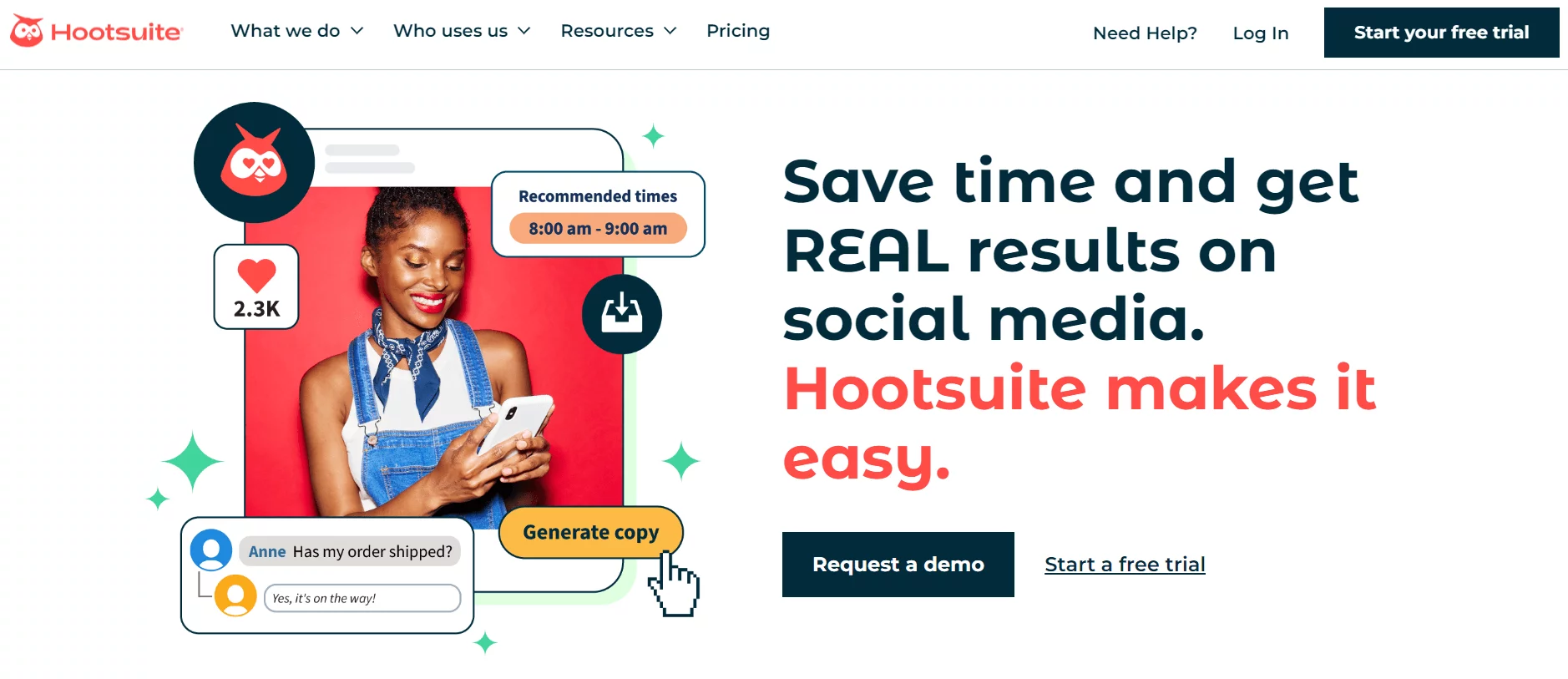 Hootsuite is a versatile social media tool that's been around since 2008. It distinguishes itself from other social media management tools through its extensive integrations and collaboration features, making it a good choice for businesses looking to streamline their social media endeavors.
Plus, Hootsuite is known for its advanced analytics features, including multi-platform integrations that allow you to analyze data from multiple sources all in one dashboard. Plus, it offers competitor analysis tools to help you get insights into industry trends.
Supported platforms: Instagram, Twitter, Pinterest, Facebook, LinkedIn, TikTok, and YouTube.
👉🏼 Already tried it? Check out these tested Hootsuite alternatives.
Hootsuite vs. Cloud Campaign
Ease of use: Hootsuite is slightly easier to navigate and manage due to its user-friendly interface and intuitive features.
AI writer: Both Hootsuite and Cloud Campaign have AI helpers that can whip up social media captions for you.
Mobile app: Hootsuite has a mobile app, but Cloud Campaign currently lacks a mobile app in its offerings.
Price: Hootsuite can be pretty pricey, starting at $99/month, while Cloud Campaign kicks off at $49/month.
Takeaway: Hootsuite is better than Cloud Campaign if you need a comprehensive social media management platform with advanced analytics and scheduling capabilities.
3. Zoho Social: best for affordable social media analytics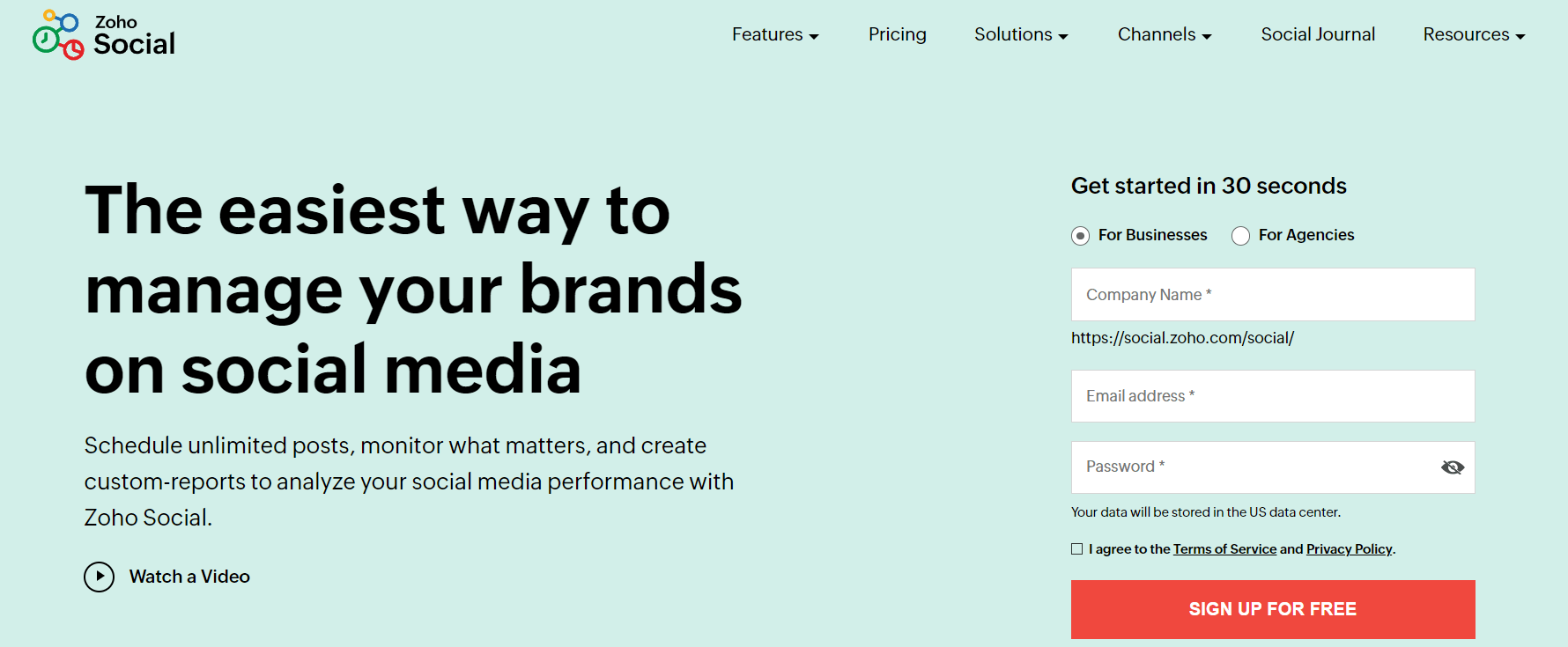 Zoho Social is a social media management platform that businesses use to improve their social media marketing workflows and maintain a robust social media presence.
Social media marketers use Zoho Social for social media scheduling, monitoring multiple social media platforms, and creating custom reports.
It provides powerful analytics tools that assist users in finding high-performing content, gaining audience insights, and analyzing the origins of traffic, along with how clicks are distributed among social profiles.
Supported platforms: Instagram, Facebook, Pinterest, TikTok, YouTube, Twitter, Linkedin, and Google My Business.
👉🏼 Tested it out and now considering a switch? Check this Zoho Social alternative.
Zoho Social vs. Cloud Campaign
Analytics: While Cloud Campaign has its own analytics features, Zoho Social is the real champ when it comes to super-detailed real-time analytics.
Reports: For custom reports, both Zoho Social and Cloud Campaign are great, especially if you're an agency that loves creating reports with your chosen metrics.
Mobile app: Similar to Planable and Hootsuite, Zoho Social has a dedicated mobile app.
Price: Zoho Social is the more budget-friendly option, starting at just $15/month, whereas Cloud Campaign begins at a higher rate of $49/month.
Takeaway: Zoho Social surpasses Cloud Campaign in terms of affordability, with a starting price of only $10/month, while delivering comprehensive analytics.
4. Sprout Social: best social media management tool for brand engagement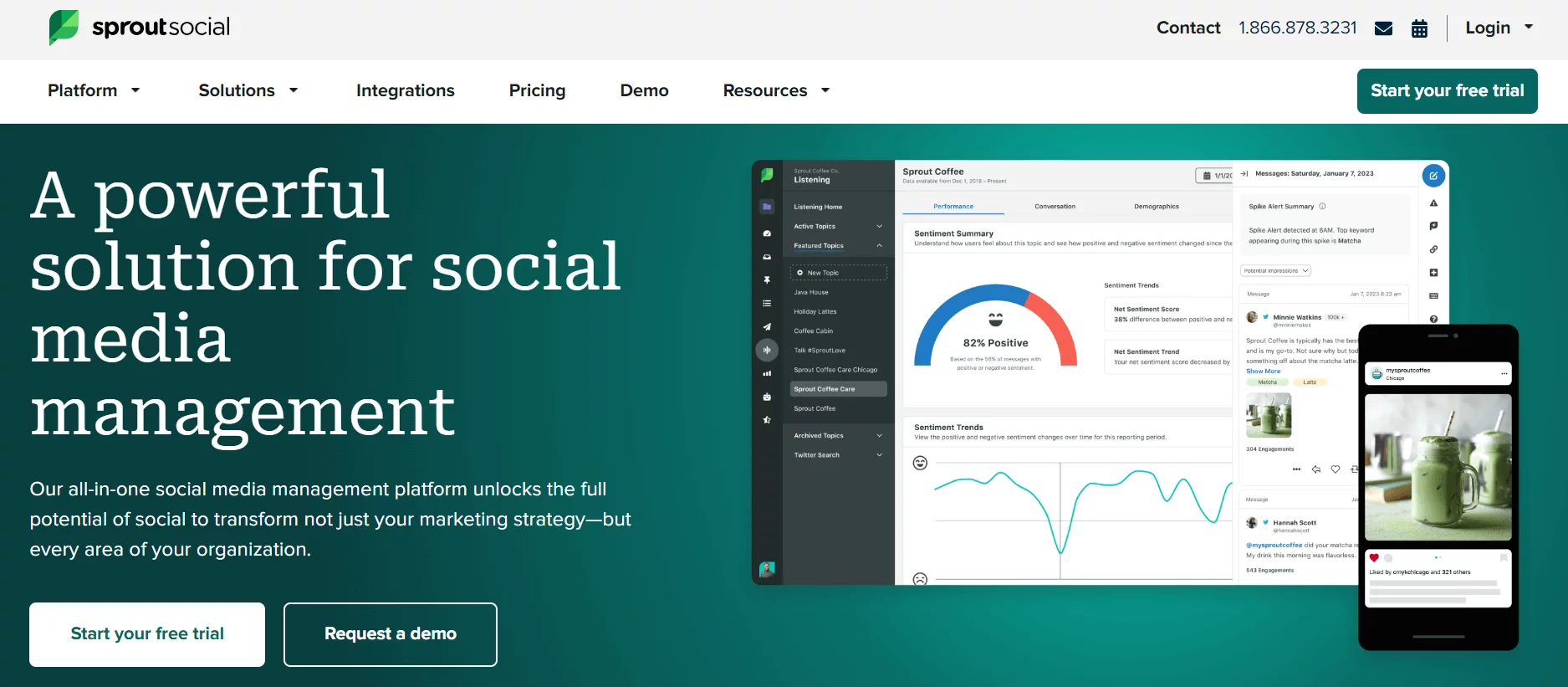 Sprout Social is a feature-rich social media management software solution designed to streamline and enhance how businesses interact with their audience across various social media platforms.
One thing I particularly like about Sprout Social is its integrated social inbox feature — a centralized hub where you can manage and respond to messages, comments, and mentions from your audience on different social media platforms. It simplifies the task of staying engaged with customers and followers, allowing for organized communication.
Supported platforms: Instagram, Twitter, TikTok, LinkedIn, Facebook, Pinterest, YouTube.
👉🏼 Already tried it and you're looking for a switch? Check out this complete list of Sprout Social alternatives.
Sprout Social vs. Cloud Campaign
Ease of use: Based on my experience, Sprout Social is generally easier to use than Cloud Campaign, thanks to its streamlined interface.
Features: Sprout Social has strengths that rival and sometimes outperform Cloud Campaign. For instance, it boasts a CRM tool that offers contextual information for better support issue resolution, lead nurturing, and brand experience.
Price: Because of its high starting cost of $249/month, Sprout Social might not be the best choice for small businesses, making Cloud Campaign a more attractive option.
Takeaway: Sprout Social is among the best Cloud Campaign alternatives for social media monitoring and management, offering robust features to enhance online presence and audience engagement.
5. Sendible: best for managing and automating social media marketing efforts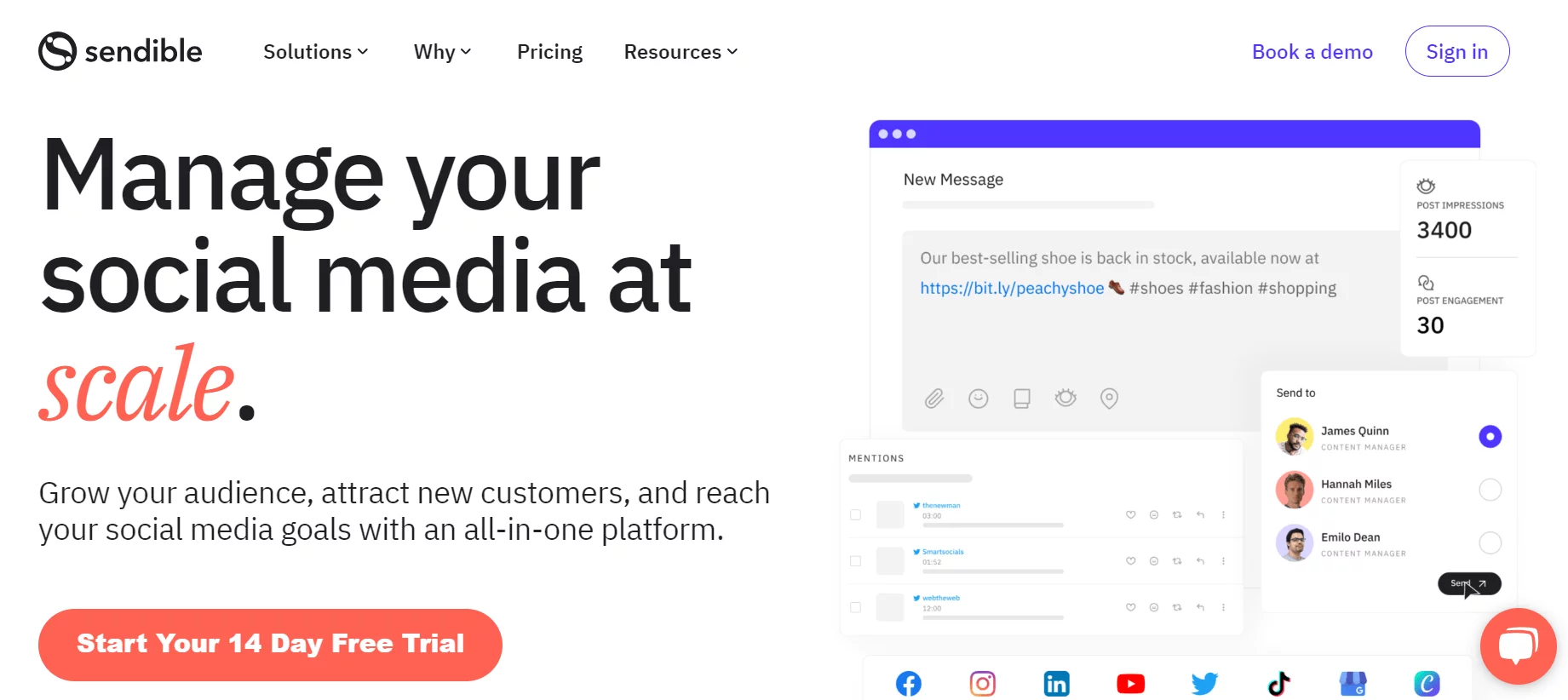 Sendible is a social media management tool designed to streamline and optimize social media marketing efforts for businesses and individuals. It provides a centralized platform that allows users to manage multiple social media accounts, schedule posts, analyze performance, and collaborate with team members.
Sendible's content calendar feature is an essential component of the tool that helps social media management teams plan and organize their content effectively. This allows teams to see the big picture of their social media strategy and easily identify any gaps or overlaps in their content schedule.
Supported platforms: Facebook, Twitter, Google My Business, Instagram, LinkedIn, TikTok, and YouTube.
👉🏼 Tried it out and thinking about switching? Dive into this extensive compilation of Sendible alternatives.
Sendible vs. Cloud Campaign
Ease of use: I've given both tools a spin, and Sendible's content creation tools felt more polished and user-friendly than Cloud Campaign.
Analytics: Sendible has better analytics, including an automated report feature, which Cloud Campaign doesn't offer.
Mobile app: Unlike Cloud Campaign, Sendible has a mobile app.
Price: Sendible is a bit more budget-friendly than Cloud Campaign, with plans starting at $29/month.
Takeaway: Sendible excels over Cloud Campaign in offering a cost-effective social media management solution with a focus on advanced analytics, social reporting, and a broader array of automation tools.
6. Agorapulse: best for social media reporting and inbox management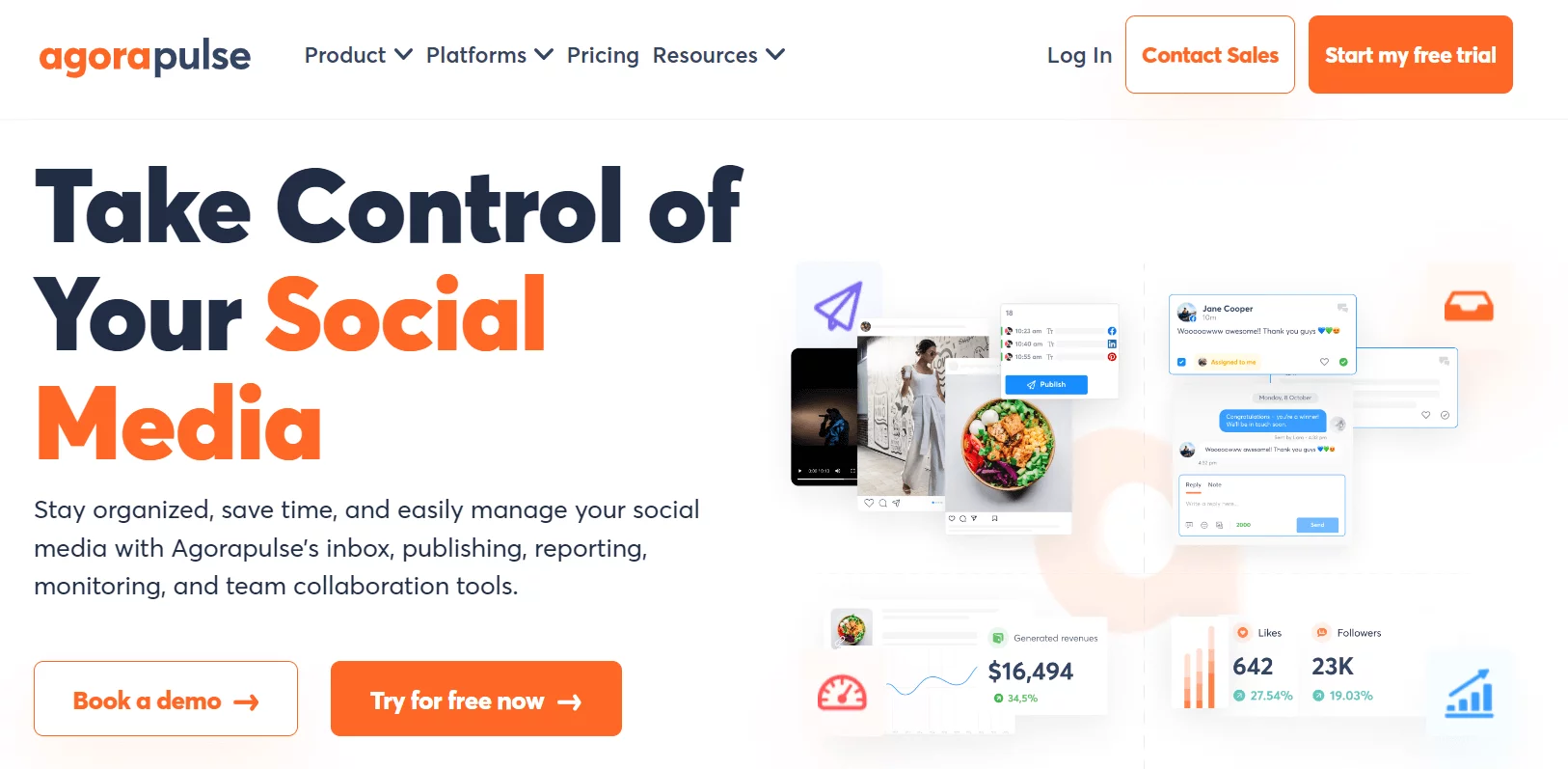 Agorapulse is a social media management tool that streamlines your social media presence from a single platform. It allows users to publish content across various social media channels and provides the ability to schedule posts in advance.
Agorapulse also offers the functionality to generate reports, allowing businesses to track and analyze their social media performance effectively.
Supported platforms: Twitter, YouTube, LinkedIn, Instagram, TikTok, Google Business Profile, and Facebook.
👉🏼 If you've given it a shot and want a change, take a look at this roster of Agorapulse alternatives.
Agorapulse vs. Cloud Campaign
Ease of use: Agorapulse and Cloud Campaign are pretty much neck and neck when it comes to their interface and how easy they are to navigate.
Reports: Both platforms prioritize custom social media reports, but Agorapulse goes further by providing team performance and social media ROI reports.
Free plan: Unlike Cloud Campaign, Agorapulse has a free plan, which you can use for 3 social channels to schedule 10 posts.
Takeaway: Opt for Agorapulse over Cloud Campaign if you require features like post scheduling, follower engagement, social media conversation monitoring, and comprehensive analytics, all within an intuitive user interface.
7. Buffer: best for content scheduling at scale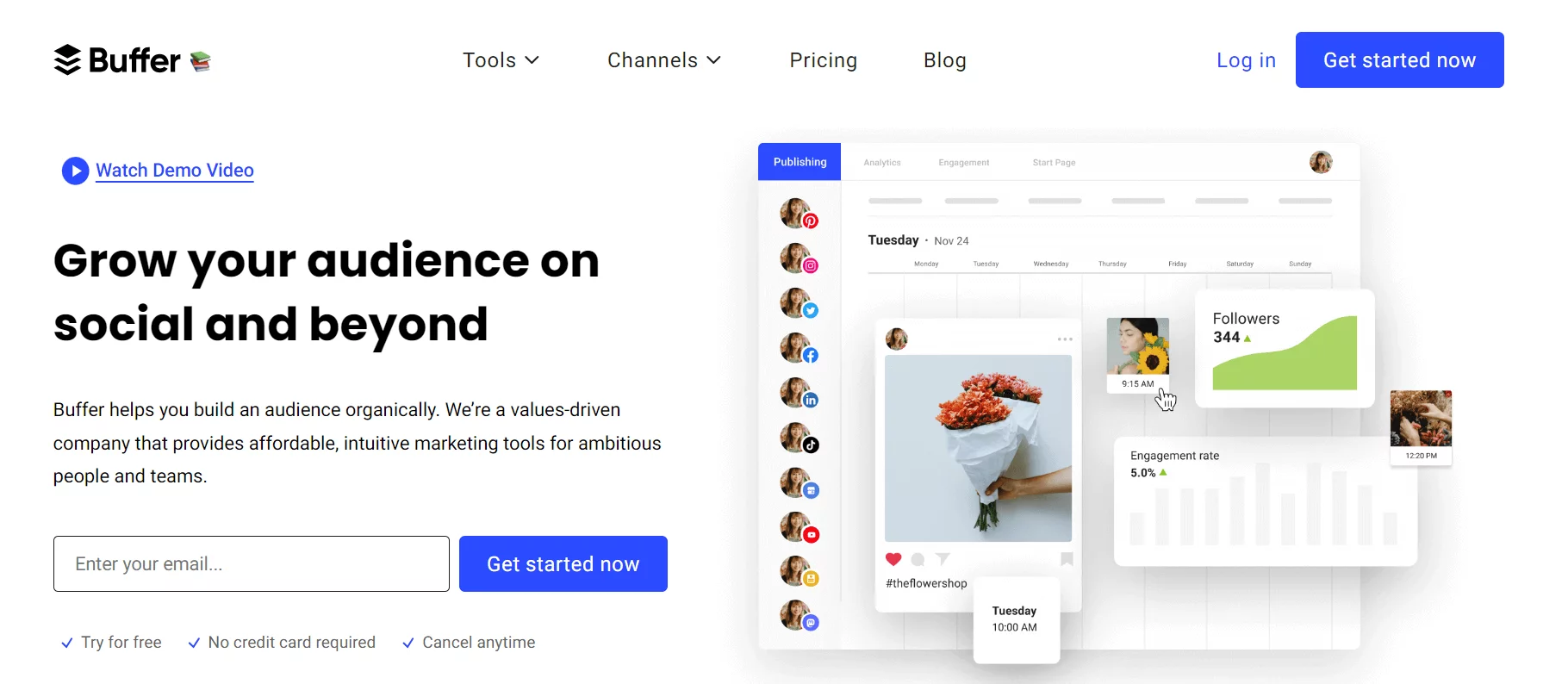 Buffer is a popular social media management tool that helps individuals and social media teams streamline their online presence. This Cloud Campaign alternative is a hub where you can plan, schedule, publish, and analyze content across multiple social media platforms.
With Buffer, you can plan your social media content well ahead of time in just a few clicks and then let Buffer automatically publish it at the specified times.
Buffer also offers collaboration features, allowing team members to work together on content creation, scheduling, and monitoring through its social media approval workflow and internal comments features.
Supported platforms: Facebook, Google Business Profile, Instagram, LinkedIn, Mastodon, Pinterest, TikTok, Shopify, Twitter, YouTube.
👉🏼 Had a go at it and thinking of making a switch? Don't miss this full list of Buffer alternatives.
Buffer vs. Cloud Campaign
Collaboration: All Cloud Campaign plans include unlimited users and collaboration features, while Buffer's basic plans lack collaboration and require an upgrade to their Team plan for this functionality.
Analytics: From what I've experienced, Buffer and Cloud Campaign have great analytics and reporting features, which are more than enough to help you track and understand your social media performance.
Free plan: Buffer offers a free plan that lets you link up to three social channels. On the other hand, Cloud Campaign doesn't have a free plan available.
Takeaway: Buffer is better than Cloud Campaign for simplifying social content scheduling and reporting, making it a great tool for businesses juggling content across many pages.
FAQs about Cloud Campaign
Which one is better, Cloud Campaign or Hootsuite?
It depends. Cloud Campaign is better for content creation and collaboration, while Hootsuite offers a broader range of features, including advanced analytics and listening capabilities, for more comprehensive social media management.
If you don't need reporting features, Planable is a reliable alternative due to its user-friendly interface, real-time content previews, and efficient collaboration and approval workflows.
Is Cloud Campaign really free?
No, Cloud Campaign isn't free, starting at $49/month.
But with Planable, you can start managing your social media presence for free with their complimentary plan, which allows you to schedule up to 50 social posts. Their pricing starts at just $11/month, making it a cost-effective choice compared to the $49/month charged by Cloud Campaign.
Is Cloud Campaign a good platform?
Yes, Cloud Campaign is a solid platform for social media agencies and teams to schedule content and collaborate with clients for content approvals.
Its downsides are that it's not the most user-friendly platform out there, and sometimes the content scheduling can be a bit of a headache.
Pasha Abdulov
Pasha is a SaaS content writer with 3+ years of experience, specializing in content planning, product analytics, reporting, and data management. When he's not busy writing, he loves exercising, cooking Italian recipes in his kitchen, or immersing himself in the world of detective novels.