After your business incorporation with a registered agent, hiring your team and creating your social media business profiles, what's next? 
You're eager to announce your new business venture to the world, but you still have some marketing and sales planning to do. 
At your most recent meeting, one of your digital marketers mentioned something called "social selling." You're instantly intrigued, but you're having trouble visualizing it as a long-term strategy.
Luckily, we've got just the guide you need to understand the ins and outs of social selling and how to implement it over the long haul.
We're sharing eight social selling tactics you can start using as soon as you launch your new business.
What is social selling?  
Social selling simply means using your brand's social media channels to connect and engage with prospects. But even more than that, social selling is about building long-term relationships through social media. 
Picture a networking mixer. You know, the kind where you have lunch with fellow business owners, pass out business cards, and share each other's networks? The kind that hopefully blossoms into decades of mutual partnerships? 
Now, picture that mixer taking place online. But don't just picture a luncheon with fellow entrepreneurs. Picture a full-day buffet filled with prospects, customers, loyal fans, and of course, other business owners. That's the essence of social selling.
What is the Social Selling Index, and why is it important? 
The Social Selling Index, or SSI, is a metric brands use to measure the impact of social selling efforts. 
The metric, first introduced by LinkedIn in 2014, considers four components when determining a score. 
The LinkedIn SSI looks at whether you're:
Trying to establish a professional brand using a well-managed LinkedIn profile 

Finding and connecting to the right people on LinkedIn

Sharing content that is value-driven, relevant, and conversation-inspiring 

Building strong relationships

But the great thing about LinkedIn's SSI is that its concept can be applied to any social channel, making it an effective framework for measuring social selling success.
1. Design an effective LinkedIn strategy 
By now, when you hear the term social selling, you should already be thinking about LinkedIn.
Remember that networking mixer that's taking place online? That's LinkedIn. LinkedIn is the epitome of the online networking realm that can be used for B2B sales. That's what makes it so great. 
There are no smoke and mirrors, funny cat videos, or updates on Aunt Ruth's new xeriscape garden with LinkedIn. Most people on LinkedIn are there for the same reason: to connect with others and build lasting business relationships. 
When it comes to designing an effective LinkedIn strategy, focus on your target prospects. What problems do they have? What are their personalities like? Why do they need you? How can your brand add value to their lives? Use the answers to these questions to plan relevant LinkedIn content, connection strategies, and direct messaging strategies. (But no sleazy DMs, please.)
Need more ideas? Take a look at business LinkedIn pages for more inspiration. 
For instance, route planner company Track-POD uses its LinkedIn page to share valuable tips, answer common questions, and initiate conversations with B2B customers.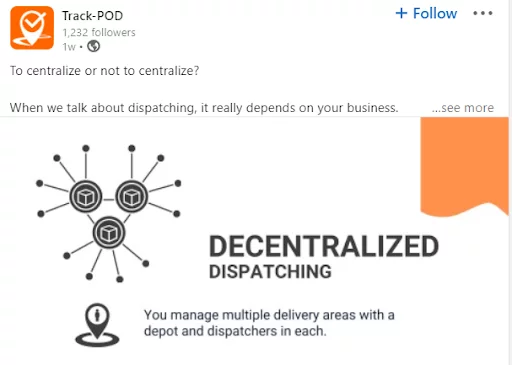 In this LinkedIn post, Track-POD educates its customers on the differences between centralized and decentralized dispatching.
2. Humanize your content and communication 
Old sales tricks and tactics have no place in the world of social selling. With social selling, it's all about authenticity and building relationships over time. 
The best way to do both is to humanize all customer touchpoints from content marketing to communication and everywhere in between.
In other words, be real with your prospects. Show them the real you. Show them your personality, ask real questions, and give them real answers. Before publishing content or sending a message, always remember there's a real live person on the other end of the screen.
3. Partner with affiliate marketers and influencers 
Affiliate marketers and influencers know the social selling game, and they know it well. 
They know how to build loyal communities, persuade audiences to take action, and create viral campaigns. But best of all, they know people — and they have the type of magnetism every brand craves. Some of the biggest most successful companies leverage affiliate programs to their advantage which stands as a testament to their effectiveness.
So whether it's helping you make money podcasting or simply posting a photo sporting your brand, affiliate marketers and influencers can elevate your social selling efforts to new heights. Great affiliate marketing content can not only raise brand awareness but also increase your products' demand.
You can allot this work of communicating with influencers to someone from your marketing team. If you don't have a big team or want to contact influencers yourself, then you can just select the influencers you want to approach, note down their names and use any search tool to find their contact information, for example, email address, number etc. Once you have the list, you can then reach out and partner with the influencer on your projects.
4. Build a pristine content planning process
If you've been in business for a while, then you know business success isn't about talent. It's about process. You have to create a system for everything you do, so you can track, measure, and scale your business sustainably. 
And for social selling to truly work, you have to prioritize planning content that attracts, persuades, and connects. This means you'll need to design an effective content planning process.
Every business's content planning process will look different, but here are some quick tips that can help you design an effective process:
List all of the social media channels your prospects frequent most 

Gather prospect-focused research for users on each channel

Create a living document you can always reference that lists

required image sizes

for each channel 

Create a social media posting calendar and schedule posts in advance when possible

Research when your target customers are usually online and commit to posting and engaging at those times 

Build a content team that solely focuses on product research, planning, content curation, posting, tracking, and measuring results
5. Implement freebies, deals, and other lead generation magnets 
70% of millennials follow brands on social media. Half of them do so in order to keep up with special promotions and discounts. If there was ever a good indication that customers wanted brands to sell to them, this is it. 
That's why our fifth social selling tactic is all about focusing on lead generation magnets.
But freebies and deals aren't the only lead generation magnets that work — especially if your target audience doesn't include many millennials. 
Other magnets, such as webinars, MasterClasses, courses, and ebooks work well, too. The key is getting to know the kinds of lead magnets your prospects value most. Then, focus your lead generation efforts on those key areas. 
For instance, if your target audience can't say no to a "how-to" ebook, focus your lead magnets on ebooks and pdf guides. If your audience loves live training videos, focus your lead magnets on live training videos and courses. Another example is the real estate industry. Market reports, buyers and sellers guides, and free home evaluations are all great lead magnets to use in your LinkedIn real estate marketing strategy.
Interactive content like quizzes can be highly effective as lead magnets. Quizzes provide an engaging way for users to assess their knowledge, discover insights about themselves, or find personalized recommendations. Make sure you're creating quizzes that align with your target audience's interests or pain points. This way, you'll capture valuable leads while providing an enjoyable and informative experience.
Tip: with a quiz builder, you can easily create interactive quizzes to engage more customers.
6. Connect deeper with visuals 
Conversation is important. Good copy is crucial. Valuable content is a must. But the string that ties them all together is visuals. 
Visuals help brands connect to their audiences as nothing else can. 
Why? Because visuals tell stories. They can describe how a product works and how a brand functions behind the scenes. They can summarize key points, connect a face to a name, and draw on emotion. But mostly, visuals help brands connect to audiences by breathing life into sales and marketing.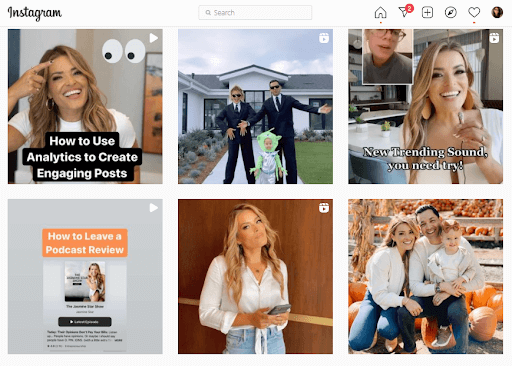 By adding visuals like quality video content, professional images, and custom graphics, you can uplevel your social selling efforts in a powerful way. 
Consider working with a video production agency, a professional photography agency, and a graphic design agency to produce the best visuals possible for your brand.
7. Use social proof to your advantage 
Prospects become leads when they've heard enough about your brand to trust you. 
But prospects don't just want to hear you talk about how awesome you are. They want to hear others talk about how awesome you are, too. In other words, prospects crave social proof. 
They want to hear that Sally loved your eye cream and Tom couldn't get enough of your moisturizer. They want to know that Mark doubled his portfolio ROI with your services and that Kristin became debt-free after her third consultation. 
So, how do you take advantage of social proof when you're social selling? Infuse social proof into your social media content every week. 
Here are some quick ways to collect social proof from happy customers:
1. Ask other sites, affiliates, and guest bloggers to write a blog post reviewing one of your products or services.
Take a look at this teen checking accounts review for inspiration: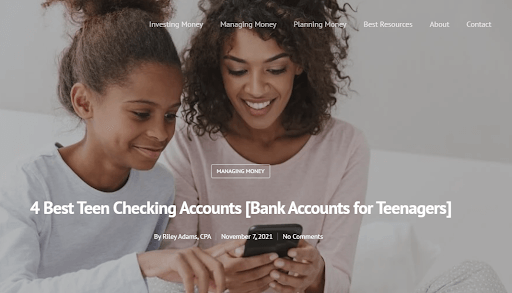 Reviews with a comparison analysis like this one are effective because they put the purchasing power back in the customer's hands.
2. Survey every new customer two weeks after purchase. Be sure to include plenty of open-ended questions (and add a section asking permission to share their answers). Using a survey creator will make things even easier for you. If you're using a CRM such as Mailchimp you can integrate it to deploy Mailchimp surveys.
3. Invite a handful of prospects in your target audience to test drive your products and take notes during the process.
8. Become a trusted thought leader 
Social selling is all about relationships. But how can you build relationships if your audience isn't captivated by you? And how can you engage with others in a meaningful way if they don't trust you?
The thing is, you can't. 
To build relationships with prospects, you have to become the kind of brand prospects can't wait to get updates from. The kind that gets people excited when they see you post a new video or go live in Stories. To build relationships, you have to be magnetic. 
And what better way to be magnetic than to become a trusted thought leader?
Think about it. When people wake up in the morning, what kind of information do they consume? They probably check the weather, watch the news for a bit, read their favorite blog, and head to social media. 
Once they're on social media, they're usually looking for something that catches their eye. They scroll past boring layouts and overly-salesy copy, but eventually, they always stop to consume. The type of content they love consuming is thought leadership content. 
Audiences eat up thought leadership content. 
Motivation Mondays? Thoughtful Thursdays? Audiences love both. Sharing real stories, real mistakes, and real struggles? Audiences binge on that. Sharing your best advice and insider tips like they're free samples at Costo? Yes, yes, and more yes. 
Because when you share thought leadership content, what you're really sharing is value. And the more you share value, the more you grow to become not just a trusted thought leader but a trusted friend. That's where the art of social selling really begins to shine.
Wrap up 
Outdated sales tactics are out, and social selling is in. 
Prospects don't have the patience for cold calls, robotic-sounding email copy, or typical social media posts. 
These days, prospects are craving something different. They're craving real brands and real relationships. They're craving authenticity, honesty, and trust. 
While we've barely begun to scratch the surface of social selling, the eight tactics we shared here are great starting points. 
Craving more sales planning and marketing tips? Feel free to scour our blog for more helpful advice.