Your search for Agorapulse alternatives stops with Planable
Looking for the best Agorapulse alternative for you? Discover how Agorapulse stacks up against competitors on creating, planning, and scheduling social media content.
Here's one nifty features table and an in-depth look at 4 social media management alternatives: Hootsuite, Sprout Social, CoSchedule, and Zoho Social.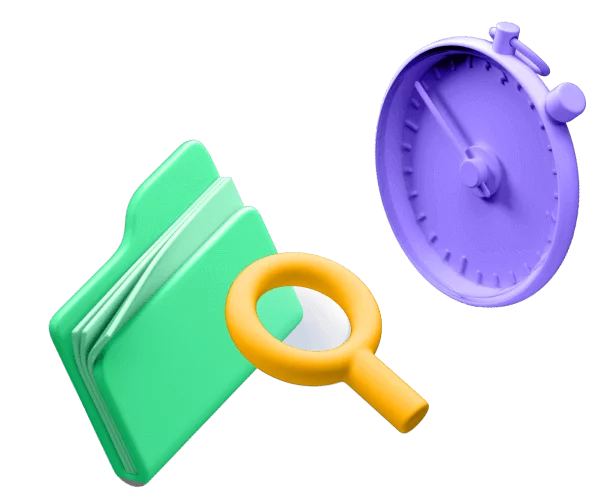 Turn 3 weeks of researching Agorapulse alternatives into 5 minutes of breezy reading
If analytics is a must-have in your social media management tool checklist, then Agorapulse is the way to go. Community management? Social listening? That's also in Agorapulse's lane.
But if you lack collaboration and planning & Agorapulse is too expensive for your business? You've come to the right place. What's that? Shared calendar? List view?
And within your budget? We got you.
Agorapulse Alternative #1: Planable
Drag&drop from drafts to calendar
Instagram Story creator & editor
Advanced image editing ? Cropping, adding filters, adjusting colors, brightness, sharpness, adding shapes, text, and frames.
Learn more →
Adjust content for multiple posts during creation
Multiple views for content (feed, list, calendar, grid)
Auto-saving visuals from composer in media library
Media library with drag&drop to composer
Multiple levels of approval
Internal vs. external collaboration flow
Tagging users in comments
Editing public/private comments
Adding attachments in comments
Collaboration on draft posts
Check out other Agorapulse Alternatives
Agorapulse Alternative #2: Hootsuite
If you're heavy on Pinterest content, Hootsuite should be on the top of your list. They also offer weekly reports on your social media campaigns.
Agorapulse Alternative #3:
Sprout Social
For Social Media Marketers looking for Social Listening, Sprout Social is a solid choice. You can also manage conversations in-app.
Agorapulse Alternative #4:
Zoho Social
For those reports-heavy marketers there is Zoho Social. You can choose predefined social media analytics reports, or create your own reports from scratch.
Agorapulse Alternative #5:
CoSchedule
With CoSchedule you can create, assign and visualize tasks for your social media accounts. This makes it easier for Social Media Managers to track progress and have a clear overview of projects and timelines for multiple social media channels.
Compare even more social media management tools
We know – looking for new social media tools is hard. 329 tabs open at the same time hard. We've built a comparison that helps you look at all of them at once. Find the new one that fits your social media marketing efforts best.
"The best part of Planable is how much clients love it! It's super easy to use and the learning curve is small too."
Sonal
CEO @ Morpheus Digital Services
Work better, faster, stronger with Planable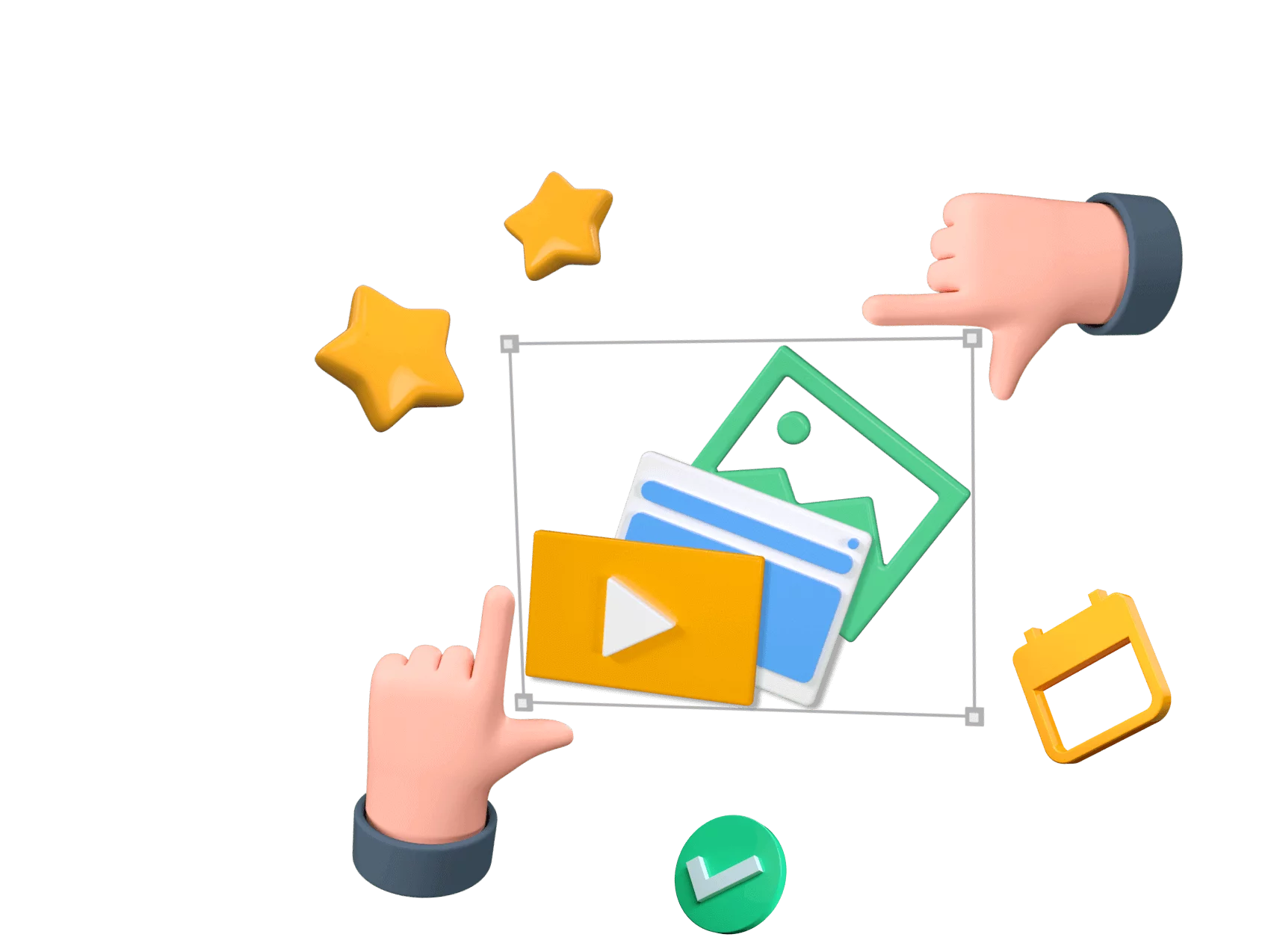 7 platforms, one window to tweak content
Why switch between 7 windows when one's enough? Tweak your Instagram video, Twitter post, Google my Business announcement, and whatever strikes your fancy from the same window. Tap, tap, tap. That's all it takes to save precious time.
"Using Planable removes the overwhelm and I'm more inclined to load up social posts rather than avoiding the job. And I really like the clean interface!"
Betsy Muse
Founder @ Copy Muse & Women-Led Summits
Unbothered. Focused. Organized.
One place to plan content in advance, schedule it, visualize entire social media campaigns. All of it wrapped in a sleek, pixel-perfect calendar. And drag&drop friendly. It's called Planable.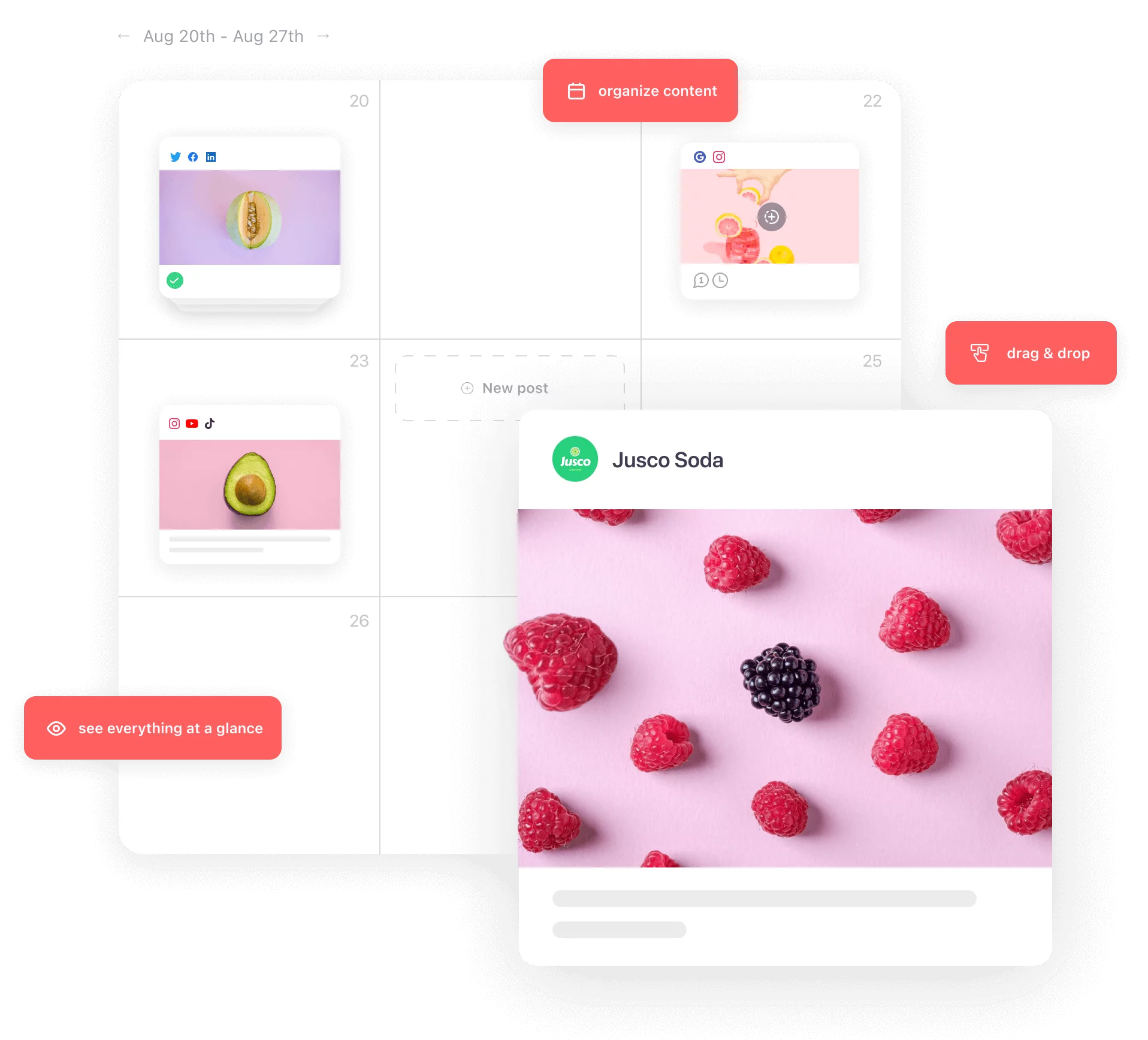 Super-fast collaboration features that happen in context
Instant collaboration on social media content via comments and replies, right next to the post. Keep in-house discussions private with internal notes.
Need someone from the team to give their 2 cents? @ them in the comments. You can also edit comments and notify several people afterward.
No need to send your colleague to folder #756 to pull an asset. Drop it in the comment, they can take it from there.
Hop in the time machine to go back to a time when your post looked better. Revert mistakes by restoring previous versions of posts.
Collaborate on any piece of content, including drafts. Smooth, seamless collaboration regardless of the type of post.
Anyone from the team, at any time, can share their thoughts through comments and replies. Still right next to the posts.
Visualize grids as they're happening
Select grid view. Pull some visuals from the media library. Drag & drop photos and watch your beautiful grid take form right in front of your eyes. Puufff! Magic! I mean Planable.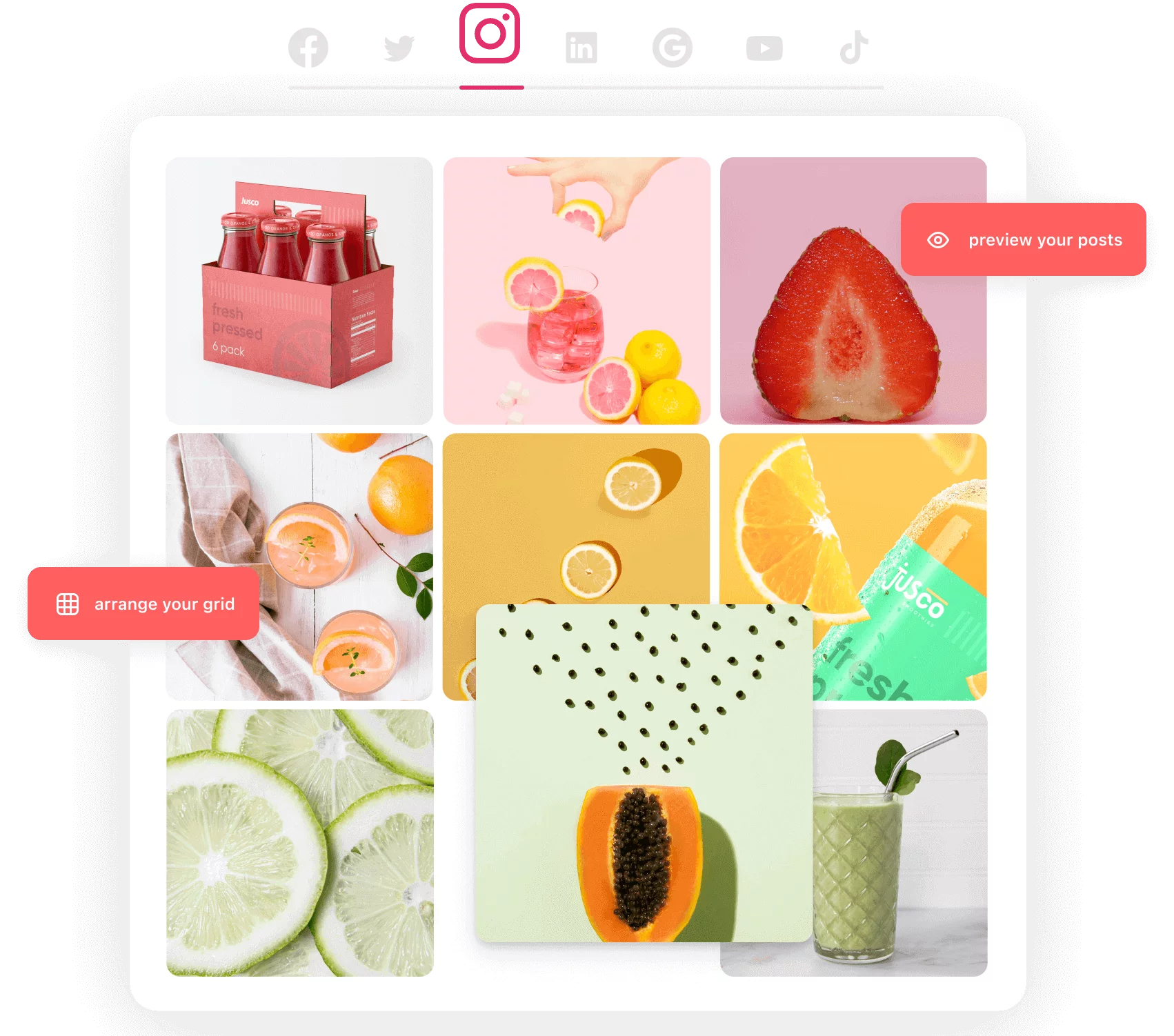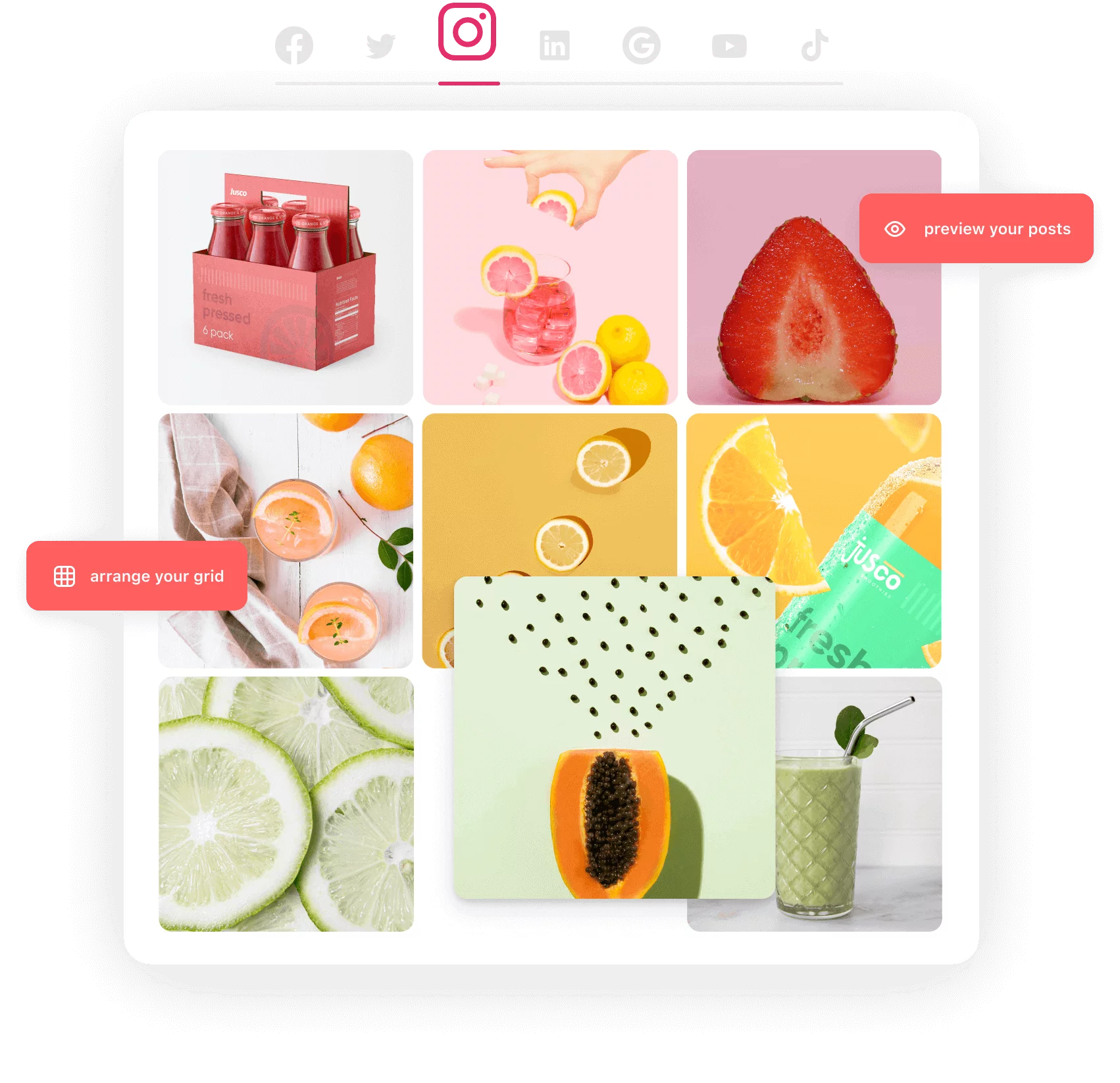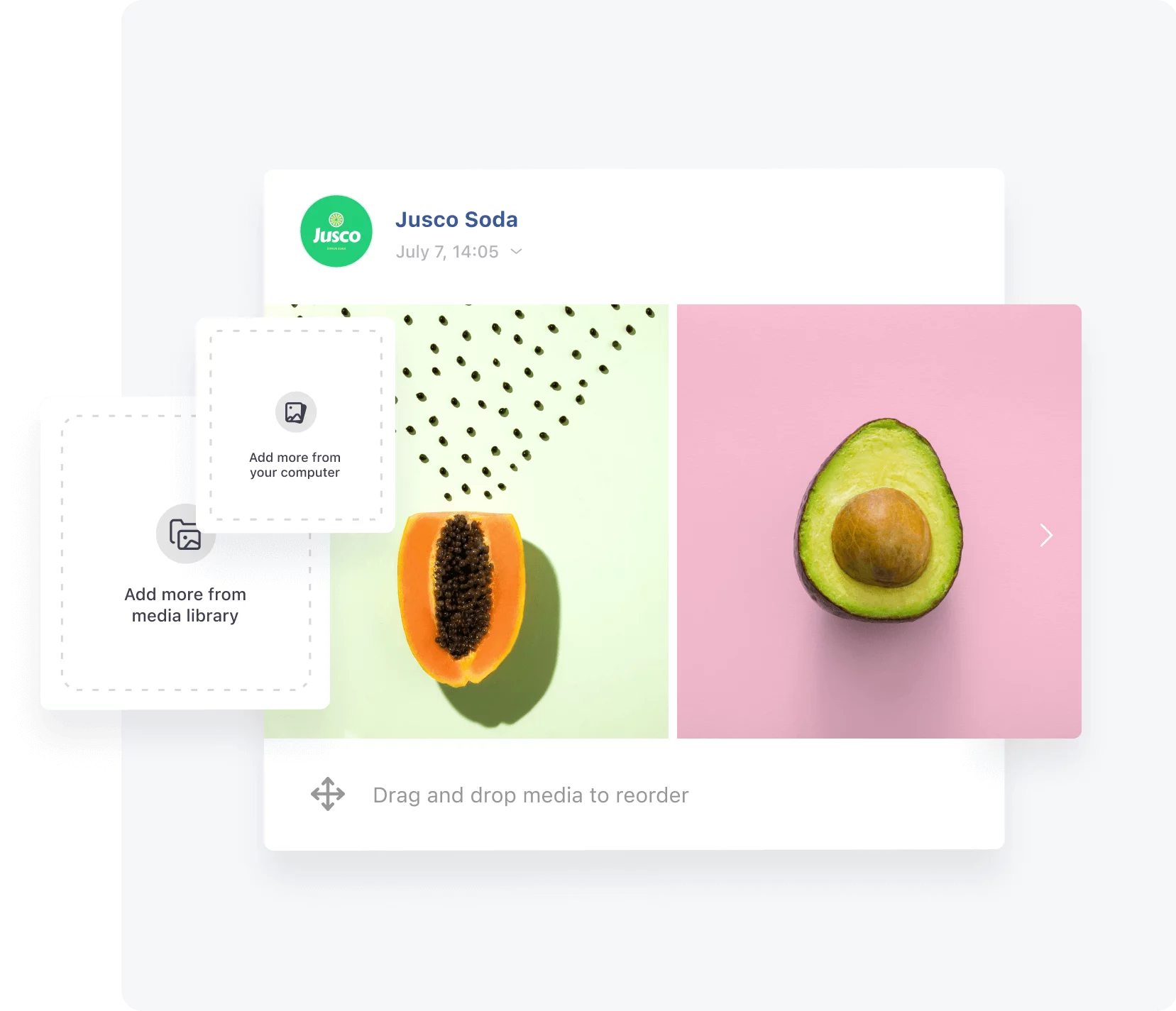 Put a spin on your carousel
Create, plan, preview, and collaborate on your carousel posts in Planable. No need to make a post and pray to the gods of social that it'll look good once it's live.
Peek into the life of marketers that use Planable for social media management