Best Free Hootsuite Alternatives for Social Media Management
Turn the page to a new social media management tool. Create, plan, schedule, approve and publish social media content 6X faster. At a lower cost. With Planable.
"The genuine speed with which I can draft, edit and approve posts is incomparable – it is streamlined for the things that matter most. I save time and create better content!"
Sean Errey
Marketing Manager @Checkpoint Media
Planable vs Hootsuite in social media content management
Drag & drop draft posts to calendar
Tweak content for each page during creation
Mobile post preview in web app
Pixel-perfect feed preview for posts and pages
Instagram stories with text and image editor
Four different views (calendar, list, grid & feed)
Weekly & monthly calendar view
Files usage history in media library
Internal & external notes for posts
Media library with drag & drop to posts
Activity history on posts
Unlimited personalised labels/tags
Multiple levels of approval
Internal vs. external collaboration flow
Granular custom permissions for users
Resolving comments / assignments
Tagging users/teammates in feedback
Real time collaboration in comments & posts
Approval reminder notifications
Instant publishing after approval
Move scheduled posts to drafts
Location in post for all platforms
Looking for more comparisons on social media tools?
Sprout Social
Looking to manage multiple brands and with your team without breaking the bank? Get fast collaboration. Easy planning. And support that will never, ever, leave you hangin'. A modern alternative to Sprout Social.
CoSchedule
Looking for a reliable tool for your social media collaboration? You've come to the right place. Here's why Planable is a better way to create, view, and collaborate on your social media content.
Zoho Social
If you're using Zoho Social or looking for an alternative to Zoho Social, this one's for you. Check out how we and two other competitors can help if you're looking to replace Zoho Social. Expect an in-depth, thorough rundown.
Agorapulse
If you're in need for a collaboration centric tool, see how Planable compares to Agorapulse's features in terms of planning, creating, collaborating, and publishing social media content.
Compare the best social media management tools
We know — looking for new tools is hard. 329 tabs open at a time hard. We've built a comparison that helps you look at all of them at once. Find the one that fits your team best.
Planable star features you'll fall in love with
Sleek calendar view
Managing multiple accounts on the same platform? We got you. Select your social media pages and view them simultaneously as grouped, or individually. In the same sleek social media calendar. Planning content will be a piece of 🍰 , instead of a ️🤦🏻‍♀️.
Our content calendar is rated 9.3 on G2.
Get a bird's eye view on how your monthly content will look like.
Organize your gazillion posts with no-sweat drag & drop.
We've got a one click policy. From "drafts" to "scheduled"? Still one click.
You can showcase your work to the team in the best *and neat* way possible. We bet stakeholders will love it too.
As you're reading this, more than 10.000 people enjoyed their sleek calendar view.
"I don't have to spend hours on PDFs trying to make my content calendar make sense."
Payton Stringer
Content Team Lead at Campaignium
Grid. The Instagram grid
Give your Instagram a fresh, aesthetic look by dragging and dropping posts till perfection. No extra apps or extensions, no need for 1727383 open tabs. Planable keeps your creativity and planning in one place. Oh, and it keeps your sanity and laptop functioning too.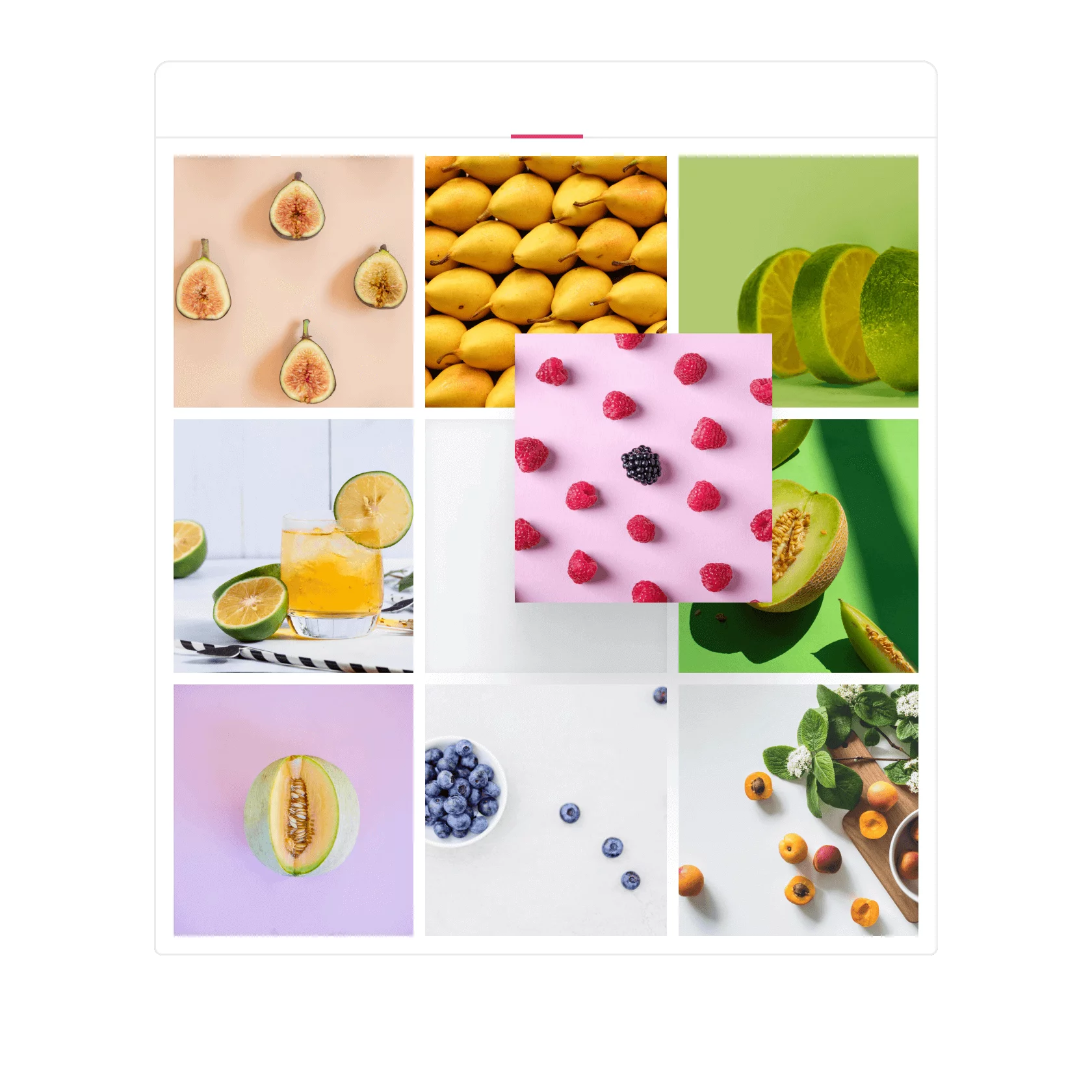 Single image? Carousel posts? Videos? Create and preview them all exactly how they'll look like live, instantly.
All in Planable.
Want to build the perfect grid? No need for mental gymnastics to get there. See it, rearrange it, schedule it.
All in Planable.
Speaking of Instagram, you can also create beautiful stories, edit them, and schedule them. IGTV videos too.
All in…🎤👂
"The grid view is extremely helpful for organizing content and especially useful when planning an Instagram grid."
Small business administrator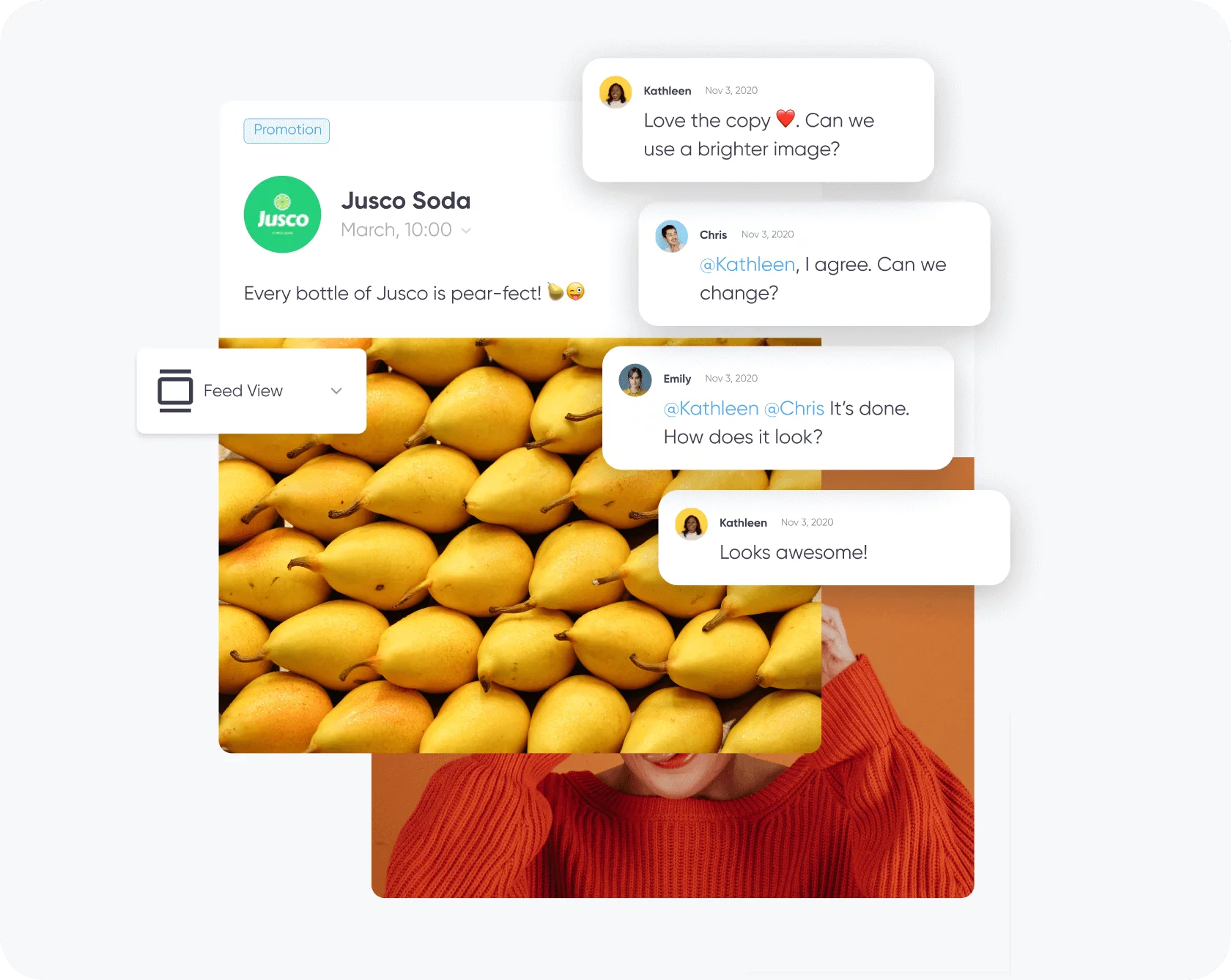 Real-time collaboration
Leave emails, chats and long calls behind. Get feedback directly on each post, tag your teammates, clients or stakeholders, attach files, and resolve comments. Yes, you can do all of that in Planable. And yes, from the same place. Hassle-free.
Want to keep a conversation only within your team? Planable covered it too. Share posts and notes hidden from the client's or stakeholder's sight.
Wave goodbye to waiting hours for feedback to come in, refreshing, changing windows, and keeping 463628 tabs open. In Planable everything happens in real time. Like literally.
Every conversation is contextual, easy to find and follow. Leave comments right next to the posts. The only place where it actually makes sense.
"The internal and external discussions help to keep conversations streamlined against the particular piece of content that you're talking about. No more confusing email threads about one piece of content!"
Emma L
Seamless approval process
Have everything in context, right next to the posts. Invite your stakeholders, get their feedback and get approval in the same place. Unlimited people involved. Zero headaches.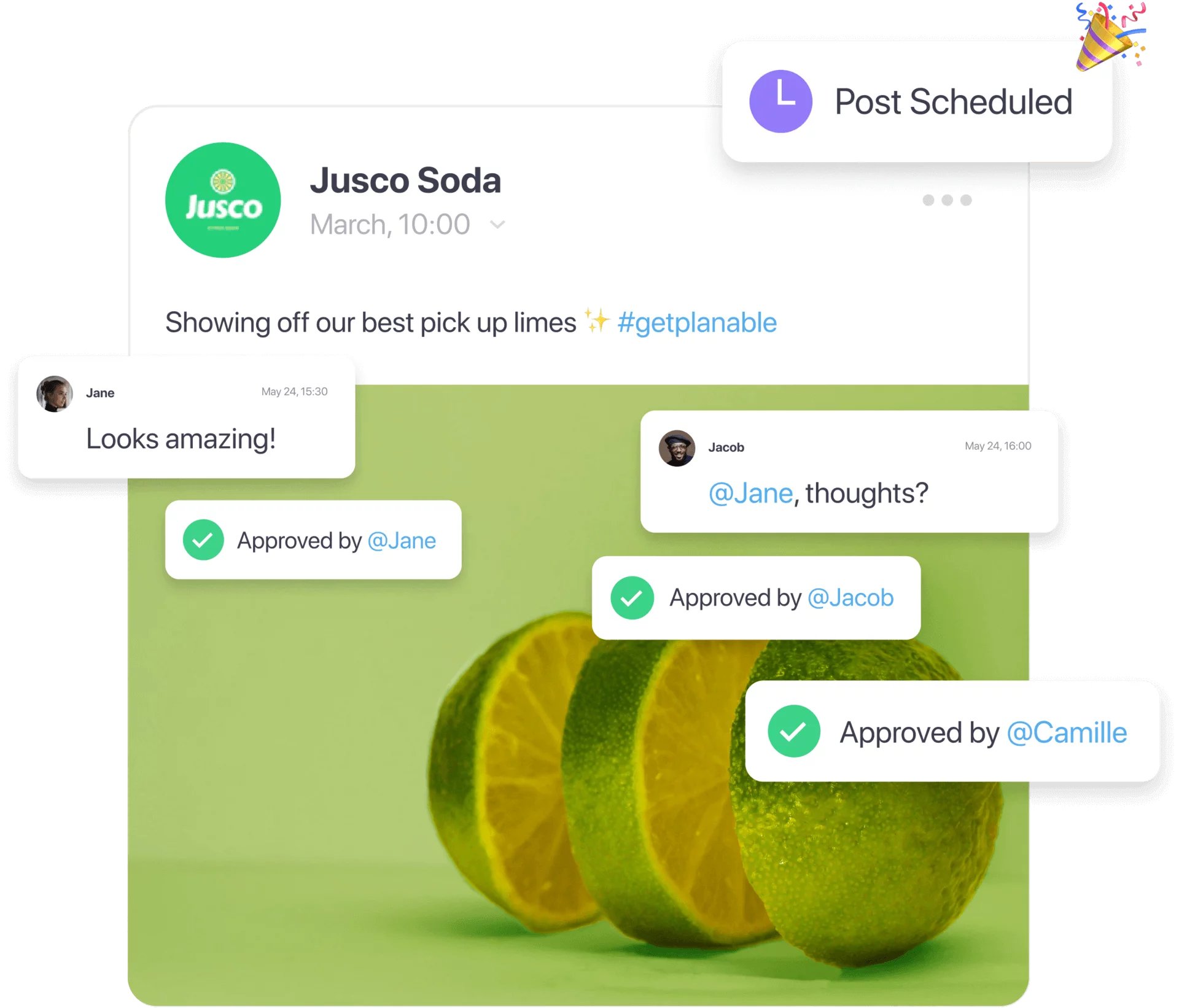 Your approver okays your post with a single click. Even on the go (via our mobile app).
They see content as though it's live instantly. Seriously – how could they not love working with you?
Oh, almost forgot. You won't need to pay extra to get approval on your content. It's available for all plans.
"The approval process is seamless. Before I started using Planable, my social media management was a fire hazard, waiting to happen. After Planable, my team and my clients are so much happier. It gives my agency a very professional process flow. Feedback is painless and seamless."
Renita Williams
Founder and Director @The Marketing Plug
100% customizable labels
Content pillars — or the strategy piece that always ends up lost in a 2-letter-spreadsheet-column. You always fill them out. No one ever sees them. Except in Planable where you can see them in all your views, color-coded, visible, yet not distracting.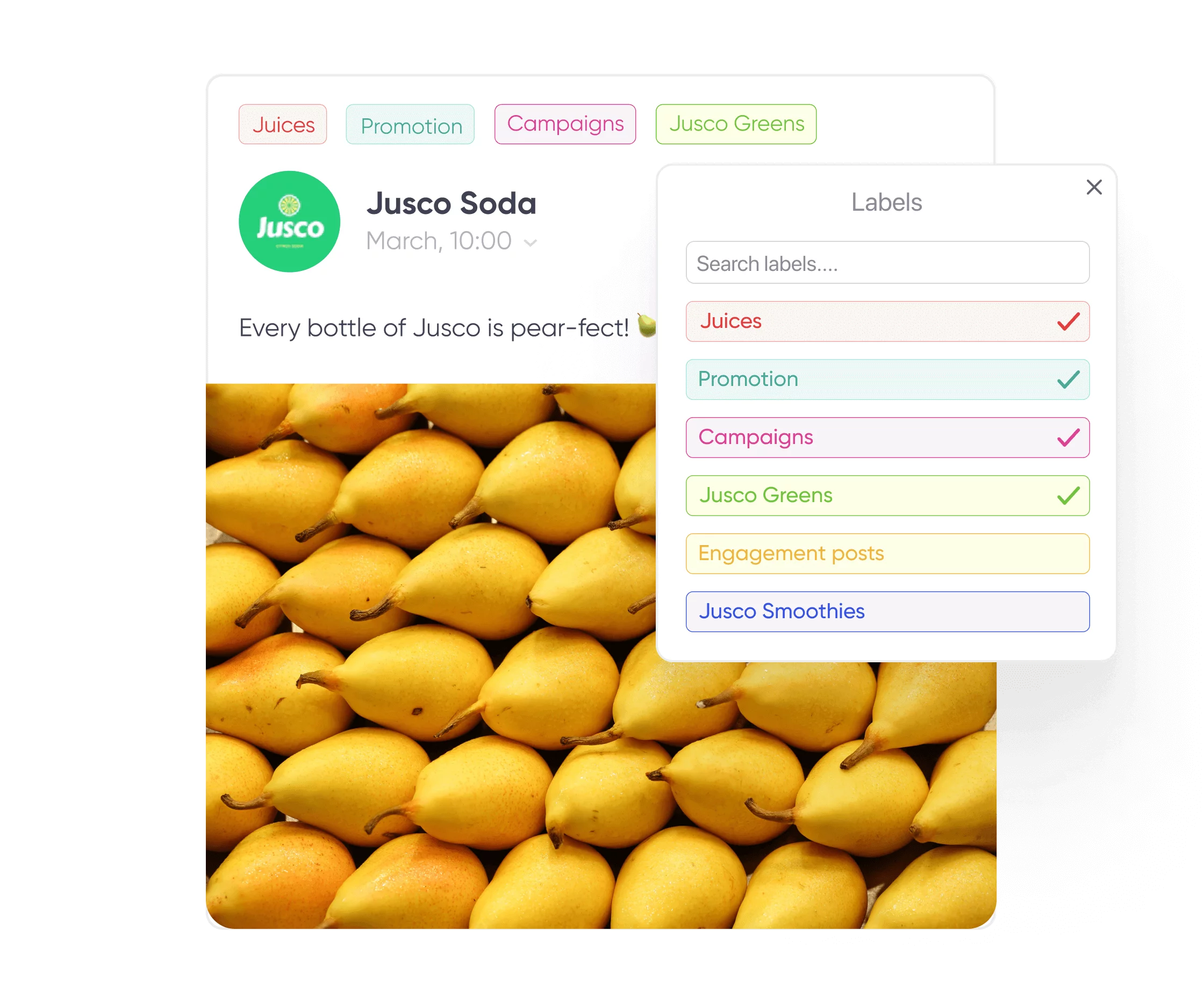 Label your posts by topic, campaign, brand, client's favorite color, or anything you darn well please.
Spend less time looking for stuff and more time creating content. Sort & filter posts per label to view and find the right content.
Check out your labeled posts in calendar view. See at a glance if a topic is overused and drag & drop until the perfect balance.
"Planable has been great in helping our team organize our social media management. It inspires us to keep going with our social media because we know that it will be easier to do with a management system that works."
Will Fountain
Graphic Designer @Fireside Agency
Tweakable posts for each platform
Create grouped posts for multiple platforms at the same time. Insert the main copy and then toggle sync off. You can customize each post individually for each platform in the same place. Without switching tabs.
To all those separate, network specific handles you have to go and edit one by one.
To the hashtags that are ALWAYS different from Facebook to Twitter or Instagram.
To each post that needed manual edits say BUH-BYE. And Hello Planable!
"The ability to customize posts for every platform is the best part of Planable!"
Brian Basilico
Director of Direction @B2b Intercative Marketing, Inc.
"Amazing customer support"
Not our words. Leon Deakin's words (Marketing agency owner of TogetherMarketing.co.uk). Get 24/7 customer support on every plan in Planable. Our chatbox is always open. No ticketing system or long wait periods. Ping us anytime.
We're our customers' advocate and cheerleader. Just like Bilbo is to Frodo. Robin to Batman. Or Alfred to Batman. Our customer support is Robin and Alfred combined. Our support is rated 8.9 on G2. Which is like one point more than 7.9. Just saying.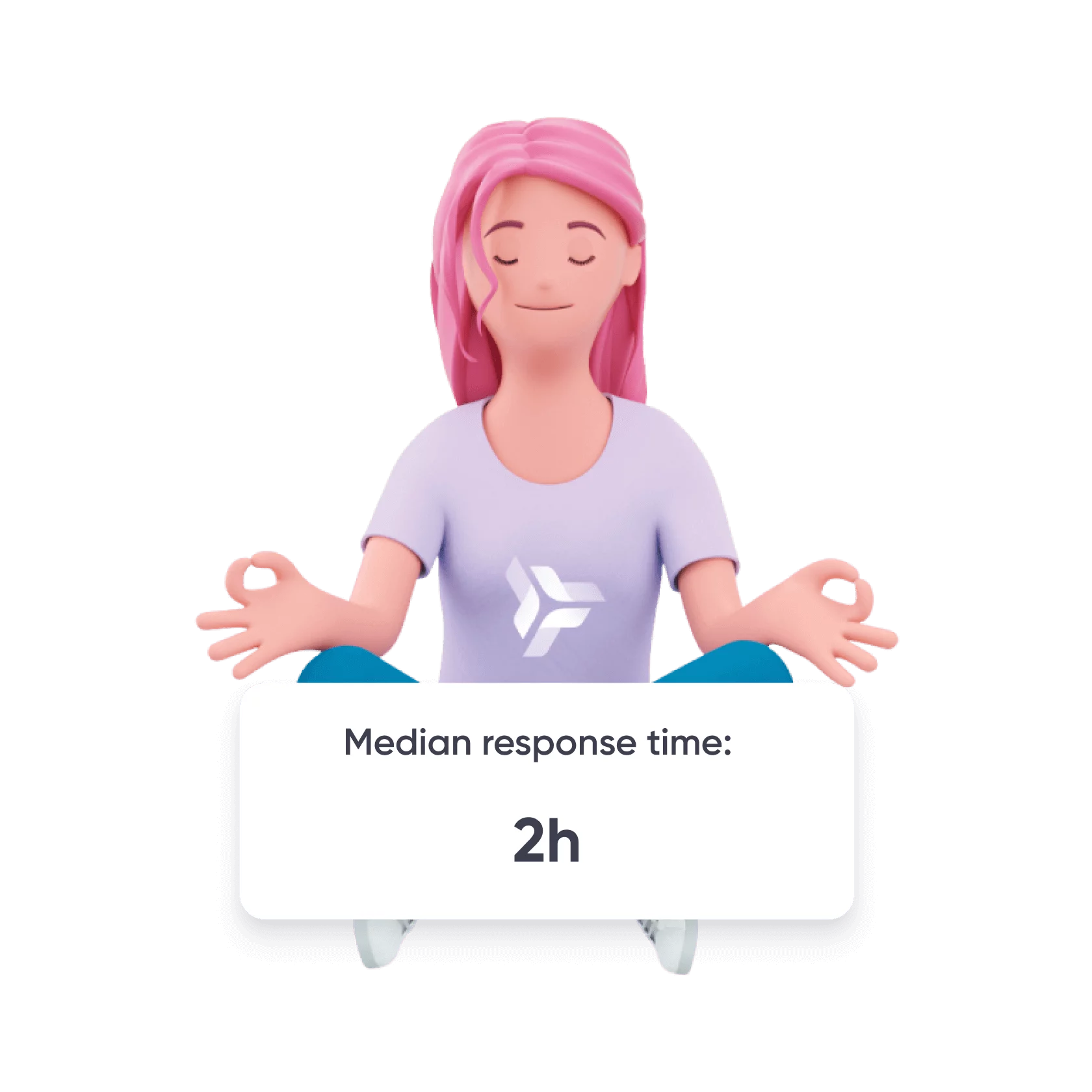 Why Planable is your next Hootsuite alternative to consider
We're young guns, but we know what we're doing. And we love what we're doing. So much that Planable released 12 fresh updates only in 2021.
Free plan
Test anything and everything, for your first 50 posts. No limits.
Easy pricing
You know exactly what you're paying for and when.
A Chat-bubble away
Fast and not furious at all customer support. Buzz us anytime, 24/7.
$22/user
For 15 social media platforms, 3 approval workflows & unlimited posts. Of any kind.

An agency
Separate calendars for each client
Increased scalability
Simple collaboration
Billing transparency
24/7 support

A Small Business
Content creation 6x faster
Flexible scheduling
Tweak for different channels all in ONE place
Pixel-perfect previews
Billing transparency
24/7 support

An Enterprise
Multi-levels approvals
Dedicated account representative
Inclusive collaboration
Unlimited storage & usage
Billing transparency
24/7 support
We're great, but we're not for everyone.

We do one thing and we do it perfectly
At Planable, we believe in being absolute specialists. Our specialty? Collaboration. You wouldn't use your pocket knife for a job that required a precision drill, would you? You wouldn't use a collaboration tool for your analytics either.

The more, the
merrier
Planable is built with teams in mind. A big chunk of our features are focused on collaboration. We need at least two to tango. So far, we didn't find a team big enough to scare us, so we're up for the challenge.

Spreadsheets are not our thing
If you really enjoy using spreadsheets for social media planning and collaboration, then Planable's probably not for you. We're here to save you time and automate all the tedious tasks that are needed when collaboration is scattered around.
Join thousands of marketers working
smarter with Planable
Get started for free. Commit when you're ready. No time limits. No credit card required.