Social media has proven to be an affordable, efficient and relevant way to grow a small business. Whether you're a social media manager working for a small business, or an expert running a communications agency, social media allows your brand to establish trust with its target audience. 
A digital presence is non-negotiable in a post-COVID reality. It's critical to build a brand on social media and emphasize what sets your company apart. Even higher ed institutions are on social media. So it's time you get your brand present there too.
To get started using social media platforms to market and promote your small business, and learn how to build relationships with potential new clients, let's dive into the many ways you can grow and boost your social media presence. 
Set social media goals and objectives
Before you get started with any social media activity, you need to consider the following factors:
Audience 
Identifying your target audience is the foundation of your marketing strategy. This entails understanding who your ideal prospects and customers are, as well as the core pain points that your product or service address. Some key questions that can help you understand who your target customer is and what they care about may include:
Demographic information, such as age range, location, job title and hobbies.

What are they trying to achieve? (e.g. buy a house, find a new job etc.)

Where do they hang out on and offline? 

How do they like to communicate? (Images, text or even memes).
Goals 
To be effective, your social media marketing goals must be realistic and trackable. They must also be linked to tangible outcomes that will aid in your success as a business. For instance, are you looking to drive sales, increase signups to a newsletter, or grow awareness for your brand or products? An established and specific goal-setting framework such as SMART will assist you in building relevant social media goals that will benefit your company in the long run.
Don't shy away from using metrics 
Now that you've got clearly defined goals, you need to match them with actual behaviors and metrics you can measure. 
For instance, if you want to measure awareness, you should use metrics such as reach, impressions, and brand mentions. For this step, you'll need to find the right tools to track performance. 
Most social media channels provide in-app analytics, but there are also tools built for this purpose out there. . Not only does measuring allow you to track your success, but you can also uncover issues and figure out specific ways to optimize your approach.
Monitor 
Your preliminary findings will serve as a starting point to assist you in deciding where to focus your efforts, which is why it's so important to set both short and long-term goals. There are two key questions to consider:
How do your results compare to the expectations you set?

How do they compare to activity driven by your competitors?
This is also a good opportunity to think about your regular reporting schedule. Monthly or quarterly reporting may be the most convenient for you, while weekly reporting may work best for others. Either way, make sure you're checking in on your analytics on a frequent basis.
Research your competitors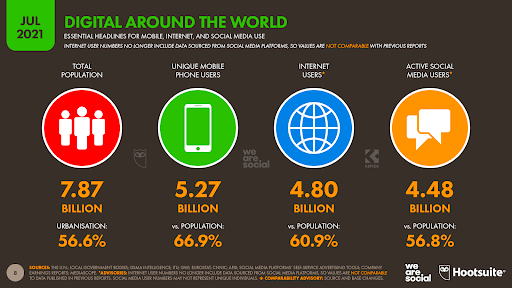 Chances are, you can gain a good understanding of the competitive landscape simply by reviewing your competitor's social content strategy: 
Identify them: Your first step in creating a competitive social media strategy is selecting your competitors. You will want to find businesses similar to yours, but not limit your analysis to competitors of a specific size.

Review them: A great social media strategy starts with solid competitor analysis. See what your competitors have to say about their business, particularly noting the keywords they include, what they post, and how it's received.

Compare them: What could you do that's different? For instance, if your competitors are sharing a mixture of content formats and CTA (i.e. to get more GMB reviews or shares on social), you can monitor which posts are receiving the most engagement. Studying posts with the most likes, shares and replies will provide you with a hint on what approach could be best for your small business.

Track them: While your initial competitor research will reveal valuable information, you should keep an eye on them on a regular basis to see if their tactics change over time. Platforms such as Unmetric, Brandwatch and Rival IQ can help you track your competitors' approach to social media and even how their campaigns are performing in context.
Decide which platforms are right for you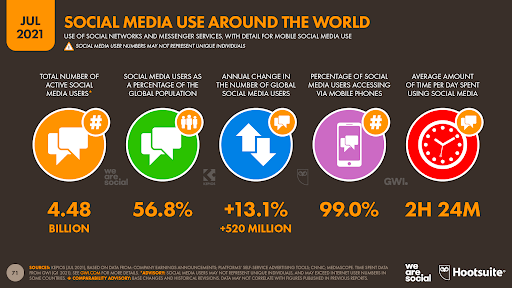 To boost your small business' social media presence, you should know where and how to promote your brand depending on the user demographics and culture of each social media platform. With all the numerous options out there, you may be wondering which one is the right option for you:
LinkedIn: If you're trying to reach professionals, LinkedIn is a good choice. The platform for business networking can be used by both B2B and B2C businesses to create trust, build authority, and engage potential employees, clients and partners.

Instagram: If you're looking to showcase your work, Instagram is the perfect platform to take your followers behind the scenes, expand your reach with hashtags and highlight influencer partnerships.

Twitter: This platform is ideal for brands and businesses who want to show that they keep on top of timely information such as breaking news, industry updates and trends.

Facebook: With more than

2.4 billion monthly active users

as of 2021, Facebook is the largest social media network. ​​This makes it a great platform for building loyalty amongst  your existing customer base.

Pinterest: Since this platform is more of a visual search engine, Pinterest provides businesses of all sizes with a unique way to market themselves through strong graphics to engage users and reach new audiences. 

TikTok: With over 98 million monthly active users globally, TikTok is one of the fastest-growing apps in the world. Like Pinterest and Instagram,

TikTok

is best for visual-based businesses and is useful for targeting the 18-24 age group to build brand awareness through its short-form videos.
When deciding on the right channel you need to look at who your audience is and where they are, and where your competitors are active, and therefore where there might be space for you.
Create a social media calendar

With the constant flow of new content, news and ideas, it's easy to get caught up in the day-to-day of managing multiple social media accounts. This is why social media content calendars are the best way to plan and organize content in advance byusing a social media collaboration tool such as Planable.
So, why is it important to use a social media content calendar?
Save time: Maintaining a social media calendar lets you plan ahead, batch your work, and therefore save time in the long run.

Be consistent: Showing up in your audience's feed is key to engaging them on social media. By posting on a regular basis, you increase your organic reach via the platform's algorithm, exposing your content to new audiences who may start following your business. 

Reduce errors: Having a well-defined process leaves room to focus on content quality. It also provides an opportunity to invest in often neglected areas such as content distribution, updates, and refreshes.

Discover opportunities: If you plan your content calendar in advance it will inform you about important dates and local holidays to be aware about. This provides you with an opportunity to stay ahead of the curve and prepare your newsletters, blogs and campaign promos.
Pay attention to trends
Any business, regardless of size, is influenced by the latest trends. So, if you want to get ahead of your competition and stand out from the rest, you need to invest in exploring emerging social trends and figuring out which ones are useful for your business.
Right now, in terms of the social media landscape, there are several key trends that you may want to consider paying attention to:
Video content: By 2022, it is expected that online videos will make up

more than 82%

of all consumer internet traffic. More and more of this traffic is coming from social video platforms, where video continues to evolve as a storytelling medium for brands and businesses. 

Live streaming: COVID-19 saw many businesses embrace virtual events with video content and live streaming becoming the new normal. However, users still miss offline interaction, which is why relatable short-lived content such as Instagram Stories will keep being relevant. 

Influencers and creators: As the pandemic kept people home in 2020-2021, more people turned towards social media influencers for connection. Relying on  "

Influencer Marketing

" as a marketing strategy is often effective for brands due to the high amount of trust that users have in the influential people that they follow.
Track and refine your performance
Social media moves fast. New networks emerge, others go through demographic shifts, which makes it important to review your performance on a regular basis. You should understand how your content is helping you to achieve your company's goals. Reliable and consistent analytics can help you track your progress and improve when necessary.
Compare your performance month by month: Figure out what you can improve, make changes and then track the results (if any) of the adjustments. Check back in with the goals you set initially and make sure the optimisations you've made help you to achieve the targets set.

Analyze which content has driven the most customer engagement: Sometimes it's the content that you don't expect that helps drive conversation, shares or likes.

Replicate what's working: When you get a good amount of engagement, it means your followers are interested in the content you're sharing. You can then focus on repeating the techniques that drove the results.

Keep an eye out on what's new:  As we discussed it earlier in point 5, you have to continually keep an eye out for the latest trends influencing the future of social media. Rapid changes present new challenges and opportunities for brands who must continuously review their strategy and make the necessary adjustments when creating new content.
Closing
The key to establishing and boosting your social media presence is understanding how to find find the right audience, engage with it and the specificities of each social platform. No matter who your audience is, the content you share should always be of high quality and relevant. 
On top of brand logos, you should research popular content types and prioritize video, images, and other types of visual content as often as possible, since these are favored by all demographics and audiences.
Lily López
Lily López is a Content Writer and Marketer at Envato by day, and a Spatial Design student by night. She's based in Tijuana, Mexico and has worked with several global clients for the past 7 years developing projects involving Content Operations, Data Analytics, Copywriting, Outreach and Voice-over productions. When not working, Lily can be found hanging out at the nearest flea market.